Vacasa, the leading property management company in North America, representing 30,000 properties, is going public today, December 7, 2021, through a deal with SPAC TPG Pace Solutions. The company stock name and the ticker symbol are VCSA. While IPOs can take a long time and focus investors' attention too much on actual profits, the SPAC route is supposed to be faster. The estimated valuation Vacasa is around $4.5 billion. We had previously analyzed Vacasa's data here. In other words, each of the 30,000 property management contracts that Vacasa holds is worth $150,000.
Here is what makes Vacasa unique: It is an acquisition machine that has gobbled up over 160 property management companies, among which big names such as Wyndham and Turnkey. The company's growth path relies on "portfolio strategy", which analyzes data to decide which markets to enter and then assess which existing local property management companies to acquire. Instead of going after properties one by one, Vacasa wants to enter markets where it can offer a wide choice of properties fast. This is about market domination, one vacation rental destination at a time.
"We have incurred net losses in each year since inception, and may not be able to achieve profitability", this is what the company stated in its quarterly report filed in November 2021. The same thing was true for Airbnb at IPO time.
While Airbnb is really asset-light (except for the Luckey business), Vacasa is a property management company that has hundreds of employees and contractors in charge closing deals with homeowners, cleaning properties, and dealing with maintenance. During COVID, Airbnb managed to get 90% of its traffic direct (i.e. no Google ads), while 70% of Vacasa's bookings come from their distribution partners (e.g. Airbnb, Booking.com, and Vrbo).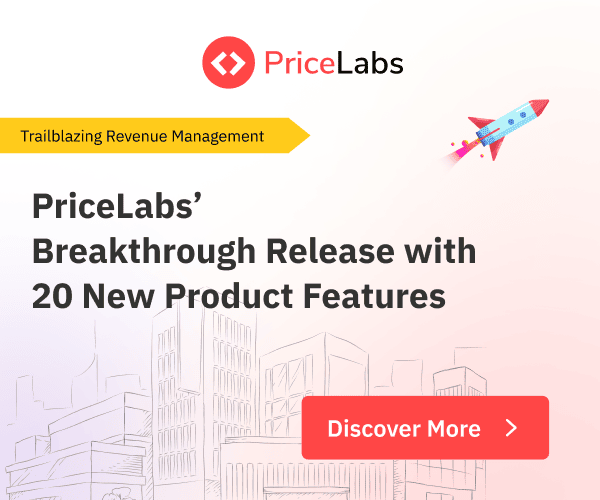 Vacasa + SPAC TPG Pace Solutions = VCSA
Vacasa, the Portland-based vacation rental management platform, is going public a different way, through a SPAC transaction. That's when a shell company raises funds by issuing an IPO and then acquiring or amalgamating with a private firm that becomes publicly traded as well. In this case, TPG Pace Solutions is a special purpose acquisition company (SPAC), which has been in the pipeline for a few years.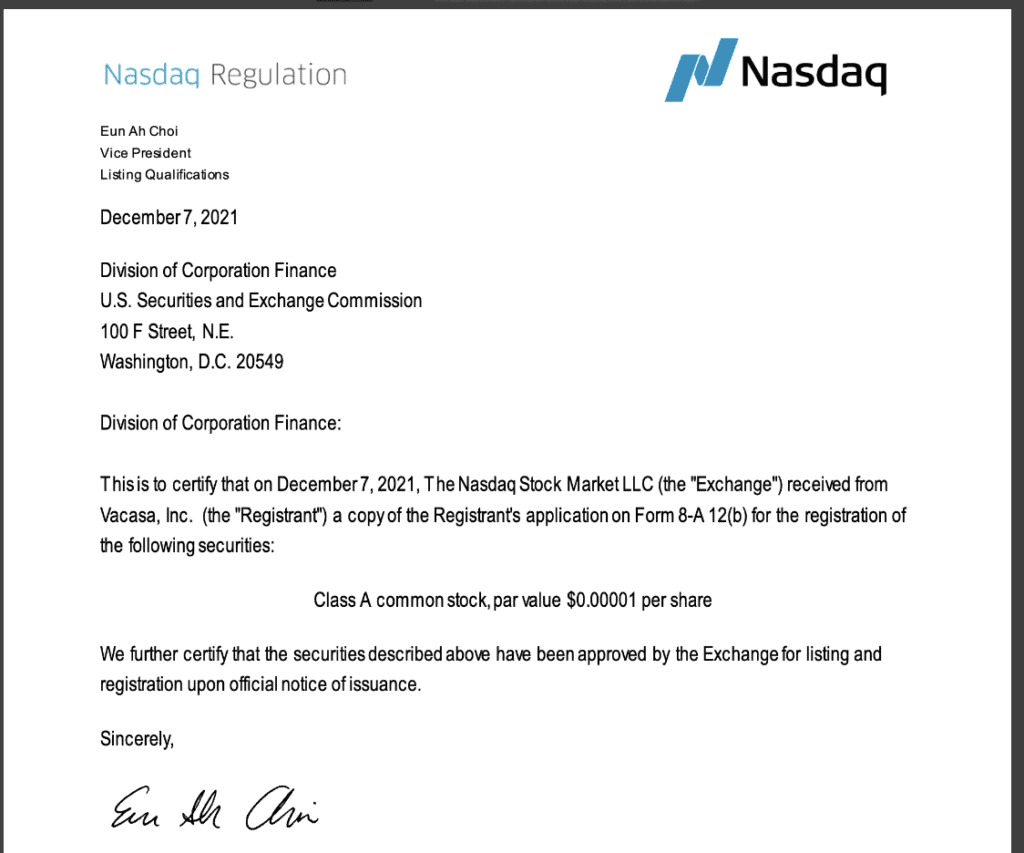 A SPAC deal is a type of initial public offering (IPO) in which the shell company buys or merges with a private business to take it public. Vacasa, an online vacation rental management and booking platform, is going this route by merging with TPG Pace Solutions — a special purpose acquisition company that will become publicly traded, too. This post explores why they're bypassing the traditional route and how this affects you as an investor.
1) What's a SPAC? A special purpose acquisition company (SPAC). It raises money through an IPO and then buys or merges with another private business to take it public. In this case, TPG Pace Solutions becomes publicly traded once its merger with Vacasa goes through.
2) Who is TPG? It is a leading global alternative asset firm founded in San Francisco in 1992 with $108 billion of assets under management and investment and operational teams in 12 offices globally. TPG invests across five multi-product platforms: Capital, Growth, Impact, Real Estate, and Market Solutions. TPG aims to build dynamic products and options for its clients while also instituting discipline and operational excellence across the investment strategy and performance of its portfolio.
3) Why is Vacasa going this route? The company is bypassing the traditional IPO route in order to go public a different way. This may be because there are too many regulations and hoops to jump through when trying to go public the traditional way, or it could be that the company simply wants to take its time in order to ensure everything goes smoothly.
4) What does this mean for investors? It's unclear what the long-term effects of a SPAC deal will be, but it's generally seen as a more risky investment than going public the traditional way. That said, there's always the potential for big rewards if the company being taken public is successful. So if you're interested in investing, then do some research on the company as a whole before investing.
Sonder made a point of showing how savvy the company is at picking the right markets to enter and the right building to lease. The company put forward its propertiary tech that allows it to map mapping real-estate opportunities and potential RevPar.
Similarly, Vacasa wants investors to know about its "proprietary data and AI engine" that drive "intelligent supply acquisition". This is about saying that the company makes smart decisions and that its processes can be hard to replicate, which is a reason to believe that it has a competitive advantage.
Vacasa's corporate strategy
Vacasa's business model: A property management company with a fair share of bookings from OTAs
This is how the company describes itself in its filing papers:
Vacasa is the leading vacation rental management platform in North America, transforming the vacation rental experience from inefficient and inconsistent, to reliable and technology-forward. Vacasa's integrated technology and operations helps optimize vacation home care and income for homeowners, offers guests a seamless and consistent stay, and provides distribution partners with highly valuable vacation rental supply. The Company's marketplace enables guests to search, discover and book properties on Vacasa.com and the Vacasa Guest App, as well as 100+ channel partners, including Airbnb, Booking.com and Vrbo.
Vacasa helps homeowners drive significant incremental income on one of their most valuable assets and turn their vacation homes into high-performing vacation rentals. Guests staying in Vacasa-listed properties in over 400 destinations across North America, Belize and Costa Rica, benefit from the peace of mind that their experience will meet high standards of safety, cleanliness, comfort and support.
Here's how Vacasa describes its business model in its quarterly report:
The Company markets homes on its platform directly on vacasa.com and its guest app, and via its third-party distribution partners. Upon confirmation of a vacation home booking by a guest, the Company, on behalf of a homeowner, agrees to provide use of the vacation home for a specified period of time. At the time of booking, the guest agrees to pay the total booking value which is comprised of the nightly reservation rate, other reservation-related fees, and applicable sales taxes. (..). In accordance with the Company's homeowner contracts, the Company earns commission revenue for a portion of the nightly rate and the other reservation-related fees for the integrated agency and guest services rendered.
The choice to acquire property management companies in key regions to dominate local markets
Vacasa wants to dominate markets fast to exert market pricing power and to achieve economies of scale for its operations: The more vacation rental properties the company manages in a market, the better it can justify the expenses to market the destination and to recruit and train housekeeping teams. Vacasa's dynamic pricing tools can also better respond to market trends and even help influence average prices in the area.
The slide below shows that the more properties Vacasa manages in one specific market, the higher the revenues (in host and guest fees) it makes.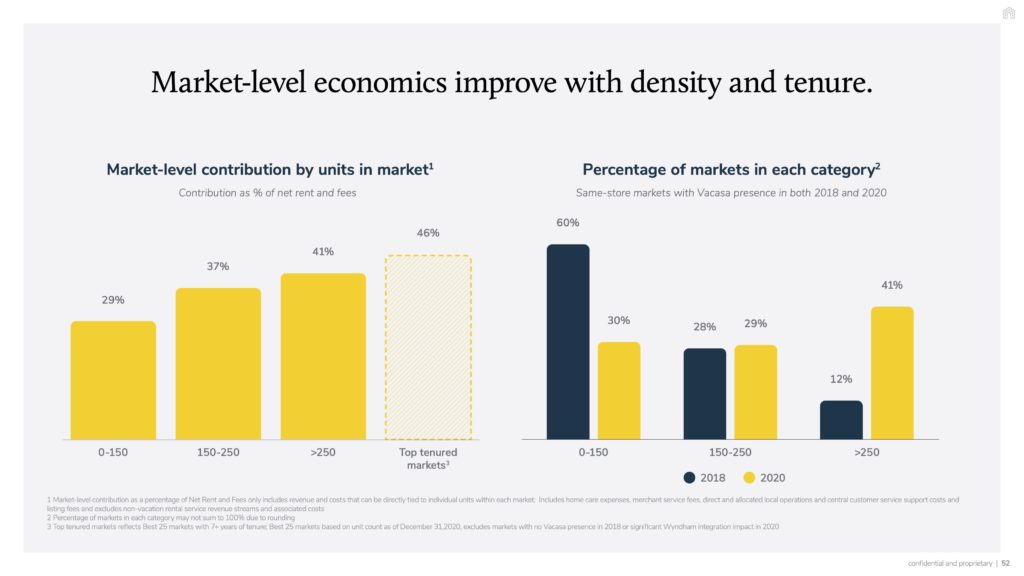 Market domination can also help Vacasa negotiate better commission terms with OTAs
In some key vacation rental markets, Vacasa represents a big part of the supply offered on Airbnb and Vrbo. For instance, Vacasa listings make up:
47% of Airbnb listings and 24% of Vrbo listings in Destin, Florida
36% of Airbnb listings and 26% of Vrbo listings in Fort Walton Beach, Florida
34% of Airbnb listings and 33% of Vrbo lisitings in Steamboat, Colorado
A big actor like Vacasa can not only dramatically influence rates when it enters a market. It is also big enough to ask for lower commission rates from the likes of Vrbo, Booking.com, and Airbnb. As a result, with lower costs, it can lower its prices more easily.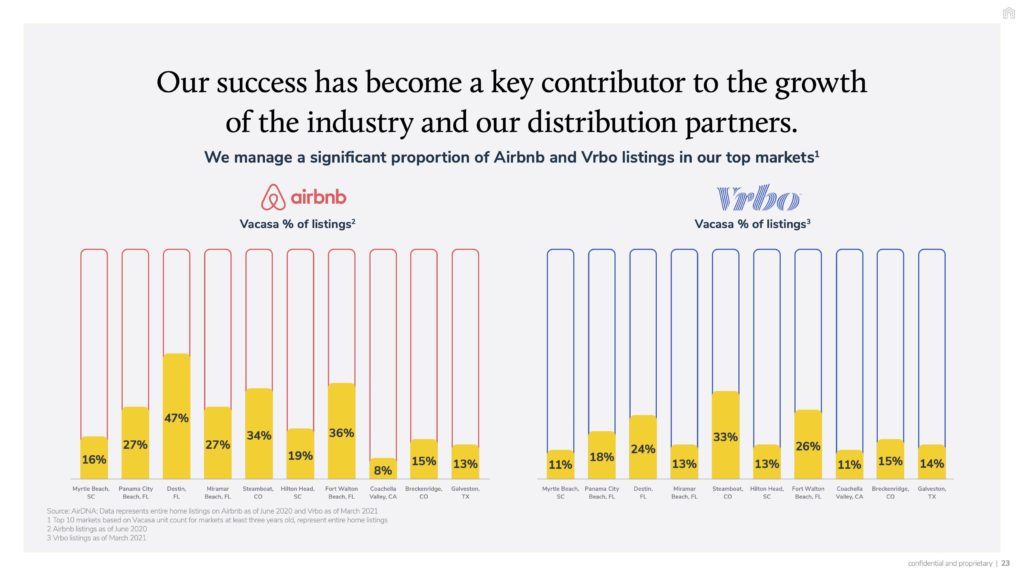 New markets are entered through the acquisition of local property management companies ("Portfolio Strategy"), while the supply in existing markets is increased by attracting homeowners ("Individual Strategy").
Vacasa is known for growing through dozens of acquisitions of property management companies each year. The company's acquisition pipeline comprises companies with 20+ properties up to the likes of Wyndham Vacation Rentals and Turnkey with thousands of properties.
Yet, it is very interesting to see that Vacasa wants to projects another growth story. According to the slide below, Vacasa has two main paths to supply growth:
Individual, i.e. going after homeowners, which is "modeling as 3/4 of new supply"
Portfolio, i.e. acquiring local property managers, which is "modeling as 1/4 of new supply".
So, this is not a reflection of Vacasa's existing growth strategy and of the share of individual supply vs portfolio supply. The slide helpfully explains that the word modeling "reflects general forecast expectations through projection period, excluding opportunistic action".
Is it an indication of a new direction for Vacasa's supply efforts? Will it be competing head-to-head with Airbnb to capture the attention of Superhosts, as Vrbo is trying to do? Does it mean that, now that big competitors such as Wyndham Vacation Rentals and Turnkey have been absorbed, the focus can only be on getting smaller targets, even individuals, one by one?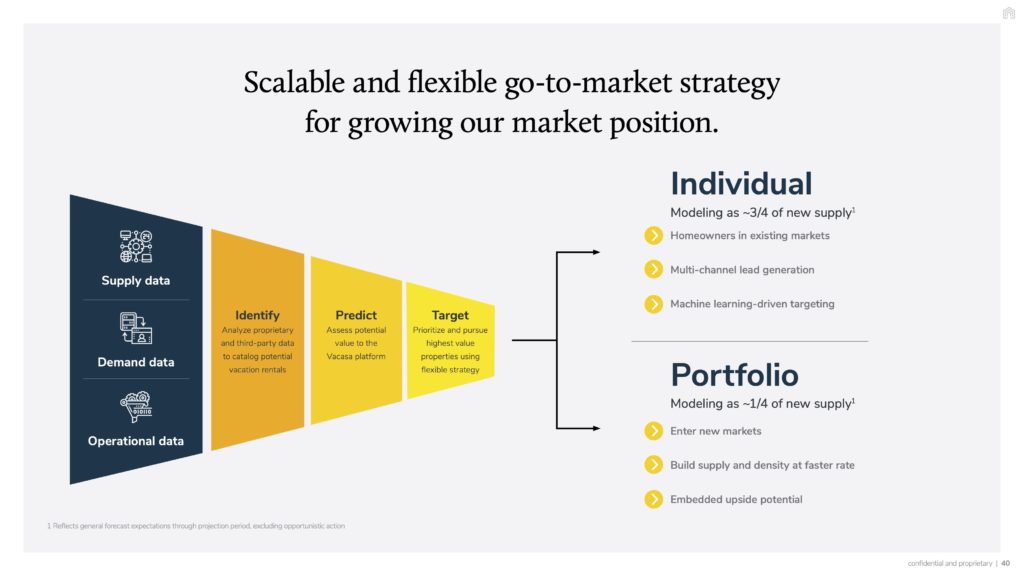 Will profits come?
Vacasa has yet to show that it can turn a profit.
Vacasa's net losses:
2019: – $84.9 million
2020: – $92.3 million
H1 2021: – $69.2 million
Acquistions costs are HIGH
Existing markets: Vacasa employs a large team of sales and marketing reps to qualify and close individual homeowner leads
Part of Vacasa's deck explains how the company goes about wining over new individual homeowner contracts:
Marketing campaings (e.g. postcards) and sales reps who call the target homeowners
Sales developement reps who further qualify leads
Sales executives who develop referral networks with real estate agents and other potential sources within the vacation rental industry, draft customized letters to potential clients, cold call prospective leads, meet with prospective clients, and close deals.
New and existing markets: Vacasa has an eye on 4,500 local property managers as potential acquisition targets
Vacasa has a playbook to acquire local property managers. It even has a landing page where people can go to sell their vacation rental business (Vacasa pledges to care for your homeowners, grow your team, and honor your legacy.)
Vacasa is basically aiming for any U.S. property manager with more than 20 units. It says that it has identified 4,500 local professional managers representing over 350,000 homes.