This article is part of our Rental Scale-Up vacation rental management conference series. This is an extract from our May 2020 conference: "How villa and holiday rental managers are navigating the COVID-19 crisis in Southeast Asia and Oceania."
Vacation Rental Management Conference: PriceLabs' Anurag Verma
Anurag Verma co-founded PriceLabs in 2014 to bring revenue management automation prevalent in airlines and hotels into the vacation and short-term rental industry. He has spent six years designing and improving revenue management algorithms and systems at United Airlines in Chicago while working closely with revenue managers and data scientists within the company. He has a PhD in Operations Research and loves all things numbers.
Vacation Rental Management Conference: Video From The 2020 Southeast Asia & Oceania Conference
Anurag, a co-founder of the short-term rental data company PriceLabs, presents data for Southeast Asian markets both to illustrate what's happening in the area and to give property managers ideas for metrics to look at and data sources to consider.
PriceLabs is based in Chicago but collects data from properties around the world.
Anurag and his friend Richie started the company five years ago, when Richie was listing his place on Airbnb and Anurag was working in the pricing department at United Airlines.
In normal times, short-term rental companies use PriceLabs to find pricing recommendations based on local demand (when to increase or decrease rates), to automate the pricing process, and to find market data and trends.
Anurag presented data for Australia, New Zealand, and Thailand. The data came from two sources: properties that use PriceLabs and properties that use OTAs (these properties do not all use PriceLabs, the data comes from the OTAs).
There were fewer reservations but more booked nights in March in Australia and New Zealand, meaning each reservation was longer, on average. April saw a big drop in bookings, and May is on track to see more bookings than April, but still fewer than March. April and May both have significantly fewer nights than March.
Another metric that PriceLabs looks at is "lead time." This metric is the number of days between the booking date and the arrival date.

Last minute bookings, which have a lower lead time, tend to be discounted because property managers want to sell the room rather than let it sit empty.

PriceLabs also looks at length of stay, which is simply the number of nights in a booking (or the average number of nights per booking in a market).

Longer bookings tend to be discounted due to length of stay promotions (4th night free, for example) or weekly/monthly discounts.

PriceLabs typically uses the average length of stay and the median lead time.
The demand for mid-term bookings is greater in Asia/Oceania than other markets.
Length of stay in Australia, NZ, and Thailand increased dramatically in March, April, and May.

Average LOS was 4 or 5 in January and February, but jumped in April to 11 in Australia, 14 in NZ, and 16 in Thailand, but dropped slightly in May.

Lead time in all three markets decreased significantly in March, probably due to last minute changes in plans in response to travel restrictions.

In Thailand in March, half of bookings were made on the same day.

Property managers can adjust their strategies to maximize the opportunities presented by lead time and length of stay trends in their markets.
Looking at the Phuket market, the PriceLabs data shows very few future bookings coming in, which makes sense because around 60% of Phuket's guests are international.

Some people are booking stays for the winter holiday or early 2021, and a handful are making last minute bookings for Phuket.

Sydney's future booking trend looks a bit different than Phuket since the market sees more domestic and business travel. It also has less seasonal change than Phuket. Most of the bookings are last minute.

Sydney's future price trend is showing some last minute discounting but overall, prices reflect lower rates during the week and higher weekend rates.

Ohakune, NZ (a popular domestic ski market) is extremely variable – weekends and holidays have much higher occupancy than weekdays, and a lot of new bookings are coming in. Rates are significantly higher during peak season.
PriceLabs created a chart that shows how each country's recovery is doing, and countries that get more domestic travel seem to be recovering faster.

Australia, United States, Canada, Netherlands, UK, Nordics are some countries which seem to be recovering better.

New and existing PriceLabs users get access to 5 free dashboards where they can study market data, including future bookings, lead time, and length of stay.
When you look at any data, remember to use your best judgement and intuition because all data sets are different. You might also see things you were not expecting, so you need to think critically about whether the trend helps you or not.
Vacation Rental Management Conference: Full Conversation Between Anurag Verma And Thibault Masson
Thibault:
Dear Rental Scale-Up members. Thank you for joining us for this new session. I will introduce Anurag from PriceLabs and joining us from Chicago. And we'll be talking today about data for the Southeast and the Oceania markets. It's something that's not often shared. So I'm very happy and thankful to PriceLabs for having gathered this data in vertically. A time today to introduce it. We'll be looking at different metrics that you should be looking at in your markets. So we'll take a couple of examples, but obviously PriceLabs has way more market. We more data in different markets that you could be using. But again, think listen to the examples, look at the metrics we are looking at today. It could give you some ideas of like, okay, well look at my own data. That's what I could be doing. So without further ado Anurag thank you so much for being here.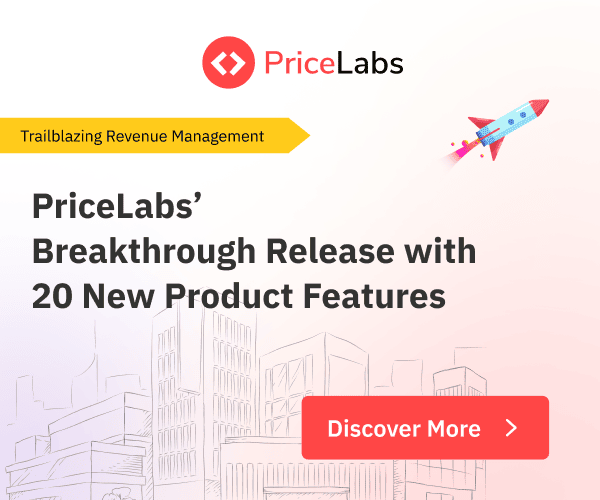 Anurag:
Yeah, thank you so much Thibault for having me here. Really excited to be doing this and to share all the data that we have. And also like you said, it's not about the data that we have, but also for everyone who's listening to be able to like look at their own data and see if they can find something that's useful to their business.
Thibault:
So a quick intro that usually we've thought of this, this crowd. I mean sometimes we hear about digital nomads, so I knew, I see you several times a year in different places in the world and this time we call each other from our respective homes. So it's a bit, it's a bit funny to be talking about travel where all stuck at home, but it's good to see you in person. Yeah,
Anurag:
Yeah, yeah. Same here. So I think you are a digital nomad. I'm definitely not. I'm very much in Chicago most of the time. I happen to go to the places that you are once in a while and then that's when I meet you. Yeah.
Thibault:
Yeah. Chris also, so I wanted, so what did you share or we, I want you to maybe explain who you are is what PriceLabs does because it's one of these companies that's located in one contradiction cargo but actually has data for, for the world. It's very, very impressive. Can you, can you share a bit more about your background about the company please?
Anurag:
Yeah, absolutely. So PriceLabs is a dynamic pricing and revenue management service and solution. We started about five years back in Chicago was the first market we sort of addressed one of my co founders Richie who, who happened to be in your alumni network, right. And not Western university. He was he was hosting his place on Airbnb at the time. So we, and at that time I was working at United airlines building pricing and revenue management solutions for for the airline industry. So it's sort of we meet undergrad friends, so we used to meet off and then we got into this discussion about like, Hey, airlines do it totals to it. Like, why is it nothing for the short term rental and vacation industry? So yeah, we started taking baby steps. Of course at that time we knew so little about the industry now that I think about it. But yeah, over five years it's, it's been a journey. We now have customers in about 98 countries around the world. Yeah. And it's, it's fascinating to see what, what has been done in the industry in the last five years. I mean, it's come a long way from where it used to be. But also like where it's heading. There is still so much more to be done in, in all possible ways. So, so yeah, really, really excited to be doing this right now.
Anurag:
Why do companies go to price that well? What are they looking for? Right. So there are two main reasons. Companies, users are vacation rentals users. One is there are, there's so much happening in the vacation rental space or any travel industry, right? There are going to be events and holidays and concerts which drive demand up for example, that sometimes you know of sometimes you don't know about what we do or what our algorithm will do is they, we retract data for around the world and we'll automatically find where there is a surgeon bookings happening and say, Hey these dates we should bump the prices up. Versus if there are dates which are last minute inventory that's not getting booked, we can say, Hey if it's still not booked, the market is like, there's very little time left.
Anurag:
Let's try and reduce the rates and then also reduce the minimum state restrictions to attract and the kind of guests that book last minute. Right. And of course all of this is still within the control of the vacation rental managers. You can set rules to say, don't go below this place, don't reduce minimum, stay more than this and, and all those things. But one is just to get automated intelligence around like when you should raise prices, when you should reduce places, but to also a lot of our managers already know a lot of these things like they have a hundred properties or 500 properties where they can track all of this, but then it becomes about how you know all of this. But going and implementing your pricing strategies is a pain in itself. Like a lot of folks have revenue managers who would go in every day and spend six hours updating rates on every property.
Anurag:
We make that process like a lot easier. So like there's really two reasons to use this. One is to to save time by, by not having to do every single update manually. You can set rules to automatically do certain things based on how far out a certain data is or how booked you are. And then to utilize our data around the world to get intelligence that you would not have otherwise. So maybe there's an event coming up, you are not booked, but we are seeing the rest of the market is beginning to book more than it usually does. The booking pace is high for those dates, will automatically raise your rates so you don't get booked for cheap for a big event.
Thibault:
Cool. That, okay. So now it's been, it's so super clear, thanks to the budget completed looking for and what we could do now, maybe start looking at the presentation that you've put together. Again, thanks so much about different markets in Asia Pacific because, so, so a chance for us to understand now what kind of data people can be looking at can look into different markets. So, because I think you've also used these, these strange times to innovate and come up with new, new metrics or new way of using all metrics. So I let you know, share your screen and take us to this.
Anurag:
Absolutely. Yeah. Yeah. And like you said this, this time has sort of forced us to, to also start looking at things that we would usually not look at. Because usually they were so consistent over time that we would look at it, but we like, yeah, nothing new to look here kind of a thing. And now there's unfortunately a lot of new things to look at. Mmm. Cool. So what we've put together here is, is sort of a dive into three markets, three countries, Australia, New Zealand and Thailand. What we are going to look at is, is data from two different sources really. And then I'll go and describe each of these charts and what data we are looking at in detail. But to give you a flavor that the two sources of data we are looking at, one is properties that use us in these countries.
Anurag:
So this is the first portion is going to be data from reservations that are pulled from property management systems for properties that use by slabs. And then the second part is going to be a data that we scan from the OTs. And this is data for pretty much every property. So it's not properties that use for slabs, it's every property in that market in some ways. That's impressive. Every property in that, when the market that is on the OTA. So let me qualify that there, there are properties that don't necessarily advertise on OTs, so, so those are not going to be here.
Anurag:
Right? So for the first part what we are going to look at, so this is in pretty much every chart at the bottom, in every slide you can see what data is being used to create this. So for example, in this chart we are looking at data that's coming from reservations data for properties that use play slides. The, there are three clusters. There is a, we are split it up by country. So first is Australia, second is New Zealand, and the third is yeah. And each of the bars, the lighter colors are sort of farther out. So this is January, 2020 and we are looking at all the bookings that were made. So this is not about when they stayed, but when the booking was made that were made in January, then made in February March, April, may. So may is still sort of going on.
Anurag:
So that's something I want to highlight here. So the first chart is number of bookings made. So you'll see number of bookings was stable for Australia in the first two months and then it started dipping may is not done yet. This is data as of the 20th of May. So it looks like may is already going to be slightly better in terms of number of bookings compared to April. In New Zealand we are seeing of course, like the first thing you notice here is how much it has dropped, right? Like that's the obvious thing that comes out in New Zealand. It's, it's actually gone up already. So it's going to go up further. And then Thailand, it's, it's dropped a lot and it's, it's still still below. I don't know if it will make up, it might just make up by the end of the month.
Anurag:
The second chart is I think more important because it's not looking at number of bookings made because this one, regardless of whether it's a 20 night stay versus a two night stay, it's going to count it as one booking. Whereas in terms of how many nights get booked, of course, longer stays contribute more. So we are going to look at nights booked in each month and something surprising shows up here like in Australia and New Zealand. March was when the number of nights booked actually, although the number of reservations was down, the number of nights booked was, was hired. Which is a super surprising and, and real. We have more deep dives into this data. So I want to like not go to too much further in here. We will discuss why this has happened on Thailand. We don't necessarily see something like that, but we still do see something else.
Anurag:
If you look at number of bookings made from where it used to be in February, it, it dropped a lot. It probably is about one sixth of where it used to be. But in terms of number of days booked, it's not as durable. I mean it's still bad. It's still gone down, but it's not as that. It will, it's probably one third of foot and we'll want to see what's caused this. So the first takeaway, which everybody knows number of working sessions in general occupancy is much lower as well. But there some interesting things happening and we want to see what's that, what that interesting thing is and what to make out of it. So to do that it's, it's fairly important to go into and sort of understand what two metrics we tend to look at, which, which are super important for any revenue management or pricing decision.
Anurag:
The first one is lead time. Lead time is defined as how far out is somebody booking. So an example here is if somebody books a stay on 15th may and their checking data is 20th of May, then the lead time is five days. And if somebody books on 15 to me for the chicken date in 3rd of July, then the lead time is 49 days and so on. Now vacation rental each night. You can think of it as a perishable product in some ways, right? Like if that night does not get sold then you just don't get anything out of it. So the closer date gets to a night Gates and if it's still unsold use, generally we have seen like it becomes what is called distressed into inventory. You want somebody to book it. Generally speaking more, most last minute bookings tend to be somewhat discounted.
Anurag:
Like at least that's what we have seen. That's it. You can also see this in, in the kind of discounting tools, either revenue management systems or OTs themselves create, right? Like a lot of OTs have capabilities to set discounts by lead time and things like that. The second important metric that we are going to dive into is length of stay. Length of stay is, is sort of fairly clear. If you book a stay from 20th may two 22nd may, the lens of stairs, two nights and so on. But in general, another thing from a pricing and revenue management perspective that we see in pretty much any travel industry is longer bookings tend to be discounted. So there are weekly discounts, monthly discounts and so on. And the reason for that is if somebody is, if at any product, if somebody is buying in bulk you can, it's a very crude analogy, but if somebody is buying a product in bulk, you tend to say, Hey, you're taking some risks out of this this transaction, maybe I would have sold 80% of those nights if not in one big boat, a big chunk.
Anurag:
So I'm going to give you a discount. Odd, even if not for that reason. Sometimes it's just done for for operational reasons where if you don't have to go in five times a month and clean and, and only have to clean once because it's a month long stay, then Hey, you're reducing my work, I'm going to give you a discount kind of a thing. The second one is yeah, again, like I said, longer bookings with fewer bookings, you're now getting more days booked. Especially right now when a lot less tourism is happening and a lot more sort of essential States are happening for whatever reason. Like it could be essential because you are stuck in a country. It could be essentially because you have to go work in this other place and need a place to stay or your medical worker for whatever reason. It's it's a good way to attract or get some occupancy on the books. Now, of course, two of these combined we'll see later on although we saw that the occupancy bumped up for March in both Australia and New Zealand because the lead time was short and because the length of stay was longer, it doesn't mean that all the recovery revenue was as was high when he was still taking a hit. Just that in terms of occupancy, we were still fine.
Thibault:
And I'm very intrigued now because thanks to you now you have the definition of these two metrics, like lead time and length of stay. So I'm very curious. You said, right, how does it translate into the, the market's just talked about. So that's great. So your definition and then yeah, can't wait to see now,
Anurag:
Right? Yep. Yep. So a very quick addition to that. Like there's a quick example here. Of course, like any metric you can look at different statistics we generally tend to look at for lead time, we generally tend to look at median to say immediate basically means the 50th percentile value. So this is saying 50% of the reservations within the last five days, the average tends to get skewed. If you have one like really far out reservation, the average will be high. But median is what we generally tend to say. When do 50% of your bookings how far out do 50% of your bookings book for length of stay? We tend to look at the average. It's, it makes it easy to calculate occupancy in some ways. If you multiply your average rent of state by the number of bookings you get total number of state total number of days book.
Anurag:
Cool. So, yeah, this is a, the most surprising thing that we saw recently and we've seen this to a certain extent in all markets. So we have seen this in Europe and us as well. The surprising thing we have seen is the magnitude is a little more magnified in the Oceania and Southeast Asia market. So the top chart here is again, the data is again coming from reservations, from listings that use play slots. Then each of these charts is the month. So January, February, March, April, may, and of course there are countries and then the length of stay, the average length of stay used to be five nights for bookings made in January and February in Australia, four nights in New Zealand and five nights in Thailand. So somewhat consistent. What is of starting March is that started increasing. So it became seven nights in Australia, which is already a fairly big, like a 40% jump.
Anurag:
If you think of it in present instance, a two weeks increase in New Zealand and, and 20% jump in Thailand. April is when it's really a shot up. And some of it might be because somewhere, midway in March is when things started really moving around the world. So maybe second half of Mazda was very similar to April, but if you see length of stay really, really jumped up as in, in April, of course the number of bookings were lowered, but that length of stay being higher meant that Tokyo still getting some book nights. So even if number of lookings dropped by by 80%, and it became one fifth of what it was, occupancy wasn't dropping by 80% because you, you were getting longer and longer bookings.
Anurag:
Now, interesting thing that we are seeing is that in may it's sort of beginning to come back to normal. So if you were in the middle of April, you're thinking like, how long is this going to last? A lot of those stays. We don't, so looking at our data, we don't directly know the answer, but you can probably try and guess what kind of people we're looking for stays in me in, in back in April. The other important metric is, is the lead time, right? So it used to be that people booked on, on average sort of 15 days is like half the bookings were 15 days or within the next 15 days. Now in April, that number became three nights for Australia. Like more than half the bookings that were being made starting in the next three days.
Anurag:
And in Thailand, that number in April was one one day, which is crazy to think of. Yeah. You can try and hypothesize like what, what might be happening. So it's probably people, nobody's planning a vacation right now. Nobody has that has that, the sort of foresight to save and this will, when all the restrictions will be lifted up, the only people who are booking in in April are the ones who I just had no other option. They need a place to stay and they will book something very like that starting tonight, tomorrow, day after hand, it's going to be somewhat longer. That's that's the kind of deduction that we are able to make out of this in some ways.
Thibault:
Yeah. And that could feed us. So some some things we've seen in body or that we've heard as well, that people in Australia did. Is there a value, for example, a booking from one day to another and for long stays. So again, it's, it's hard to see this from the data, but it just saves it probably exactly as you rightly said and rugged. So, so if you are in the market and you look at these data, you know, much better than us what's going on, right. But it's probably probably nodding right now looking at this like, yeah, yeah, that's what's happening. But the dress, the change in the number of wine they have for the median lead time entitled one, that's like second sense of urgency. Yeah,
Anurag:
Right, exactly. I spoke to somebody from Australia recently and they mentioned how David in, in March and April, they were getting a lot of bookings from folks who were who are coming back into Australia and needed a place to do quarantine based on the government regulations. So in, in those cases, like you're not, you're not like you're thinking one week ahead. You're thinking, Hey, I land and I'll need a place to stay. So you're either booking before you take the flight or after you learn a super, super last minute and then again longer, longer length of stay. Yeah. The reasons could be very different based on, on each market. But but yeah, the trends are like, again, like, like you said, this is if you are a property manager of like these are the kinds of things you should look at to also understand, okay, if this is where things are shifting, how can I say it's my pricing strategy. Like if I'm seeing a 10% bump in longer stays and I'm very wide open, can I do something more to incentivize those longer stays and, and get more of those.
Anurag:
Yup. Cool. Moving on to the next one. So, so this, the first part here was was looking at that is ovation data from listings that use by slabs. The next part what are going to do is not just look at properties that use baseless, but look at product properties in the entire market. And these, this data is coming from OTA. So we are scanning with DSO. It's it's properties that are listed on ODSP. What we do is we, we, we constantly monitor different OTAs to say what listings are in the market, what dates are available, what dates stop being available when, when a date stops being available. That's when we then to say, okay, it looks like a booking happened here. And we tried to filter out booking stat. It might not be truly bookings. A lot of countries had had countrywide bans for example, on, on short term rentals.
Anurag:
So we tried to take those out or if you, if you're blogged at calendar for six months towards the end of the year we kind of say, Hey, this, this seems like a blog date and things like that. So these are in some ways estimates, but, but you've seen that as, as, as trends, they tend to be fairly useful to look at. Now, the first market we looked at is, is Fuquay. Again, Thailand is one of those markets with more than 60% of the, the revenue comes from domestic, from international tourism. So it relies heavily on travelers from China, from rest of Southeast Asia somewhat Europe and North America. But a big chunk of the revenue comes from from China and Southeast Asia itself. Visit all the flights, incoming flights not being we being dead. We generally seeing that the occupancy is, is really low right now.
Anurag:
So it's, it's showing up as 8%. We generally see in markets that the closer you are, the more booked you tend to be. In this case it's, it's looking like for the high season in December and late December and early Jan, the occupancy is already at the levels that that it is right now. Like, so this is 90% of the inventory is going to go unsold in some ways for, for the high season. There is still a lot of time left. So this is looking at what's, what's in place right now. This is not, we are not predicting that it will be 6%. Eventually eventually our hope is everybody's hope is that that things open up people start booking in. What you're looking at here is, is the blue line is a occupancy. The X axis is future state.
Anurag:
So we are looking at the rest of 2020, and early 2021, the green line twice to show in the last week what, what dates got booked and the red line shows in the last week. What dates did people cancel that stays for it. So you'll generally see it looks like in the last week somebody booked a fair look. This looks like a fairly long booking that happened here. So we don't know. It could be multiple short bookings, but in, at least when you look at it looked at an aggregate, it looks like a long booking year and then a short booking here. So people aren't, some people are booking far out stays. Very few people are booking. Like, if anything, that is a super last minute. Some people are beginning to cancel stays. But overall this like all of it being less than 10% is almost unheard of in some ways. That's what's in the books right now.
Anurag:
Yeah. Yeah. So a lot of these days might have gotten booked like, you know, before February. Like people book tend to book far in advance, especially international travelers. Travelers tend to book stays much farther in advance. So yeah, this is what's in books right now. Again, because there are cancellations, that's not to say it'll stay on the books, right? Like as cancellations happen it could come down if things get worse. Our hope is that the green line will far outweigh the, the red one and yeah, eventually things will get back up, especially for the high season. That's, that's important. The next start shows the same dates, but it's looking at how our other properties pricing right now. So we are generally seeing that the high season peak is still there. Very few people seem to be doing some amount of last minute discounting.
Anurag:
So you'll see the top end properties. The green line here is the 75th percentile of, of the prices. So the green line tends to show what are the larger higher end properties doing? The middle is the median and then the red one is sort of the bottom 25th percentile. So it seems like all of them are doing some amount of last minute discounting. But, but this is far less than what we have seen in other markets that we'll dig into very soon. Yep. Any comments on this? Yeah, it's just, it's just, it's interesting. It's interesting. So there's no need to discount is very interesting. Yeah. Yeah. So I mean, did one does either no one to, even if there is no one to discount for it, like everybody has to make their decision on, I mean this is already probably the lowest rate that some properties would go to. Like do you want to go lower in the hopes of attracting some of these like very, very few bookings. So yeah, it's, it's a decision everybody's is having to make right now.
Anurag:
The next one we are looking at is Sydney, Sydney and Australia in general is a little different because Dean being a fairly large country that it gets a fair amount of domestic tourism. So Australia gets 76% of its students in revenue from domestic travelers, so much, much less reliant on international travel. The other thing that Australia sees is this is looking at Sydney of course is a lot more non leisure travel. So there are people who for business reasons might need to be in Sydney or for work reasons. Yeah. Again, different kinds of things that drive demand in different markets. Again, we are seeing this is something we see in most cities. So yeah, focus was very seasonal, which is why you'll see that like there is a big seasonal bump here. People booking far, far out. Sydney doesn't necessarily have that kind of a bump.
Anurag:
There is a bump for Christmas and new year's and then that's pretty much it. Otherwise, it's like a always downward line, which is very normal to see for large cities. Large cities tend to have much shorter lead times than traditional vacation and leisure leisure destinations. So you'll see a lot of bookings, a lot more bookings tend to happen last minute. So this point, by the time we reach a sort of mid June, you'll see this point also go up and then the little chart will go down from there and things like that. Much fewer cancellations happening or decent number of last minute bookings coming in and eventual here ends up closer to 30%, which is still like way lower than the normal, but at least unlike Fuquay it's above 10%, which is itself.
Thibault:
It's very interesting as well because when we were recording this I guess data was pooled traveling within Australia from one state to another was still not possible. So it's actually quite impressive. So save to send a few minutes, see when you know that even people from the other side, from another state of Australia can't even go in and stay in Sydney.
Anurag:
Yup. Yup. So one qualifier I want to give on, on these charts, the, the OTA charts that their names showing. These are pulled from from our market reports and we V generally you can put in an address and you can put in a radius. We don't look at entire Sydney. This is looking at the closest thousand properties where for the address that you put in. So these are like super localized within Sydney as well, but generally we as like the trends are not going to be that different. Yep. Again, in terms of faces, like, like I said a lot more unlike Phuket with it seemed like a lot of people were just setting seasonal rates. Sydney has, it has a seasonal rate. Like you can see that during the, during the summer, the prices are slightly higher than than they are right now.
Anurag:
Some of this could just be last minute discounts. So it looks like there is some last minute discounting happening yet. But you'll see also a day a week, like a very strong Dov trend happening here with properties or property managers generally realize that, okay, in this market we can send a book more than weekdays, so we should do something about, increasingly it's on the weekends and stuff like that. And then of course, Christmas, new years, it's generally tends to be through the roof in Sydney. So already there are, there's a spike here in occupancy, which is, which is good to see. Hopefully it goes up the way it usually does.
Anurag:
Also good to see nobody's canceling it yet. The next market that we see is, is New Zealand, which for New Zealand I picked a location that was not a city. Oh. Because cities vote. We have seen the, the cities where I looked at were very similar to Sydney for the same reason. Like it's going to gradually go up as the date gets closer. And then there is occupants. He was still doing fairly reasonably well in New Zealand for cities. I picked this market because it was so different from other markets. Have we have looked at so far, this is I did not know that this place existed till, till I started looking at markets and New Zealand. But this is a domestic ski market in New Zealand. And you will see that in like New Zealand that's when people set their rates.
Anurag:
They are setting a higher rate for for the winter, which tells you kind of that, okay, this must be a ski market. Otherwise like you think of New Zealand as a summer destination for hiking and everything is the important thing to look at here is because it's a ski market, it's also super weekend heavy. Like there are peaks occupancy peaks over weekends that are so consistent. There are also, there seem to be a few holidays coming up, holidays events. Again, if you are in the market, you will know exactly what these are. I can look at the data, but I don't know the market exactly. There's clearly a 30 big event coming up here. I, I don't know what it is, but there are a few smaller ones which are very close and ended up getting a 40% occupancy already and a lot of new bookings are coming in.
Anurag:
Like people in the last week have been booking these dates. On the flip side that there seems to be some event here where people are currently canceling. So I don't know if this is a competition, a championship or a ski event that got canceled, but it seems like people are canceling those days and then there is a longer holiday or a longer event where people are actively booking. So generally seeing a lot more booking activity in this market probably because it's a remote, smaller market, a lot more people are comfortable Mmm. Making bookings and going there rather than traveling elsewhere
Thibault:
And for, for the peak, you know, Tobar could be labor day basically in which is 26th of October apparently in your region,
Anurag:
26, October, I think. October. We'll start here.
Thibault:
You want to market to relax like equal, have no clue what they're talking about. But again, it's interesting though already to look at the weekends, the patterns and probably as you write this probably like school holidays happening at some point. It's very long stretch.
Anurag:
Yeah. And then the, the interesting thing, the more interesting thing for me was depending on the kind of market like Fuquay is heavy international tourism. It's really low on occupancy right now. Very few people booking anything far out. Australia, Sydney at least urban market people are booking last minute stays reasonable, 30% occupancy rate. And, and this market, which is like reliant on domestic ski market and is getting bookings far out like in, in most places around the world, we are not seeing many people book stays five, six months out. Nobody knows. If, if the market will be up, how, how the COBIT crisis will evolve. But in this market it seems like, yeah, yeah. Guess yes. Feeling good about this market tenderly, the volume might still be low, but at least the folks who are booking who are looking to book far out.
Anurag:
Now, one of the things via also doing we have a page up on our website and you can visit this. The link is below via look, we've created sort of an index for every country in the world to say how in in our metrics or in our opinion how is this market doing? And we've kept it very simple like the, the metric essentially the combination of next one months occupancy rate and we add in the new bookings that are also coming in. So we scale up the new bookings that are coming in in the last week and say, okay, what's the current occupancy looking like and what's the rate of new bookings coming coming in is looking like, and we combine those two to create an index to say, okay, how are different parts of the world doing? You're generally seeing Australia being okay, so like our grade would be, we would be clean.
Anurag:
Australia is okay. New Zealand you can't see here because it's lighter than Australia, which means it's doing better than Australia. U S is doing somewhat. Okay. Germany is doing somewhat. Okay. Netherlands, they're seen as doing fine. Italy has, is not, and pretty much the rest of the entire world is not doing fine. Which, which in some ways could be where also, I mean in a lot of African countries where there's very little short term rental industry there are like Kenya has a fairly strong short term rental industry, but then there is, there is not much happening there because it relies a lot on international travelers. Same story, but for Southeast Asia in general, I think Korea seems to be doing okay. And I think Taiwan is somewhat fine. I you can zoom in on the website but I can't zoom in on the picture here. Sorry. But yeah, generally it looks like countries which had a larger portion of domestic travelers are doing better than, than the rest of the world.
Thibault:
But funny enough, it was sort of, it looks like Thailand, which is very light on the map is not as red as the rest of it
Anurag:
Could be. I can try and pull up the map and if you want to zoom in.
Thibault:
Yup, yup. And then the link is below again in
Thibault:
In the slide. So people will go there and that's okay.
Anurag:
Yeah, the link is here and you can zoom in. It also has state level starts for us. But but yeah, yeah. So this is the kind of things that you're observing and hoping soon this, this all turns less red. But yeah, something to,
Thibault:
I know, right, if I'm not mistaken, you guys also have launched a new, a new a new product, which is like, this is market dashboards that people can have. And that's been one of the slides from there, right? Or
Anurag:
This is I, so these three slides are all from, from that product that we pretty much created as, as a response for the center devices. What we have done is anybody who has an account at vice labs or creates a new account, the, we have given five sort of free dashboards. So you can create an account, go to market dashboards, you can put in an address, you can put in a radius. We'll show you what ADA is covered. We'll show you how many properties exist in that data. So you can edit the radius if you want to. And then you can hit gender dashboard and it will generate these charts that will show what kind of length of stay is coming in, what kind of lead time is coming in. And it refreshes every day. So we are doing a free refresh till June 30th.
Anurag:
At least as of right now to say, okay. Right now at least you should be able to go in and monitor what's happening in your market. Like if, for example, if you are in this market and you see that, okay, a ton of people are booking for these dates can, is there something you can do about it or if a ton of people are canceling for these dates, do you want to be proactive about it and do something? Or just see how other people are managing rates, right? Like, it looks like this market is a lot more aggressive on the last minute discounts, although the highest might not have started yet, but they seem to be doing more discounting than, than the previous two markets that we looked at. So just to be able to see where, and you can filter it by number of properties and number of bedrooms and all that too, to look at sort of closer analysis to your home sites.
Thibault:
Yeah. And I don't have, what I need to do is create an account on a free account on your website.
Anurag:
Correct. Yeah. There's no need to put in any payment information or anything. You just create an account, go there.
Thibault:
But that's the way to support the industry, so to of course showcase your products. But it's, that's great. Thanks for sharing. Yeah.
Anurag:
Yeah. So yeah, I mean it's, it's, we always had some of this data embedded in F and I product for people who use our dynamic pricing, but then it made sense to just like create something that that also caters to people who don't want to use dynamic pricing. Or just want to look at market data that they should be able to, energy's now they should be able to look at it for free given, given what's happening
Thibault:
And drug. Maybe that's, that's a stop sharing the screen and go back for a while to get to the close stage because again, thank you so much for the time that price labs, your team yourself has spent gathering this data. As I was saying at the beginning of this session, it's not so often that we can look at data for Southeast Asia and ex even myself, I'm looking at the data. I'm like some things I understand there are donors and again this is really when like having be able, as you said, be able to go in your tool, create a dashboard and look in your own markets. It's interesting cause you, you can really use your own knowledge of your markets and to, to understand what, what to do. Right,
Anurag:
Exactly. Yeah. And that's important because with any data and then just like our general philosophy with any data, there are always qualifiers. Like for example, when we looked at the reservation data in the beginning that was reservation data from, from customers who use by lives, which means that they are there. They might not be representative of the entire market. They, these are customers or these are property managers who use dynamic pricing. That's one way that differentiates them. Or these are property managers who use a property management system and the channel manager to publish their properties everywhere. When you look at your data, you might say, okay, I'm seeing trends that are slightly different, which is going to happen with any data, which is important because your portfolio is unique. Like you're going to see things that nobody else sees potentially. Same thing with the second part.
Anurag:
When you generate these reports, you'll, you'll see things there. That one you already know. Like you'll be able to look at it and say, I know exactly what's happening on those dates. And then too, you'll see things that you were not expecting and then you can say, okay, I want to think about this. It's either going to be that, okay, it's something that is is true. And you didn't know about it or it might be something that you're like, okay, it looks like because of the way they are scanning and gathering the data, this might be off from what I think should be happening. So regardless, when you look at any data, you should always like think of it from a very like, you know, critical perspective. Like, okay, does this make sense? Does this help me? And it might not need to be a hundred percent accurate for it to be helpful. That's the thing that data, if you can spot trends to understand what's happening when the market is going up, when it's going down, it doesn't, all you need to know is, is the movement or the trends rather than the absolute numbers sometimes.
Thibault:
That's, that's very interesting. Yeah. So if people, of course we be linking in the show notes to it too, things like that to the website. And actually we also have written quite a lot about you. You guys have such great quarter virus updates a couple of past months. So if you want to reach out to you, what's the best way to get ahold of you? I'm Ryan,
Anurag:
Right? So my personal email is [email protected]. It's not .com. And then the quicker way to hear back might be to write to our support, which is [email protected], start to see you because then it's our entire team monitoring it instead of just me. And we have a team in India and yada and in and in the U S so like they're fairly distributed time zone wise. So if you write to support, you generally hear back faster than if you write to me. But I'm also pretty quick at email, so either way is fine. For general resources you can just go to pricelabs.co and for example, see that go on our way to spades or see other resources.
Thibault:
Alright, again, once again, Anurag. Thank you so much for your time and well have a great day in a, the windy city then.
Anurag:
Yeah. Thank you so much to you both. Thank you so much for for hosting this and trying to get a perspective on, on, like, I know we have shared data about Europe and us and not about Southeast Asia or Australia and New Zealand, and this was a great opportunity to, to do that. Thank you for that.