The incredible success of the Airbnb IPO has awakened the interest in competing vacation rental listing site Vrbo. Financial analysts see a Vrbo IPO as a chance for Expedia Group shareholders to cash in on Vrbo by spinning out and publicly listing the vacation rental website. Meanwhile, Expedia believes so much in Vrbo that it is spending a lot of money on the brand: In the first weeks of 2021, Vrbo represented almost 50% of the TV ad impressions within the whole US online travel category!
The buzz around Vrbo matters to property managers and owners. The massive ad spend on Vrbo commercials keeps the brand present in travelers' minds. If you own a family-friendly vacation rental and are not listed with vrbo.com, you may be missing out on 2021 bookings. As you will see below, Vrbo is also pushing ads in other markets with a strong domestic demand like France. So, local Vrbo brands such as Vrbo UK, Homelidays.com, Abritel.fr, FeWo-direkt.de, andBookabach.co.nz, and Stayz.com.au may benefit as well.
Signs that people believe in Vrbo's potential for 2021
Expedia Group keeps on spending money on Vrbo TV commercials and social media ads
Travel news site Skift has revealed that Vrbo and Expedia had been dominating online travel TV advertising in the U.S. so far in 2021. The graph below shows that almost 50% of the TV ad impressions were for Vrbo, from January 1 to January 20, 2021.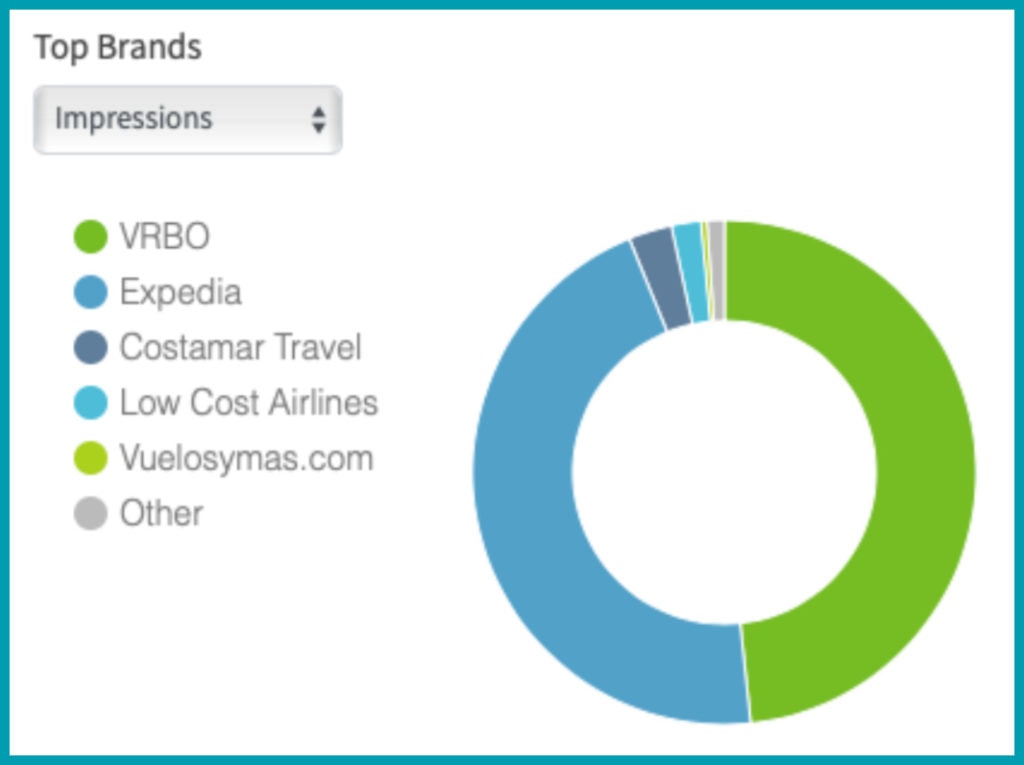 Now, ad spending in the travel industry has been quite depressed, so it is also remarkable to see who is not advertising: For the moment, Airbnb is betting on its strong brand to get direct traffic, while Booking.com has cut marketing expenses.
Vrbo is also spending advertising money on social media. Here are recent ads for the brand that we have noticed on platforms such as Facebook and Instagram. Note that some ads target property managers and owners who may be tempted into listing their vacation rental with Vrbo.
Vrbo Instagram and Facebook ads for US travelers: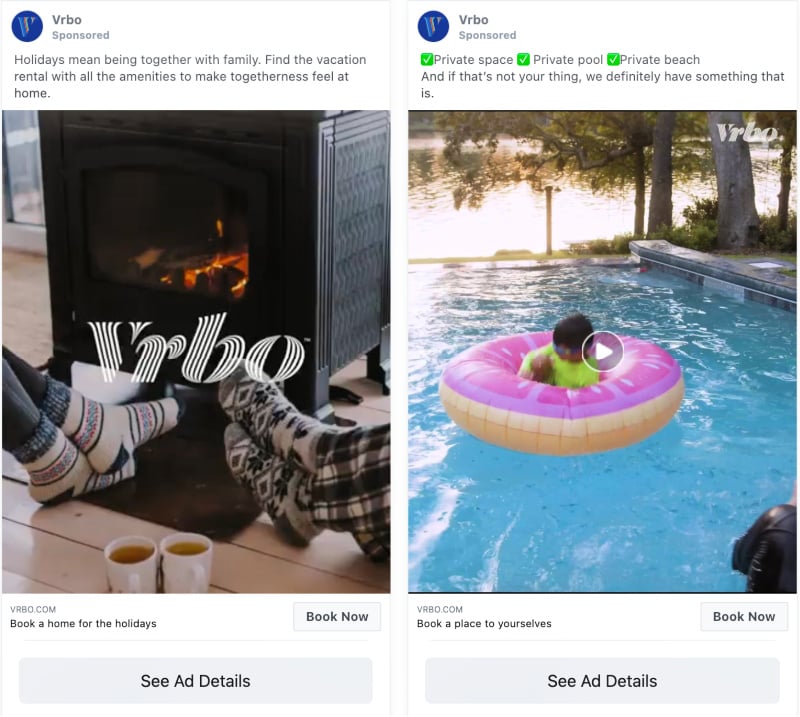 Abritel Instagram and Facebook ads for French travelers: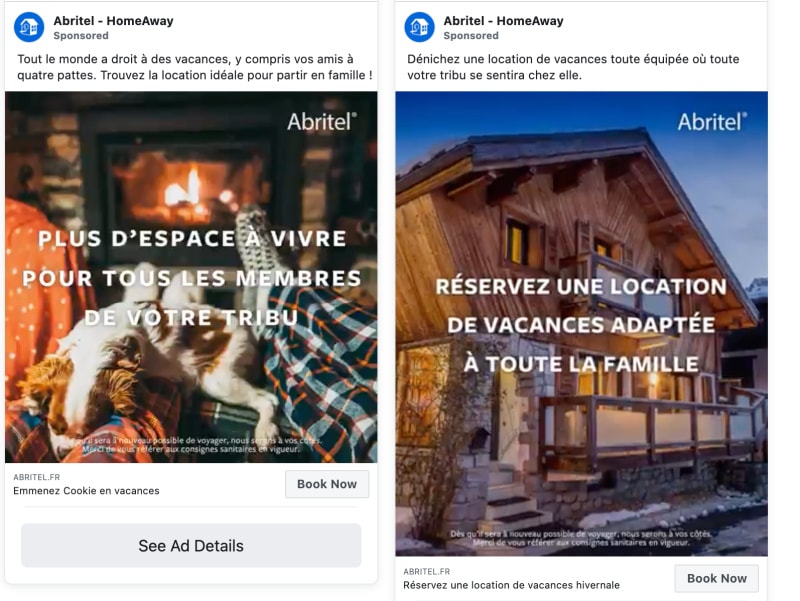 Vrbo Instagram and Facebook ads for US vacation rental owners:
"Renting to travelers with Vrbo this winter could net you a sizeable second income. Come see."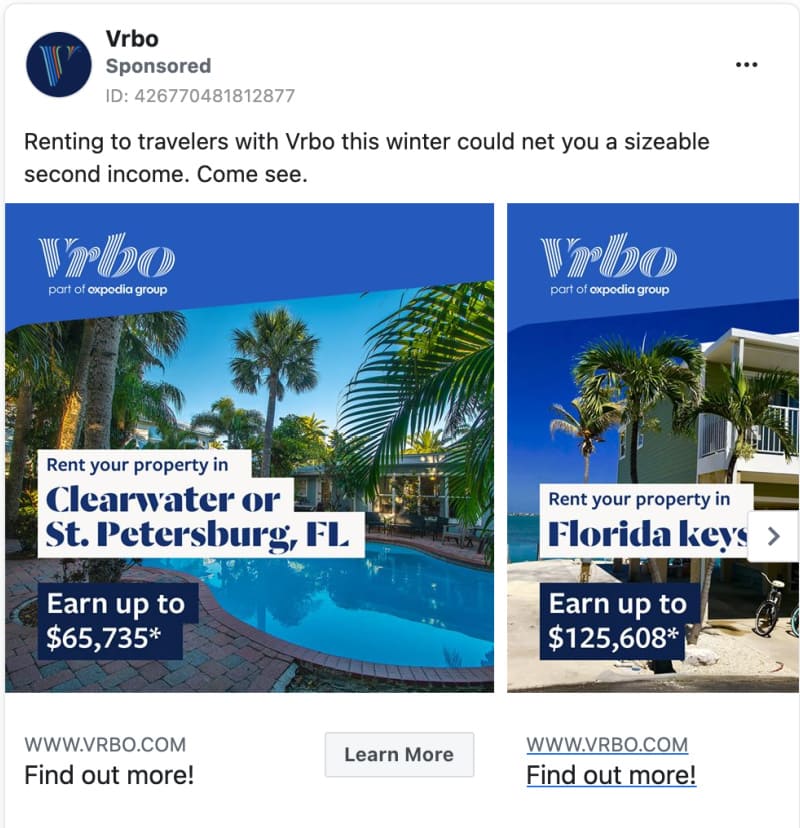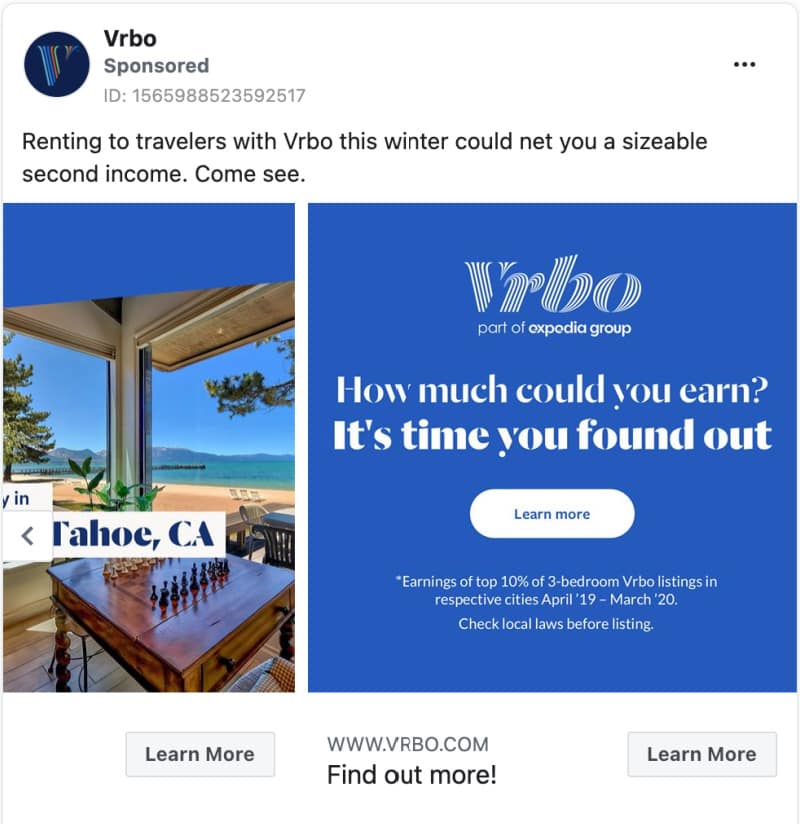 Financial analysts think that Vrbo will deliver a lot of value to Expedia Group, either as a subsidiary or as a corporate spin-off,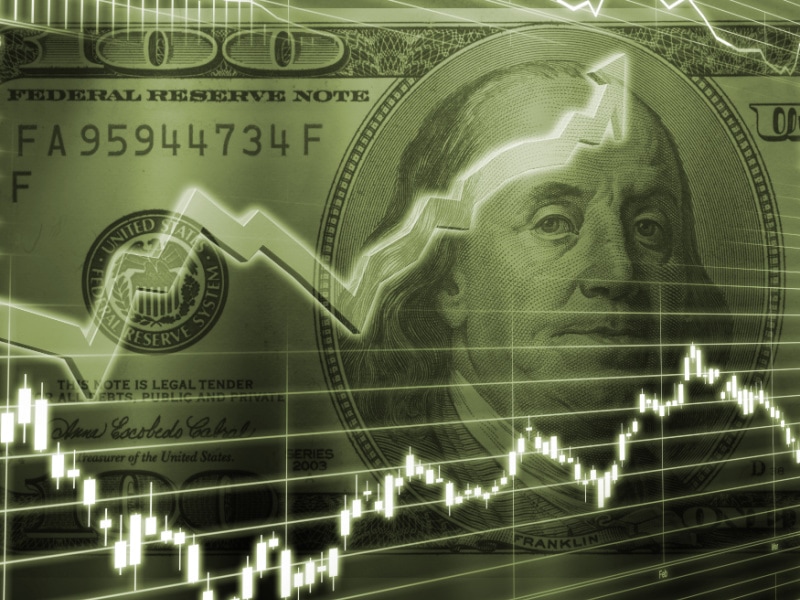 Airbnb's IPO makes financial analysts wonder what the true value of Vrbo is. For the moment, Vrbo is not a publicly-traded company: It belongs to the Expedia Group (EXPE). Here are some questions on the mind of industry analysts, M&A experts, and other people whose job is to value property management companies and the online travel sector:
If Airbnb is worth US$109.33 billion, how much is Vrbo worth?
For reference, in 2015, Expedia bought HomeAway-Vrbo for $3.9 billion.
The whole Expedia Group (with brands like Expedia, Orbitz, Vrbo, Hotels.com, Egencia, and others) is at an US$18.3 billion market capitalization.
Is Vrbo's real value then obfuscated behind the multiple brands of the Expedia Group? Would it be worth more on its own, with investors getting more visibility on Vrbo's individual performance?
Unlike sister brands like Orbitz and Expedia, Vrbo does not run on the same technology platform. The Vrbo website can run separately.
Porting the Vrbo supply onto the Expedia platform has been difficult, with Expedia account managers sometimes recommending Vrbo partners listed their properties directly with expedia.com.
So, would it make sense for Expedia Group shareholders to unlock Vrbo's value by spinning it out of the travel conglomerate? Analysts are talking up a Vrbo IPO, but an independent Vrbo may become a target for travel groups like Trip.com, Booking.com, and …. Airbnb.
For the moment, Vrbo is seen as adding to the financial perspective of Expedia Group. Last week, Wells Fargo analyst Brian Fitzgerald upgraded Expedia Group to overweight from equal weight. One of the reasons for his upgrade was the possibility of "a Vrbo IPO" (which) could represent significant value drivers for EXPE stock.
Conclusion: Keep an eye on Vrbo.com as a booking channel
You may want to make that your properties are listing with Vrbo.com. How much of your calendar availability should you allocate them? If you are pursuing a book direct strategy, it may not matter.