Vrbo is part of the Expedia Group. During the pandemic, Vrbo became a hot item within the group's brands (e.g. Expedia, Hotels.com, Orbitz, ebookers), as vacation rental bookings were booming while bookings of hotel stays were not doing so well. Vrbo is indeed a different bird. On average, across all Expedia Group properties, the length of stay in hotels is 2 days, while it is 5.5 days for vacation rentals. Yet, while Airbnb and Booking are global brands active across the world, Vrbo is only present in some key markets. Sometimes, Vrbo does not even trade under its own brand, but under a powerful local name such as Abritel in France and Stayz in Australia. This is what you can see below when looking at the data shared by Vrbo about the top 10 destinations booked in various regions of the globe. As usual, when looking at data or rankings, take a step back to think about what is actually being measured. For instance, as Abritel.fr is Vrbo's biggest website in Europe, top-ranking EMEA destinations are chockful of French city names. Are these the top destinations for vacation rentals in Europe? Probably not. But for Vrbo, apparently, yes.
We looked at Expedia Group's Q1 2022 Travel Trend report and extracted key insights relating to vacation rentals for you. First, we'll look at length-of-stay data. Then, we'll see why Vrbo's lists of top booked destinations by world regions demonstrate the power of its local brands such as Abritel and Stayz and why it is hard for Vrbo to become a real global brand. Yet, does it need to?
Length-of-stay (LOS) for vacation rentals beats hotels by far
According to Expedia Group's Q1 2022 data:
Data on a global level for all Expedia Group properties in 

Length-of-stay (LOS) for hotel stays: 2 days
Length-of-stay (LOS) for vacation rental stays: 5.5 days

NORAM (North America): Length-of-stay (LOS) for vacation rental stays: 5 days
EMEA (Europe, Middle-East, and Africa): 7.5 days
No surprise that hotel stays would be shorter than vacation rental stays, as the use case for vacation rentals calls for long stays such as family reunions and getaway trips to the sea. Hotel stays are often synonymous with a weekend somewhere.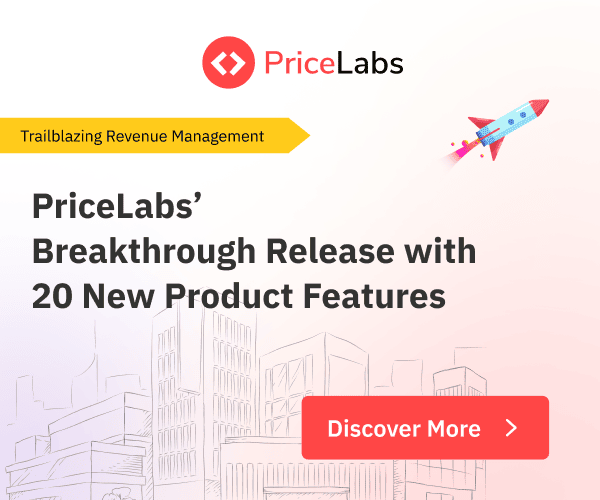 Yet, 5.5 days is quite long. We can guess that if Vrbo had more urban supply, the overall length-of-stay would fall, as short-term stays in cities tend to hover around 3 days. So, an LOS of 5.5 days is also probably a testament to Vrbo's supply being located in traditional vacation rental markets, outside of big urban centers.
Top destinations booked on Vrbo by travelers by region reveal the crucial roles of Abritel (France), Stayz (Australia), and Vrbo Brasil (Brazil) in international markets
Let's have a look at the list of destinations booked by travelers on the various Vrbo websites (e Note this is the list of the destinations where travelers from one region are heading to. For instance, the number one destination booked by EMEA (Europe, Middle East, and Africa) is Kissimmee, Florida. Why? Because of its close proximity to the Walt Disney World theme park ( like Davenport, Florida, which is number six on the same list).
Top 10 Vrbo Booked Destinations | Q1 2022
NORAM (North America)
Unsurprisingly, destinations in Florida dominate the list.
Panama City Beach, Florida
Kissimmee, Florida
Gulf Shores, Alabama
Orange Beach, Alabama
Destin, Florida
Hilton Head Island, South Carolina
Lahaina, Hawaii
Myrtle Beach, South Carolina
Kihei, Hawaii
Miramar Beach, Florida
EMEA (Europe, Middle-East, and Africa)
As explained above, a big reason why Kissimmee and Davenport make this list is their proximity to Walt Disney World. These destinations have always been popular with European travelers yet they may be surging even more after two years of pandemic and travel restrictions.
French destinations also rank high, which is also a consequence of the success of Vrbo's French website (Abritel) and the weight of French domestic travelers. Now, some French destinations are actually very small in size (e.g. Porto-Vecchio and Gérardmer) which raises some questions.
Kissimmee, Florida
Porto-Vecchio, France
Paris, France
Playa Blanca, Spain
Nice, France
Davenport, Florida
Gérardmer, France
Antibes, France
Arcachon, France
Albufeira, Portugal
LATAM
Just as for EMEA, this list for all Latin American countries is skewed towards Brazil as Vrbo's Brazilian website is the most active in the region and as domestic travel in Brazil is so huge.
Rio de Janeiro, Brazil
Ubatuba, Brazil
Guarujá, Brazil
Cabo Frio, Brazil
Praia Grande, Brazil
São Paulo, Brazil
Bertioga, Brazil
São Sebastião, Brazil
Kissimmee, Florida
Arraial do Cabo, Brazil
APAC
For Asia-Pacific, the weight of Stayz, Vrbo's Australian brand is blatant. It does show that Vrbo is not a large player (or not a player at all) in Japan, China and other large Asian markets.
Cowes, Australia
Surfers Paradise, Australia
Dunsborough, Australia
Port Douglas, Australia
Jindabyne, Australia
Noosa Heads, Australia
Rye, Australia
Noosaville, Australia
Culburra Beach, Australia
Sorrento, Australia
What the lists reveal: the key roles of Abritel, Stayz, and Vrbo Brasil
These lists above reflect the top destinations booked by the users of Vrbo. By definition, the lists reflect the preferences of travelers located in countries where Vrbo is active. In some regions, Vrbo is very active in one country, which skews the destination list toward the places that people from this one country prefer. It is a testament to the power of Vrbo's local websites, which most often are not actually trading as Vrbo:
In EMEA, a lot of French destinations make the list as Vrbo's most important website is located in France. It trades under the name Abritel (abritel.fr)
In LATAM (Latin American), Brazilian destinations trust the list as Vrbo Brasil (vrbo.com/pt-br) is the strongest local site in the region
In APAC (Asia Pacific), Vrbo's most important market is Australia, where the company trades under the name Stayz (stayz.com.au).
Is Vrbo a global brand like Airbnb or Booking.com?
No, Vrbo is not as global as either Airbnb or Booking.
Smaller footprint
Airbnb and Booking.com are active in almost every country in the world. These brands launched almost from the start as global players, with one website, app, and brand for everyone.
Vrbo originates from the former HomeAway Group which grew out of the acquisition of multiple vacation rental listing sites across the world, from Owners Direct in the UK, Homelidays and Abritel in France, and Stayz in Australia. Since rebranding to Vrbo, the company has launched in new markets, such as Mexico, but it is not available in the majority of countries. You can find it in:
Australia
Austria
Brazil
Canada
Denmark
Finland
France
Greece
Italy
Japan
Mexico
The Netherlands
New Zealand
Norway
Poland
Portugal
Singapore
Spain
Sweden
United Kingdom
United States
Vrbo is not the brand name in key markets
Airbnb and Booking.com used the same brand across the world (except Airbnb in China, where the name has been localized to Aibiying).
Not only is Vrbo is not active across all countries, but it is trading under very different names in key markets:
Abritel.fr in France
FeWo-direkt.de in Germany
Bookabach.co.nz in New Zealand
Stayz.com.au in Australia
Sometimes, it is actually trading under two brands, for instance, under both Stayz and Vrbo in Australia. In 2020, when Expedia Group killed the HomeAway brand in the US and kept the sole Vrbo on its main market, many people thought that Abritel and Stayz would be next. Actually, the Stayz brand disappeared for a few months from the Australian market.
Killing local brands Abritel and Stayz to rebrand them into Vrbo France and Vrbo Australia is something that has been pushed back by Vrbo's leadership team. One on hand, it is preventing Vrbo from creating a global brand. On the other, in international markets, Vrbo is still a collection of national champions so killing something that works may not make sense.
Still, Vrbo is trying to run global ads. As a result, on French TV, people can watch a commercial shot by Vrbo for 2022 Superbowl. The commercial is branded Abritel, yet the whole thing (the car, the vacation rental, and the actors) has a distinct US flavor.
Just as in the US, Vrbo wants to position the Abritel as the best place to find family-friendly vacation rentals.
Now, things are working well as is. How much does it matter to local travelers that their favorite website has a different name in a different country? Maybe not much. In terms of advertising, it is easier to repurpose content across countries when the brand is the same. Yes, as the example with the Abritel / Vrbo commercial above shows, some commercials betray the origin of the main brand and can feel foreign to many international audiences.