As announced in 2021, Booking.com is doing more to increase its revenues, in the US, from its "alternate accommodations" business, which covers short-term rentals (vacations homes, condos, apartments, cabins, etc.), shared places (homestays), as well as bed and breakfasts and guesthouses. Booking Holdings CEO Glenn Fogel says that, for the quarter of 2022, alternative accommodations made up 31% of Booking.com's room nights globally. With 6.4 million vacation rental listings worldwide, the company is a serious competitor in many markets.  In the US, its relative size is probably much smaller, as Booking does not benefit from the brand name and clout of Airbnb to attract supply for individual hosts and vacation rental guests. Still, Booking.com is marching on and has been investing money into ads (from its Superbowl commercial to pages in the New York Times) and technological improvements such as a better payment system for US vacation rental property managers. 
When Booking.com trolls Expedia … to attract more supply
In a way, it can be anecdotal, but Booking.com has taken steps to get recognized in the US as a serious contender when it comes to vacation rentals.
Here's what Brian Cohen from The Gate reported:
Expedia Group hosted a major conference for its travel partners called EXPLORE 22 in the Aria Resort & Casino hotel complex in Las Vegas on Wednesday, May 4, 2022 and Thursday, May 5, 2022 — and during this conference of which approximately 3,000 people attended, Booking Holdings plastered digital advertisements throughout the city via electronic billboards at hotel and resort properties, on taxi cabs, and at the International airport which serves the greater Las Vegas metropolitan area.
As the call to action for the ad is "Boost your bookings at list.booking.com", it seems to have targeted vacation rental owners and property managers. In this instance, it means that Booking.com had in mind the Expedia and Vrbo hosts that were heading to Expedia Group's partner conference.
"Think Bigger, Think Booking.com": When Booking mentions the 6.4 million vacation rentals that it does not actually have.
Booking.com did not just troll Expedia. The Las Vegas ads were part of a bigger campaign aimed at making the US market aware of Booking.com's relevance to the market. One could argue that if you need to spend a lot of money to make people aware that you are a relevant player, then your relevancy may be questionable.
Earlier this year, Booking.com poured a lot of money into a Superbowl ad featuring actor Idris Elba. We've not been super impressed with the re-introduction of the Booking.yeah tagline and the execution of the commercial, yet the cost of it all showed that Booking.com wanted to get noticed by Americans.
Booking.com also ran print ads in The New York Times and Wall Street Journal (see Glenn Fogel's LinkedIn post below). The copy is interesting to read (with our comments within brackets.
We've delivered over 1 billing vacation rental guest arrivals. (Note: 1 billion over 1, 5 or 20 years??. This is a cool milestone that Airbnb crossed in September 2021).
That's a lot of supper happy hosts. (Note: Booking.com usually talks about its partners, while the word "hosts" has traditionally been used by Airbnb. Vrbo has also more and more been using the term "host" over "partner", for instance, changing the name of its Vrbo Premier Partner Program to Vrbo Premier Host Program. It shows that Airbnb's lingo is influencing its competitors, as much as that Booking.com clearly wants Airbnb hosts to understand that it welcomes them.
You might not have thought about listing your vacation rental with us yet. But the hosts of the over 6.4 million vacation rentals already listed with us have. (Note: #Duh! #FOMO. Booking.com does not really have 6.4 million vacation rentals, but more on that the below)
Think BIGGER, Think Booking.com
Boost your bookings at list.booking.com (Note: The call to action is aimed at hosts who are already listing their properties elsewhere, as we can read it as "get additional bookings". Also, note that Booking.com's usual URL for their sign up page is join.booking.com. Maybe the company is trying to track the traffic through list.booking.com.
Vacation rentals include all of our alternative accommodations: our homes, apartments, and other unique places to stay (Note: This is an important but hard-to-read disclaimer: Indeed, Booking does not have 6.4 million vacation rentals, as this number included bed and breakfasts, guesthouses, homestays, aparthotels, and other non-hotel listings. A B&B is clearly not a vacation rental. Yet, to look bigger, Booking.com has twisted reality a bit but somewhat landed on its feet thanks to this disclaimer.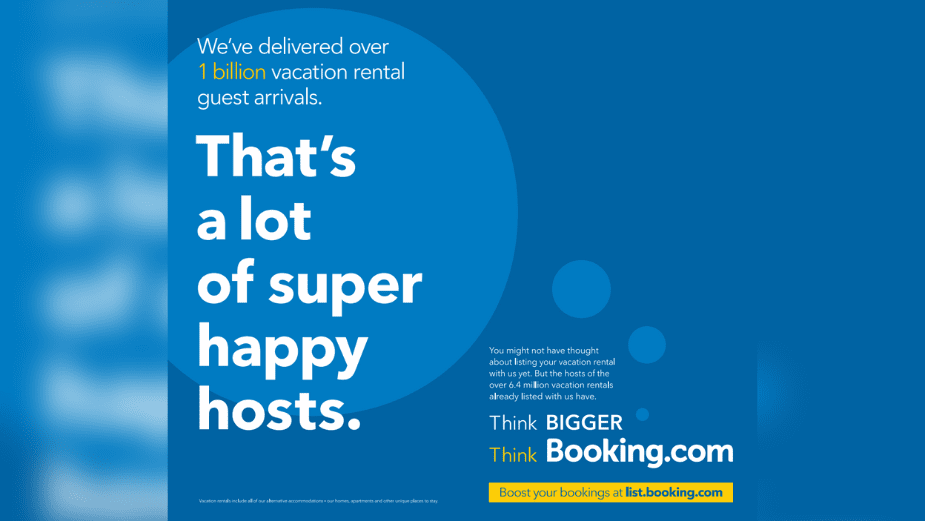 Glenn Fogel's commitment to growing vacation rentals in the US
Booking.com's CEO has shown on various occasions that he wanted the financial market, as well as US property managers, to take him seriously when it comes to the company's commitment to do better in the US.
Linkedin post about the vacation rental market
In early May 2022, Glenn Fogel posted on LinkedIn a message about the growth potential of the vacation rental market (bolded by us).
As the world adjusts to a hybrid model of living and working, the vacation rental market will continue to be a critical sector for global travel recovery. According to Precedence Research, the vacation rental market is expected to quadruple by the end of the decade, reaching $111.2 billion by 2030. The comfort and flexibility offered by vacation rentals pre, during, and post pandemic has fueled consumer demand and increased interest from even more people to consider listing their properties, particularly as technology is making this a seamless process. For the entire travel industry, this means an increasing need for online and mobile travel technology to support everything from bookings, operations and payments to marketing and traveler support.
At Booking.com, rental properties continue to be an important part of our global business. As shared during our earnings call last week, in the first quarter we saw the largest sequential net increase in alternative accommodation properties on Booking.com since the start of the pandemic. With over 6.4 million vacation rental listings, our vacation rental partners have welcomed more than 1 billion guest arrivals worldwide – a testament to our ability to connect guests and hosts at scale. Our growing vacation rental partner community continues to see success, especially as our world becomes increasingly mobile-first. Our app was the most downloaded online travel app globally in 2021, which puts our partners – over 40% of whom receive their first booking within a week – in front of an ever-growing base of travelers looking to book.
As we prepare for the Summer travel season, we're already seeing the critical role technology is playing in connecting people to the experiences our vacation rental partners provide. By meeting customers where they are, we'll continue to innovate our technology to make securing and boosting bookings a seamless experience for rental partners around the world.
Vacation rentals also had a place in Glenn Fogel's comments about Q1 2022 financial results
For alternative accommodations, our global mix of room nights in the first quarter increased to about 31%, a couple of points higher than in Q1 2021.
We continue to work on improving our alternative accommodation product globally, with an additional focus on the U.S. market. We've been working closely with property partners to identify opportunities to improve our platform to better fit their needs. Related to these efforts, we launched partner liability insurance for our alternative accommodation supply partners with global coverage in the first quarter.
In addition, we are making progress on an enhancedà In the first quarter, we saw the largest sequential net increase in alternative accommodation properties on Booking.com since the start of the pandemic. While the net increase in Q1 was still a modest number of properties, we are aiming to build on this growth throughout 2022 by continuing to improve our alternative accommodation offering and attracting more partners to our platform. And this week, we launched a new campaign in the U.S.
to promote Booking.com to alternative accommodation owners and managers who want to grow their business with us. Let me now talk about the progress we've made in our interrelated strategic priorities of payments and the connected trend. We believe both of these priorities will further enhance the strength of our core accommodations business and support its continued growth.
Booking.com's improved offers to attract US property managers
Since the beginning of 2022, Booking.com has come up with several improvements to match what its competitors Airbnb and Vrbo offer to vacation rental owners and managers: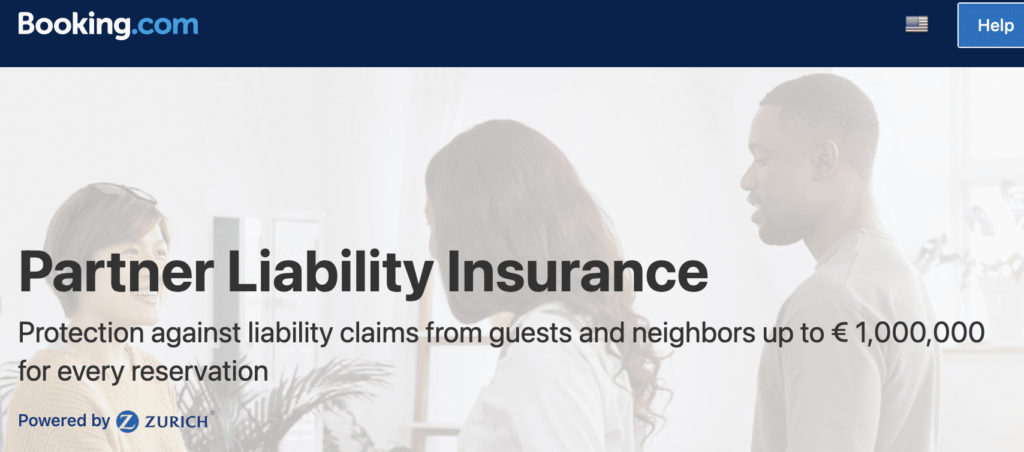 A brand new €1,000,000 Partner Liability Insurance
A pilot called "Damage Deposits by Booking.com"
A new payment system for US vacation rental property managers. (Note: The ability to offer a reliable and competitive way for US property managers to take payments from Booking.com guests has been the company's weakest point for years. Due to technical and tax issues, it was difficult for European-based Booking.com to take payments in the US. If the company can solve this problem, this is major)
Sponsored Ads, a new marketing tool for US-based partners (not just for vacation rentals). Sponsored Ads offer US-based partners an opportunity to bid in an auction for a premium rank in search results. The winner of the auction will have their listing featured in the second position of search results on desktop, app, and mobile web.
Conclusion:
In 2022, Booking.com is still playing catch-up in terms of value proposition for property managers (e.g., liability insurance, payment solutions). Yet, the company is doubling down on its efforts to attract new supply and create awareness around its place as a serious global player when it comes to vacation rentals.