Booking.com is trying to drive up awareness and consideration for its short-term rentals. Short-term rental travel has become increasingly popular in recent years, with many people opting to stay in a vacation home or apartment instead of a hotel room. And now, one of the world's largest online booking sites wants you to know that it offers this type of accommodation as well.
The company recently added new features on its website designed to make users aware that it also offers short-term rentals and make them consider them as an alternative to booking a hotel room. Here are 7 ways Booking.com is trying to drive up awareness and consideration for its short-term rentals.
Before we start, note something unique to Booking.com's way to talk about the short-term rental market: The company's copy uses the word "home" a lot. For instance, its mission statement states the following:
Booking.com seamlessly connects millions of travelers to memorable experiences, a variety of transportation options, and incredible places to stay – from homes to hotels, and much more.
Obviously, Booking is not a real estate website like Zillow where you can find your next home. When the company says "home," it means whole entire places, such as vacation homes and apartments. Home does not translate easily into some languages. In French, Booking.com's copy talks about "hôtels et maisons" (hotels and houses). In Spanish, the word casas is used for homes.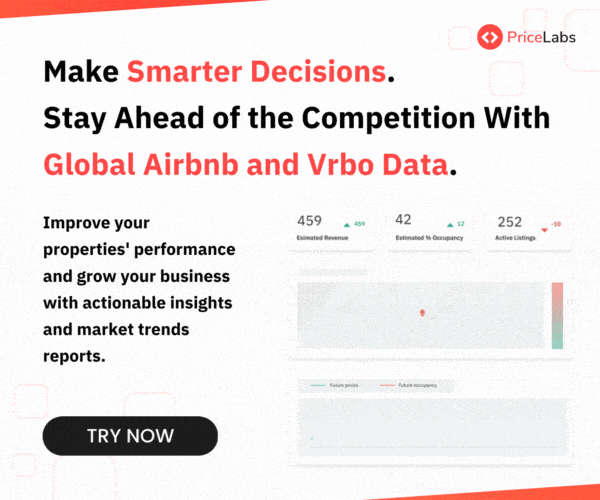 So, why is Booking.com using the word home so prominently? One of the key reasons is that Booking.com's internal team, in charge of short-term rentals and other non-hotel offers is called Booking Home. We can think that the word home has become so familiar to the team that it has transpired to the external world and is used when talking to guests and partners.
With this in mind, you will start noticing the word HOME a lot when going through Booking.com's website. In the example below, you will also see that Booking.com use the term "home" to mean entire properties, as opposed to shared accommodations such as guest houses and bed breakfast.
Homepage: Call to action on the top of the search box which
On the homepage of a travel website, the search box is at the center of the action. So, the space on top of this box is a crucial opportunity for Booking.com to remind travelers that they can search more than hotels.
Here's the copy that can you see above the search box
Find deals on hotels, homes, and much more…
From cozy country homes to funky city apartments
Note that the term hotels is mentioned once, while non-hotel property types are mentioned three times (homes, country homes, city apartments).

Homepage: Merchandising – Property types
Lower on the homepage, Booking.com is using different ways to awareness of the breadth of its accommodation supply. First, the company wants to show that it offers a wider variety of property types than people may be expected. Second, Booking.com used data as proof that it actually has listings for each of these accommodation types.
Note in passing that Booking.com seems to reveal how many properties it has, e.g. 729,778 apartments, 75,233 villas, 30,938 cabins, and 128,720 cottages. We have not noticed that degree of disclosure either Airbnb or Vrbo.
Caveat: In Booking.com's parlance, one property can contain several units. For instance, a hotel can contain 50 units. Similarly, 1 aparthotel property can offer 20 apartments. The latter would be counted as 1 aparthotel on Booking, but 20 apartments on Airbnb. So, Booking.com's numbers tend to be understated.

Homepage: Merchandising – Property types
The homepage shows other merchandising areas that Booking.com uses to drive awareness about its non-hotel offers.
For instance, look at the copy of this block:
More than just hotels… Bookers discover pure comfort with homes, apartments, and more.

The copy is clear: "More than just hotels". This is about acknowledging an existing perception and then showing that it is unfounded. Note the use of the word "homes" again.
To support its claim, Booking.com then shows four properties that fall into the non-hotel categories. We're not sure on which base they are selected. Using an American IP address, we were shown listings located in Poland, Brazil, Spain, and Hungary. In COVID times, these locations may not be the most relevant.
Have you noticed another quirk of Booking.com's internal lingo seeping into its public-facing copy? The company uses the word "Bookers" for its users. A user of Booking.com is a Booker. Is Booking.com trying to make the word Booker happen? Now, you may not want to see what the Urban Dictionary thinks the word booker may mean as well 😉
Homepage – "Home" banner
At the bottom of the homepage, users can find a banner promoting non-hotel property types. Here's the copy:
Find villas
for your next trip
Discover homes
Property types rotate within the banner: villas, apartments, cottages, etc. Note that the call to action is using the term "homes" again.
A click on the banner leads to a landing page aptly called Booking Home: booking.com/booking-home/.
The Booking Home landing page
As explained above, Booking.com has created a Booking Home landing page (booking.com/booking-home/) dedicated to its vacation rentals, apartments, and other entire home property types.
The copy and content reflect this focus. For instance, this is the copy on top of the search box:
Search for homes
Find space of your own in every corner of the world

The merchandising sections mention the word home abundantly:
Homes guests love
Unique stays: Homes worth escaping to
Weekend or week-long trips: Homes that fit all your needs
Trending spaces: Frequently booked homes
Search results – "Homes & apartments first" top filter
Booking.com has dozens and dozens of filters that travelers can use to slice and dice the search results. Most of these filters are crammed into the left-hand side of the page. Yet, on top of the search results page, Booking.com handpick filters that are important for its business.
Here, you can see a new filter called "Homes & apartments first". Its role its reorder the results by showing entire homes first while keeping other property types in the list. This is a bold step for Booking.com to make travelers aware of the "homes & apartments" category and even get them to consider non-hotels as their first accommodation type choice.
As everything is A/B tested on Booking.com, it means that this bold move either generates more bookings or that Booking.com is willing to take a hit on conversion (not a big one, probably) to drive more awareness and consideration for these properties.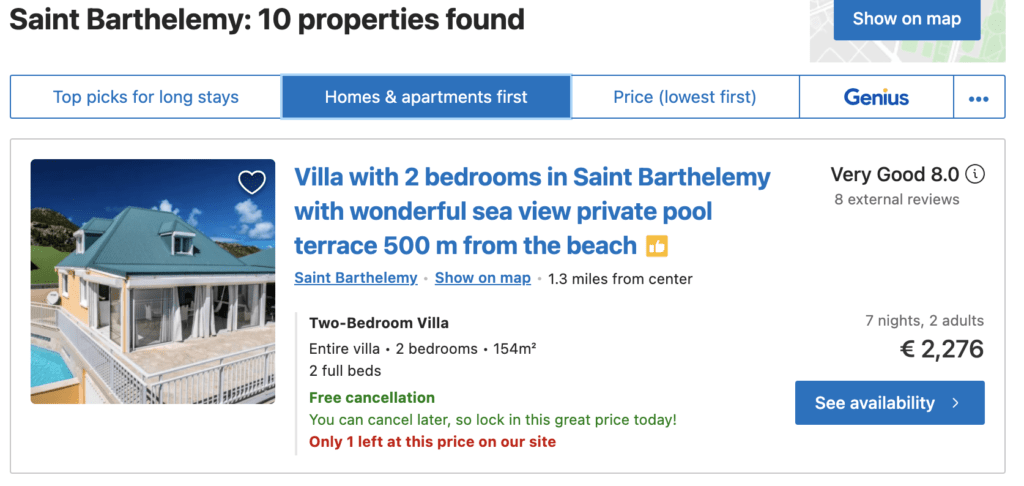 Search results – "Entire places" filter
A less bold, but still meaningful way to drive consideration is to add a filter for "entire places". What is interesting here is that "entire places" isolate Booking.com's supply that matches the closes that of Vrbo: Entire houses. This is a subcategory of Booking.com's non-hotel offering, which also comprises guest houses, bed & breakfasts, and other types of shared accommodations.
The "Entire places" filter is the closest thing to a "vacation rental" filter that Booking.com offers. It does not look like much, but it is a big deal. If it is there, it also means that impacts positively Booking.com's business.

Booking.com has been trying to drive up awareness and consideration for its short-term rental travel category on its website by using a variety of strategies, including showing four properties that fall into the non-hotel categories at the bottom of their homepage and making entire homes easily accessible from a dedicated landing page (booking.com/booking-home/) as well as adding filters such as "Homes & apartments first" top filter or "Entire places" filter so travelers can find vacation rentals more quickly when searching Booking.com's inventory. While it is too soon to tell if these efforts are translating into more bookings for the short-term rental category, they are certainly worth noting as Booking.com continues its push in this direction.