In a previous article about Summer 2020 vacation rental recovery, we had shown you that searches on Google for terms such as "vacation rentals", "cabin", "villa", and "cottage" were on an all-time high, in several countries around the world.
This follow-up article brings you more light about what travelers are dreaming about, searching for, and, most probably, booking at the moment. We'll give you actionable insights derived from these data and trends. For instance, calling your rental a « cabin » or a « cottage » may drive more attention to it and get you more bookings. But, in the US, we'll see that the words "cottage" and "cabin" appeal differently from one state to another. These trends will also give you an idea of what people are valuing at the moment (e.g., lakefront properties, private pools, hot tubs). Finally, in an era of staycations and of voice searches, we'll see how important it is to show up for requests such as «luxury vacation rentals near me.»
Rural destinations are booking, urban ones not so much
Rural destinations are booming in several countries, from the US to France, Italy to Canada. To get started, let's look at a very telling graph created by BeyondPricing. It shows that the boom in bookings recorded since the end of May 2020 is due to rural markets:
– The yellow line represents city markets. As you can see, for the week of July 13, they were down by 38% compared with the same week in 2019.
– The light green line represents rural markets. Since June, the bookings there have done better than for the same weeks in 2019. For the week of July 13, they were up by 78% compared with 2019.
– the deep green line represents the overall market, city + rural. Overall, it is up by 31% in terms of bookings.

What is striking here is that rural markets have fared better than city markets. What we see here in the UK also holds for several countries. Let's now use Google searches to see what kind of searches are booming.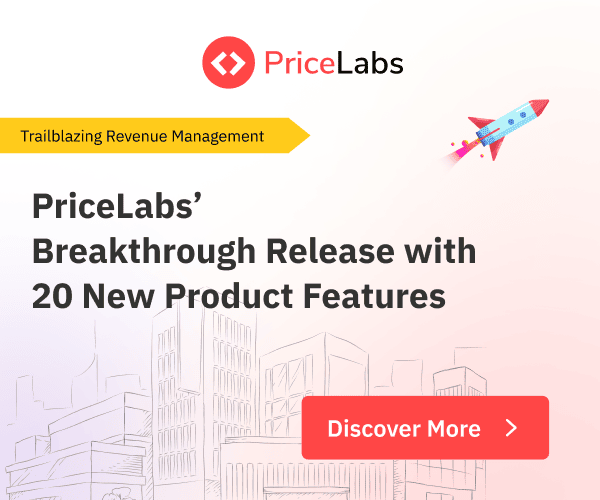 How to read Google Trends graphs for vacation rentals
First, let's do a quick recap on how to read these graphs based on Google Trends. All the graphs that we have created for you below are looking at data from the last 5 years, in the US.
Numbers represent search interest relative to the highest point on the chart for the given region and time. A value of 100 is the peak popularity for the term. A value of 50 means that the term is half as popular. A score of 0 means there was not enough data for this term.
For example, the graph below tracks the search interest for the phrase "vacation rental" over the last 5 years in the United States (as you can read at the bottom of the image). It shows that Google searches reached their highest point in mid-June 2020 (the score is then 100). The second highest point was in June 2016, with a score of 72. As the difference between 72 and 100 is 28, it means that, in June 2020, search numbers were the highest over the last 5 years and surpasses the previous 2016 peek by 28 basis points.
This is all relative: It does not tell us how many searches were conducted in absolute terms. But it gives us an interesting indication of that the searches have been very high, after dipping in March / April 2020.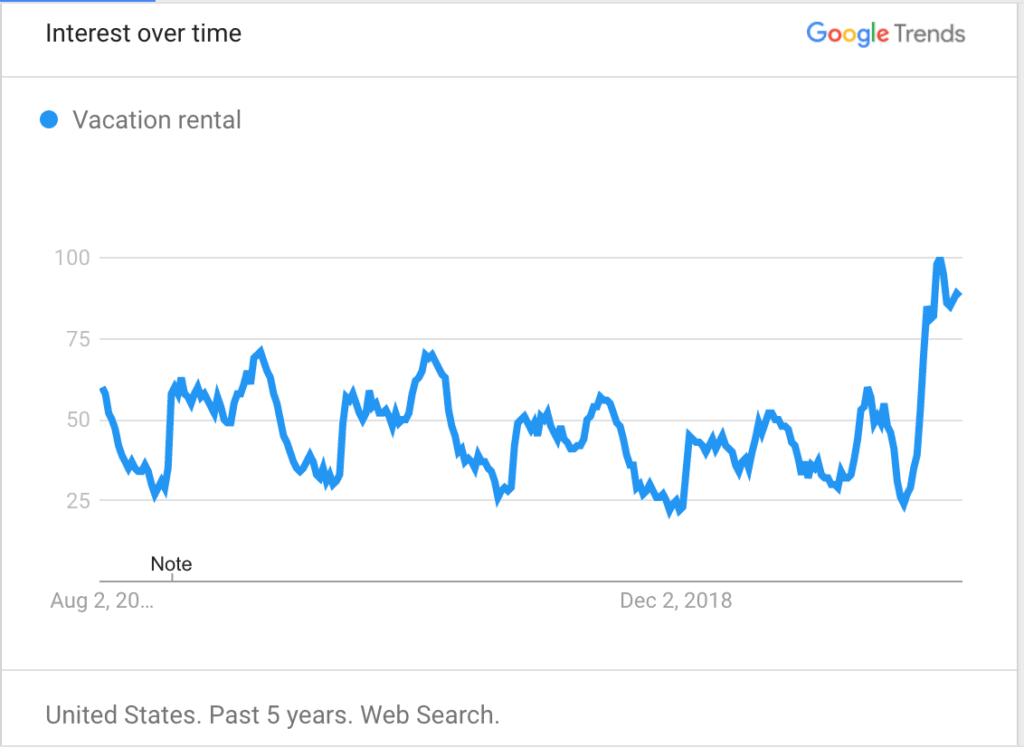 Vacation rental subcategories that are booming
You can use Google Trends to refine a bit the overall trends. For instance, you can search for "lakefront vacation rentals" or "luxury vacation rentals". As you can see below, both categories have been booming in 2020. Both have reached levels that are double their previous peaks.
It may seem obvious, but if your property sits by a lake and its listing title, your blog content, your instagram posts, etc. do not contain the words "lakefront vacation rental", you may be missing out. Where else in your content can you use these words?
By contrast, searches for "airbnb new york", a good proxy for short-term rentals in New York City, is still at 74 points, against its 100 points peak in June 2019. It means that searches for airbnbs in New York are 25% less than a year ago.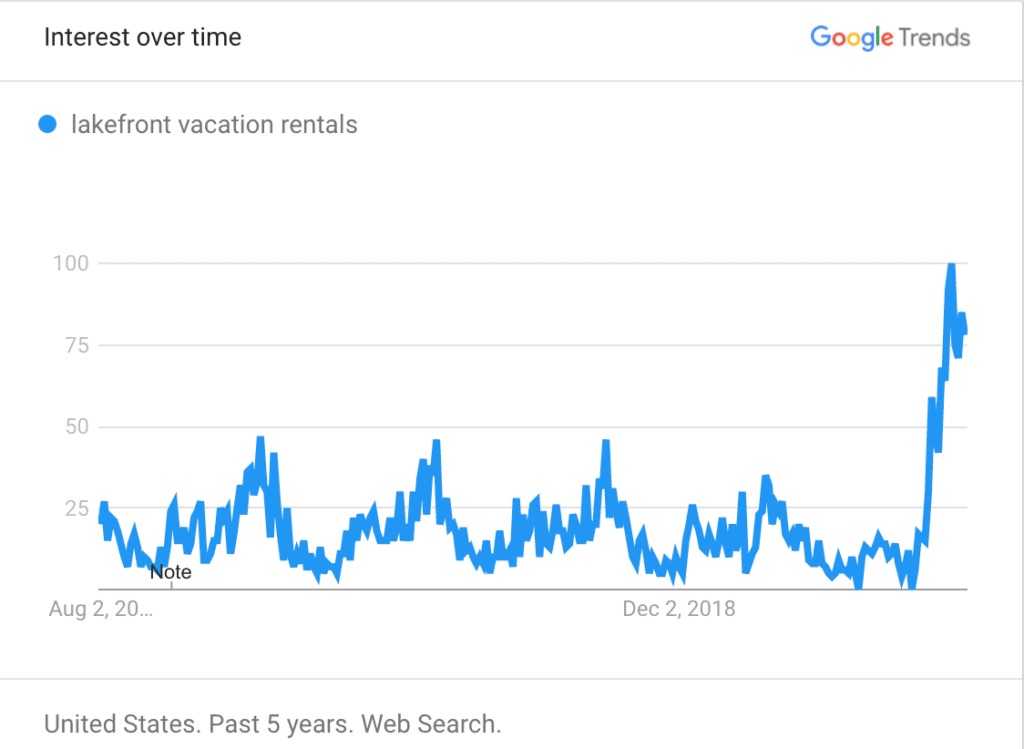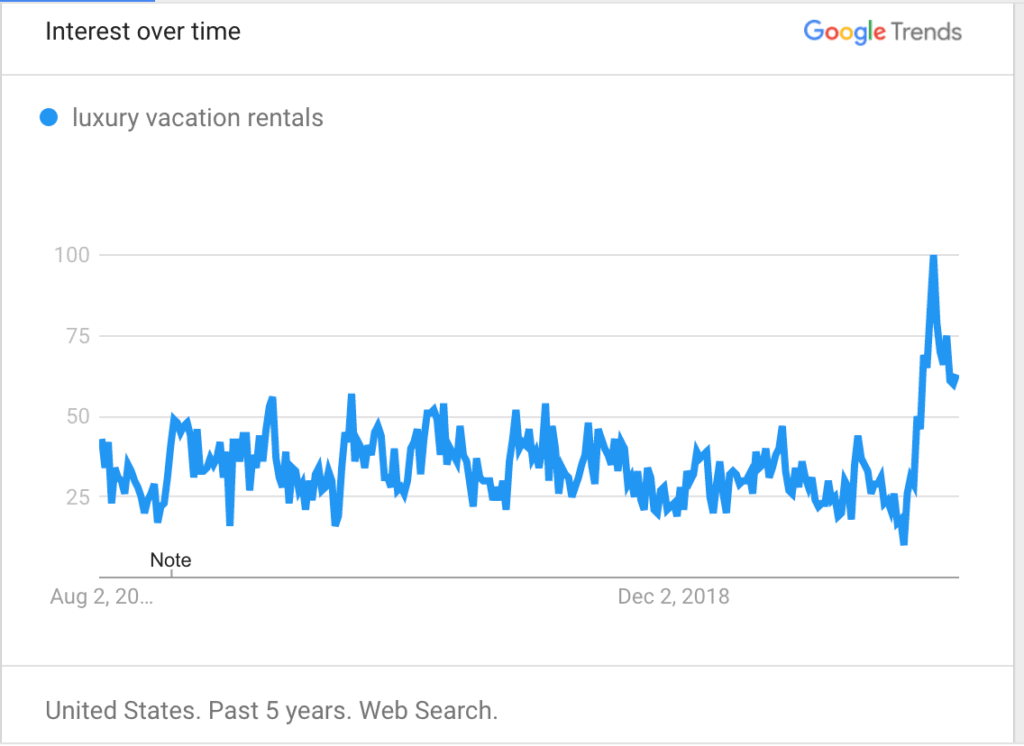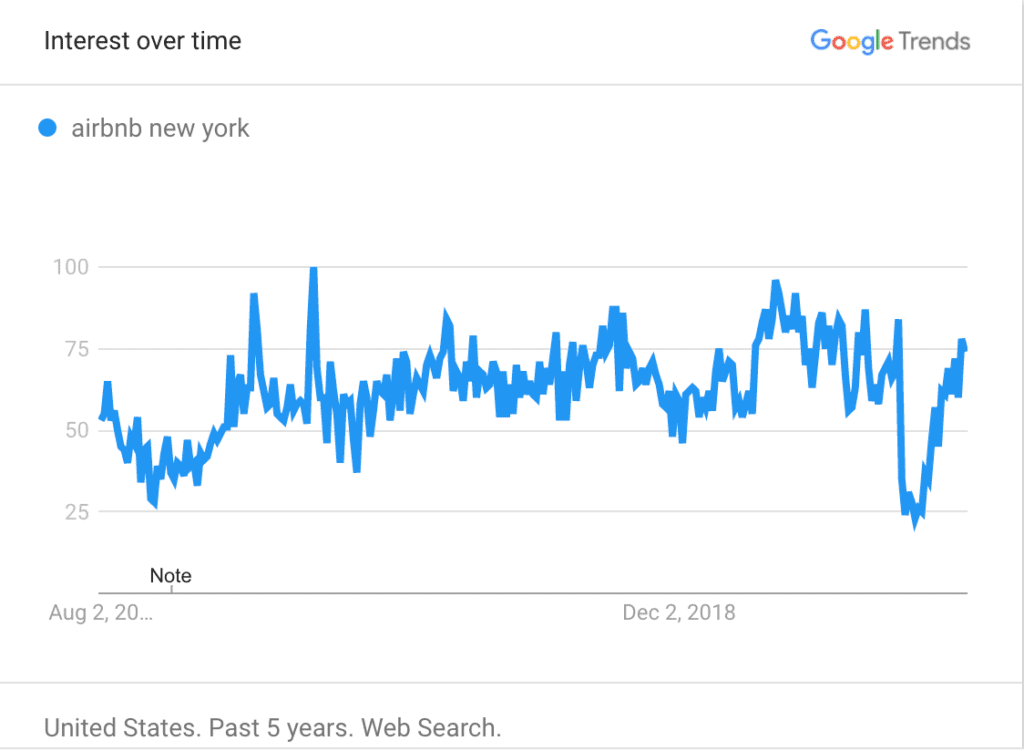 Interest for Vacation rental amenities such as private pools and hot tubs isbooming
We can also have some indications of the property amenities that people are looking for. Unsurprisingly, pools (especially private pools) have a strong appeal.
As you can see on the first graph, searches for "vacation rental with private pool" are also peaking. They have been multiplied by 4 compared with their previous peak.
Below this first graph, we have then chartered searches for "airbnb with pool" and "vrbo with pool". When conducting searches, people often use the words airbnb and vrbo to search for the vacation rental category, as in "I've booked an airbnb with a pool". Remember, these are keyword searches on Google, not on either airbnb.com or vrbo.com.
We see that searches for "airbnb with pool" have gone from a peak of 20 points in 2019 to 100 points in 2020. So, not only are searches higher in 2020, but also they've been multiplied by 5! The trend is similar for "vrbo with pool", with searches multiplied by 4.
Once again, if you have a pool, especially if it is private, make sure to flaunt it in your listing description, blog posts, Instagram posts, etc. By the way, searches for "inflatable pool" are also peaking. If you can't provide a real pool, how about getting an inflatable one? Just make sure to set the right expectations for your guests, but it can be enough to delight kids for a weekend, for instance.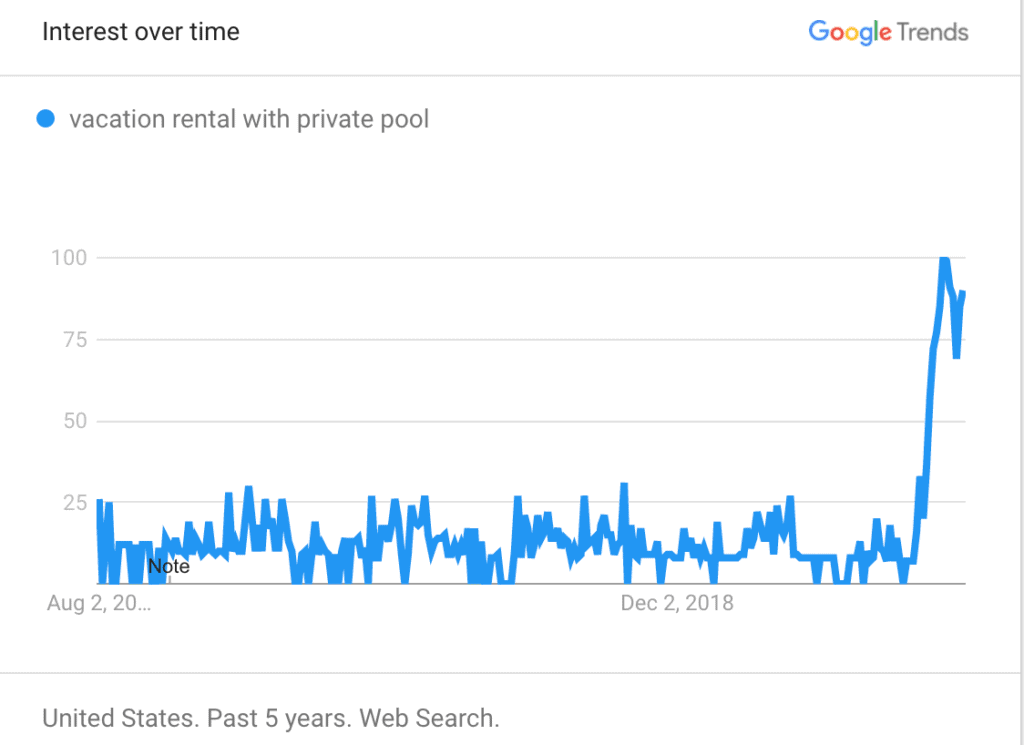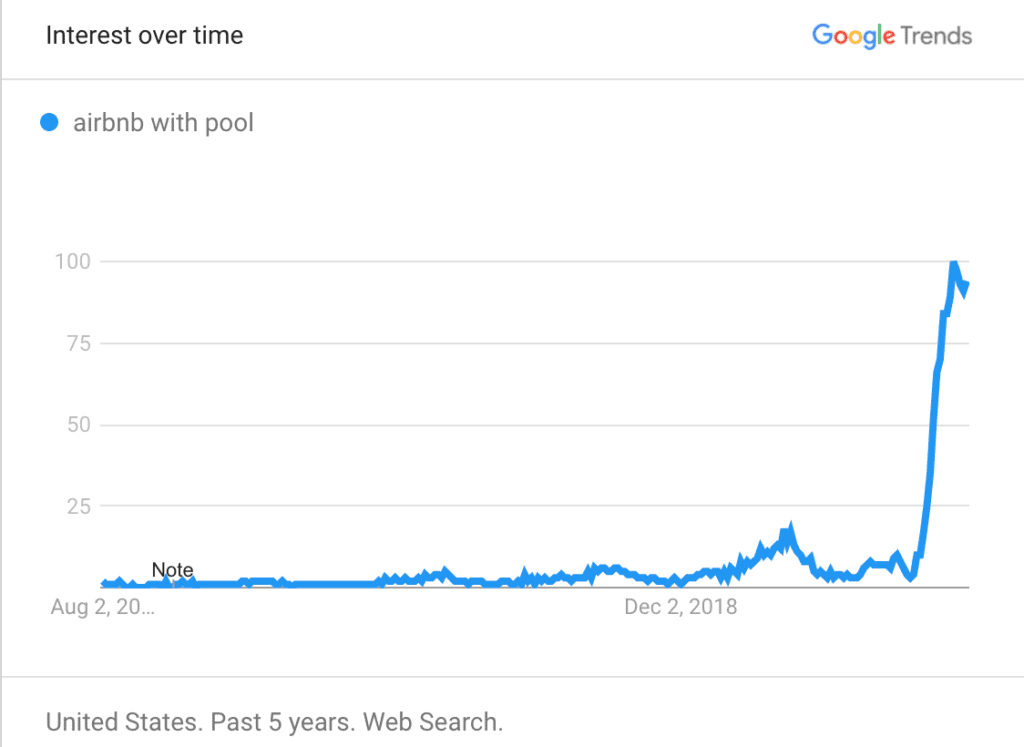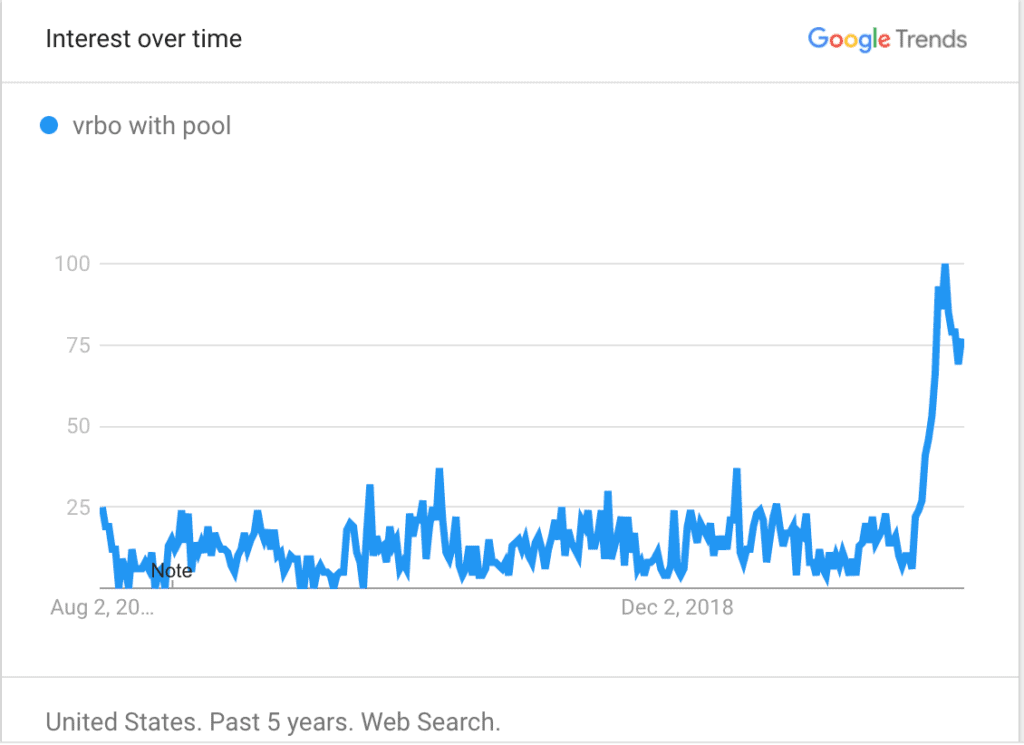 Now, Google Trends can also help you compare relative search numbers for some terms. As you can see below, "airbnb with pool" is a term that is much more popular that "vrbo with pool". Until 2017, "vrbo with pool" was more popular. This is a testament to Airbnb's brand becoming a synonym for the whole vacation rental category.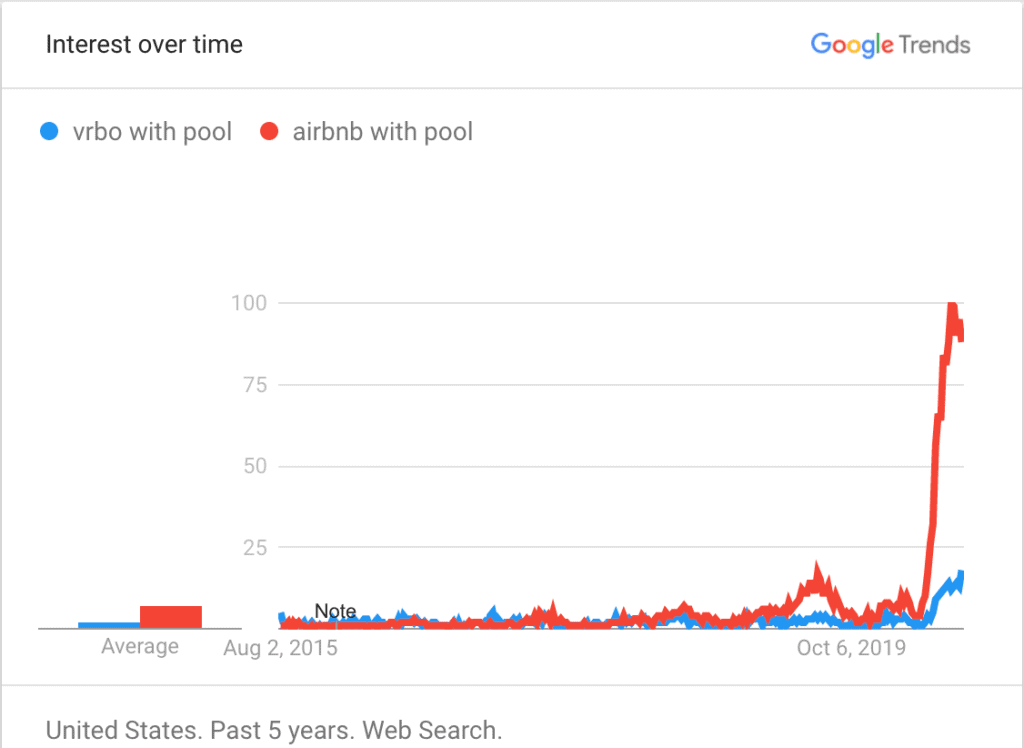 "Vacation rentals near me" queries are exploding with the rise of voice search and staycations
Summer 2020 booking trends are marked by domestic travel, drive-to destinations, and staycations. Searches for the word "staycation" have been booking, with +25 base points in 2020 compared with 2019. Make sure that your content says "staycation" enough.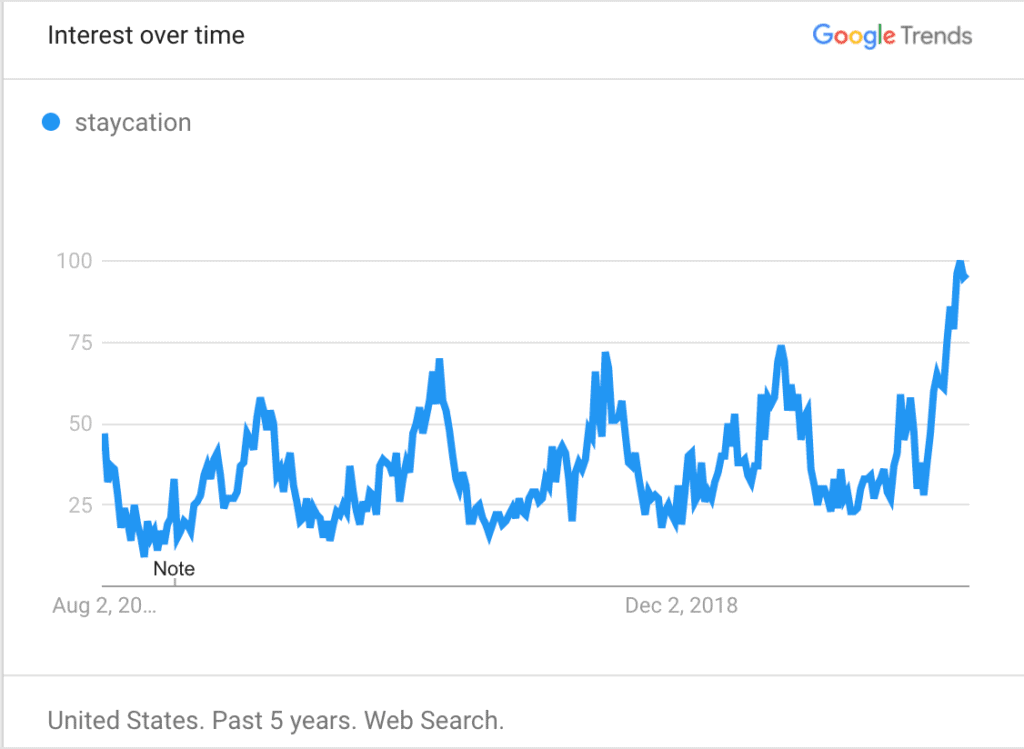 Have you been using Google to conduct searches such as "French restaurants near me", "flower shop near me" or "dentist near me"? People do so more and more, either on Google (think Google Maps) or through voice-search ("Hey Google, find vacation rentals with a private pool near me").
The graphs below show the convergence of this new way to search and the thirst for vacation rentals in 2020. For instance, searches for "vacation rentals near me", in the US, are 3 times higher than their 2019 peak. You can see the same things happening for many other terms, for instance, "beach airbnb near me".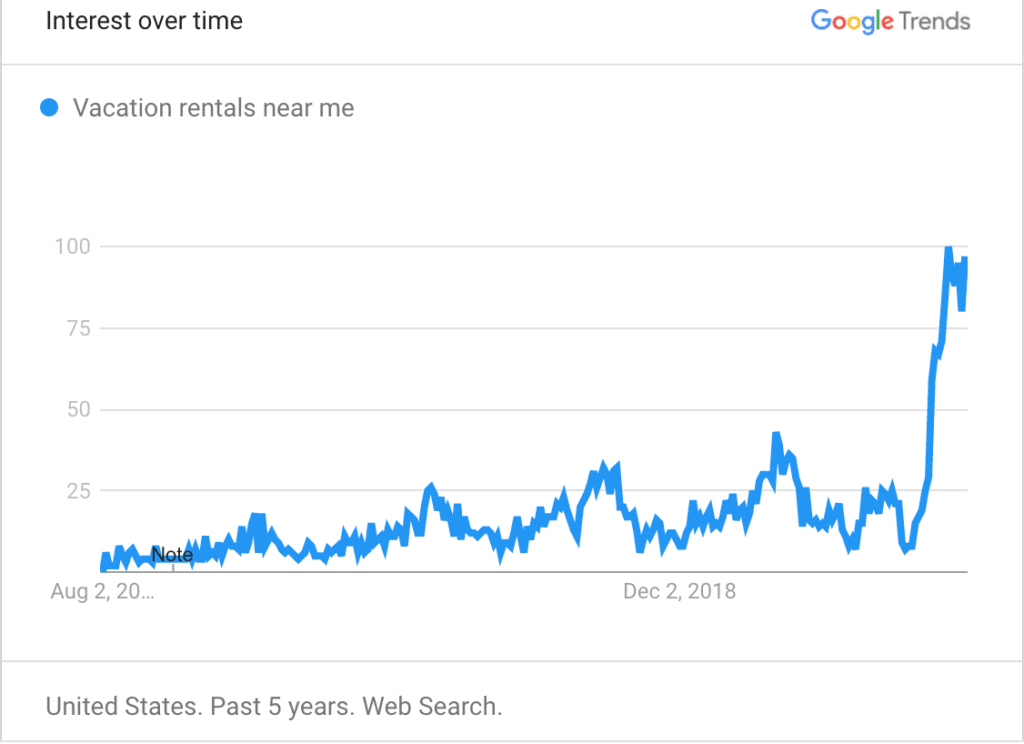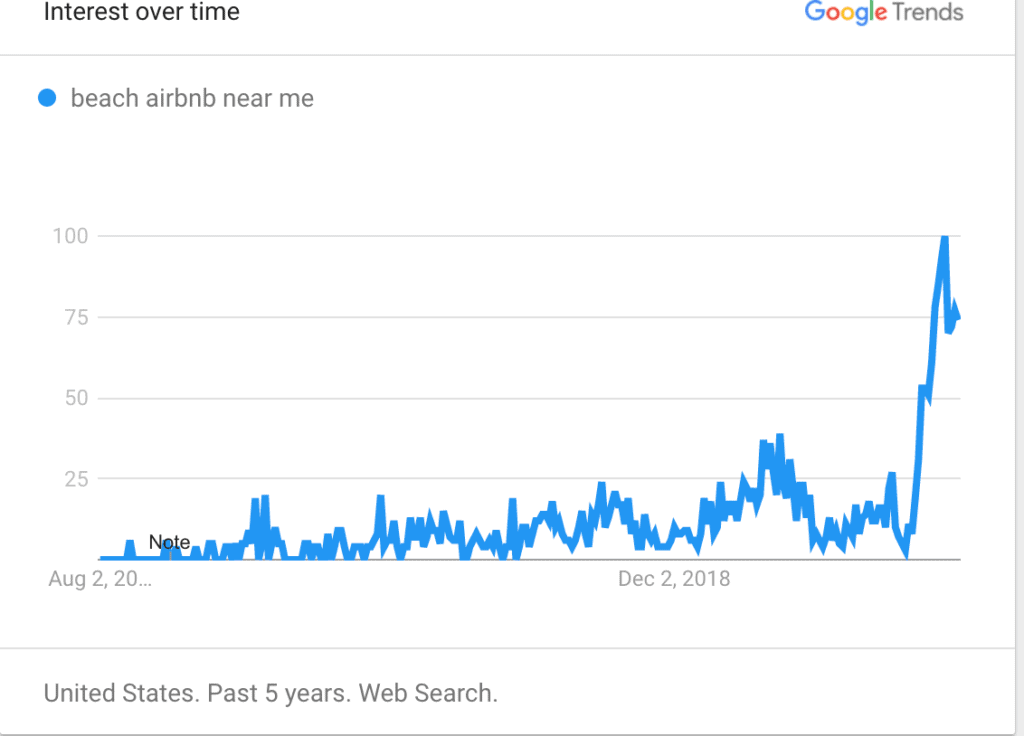 "Near me" searches are very qualified and show high purchase intent. As pointed out by Lisa Gevelber, Global VP Marketing, Google, "'Near me' searches are used to find a specific thing, in a specific area and in a specified period of time. »
To benefit from the "near me" searches, here are a few thins that you can do:
List your business on Google My Business and optimize it. You may have to pick "vacation rental management" as a category to be able to sign up. It will help you show up in Google search results as well in Google Maps.
Get backlinks that contain geographic anchor text. For instance, you want other websites to point to you with terms such as "vacation rentals in Myrtle Beach", "Myrtle Beach rentals", etc.
Looking at "near me" searches on a state level
We noted in our previous article about vacation rentals trends that the terms "cabins" and "cottages" were booming in the US. While cabin sounds very American, cottage sounds more Canadian or British. We've looked at searched for "cabin rentals near me" and " cottages near me". You can see this using Google Trends. The tool not only lets you see the evolution of interest for a term over time but also in which region it is the most popular.
Values are calculated on a scale from 0 to 100, where 100 is the location with the most popularity as a fraction of total searches in that location, a value of 50 indicates a location which is half as popular. A value of 0 indicates a location where there was not enough data for this term.
Note: A higher value means a higher proportion of all queries, not a higher absolute query count. So a tiny state / country where 80% of the queries are for "cabins" will get twice the score of a giant state / country where only 40% of the queries are for "cabins".
"Cabin rentals near me" is popular in US states such as West Virginia, Tennessee, Kentucky, Indiana, and Ohio. If your properties are within a driving distance to these states and if they can be rightfully called "cabins" then make sure to use the word abundantly. You can write a blog post about how your cabin is great for people driving from these stated for instance.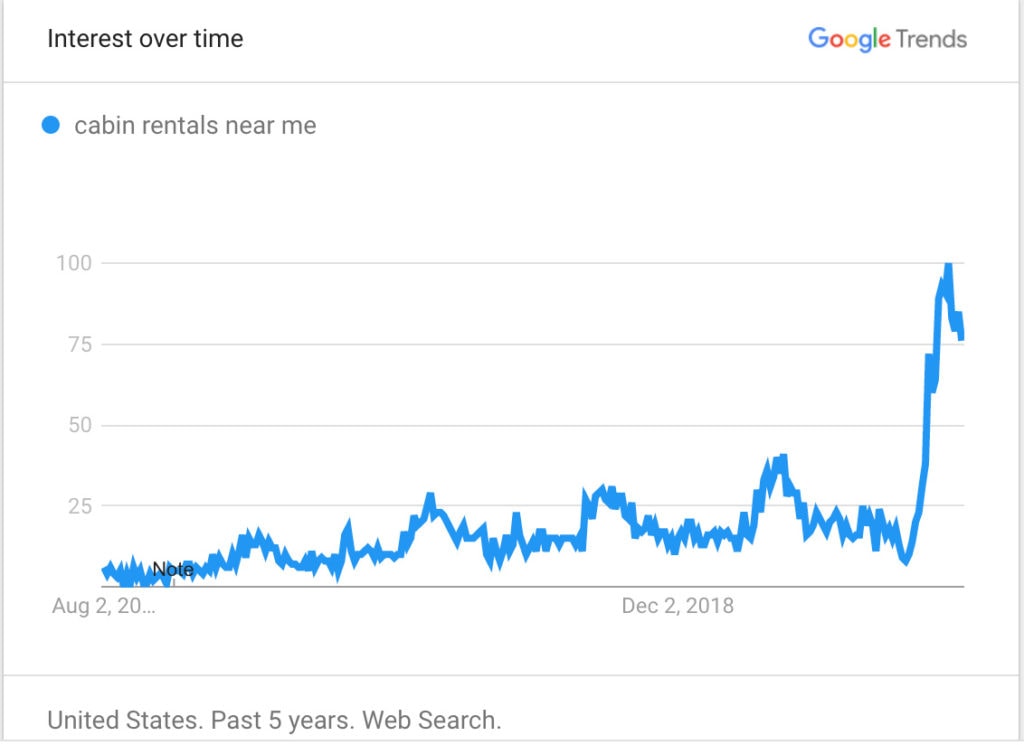 Searches for "cottages near me" have also reached their peak in June and July 2020. These terms were more popular in Maine, New Hampshire, Michigan, Florida, and Oklahoma. For the Northeastern US states, it may be that people were looking for cottages in Canada, where the term is more popular. With the border being closed between the US and Canada, it may be a good idea for vacation rentals in these US states to also write about them being cottages, so that they can look like a good substitute.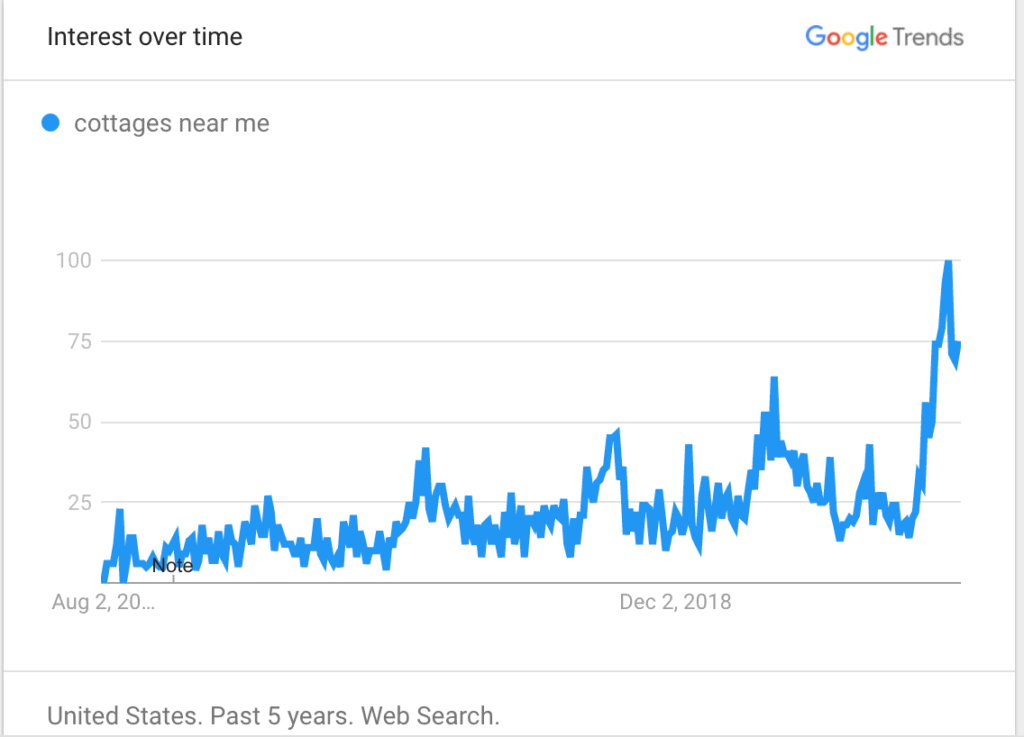 Now, searches for "cabins near me" are much higher than those for "cottages near me" in the US. So, while using the word cottage here and there may be smart, you should still make sure that you use more often "cabin" in your text.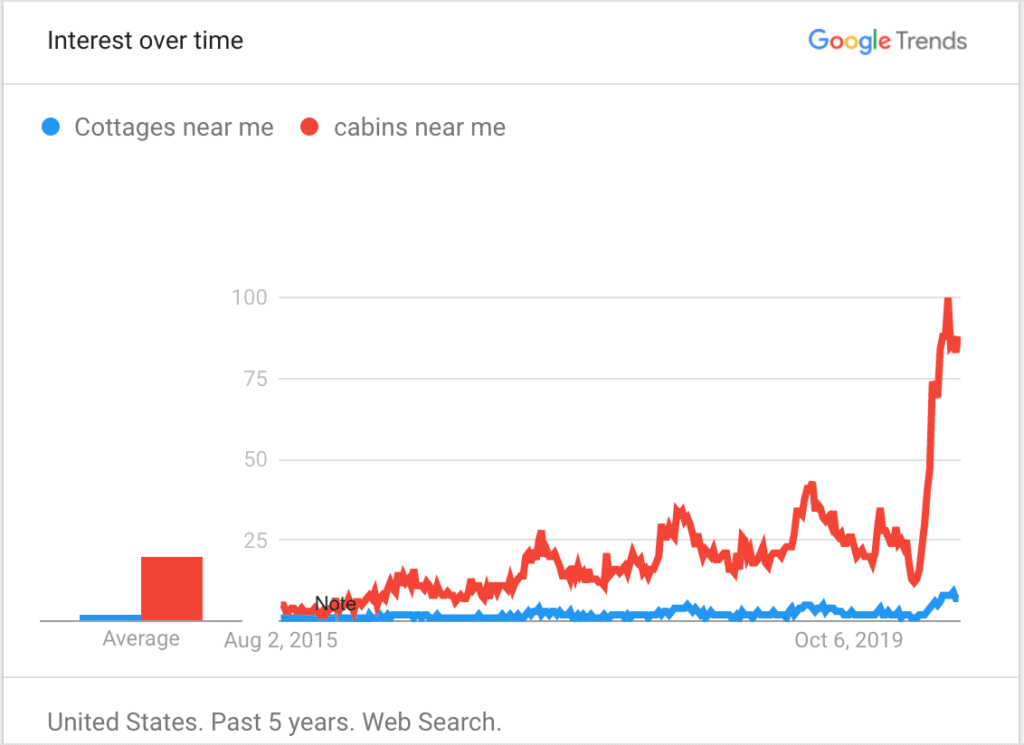 Conclusion: The year of "vacation rentals Near me"
Google Trends can give you ideas of what is working now, in terms of property types, amenities, locations, and even description terms. It also shows that winning in local searches is crucial, not just because of the coronavirus crisis: Searches such as "vacation rentals near me" are increasing because technology is making the results more relevant and useful.
If staycations are here to stay, how can you make sure that your properties appeal to people willing to drive a couple of hundreds of kilometers / miles?