How is 2021 shaping up for the European holiday rental market? As travel restrictions are very much in place across most of Europe, the situation is quite contrasted with that of the US. Thanks to exclusive data shared by AirDNA, a leading provider of short-term holiday rental data and analytics, we can show you today what the situation is like across Europe. We are also looking at what we learned from 2020, as the slow roll-out of vaccines and persisting lockdowns may create the same booking trends in 2021 as in 2020.
Europe vs US: A very different COVID crisis
COVID-19 has hit both continents. In March and April 2020, both rushed to set up travel bans and local lockdowns. Yet, American states started relaxing their rules much sooner than in Europe.
Not every US state is the same, but it is fair to say that some US states behave much like it is 2019, not 2020. For good or bad, depending on how you see it. The Financial Times has a pretty good article about the topics, called "On liberty, in Britain and America – Their wildly different lockdowns reveal distinct ideas about freedom". The consequence is that Americans are traveling much more than Europeans.
In Florida, pretty much everything is open. As you can read on the Visit Florida website, restaurants, gyms, retail shops, museums, and movie theaters can open at full capacity. Florida may be an extreme case, but a lot of southern and rural states are open for business.
In the UK, holiday rentals had been shut down. The British government has just announced that holiday lets would be reopening on April 12, 2021. The Dutch government has advised its citizens not to travel abroad since mid-December 2020 and until at least March 31, 2021. With countries limiting domestic and international tourism, booking data is looking much bleaker in Europe.
European holiday let revenues still at -42% compared with 2020, while US already back at -28%
You can see below the change, year over year, in short-term rental revenue, first in the US and then in Europe. These are monthly data from January 2020 to January 2021 (i.e., over 13 months).
U.S. vacation rental revenues, Jan 2020 to Jan 2021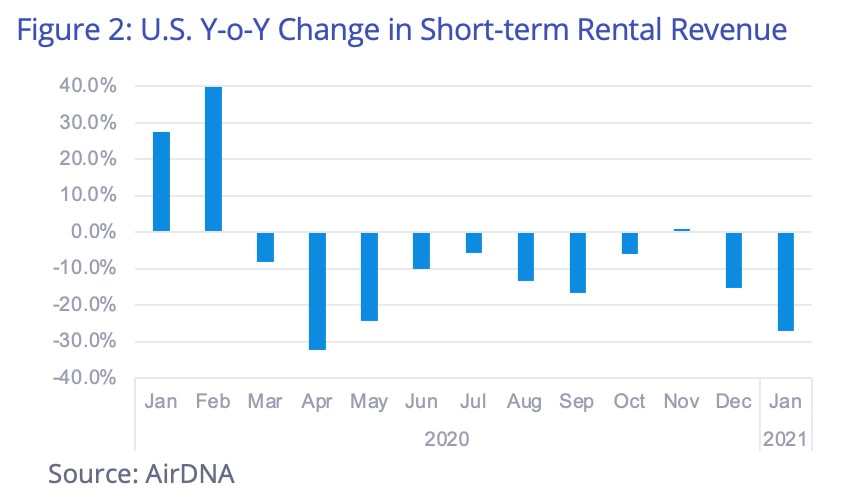 By July 2020, the US market has almost recovered, with only 5% fewer revenues than 2019. You may remember that Vrbo and Airbnb were celebrating big booking numbers at the time. In November, in time for Thanksgiving, the market grew slightly compared with the year. New travel restrictions hit the industry and numbers went down again, ending at -28% in January.
January revenues reflect money made on stays that occurred in that month. Yet, things looked way more optimistic than that: Last week, in an article about Vrbo's favorable position to ride out 2021, we mentioned that AirDNA had counted record-high bookings in January for this spring and summer in the U.S.
European holiday rental revenues, Jan 2020 to Jan 2021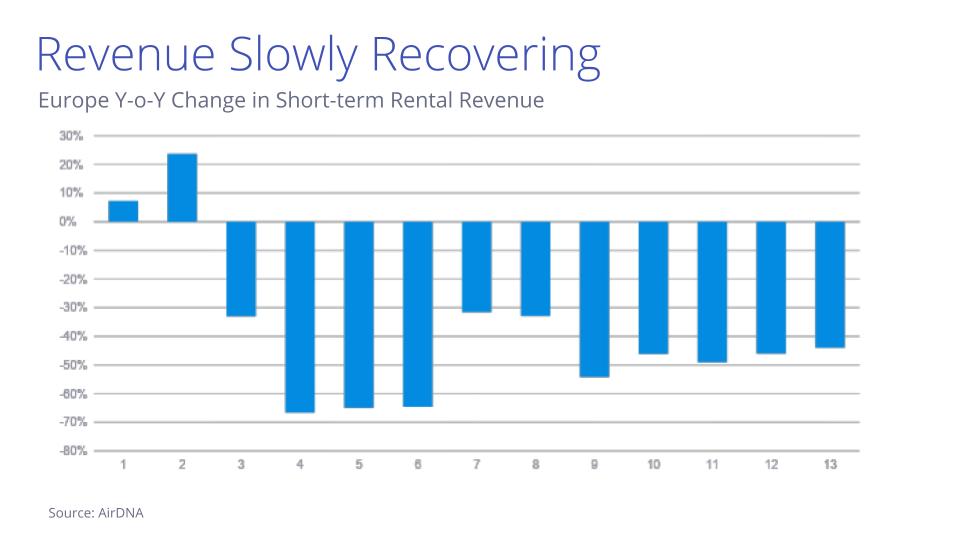 The picture in Europe is much bleaker. July 2020 was also a recovery month. But while the US was at -5%, Europe was still at -30%. And this has been the highest figure since then. Revenues have remained between -40% and -50% of the year before.
In January 2021, revenues were still down 42% compared with the same month in 2020.
Something in common: Rates in rural areas and in small cities are holding, while rates in metropolitan areas crash
In Europe and the US, the average daily rate (ADR) of short-term rentals has held in small city / rural and mid-size city markets. This is a testament to the appeal of the traditional holiday rental markets (sea, mountain, and countryside) for domestic travelers. Some ski regions in Switzerland and Austria have also remained open, helping prices stay afloat.
Major cities like Paris, London, and Berlin were less attractive and subject to lockdowns and/or curfews. With no international tourists, not much business travel, and a strong desire from the locals to escape the cities, the demand remains very low in the areas, driving prices down.
US short-term rental data: Change in ADR (January 2021)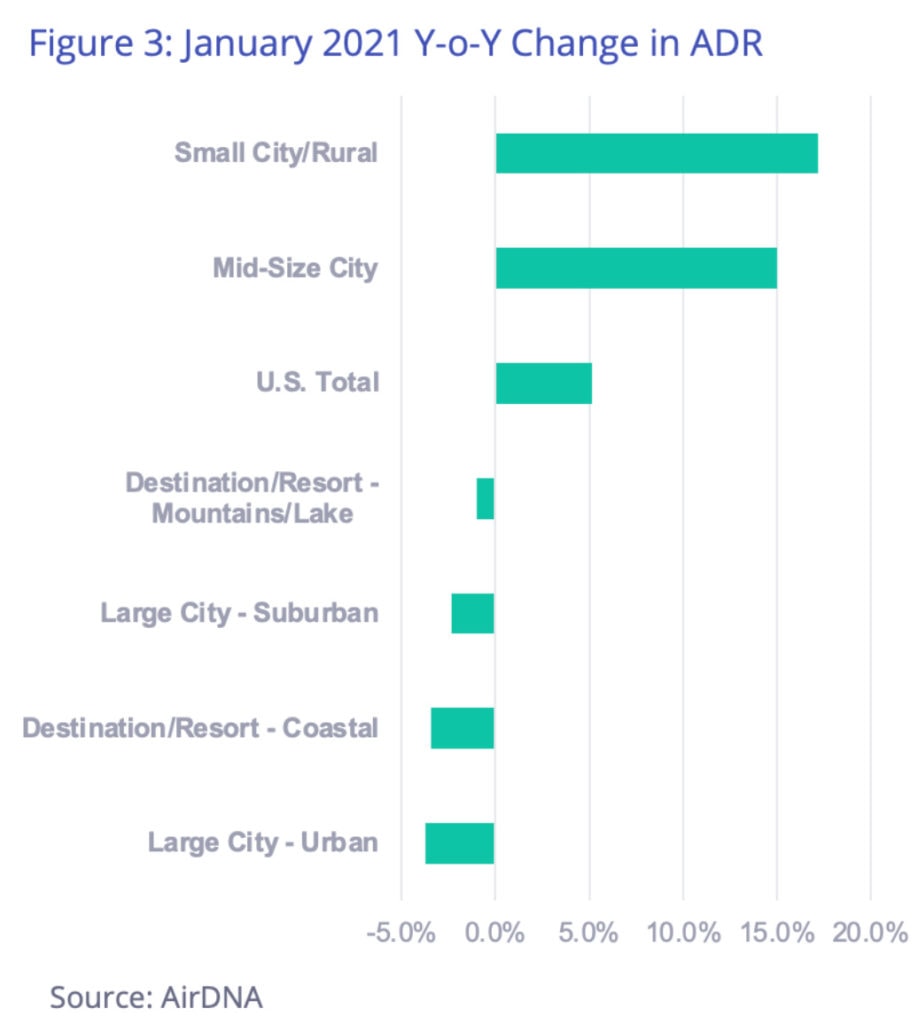 European short-term rental data: Change in ADR (January 2021)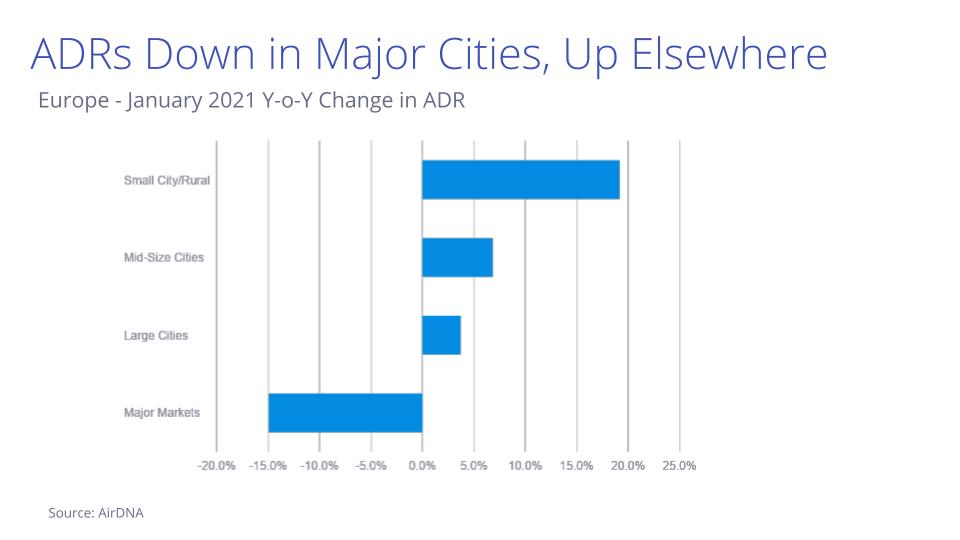 Demand data (in room nights) in Europe show a preference for rural over urban markets
This graph captures data over 13 months, from January 2020 to January 2021. It shows the change in demand (measured in room nights) across various markets.
Since April 2020, the ranking has not changed: All markets are depressed, but the more urban the market, the worse. In blue, the line representing the small city / rural is riding the highest. It is still very much negative, at close to -40% in nights, but less so than major metropolitan markets that linger at -70%.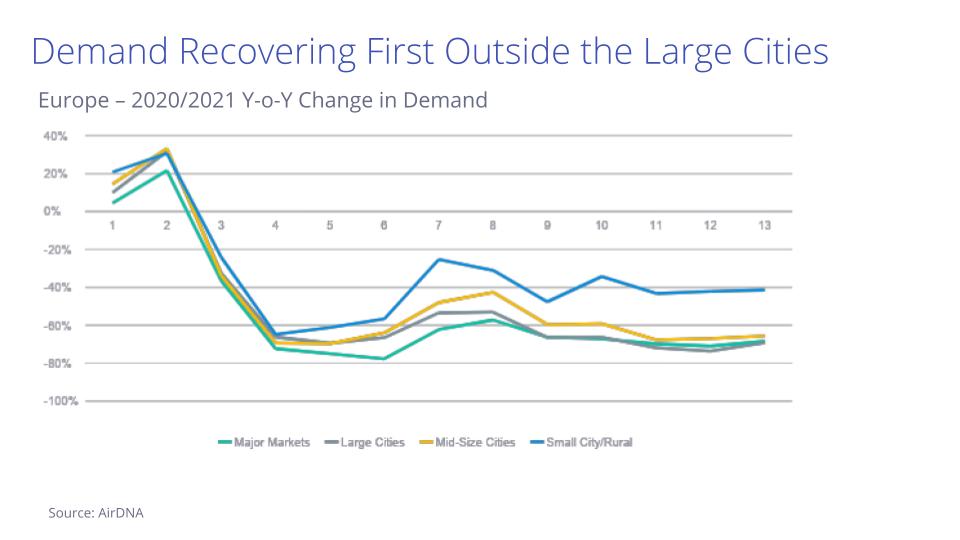 What to expect for 2021 in Europe?
Hopefully, as the UK shows, travel restrictions and travel bans should get lifted, but probably slower than people expect back in December when the first vaccines were announced.
As our Rental Scale-Up 2021 short-term rental trend report suggests, 2020 themes such as the importance of domestic travel, non-urban markets, remote working, and cleanliness will remain. Prepare your properties and your marketing to attract these types of bookings.
Yet, as travel restrictions lift, people will want to travel. While younger people may want to escape their parents and go as far as possible, we believe that many people will want to go to familiar places to see familiar faces. Airbnb points out how people are feeling lonely and want to reconnect with loved ones. So, cities may get some bookings back, if only from people who want to visit their family and friends who live there. This is a start.
European holiday rental market: Where is the data from?
Whether you are looking at the US or Europe, at urban markets or traditional holiday rental markets (sea, mountain, and rural), or 1-bedroom or 3-bedroom properties, the views can be very different. The data presented here is from a variety of markets. You can imagine that booking trends in cities like Paris and London have been very different from those in areas where villas, holiday homes, and cottages abound.
AirDNA collects short-term holiday rental data from thousands of sources, including Airbnb and Vrbo/HomeAway, to build a comprehensive view of the short-term rental market. Sources of data also include private hosts (50,000+) and several strategic API partnerships with several large property management companies.