The Airbnb Ambassador Program's goal is to help Airbnb grow its supply of properties by getting existing hosts, called Airbnb Ambassadors, to refer new hosts to the platform. In just a few words: "Guide new hosts, earn more cash".
It is more than a referral program where a host can casually get some side money by sharing a link online: Airbnb treats ambassadors as crafty, nimble, and smart independent entrepreneurs who have to:
search for news hosts, both offline (e.g., by organizing meetups in their city) and online (e.g. by inserting referral links in their Instagram account),
onboard and train their mentees (e.g., by organizing their own webinar) until they complete their first reservation.
With Ambassadors, Airbnb's plan is to empower a group of entrepreneurs, help them grow a business out of referring new hosts, get them to educate and onboard new hosts until these hosts get their first booking. Think of the 2021 version of Avon ladies: The company empowers self-reliant entrepreneurs to use the Airbnb brand and its product (airbnb.com and its app) to build their own business. Airbnb has even arranged for them to have official "Airbnb Ambassadors" business cards. Can you feel the pull to be associated with a brand seen as cool?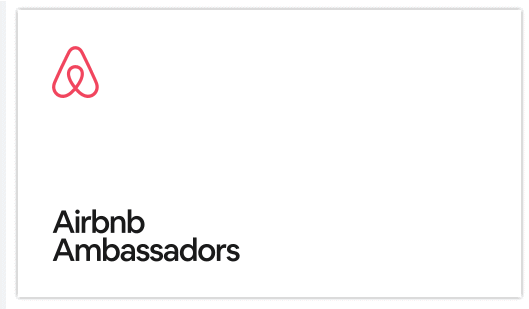 Why has Airbnb created this advanced referral scheme?
a – To get more individual hosts of entire places
Large property managers are savvy enough to find out about Airbnb, sign up directly or via their channel manager, and create their revenue management strategy.
Word-of-the-mouth is a powerful way to find individual hosts, according to Airbnb. Giving a set of tools to scrappy entrepreneurs to help attract, nurture, and grow a set new of hosts is smart: People can leverage their network and turn casual acquaintances into business relationships.
Ambassadors can cover a specific local territory more easily and for less money than an Airbnb employee dropped in the same neighborhood would. Same thing when it comes to penetrating Facebook groups and other online forums.
Note the program is meant to attract entire home hosts, not people sharing a space. There is also a separate Experience Ambassador program to recruit more Experience hosts (not our focus here).
b- To reduce the onboarding cost of individual hosts that may bring marginal revenues
Airbnb wants more listings operated by individual hosts. Such listings help Airbnb be more unique, as they tend to be listed on and stick to one short-term rental platform only.
Yet, the bigger the number of host newbies, the more the messages, emails, questions, and calls on how to set up a hosting account that Airbnb would have to field. So, the company would have to hire more Customer Service agents. Better have these agents focus on bigger hosts who can bring in more money; the return on investment would be higher. Ambassadors are a way to scale down these onboarding costs.
Ambassadors have a stake in the success of the hosts they've referred to the platform. Airbnb gives them materials to educate them and tools to track the progress of their mentees. It is in the Ambassadors' interest to find potential hosts that are good leads, can learn fast, and get reservations under 150 days.
The program only works if the new host has an entire place (e.g., a vacation rental). It promises more money for Airbnb than someone listing a bedroom. It also matches the current social distancing trend that has made privacy more attractive.
c- To extend the Airbnb brand further, off-line and online
Airbnb's brand can get even more reach: Imagine all these entrepreneurs with the term "Airbnb Ambassador" written on their business cards or LinkedIn profile.
Acting as an Airbnb Brand Ambassador, this type of entrepreneur can help spread Airbnb's message and value where traditional marketing and advertising cannot go. The ambassadors can help create more b in the Airbnb brand.
Airbnb Ambassador Program: Show me the money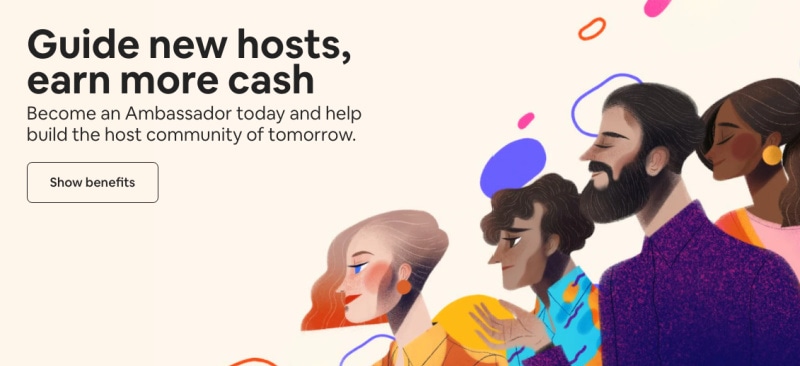 How to qualify and become an Airbnb Ambassador?
The minimum requirements for an Airbnb host can become an Ambassador is that their Airbnb account is in good standing and that they've completed the Airbnb Verified ID process.
Yet, this is not enough: Wanna-be Ambassadors must fill in an online application, where the company asks them to details their hosting and entrepreneurs skills.
For instance, they have to answer question such :
How many hosts have you previously referred to Airbnb?
If you've previously referred new hosts to Airbnb (or other rental platforms), how did you meet them? (e.g. "I met or had a conversation with them in person" or "I met them at an online/offline event" or "I proactively reached out to them via email, text, or phone call")
Airbnb Ambassadors: How does it work? "Guide new hosts, earn more cash"
Airbnb Ambassadors can earn bonuses (cash) for every new host they recruit. There is no limit to the number of referrals a host can make. However, to qualify for the incentive, each referral must host their entire place no later than 150 days after the referral was made and get a guest reservation whose value must exceed $100.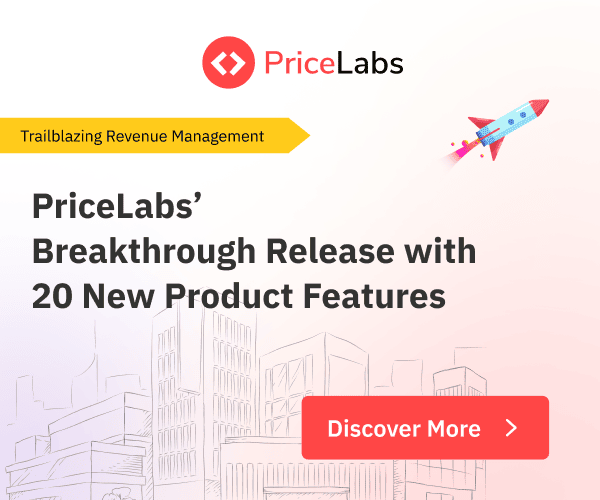 So, it is in the Ambassador's best interest to:
Target owners of entire homes and not people who just want to list a bedroom
Find hosts who are motivated enough to become mini-entrepreneurs, to go through the Airbnb learning curve, and apply the right advice to get their first reservation fast enough
How does it differ from the existing Host Referral Program?
Simply put, the Host Referral program promises less money and less upside, but also requires less work.
In both programs, when the first reservation is made, there is money for both the referrer and the referral. In the Ambassador program, more money is awarded.
Note that the amount of money awarded depends on several factors, among which where the Ambassador is located. The numbers in the table below are indicative, using data from one host that we've been able to see.
| | | |
| --- | --- | --- |
| | Host Referral | Ambassador Program |
| Referral fee | €50 | €380 |
| Bonus for the new host | €8 | €44 |
| Maximum number of referrals | 25 | Unlimited |
Incentives: What do ambassadors and referrals get?
Ambassadors will receive cash for each successful referral for each referral that will host an entire place no later than 150 days after the referral, with the booking value exceeding $100.
According to Airbnb, the actual price will vary "on a number of factors, including your region". You can find more details about the incentive scheme relevant in your region on this link.
Referrals, on the other hand, will also get a one-time cash reward, set at about 10% of the amount that the Airbnb Ambassador will earn for referring them.
How do I recruit new hosts? How do I refer a new host on Airbnb?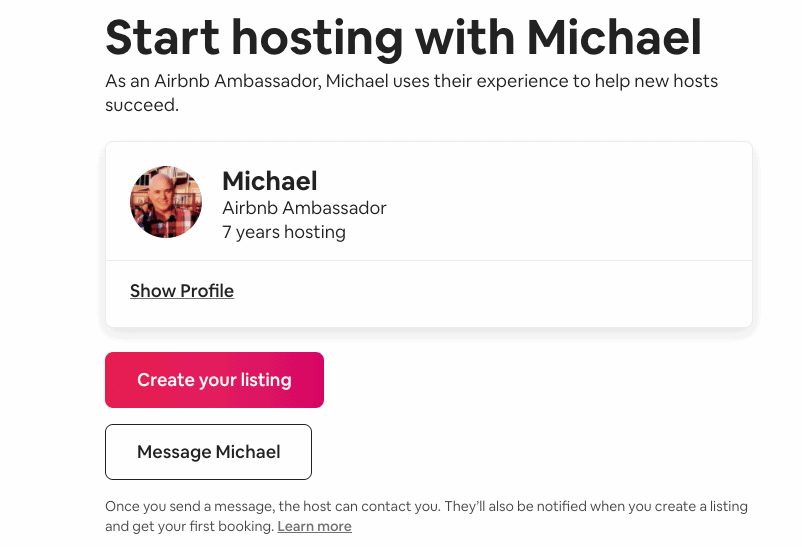 Once you've decided to become an Airbnb Ambassador and have created a list of people you'd like to invite, the process is fairly simple. The first and most simple thing to do is to head over to your referrals dashboard, copy your unique referral link and share it via messages, emails, social media, etc. Yet, there is so much more you can do to show your entrepreneurial chops?
Program review: Best practices from Airbnb Ambassadors
The best ambassadors create a relationship with the hosts they attract and refer. Think of a mentor/mentee relationship. For instance, ambassadors must be open to receiving messages from their referrals.
What do Ambassadors do? An Ambassador can edit a new host's listing and review their photos before it goes live. She or he can help to craft a great description, create a nice story to attract the right kind of guests, and choose the right pricing setups to get capture the first bookings.
Online host recruitment strategies:

Refer people to Airbnb by sharing referral links
Connect with potential hosts on public forums or networking groups (e.g. Facebook Groups)
Leverage your own social media platform (e.g. Instagram)
Create an online hosting course or webinar

Offline host recruitment strategies:

Distribute business cards or flyers within your community
Create a local mailing campaign
Lead or co-lead an event to share the benefits of hosting
Attend a hosting, real estate, or finance networking event
Examples from Airbnb ambassadors:
Airbnb Ambassador business cards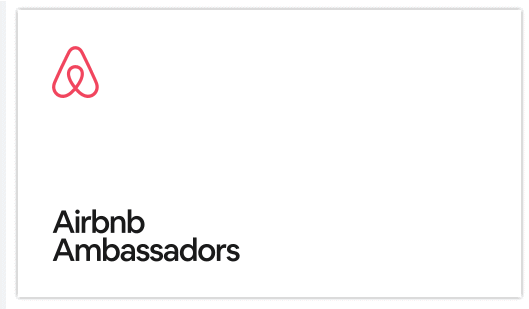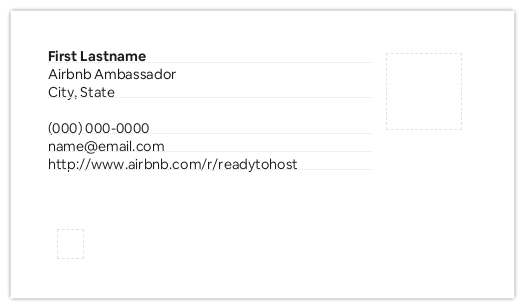 Airbnb Ambassador postcard

Airbnb Ambassador flyer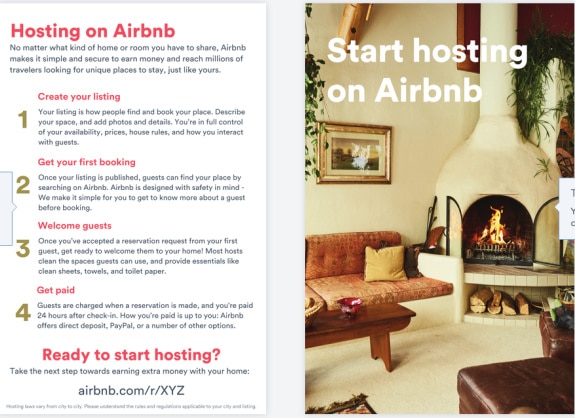 Host recruitment on Instagram (Airbnb coach Mamma.Mode)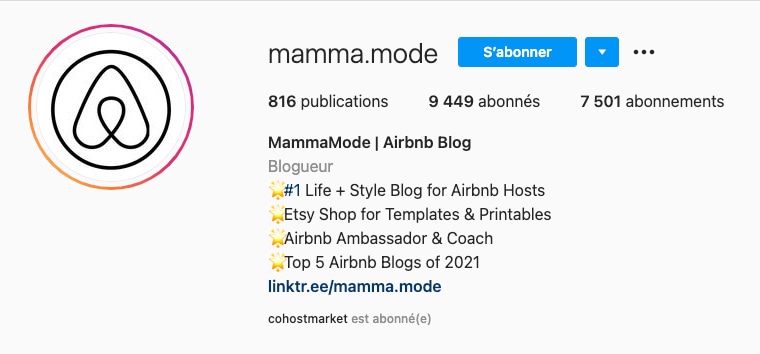 "Start earning now" landing page where the referral links leads to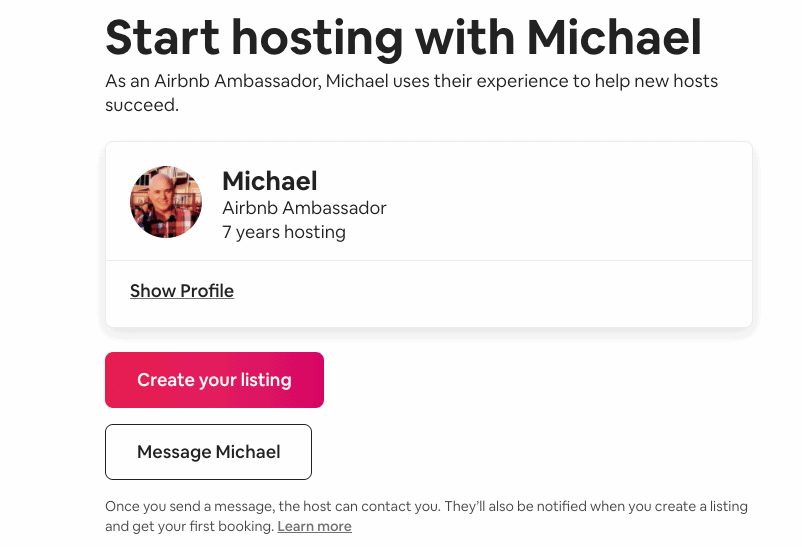 Does Airbnb send leads to Ambassadors? What is the difference between an Airbnb Ambassador and an Airbnb Co-Host?
A few years ago, Airbnb decided to give new users some help, powered by real humans, to newbies who were finding it too difficult to create their listing. These would-be hosts were asked whether they wanted to be assisted by a co-host. There was a sort of co-host marketplace, where co-hosts and hosts were matched. Yet, the initiative as is has been disbanded.
Airbnb Ambassador vs Airbnb Co-Host: To make it simple, an Amabassador' job is to find new hosts and to set them up for success until they get the first reservation, while a co-host's role starts after that: a co-host can help message guests, welcome travelers or even do the cleaning.
Does the referred host have to be a new Airbnb user?
Referred hosts can be registered with Airbnb and have an account. However, they must be new to hosting. In other words, referred hosts can be travelers that have taken a trip on Airbnb as a guest, but they must never have published a listing and have never acted on a referral invitation by another user.
However, bear in mind that you will only get paid for the referral if the host you refer follows your invitation link and creates a listing for an entire place in the same session.
Airbnb Ambassadors: Independent entrepreneurs, not support employees
Ambassadors are independent entrepreneurs, not Airbnb employees. But Ambassadors can have their own employees and contractors
Ambassadors are non-exclusive independent contractors of Airbnb, and nothing in these Referral Terms creates any employment, partnership, joint venture, agency, franchise, or sales representative relationship with us or our affiliates. So, there is no such thing as an Ambassador's salary. This is all based in independent referrals and commissions.
Ambassadors are entrepreneurs who are empowered to earn on their own schedule and in their own way.
Ambassadors are not required to do the work personally, but if they engage other people to work for them, they are responsible for the acts and omissions of those people.
Ambassadors must not misrepresent their relationship with Airbnb or imply any affiliation with Airbnb beyond their limited role as an Ambassador.
Difference with Airbnb Support Ambassadors
Airbnb Ambassadors have nothing to do with the Airbnb Support Ambassadors. The latter is part of Airbnb's customer support team. They are either employees or contractors. Their job is to help solve issues, such as when a host wants to collect on their security deposit, to submit an insurance claim under Airbnb's Host Protection Insurance
Airbnb's referral marketing as a proven tool
Airbnb has created this new program by building on the experience with previous referral programs that allow members to earn payments or coupons by bringing the new members. The rewards of these programs could be diverse and include coupons, promotional credits, or cash payments. These are used to reward hosts for a referral or other benefit for the platform.
Referral marketing has proved to be a useful tool to bring new Airbnb users to the platform and grow Airbnb's business. Airbnb is often used as an example of a brand that has created outstanding and inspirational referral programs. In the early days, when introducing the referral program to travelers, Airbnb learned that referred users tend to be better than average users and remain engaged with the platform.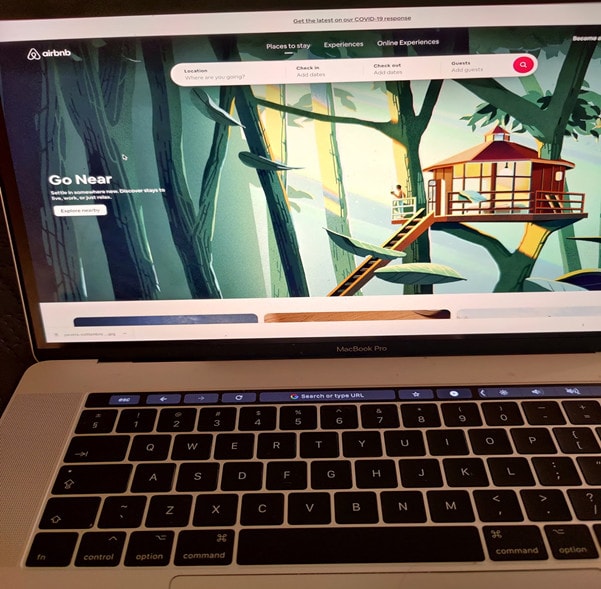 The Airbnb Ambassador program is different compared to the Airbnb Associates Program. The popular short-term rental platform introduced the new Airbnb Associates Program in March 2020. The Associate's Program will be launched at the place of the old affiliate program.
With the program, beginning December 1, 2020, every time someone books a stay through their content, associates will be paid 25% of the Airbnb guest fee for the first 500 bookings in a month and 30% of the Airbnb guest fee for bookings above 500 in a month. For every trip booked through a referral link, the associates will be able to make 25% of the hosting fee. The incentive is attractive for associates as it allows anyone with an audience to earn and cash-out by promoting stays on Airbnb listings. The fee is received at the associates' accounts. There are three types of promotional tools to share: create text links, widgets, and landing pages. Airbnb provides rules and guidelines for the Associate's program according to which affiliates are asked to add a clear disclosure, such as "As an Airbnb Associate, I earn when you book through this link."
So the goal of the Airbnb Associates Program is different compared to the Airbnb Ambassador Program. The first one aims to boost bookings, the latter aims to raise the number of new Airbnb hosts. There are financial incentives behind both of the programs. While the Airbnb Associates Program may approve anyone with decent amounts of traffic, which means influential Airbnb hosts and travel bloggers can make money by recommending Airbnb bookings, the Airbnb Ambassador Program is more narrow and directed just to existing hosts – ambassadors and new hosts.
Airbnb Host Referral Program: Earning by referring new hosts
The Airbnb Host Referral Program allows invited eligible members to earn money by referring to Airbnb for the first time, to new hosts who create listings, or by activating existing listings for the first time and successfully completing bookings. A booking is considered as "completed" when it is accepted by the referred host and paid for by the guest. It also shouldn't be canceled by the guest or the host before and after check-in.
Airbnb hosts should have in mind that the Airbnb Host Referral Program couldn't be combined with other referral programs or incentives. This means that one will have to choose between being an ambassador by giving up the ability to earn travel credits or part in another Airbnb referral program. While with the Airbnb Ambassador program, the ambassadors can make after the first booking, with the Airbnb Hosts Referral Program, referring hosts can be paid for the first 25 referred hosts.
Both programs are similar in terms of existing hosts "educating" the new ones. The Airbnb Host Referral Program requires referring hosts to teach the referred hosts how to use the Airbnb platform to accept bookings. In the Airbnb Host Referral Program, there is a certain level of transparency, as referring hosts have to explain that they are a part of the program that encourages new hosts to list on the platform.
While the Airbnb Ambassador program is for entire place listings, the Hosts Referral Program's participation is linked to the amount of first booking. To be eligible for any rewards, the Referred Host's first received booking must be at least $100 USD (excluding fees and other deductions), and it must be completed within 90 days from the date when the Referred Host was invited to the program in order to earn the payment.
Because of the coronavirus, the Airbnb Host Referral Program was put on hold in some regions. While the Airbnb Ambassador Program is newborn, the Airbnb Host Referral Program was launched in 2015.