To attract the "millions more hosts" that Airbnb needs, according to CEO Brian Chesky, Airbnb is ramping up its Ambassador program. Assigning account managers to property managers is possible, but too costly and not scalable for individual hosts. How is Airbnb using selected Superhosts as Ambassadors who can help attract, nurture, and convert potential hosts into people with up-and-running listings? Here, we have a look at how Airbnb matches would-be hosts with seasoned Ambassadors. These independent entrepreneurs host Zoom webinars and 1-to-1 coaching to nurture host leads.
Airbnb wants / needs more supply, especially from individual hosts
In a recent interview with CNBC, Brian Chesky underlined how much more supply Airbnb needed. He attributed it to the current rebound in short-term rental bookings, as well as to long-lasting trends, such as remote working.
We have 4 million hosts. We are going to need millions more.
"I think that we probably will have a high-class problem where there will probably be more guests coming to Airbnb than we'll have hosts for, because … we think there's going to be a travel rebound coming that's unlike anything we've ever seen," Chesky said.
Travel industry site Skift, relying on data from Transparent, believes that Airbnb needs all the more to attract new individual hosts, as it has lost a lot of them since the start of the pandemic: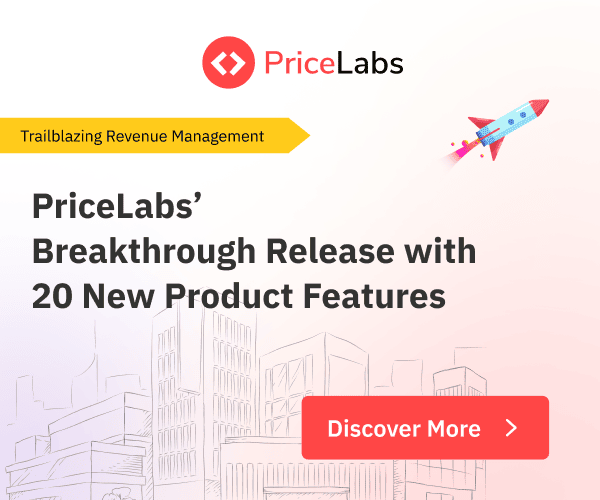 Hosts with single properties saw their numbers plunge 9.8 percent. That's one in 10 hosts with one property removing them from Airbnb.

Skift
Whether to address a drop in a supply or a surge in demand, Airbnb is doing a lot to attract new hosts, especially small hosts that should be more loyal to the platform.
We are working our hardest to get more hosts on the platform.

Brian Chesky
Airbnb's CEO says that the company's expensive TV and Youtube campaign, called Made possible by hosts, can also entice homeowners into getting started as Airbnb hosts.
In parallel, Airbnb has launched a "Made possible by hosting" campaign. It consists of several landing pages, a series of getting started advice, an Airbnb calculator called "What's my place worth?", and a streamlined listing creation funnel. Yet, the unsung heroes of the "Made possible by hosting" campaign are Airbnb Ambassadors.
Ambassadors are not only active online and offline to drive new hosts to Airbnb. They are also present right on Airbnb's website to guide spontaneous leads into becoming active hosts. Let's see how it works.
How Ambassadors find hosts for Airbnb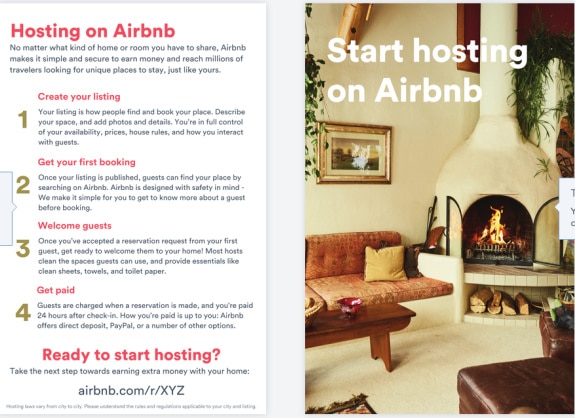 In our previous article detailing Airbnb's Ambassador program, we listed how these individual entrepreneurs can find and attract new hosts on behalf of Airbnb:
Online host recruitment strategies:

Refer people to Airbnb by sharing referral links
Connect with potential hosts on public forums or networking groups (e.g. Facebook Groups)
Leverage your own social media platform (e.g. Instagram)
Create an online hosting course or webinar

Offline host recruitment strategies:

Distribute business cards or flyers within your community
Create a local mailing campaign
Lead or co-lead an event to share the benefits of hosting
Attend a hosting, real estate, or finance networking event
Why automated sign-up funnels neglect host leads who are on the fence
When online travel marketplaces such as Booking.com started 20 years ago, property owners who wanted to join had to go through an account manager. This person would send them a lengthy list of requirements, a dozen Excel spreadsheets to fill in with property descriptions, amenities lists, room types, rates, etc. The account manager would manually upload the data into the marketplace's system. It was long, error-prone, and expensive as it required a lot of human resources. Yet, the time and costs of listing a 75-room hotel in a highly demanded city could be recouped fast enough to make up for these costs.
To grow fast and onboard properties at a fraction of this cost, companies like Airbnb could not afford to wait for account managers to knock at the door of vacation rental owners. This is why they built self-service funnels where hosts can sign up, create an account, and list their places fast and easily.
Product teams test and improve the sign-up funnel every day at big OTAs. These funnels are made for people who want to go from A to Z, from going to a landing page where they can get started to putting their listing online. Streamlining a funnel, removing unnecessary steps, and making it easier to list a place are very important.
Yet, in real life, many people landing on Host sign-up pages are on the fence about starting to host. Is it for them? What are the risks? Some are ready to do it but drop at some point of the funnel because some tasks are difficult for them: Which title give to my apartment listing? What price to pick? In which order to put the photos?
Getting Airbnb employees to help each host, small or big, would be too expensive. This is part of where Airbnb Ambassadors step in.
Hosted Onboarding: How Airbnb connects host leads with Airbnb Ambassadors
If host leads land on one of Airbnb's redesigned "Made possible with hosting" sign-up pages, the primary call to action is for them to start creating a listing. However, Airbnb has now secondary calls to action targeting people who are unsure about getting started today. It looks like Airbnb is experimenting with different ways to connect would-be hosts with Ambassadors.
We are showing you below a few of the channels that can connect newbie and seasoned hosts. Note that Airbnb is using different terms to qualify ambassadors, from "top Airbnb host" to "real host". The goal is to connect both parties so that they can start messaging through Airbnb's platform and app.
Intro to Hosting on Airbnb webinar, led by a top Airbnb host
Would-be hosts go to a landing page where they can pick a time to take part in an "Intro to Hosting on Airbnb" webinar hosted by an Ambassador. These are live Zoom webinars.
After the webinar, the leads will able to contact the Ambassador.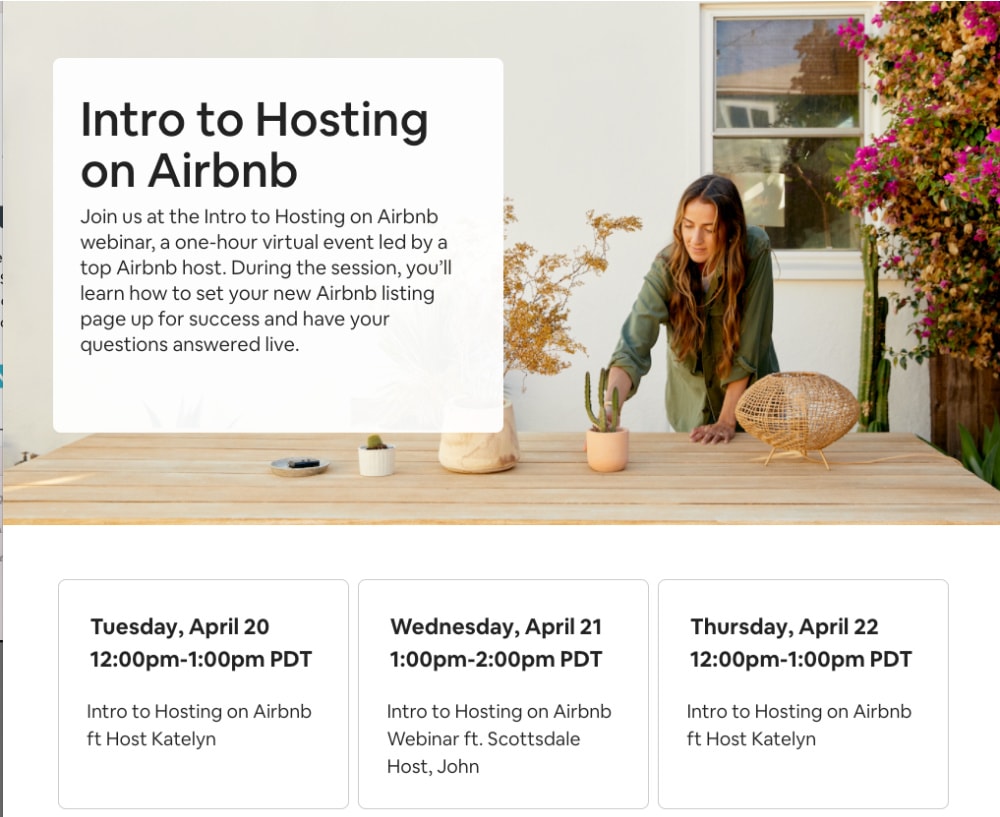 Online Experience: Intro to Hosting on Airbnb
Some Ambassadors have created free online experiences on Airbnb's platforms. Airbnb links to these online experiences to make it easy for potential hosts to register. Once registered, both sides can message each other on Airbnb's platform and app.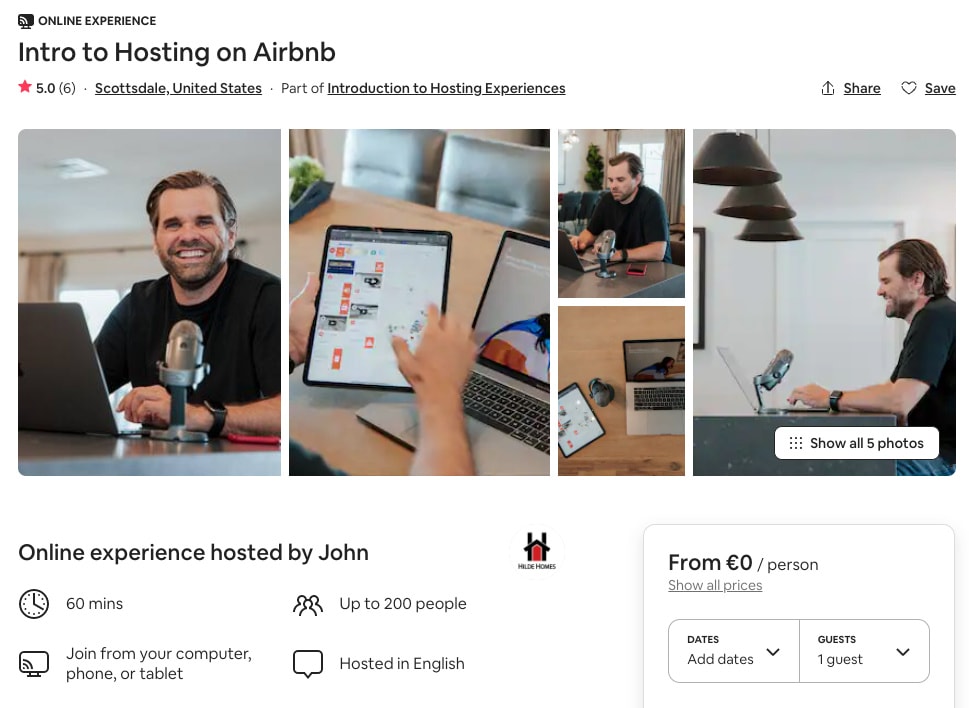 Airbnb Ambassador matching: 1-to-1 coaching … if you qualify
Potential hosts can request to be matched with a Superhost, i.e. an Airbnb Ambassador. This matching is not open to everyone: First, it is only for newbies, not for people who are not already Airbnb hosts. Second, it is only for those listing an entire place (not a shared space). Just as with Vrbo's Fast Start program, only entire homes can justify the costs of getting a human to onboard a new listing. Third, the matching service is only open in some regions.
If the matching works out, then the new and seasoned hosts can start messaging each other (Call to action: "Introduce yourself").
If Airbnb cannot create the match, then the user is redirected to the live webinar page where she / he can register for an online event.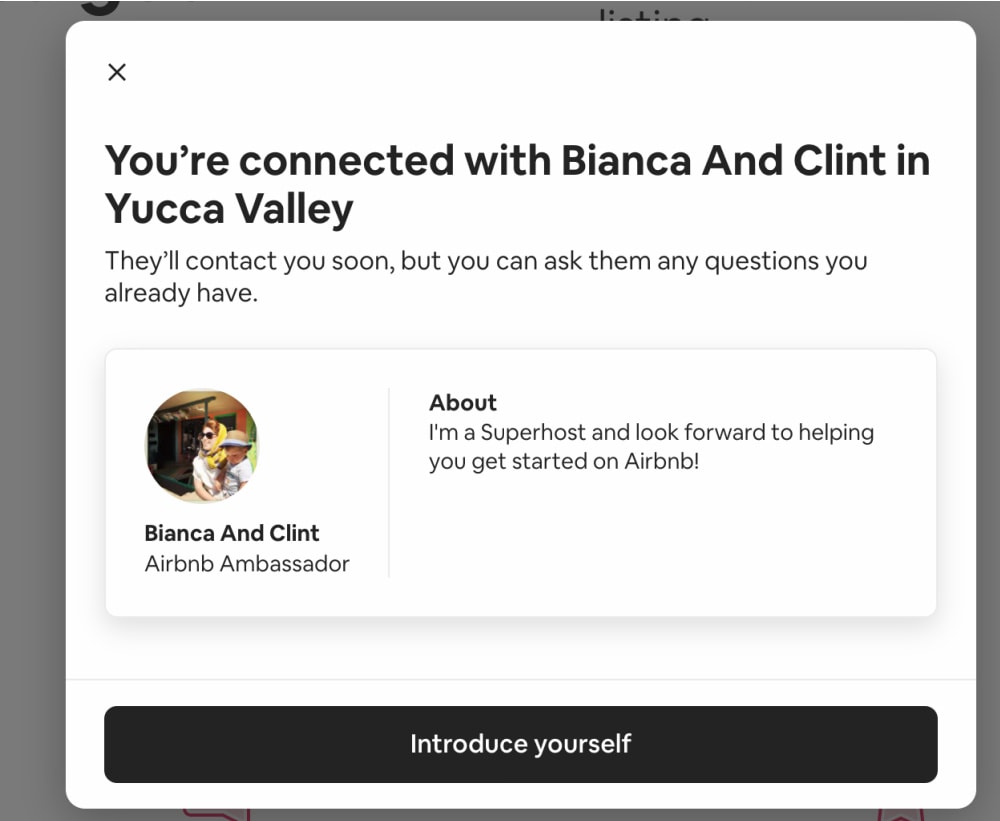 Ask a real host – Message a host (1-to-1)
On this sign-up page, this secondary call-to-action aims at directly connecting a newbie with a "real host", i.e. an Airbnb Ambassador. It shows how messaging and personal relationships are at the heart of the program.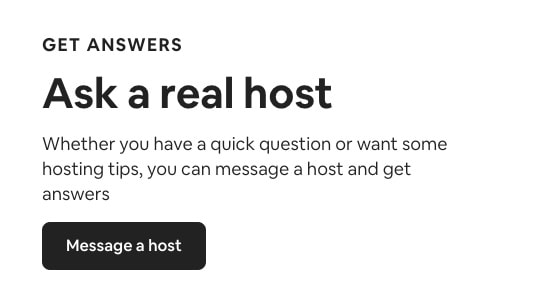 Find out more and connect with expert Hosts
This is a more generic call-to-action: Users can sign up to an automated nurturing and onboarding sequence to turn them from leads to active hosts. The list is also getting invites to live webinars with "experienced hosts".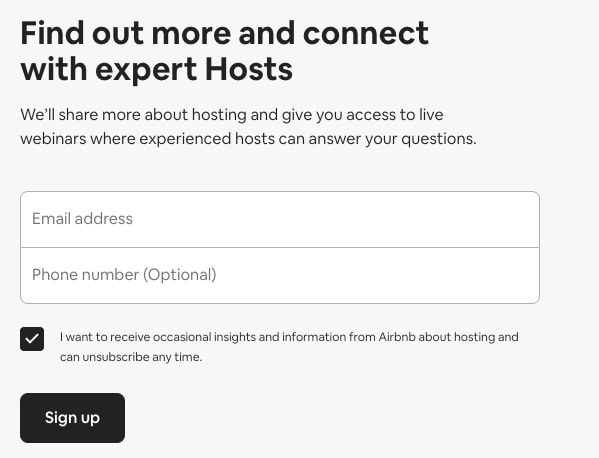 Using Ambassadors to help with a hosted onboarding is a compelling experiment
Airbnb seems to be tweaking every day the way hosts can connect with Ambassadors. It is interesting here to see that Airbnb wants to recruit Ambassadors who can find their own host leads and also help would-be hosts connect with Ambassadors.
For online services, onboarding is crucial to get more users, and faster, active on a platform. To its streamlined signup funnel, Airbnb is adding a "hosted onboarding" mode, where Ambassadors can message newbies to guide them getting their listing active and getting their first reservation. This is a more than a product effort, as it requires a whole program team who can address multiple issues, such as scaling across regions and matching Ambassadors with guests.