A how-to guide for multi-property owners (Part 2 of 2)
In part one of this series, I talked about how property managers can attract more bookings through repeat guests. 
In this article, I'll be digging further into how you can build new bookings from your existing guests by encouraging your guests to become advocates for your business.
---
First of all, what is an advocate for your business?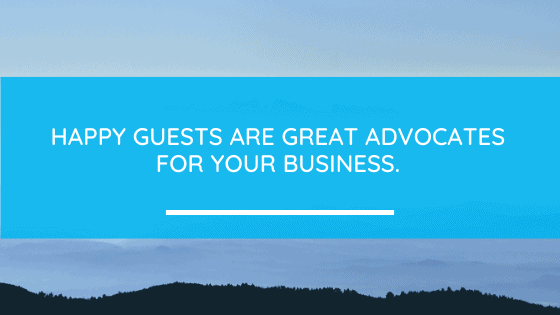 An advocate for your holiday rental is a guest who shares their great experience at your property with their friends, family, and contacts to encourage them to book with you too.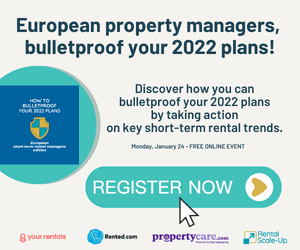 Happy guests are great advocates for your business.
Advocacy marketing is a way of finding and encouraging ways that they can share experiences to attract bookings.
It works because guests are more likely to trust a recommendation from a friend or family member than the marketing material you produce.
How advocacy marketing could work for your business depends a great deal on your business model. Taking the time to consider your business and your clients will really open up opportunities.
Let's look at some ways property managers are using advocacy marketing for their business.
Create a referral scheme to encourage past bookers to refer new guests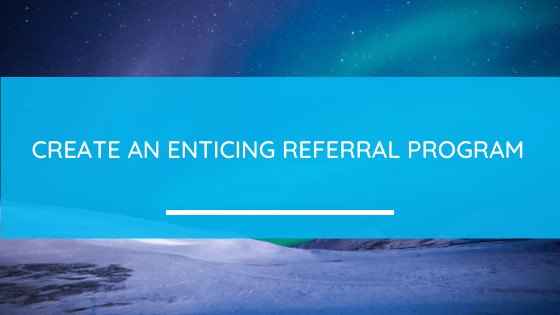 A referral program offers benefits to both the referred guest and your existing guest when a new booking is made.
I recently spoke with a property manager who is having great success using a referral scheme. They send a unique Referral Code to all their guests and encourage them to share it with their friends and family.  When the code is used in a booking, the new guest gets a discount, and the previous guest is sent a thank you. 
What you send as a thank you depends on your budget and strategy. I'd recommend a personal letter of thanks, a discount on a future stay or a welcome gift at their next stay.
Encourage guests to share photos of their stay on social media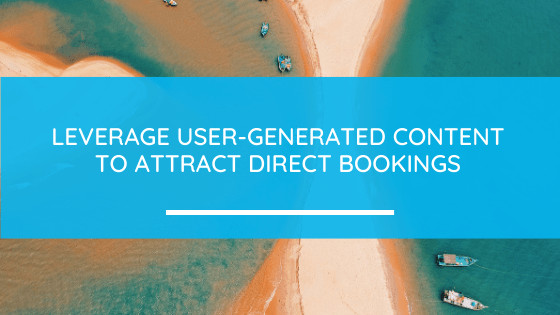 What better way to tell friends and family about a great stay than to share a photo on social media? Whether it's the stunning view from the living room, a shot of the barbeque in action, or the unusual interior decor, the imagery reinforces your marketing efforts. 
This works to attract new bookings because it is much more genuine. Content generated by the user (your guest) can be much more believable than a staged photo.
We all know that guests increasingly rely on reviews, and user-generated photography is a way to get positive reviews without using formal review channels.
Encourage your guests to take a photo of themselves or their favourite part of your holiday home, and share it on social media with a unique hashtag. You could incentivise this with a prize for the most creative photo.
Guests will remember your business, their contacts will see the images, and your social media pages will fill up with great user-led content showing your properties at their best.
Create competitions to build awareness of your properties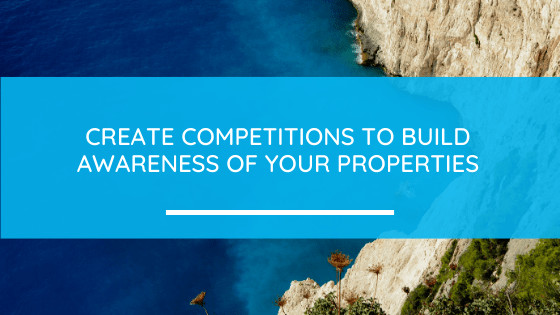 When one of my clients launched their business, one of their first marketing strategies was to create branded competitions.
This was a low investment strategy; they created and shared an image of the prize, which was a few bottles of popular locally-made drinks. It is worth noting that this choice of prize beautifully reinforced that they were a local company supporting their community. 
And it got the word out. The property manager sent the competition to their contacts and promoted it on social media. I saw their posts shared across multiple social media groups by individuals wanting to win the prize, tagging their friends and family. Competition entrants simply needed to sign up for the newsletter to be included in the contest.
If you'd like to do something similar, take time to think about your business and what it represents. Consider your guests: which social media do they use and when, and what appeals to them. Then you have the foundation to create an attractive and shareable competition. 
You could create the image for your competition, adding your company logo using a free graphic design tool like Canva, send it to your past guests and share it on your social media.
Create WOW images and send them to past guests to draw them back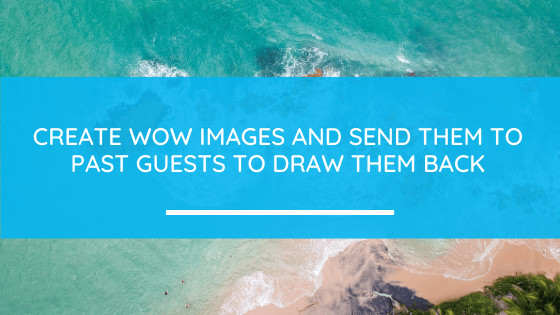 People like to be reminded of happy memories, and guests are no exception to this.
Property managers can create a stunning image from their property or local area and send it to their past guests. This will remind guests of their stay and encourage them to re-book and share with their friends why they enjoyed their stay.  These images could be shared via email or on social media. 
Images work particularly well on social media. According to BuzzSumo research, images earn on average 2.3 times more engagement on Facebook than text posts. Using beautiful images will make your social media page really stand out.
But first, you'd need to decide what to share images of. 
Working in holiday rentals, you may already have plenty of guest reviews. Did your guests mention any aspect in particular that they enjoyed? Could you create images to recreate these positive memories?
Then take a fresh look around your holiday home and its surroundings. What makes it so special?
It could be the view
Your decor
Something unique that you provide in your welcome package
An attraction close by
If you feel you need something more, consider what special touches or unique services will give them something to talk about.
Once you've found a selection of ideas that encapsulate something unique, special, or simply stunning, take a selection of professional photos.
These will attract attention and remind guests why they loved your stay. Share them on social media to encourage Likes and Shares, or send them to your previous guests via email to build relationships and attract repeat bookings.
Record past guest preferences to delight them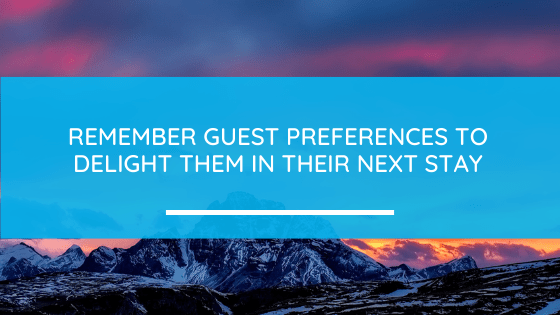 Take inspiration from what hotels do well. When I last checked into a hotel, they 'remembered' who I was from my previous visit. They knew which room I had previously asked for and checked me into the same one. 
It was a small detail that made me feel special. Unique. Individual.
Find ways to make your guests feel special. This will increase the opportunities for guests to recommend you to their friends.
It doesn't take much to remember guests. Put notes into your client files or your Customer Relationship Management tool (CRM), and check them when your customers re-book. Your property management software may have this facility or use a CRM tool such as Zoho or Hubspot built within.
If your guests have any special requests, make a note of them. Chances are they'll have them again in the future and will appreciate it if you preemptively anticipate their needs. 
The core: deliver great guest experiences 
Guests talk about their holidays. So make sure you give them something to talk about.
If you know your guests are travelling with younger children, providing something special for the younger members of the group can be very appreciated. I have a client who provides colouring pencils and colouring-in sheets of the local castle. It's super cute, very targeted to guest needs, and because it's local, it really hits the spot.
Other clients provide a small locally-made gift to take home, including a repeat discount code. Guests can give it as a gift to their friends or keep it themselves to use for their next stay.
By doing this, they've provided extra value, a special touch, and created an opportunity to share stories about their stay. 
---
These are just some examples of advocacy marketing strategies. It's worth looking at other industries too for inspiration on how you can use this for your business.
So help your guests be a spokesperson for your brand. It's inexpensive and can yield great results. Give it a try, and good luck.