On May 24, Airbnb announced its most comprehensive update to its service in 12 years. The company promises to unveil a simpler and more inspiring guest experience, and upgrades that make it even easier for anyone to be a Host. We'll close this article with the complete list of the 103 new features announced by Airbnb. But, first, we'll see that Airbnb's need for more supply is visible in what Brian Chesky emphasized the most: A simpler new listing creation process on the host side and new flexible search options on the guest side (which allow Airbnb to show more results even where supply is actually short).
Some of the features were released a couple of months ago (Flexible Dates) or are not available yet (SuperHost support line). Some are impressive (the new listing funnel is easy and beautiful) and some not (#57: "When you complete your new listing, Sandy and Brian will be there to celebrate the moment." – FYI we are talking about a photo of Chesky with a dog), some are important to many (e.g. the tabs in the Host dashboard menu will change drastically) and some are for only a few (e.g. #99: "New tools to help city officials manage short term rental policies and regulations").
This article completes our May 2021 series on Airbnb's strategy, along with our in-depth overview of the 4 pillars of Airbnb's 2021 strategy and our strategic lessons learned from Airbnb's Q1 2021 business and financial results.
A great product marketing exercise that shows Airbnb's need to help new listings get online and guests find a place even when supply is scarce
A great product marketing exercise
First, note that the techie name given by Airbnb to the exercise: The "2021 release". Release is a term usually used by software companies to describe a package of new features and fixes. Most often, releases contain big new things and unrelated little features. This is what we get here.
Airbnb's has succeeded in creating a great product marketing moment:
Packaging a varied list of more than 100 new features, which creates an event
Creating a launch event, with Airbnb's CEO, Brian Chesky, showcasing some of the features
Sending a press release with keywords that the press would enjoy (e.g. Artificial intelligence to sort listing photos).
On one hand, some people could see these 103 items like a laundry list. Yet, seeing so many new features coming from a company that laid off 25% of its employees is impressive. Other travel platforms such as Booking.com and Expedia also release a lot of new features in a year. Yet, they are not as marketing savvy as Airbnb, which is able to reach across its whole organization to list everything that is newsworthy and package it nicely. Product can be marketing, which Airbnb knows well.
Helping new supply get online as demand booms in areas where Airbnb was traditionally not that strong
One of the four pillars of Airbnb's 2021 strategy is:
Recruiting more Hosts and setting them up for success
As we detail below, Airbnb has created a simplified and faster listing funnel. This is clearly for individual hosts, as most connected property managers use software to list their new properties straight onto Airbnb. The company is busy attracting new hosts to the top of its sign-up funnel, using Airbnb ambassadors and targeting farmers and rural hosts, for instance.
Yet, once would-be hosts land on the listing creation page, the funnel needs to be as short as possible. Airbnb needs to ask the minimum information its needs to get a listing up-and-running. Hosts can complete the non-essential information later. Also, Airbnb needs to make sure that tasks that can seem simple to seasoned hosts are just not too daunting for newbies.
For instance, when I was working at Booking.com, I was surprised to see how many people would stop early in the funnel because of one of the first items to fill in: The name of the property. Originally, this funnel had been built for hotels. Every hotel has a name, so this field had never been a blocker. Yet, short-term rental owners got stuck there: How do you name your non-descript city center apartment?
Here, Airbnb is solving some common pains, by guiding new hosts into picking a listing title, filling in a description, or picking a night rate.
Helping travelers find more options to book, by helping them make compromises and showing more results where supply is tight
We also detail below Airbnb's new flexible search options. They enable travelers to get inspired on where and when to go. They also make them more aware of the diversity of Airbnb's supply, especially the kind that is not present on other platforms, such as treehouses, yurts, and private islands.
These tools also help travelers make trade off, when there is not enough supply matching their exact request. Airbnb will add to the search results some places that almost match their demand, minus one amenity like a hot tub for instance. The goal is show more supply, more options, to increase the chance to get a booking.
The new Flexible Search tools also Airbnb to extend the geographical search if supply is too tight is some areas. Instead of showing just 2 or 3 listings, it can show more by smartly overriding some choice criteria input by guests. It is useful to the guests, as it creates more options. It also prevents them from realizing that Airbnb may have some holes in some markets (e.g. rural areas) or for some property types (e.g. large vacation rentals). Travelers get to stick longer on Airbnb and not leave to see whether Vrbo has exactly what they need.
---
Video: Brian Chesky introducing 100+ upgrades for the 2021 Airbnb release
The best quotes from Brian Chesky's announcement
On the rise of long-term stays:
 Nearly a quarter of our nights booked in Q1 were for long-term stays, which are stays of longer than 28 days. You see, people aren't just traveling in Airbnb, they're now living on Airbnb. In Seattle, 40% of upcoming nights booked for this summer are now long-term stays. We're seeing similar trends in other urban destinations, 43% in Los Angeles and 62% in New York City
On travelers getting too few results when they enter too many search criteria (and how Aribnb will show more supply options)
Now, I've just filtered from hundreds of listings down to four. So what I just did was over-filter and ran out of options. Now, this happens a lot, but we found a solution for this too. (…) Flexible Matching includes listings that lie just outside my search parameters (…). Now, this has everything I searched for, but it's missing a hot tub. We still show you this result now. Or this country retreat, it's just a little above the price filter.
On the way Airbnb displays relevant listings by increasing or decreasing the geograpical area searched, depending on the unique property type you are looking for:
You're going to notice that the map radius changes as I tapped. So when I go to here to beachfront, look what happens. It shows homes just on the water and it picks the coast of California because it knows I'm in California. But if I go to nature lodges, it takes a wider radius, so now we're going back to North America.
On how listing creation was faster in the US as Airbnb uses public records to fill in the basic property layout:
This imported the right number of bedrooms and baths. The reason we were able to do this is we were able to take publicly available real-estate data and import them to save hosts extra steps. And it adds the amenities in my house. We have a pool.
On how photos are sorted for conversion:
We use machine learning to automatically analyze each photo for quality, and then we placed them in the optimal order to boost their appeal.
On changes in the Hosting Dashnboard for existing Airbnb hosts:
Profile is now Menu. Performance is renamed Insights. Now, Listings was not commonly used by hosts, so we've put listings under Menu. With Inbox, it's now up to 10 times faster and completely redesigned, with features like scheduled messages and quick replies. And finally, we freed up some space for a brand new feature, we call the Today tab. The Today tab shows hosts what they need to do today in one place. 
---
Major announcement #1: More Flexible Search Options
Airbnb wants to get more bookings and increase its revenue by helping guests discover options they may have ignored without assistance. If a traveler sees zero or just a few options when searching for an accommodation, then it may leave Airbnb and go to Vrbo or Booking to have more choice. Too few options can show up:
If, as Brian Chesky discusses, the user enters too many restrictions, such as a set date + a set place + a property type (e.g., a chalet) + a set of required facilities (e.g., a swimming pool, a hot tub, and an electric vehicle charger).
If, as he does NOT discuss, Airbnb's supply options are just too few. For instance, a user may search for properties in a 5-bedrooms house in a traditional vacation rental market where most
To surface more results, Airbnb needs to allow users to indicate on what they are willing to have more flexibility (travel dates? property type? one amenity?). It also needs to use the input information in a smart way to surface a series of results that make sense, for instance by enlarging the area searches from local to national.
Airbnb's Flexible Search options (Flexible Dates, Flexible Matching, and Flexible Destinations) help users find options they may not have thought about (awareness) and indicate on what they are willing to comprise (flexibility).
Flexible dates: Say WHERE you want to travel, Airbnb shows an array of possible travel dates (WHEN)
Flexible matching: Adds to your search results options that do not match 100% your request (e.g. no hot tub as requested). What is missing is clearly indicated in the search results.
Flexible destinations: Allows finding more properties of the "unique stays" category, such as castles, private islands, cabins, yurts, etc., by retrieving results in a geographical area large enough to have a decent number of options.
Flexible Dates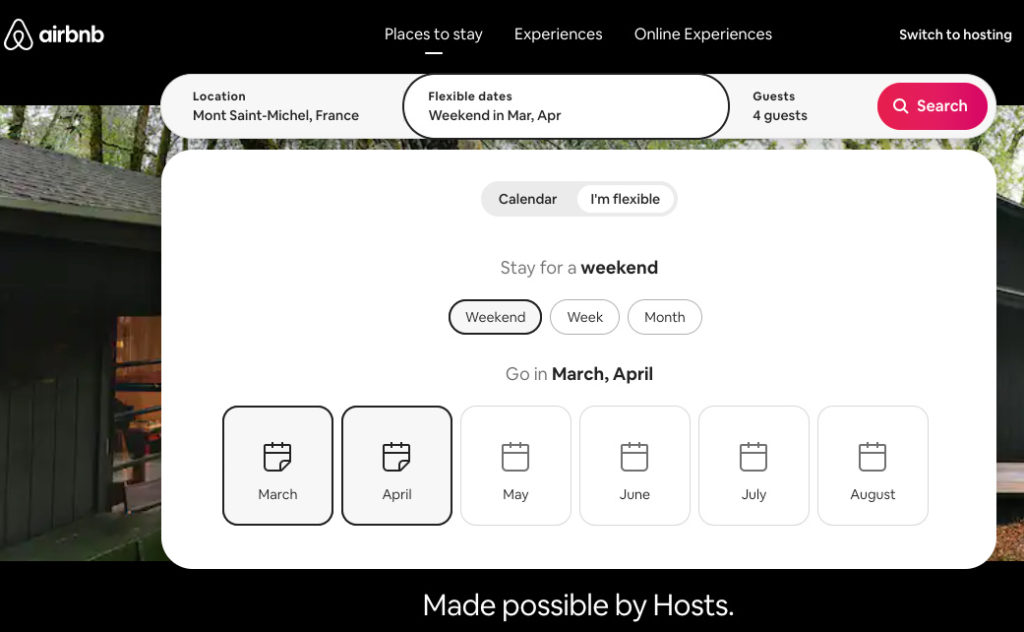 In February 2021, Airbnb launched a flexible dates feature to support guests who have more flexibility about when
they travel. Instead of having to narrow down exact dates for their trip, guests are able to search for a
weekend getaway, a week-long vacation, or even a month-long stay "sometime in the next few months."
We explained how interesting Airbnb's Flexible Dates was to generate bookings from people who know WHERE they went to go, but not exactly WHEN. This is a compelling tool in times of uncertainty. It also a nice feature for vacation rental owners listing their place on Airbnb, as it surfaces more properties in search results, even the ones that would have full and hidden on a specific search date. It also helps Airbnb create the illusion of more choices in regions where the supply may be low, by removing the date restrictions.
Airbnb says that:
Since the feature launched, there have been more than 90 million flexible date searches. Guests who used this feature converted at a higher rate than those that did not.
Flexible Matching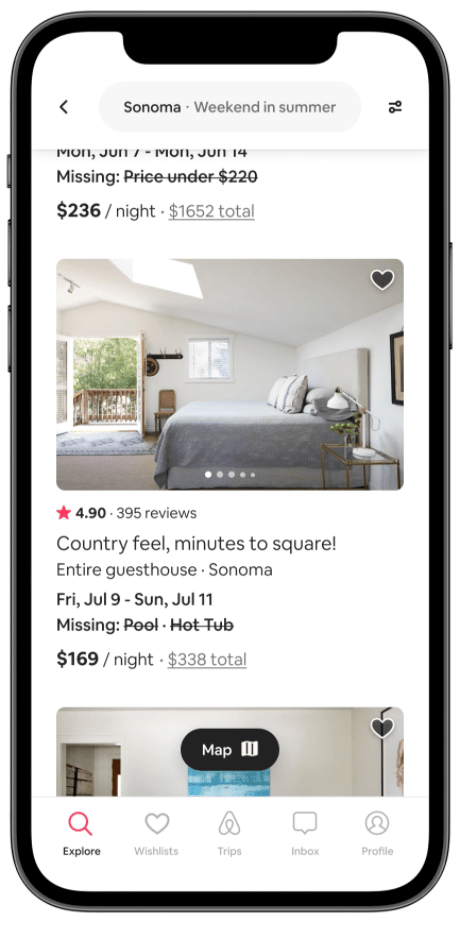 This search feature increases the number of search results by showing options that "almost match" the criteria entered by the user. For instance, a user may have indicate that they wanted a cabin with a pool, a hot tub, and an EV charger. Airbnb will show the options that match these filters, as well as some that are close enough to the results.
If one or several items ticked in the search filters is / are missing, then Airbnb will show it by naming and striking them through.
For this work, Airbnb needs to use data to know on what people are willing to compromise. We imagine that Airbnb can do it by building a machine-learning model that records what people initially looked for and what they ended up booking. It may indicate which trade-offers are the most frequent.
Flexible Destinations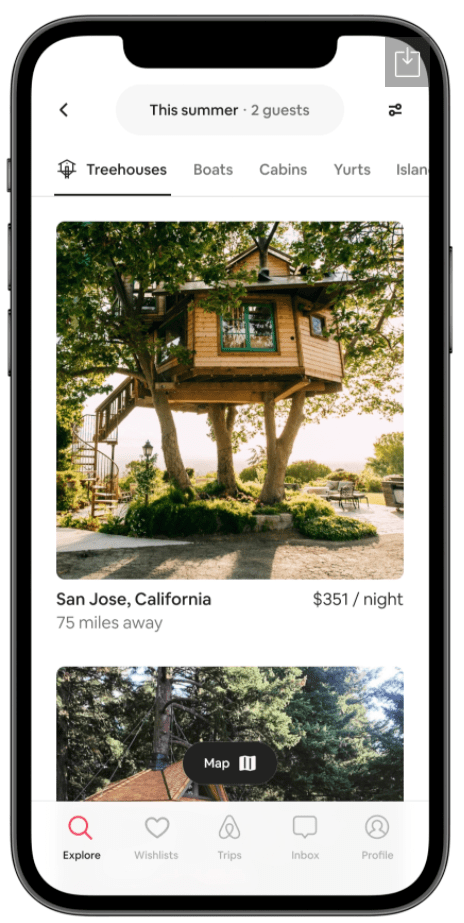 Flexible Destinations seems to be available for only one specific category of accommodations: Unique stays.
Unique stays are a motley crew of property types that are usually the ones you see in travel articles: Treehouses, boats, yurts, castles, etc. In 2021, these one-of-a-kind places are in high demand, yet it can be tricky for Airbnb to show a satisfying number of options in search results:
the supply for each of these property types (e.g. treehouses) is much smaller than for apartments and condos, for instance. So, you may end up with zero treehouse when looking for one in Paris, London, or Chicago.
showing a relevant list of options that will get booked may sometimes mean that Airbnb needs to increase the geographical search area (e.g. all Nothern France when searching for a treehouse near Paris) or, on the opposite, to focus one specific area (e.g. the Pacific coastline when searching for beachfront properties nearby your home if you live in San Francisco).
some markets may have specific property types that do not make sense to show in other countries, such as ryokans in Japan, trullos in Italy, and castles in Europe. Yet, to get more bookings, Airbnb needs to show ryokans to Japanese travelers. A one-size-fits-all approach to how property categories are organized is not optimal.
So, depending on the property type and where the user is, the range of geographical search will change. Thus, the number of destinations popping can vary.
---
Major announcement #2: Simplified and faster 10-step new listing creation process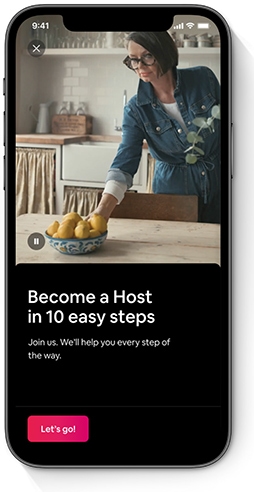 Airbnb's sign-up page for prospective hosts has been revamped to features stories and video testimonials from experienced Hosts to help and inspire others to get started. The new slogan is "Hosting makes Airbnb, Airbnb".
Why it can be hard to create a listing on a vacation rental platform: Host pains that Airbnb needs to alleviate
Increasing the conversion rate of people who go from start to finish when listing a new property is a crucial metric for online travel platforms. The more steps there are, the more people will drop and fail to active their listing. Some mandatory steps may also be surprising blockers. For instance:
Airbnb, Booking and Vrbo want you to come up with a name for your property. If you live in Apartment #2F, how do you call your place? Our experience shows that a surprising number of people do not know how to find a name and give up listing their place here and there.
Which price to set?
How to best describe your place?
Which of your 25 photos to use as a cover photo? How to rank the others?
What is your property type? Imagine that you want to indicate that it is a treehouse, a ryokan, or a trullo. Will you be able to accurately find the right property category?
Airbnb's new 10-step listing process (we counted 14!)
Here are the steps we counted in Airbnb's new listing creation process:
"Become a Host in 10 easy steps":
What kind of place will you host?
Which of these best describes your place?
What kind of space will guests have?
Where's your place located?
Is the pin in the right spot?
How many guests would you like to welcome?
Let guests know what your place has to offer
Next, let's add some photos of your place
Let's give your place a name
Now, let's describe your place
Now for the fun part—set your price
Just a few last questions…
Check out your listing
Congratulations, Brian
How Airbnb's new 10-step process solves some of the listing creation pain:
Help with listing title and description creation with automated prompts and auto-filled details: For instance, if you indicate that your place is "family-friendly" and "spacious", then the description will already be filled in with this sentence: "Bring the whole family to this great place with lots of room for fun."
AI-powered photo sorting to show best-converting photos first: When a user uploads a series of photos, then it gets reordered in second along what Airbnb believes is the best. For instance, in our tests, it shows an exterior photo with a pool when listing a villa.
Big and clear icons: To indicate facilities and property details, Airbnb is not listing hundreds of choices at the moment of listing. It has prioritized the most important ones and shows them as redesigned icons..
Help powered by Airbnb hosts and online classes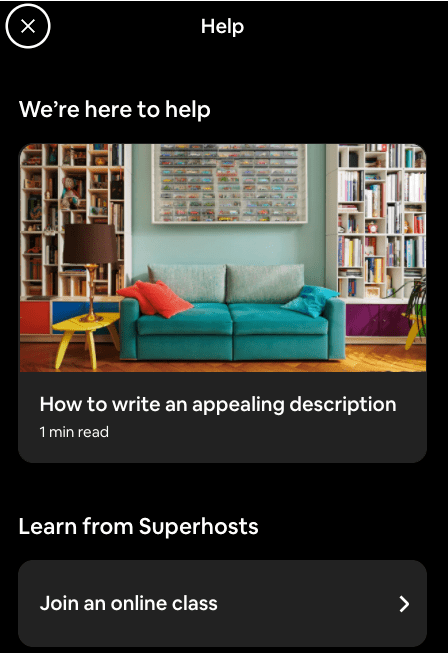 All through the listing process, users can connect with existing Airbnb Superhosts. These experienced hosts are actually Airbnb Ambassadors who can hold online webinars and even 1-to-1 coaching sessions with host leads.
As a result, Airbnb has created an educate-and-nurture funnel for prospective leads who are not yet ready to start listing their place straight away. The company leverages an army of Ambassadors who can help would-be hosts in their language and are cheaper to use than Airbnb employees. Small hosts can be terribly expensive to onboard, as they may have a lot of questions.
Competitors such as Vrbo and Booking.com do not have such a funnel and certainly not with "real people" to animate it.
---
The complete list of features of the 2021 Airbnb release
Flexibility designed for the new world of travel
1. Flexible destinations
A new way for guests to discover unique stays they might have otherwise missed.
2. Flexible matching
Includes listings that lie just outside a specified search, to show guests more options.
3. Flexible dates
Guests can now search for new options, from a weekend getaway to stays for a month or more.
A simpler and more inspiring guest experience
4. Curated Wishlists
Curated collections of inspiring stays and Experiences—starting with Greatest Outdoors.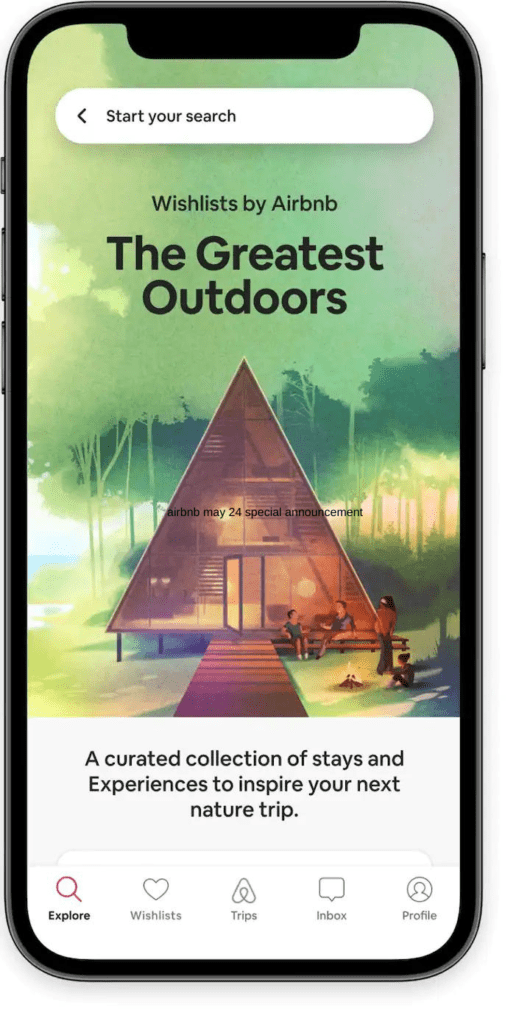 5. Arrival guide
The arrival information guests need, from directions to wifi, is now in one place.
6. Faster checkout process
We've reduced the steps needed for new guests to confirm their first reservation.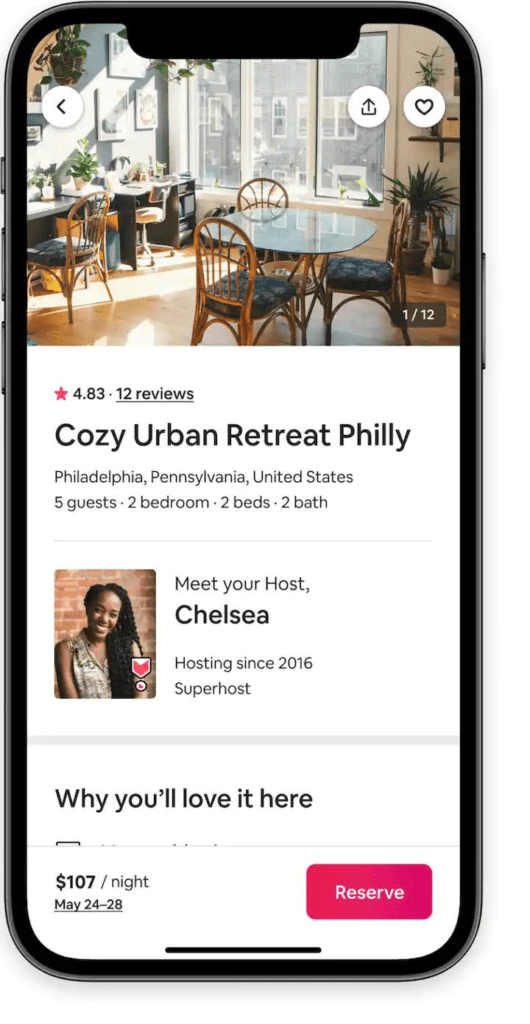 7. Inline sign-up
First-time guests can now easily create an Airbnb account during the initial booking process.
8. Filter bar
The most popular filters are now more visible when searching for your ideal listing.
9. Updated filter menu
New and enhanced search parameters for increased clarity and simplicity when searching.
10. Seasonally-aware filters
Contextually relevant filters appear when in season—for example, ski-in/out.
11. Geo-specific filters
Filter options now only surface if relevant for a guest's preferred destination.
12. Detailed amenities
More specific details for amenities, such as whether a fireplace is gas or wood burning.
13. New attributes
Ocean view? Stationary bike? These useful details are now called out in the listings.
14. Map auto-refresh
Keeps search results consistently front and center on the map while browsing.
15. Sticky pins
Map pins no longer randomly disappear and reappear while zooming and panning. Yay!
16. Enhanced map icons
Redesigned map iconography displays popular attractions and more while searching.
17. Nearby Experiences
Map now displays where Airbnb Experiences are located in relation to a guest's stay.
18. Fullscreen maps on desktop
Previously only available on mobile, fullscreen maps now enable a wider search on desktop.
19. Guest navigation
A new guest menu provides direct access to stays, Experiences, becoming a Host, and more.
20. Accessibility filters
Reorganized search filters make it easier to find stays with accessibility-related features.
21. Focus on accessibility
An increase in the number of stays and Experiences on Airbnb with accessibility features.
22. Unique accessible homes
More unique homes with accessibility features to better meet the needs of our community.
23. Experiences filter
A new filter allows guests to search for in-person activities with accessibility features.
24. New inclusive Experiences
Online and in-person activities designed to be inclusive of the disability community.
25. Caregiver pricing
Experiences Hosts can offer free pricing for caregivers assisting guests with disabilities.
Stays and Experiences that guide your escape to natural surroundings.
27. Curated Wishlist sharing
Share your favorite Airbnb Wishlists with friends, family, and followers on social media.
28. Clearer cancellations
Cancellation policies have been refreshed to increase clarity for both guests and Hosts.
29. Trip planning ideas
While planning a stay, relevant Experiences are suggested to guests.
30. Things to do
The Trips tab now suggests great, nearby activities while you're on a trip.
31. Host recommendations
Hosts can message current guests with recommended nearby Experiences during their stay.
32. Experiences licensing
Helps ensure Host license and insurance info is up-to-date for Experiences like boating.
33. Experiences descriptions
Experiences Hosts can now easily revise and update listing descriptions to ensure accuracy.
34. Easier team access
Simpler than ever for your co-workers to claim their seats to group Online Experiences.
35. Online Experiences Hosts
Host community dedicated exclusively to our growing family of Online Experiences Hosts.
36. Family-friendly pricing
Experiences Hosts can now offer discounts to make it easier for more families to participate.
37. Unique homes categories
Added 9 new categories of unique homes to choose from—from adobe houses to wagons.
38. Unique homes in nature
A new category of one-of-a-kind stays found in nature—from bubble tents to working ranches.
39. Stays near points of interest
Guests can find stays near something special, like a waterfall or a winery.
Easier ways to host—from sign up to Superhost
40. Welcome to hosting page
Completely redesigned to better meet the needs of new Hosts as they begin their journey.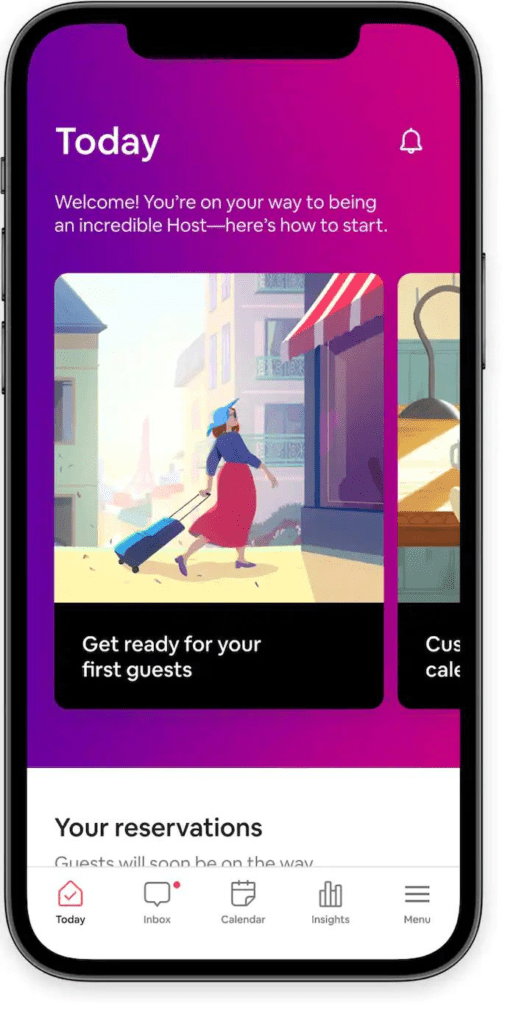 41. Become a Host in 10 steps
It's never been easier to list your space on Airbnb, and get help along the way.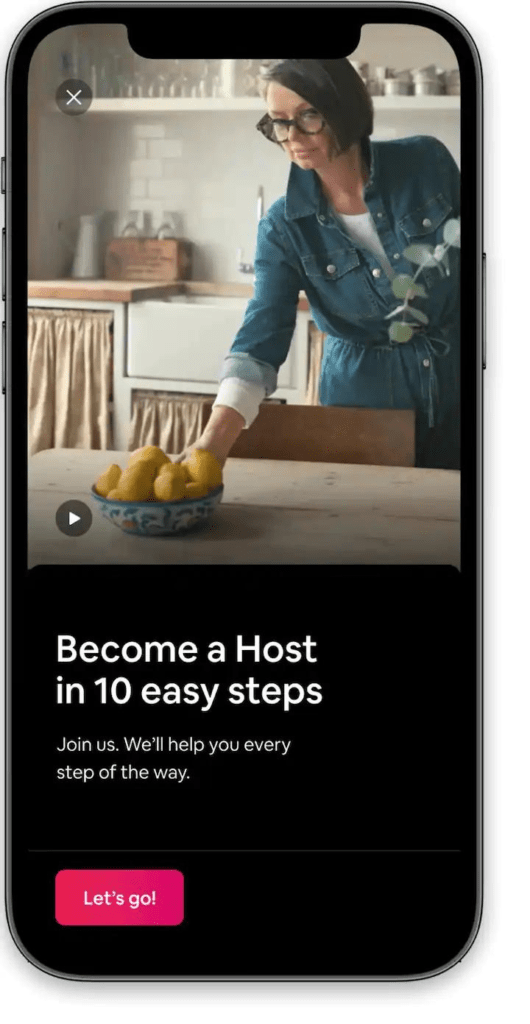 42. Today tab
A new way for Hosts to easily manage bookings, tasks, and more all in one place.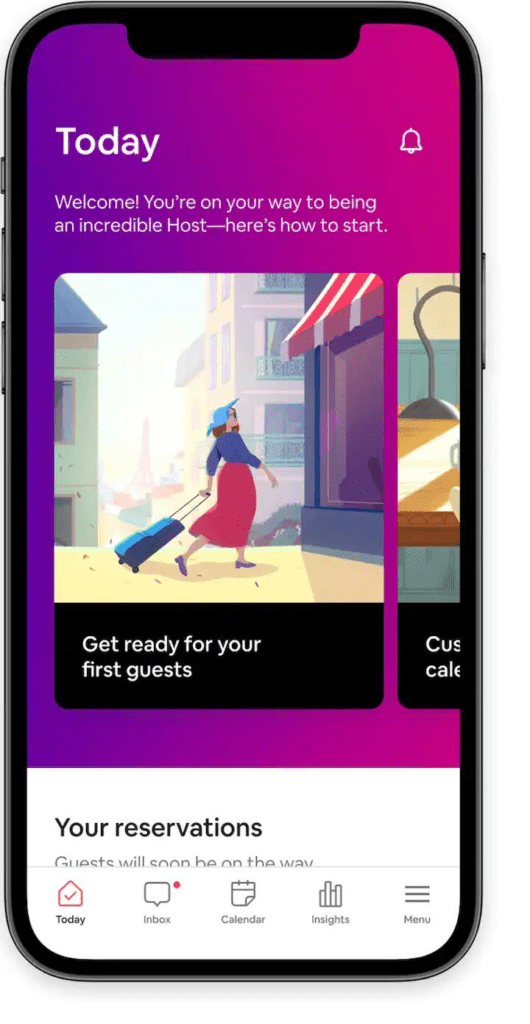 43. Experiences Host resources
Updated "Becoming a Host" page has new areas and resources for Experiences Hosts.
44. Host testimonials
A library of valuable articles and videos to inspire new and existing Hosts.
45. What's my place worth?
Updated calculator helps you quickly estimate the earnings potential of your space.
46. Easily host Experiences
A streamlined onboarding process provides a simpler path to becoming an Experiences Host.
47. Videos for Experiences
Most Experiences Hosts can now easily upload videos to showcase their shared passion.
48. Auto-filled details
Property details sourced from public real estate data helps Hosts quickly list their space.
49. Easily add amenities
Animated icons make it easy to choose and showcase important listing features.
50. Auto-arranging photos
Advanced computer vision models analyze photos and reorder them for optimal layout.
51. Suggested title
Automatic text suggestion for creating a compelling listing title based on info provided.
52. Description starter
Helps new Hosts quickly describe their listing's unique and desirable attributes.
53. Simpler pricing
Setting an appropriate price for your listing is now straightforward and simple.
54. Suggested price range
We now provide an estimated price range for your space based on comparable listings.
55. Acknowledgments
We've streamlined and simplified one of the final steps at the end of the listing process.
56. Preview before listing
Get a full preview of how a new listing will appear to guests before it goes live. At last!
57. New listing welcome
When you complete your new listing, Sandy and Brian will be there to celebrate the moment.
58. New Host guidance
Relevant articles support new Hosts throughout the entire onboarding process.
Online classes led by Superhosts help new Hosts get up and running as quickly as possible.
New Hosts attending online classes can email Superhosts directly for personalized assistance.
During the listing process, new Hosts can get advice by privately messaging a Superhost.
Hosts can register for Online Experiences to learn tips and tricks from experienced Hosts.
63. Prepare for your first guest
After listing a new space, guidance is given on next steps—like setting house rules.
64. Custom calendars & pricing
New Hosts are given tips on how to get the bookings they want at the prices they expect.
65. Confirm how guests book
Hosts can add requirements for guests who book, like recommendations from other Hosts.
66. Choose how you'll get paid
An automatic alert reminds new Hosts to add a payout method, so they are paid promptly.
67. Booking requests
The new Today tab lets Hosts easily view any pending booking requests and inquiries.
68. Your reservations
The Today tab also lets Hosts view existing and pending guest reservations at a glance.
69. Quick links
The Today tab provides an easy way for Hosts to access pricing and availability tools.
70. Host news & updates
Relevant articles in the Today tab advise on strategies for successful hosting.
71. Host alerts
Notifications help ensure Hosts are reminded about anything requiring their attention.
72. Faster messaging
Messages between guests and Hosts now load up to 10x faster.
73. Inbox search
Allows Hosts to easily locate messages in their inbox by a variety of search criteria.
74. New inbox filters
Inbox updates enable Hosts to quickly filter messages—including those that are unread.
75. Personalized Quick Replies
Hosts can now easily personalize their Quick Replies to frequently asked guest questions.
76. Scheduled messages
Create messages that automatically send friendly reminders, like checkout instructions.
77. Hosting insights
The Insights tab provides information on local trends to help Hosts leverage new opportunities.
78. Insights for Experiences
Updated tool for Experiences Hosts with valuable data on earnings, ratings, and more.
79. Streamlined reviews flow
An easier way for guests to submit reviews that provide Hosts with useful feedback.
80. Detailed feedback
Feedback cues prompt guests to leave more actionable and detailed reviews for Hosts.
81. More feedback categories
New categories in the review flow help guests give a comprehensive summary of their stay.
82. Updated reviews
Guests now have a fuller spectrum, from critiques to compliments, to rate their stay…at last!
83. Lifetime Host achievements
New metrics celebrate everything from total guests hosted to things they enjoyed most.
84. Shareable hosting highlights
A new way for Hosts to share and celebrate lifetime performance metrics via social media.
85. Host details
The listing details now highlight what makes each Host and their home unique.
World-class support for our global community
86. Redesigned Help Center
An easier way to navigate Help Center with comprehensive support for guests and Hosts.
87. Smart solutions
Personalized guidance helps guests and Hosts easily solve common issues in a few steps.
88. Payment notifications
All guest payment notifications are now centrally located in one easy-to-find location.
89. Updated safety resources
On-trip assistance has a 30 second support line, with embedded translation in most languages.
90. Localized emergency info
Localized emergency service information for fire, police, and EMT in most regions.
91. Urgent support expansion
Urgent on-trip support is now offered in hundreds of languages.
92. Dedicated Superhost line
Enhanced, dedicated support for Superhosts—North America initially, globally by year-end.
93. Community Leader support
All-new priority support for our Host Community Leaders.
94. On-trip help
A better way to support guests and Hosts during their trip with more relevant information.
95. Universal search
Search simultaneously across all of Airbnb's support products to find answers more quickly.
96. More intuitive support
Simplified help articles provide the right information—where and when it's needed.
97. Resolution guidance
Step-by-step assistance resolving common on-trip issues like broken or missing amenities.
98. Community policy hub
Clearer, more simplified policies reside in one central location within the Help Center.
99. New City Portal tools
New tools to help city officials manage short term rental policies and regulations.
100. Review dispute updates
A new policy allowing Hosts to dispute reviews left by guests who violate our party ban.
101. More support agents
We've expanded our global support staffing by 2x to better serve our community.
102. Support in more languages
We've expanded our support coverage from 11 to 42 languages.
103. Host resources
A new Host menu provides direct access to support, listings, Superhost status, and more.
---