In 2014, when Airbnb introduced its new tagline, "Belong anywhere", the company said it wanted to be a lifestyle brand, not a travel company. Quite a few people found the ambition presumptuous. Fast forward to Airbnb's Q1 2021 financial results: That quarter, 24% of the nights sold were for stays of 28 days or more. As Brian Chesky alluded to during the earnings call: This is not temporarily staying at an Airbnb, but rather living there. Has Airbnb survived COVID-19 to fulfill its vision of becoming a lifestyle brand? Not entirely, but while we are no Airbnb fanboys, we've noticed that the company had managed to get people to use its website and app to book stays that are a far cry from its pre-pandemic core business: Short urban trips and international travel. Airbnb has shown bigger flexibility than some of its competitors when capturing late 2020 and early 2021 demand trends, which is also evident in its May 24 announcement of its most comprehensive list of upgrades yet. You can view the announcement video with a transcript or take a gander at the 4 pillars of Airbnb's 2021 strategy for further reading on the subject.
Let's have a look at the Airbnb Q1 2021 business and financial data (strong demand, big losses) to take away 3 major learnings:
Airbnb has managed to flex its supply and demand, attracting more domestic, rural, and long stays than before.
The company's big focus is to attract more supply to catch the rise in demand.
ADR is incredibly high, at $160, but is also unsustainable, as the return of more usual travel patterns for Airbnb will drive down the value of bookings.
Airbnb Q1 2021 business and financial data

In Q1, Airbnb has managed to make more revenues and lose more money than market analysts had expected.
Total revenue: $886.93 million, up 5% year-over-year ($719.8 million expected)
Net losses: $1.17 billion ($361.3 million expected)

Non-GAAP losses: $59 million

Gross bookings: $10.28 billion, up 52% year-over-year
Booked nights: 64.4 million, up 13% year-over-year
Losses per share: $1.95 per share, ($1.10 expected)
Comparing Airbnb's 2021 data with 2020 is interesting. Still, it is the comparison with pre-pandemic 2019 that is impressive: Despite the current travel restrictions, Airbnb's revenues were bigger in Q1 2021 than in both 2020 and 2021.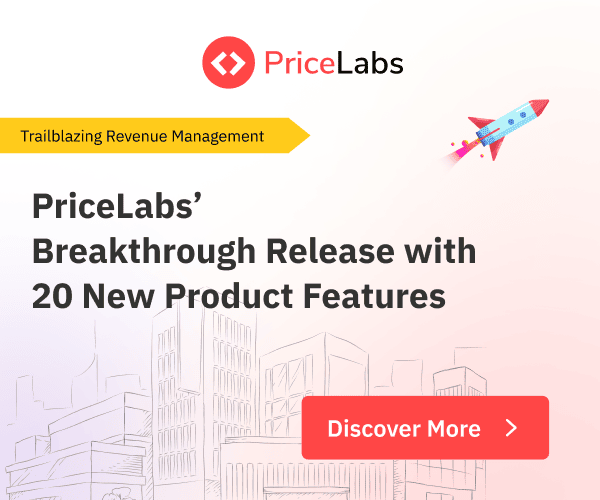 Below, we'll see that if revenues are up, it is because the value of each night sold, expressed by the ADR (Average Daily Rate) metric, has gone way up (+25%). The number of nights sold has actually gone down by 22%. Overall demand is lower, but what is selling is more expensive.
Meanwhile, competitor Booking Holdings' total revenues for the 1st quarter of 2021 were $1.1 billion, a 50% decrease from the prior year. Expedia Group's revenues decreased by 44% in the same period.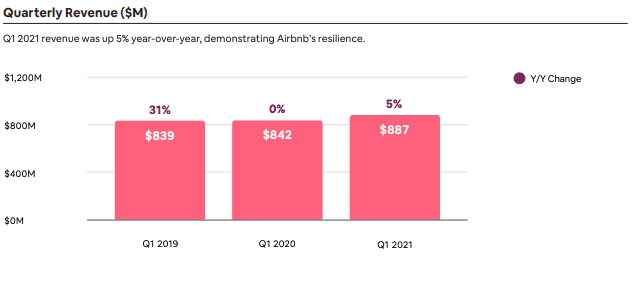 Yet, losses ballooned in Q1 2021. Airbnb's net loss tripled as it repaid debt for loans it took out early in the pandemic and as the company continued to pay restructuring fees following layoffs. It also had a $113 million impairment related to office space in San Francisco (not needed after reducing staff numbers by 25% in 2020).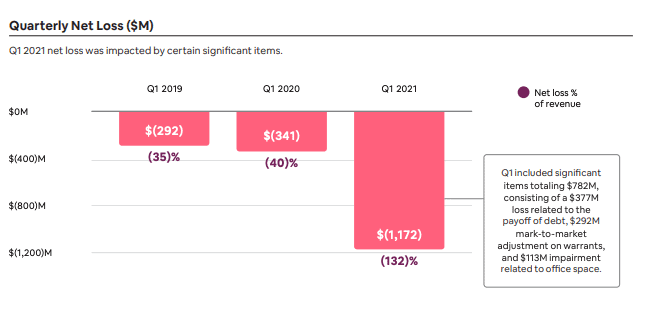 Capturing new demand sources: From wishful thinking to actual success?
In 2020, when OTAs were saying that their average length-of-stay (LOS) was getting longer or that the share of rural stays was increasing, you could argue that it was all relative: Demand for weekends in big cities had collapsed, and the only bookings left were made by people looking to escape big cities. It looked like OTAs were spinning some numbers into positive trends, while the data actually mirrored the disappearance of a whole slice of the travel market.
Airbnb is a PR machine. For long, parts of the travel industry have said that the company's achievements were mostly smoke and mirrors. Yet, Airbnb's CEO, Brian Chesky, actually endorsed this PR-heavy strategy during Airbnb's Q1 2021 earnings call:
PR, in addition to word of mouth, is the thing that really built our brand over the last 10 years. And because of that, Airbnb is a noun and a verb used all over the world. And this has led to 90% of our traffic being unpaid or direct even as recently as Q1.

Brian Chesky, Airbnb
Yet, the rise of Airbnb's revenue in Q1 does confirm that it has indeed managed to attract new usage for its product. For instance, it is now a more credible competitor to Vrbo for entre places and family booking in domestic markets (so much so that Vrbo is trying to attract Airbnb hosts to its platform).
The mix of Q1 2021 stays departed from Airbnb's usual patterns
Brian Chesky commented:
Here is the most important fact: Our business improved without the recovery of two of our strongest historical segments: urban travel and cross-border travel.

Brian Chesky, Airbnb
Airbnb's demand was stronger than usual in these areas:
North America, where short-term rental bookings have been breaking records month after month
Domestic travel, representing 80% of nights booked in Q1 2021 (against an average of 50% before the pandemic)
Nearby stays, with strong growth of trips less than 50 miles from guests' homes
Long-term stays, with stays of 28 nights and more representing 24% of booked nights (against 14% in 2020)
Stays in less densely populated areas. For example, in Q1 2021, more Airbnb guests stayed in Okinawa, Japan, than in Kyoto and more in Valais, Switzerland, than in Zurich and Geneva combined.
Airbnb has long vowed to change its image as a purveyor of accommodations for weekend trips in cities. Despite the collapse of international travel and urban stays, its users have found new use cases for Airbnb, from finding a place to work remotely for a couple of months to discovering nearby getaway destinations. When travel demand returns to more normal patterns, these users will remember that Airbnb can do more for them than they had thought.
A successful bet on Monthly Stays
In mid-March 2020, the pandemic hit Airbnb hard: It made hosts angry by refunding money to guests, its sales numbers were collapsing, and it had to lay off 25% of its staff. Yet, as soon as April, the company was launching a redesigned homepage. Specifically, it emphasized Monthly Stays, giving a prominent place to this category of stays that had been a bit neglected until then. It was a bold move to redesign a whole part of the website and create a separate section.
At the time, there was still demand for stays over 30 days. This includes stranded Russian tourists, families who want to distance themselves from the pandemic and digital nomads that have had to become sedentary. As remote working and social distancing became bigger in 2020, more people turned to platforms such as Airbnb to find temporary lodging. Brian Chesky shared that, in New York City, more than 50% of stays were over 28 days at the moment.
As more people become aware that they don't need to be tied down in one location with traditional travel accommodations every time they want to work or live somewhere new, these numbers increases as more travelers discover their ideal home away from home. By Q1 2021, 50% of all Airbnb bookings were at least for 7 nights. Stays of at least 28 nights represented 24% of the nights booked on Airbnb, against 14% in Q1 2019.
Let's pause and look at the numbers: Has Airbnb actually sold more long stay nights than in 2020?
14% of nights booked in 2019 = 14% x 81.3M = 11.4M nights
24% of nights in 2021 = 24% x 64.M = 15.5M nights (+36%

)

So, while the

overall number of nights booked recorded a

-21% change from 2019 to 2021, the number of long stay nights changed by +36%.
Airbnb has just released a new long-term stay pricing tool which makes it easy to set up a flat monthly fee instead of using night rates. Interestingly, this is how Airbnb is presenting the opportunity: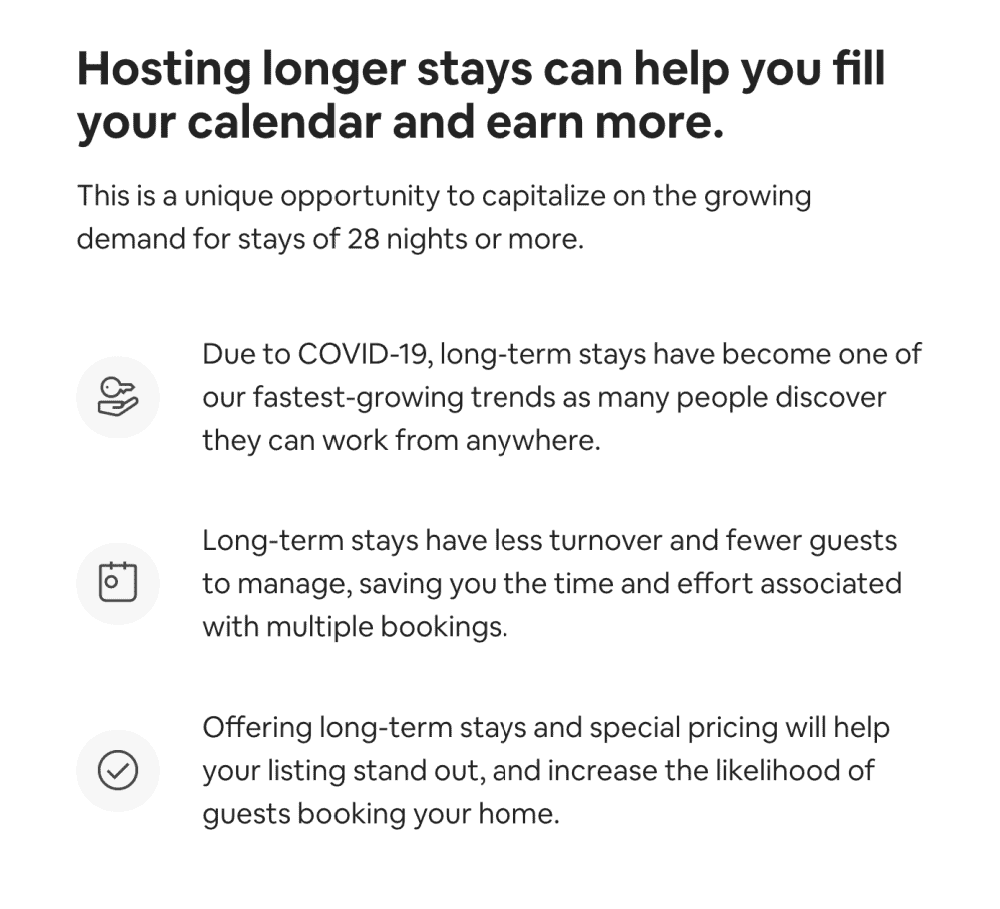 Airbnb's ADR rose by 25%, to $160 per night, but it is unsustainable
In Q1 2021, Airbnb 21% fewer nights sold, yet its revenues increased its revenues by +6%. Why? Because its ADR increased.
Compared with "normal" times, Airbnb has sold more expensive bookings. In some areas with short supply, rates have increased. But the reason for the surge in Airbnb's ADR is due to the change in the mix of its stays:
more trips that included entire families,
more bookings of entire homes,
more non-urban destinations where rates tend to be higher in cities,
more stays in North America where the ADR is higher than in Europe
It does mean that, when tourism increases in Europe and when cities start attracting travelers again, Airbnb's overall ADR will mechanically go down.
Renewed efforts to get more supply
On May 24, 2021, Airbnb will make a special announcement. Brian Chesky will give more details about new features for hosts and guests. One tenet of Airbnb's four-part plan for 2021 is "recruiting more Hosts and setting them up for success".
One reason for Airbnb to get more supply is to catch the travel revenge demand. In the sea, mountain, and rural markets, Airbnb needs to attract new hosts. With the help of Airbnb Ambassadors and of programs such as its rural bootcamp, it has engaged clear efforts to increase this supply.
Another reason could be that existing hosts, for instance in big cities, have left the platform. There are several ways to leave Airbnb: For instance, you may keep your listing on the platform, but all close all availability as we have found a long-term tenant until the end of the year. So, you are counted as a host, with a listing, but with zero available night to book.
In April 2021, we looked at AirDNA's data showing big swings in Airbnb's supply in urban markets, with a lot of listings made unavailable by their owners.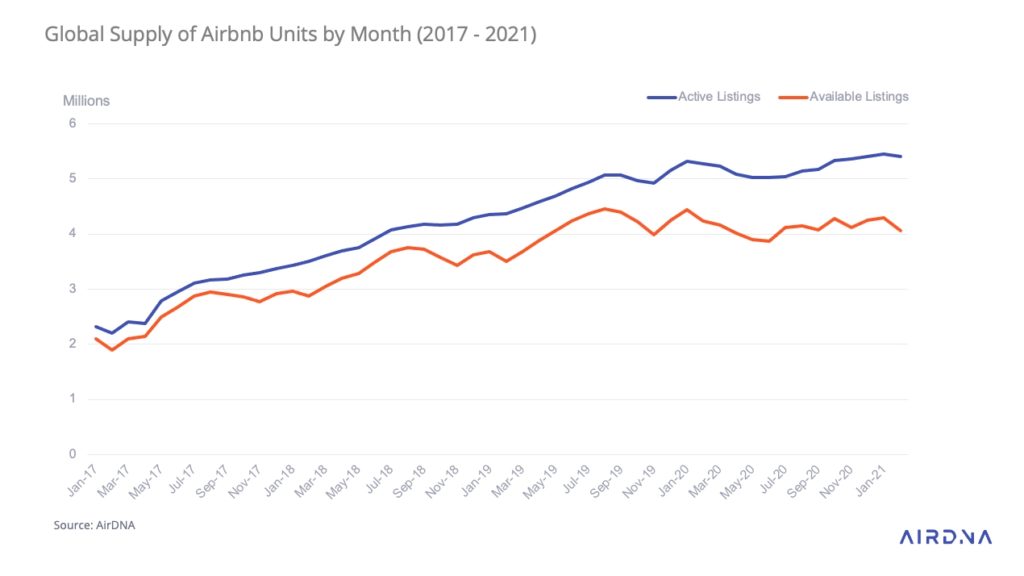 During the Q1 2021 earnings call, Brian Chesky partly addressed the issue. He said that:
Airbnb has 4 million hosts and that this figure had been stable when comparing with Q1 2020.
These 4 million hosts offer 5.6 million listings, which is 1 million more than in Q1 2019
The company recorded a 30% growth in non-urban and vacation rental listings compared with Q1 2019
24% of new hosts were former guests: This is an incredible number and source of accessible supply for Airbnb, as these people are already in its database.
While Airbnb has emphasized that it had gone back to basics, i.e. to individuals hosting guests. The company says that 90% of Airbnb hosts are individuals. Yet, Brian Chesky had a message for professional property managers during the earnings call:
We welcome all hospitality providers on Airbnb. And we have hundreds of thousands of professional hosts and professional hospitality providers. But we want to make sure that we have professional hosts and hotels to serve those customers and to fill in our network gaps. So we're continuing to develop new tools and services over the coming years to continue to welcome these providers onto our platform.
If travel revenge does happen, Airbnb will need all the supply it can muster so that people find something to book on its platform. Larger travel sites such as Booking.com and Expedia may provide more choices.
How is Q2 2020 shaping up?
Strong quarter in North America
Still uncertain in Europe, even if the UK and France are seeing a nice increase in bookings
Urban travel is coming back: Airbnb's urban travel growth rate has increased every month this year and continues to do so through April and early May.