The 2020 edition of the Vacation Rental World Summit (VRWS) is taking place online, on October 10-11. Speakers from big companies such as Vrbo, Booking, and Sykes Cottages, data companies such as Airdna and Transparent, savvy vacation rental experts like Matt Landau and Amy Hinote, among others, will all meet online for 2 days of insights-packed sessions.
As the official media sponsor for the conference, our team here at Rental Scale-Up has done the following for you:

How about giving you a peek behind the scenes? We've asked Antonio Bortolotti, the organizer of VRWS, how different this 7th edition of his conference was, from the past editions as well as from the slew of free online webinars that have flooded our calendars.
Find out in the video or in the transcript below Antonio's candid answer, as well as why he believes that speakers think of him as a pain in the neck because of his attention to quality and detail. Watch on or read on to know more about the conference, get a few previews on what will be delivered, get more reasons to attend and discover what it is like to put together such a conference in the middle of the COVID-19 crisis.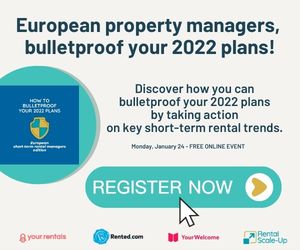 Video: Vacation Rental World Summit organizer, Antonio Bortolotti
Vacation Rental World Summit – Interview with Antonio Bortolotti
Thibault Masson:
Dear Rental Scale-Up members, I am very happy to be joined now by Antonio Bortolotti. Antonio is the founder, creator of the VRWS, Vacation Rental World Summit. It's one of the most respected and well-known conferences in our world of the vacation rental short-term rental industry. This year is a bit different, of course. We'd be talking with Antonio, what makes this edition specific, particular. We'll see why you should be attending. I think the roster of people speaking is really amazing, the quality is going to be very high, and we'll try to preview a few things for you. But without further ado, let's show Antonio from Italy. Antonio, hey, how are you?
Antonio Bortolotti:
Hi, Thibault. Very good. Thank you. Thank you for having me. It's always a pleasure talking to you. And well, you've been a long-time participant, attendee, speaker, you've done it all of the summit, so you know it inside out.
Thibault Masson:
Yeah, I do. And that's why it's a pleasure. And we know each other, and I think it's the seventh edition. The first editions were actually online, and I remember being an attendee, actually, online. I was in my vacation rental far away on my little island, and it was like, "Wow, these people are smart." And I reached out to you, I think, before that, or right after that, I'm like, "I want to learn from you, Antonio." So you're also somebody I look up to when it comes to the industry. And I was lucky then to attend physically some of the conferences, because your conference, at some point, went from online to offline, and you hosted in several cities. Can you maybe share a bit about the past seven editions first and let's talk then how different this one is?
VRWS 2020: Back to the online summit format
Antonio Bortolotti:
Yeah, that's right. That's right. You were right. And yeah, actually, we met probably a little more than seven years ago. And as you said, when we started, we just went online because it was the thing to do at the time. And the first two editions were online, the success was so unexpected and amazing that we decided with the third edition to go in-person and brought the summit to a physical place, which was Barcelona, in 2016 or '15, if I can remember. Then it was Florence the year after, then Como for two years in a row, last year and the year before, and this year was expected to be in Annecy, France, because basically, the summit is held every year in a different country. Goes to the scope, the aim is that to have an in-person event in a beautiful place you would go to regardless, so we're always very picky in picking the right destination and right time of the year, right place and everything.
So we decided this year to do it in a beautiful place. You're French, so you know Annecy, which is one of the most spectacular places in France. And then COVID happened. So what happened is that, basically, we had to rethink everything and we just went the same way as everybody else, which for us, was a little easier because going back to the roots. So seven years later, seven editions later, thousands of attendees from all over the world, we decided to, "Okay, go back to the roots and do the summit online again this year."
Thibault Masson:
So that's very interesting, because we just said, that's why I think it's important to hear, we're going to be talking about the content of this conference, but that's something you've done before. And I know it's as much, because maybe if you are Rental Scale-Up member, subscriber, you've seen that we've had, our ninth conference is this year. And to be transparent, the person that I said that I would be doing some online conferences, I think back in February, was it? That we met up, was you Antonio? And you said, "Ooh, it's very hard. Just be careful, it's very hard." And you gave me good advice and like, "Ooh, it's not going to be easy."
So what I'd love to talk about about this conference, because I know that all the conferences you do are about quality. I mean, like for example, in Como, it took place in a beautiful theater, a beautiful gilded theater, amazing place. And you got this quality you bring to your events that make it worth attending, worth purchasing a ticket for, and the quality, I think, is first in the speakers and the quality is also in behind the scenes. But let's talk first about the content. So what can you say about the content this year?
Demanding quality from speakers, with only curated sessions
Antonio Bortolotti:
Well, as you said, content is key and quality is key. So with the difference, the main difference between the Vacation Rental World Summit and other events is first and foremost in the format, which is single track. And to me, as I listen to my attendees as well, and I am a very picky and demanding user first, single track is the way to go on in a conference because quantity does not always equal quality and can even cause confusion, in my opinion. So when you are faced with conferences, with dozens and dozens of sessions, it's too much, simply too much. And sometimes concurring sessions spread people here or there, and people just get angry because they say, "Oh, this is interesting. This is also interesting. This is interesting, but they're running at the same time. And I can't split myself half to go here and there," which is something I hate and everybody hates.
So that was the simple reason in the beginning, we started, we've always kept single track and it's always paid out to us. But when you're doing single track, it also means that you only have one take. There's only one session per time, which means you have to be very careful who you choose to speak, what the topic is going to be, and how impactful and important and useful is that going to be to the end user, which is our attendees, so hosts and property managers. So first and foremost, I'm lucky and happy to say that over time, we built the summit to the point where we have very high-caliber speakers speaking on stage. And that speaks for itself because it's basically nearly like a guarantee that who's walking on our stage, in a virtual stage, is going to deliver content that's going to be useful to the audience. And this year, we have, I mean, you know the names we have from the big OTAs, not all of them this year. We have one that is not going to take part, and I mean-
Thibault Masson:
Feel free to drop names of the ones attending. Because again, I think what's really interesting, you say you have this high-caliber?
We happen to be Europeans, right? But there's a lot of Americans taking part of it. So whether you are an American property manager or European or Asian as well, because that's Rental Scale-Up audience, it's good. So let's drop names now, because I'm very excited by these people.
Conference speakers you want to hear from
Antonio Bortolotti:
Okay, let's speak data, for example. For data that we're going to… Pierre Becerril, co-founder of Transparent and Tom Caton, the co-founder of Airdna. And basically, each year, we like to have them on board to start the summit with an overview of the general situation past the current and future based on the data that we have in the industry. And that gives a context for everyone to start thinking about where we were, where we stand, where we're going to be and where we're going to go. Then we have the visionaries, like Amy Hinote and Simon Lehmann, who are very well-known in the industry, very respected. They have their hands basically in everything that's going on in the industry, so they know the ins and outs of major companies or what's going on.
Thibault Masson:
And they're not afraid to talk. They're not afraid to voice their opinion, which is also very insightful and entertaining.
Antonio Bortolotti:
True. Very true. They're not afraid to ask the uncomfortable questions. And so we're going to have them. Then we have several industry leaders, belonging to different companies, so they bring each one a different aspect of the spectrum, the entire spectrum of the industry. For example, Alex Nigg from Properly, who has been a long time from first attendee to speaker for nearly every edition.
Now more than ever cleaning protocols are one of, in my opinion, the three key things that COVID brought to light these years for all property managers and hosts to focus on. And we're going to cover those at the summit. One is, of course, cleaning protocols. We've all spoken about creating protocols. So you may think, okay, we know about it. It's been six months we've been talking about it, but reality, we're going to check with him and a few other people, different cleaning protocols adopted around the world, which ones are better than others, what guests really want, and what works and what doesn't work. So this is probably going to be very interesting to know, because you can adopt and adapt and adjust. Maybe your cleaning protocols do something that may work a little bit better.
Then we have panel discussions with, again, Amy Hinote, then some top high ranking representatives of companies like Marriott, booking.com, Vrbo, HomeAway, Expedia, and even one who may not be very well known by major people, who's the CEO of Traum-Ferienwohnungen and actually also the COO of OYO Vacation Homes.
And so it's going to be very interesting, even just to hear their point of view on what's going on in that respect.
And then we have Matt Landau. I just forgot the industry maven for all hosts and property managers, who's going to do a session himself on the new cottage industry.
So the future, what we've learned from COVID, and how even hosts can really take advantage of the lessons learned for a new approaching industry and for the near future for the next season, what we can do. And again, Matt together with a property manager, Terry Whyte, who's probably the guy that, more than anyone in this industry, has tested all property PMSs.
Softwares around there. So he knows a thing or two about PMSs, together with West Melton, who's a former property manager, the tech, the engineer behind the Smokey Mountains property management company. So basically the three of them reviewed all PMSs, interviewed hundreds of property managers, and basically brought down a list of the do's and don'ts, or the pros and cons, of many PMSs is so that you can understand what fits your particular case better than other things. So at this is another in-depth sessions. It's quite interesting.
And I'm just going through the list. And then we have, yeah, the VR Tech as well, finals. We have the VR Tech Finals, which are going to be … I don't know if you want to say anything about the VR Tech finals.
Thibault Masson:
Yeah. So it's something I want to point out. We're going to talk about VR Tech, which is a startup competition taking place there, but just also going back to what you just said. You said Matt Landau would be there. And of course, Matt Landau is really amazing because he can talk with two different kinds of audiences, which is what you're doing here, right?
So, as we can hear, it's not only for property managers. It's for vacation rental owners who want to go one level up and maybe grow the business, right? So that's also who you're talking to in that sense, right? Matt Landau can really help out if your vacation rental owner wants to go one level up and start expanding. And you also have a property manager, I think, like the CEO of SYKES, which is a very big property management company in the UK. Again, a person, I think it's Graham Donaghue, and, again, he talks his things and he does a lot of direct bookings, he's got their own way. So it's very, very important. And COVID was a big event for his company.
So I think what I've seen in all the conferences, what I can feel for this one happening, you're really able to find the right people who know they can bring value, insight, and actionable things for this kind of audience of people who take the business seriously, but who happen to be maybe a different size of businesses themselves. I think that's something to underline.
Property managers who tell it like it is, for instance on facing the dramatic consequences of COVID-19
Antonio Bortolotti:
And then there's something for everyone, because as you just mentioned right now, Graham, SYKES CEO, the nice thing about it, maybe we'll go through this in a moment about the behind the scenes of preparing an online event like this, is that I have the privilege to have seen the presentations of nearly all speakers, not all of them yet delivered so I have a few more to check.
But with the speakers, I am also doing rehearsals. I'm checking things out, and I can tell you that the content I've seen so far is spectacular. And I'm not saying it because I'm the host of it. One thinking I was doing, I was just elaborating on this last night with my wife, Christina, saying, "Wow, you can really tell technology has developed a lot over the last seven years, because when we started seven years ago with a first online edition of the summit, it really was a work of art. We worked really hard." But if I can bring it to today and having seen the presentations that I received today, we are working together with the speakers to add special effects, transitions, and things that really make the content, which is already top-notch, even a lot more engaging and fun to see, almost as if you're watching a movie, which is live, by the way.
So you can ask questions live from home and have the speakers reply to your questions at the end of the session. So the first 30 minutes is pure content, and then we have 15 minutes of Q&A. So from home, the good thing is that you can interact with every speaker, ask your number one question, and then have the answer.
But what I wanted to say is that Graham, he's basically going to talk about the experience of going through the pandemic for probably one of the largest, if not the largest, property manager in Europe. And while it may seem not so interesting for the regular guy, for the host, the reality to me that I have seen the presentation is that even for the small host with one property or five property, there are great lessons to learn, even just from Graham charismatic way of explaining how they went through hell for the last six months as the biggest property managers.
Because it makes you think. It makes you learn to think outside the box and go beyond the limitations we all have when we stop at the surface and when we judge things from the first thing we see. Graham will make you open your eyes on how to think different when bad things happen and don't stop at the first judgment, but try to adopt a different mindset, which in my opinion is the winning one even for the regular guy, the small guy, the host, or the small property manager.
If you want to grow, you need to start thinking differently and Graham is going to show you how so that you face problems from a different angle and then you can tackle them way better.
Thibault Masson:
That's very interesting, thank you for sharing that. I'm like, "I want to see that." Because obviously, again, that's a testament to the quality we talked about. You see the quality of speakers and the quality of preparation. Again, I've been fortunate to be an attendee to one of your previous conferences and I know how you're one of the few in the industries, and the few organizers that make attendees send a presentation early and you actually review them. If it's not on par for what you want to deliver to your attendees, you're going to tell the speakers, "Nope, sorry. Can you just improve that?" And you even do the work to improving with content, special effects, the presentation that's to have something that's all through the show consistent in quality.
I think that's also something that I'm happy you shared because it's some kind of work behind the scenes. It's not just like people say, "Oh, I've got a 5:00 PM, a webcam show and we'll sit and talk." No, no, it's rehearsed, prepared and that's why you always leave your event like, that was quality, that was quality.
Being a pain in the neck for speakers, so that attends gets the best value from the online vacation rental conference
Antonio Bortolotti:
Yeah, it doesn't work that way to me, I'm a pain in the neck. You know that, but in the end, the end result, the quality that comes out of it is a win for everyone. Even though I'm a pain in the end, the speakers thank me for being a pain in the end… in the neck, because the outcome, the session I push them to deliver is so good, so entertaining, so valuable that the viewers out there are raving about it. They love it, I'm happy, they're happy, everyone's happy.
Thibault Masson:
I agree.
Antonio Bortolotti:
And I can tell you again, I reviewed so far… 70% of the sessions, not all of them have come yet, and they're all outstanding. Each session is unique. They have a different angle, a different way of delivering the content. So it's going to be really engaging and really interesting.
Thibault Masson:
And I remember whenever I go to your conferences, I take a lot of notes because it's really, really interesting even for somebody in the industry who should know a few things, I'm like, "I'm taking notes." And another thing I want you to share and where people can learn those so new things is from startup companies. So you're working with Vanessa, who's the founder of VR Tech, which is a startup vacation rental technology startup competition as taking place throughout the year, during the year and a final event has been taking place, I think, for the last four years. So how is going to be this year?
Vr Tech 2020, the final round of the vacation rental tech start-up competiton
Antonio Bortolotti:
Yeah. It's going to be very, very cool there too. I really like the partnership with Vanessa, not only because Vanessa's a wonderful person, but the idea is fabulous and fantastic, helping out startups, coming to our business and helping out us, hosts and property managers, taking advantage of the products these startups are introducing, to deliver a better service. So this year we have three finalists who are pretty cool. And there's one who was already on stage last year. And he got second by a minimal number of votes. He almost won. So he's really determined that he wants to win this year too and we'll see if the public from home will vote him as the best or not. Then there's a new kid on the block, so to speak, a guy there's going to talk about domotics and things for the home, how to up-sale certain services as hotels do, but for vacation rentals, that's quite interesting too.
And then there's a guy who I'm quite happy that he made it there because he started up as a property manager. He actually quit his job in 2016 when he came to the summit in Barcelona, and he told me, "After attending your event I decided this is the way I want to go for it. And I quit my job." And he became a property manager. So for me, it was quite rewarding because it was sort of inspirational. He grew to the point that now he has his own startup introducing a product which I believe is going to be very useful for all of us. So, I'm not going to say that, what it is, because I want you to attend the finals and vote for your favorite finals…finalists, but definitely I've seen the content there that they made and it's quite amazing all of them.
Thibault Masson:
So it's great because again, your event gives the microphone or let people speak who are super well-known, people who don't repeat themselves, prepare fresh content for this edition and believe me, there's a lot of things happening in industry right now so a lot of things to say, but as well new comers like these startup people who bring a fresh perspective, fresh tools that actually you may think, "Hey, I want to have this kind of tools, maybe this very tool or something similar for my property to improve the guest experience or to improve the way we create trust for a property, a website. So it's quite exciting… Quite exciting. So, I think that's a pretty good testament to your event. We know one thing we didn't say is where, when is taking place and how can people even join?
Antonio Bortolotti:
That's really the end you forget say, "Okay, that was nice, ciao." Actually it's true. It's taking place on the weekend of October 10 and 11. So in about two and a half weeks, and everyone can register by going to the vacationrentalworldsummit.com website. There are buttons there to register. There's the agenda. There's the speakers lineup. There's all the information you need to make a decision and attend. And for you guys, of course, we have parental scale-up of viewers for your followers. We have a little a discount so that at least you can get in for a better rate to than the regular one.
Thibault Masson:
I know how you're also always modest. It's a nice discount. Not just a little discount. It is a nice discount. And thanks a lot for the members. I appreciate that because again, it's not like a free webinar, you just sit, it happens, right? There's been so much preparation into it. So, it's nice to have a discount on something of such value. I appreciate that, thanks.
A paid conference that is an investment equivalent to 1 or 2 nights at your property
Antonio Bortolotti:
Not at all and I'm glad you said that because I'd like to spend a moment to, just the moment, to make a point clear about the difference between free webinars and paid events. Of course, there's a barrier to free. Yeah, this is a tricky one. As a barrier to entry… and I've been thinking over the last few months how what should I do with the event? Because there's been an inflation of tons of free content, even quality content, valid content. So of course the objection that people may say is, "Why should I pay to go to an event like this one when online there's been so many webinars and other things all the time with dozens of people, dozens of content. I don't need to watch the summit and there's no reason for me to pay for it."
Now I answer, I respond to this objection by saying that again, "Quality is worth the time, the effort for everyone there behind to put it in practice and put it…to get better." And if you've seen the Vacation Rental World summit somehow in the past, or you talked to someone who's attended, you'll know why it is different and why it's a guarantee that the information you get there, it's so valuable that it's worth the investment, not the cost, because that is another mindset shift that sometimes entrepreneurs need to do.
We're asking here for the equivalent of one night or two nights' cost at one of your properties. So, if you think about that, would you be willing to invest the cost of one night for X times the return from the information that you get in these two days? That's something… Six years ago, I hired an actor to build a little teaser for the second edition, because the first edition of the event, the summit online seven years ago, was free. I don't deny it. It's not a problem for me to say that the first edition was free. We had to establish ourselves. We had to be known in the world. So we said, "Let's go free and see what if. It's good content, it's going to pay for it."
But then when we do that transition to the paid event, I hired an actor who basically said in 20 seconds, he said, "Okay, I'm just going on holiday at your destination and I've been looking for the right property where I want to spend my holiday and I found your vacation rental. I love it, it's exactly what I'm looking for. Would you give it to me for free for two days?"
Okay, so I'm trying to make you think, let's put yourself in the other shoes. What if a guest who would write to you saying, "Your property, where you worked so hard, where you clean it, it's so perfect and beautiful, it's exactly what I need and what I want. Would you give it to me for free?" You would say, "No way." That's the same concept. Why, in a way, the barrier to entry is also a guarantee that who's going to be in is going to be really committed to learn, interact, and engage.
Thibault Masson:
You said the word investment, which I found very interesting and let's touch upon two things. First, my testimonial is… I think Alessandro Pacilio from booking.com is going to present again this year. Clearly, for example: the last edition at Como that you had at your show. There's a lot of values on the how to do, and how to optimize your property, your settings, right? You see clearly, that's an example of what it is when you're walking out. The morning, with the teams, we had to change our settings to adapt to whatever he's saying, because that's a good way to entice and make more bookings, make more money. That's already… We're talking about return on investment. Another one is the investments so that… We can attend the online show on October 10 and 11, I was checking the dates to make sure I didn't get dates wrong, October 10, 11, but the sessions don't disappear, right? It's an investment in the sense that people can still access them, can't they?
Antonio Bortolotti:
Yeah, exactly. As always, we also believe that there's no point in making you pay extra for the recordings. You've already invested into the event, so we are giving you the older recordings, and all the materials, for you to watch at leisure, during the winter or at your pace, so you can review sessions if you were unable to attend or if you were unable to take notes well, while you were following. The value of it in my opinion is way more than the investment is. Which is not much because I can say it's 247 euros, with a discount for rental scale-up goes down to one 197.
What's the cost of a night at one of your properties? Just think about it.
60 bucks, 100 bucks, 150 bucks, one night, two nights, three nights? Would you be willing to invest it? Up to you. And again, I'm going for quality, not quantity. So I'm not in here to get thousands of attendees. Of course, if I get thousands of attendees I'm happy for several reasons, but if I don't, it's still okay because they're the level… The barrier to entry means also that those going there are the most committed ones. The ones that are going to follow, are going to take notes, are going to ask questions, are going to engage. In the end it's going to be a win-win for everyone.
Thibault Masson:
But it's very true, right? Because the criteria are so much, so sometimes the questions that attendees ask, because you know you have the session, and you're like, "Well, that's a good question. And the answer is like, "Hmm." You're right, yeah. Engaging attendees is also a value of a show like this.
So, to close it out, once again, let's not get the dates wrong on my side: October 10th, 11, of course, we can put up participation tickets right now, below the video or in the article, I will of course put links to the show with a discount code you gave us. Once again, thanks a lot, really appreciate that.
Let's see… For the moment, what can I say? I think Rental Scale-Up is the media sponsor for the show nowadays. So what you can count on us for, viewers, that we'll be sharing maybe, until the event is happening in a bit, more previews or a bit more content and details, but some sessions will really tell you what value you can get. Don't just believe our words, see what's happening. Go to the website right now, the Vacation Rental World Summit website. Check out the speaker list, check out the agenda. It's very well done, very engaging. You see the guide even you can get from that. Go there and you'd see it's pretty obvious. Antonio, thank you so much for your time, for all the details, all the work you've done. I wish you well, a great conference.
Antonio Bortolotti:
Thank you so much, Thibault, like I said, always a pleasure being your guest. We're looking forward to it. It's going to be another great event this year, too.