Will we soon be able to reserve monthly rentals on Booking.com? On August 25, 2020, the company announced that it would be launching weekly and monthly rates to better cater to short-term rental operators' needs. Over the last years, Booking.com has started adapting its originally hotel-focused extranet to the short-term rental community's needs. Yet, the user experience and product offerings still seem more geared towards hotel owners and managers.
With the addition of these new rate plans, Booking.com aims to capture both additional demand and additional supply for long-term stays through the new rate plans. COVID-19 market trends have shown that travelers were ready to use short-term rentals for more extended stays, in correlation with the rise of remote working and social distancing. The relaunch of Airbnb's monthly rentals and the extension of the maximum booking length of stay to 90 days on Agoda and 180 days on Vrbo show that OTAs are interested in attracting more of these longer stays.
What and why Booking.com is going after weekly and monthly rentals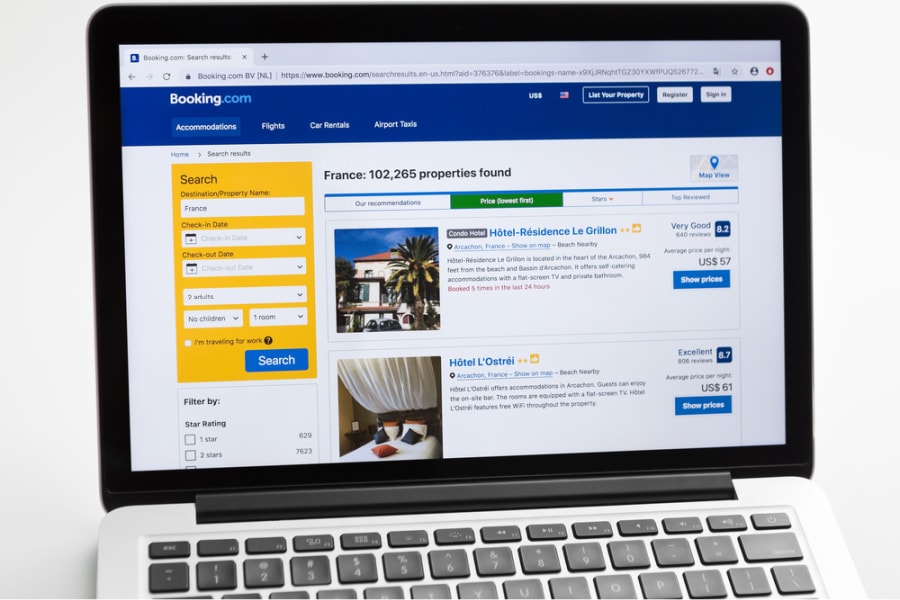 Weekly and monthly rates are not new to the short-term rental community and are often the bread and butter of business in sea and mountain vacation rental markets, which is why figuring out and setting daily rates on Booking.com may have felt time-consuming. The rate plans previously required on Booking.com may have felt like they were catering more to hotel suppliers than short-term rental owners with rate plans requiring frequent updates and daily pricing. In reality, setting up rate plans based on a length of stay (LOS, like 7 or 28 nights, was already possible on Booking.com, but it was just difficult to find out how to do among the myriad of possible rate plans.
The new weekly rate plan requires a minimum length of stay of 7 nights and the monthly rate plan requires a minimum length of stay of 28 nights. Note that at the moment, it is only possible for guests to book a maximum of 30 days at once.
While several-month stays are not yet available, Booking.com has referred to a pilot program in select cities. Once testing is done, the company will hopefully roll out globally.
Booking.com has likely launched this new product because of recent trends due to the COVID-19 crisis. Overall, apartment rentals are seeing promising demand in comparison to hotels. Longer-term and monthly stays attract the new market of people working from home who can choose to work remotely from the destination of choice. Weekly and monthly rentals also cater to business travelers and people who may be forced to self-isolate or need to be separated from their family due to their work, hospital workers, for example.
How to get your properties set up for weekly and monthly rentals
Setting up the rate plans on the Booking.com extranet is as simple as creating any other rate plan. From the main dashboard, you would click 'Rates and Availability' then 'Rate Plans' and then 'Add New Rate Plan, ' which takes you to the below page. You can see below that there are two new options for 'Weekly' or 'Monthly' rate plan.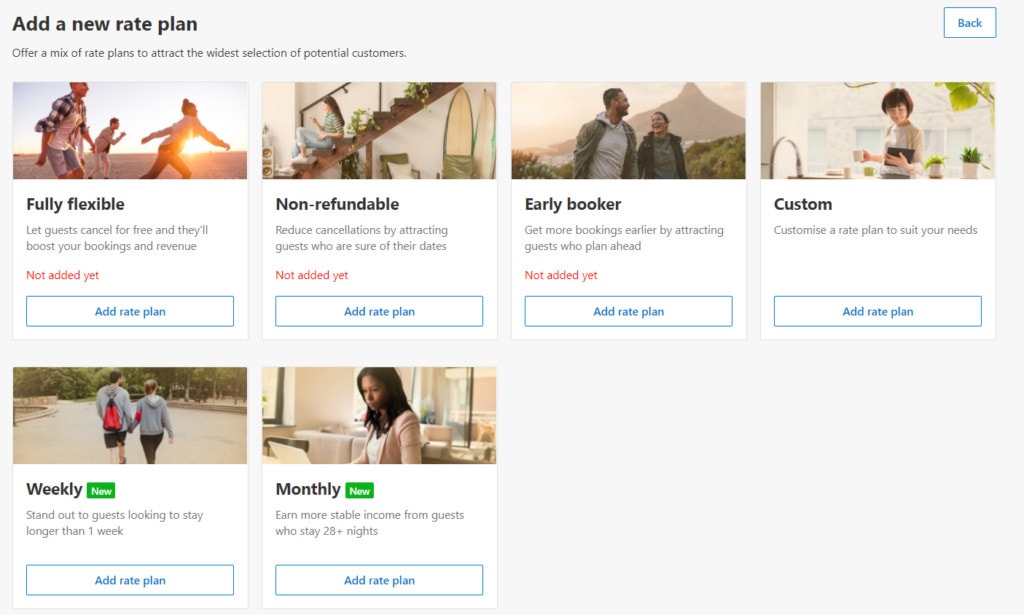 Once you select 'Add Rate Plan,' it takes you to the following page where you would set the rate rules. Booking.com is calling these rate plans 'Foundation' rate plans which are 'Rate Plans you set initially to appeal to the widest possible range of travelers.' The idea for these rate plans is that you can go in and adjust as needed, but there aren't many upfront restrictions.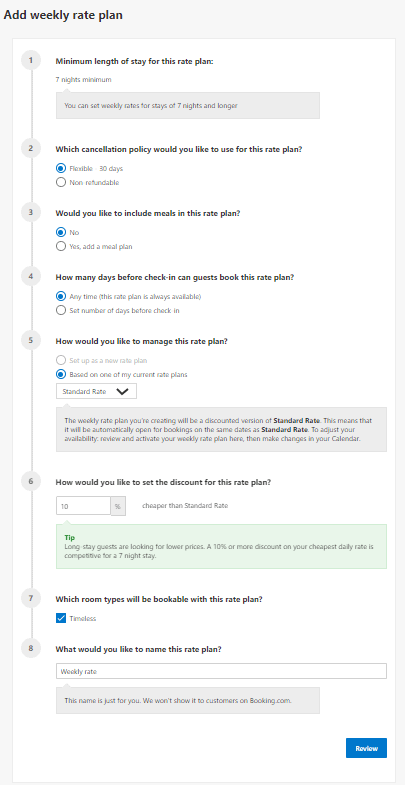 How connected Booking.com partners can take advantage of the new rate plan options
Properties using the Length of Stay (LOS) pricing model, which sends prices based on LOS to Booking.com directly from your connectivity partner, will have effectively no change as the rate plan will be bookable from anywhere from one to 28 nights, depending on any restrictions you may have put on the rate plan. It is important to remember to set prices accordingly to the new booking options. If you would like to send discounted rates for more extended stays (weekly or monthly), make sure they are updated, so they are adequately shown on the Booking.com platform.
However, if your property does not use the LOS pricing model or your connectivity provider does not support this functionality, you will have to set up the weekly and monthly extranet rates. Please note that any rates you update in the Booking.com extranet will only be shown to guests on Booking.com and not on other channels. The rate plans will look like discounted sub-rate plans for your pre-existing mapped rate plan.
How does this compare to Airbnb and VRBO's weekly and monthly rentals?
Airbnb and VRBO have been offering weekly and monthly rates for a long time, making it easy to create a weekly and monthly rate right from the time you sign up. Booking.com is sure to be ironing out the kinks in the upcoming weeks as they have just introduced the new rate plans. Given the longstanding capability to search for and book longer stays on both Airbnb and VRBO, it is not clear whether Booking.com will generate similar demand for longer-term bookings. However, it is inevitable that Booking.com is starting to take more notice of the short-term rental market and is taking necessary steps to capture any demand that may be out there.
VRBO doesn't have a separate long-term stay product but rather allows guests to search for several months at a time. Airbnb has gone one step further and announced earlier this year that they were creating a separate product in the search bar for Monthly Stays. Though this does not change much from the supplier's side since long term bookings have been possible for years, it does refocus and funnel demand to more long-term bookings.
Conclusion: Set up your rates, see whether demand is coming
The new rate plan options on Booking.com are a win for the short-term rental community. Weekly and monthly stays are essential to our business, especially with the uptick in demand due to COVID-19. The ability to easily enter weekly and monthly rates will likely capture the attention of many operators as nightly rates were often confusing and time-consuming to set up.