The vacation rental industry has seen incredible growth in the past year or two. As is usual with industries tasting success, financial activity in the industry has exploded, too. Take the example of industry giants that have gone public, for instance: Airbnb, Sonder, Vacasa, and Hometogo. Then there is also the case of companies on massive acquisition sprees, such as Vtrips and Vacasa.
However, hearing these big names and the size of their massive financial deals can make it seem like this is a phenomenon only affecting others, while that could not be further from the truth. Numerous smaller property management companies also completed sale of their business to take advantage of this boom, and yet others bought short-term rental businesses to get in on the action.
Vacation rental tech companies focused hard on attracting venture capital, while simultaneously new models emerged for interested parties to invest in the industry.
The point is, you can be as much a part of this financial boom as the big players, so long as you know where to start. This was precisely the objective of our recently concluded free online monthly conference titled MONEY MATTERS: Selling, Buying, and Raising Money in the Vacation Rental Industry. Through it, we aimed to answer questions such as:
What can you learn from the recent short-term rental investment deals and acquisitions done by VTrips and Vacasa?
What kind of housekeeping do you need to execute before thinking about raising money or selling your company?
What can you learn from Vacasa's acquisition playbook?
Where and in what should you be investing in the short-term rental industry in 2022? Who and what should you avoid?
Where to turn to find buyers, sellers, or investors? Is crowdfunding a viable option for the latter?
We were joined by three experts for this conference:
D. Brooke Pfautz: As CEO of Vintory, Brooke helps vacation rental managers recruit homeowners and add new properties to their inventory. It is through this work that Brooke understand short-term rental performance metrics very well, and has more data than anyone on new inventory acquisition campaigns. This gives him remarkable insight into what makes a short-term rental acquisition a success, and the metrics you must take into account when investing in a new market.
Jacobie Olin: The President of C2G Advisors, Jacobie is one of the preeminent M&A consultants in the short-term rental industry, specifically advising Sellers and Buyers throughout the entire acquisition process. From complicated financial restructurings to mergers, his company has assisted in a variety of financial deals and completed more short-term vacation rental M&A transactions in 2021 than any other advisory firm. Jacobie, therefore, is uniquely placed to share how companies can make themselves more attractive when preparing to sell, or factors to look out for when buying a company.
Margot Lee Schmorak: The CEO and Co-Founder of Hostfully, Margot has led a startup that is now 50+ employees, so understands the requirements for growth, investment in tools and employees, and showing value to investors. She has been involved with previous companies that went to IPO and at recently added $4 million to Hostfully's seed funding round, bringing its total funding to date to $7 million. Margot shares firsthand the processes and methodology required to attract investments as a vacation rental tech provider.
Thibault Masson: Last year, Rental Scale-Up CEO and Founder Thibault looked at data and trends for vacation rental company funding rounds, and using a proprietary analysis of 110 deals published a comprehensive report on investment activity in the industry in 2021. His experience as as a vacation rental manager, a vacation rental tech marketer, and an industry analyst enables him to ask the right questions and contextualise or challenge speakers' recommendations through industry data.
Short-term rental investment deals: There is more to them than just Vacasa and Vrips buying up everyone!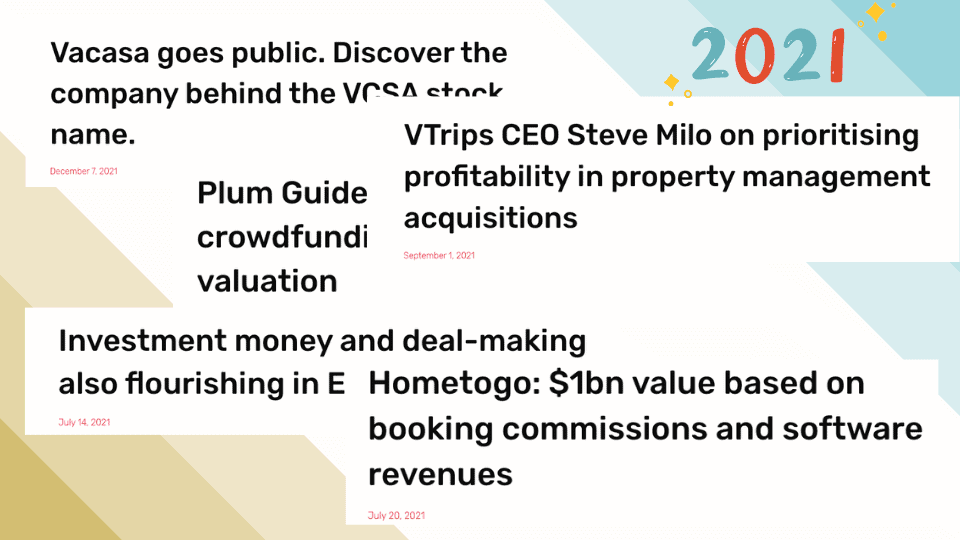 There has been a lot of press around the wave of financial deals in the industry, usually big names or organizations with built-in public relations mechanisms. However, Vacasa, VTrips, or Sykes (in Europe) are not the only players in town and the scene is in reality way more diverse.
Jacobie highlights the wide array of buyer demographics in the market right now. On one end of the spectrum are VC-backed public companies, or companies that are aiming to go public, that make up most of the news at this time, keeping their shareholders updated on their progress through press.
On the other end of the spectrum are private equity groups, family offices, institutional funds, etc. that operate more quietly and are largely brand agnostic.
This variety means that you can seek out buyers that align better with your company's culture and brand philosophy.
There is a lot of movement on the software side as well, points out Margot, citing the example of Guesty's purchase of Your Porter and MyVR, and the many deals recently concluded or still ongoing in VR tech. There is a lot of investment interest in the industry, as the dust settles after Covid-19, however not every prospect is suitable for everybody.
How to put your house in order before opening the door to investors (so that deals do not fall apart)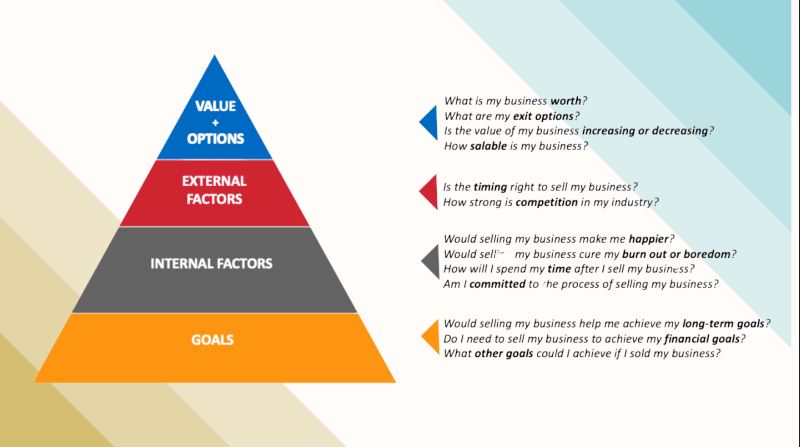 Are there rules for tasks you must undertake to prepare to sell your company or to attract investors? There is certainly a significant amount of housekeeping involved that can not only improve how the value of your business is perceived but also streamline the process and make things go smoothly.
Here are some things to keep in mind to get your house in order, so to speak, before preparing to sell your company:
Begin your prep well in advance, which may be more than a year out.
Appoint an owner relations person or team, as well as a general manager or director of operations to extricate yourself from these roles. This will enable you to experience fewer contingencies on the structure of the deal that the buyer offers, and will reduce the time you need to spend on transition post-closing.
Most deals are asset-based, which for instance includes contracts you have with homeowners. If your company has been around for some time, you may have a few versions of these floating about. Standardize your contracts as best as possible and ensure that they have that all-important assignability clause that allows for easy contract transfer. The same goes for an auto-renewal clause as well as something that ties the homeowners to your business, making sure they don't simply opt out of the contract on a whim.
A crucial aspect for buyers to see is whether the company is growing unit count or staying stagnant, so have an approach to readily highlight the growth in your unit count to make your company more attractive.
Your profitability needs to be accurate and immediately apparent. Hire a bookkeeper or accountant to do monthly reconciliation, if financials are not your strong suit, because this is a piece the absence of which can make the deal fall apart.
Research different structures so you get a realistic view of pricing you can expect or work towards.
Talk to an advisor to understand the tax effects of doing an asset vs. stock-based deal, closing a deal in 2022 vs. 2023, and more.
Speak to a financial or wealth advisor to understand what is next for you after the sale.
Housekeeping you must do when going the investment or mergers & acquisitions route:
The same advice applies when it comes to readyign yourself to attract investors, however, in case of a software offering as opposed to property management, how you differentiate your product is also treated as an asset, so ensure that it is clear as day.
Having a financial advisor is key to being able to demonstrate value, and all deals are contingent on being able to convey value.
A solid go-to-market strategy, where you have a working system for signing up new properties with an efficient onboarding process, it will make all the difference in your valuation (for selling or to attract investment)
What to learn from the Vacasa playbook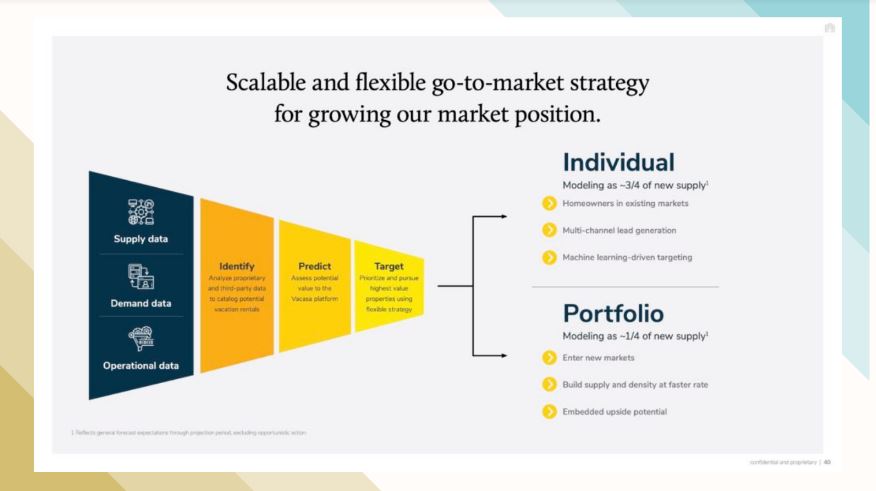 The Vacasa deal was arguably one of the biggest in the past year, and the company continues to consolidate property management companies by bringing them under its wing. Let's take a look at what we can learn from the company's playbook when it comes to attracting investors:
In its 2021 investors deck, Vacasa aimed to show 1/4th of its new supply growth through portfolio expansion and 3/4th through individual homeowner acquisition.
However, the inverse of it seems to be closer to the truth at the moment, not that there are many large-scale property management companies left to acquire.
It makes sense for Vacasa to focus on organic ways to acquire properties as its Customer Acquisition Cost (CAC) is considerably lower through it ($6,700 per property) than via mergers & acquisitions ($21,000 per property).
The percentage of inventory Vacasa loses (churn) is also considerably higher for inventory acquired through M&A as well. The industry average is between 10-15%, whereas for Vacasa it is allegedly between 30-50% for inventory secured via M&A.
There is a clear advantage to the organic approach, tapping into omnichannel marketing for inventory growth to keep churn and costs low.
VC-backed companies will focus more on conversions versus retention.
How and where to invest in 2022?
When it comes to buying a company and entering a new market or increasing the value of your company – where should you invest?
Where to invest when attracting investors for a vacation rental tech company:
Understand the landscape of investors:

Friends, family, and fools: People who know well who are inclined to invest in your business and may not have a specific return they need. They should know that the investment is high risk.
Angel investors and groups: People you don't know but they are individual investors who have their specific reasons for investing (they may be passionate about the idea, the category, the area you are in)
Institutional Investors: They invest on behalf of other people, limited partners, who pool their money to deploy in different companies. Important to understand the intention of the fund in this scenario by asking specifics of the size of the fund, the timeline of the investments, the numberof companies they may invest in, their successful investments, and failed attempts.

Know what new thing you are bringing to the market, your key differentiator, as well as how it will impact your growth in the coming years. This will define the category of investors you should be talking to.
Set up an owner management team to be able to communicate the value of non-tangibles, the value of which may be otherwise difficult to communicate, such as your company culture.
How to think about entering and investing in a new market:
Companies growing the fastest are non-traditional, B and C markets such as Asheville (North Carolina), Texas Hill Country, Arkansas, the Berkshires, West Virginia.
The charm of B&C markets lies in the fact that there is less sophisticated competition with expanding market.
Traditional leisure markets may have more inventory available but also ferocious competition, as well as lowering RevPAR (revenue per available room).
In tertiary markets and Bleisure (business/leisure) markets like Nashville, Savannah, New Orleans, and Austin, RevPAR is going up year over year.
In urban markets, there will be less seasonality so more even revenue throughout the year but also stricter regulations.
Generally, the leisure market guest demographic is skewed towards family travel, whereas urban may be favored by partiers, which affects how the property will be treated as well.
Buyers at this time are more interested in leisure markets, mainly due to the regulations environment.
How to find buyers/sellers/investors? How about crowdfunding?
Once your way forward is clear, it is important to know who to turn to, whether it is to buy, sell, or attract investment. Where do you even get started?
The more investors you can get in front, the better deal you will get.
There is not a lot to be gained by holding your cards closer to your chest. If your business is performing well, share your progress openly with high-level metrics. This will impact your referrals.
Update your staff and customers on your goals so investors might find you, even if you are not actively pursuing them.
This transparency also helps build trust and credibility, hugely impacting the networking process.
Network more:

Seek out potential partners or referrers by asking questions
Attend more conferences to reach out to diverse sets of investors
As an investor, go to the actual markets you have zeroed in on and meet the local players to understand the market even better.