Vacation rental bookings on Airbnb are up 320% since last summer.
The expansion of online accommodation sites such as Airbnb, VRBO, and others introduced a need for short-term rental cleaners worldwide. Whichever booking platform you choose, one thing is for sure: someone needs to clean your rental. Determining how much to pay your cleaners can be a difficult task, but we've created a guide to help you through the process.
Whether you're a superhost, just starting, or managing properties in multiple locations, we've created this guide to help you price your cleaning fee.
Don't underpay your cleaners
One main rule for hosting short-term vacation rental is always paying your cleaners a fair and decent wage. Although the minimum wage varies in every U.S. state, you can be fined for underpaying laborers. After all, if you want quality cleaners, you'll need to compensate at a reasonable rate; otherwise, they won't want to work with you.
Take average vacation rental cleaning costs into account
Here are the average vacation rental cleaning costs in the U.S for common property sizes, along with the lowest and highest prices in the data: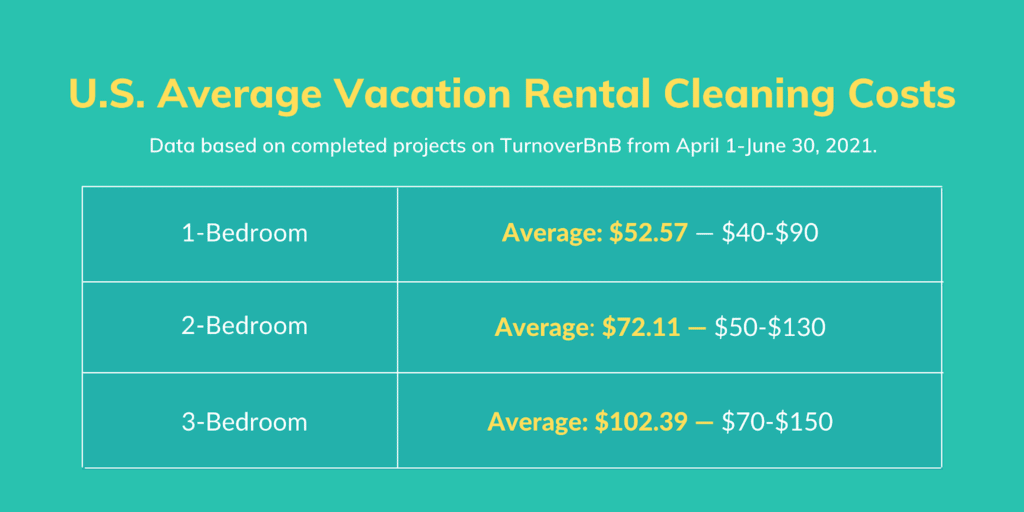 If you have a small 1-bedroom unit, depending on where you operate and the overall square footage, you can expect to pay anywhere from $40-$90 for a fixed turnover rate averaging $52.57. A 2-bedroom property ranges from $50-$130, averaging $72.11. For a 3-bedroom, it'll be around $70-$150, with the average around $100.
Hourly vs. Fixed pricing methods to determine your cleaner payout
1. Paying at an hourly rate
This approach works best for hosts who base their rate on the average time it takes to clean, understanding that it might take longer or shorter depending on the property's condition. Airbnb's living wage recommendation at minimum is $15 per hour for cleaning companies and $25 per hour for self-employed cleaners. Airbnb also suggests factoring in the cleaners' real-life circumstances and level of experience to determine their wage. Keep in mind that hiring a cleaning company will cost you more than an individual cleaner as the business must also pay for insurance and licensing fees.
2. Paying at a fixed rate
Using this method, you would treat the cleaning expense as a fixed cost and incorporate it into your overall expenses to calculate your nightly rate. It's recommended that you communicate with the cleaner(s) beforehand to determine the fixed rate based on the size of the unit, the cleaning tasks that are to be completed, and the time it takes to clean the unit (including washing and drying linens, if necessary). A cleaning checklist can help enormously with this.
Pricing your cleaning fee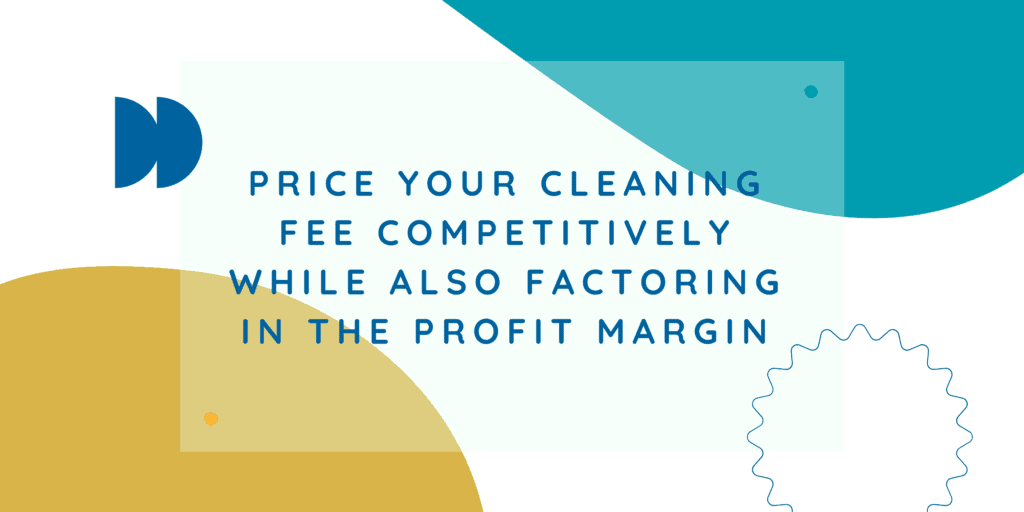 Once you figure out which pricing model works best for you, the next step is to determine the cleaning fee for guests.
Here are a few factors that may influence your cleaning fee:
Property size/type
Competitors' prices
The best way to find a workable average is to study the cleaning fees of comparable listings within your area. This can be achieved through simply researching 5-10 vacation rentals in your area and taking note of the cleaning fees, from which you can deduce an average.
For example, if you are renting out a 2-bedroom condo in Honolulu, Hawaii, you will want to research other similar 2-bedroom rentals within 20 miles, and see how they are pricing their cleaning as well as their nightly fees.
Price your cleaning fee competitively while also factoring in the profit margin.
Keep in mind that you may also want to budget some of your profits to cover your rental's cleaning supplies or any miscellaneous items.
These items may include:
Cleaning products
Washing/drying towels and linen
Toilet paper/paper towels/tissues
Shampoo, soap, and other toiletries
Of course, cleaning rates are highly dependent on location, so this is where research is key. You don't want to set your cleaning rates too low nor price them too high.
Cleaning rates in the U.S. by location
Cleaning costs vary by location, especially in the United States. The infographic below is compiled based on completed projects on the TurnoverBnB vacation rental cleaning platform from April 1-June 30, 2021. TurnoverBnB helps hosts manage schedules, find new cleaners, provide auto-payments, and more. This data has been curated from thousands of Airbnb cleaning projects completed on the TurnoverBnB Marketplace.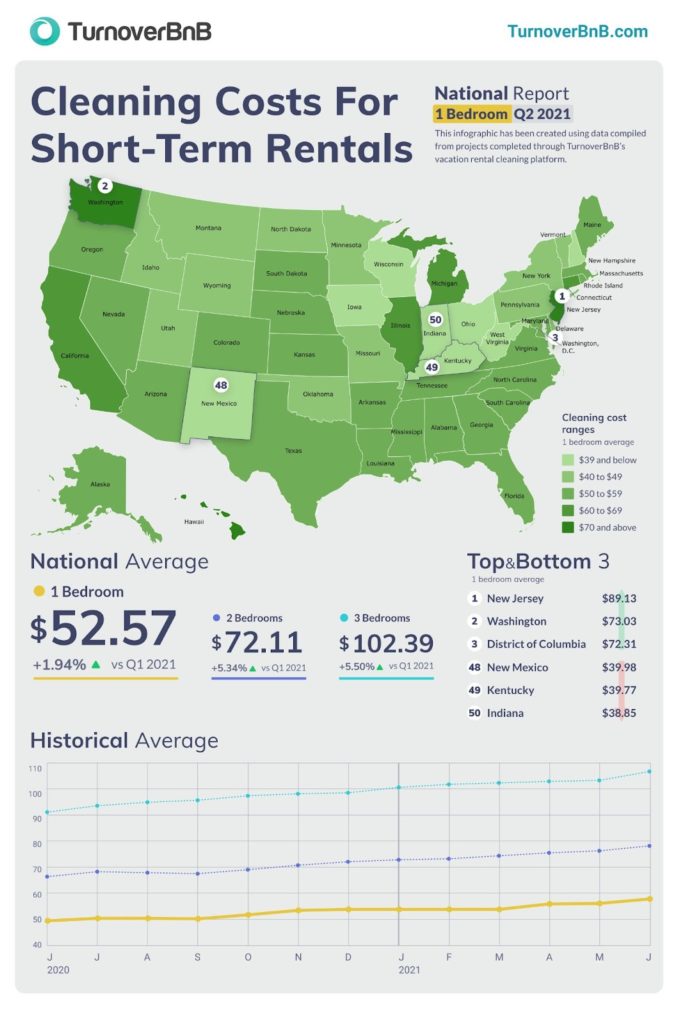 Although this infographic covers one, two, and three-bedroom rentals, it is important to remember that cleaning costs are higher for properties with more overall square footage, additional amenities, and of course – is highly dependent on location.
For example, a 7-bedroom, 6-bathroom beach house in Texas listed a $2,200 cleaning fee. This unique property and its sizable cleaning cost show a dramatic increase based on the size, location, and amenities of the listing. Every property should be individually assessed to find the optimal cleaning cost of a rental.
In the United States, the average one-bedroom cleaning cost during the second quarter of 2021 was $52.57. This price is up just slightly over last quarter's average. Two- and three-bedroom properties saw a higher increase of 5.34% and 5.5%, respectively over the first quarter.
The cost of a vacation rental cleaning in top U.S. cities ranged from $38.85 at the lowest and $89.13 at the highest for a 1-bedroom rental, according to TurnoverBnB's 2021 Quarter 2 report.
The average two-bedroom rate was $72.11, or 5.34% higher than last quarter. Three-bedroom cleaning averages hit slightly above $100, reflecting an increase of 5.5% over the first quarter data.
Historical Average
Over the last year, cleaning costs have seen a steady increase across the board for one, two, and three-bedroom properties.
Despite the Covid-19 pandemic, vacation rentals saw a dramatic increase in bookings over the spring season, resulting in an increase in cleaning costs from April to June 2021. With travel picking up and more and more people opting to stay in short-term rentals, the rest of the year is predicted to be a strong comeback for the industry.
---
There are a variety of factors to consider when pricing your vacation rental and determining how much to pay your cleaners.
In summary:
Cleaning rates vary, based on location
You can pay your cleaners at an hourly or fixed rate
Research 5-10 rentals in your area for a comparable average when determining the price of your cleaning fee
Cleaning rates are slightly increasing throughout 2021
Now that you know the basics, you can determine how much to pay your vacation rental cleaners and price your cleaning fee. Whichever vacation rental listing site you choose to use, TurnoverBnB can make managing your cleaners easier and more efficient.