Last week, Airbnb released its commercial and financial results for the second quarter (Q2) of 2021. We'll look at the data, go over what CEO Brian Chesky said during the earnings call, and look back at the products that Airbnb launched during the period. First, we'll see why the company says that it is "leading the way" and "has emerged from the crisis faster than others." For instance, we'll compare its performance with that of Booking.com's, the #1 OTA in the world. Two years ago, Airbnb's gross booking value represented a bit more than 1/3 (at 39%) of Booking.com's. Now, Airbnb is at slightly under 2/3 (at 61%) of Booking.
We'll then deep-dive on average daily rates (ADRs), as they seem higher than ever: Airbnb's ADR was $161 in Q2 2021, against $117 in Q2 2019. Such a stark increase has less to do with increased rates in short-on-supply U.S. vacation rental markets than with a drastic change in Airbnb's product mix (i.e. what and where the company sells).
How sustainable are some of these positive indicators? Airbnb says that Q3 will be its best quarter ever, in terms of revenues and adjusted EBTIDA. Yet, we'll see that the spread of the COVID-19 Delta variant is creating uncertainty for this fall: Will 2021 be super-seasonal, as in 2020, with a super-peak in summer and a drop in bookings later? Will things actually go back to more normal trends, with more urban travel and more European business, driving Airbnb's ADR down? While these scenarios are opposite, they would both weigh down on Airbnb's revenues (on booking numbers and on ADR, respectively).
Bonus: Read the article until the end to read about hints about Airbnb will try to extract more fees from guests and hosts.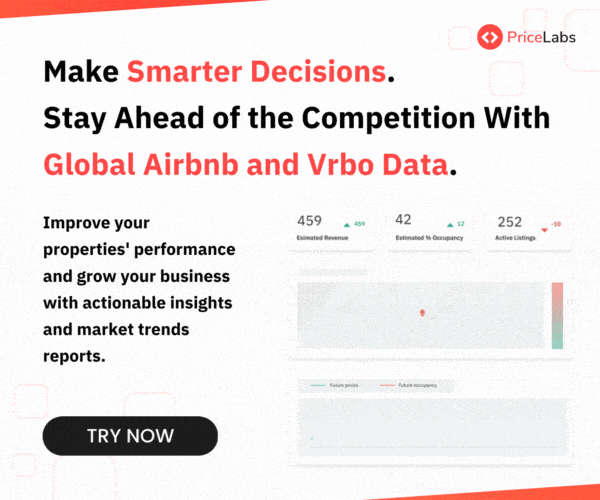 Storytelling: Second quarter Airbnb earnings perfectly fit 2021 strategic plan
Airbnb says that its good financial results come from capturing new market trends, such as remote working and longer stays, as well as from rolling out new product features. The company wants to show that it is not staying immobile and is doing all it can to adapt to new market conditions.
In May 2021, Airbnb presented the four pillars of its 2021 strategy. In August, to communicate about its Q2 2021 results, the company used the same pillars to show what had been accomplished along these lines. Airbnb seems to be eager to show consistency in planning and executing, even though it can be argued that being still in line with the plan barely three months after it was really is not really a feat. Actually, the four pillars were reflecting what Airbnb had done in Q1 and would be doing in Q2.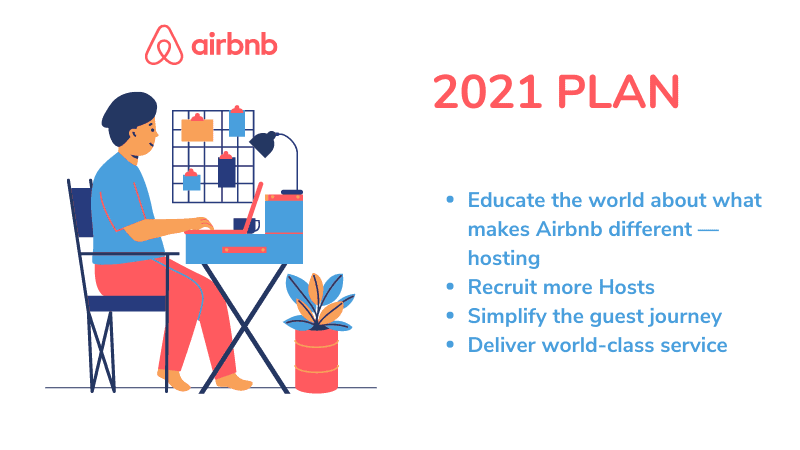 In May, June, and July, our Rental Scale-Up has been able to document Airbnb's execution on this plan:
Educating the world about what makes Airbnb different — hosting
Recruiting more Hosts
Simplifying the guest journey
Delivering world-class service

On September 30, 2021, Airbnb will begin offering dedicated Superhost support, initially in North America, and rolling it out globally throughout 2021.
Airbnb's CFO went out of his way to make sure that people here that the company was "not just a travel company". For instance, he said that Airbnb was "all about travel and living" and that it was "about stays and stays of any kind". The company wants to convey to the markets that its total addressable market is not just made up of the vacation rental market, but also of the housing market.
This is why remote working and long stays are so important in Airbnb's storytelling. Airbnb needs to talk about them to convey the fact that it has adapted its business model to new trends and market data.
Stays over 28 days still make up a good part of Airbnb's room nights, representing 19% of booking nights in Q2 2021 (against 24% in Q1, as the number of short-stay nights is increasing faster). While competitors such as Booking.com have tried to launch long stays on their platform, their offer remains quite timid compared with Airbnb's marketing. For all Airbnb's efforts to mention the growth of its over 28-night stays, it was interesting to note that, in 2019, they were already making up 14% of booked nights (Source: Airbnb S-1). In Q3, when the share of short-stays will be closer to pre-pandemic, long stays should revert toward this 14%.
Overall, Airbnb has been able to stretch its brand further than Vrbo and Booking.com to adapt to pandemic trends.
We created this short analysis to look at Airbnb and at one of its peers so that we could compare companies whose respective history was different and actions during the pandemic differed as well. The Airbnb stock has gone down from its post-IPO highs, but it is still trading on higher multiples than Booking Holdings. Every company tries to spin its market report in the most positive way possible, as we showed when looking at Airbnb's Q1 2021 data.
Booking Holdings (BKNG) is a financial entity that spans several companies, while Airbnb (ABNB) is just one company whose leadership team is intimately involved in both financial and product strategy. In that sense, Airbnb's shareholder letter is a much better-organized communication tool than what Booking Holdings produce. Once again, it is easier for Airbnb to get its message around as it knows how to tell a good story. For instance, Booking Holdings barely mentions product innovation, while Airbnb makes sure that people hear about their Flexible Search tools and about the "500 million searches with dates that are flexible" already conducted on their website.
"Airbnb is leading the way"? "Airbnb has emerged from this crisis faster than others"?
For the last 10 years, Booking.com, part of Booking Holdings, has been the undisputed leader in the online travel industry. So, how can Airbnb's CEO, Brian Chesky, claim that Airbnb is leading the way out of the crisis.
Let's compare Airbnb and Booking.com's respective numbers, in Q2 2019 (pre-pandemic) and in Q2 2021. With a core business focused on hotels and on European travelers, Booking.com has been recovering slower than Airbnb. So much so that rise of Airbnb during the pandemic, in relative terms, compared with Booking.com, has been impressive. Yet, this is a snapshot taken in Q2 2021, when urban destinations, hotels, and international travel, where Booking.com shines, have only started to reopen.
Note that Booking Holdings is not just Booking.com. Let's use an 80/20 rule and assume that Booking.com makes up 80% of Booking Holdings' revenues. Sister company Priceline in the US may have fared well in 2021, but Agoda, the group's other travel company, is probably struggling with travel restrictions in place in Asia.
Room nights
In Q2 2021, Airbnb's room night figures are almost back to the pre-pandemic 2019 level (-1%). Meanwhile, Booking.com's room nights are still down 26% compares with 2019.
A few reasons explain the difference between the two companies:
Airbnb's presence is more well-balanced between Europe and the US. Booking.com is a minor player in the US, especially when it comes to vacation rentals.
As the US travel market has taken off since January 2021, months before the European market, Airbnb has been able to sell more nights in Q2
In Q2, European were still barred from flying to the US, so Booking.com was not able to send its international travelers to the booming US market
Booking.com's core business is linked to hotel bookings in big cities, a travel offer that is much less popular in 2021 than in 2019
Airbnb has been able to better surf on pandemic trends, such as the appetite for rural vacation rentals and for long-stays, than Booking
Travel restrictions in Asia are still strong, which hinders Agoda, Booking.com's sister company
| | | | |
| --- | --- | --- | --- |
| | Q2 2019 | Q2 2021 | Variation |
| Airbnb | 83.9M | 83.1M | -1% |
| Booking | 213M | 157M | -26% |
| Airbnb/Booking | 39% | 53% | |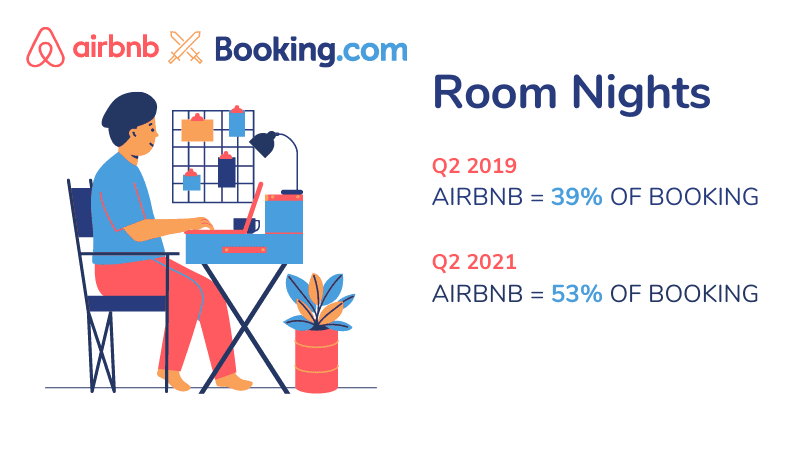 During the earnings call, Airbnb confirmed that its July numbers were good too. They've had their biggest night ever in the U.S. and their biggest night globally since the pandemic began, with more than 4 million guests staying at an Airbnb listing.
ADR
ADR is actually a rato of GBV / room nights. It captures the average rate of a night sold. This is a very interesting indicator. We devote the next part of this article to the ADR, looking at the reasons behind its drastic increase at Airbnb since the beginning of the pandemic.
| | | | |
| --- | --- | --- | --- |
| | Q2 2019 | Q2 2021 | Variation |
| Airbnb | $117 | $161 | +38% |
| Booking | $118 | $140 | +19% |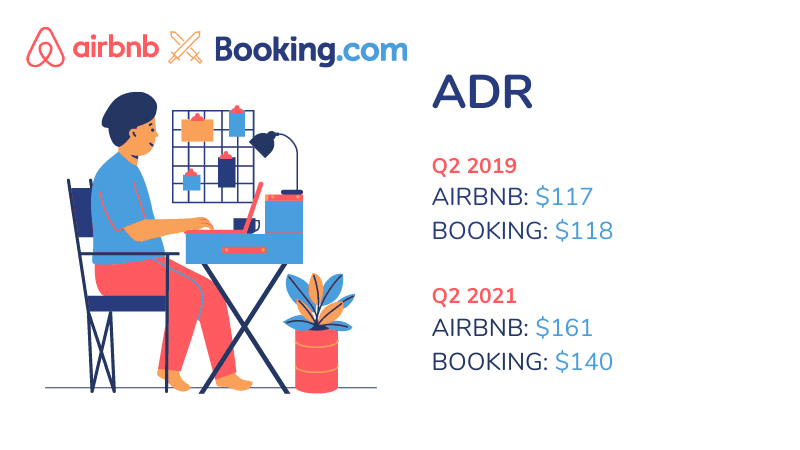 Gross Booking Value (GBV)
Airbnb had over $13B of bookings in Q2 2021, up dramatically (320%) from a year ago during the depths of the COVID crisis, and up substantially (37%) from the same period pre-COVID levels (Q2 2019).
| | | | |
| --- | --- | --- | --- |
| | Q2 2019 | Q2 2021 | Variation |
| Airbnb | $9,800M | $13,400M | +37% |
| Booking | $25,039M | $21,956M | -12% |
| Airbnb/Booking | 39% | 61% | |
As the increases in room nights and ADR were more favorable to Airbnb, the size gap with Booking Holdings in terms of gross booking value has considerably shrunk.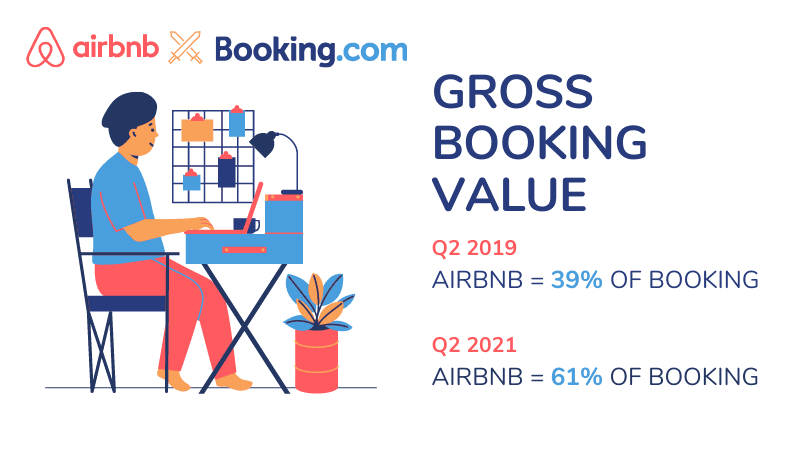 Revenue
Note that Room nights, ADR, and Gross booking value are figures for what is booked in Q2. Yet, a lot of what was booked in Q2 by travelers will get stayed in Q3. Even more than usual, many travelers have booked in spring (Q2) to stay somewhere in summer (Q3).
Revenues are recognized after the stays.
So, Q2 revenues are linked to stays that "stayed" in Q2, hence the gap with the other number.
Yet, here again, the performance gap between Airbnb and Booking is notable. And, once again too, the great performance of the US vacation rental market in Q1 and Q2, has benefited Airbnb. With a low presence in the US and travel restrictions in place in Europe at the time, Booking.com could not benefit from similar tailwinds.
| | | | |
| --- | --- | --- | --- |
| | Q2 2019 | Q2 2021 | Variation |
| Airbnb | $1,214M | $1,335M | +10% |
| Booking | $3,850M | $2,160M | -44% |
| Airbnb/Booking | 32% | 62% | |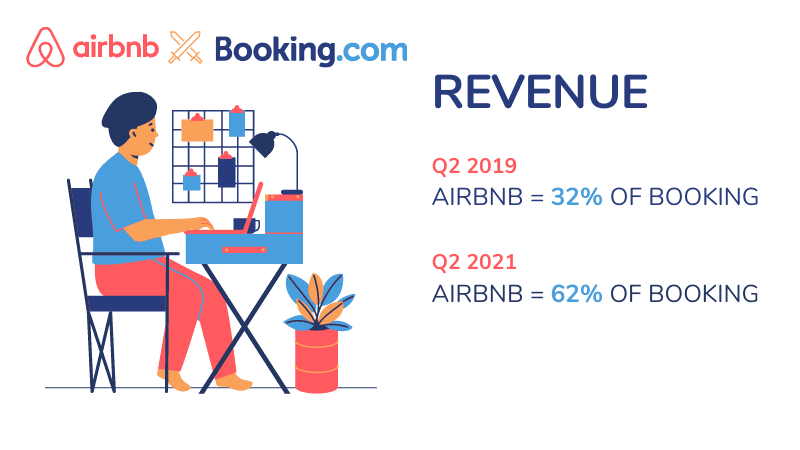 Net loss
Airbnb Inc.'s net loss for 2Q 2021 was $68 million, against a net loss of $167 million for Booking Holdings.
Adjusted EBITDA
Adjusted EBITDA (earnings before interest, taxes, depreciation, and amortization) is a measure computed for a company that takes its earnings and adds back interest expenses, taxes, and depreciation charges, plus other adjustments to the metric.
Airbnb Inc.'s adjusted EBITDA for 2Q 2021 was +$317 million, against +$48 million for Booking Holdings.
This is a great turnaround for both companies compared with the same period in 2020, where the respective EBITDA were -$397 million for Airbnb and -$376 million for Booking Holdings.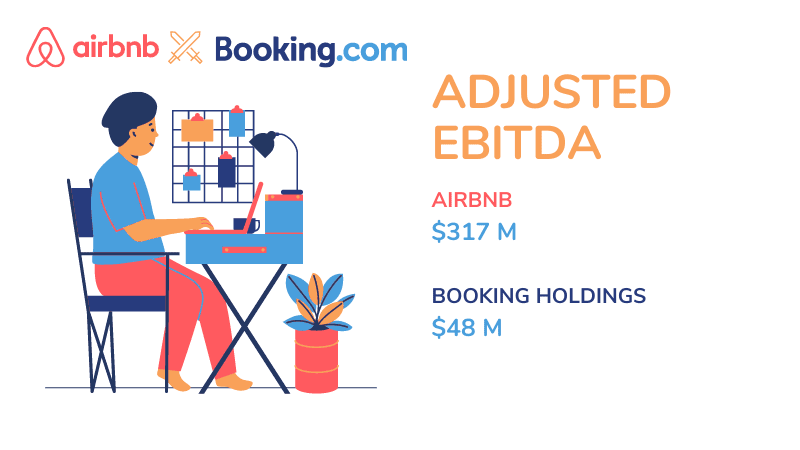 Again, these reported data may capture a specific moment in time where the companies' product and geography mix put Airbnb in a favorable position and Booking Holdings in a much less positive place in terms of revenue creation. Yet, on the cost side, Airbnb's sales and marketing expenses also look more moderate than those of Booking Holdings, which is a remarkable turn of situation. In Q2 2021, Booking Holdings restarted its PPC keyword buying engine and also spent money on an expensive UEFA EURO 2020 ad campaign that was signed before the pandemic (much like Airbnb had signed up the 2020 Tokyo Olympics).
What Airbnb's highest ever ADR tells us about the changes in what the company sells
Intuitively, you would think that, during a crisis where travel was severely hindered, average rates would fall. Not really here. Average daily rates (ADRs) went up. It is not that evil property managers were busy making money on travelers. It had more to do with the fact that cheaper property types (e.g. city hotel room) and geographies (e.g. Asia) were not selling at all, while more expensive accommodation types (e.g. whole rental homes) and places (e.g. the US) were in demand.
In 2019, Airbnb's ADR was around $112-$122.
In 2020, Airbnb's ADR was between $114 and $130.
In Q1 2021, it was $160 and, in Q2 2021, $161.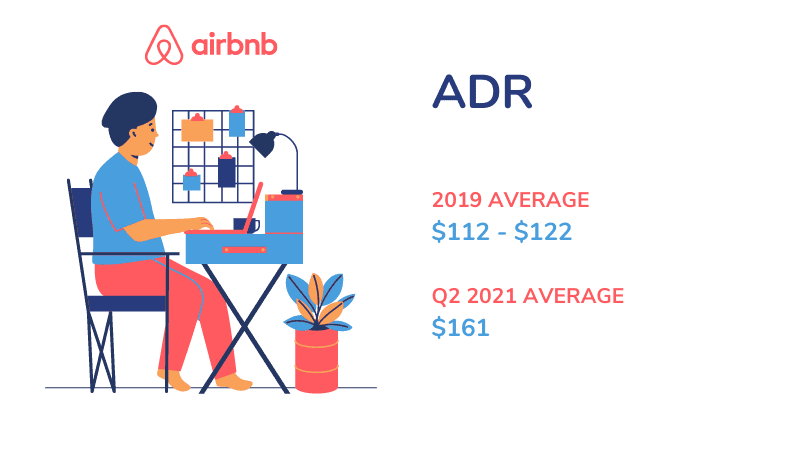 Here's how Airbnb's leadership team is explaining the variation: "The primary driver of ADR appreciation continues to be the significant mix shift towards bookings in
North America,
entire homes,
and non-urban destinations,
all of which tend to have higher ADR."
"The secondary driver is an increase in pricing by Hosts in certain high-demand segments. This second driver increased from Q1 2021 to Q2 2021, but remained a minority of the overall ADR appreciation as compared to 2020 and 2019."
At Booking Holdings too, ADR went up, from $118 in Q2 2019 to $140 in Q2 2021. Here's how their leadership team explains it:
"Our accommodation constant currency ADR benefited by about 7% from an increased mix of business in North America, which is a high ADR region, and a decrease of mix of business in Asia, which is a lower ADR region. Excluding regional mix effects, constant currency ADRs were up approximately 4%, driven mainly by rate increases in North America and in Europe. The increase in North America was driven by a high level of demand for beach-oriented leisure destinations and in Europe were driven by a higher mix of summer bookings, which have higher ADRs."
How will market data and Airbnb's third and fourth quarters earnings evolve? Is Booking Holdings' upside potential bigger than Airbnb's?
2020 was hyper-seasonal, with lower booking numbers in Spring and Fall than usual, and much higher numbers in Summer. If fears about the COVID-19 Delta variant spread, then 2021 could follow the same pattern.
Here's what Airbnb said: "We anticipate that the impact of COVID-19 and the introduction and spread of new variants of the virus, including the Delta variant, will continue to affect overall travel behavior, including how often and when guests book and cancel.
Things are a bit murky when it comes to prediction. So, let's start with 2019 Airbnb figures from their S-1 document:
EMEA represented 43% of booked nights made up 38% of revenues; ADR was at $105.
North America's figures were respectively 29% and 42%, with an ADR at $165.
On one hand, Airbnb notes that urban bookings and international travel rose in Q2. For example, gross nights booked for cross-border travel within Europe were higher in June 2021 than in June 2019. The company also says that " travel is returning to some major cities, with gross nights booked to cities such as Istanbul, Las Vegas, and Sao Paulo recovering to pre-pandemic levels by the end of June."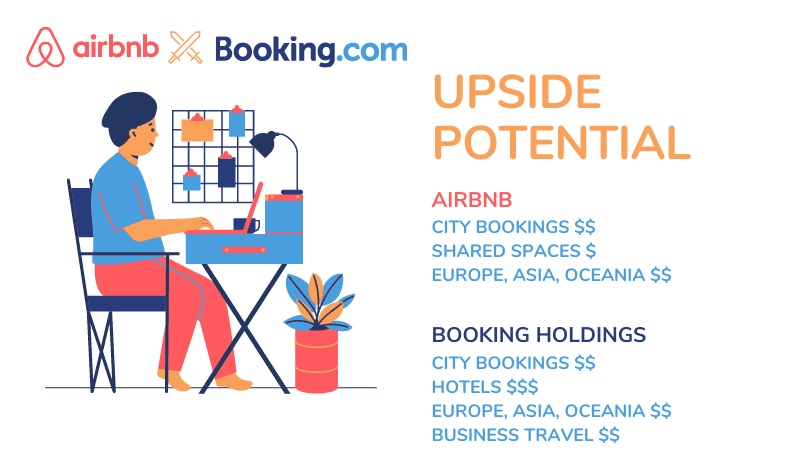 More international travel within or to Europe and more city stays would increase room night numbers but drive ADR down. Europe is Airbnb's second engine and full recovery would help the company keep growing.
Obviously, European and city travel would benefit Booking.com even more so. As a result, the ratio between Airbnb Booking Holdings may change again, with Booking Holdings' relative weight gaining back some lost ground.
We'll have to wait for the upcoming earnings date to see how it pans out. Q3 looks to be the best ever for Airbnb financially, because of all the bookings made in the second quarter for stays in the third quarter, but the rest looks uncertain. Will there be a pullback in room night?
In the long term, this mini-report points out that some of Airbnb's sales metrics may fall back to pre-pandemic patterns, for instance with a lower ADR and a lower share of long stays. Yet, the real win here may be that more users will have got a chance to explore Airbnb, find out that the company can offer more than urban apartments and seaside condos, and stretch their perception of the brand from a place for a couple to book a place for a city break to a website / app where a family can find a place where to stay in for a week.
It is tricky to forecast whether investors and shareholders will still put a premium on Airbnb shares when reservations in Europe, hotels, and cities grow again and Booking.com's main revenue engines finally pull their weight.
Bonus: New things coming to Airbnb hosts?
Analysts asked Airbnb leaders whether the take rate, currently at 15% on average, would increase in the future. The answers were quite interesting.
First, Airbnb mentioned, " opportunities whether that be guest travel insurance, maybe promoted listings". So, the take rate could increase from commissions on travel insurance that Airbnb would sell to guests (it already is in the US) or from "promoted listings" where hosts would pay for visibility.
Second, Airbnb could be "charging for some incremental services that we can provide for hosts. And the more that hosts really rely on Airbnb to be able to continue to grow their business, the more we think they're going to be willing to be able to buy or participate in new services and offerings." We get here another reason for Airbnb to make sure that it has loyalty and exclusivity from its 90% of hosts who are individuals: This captive audience would be a perfect choice to roll out new paid services.