Have you noticed that there are some new badges Airbnb hosts can include on their profiles? Airbnb has long positioned its short-term rental marketplace as a community made of individuals. The claim has been derided at times, but it is true that Airbnb has managed to build an eco-system of online and offline supporters by creating specific roles, titles, and recognition. This is especially true on the Host side. Superhosts are the most well-known examples, but we've already covered other titles conferred to non-Airbnb employees, such as Superhost Ambassador's onboarding new hosts in the Ask a Superhost program. 
Here, we'll talk about the other titles that show up as badges in the host profiles: Airbnb.org supporter, Host Advisory Board member, and Community Leader. You'll see that these titles help recognize people who volunteer to help spread Airbnb's message, from painting Airbnb as a force for good to helping organize "grassroots" movements of hosts combating anti-Airbnb laws in various municipalities. Read on to learn more about each badge, why Airbnb offers them to Hosts and how to earn them.
What are the Airbnb badges?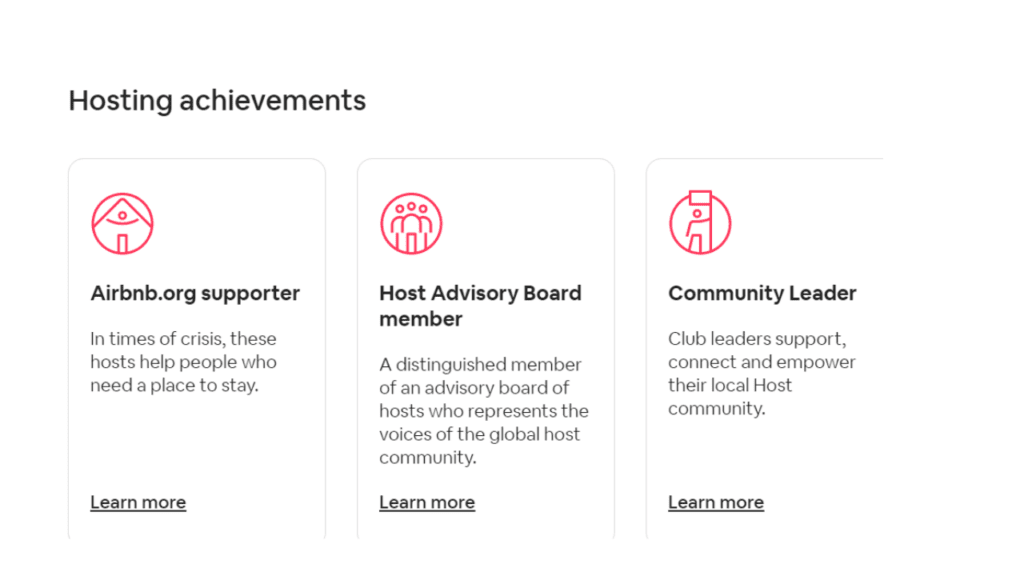 In addition to the Superhost badge, there are also some other badges Airbnb offers to its Hosts: Airbnb.org supporter, Host Advisory Board member, and Community Leader. Each badge has a different initiative behind it, but they all show that you are an active and involved member of the Airbnb Host community.
How to get an Airbnb host badge
The first step is to become an active and engaged member of the Airbnb community. The more you participate, the more likely you are to be noticed by Airbnb. Additionally, you can take specific actions to increase your chances of getting each badge.
What is an Airbnb Superhost badge?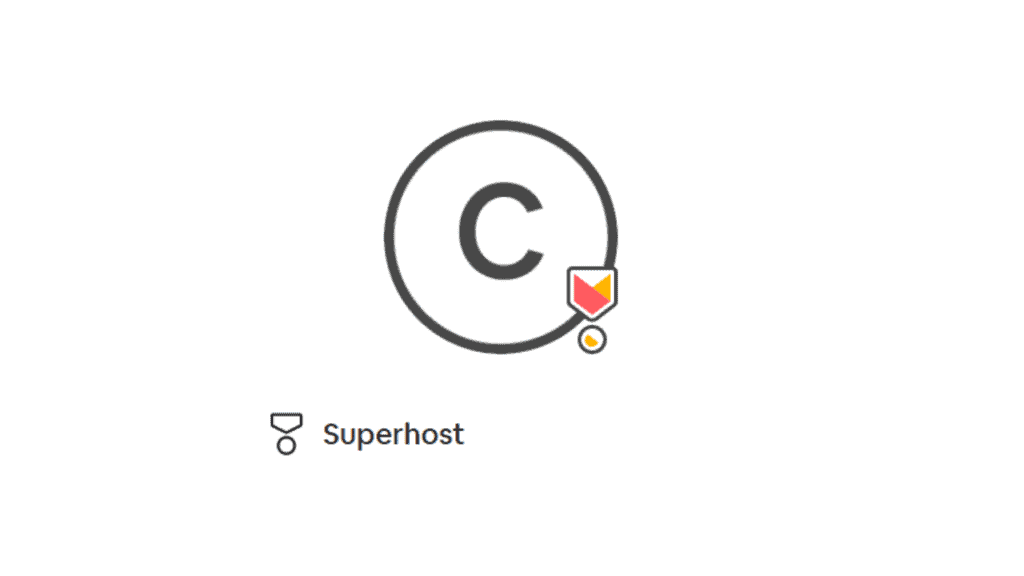 The Superhost badge is a distinction given to Airbnb hosts for achieving Airbnb Superhost status. To achieve Airbnb Superhost status:
Airbnb Superhost must have an overall rating of 4.8 or higher
An Airbnb Superhost must have at least 80% five-star ratings
An Airbnb Superhost needs to have hosted for at least 10 nights in the past year
An Airbnb Superhost must maintain good communication with guests and respond to inquiries promptly
Superhosts need to ensure a high level of accuracy in their Airbnb listings
Meeting these requirements demonstrates a commitment to hosting and providing a great experience for guests. Superhosts receive exclusive benefits, such as increased visibility on the Airbnb platform thanks to the Superhost badge, as well as access to exclusive content and tools.
How to earn an Airbnb.org supporter badge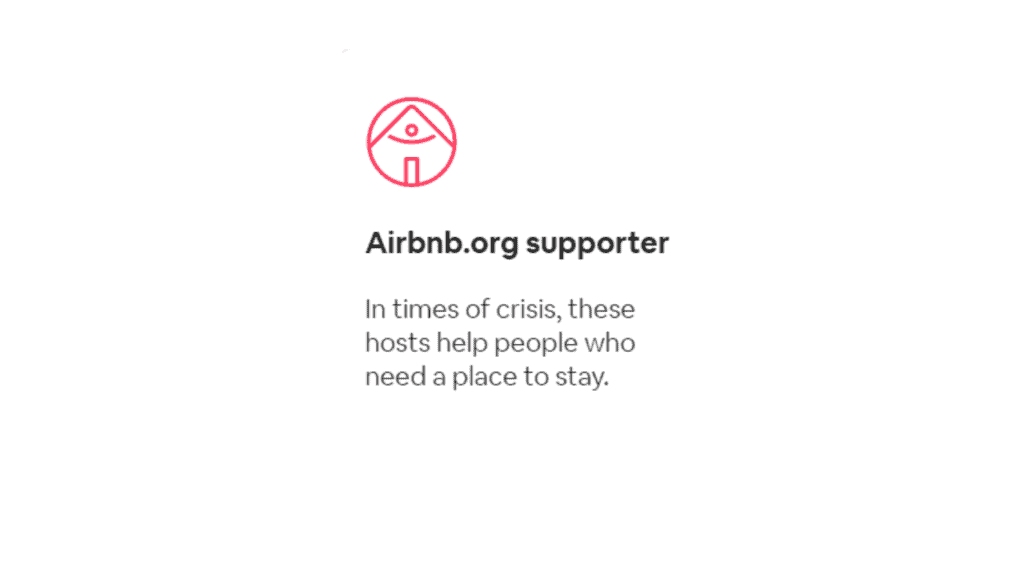 Airbnb.org is part of Airbnb's strategy to come across as a good corporate citizen. As with the Ukraine crisis, it can be a genuine source of good. Yet, it does not hurt that it is also buying goodwill for a company sometimes accused of driving house prices in numerous cities and that Airbnb.org initiatives generate a lot of PR.
Some people have criticized Airbnb for making hosts support the costs of the free stays offered. They said that, instead, Airbnb could pay for these stays themselves. Such criticisms miss the point that a lot of people just want to help, and not be paid for that, and Airbnb's platform can empower them to do so. In a way, these badges help give recognition to hosts who offer. Also, when a traveler decides to book, they may prefer to pay someone who's generous. It creates goodwill for the hosts and for the platform by extension, which may drive up loyalty to the brand, from both the host and guest sides.
The Airbnb.org supporter badge is available to Hosts who have contributed to the Airbnb Foundation. Established in 2020, The Airbnb Foundation is a 501(c)(3) non-profit organization that relies on the generosity of Airbnb hosts and carries on the work of the Open Homes and Frontline stays programs. Airbnb offers a badge to Hosts who open up their homes in times of crisis, whether it's hosting frontline workers during the pandemic or Ukrainian families seeking refuge.
The Airbnb.org Supporter badge is available to Hosts with at least one active Airbnb.org listing that provides free or discounted emergency stays. You're also eligible for an Airbnb Supporter badge if you contribute a percentage of your earnings to Airbnb.org on an ongoing basis. Your donations will go to Airbnb.org to help facilitate emergency housing to provide relief and support for people when they need it most.
How to earn a Host Advisory Board member badge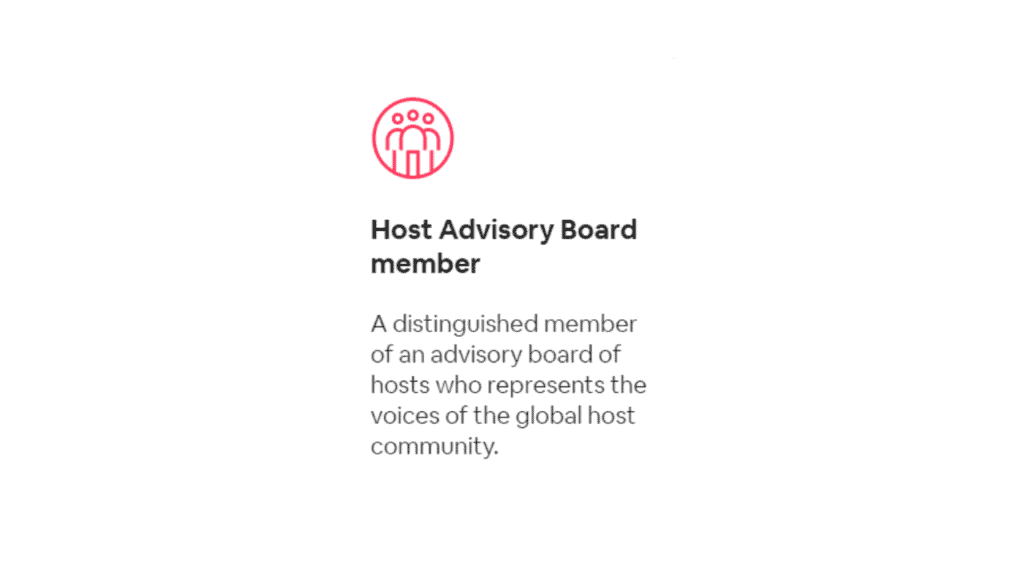 The board was created after Airbnb had been criticized by hosts for taking single-handedly big decisions that impacted them, without giving them a say. For instance, in March 2020, at the onset of the COVID-19 pandemic, Airbnb forced all the hosts to cancel guest bookings and refund their money, even if the booking was non-refundable. The board was created to rebuild trust between Airbnb hosts and Airbnb itself. We do not really know how much the board informs corporate decisions.
The Host Advisory Board member badge recognizes the hosts who have served on the board since it began alongside the Airbnb Host Endowment in 2020. The Airbnb Host Advisory Board members are a group of experienced hosts who speak on behalf of the host community and provide feedback and advice to Airbnb about the needs and concerns of hosts on the platform. The board is responsible for advising Airbnb on host-related issues and company initiatives.
With 24 board member positions available per year, it's a chance to become a Host voice with a badge of honor to match. If you are interested in becoming a board member, you can nominate yourself or someone else by filling out a form on the Airbnb website.
How to earn a Community Leader badge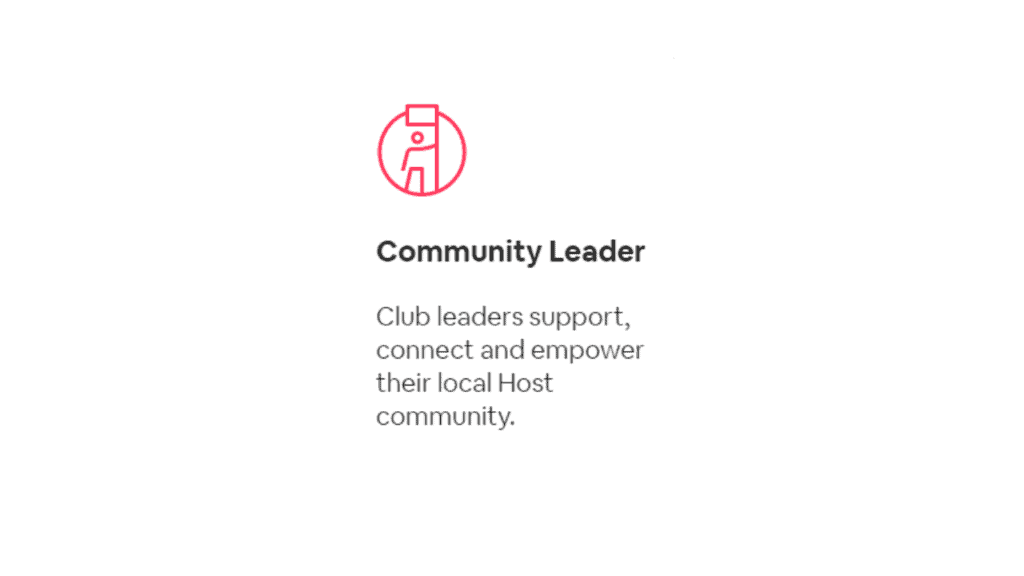 This badge is for Hosts selected by Airbnb to become leaders in their local communities, online and offline. The Community Leader runs a local Host Club in their area through monthly in-person meet-ups where the leader will share local community challenges with an Airbnb Regional Manager. In addition, the Community Leader will be responsible for moderating a Facebook group making these groups, not 100% free from Airbnb. Instead, it means Airbnb can create, support, and coordinate grassroots movements, online and offline, through volunteers working on the ground spreading the word about Airbnb.
While Community Leaders are positive ambassadors for Airbnb, these Community leaders also help Airbnb mobilize hosts in some municipalities when it comes to fighting anti-Airbnb regulations.
Why does Airbnb use Host badges?
They look great on your Host profile and can catch the eye of your future guests, but why does Airbnb use Host badges?
Airbnb badges build trust with potential guests
Airbnb uses Host badges as a way to recognize and thank Hosts who support the company and its initiatives. Badges also help to build trust within the Airbnb community by showing that you are a credible and trustworthy member. In turn, more trust in some individuals can create more trust in the platform. Higher traveler comfort levels lead to higher conversions rates.
Host badges help Airbnb fulfill its promise of being a community of individuals, not just anonymous companies offering short-term rental stays
Host badges help create loyalty from some hosts who can get recognition and would lose it if they leave Airbnb
Host badges help Airbnb get free brand ambassadors, who can talk about Airbnb in a positive way (e.g Airbnb.org), which can be useful when the company needs to mobilize hosts to write to their elected representatives to percent anti-Airbnb laws, for instance
Host badges gamify a bit the platform, as hosts may want to compete in getting more badges
Host badges bring visibility to various Airbnb initiatives that the brand needs to shape its image and PR (e.g. we are a community made of real people, we are a force for good, we listen to our hosts).
From Airbnb's perspective, the Host badges represent the company's initiatives in a way that makes some Hosts more visible than others. Strict badge criteria mean that the Host badges remain exclusive on the platform. Though the visibility only benefits a few, Host badges are a host-friendly step toward creating an engaged Host community with Airbnb's brand ethos at its core.
Airbnb has developed an ecosystem of non-Airbnb employees ready to spread the company's gospel
Unlike Vrbo and Booking.com, Airbnb has taken the notion of a two-sided marketplace to another level and found ways to leverage its users to create even more value for the marketplace and company. This is part community-building, part gamification, and part outsourcing real work to unpaid and willing volunteers. In a way, beyond its employees, Airbnb can rely on an ecosystem, mostly made of hosts, who are creating value for the company. We've already covered how Superhosts can become Superhost Ambassadors and help onboard newbies. Ambassadors can also host online and offline events and marketing campaigns to recruit new Airbnb hosts. Not only do actions like this help Airbnb generate more listings operated by individual hosts, but it's also another cost-efficient way for Airbnb to get the host community to sing its praises.
Do Host badges affect booking rates?
There is no definitive answer, as it likely varies depending on the individual Host and their properties. However, if you're eligible, having badges could have a positive impact on bookings.
As we've detailed, badges show that you're an active and engaged member of the Airbnb community, which can instill confidence in potential guests. In addition, possessing credentials such as being a part of the Host Advisory Board or a Community Leader can add an extra layer of trustworthiness. So, if you're an Airbnb Host looking to maximize your bookings, badges are certainly something to consider.
In summary, Host badges help Airbnb promote its initiatives but they're a beneficial addition to your profile if you meet the selective criteria. So how do you get these badges? The first step is to simply be an active and involved member of the Airbnb community. The more you participate, the more likely you are to be noticed by the company. Additionally, you can take specific actions to increase your chances of getting a badge.
For example, if you want to become an Airbnb.org supporter, you can donate to the foundation. If you want to serve on the Host Advisory Board, you can nominate yourself or another Host to be considered for election. And if you want to become a Community Leader, you can apply directly to Airbnb.
Whether it's a badge of honor or an Airbnb branding stamp is up to you to decide, but we'd recommend adding any you're eligible for to your profile. When it comes to guest trust, it may just make a difference.