For what we think is the first time, Booking.com has launched a "Humanitarian Aid" tab in its extranet where its partners can offer free and discounted stays to people in need. Specifically, partners in countries close to Ukraine are eligible for creating a "Ukrainian refugee rate. This was, they can offer free stays or discounted rates to Ukrainian refugees. We'll see how it works and, while Airbnb has an existing infrastructure with its Airbnb.org sister non-profit organization, Booking.com seems to have improvised a solution by hackings its Promotions and Deals tool. One caveat is that it is up to the people offering a place to stay to check whether people arriving at their property are Ukrainian refugees or not, which could lead to awkward situations.
Booking.com's "Ukrainian refugee rate": Only available for the next 3 weeks in 10 European countries (for the moment)
3 weeks after the start of the war in Ukraine, Booking.com is launching its first-ever initiative to enable its partners to open their doors to refugees. The Amsterdam-based company joins other travel and short-term rental company initiatives to support Ukraine and Ukrainian refugees. Out of the three major OTAs (Airbnb, Expedia, and Booking), the company had been the last one to cease operations in Russia. It has given money to support humanitarian non-profit organizations. Yet, it had until now not mobilized its marketplace, while Airbnb enable its hosts to welcome Ukrainian refugees 2 days after the start of the conflict and a grassroots movement of Airbnb guests using the Airbnb payment platform to remit money to Ukrainian hosts.
And then, finally, Booking.com hacked its tools to offer something new and empower its hosts to welcome refugees.
Booking.com's "Ukrainian refugee rate" is not available to all European countries, as you may think. Only Booking partners Austria, the Czech Republic, Germany, Hungary, Italy, Moldova, Poland, Romania, Slovakia, and the Netherlands can create such a rate. Why Italy and not France? Why The Netherlands and not Belgium? We are not sure. It looks like Booking.com is trying to avoid potential issues, such as scams. As there are no checks from the Booking.com side that people booking are actually refugees, things could turn awkward for the hosts.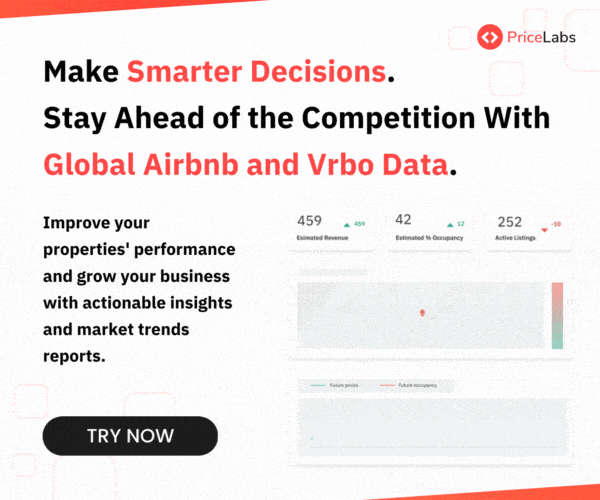 Also, for the moment, the special rate is currently applicable for bookings and stays until 15 April 2022., and which check-in within the next 3 days (so last-minute bookings). Stays can be of up to 30 days.
So, Booking.com's action covers mostly countries close to Ukraine and only for bookings made within the upcoming three weeks. This may be a way for Booking.com to test the waters, see how it goes, and widen the geographical and timeframe if there is enough supply, enough demand, and not too many issues (such as scams from some partners or unwanted behaviors from some guests).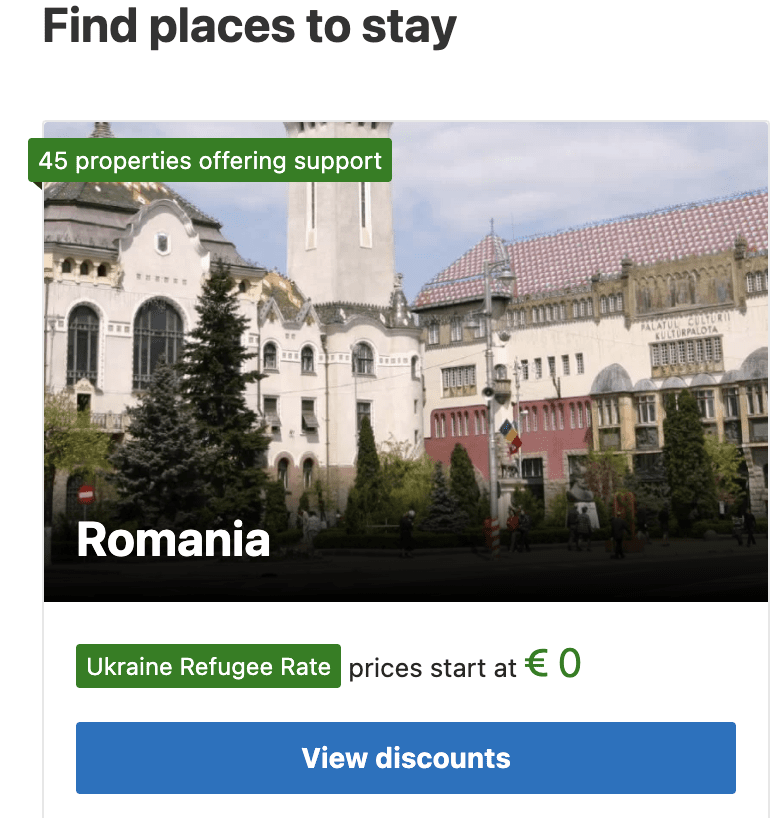 How Booking.com hacked its tools to roll out its "Ukrainian refugee rate"
While Airbnb has a specific sister non-profit organization called Airbbnb.org, Booking.com seemed to have nothing ready to enable accommodations owners and operators to offer free and discounted stays to refugees.
How could Booking.com hack its way through its own existing tools to go fast? From what we've seen here at Rental Scale-Up, the answer was by using a combination of Booking.com partner-facing rate plans and promotion and guest-facing deals page and special "Ukrainian refugee rate" label.
First, it looks like Booking.com has not created any tool by repurposing and combining several existing features. We think that Booking.com had to find a way for its partners to offer a $0 rate and a heavily discounted one while making sure that special price would be visible on its website and app. The solution was to use the using "Promotions" tab to help partners create a special deal that would be visible on a Deals Page and on their Property Page.
This is how it works:
In the Booking.com Extranet, Booking.com must head to the "Promotions" tab.
If they belong to the list of 10 countries where the rate is available, then they can visit a "Humanitarian Aid" section
Then, they can click on the Assist button next to the words "Ukraine Refugee Rate"
Then, partners select whether they'd like to offer a percentage discount on their usual rates or to offer accommodation for free. If they choose to offer a percentage discount, they can choose a percentage between 50% and 99%.
The special rate is currently applicable for bookings and stays until 15 April 2022.
Then, the need to select the rate plans and rooms or units on which to apply the rate.
Review and activate
Note that Booking.com waives its commission fee for these reservations.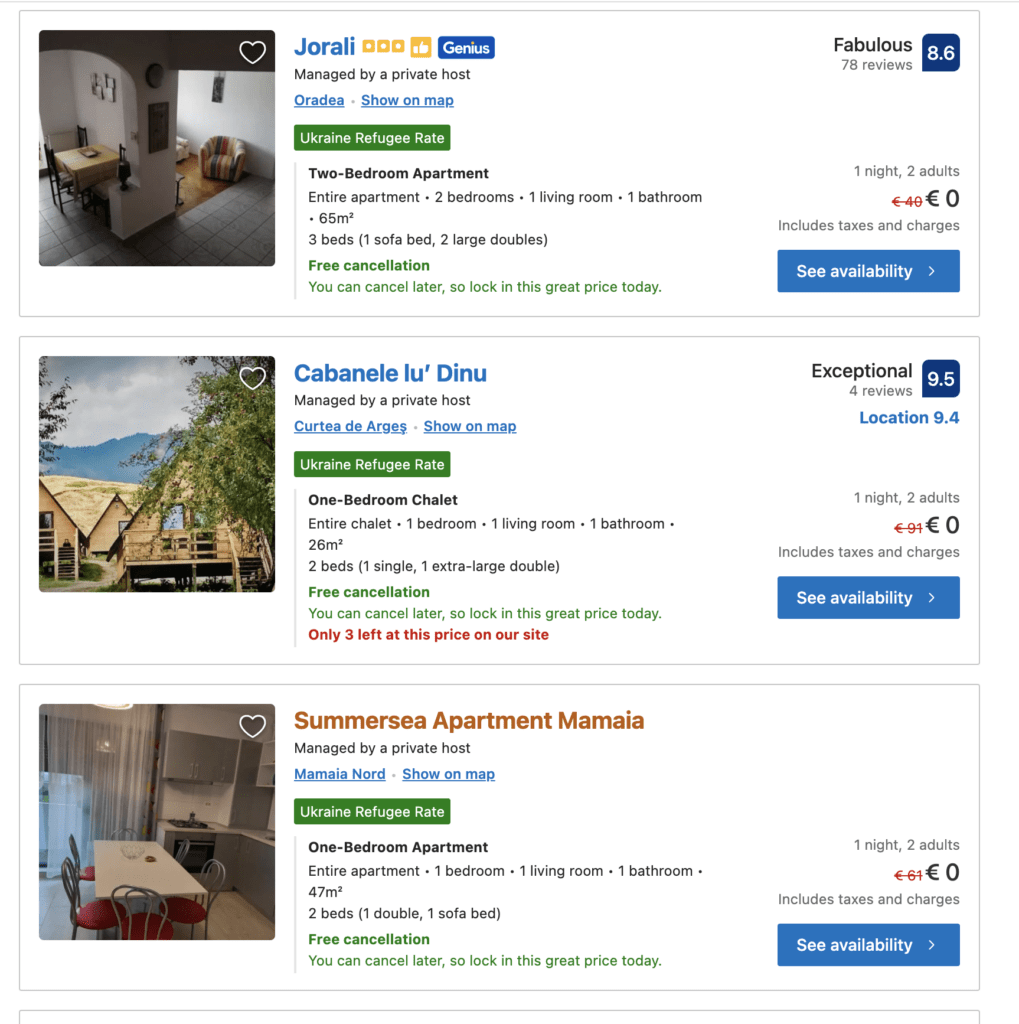 How to host Ukrainian refugees on Booking.com (It is up to the partners to figure out whether the guests qualify as refugees)
Airbnb tends to work with on-the-ground associations whose job is to vet refugees and book stays on their behalf through the Airbnb.org platform. Booking.com has no such system in place and it is up to the Booking.com hosts to figure out whether the people who have booked are indeed Ukrainian refugees.
Here's what Booking.com says:
When guests arrive, we recommend that you ask them for some form of identification document to confirm that the rate was booked by eligible guests.
Please also keep in mind that they are likely to have had to leave their homes with little time to prepare. We therefore recommend that you accept passports, ID cards or any other form of documentation that demonstrates your guests were residing in Ukraine.
You can cancel reservations within reason should you find that this rate wasn't booked by eligible guests.
Now, this last point underlines a big difference with how it works on Airbnb: On Airbnb.org, hosts get requests to book. There is no instant booking. It means that Airbnb hosts can review the booking. Here, the system work à la Booking.com: 100% instant book and up to the host to figure out whether the guest is eligible.
Easy-to-cancel bookings (You need to have a fully flexible rate in place)
The "Ukrainian Refugee Rate" only with Fully Flexible rates. This allows refugees to have as much control and flexibility over their booking as possible. They'll be able to cancel at any time without charges.
Because you can only use the Ukraine Refugee Rate in conjunction with Fully Flexible rates, these guests will be able to cancel at any time without charges, and there are no no-show fees.
How does it look from the refugee's side?
In various places on Booking.com's website, you can find calls to action to help Ukrainian refugees find places to stay.
Booking.com's Deals page, which is usually used to show discount offers to travelers, has been repurposed into a page where refugees can find participating properties categorized by country. The URL of the page clearly shows that it is a Deals page, which can be awkward, but is fine as it is a hack.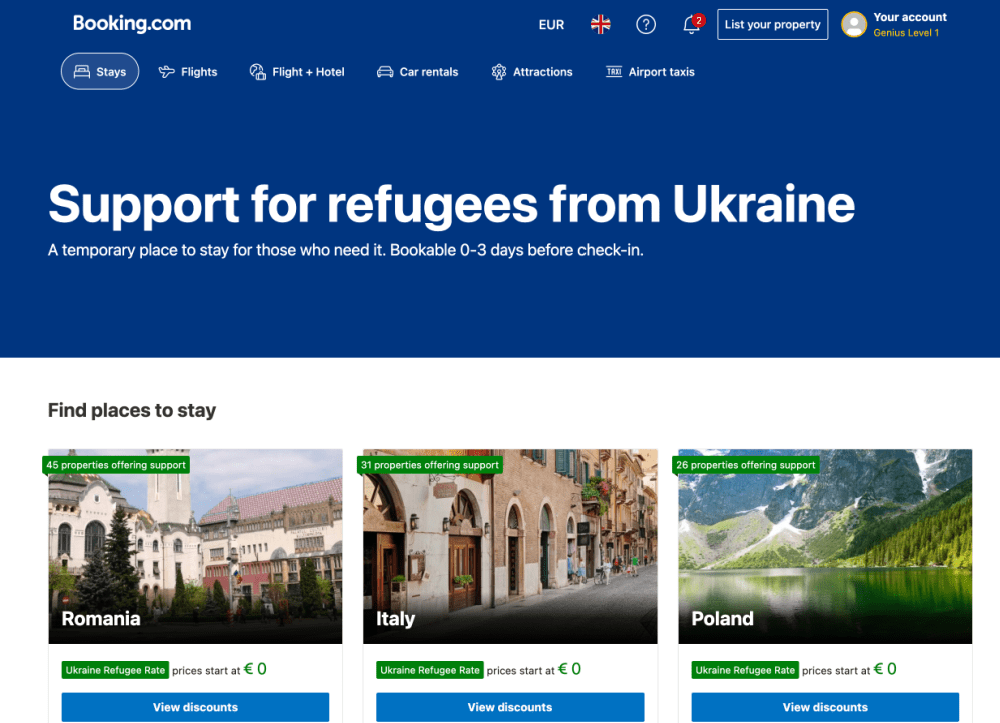 For the moment, 25 properties in Poland, 31 properties, and 45 properties in Romania, among others, are offering either free stays or discounted rates to Ukrainian refugees through Booking.com.
When a user picks a property included in the program, then they can select a rate indicated with the "Ukraine Refuge Rate" label.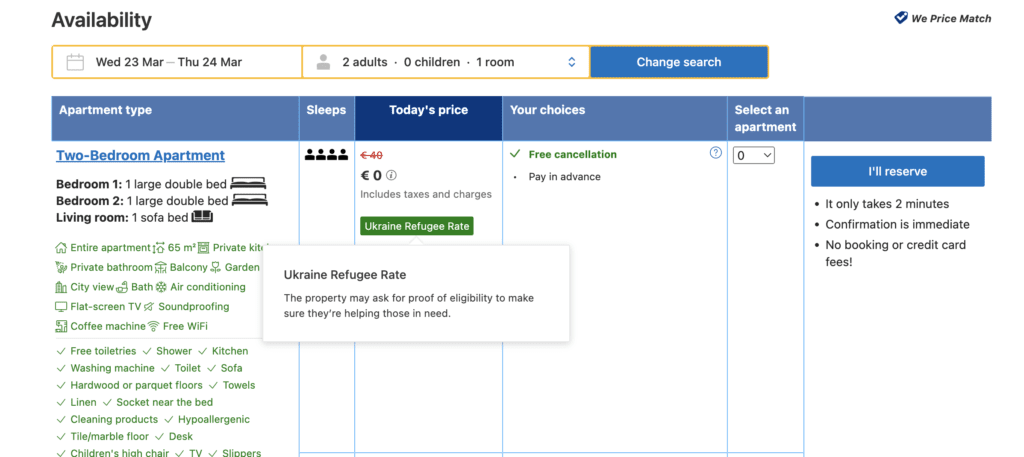 Upon booking, users get a warning banner that tells them they may have to show some ID to prove that they are eligible for the rate. Here's the complete text:
ID requirements and tax information
This discount is only available for those coming from Ukraine. The property may ask for proof of identity upon your arrival. You can use your Ukrainian passport, ID card or any form of other documentation of Ukrainian residency.
Please note that Booking.com is not benefiting or taking any charges from these special rates. However, local taxes and fees may still apply, which are outside of our control.
Conclusion
To our knowledge, this is the first time that Booking.com has been enabling its partners to host victims of war or disaster for free. It has been able to hack existing tools, such as its Promotions and Deals page. As a hack, the goal is to go fast and offer some solution. While the tools are here, some processes are lacking compared with the Airbnb.org response. For instance, bookings are instantly booked, with no possibility for the host to review who's coming before the booking is done. Also, on Airbnb.org, it is often local non-profits that vet refugees and let them book. Here, it is up to Booking.com partners to check whether people coming to their door are eligible or not.