In a previous article, I explained that small vacation rental owners can use email marketing to future proof their business through repeat guests. (Future proofing)
In this article I show you why email marketing works and how it works.
Michelle's complaint – why email marketing works
Recently our friend Michelle said she hadn't been on holiday down our way for a long time. It was 6 years since she had stayed at the nearby town of Lorne, Victoria. Then she stopped and complained. "Why didn't they keep in touch? I've forgotten all about it. I loved it. If they kept in touch I would have come back."
Email is remarkably simple. It is just keeping in touch. Not selling or pestering, just keeping in touch. And it works.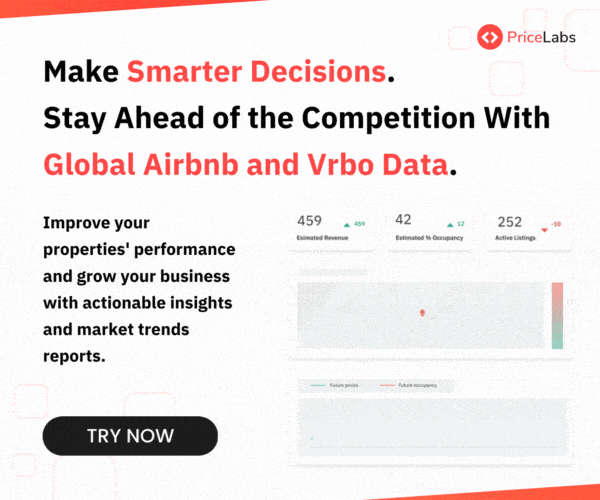 The Psychology of email marketing
If you have a typical vacation rental, most folks who stayed with you loved the experience. Just look at your visitor book comments. Chances are they said they loved it and said they will come back….. but then life just got in the way.
We are all bombarded with information. An active social media user processes about 50,000 words a day. To stay sane our brain helps us by deleting 99.99% of these images and ideas. Holiday experiences are the same, covered over in the avalanche of information. But holiday experiences create rich experiential memories, sleeping just below the surface. They can be triggered back to life by someone making contact, just keeping in touch.
An email marketing system is just a simple way of keeping in touch, saying 'we are still here, here is what is happening and we have a current deal going for you'.
Does it work?
Yes, it works. Every time I send out an email to my past guests, the same things happen:
Someone takes the deal offered in the email
Several folks say thanks for the email, sorry I can't take up your offer just now, but we are thinking of coming back
Several people say 'put me on your last minute list'
Then there appears to be silence, but some on the list are already starting to plan their next
visit. In the following weeks emails start appearing. ' We have been thinking about coming back. Would this date work?' Then they book.
Through a simple email we have subtly brought our past guests' minds back to their happy last visit. That visit was familiar, comfortable, easy – and it is so convenient for another visit!
Do people get annoyed?
No. Provided your tone is helpful rather than 'salesy', most guests enjoy keeping in touch and some will email to say so. A tiny few will prefer to be taken off the list, which is why every email must have an easy unsubscribe option, so the guest feels in total control. If you do it well, the number unsubscribing will be tiny. My unsubscribes are way under 1% of past guests. Of course privacy and spam laws also require you to have an unsubscribe option.
What goes in the email?
Ideally the guest will enjoy reading your email, so typically it will have
some local news that is interesting, perhaps with an interesting image
an offer that is attractive enough now to keep opening emails in the future
There are a few other basic items:
A greeting
Some reminder to your guests that they are valued – a direct booking discount is a nice touch
Invitation to sign up for last minute offers
An easy link to your calendar
Unsubscribe option
Over time you can add other features like first name in the greeting, automation, more photos, etc. I'll explain the nitty gritty 'how to' in the next article. It is not that hard!
Example basic email
Here is a basic example, nothing fancy. Something that anyone with a standard email account can create and send.
It has the key parts you need for an email to your past guests: subject; news; offer; unsubscribe. The content is similar to an actual email I sent to past guests.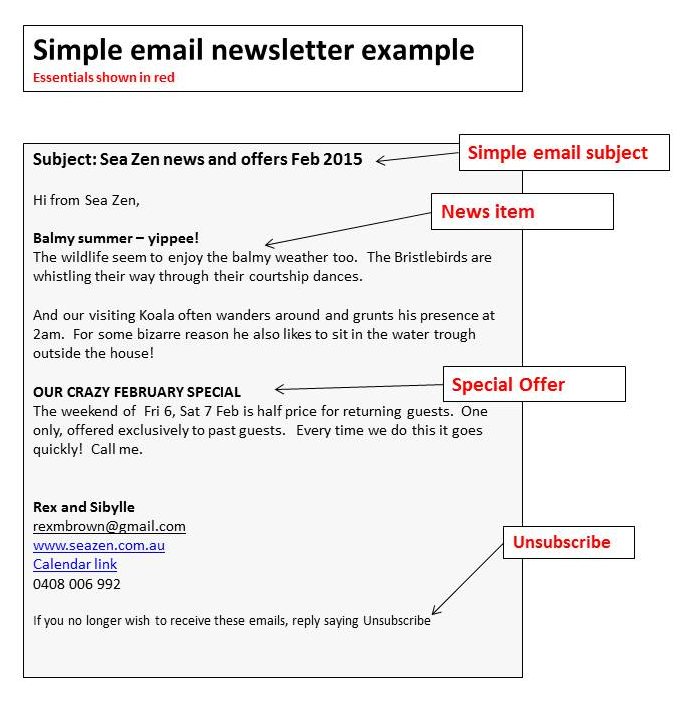 Printable pdf version here.
Example advanced email
Next is an advanced example with personalised greeting, enhanced graphics, and automated unsubscribe ability. The kind of email you produce from a system like Mailchimp, which I use.
It is a bit harder to set up first time, but much easier to administer ongoing. All the bounces and unsubscribes are handled in the background without you having to do a thing.
By including images you can make it that bit more interesting for your readers. For example, the pic of the Koala sitting in a water trough here is far more interesting than a description alone.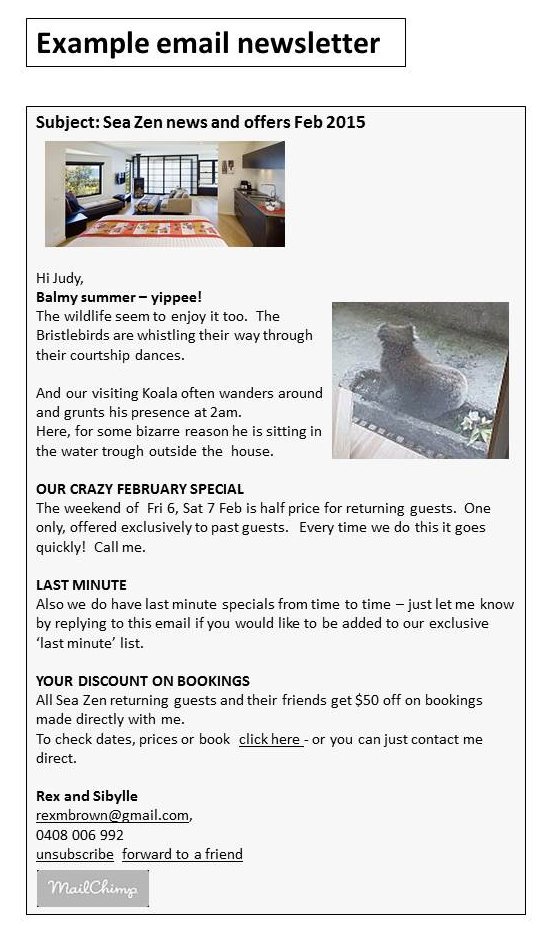 Open the printable version here.
FREQUENTLY ASKED QUESTIONS ABOUT EMAILS
Is sending emails to past guests OK? Or is it spam?
Privacy laws allow you to email a party that you have a business arrangement with such as a paying guest. However you must give them the option to unsubscribe.
How often are emails sent?
This is a case of less is more. Once every month or two is OK, providing it is interesting and useful for your past guests.
Weekly would be a horrible mistake, verging on spam. You would soon deplete your list and damage your delicate relationship with your guests.
You are also better served sending a newsletter prior to a quiet season, rather than before your peak season when you are fully booked anyway.
What makes interesting news?
It is easier than you might think.
If you are in an area that is close to nature, you have a huge list of material. What is happening in the changing seasons. What the birds and animals are doing. New places you have discovered for walks or drives. In our case we have a Whale viewing season, bird breeding seasons with new fledglings visiting, waterfalls, rainbows, etc
If you are in a wine growing region, there are the seasonal vine changes, harvesting, winemaking, new restaurants, events, etc
If you are in an urban area, you can report on the new cafes and restaurants and your new eating experiences, upcoming festivals, places to visit, etc
Tip: Keep a list of ideas and add to them from time to time, so you are ready when it is time for the newsletter. Also accumulate interesting photos that you might use as part of a story.
What is a 'Last Minute' list?
Some people such as shift workers can only book a week or so ahead, so find it attractive to join your 'Last minute' list. You offer guests the opportunity to join in your 'last minute' list, and later you send those on that list a separate email about a hard to fill last-minute vacancy. They can grab the last minute opportunity, and you can increase your occupancy. Win-win.
How hard is it to do all this?
The hardest part is starting! You can write a basic email newsletter in half an hour, and it might take another hour to make up a distribution list of past guests. It can be that easy.
What kind of subject line works best?
You will have heard that the subject line is most important factor in whether the email is opened. There is a mountain of information on this, but fortunately for email to our guests, the answer is easy. Simple is best.
The experts have found that for a regular newsletter, telling your readers just what it is about eg 'Sea Zen newsletter', is more effective than something catchy and misleading. Your readers are not stupid. After reading your first few newsletters they will have made up their minds to open or not. If it adds value they will open it. If you mislead them, they will unsubscribe.
Also the software systems sending and receiving emails have filters that block emails that are suspiciously like spam. Simple and honest goes straight past those filters.
Why would I bother with all this? One more time …
Let's remember why email marketing is so powerful for your rental.
Our changing world is dominated by large websites that can change their prices and rules overnight. To be independent of them we should be increasing repeat guests, which we are uniquely placed to do, due to our intimate contact with our guests.
Email marketing gives you a simple way to keep intimate with your past guests, to bring your rental property top of mind and for them to come back to your rental directly.
That is, you can have more return guests at zero marketing cost. Then, if the big websites do push up their prices it will have minimum impact on your business. You will have future-proofed your business. The best part is that it is free and anyone can do it!
The nitty gritty details
In my next article I will go into tips and tools, including automation and how to write a newsletter. Stay tuned!
Do you send email newsletters to your guests? Leave a comment and tell us how it works – or doesn't work – for you.
Help your colleagues. If you found this article useful, please forward to a colleague in the industry.
Here's to your holiday rental mastery!
Rex