Short-term rental listings with eco-friendly and sustainability badges tend to have more clicks and bookings.
Data from Booking.com, Holidu, and Transparent support this effect.
According to a Booking.com survey, 83% of travelers surveyed want to travel more sustainably, but 41% don't know how to find sustainable travel options.
Vacation rental data provider Transparent studied Booking.com data and found that listings with Travel Sustainable badges had a slightly higher occupancy rate than those without them.
A study by Holidu showed that properties with Eco Badges were 11.51% more likely to be clicked on and 28.73% more likely to get booked once clicked on.
The Pursuit of Sustainability: Accommodations and Travelers Show Interest
Booking.com's research reveals an appetite for sustainability on both the traveler and accommodation provider sides – 73% of guests are more likely to book a property that participates in sustainability practices, while interest in Booking.com's Travel Sustainable program has arisen rapidly among accommodations on the platform.
Italy leads with 46,365 badges, followed by France (27,677), Germany (24,038), Spain (23,650), United States (19,396), Brazil (19,160), India (15,743), United Kingdom (15,366), Greece (12,442) and Poland (10,745). This includes any form of accommodation on Booking.com – not just short-term rentals.
At the Scale Rentals Paris conference in November 2022 where the Rental Scale-Up team hosted a panel about sustainability and energy prices, only a few French property managers expressed they had joined any kind of sustainability program; yet when they heard about Travel Sustainable and the additional visibility it provided via a badge and filter option on Booking.com's platform most of them showed their interest in joining.
The 3 levels of Booking.com's Travel Sustainable guest-facing badge
Accommodations that answer Booking.com' s questions about their sustainability practices and qualify see the Travel Sustainable badge added their listings. Travelers can not only see the badge on said listings but also filter them out in search results.
Level 1 badge: This entry-level designation indicates that a property has implemented impactful sustainability practices, and will come with one leaf and a full display of the practices.
Level 2 badge: Accommodations who have made significant investments in sustainability practices will receive this level, which comes with two leaves and a full display of the practices.
Level 3 badge: This badge is reserved for properties that have invested heavily in implementing impactful sustainability practices, but have not yet achieved an official third-party certification. It includes three leaves and a full display of the practices.
How short-term rental operators can get their Travel Sustainable badge
To showcase your property's sustainability practices, first complete the 40-entry questionnaire found in the Property table on Booking.com. This survey is broken down into five categories:
Reducing waste
Conserving water
Minimizing energy and greenhouse gases
Supporting the local community
Preserving nature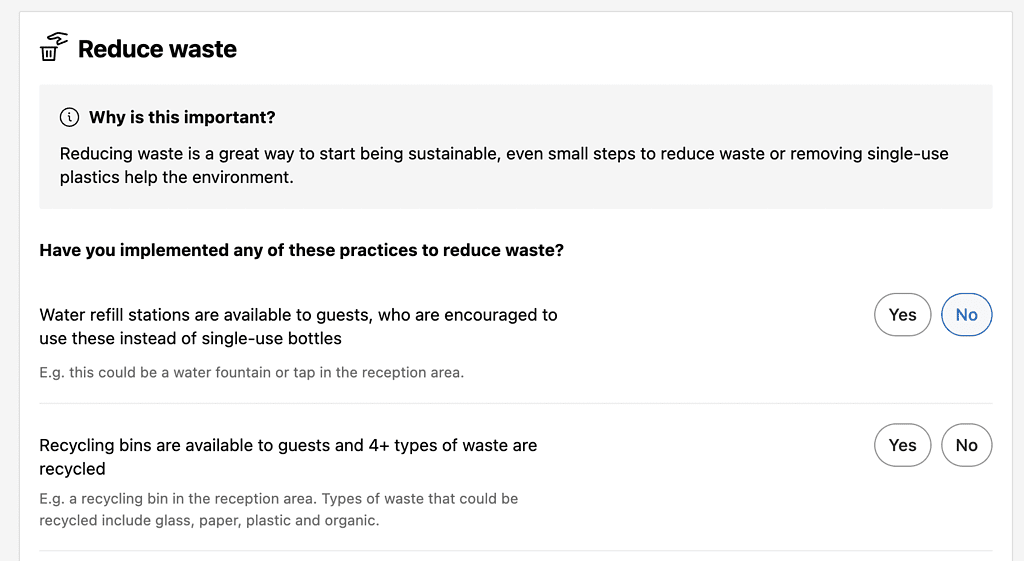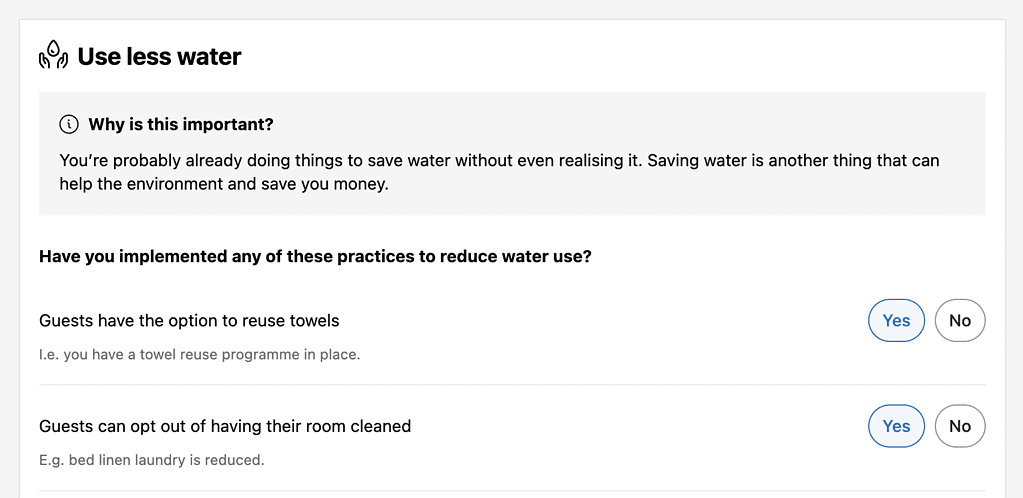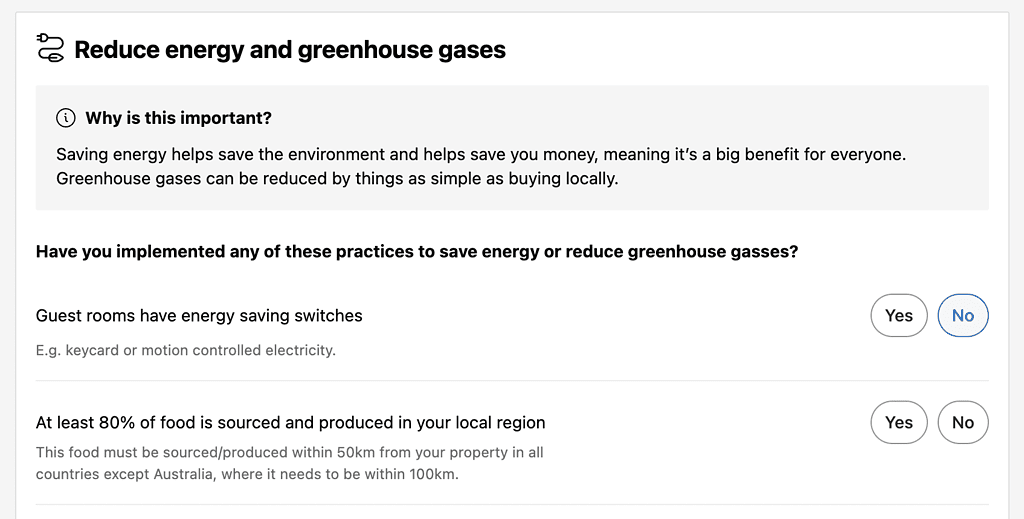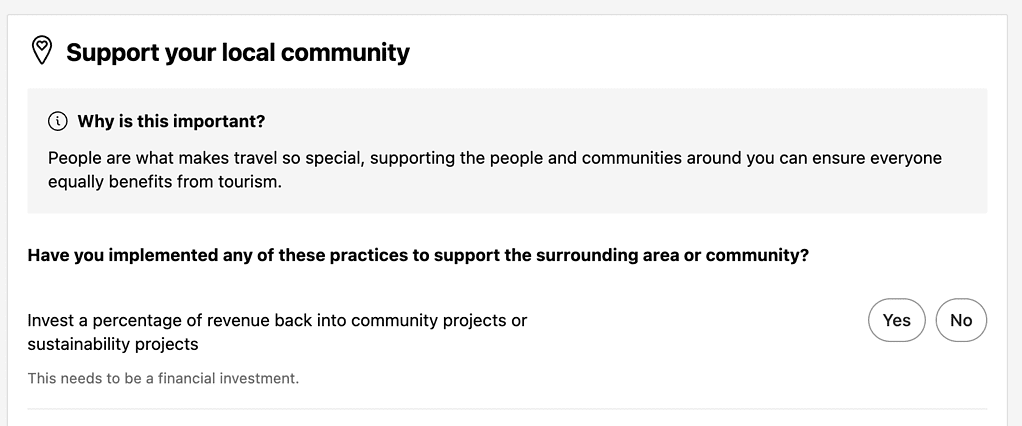 Booking's badge increases occupancy but not rates
Booking.com's sustainability badge scheme appears to be providing a boost to occupancies of properties that bear it, according to data from Transparent, a vacation rental data company. Properties with the badge recorded 47% occupancy, compared to 45% for those without – a 2 percentage point difference leading to an overall 4% increase in occupancy. This positive finding is encouraging, given the program's relative infancy and lack of knowledge among guests of its existence. However, Average Daily Rates (ADR) for sustainable properties are not above their unbadged competitors.
Holidu's Eco Badge Boosts Visibility and Bookings by Up to 29%
Holidu is a vacation rental meta-search engine that provides travelers with a wide range of properties to choose from. Property owners who have invested in sustainable facilities can receive greater visibility by obtaining the Eco Badge.
EnviroRental's Bob Garner tipped us off to look at the results of an experiment by Holidu. Data analysis has revealed that these properties are 11.51% more likely to be clicked on and 28.73% more likely to get booked once they do so – demonstrating that travelers care about the environment and prioritize sustainability when searching for vacation rentals. The Eco Badge is prominently displayed on both the search and detail pages, making it easier for travelers to find their desired vacation rental.
Conclusion
Despite initial skepticism, vacation rental operators are gradually showing an increased interest in Booking.com's sustainable badge program. This is leading to higher occupancy rates as guests become more aware of the eco-friendly options available to them. As this trend continues to grow, more people will likely become more conscientious about their travel and its impacts on the environment.