Times are tough for operators of urban short-term rentals in North American and European cities. Not only has COVID-19 run ruined into international and domestic demand, but new regulations have kicked in. For instance, on October 1, 2021, the number of listings in Amsterdam dropped by 78%, after platforms started enforcing mandatory registrations. It was a 13,000 drop in listings for just Airbnb. The story is the same from Prague to Vienna, Barcelona to Budapest. In Paris, Booking.com just got fined €1.2 million for not sharing short-term rental data fast enough with the municipality.
Yet, the industry also needs to look itself up in a mirror, on both sides of the Atlantic. For instance, the New York City municipality filed, on, October 14, a lawsuit against property manager MetroButler for operating hundreds of illegal rental units. Staying at an urban rental can still feel like being part of something illegal and can deliver a poor guest experience, as we will see.
So, what are platforms like Airbnb and Booking doing? First, they are trying to find ways to work with municipalities and with international bodies such as the European Union to simplify requirements. Second, they are trying to change their brand perception, as illustrated by Airbnb's insistence on talking about its "unique stays" properties which represent only 100,000 of its listings (more data in the article).
Regulations (and COVID-19) have hit Airbnb supply really hard in key European markets
Thanks to AirDNA, we already published in August 2021 a graph that showed the drop in the number of listings in key European cities.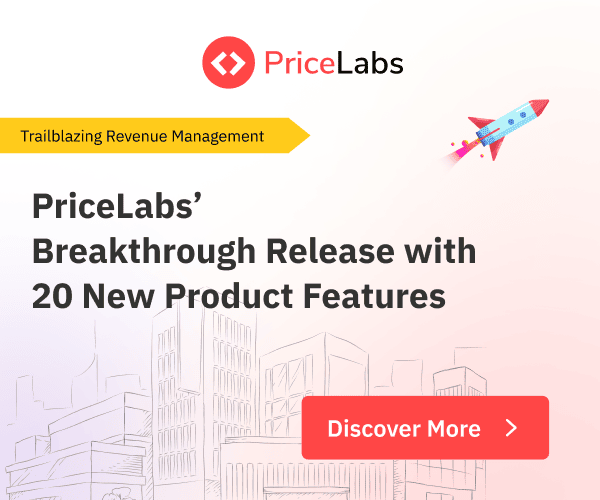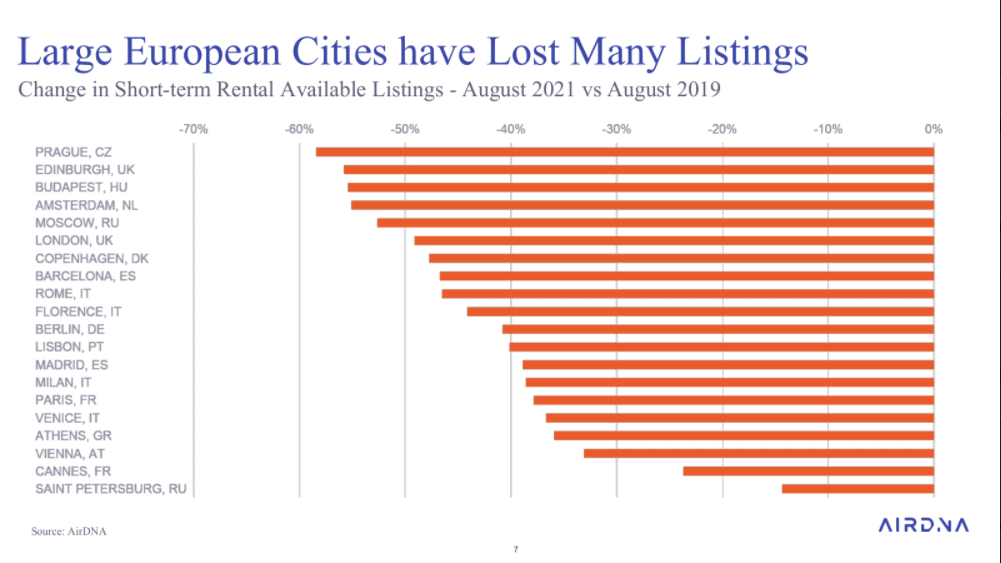 New regulations, international travel bans, and domestic travelers' preference for non-urban destinations have hit urban centers since March 2020.
Note that this graph was measuring the drop in AVAILABLE listings. Indeed, some listings can be like ghosts: They are technically registered on the platforms, but they offer no available and are there not bookable.
In the case of Amsterdam, the drop is not just in available listings, but in actual listings. On October 1, 2021, short-term rental platforms had to remove any listing that had not provided a registration number. According to the Dutch newspaper Het Parool, the total number of listings from the five platforms Airbnb, Booking.com, Expedia, Tripadvisor, and VRBO, went down from 18,715 to 4,128 (-78%). For Airbnb only, the ultra-dominant player in Amsterdam, this is a massive drop by more than 13,000 listings!
Since August 2021, Barcelona not only limits short-term rentals to registered properties only, but it now also forbids short-term private-room rentals. The supply in the popular Catalan capital is thus further limited. Among all the platforms, it is Airbnb whose number of listings has been hit the most by this additional regulation.
In Vienna, the number of listings could go also go down, as Airbnb has just agreed to remove all municipal-owned buildings in Vienna from its platform. It was already illegal for tenants to put their place on Airbnb, but many did it nonetheless. Airbnb is helping enforce this ban.
In Prague, since the beginning of the COVID-19 pandemic, the local municipality has seized the occasion to restrict short-term rentals. In summer 2021, the Prague Municipal Court ruled that short-term rentals via platforms such as Airbnb and Booking.com are in fact "accommodation services" – and must be registered and taxed like hotels.
In Paris, Booking.com was fined on October 18 for disregarding certain provisions of the tourism code pertaining to short-term rentals. For instance, it did share data about the number of days during which short-term rental accommodations had been rented. The City of Paris, which was seeking a fine of more than 150 million euros, had summoned Booking before the civil courts in January 2021, arguing that it had not received the requested information "within the time limit". However, the judges decided that the issue was not that big. "Booking.com BV demonstrates that it has transmitted the information requested," states the court's decision, which however considers that the company was "late" in communicating the data requested by the City of Paris.
Frankly, some Airbnb hosts in urban market are borderline scammers that we're glad to see gone
Urban short-term rental managers have sometimes played fire with local regulations to grow fast. For example, in New York, it was for years almost illegal for property managers to run a legal business. On October 14, 2021, we learned that New York City's Office of Special Enforcement was suing former high-flying property management company MetroButler.
The municipal office claims that, between 2015 and 2019, MetroButler created, advertised, and managed more than 300 Airbnb listings for illegal short-term rentals in at least 270 units in buildings across the City, through at least 264 unique Airbnb user accounts. During this same time period, MetroButler completed over 4,000 illegal short-term rental reservations covering nearly 18,700 nights.
The City's suit accuses MetroButler of unlawful advertising, deceptive trade practices based on advertising short-term rentals without disclosing the illegal and hazardous nature of the rentals, illegal advertising and occupancy in multiple dwellings, and other violations.
You may think that staying at an illegal short-term rental is something of the past. Yet, recently, travel industry journalist and Airbnb skeptic Dennis Schaal shared his terrible experience in Los Angeles, in a widely-read article called "When Short-Term Rentals Make You Desperate for a Hotel".
Here are two quotes from his piece:
"Staying in professionally managed short-term rentals is no guarantee of an optimum guest experience. When your host's profile picture turns out to be a free stock photo, you can guess how this ended up."
Again, as with the Booking.com reservation, I had to pledge before the host accepted the booking that I would tell no one in the building that the place was booked through Airbnb.
Now, some reports tend to create some buzz. For instance, we've reported on a study of 127,183 Airbnb guest complaints extracted from Twitter. While the report had interesting insights, for instance about the split of complaints into various categories, it grouped together real problems with people venting about unsubstantiated issues.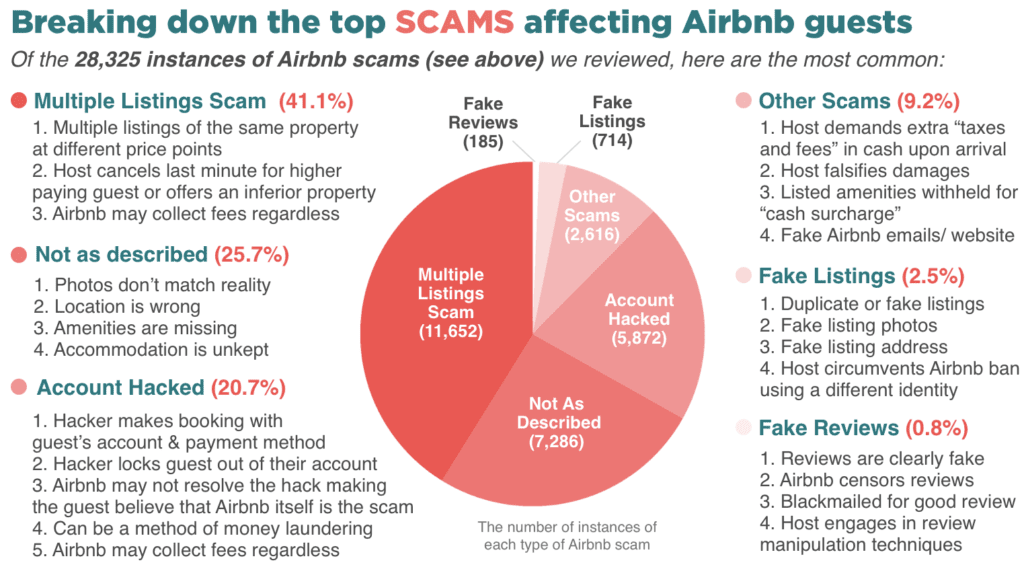 How are platforms, especially Airbnb, doing to make up for this drop in uban listings?
First, as demand gradually comes back to urban markets, some listings may be reactivated and new ones may spring up. Airbnb reports that has grown its number of hosts over the last months, so there may be some of them in cities too.
Second, Airbnb has for years been working with municipalities to make its activities legal. Airbnb has tons of employees, around the world, working on public affairs. When Airbnb helps cities collect local tourist taxes, it knows that it can create some goodwill.
In 2020, Airbnb launched its City Portal in the US. It is currently being piloted in destinations across the UK, allowing local governments, politicians, and tourism organizations not just to find the data that helps them gain insight into local travel trends, but to speak one-on-one to Airbnb support staff and deal with incidents through Airbnb's Neighbour Support Line and Law Enforcement team.
Booking.com and Airbnb also support the European Union's effort to simplify short-term rental regulations, registrations, and data-sharing duties. In a recent article, we explained how everyone in the short-term rental industry could be part of this debate. All it takes is filling an online form on the EU's website.
Last, Airbnb wants to change its image. Before the pandemic, Airbnb was synonymous with renting an apartment in a big city for the weekend. For the last 12 months, Airbnb has invested time, money, and product resources to change this narrative.
We explained how Airbnb had boldly decided to sacrifice part of its app and website homepage to promote the "I'm flexible" button. This is the entry door to its Flexible Destinations product, which gets users to discover Airbnb listings from its "unique stays" category.
Airbnb talks up its unique stays so much that you would think they make up a large share of its listings. So, out of Airbnb's 5.5 million listings, how many do you think are "unique accommodations"?
A/ 1 million+
B/ 500,000+
C/ 100,000+
The answer is C, with an exact number of 103,200 properties. Here's from Airbnb's own data:
Farm stays: over 44,000 active listings, 43% growth since 2019
Tiny houses: over 29,000 active listings, 89% growth since 2019
Huts: 8,200 active listings, 32% growth since 2019
Earth houses: 6,400 active listings, 39% growth since 2019
Barns: over 5,800 active listings, 51% growth since 2019
Yurts: 3,100 active listings, 25% growth since 2019
Tree houses: over 2,900 active listings, 33% growth since 2019
Houseboats: 2,100 active listings, 33% growth since 2019
Islands: 1,700 active listings, 30% growth since 2019
Does the growth in unique properties make up for the loss in supply in key cities? In October, Airbnb lost 13,000 listings in Amsterdam. This number alone is equivalent to all its existing supply of yurts, tree houses, houseboats, and islands combined.
To conclude, the number of listings in cities will rebound with the return of demand. But housing shortages have made restrictions on airbnbs more popular than ever. In some destinations, the peak of listing counts may not return before long.