A recent study of 127,183 Airbnb complaints on Twitter has caught the attention of many Airbnb hosts and property managers. While our Rental Scale-Up team found interesting insights from this massive research effort, led by PhDs, we also noticed that some of its findings may unfairly depict hosts as scammers.
You will find under the interview an infographic that sums up the findings of this study.
Behind these Airbnb horror stories, we found that users often have no clear idea of how Airbnb works. For instance, Airbnb is completely OK with hosts listing their place several times, for instance as a 2-bedroom and as a 3-bedroom listing. Yet, it is super easy to create a Twitter storm with a quick screenshot and some partial analysis. We had already covered the topic at the height of the "Airbnb cleaning fees are ridiculous / We gotta stop Airbnb" debacle.
In order to know about the study, we caught with its main author, Asher Fergusson. He spends a lot of time doing research studies and regularly works with universities and other academic researchers (such as Chelsea Binns PhD. and Eliot Assoudeh PhD.) in the US and abroad. He loves statistics and is definitely a data geek.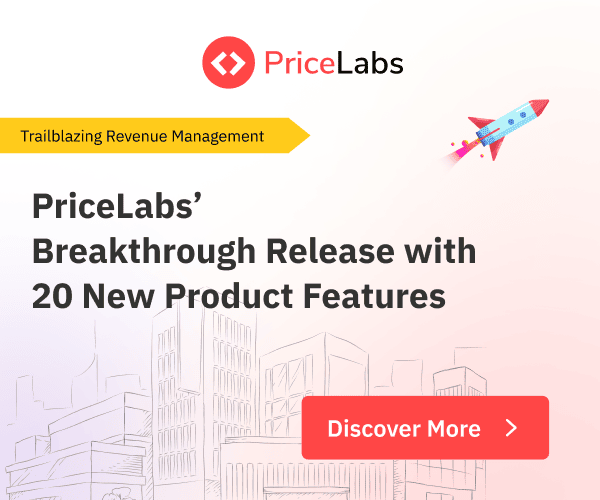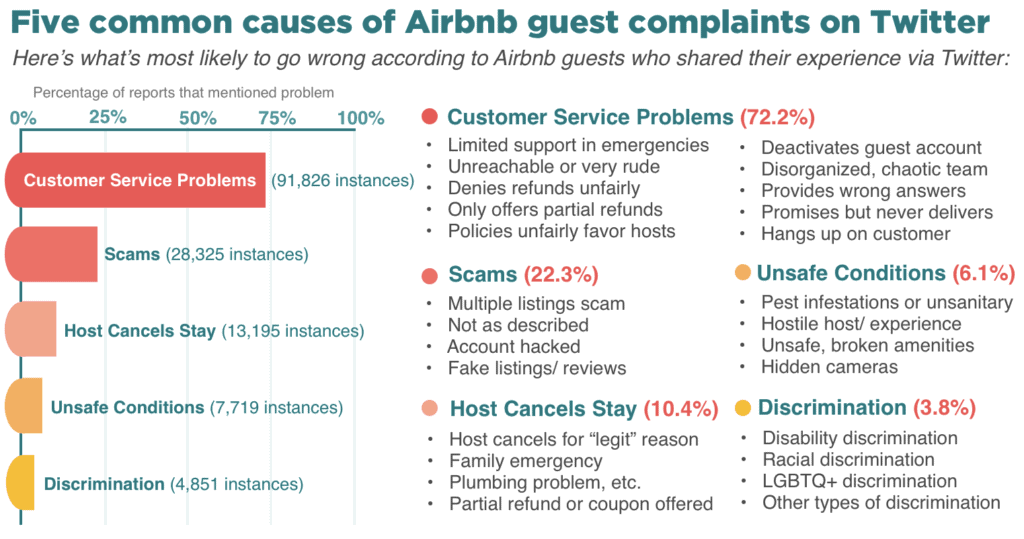 What motivated you in conducting this 2.5-year project?
In 2017, we conducted a similar study that reviewed 1,000+ Airbnb complaints after we ourselves had experienced some Airbnb scams in Paris. This time we really wanted to up the ante and analyze a larger more statistically significant dataset. We are planning on doing a similar study analyzing Airbnb host complaints.
More than anything, it's important for us that Airbnb users are aware of the problems and know how to protect themselves. Bloomberg recently reported how Airbnb spends a lot of money to try to prevent PR disasters, but we wonder if this is actually in the best interest of guests, who aren't always aware of common scams or know how to spot shady hosts, and who find themselves vulnerable to being taken advantage of because they thought Airbnb was verifying all their hosts and listings.
You support and illustrate each of your data findings with actual tweets (e.g. 66 Examples of Bug Infestation & Bug Bites, 25 Examples of Rats & Rodents, and 43 Examples of Dirty Bedding & Linens). Could you list the top 3 tweets that you find the most memorable and tell us why?
These three are some good examples:
These may not be our most shocking tweets, but they are good examples of what we repeatedly saw. Fake listings, unsanitary conditions, and discrimination are all a problem on the platform. Airbnb is taking fees on every booking and may not be doing enough to prevent problems in the first place. It can be tempting to sensationalize the problems because they cause a visceral reaction, but to us, it was more important to share real peoples' stories of real events, events that are happening all too often.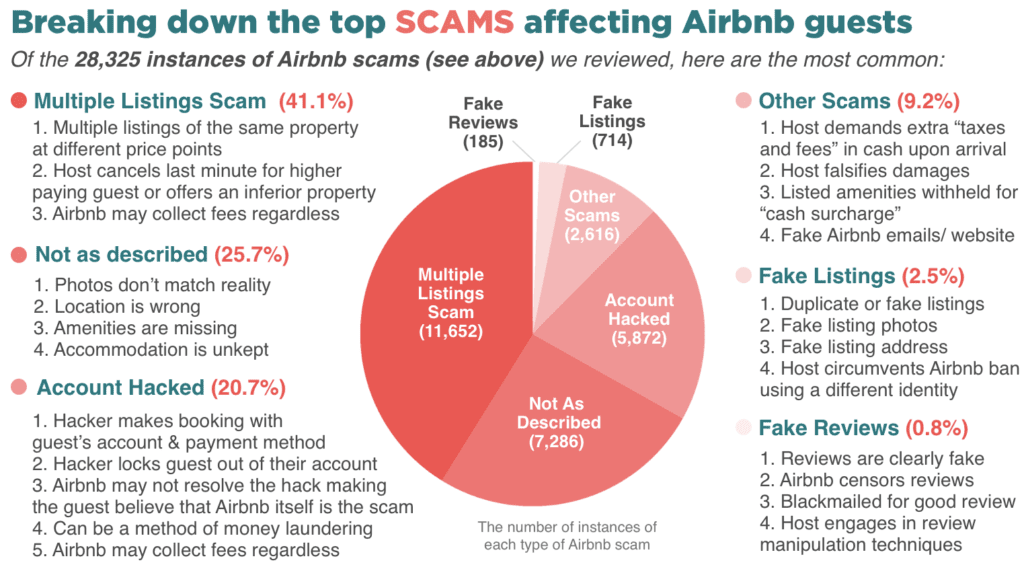 What is the finding that has surprised you the most?
I think it is tempting to write off bad experiences as a one-off, abnormal problem, but the more we looked into it the more we realized exactly how extensive and prolific the issues on the platform are (at least with those willing to share via Twitter). So many people are out hundreds or thousands of dollars, with a limited response or recourse from Airbnb in many cases. The complaints about customer service are what surprised us the most. It seems like Airbnb takes high-profile, viral situations seriously but some of the other (less prominent) complaints are simply ignored.
Will you get a full refund if your rental has bed bugs or simply doesn't actually exist, or will you be stranded in a foreign country with no money and no response from customer service? According to our research, enough people are being stranded or only given partial refunds more often than you might think. The number of tweets from people in scary, vulnerable, and ridiculous situations because of the platform definitely surprised us.
Your report brings awareness about recurring issues. Yet, honest Airbnb hosts may think that your findings may undeservedly tarnish a whole industry. What would you tell them?
On the contrary, I think Airbnb being held accountable for the prolific scams, discrimination issues, and intensely poor customer service will help the good faith hosts.
We were avid users of the platform at one point and would love to be again, but our family's safety comes first. There are enough problems, enough horror stories, enough "slumlords" running rampant, that actually finding the good, honest hosts is becoming harder, to the point where many, many people are instead opting to turn back to traditional tourism venues like hotels. Yes, they may pay more upfront, but it only takes one ruined holiday with Airbnb to decide that you'd prefer reliable, dependable housing than more discounted housing that could go completely sideways.
The honest hosts should be just as angry as anyone about how poorly Airbnb guests are being treated by their competing hosts because it devalues the whole service and costs them credibility and potential customers.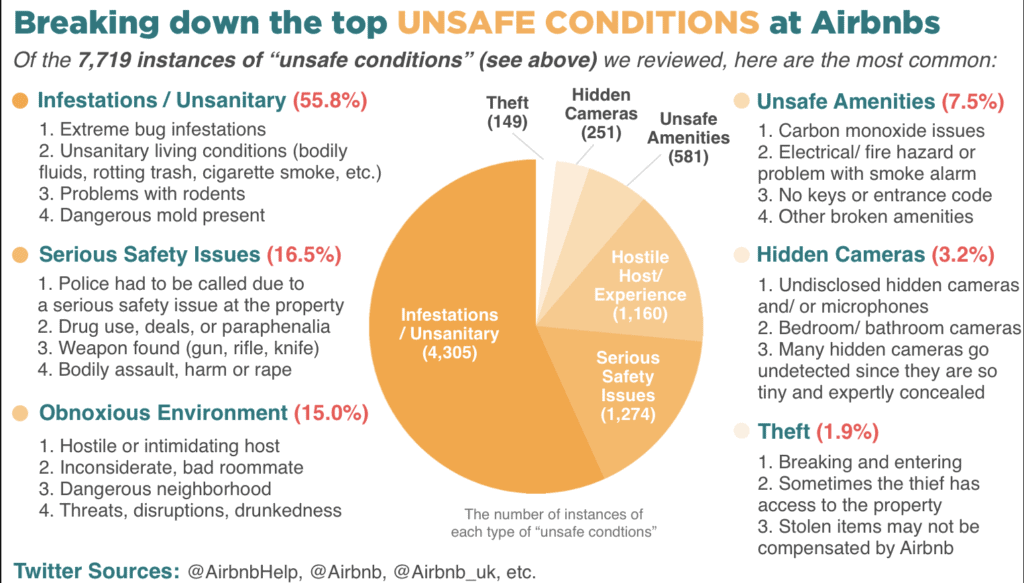 To play the devil's advocate: Can tweets be trusted at all? For instance, we wrote an extensive piece about how a tweet about "ridiculous Airbnb cleaning fees" created a twitterstorm and forced Airbnb to conduct a study about its fees. We found out that the tweet originated from an adult performer who wanted to promote her OnlyFans account. How may this influence the quality of your findings?
Someone using their platform to get free promotion isn't necessarily a bad thing if they're bringing light to a valid problem. She didn't lie or mislead anyone about the fees which were exorbitantly high, and it resonated with many people who also have been turned away by Airbnb's increasingly ludicrous fees. If it had been one isolated incident, it would have fallen flat, but it got a lot of attention because $100+ fees on a platform where you are still very much expected to clean up after yourself is crazy to a lot of people.
However, that one situation aside, we encourage people not to take our word for it, but to go to Airbnb Twitter themselves and take a look around. These are not the tweets of wannabe influencers, these are the tweets of people who are desperate because no other support channel has helped them. The overwhelming majority of Twitter users reaching out to @AirbnbHelp have no apparent ulterior motive, besides a sense of helplessness, frustration and fear at a lack of responsiveness from the platform that is literally in charge of their living space for a period of time.
Think about what a vulnerable position that is. You, maybe your spouse, maybe your children, are relying on this company that you've paid hundreds if not thousands of dollars for a listing, sometimes in a foreign country, in an effort to stay safe and housed. But then, you find out that the listing doesn't exist. Or it was horribly misrepresented, or too unsanitary, or the host is being discriminatory. You contact customer service, and they either don't answer at all, or give you the runaround.
With all this being said, I am sure there was a certain percentage of the tweets we analyzed that may not have been real or were exaggerated. However, I strongly believe it would be a small enough percentage that it wouldn't have changed the outcome of the study by much.
You report that "Multiple Listings of the Same Property" is the most frequent scam (41% of all scams). Yet, when reading the tweets you give as examples, we think that it may also cover legitimate cases. We think that one issue is that Airbnb is OK with duplicated listings. Yet, many travelers do not know it.
– The same place can be booked as a 2-bedroom or a 3-bedroom. In full compliance with Airbnb's rules, the owner can create one listing for each of the room configurations. The listings are clearly labeled as either a 2-bedroom or 3-bedroom. Airbnb even allows hosts to link the calendar of these listings, to avoid double bookings. Thus, travelers may run into 2 listings for the same place, posted by the same owner, but we would not call it a scam.
– An owner may list her place directly on Airbnb. She may also be working with a property manager, who can also list the place on Airbnb. Usually, the property manager adds a management fee, which makes the property more expensive. Then, you can end up with the property, listed twice, by two hosts, for a different price.
In what we saw, guests would discover the "multiple listings of the same property scam" when they were canceled last-minute. The guest would discover the exact same property (some number of rooms) with the same amenities and same (or similar) photos had been listed multiple times at different price points. Oftentimes these places are also listed by different hosts and have completely different reviews.
Your study also digs into unsafe conditions at airbnbs. The most frequent one appears to be infestations, unsanitary, and unhealthy accommodations (56% of complaints). Could you detail some cases you've come across? How do you see the cause for this: actual scam or poor maintenance?
In this case, it varies widely from poor management of the property to knowingly renting "unsafe" accommodation.
When a property doesn't have a smoke detector, the owner must certainly know this. However, if a place is completely moldy, it could be that there was some water damage that wasn't found until the new guest arrived and it had already caused the mold to spread.
Another cause could be the cleaning staff simply didn't do a good enough job cleaning sheets and taking out trash etc. between guests. Common issues included bug infestations, rodents, pests, mold, bodily fluids, rotting food, and other unsightly or unsafe living conditions.