AirDNA and Rental Scale-Up are partnering to share and comment on insightful data about European short-term rental market performance moving forward as they celebrate AirDNA's inaugural European Market Review release.
From Russia to the UK, from big cities like Paris to secluded rural destinations in Bavaria, the changes in the demand for holiday rentals, from 2019 to 2021, could not have been more contrasted. Looking at average European data is relevant as a yardstick, but the whole continent cannot be explained through averages. Let's have a look at data provided by AirDNA to tell the story of the Summer 2021 demand for European rentals.
A story of demand spanning over fewer listings, fewer international destinations, and fewer months.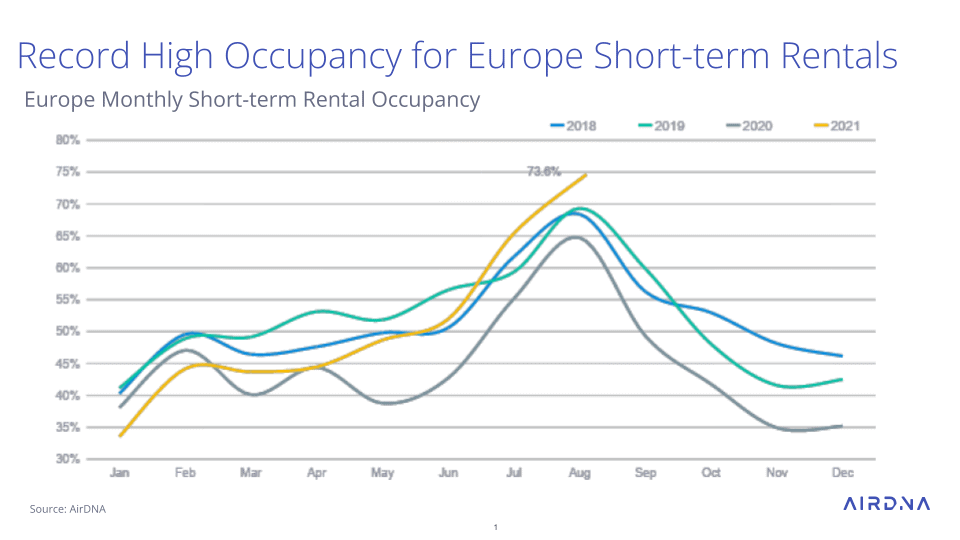 On average, occupancy in European short-term rentals reached an all-time record high of 73.6% in August 2021. This was 6.1% higher than 2019 and 13.6% higher than 2020. It sounds positive, but, as everything is life, it is all relative.
What does occupancy mean?
Occupancy rate for a short-term vacation rental is the number of booked nights divided by the sum of the available nights and booked nights.
So, if you have the same demand (i.e. booked nights) but suddenly fewer listings available, then occupancy will go up.
In Europe, AirDNA tracked more than 42.3 million nights sold in August 2021, which was the highest number of listing nights sold since the start of the pandemic. Still though, it was 21.0% lower than 2019 levels.
Meanwhile, the number of listings went down by about 20%, on average. Some destinations, such as large cities, urban markets with stronger short-term term regulations, and a high dependency on foreign travelers, experienced must larger decreases in supply. For instance, in London, the number of available listings went down by 48% compared with 2019.
As you will below, demand was concentrated over fewer months, especially July and August, demand remained soft until late June.
So, the occupancy rate reached a record in August 2021, but a lof short-term rentals listings were just not available anymore. The record also masks the fact that, until July, average occupancy was not record-breaking at all, as it remained largely under 2019 numbers.
Short-term rental occupancy rates in Europe: Spikes in July and August, but smoother UK numbers
In France, Spain, and Italy, occupancy only peaked in July and August. Occupancy in the UK has been growing more steadily since travel restrictions were lifted in April. Germany was in an intermediate situation, with occupancy rising to an amazing 79% in August.
Yet, as we will see below, high occupancy does not automatically equate to high demand. The drastic drop in supply has contributed to create rosy occupancy figures.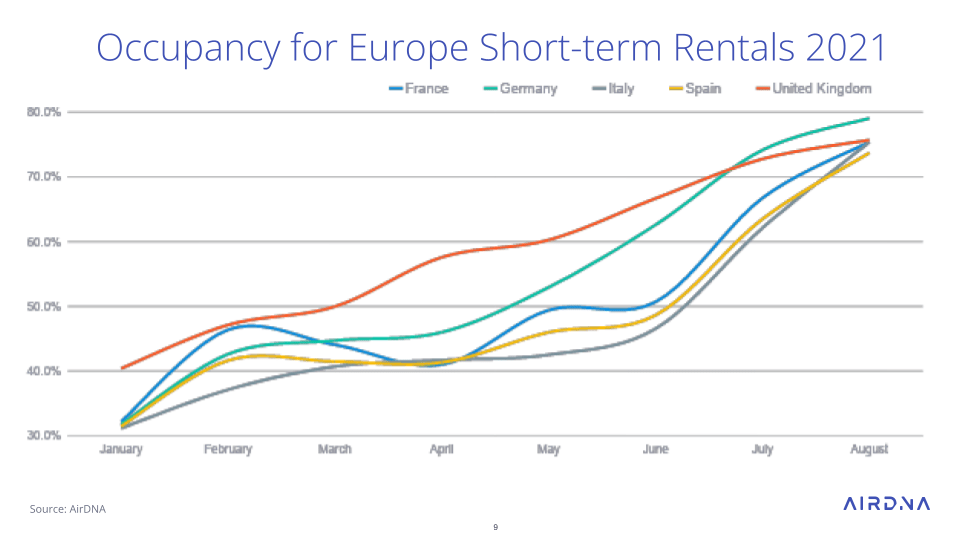 The number of available short-term rentals in Europe is still 21% below 2019 levels
There are fewer available listings. A few reasons that we can think of:
In urban markets, owners have removed properties from the short-term rental market to put them on the long-term / residential markets
Legal restrictions have driven more listings out of the market
A few secondary homes are occupied by their owners, so are not available on the market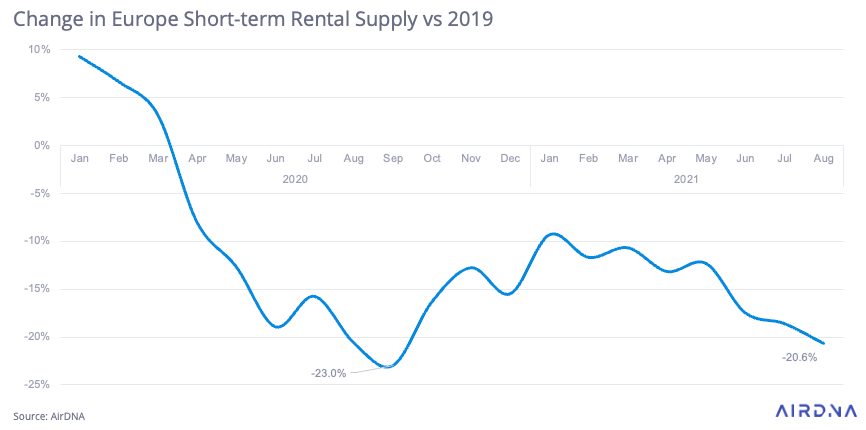 Looking at the graph below, we can see that medium-sized cities that traditionally attract a lot of foreigners have been hit hard. The impact is even bigger if local municipalities passed new restrictions on short-term rentals between 2019 and 2021. Case in point: Prague (-58%) and Amsterdam (-55%).
Large European cities such as London and Paris make the list, without too much surprise. Given the size of these cities, this is a lot of short-term rentals to have gone out of the market.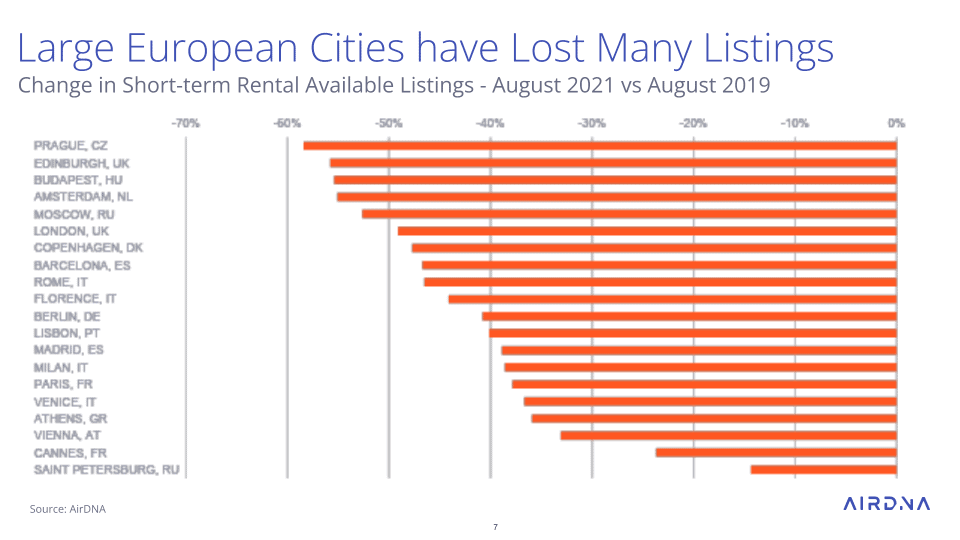 Demand concentrated over fewer destinations that could be supported by strong domestic markets
In August 2021, the average demand in Europe is still 21% below 2019 figures.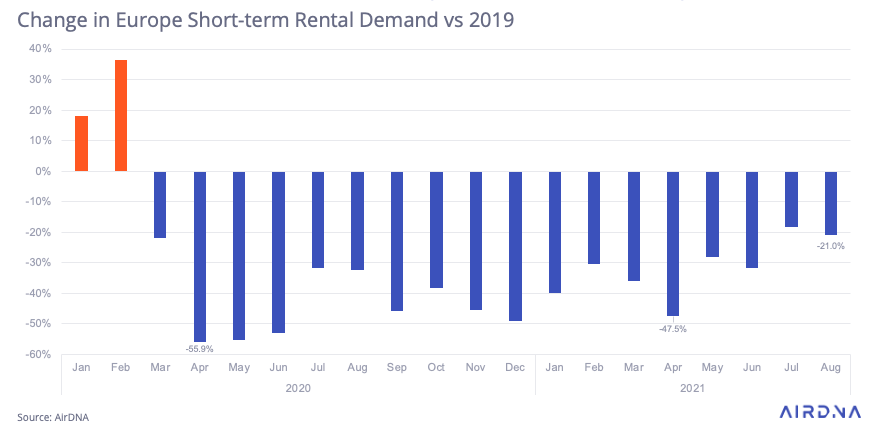 As we've seen occupation rates are record high, as the lower demand concentrates over an even lower supply.
Demand was also concentrated on some destinations. In our report on the French market, we saw that demand for the Paris region was still dramatically low compared with 2019. The contrast between a metropolitan area like Paris, which usually attracts millions of French and international tourists, and a rural region such as Burgundy is strong. Non-urban French destinations did well, thanks to the domestic markets and nearby visitors from countries such as Belgium and The Netherlands.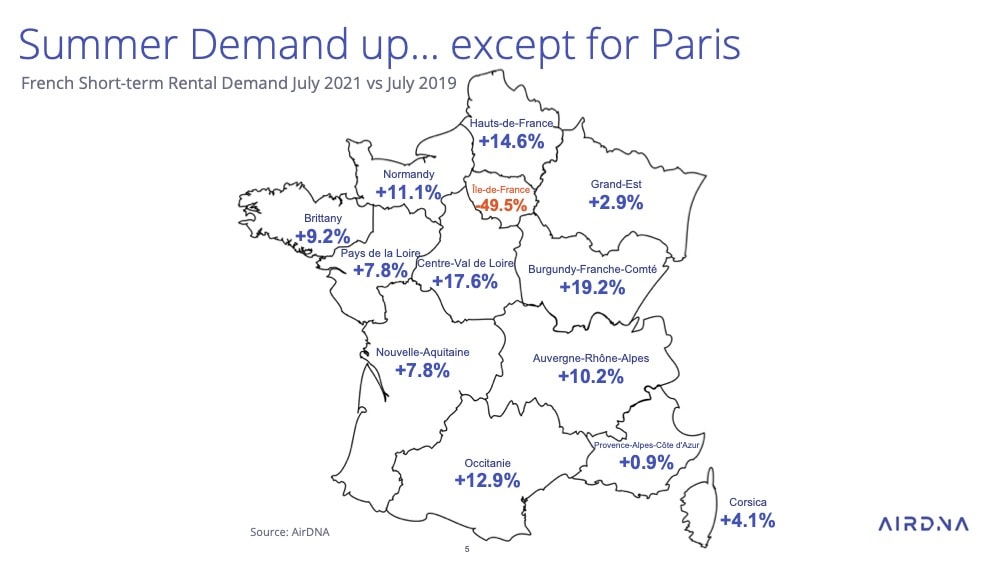 This example with the French market matches the following graph. Here, we are comparing:
The share of domestic demand for short-term rental in 2019
With the change in demand from 2019 to 2021
We can see a relation between the importance of domestic demand and the changes in overall demand: The higher the share of domestic demand, the lower the drop in overall demand for short-term rentals.
For instance, France, Russia, and the United Kingdom were supported by their local demand. Countries that traditionally have a low share of domestic demand, such as the Czech Republic, Hungary, Portugal, and Croatia, saw the biggest drops in demand from 2019 to 2021.
Germany is again an interesting case: The change in overall demand was lower than expected by the model. If we link this observation to the record-high occupancy levels in Germany, we can think that Germans turned to local short-term rentals in big numbers and relatively more than usual.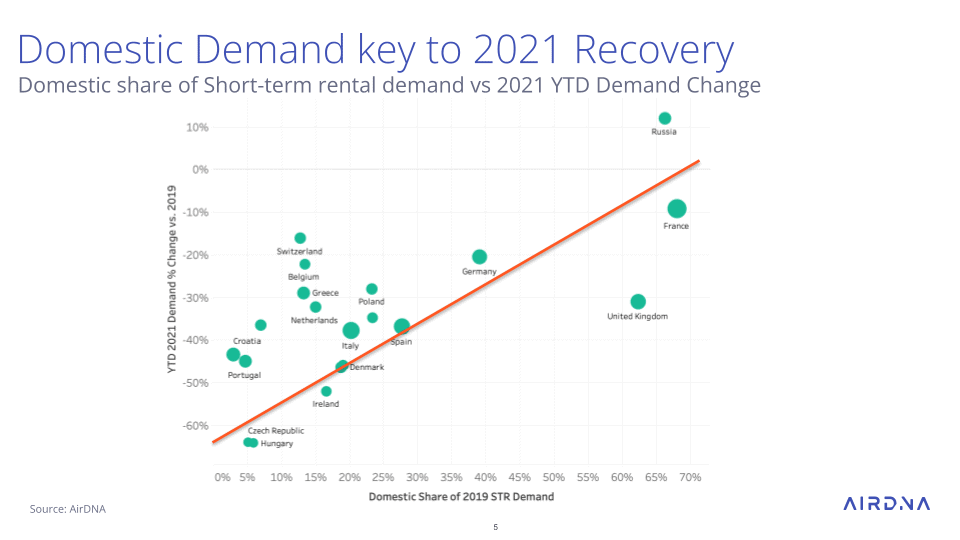 Autumn 2021: Germany and the UK to do better than in 2019
Looking at future demand, as expressed by nights booked, Germany and the UK should continue to enjoy a better situation than other European countries. Some countries, which are traditionally more popular Autumn destinations, such as France, Spain, Portugal, and Italy could not be doing so well.
Again, it could be the German and British travelers are opting to stay in their home markets, fueling local demand and occupancy more than usual, and depressing the figures in other countries.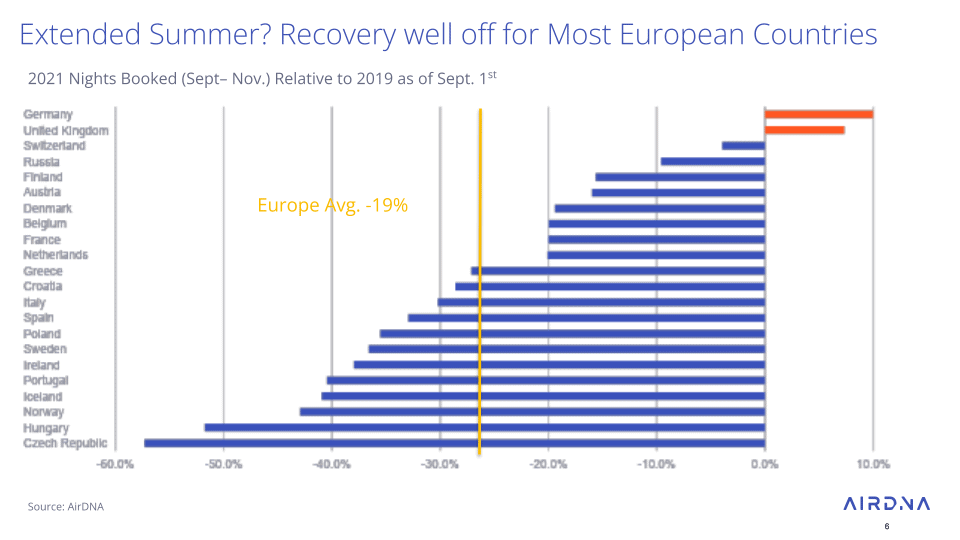 Cross-border travel throughout Europe has still not fully recovered. Travelers look more cautious after the summer, with some big markets keeping their travelers within their borders.