In Europe, the surge in short-term rental bookings has arrived. Yet, data shows that the US started riding this wave of bookings in early January, about 4 to 5 months before Europe. By looking at data from travel platform Airbnb and short-term rental data provider Transparent, we'll see how Europe's situation has been improving since April, how some countries such as the UK and France, which could balance their holiday rental supply with large domestic demand, are now in a good position. Spain, which depends more on foreign travelers is still far behind. The good news is that, in the EU, the number of cross-border searches is now bigger than in 2019. Germans and Belgians are looking to book, for instance.
In February and then in April, we lamented how travel restrictions and a slow vaccine roll-out were hindering the European holiday rental industry. In early May, weekly bookings were still 38% below 2019 levels in Europe, while the US numbers were oscillating between 4% and 20% above. As you well see in the graphs and our analysis, these average hide different realities:
In Europe, just like, in the US, rural markets are doing much better than the average, which is weighed down by cities. On Airbnb, nights booked in rural destinations have increased: UK: +25 points (48% of nights booked), France: +21 points (45% share), and Italy: +16 points (37% share)
Booking trends in Europe varied enormously from one country to another: In early May, weekly bookings were at -6% of 2019 levels in France, but at -60% in Spain, for instance.
Airbnb data shows that booking patterns for summer 2021 are different from 2019. When looking at the reservations already logged by European Airbnb hosts, patterns that we had forecasted in our 2021 travel trend report are clear:
A rise in domestic bookings in Spring 2021, but a lot of Europeans are also keen on traveling abroad in Summer 2021.
Rates are up, especially in coastal, rural, and mountain markets (e.g. +62% for Chamonix – Mont Blanc in the French Alps). Yet, prices in cities like London, Madrid, and Paris have not collapsed.
Families are traveling and booking large properties. Nights sold in properties that can welcome 5 guests or more have increased so much that they make up 56% of all the booked nights in Spain, 53% in France and Italy, and 45% in the UK.
Historically, the most common type of summer travel on Airbnb has been one or two guests visiting a big city. But for summer 2021, the most common travel booked on Airbnb is a family leaving a big city to visit a traditional holiday rental market (sea, mountain and rural destinations).
While North America has been back to 2019 levels since January, Europe is finally bouncing back, but still at -38% as of early May 2021
All the data below is up to week 17 2201, i.e. April 26 to May 2. Our source is holiday rental data provider Transparent.
Let's start with a global overview. North America (red line in the graph) rebounded 4 to 5 months earlier than Europe. There, every week, new bookings arrive at a cadence equivalent to that of 2019. Meanwhile, European data (green line) finally have started going back up since April, to reach a level of -38% bookings compared with 2019.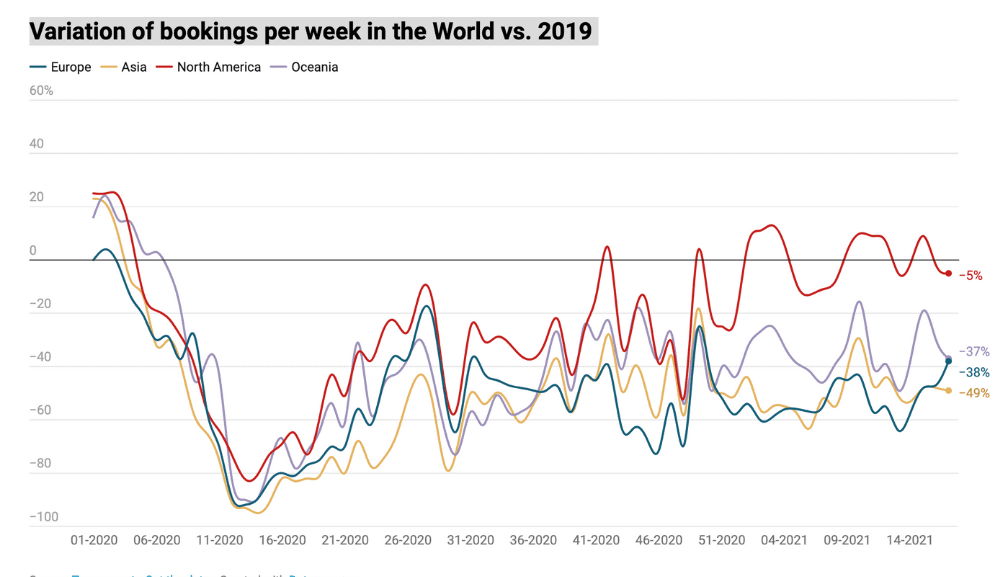 The US is driving the rebound in North America
Within North America, it is the US that has been driving the rebound, while Canada is lagging behind. Yet, the average increase compared with 2019 appears to be of +4% to +20%. This is the average of two contrasted realties:
Demand in US urban markets remains depressed compared with 2019.
Demand in traditional holiday rental markets (sea, mountain, and rural areas) must have reached very high levels to make up for negative numbers in cities.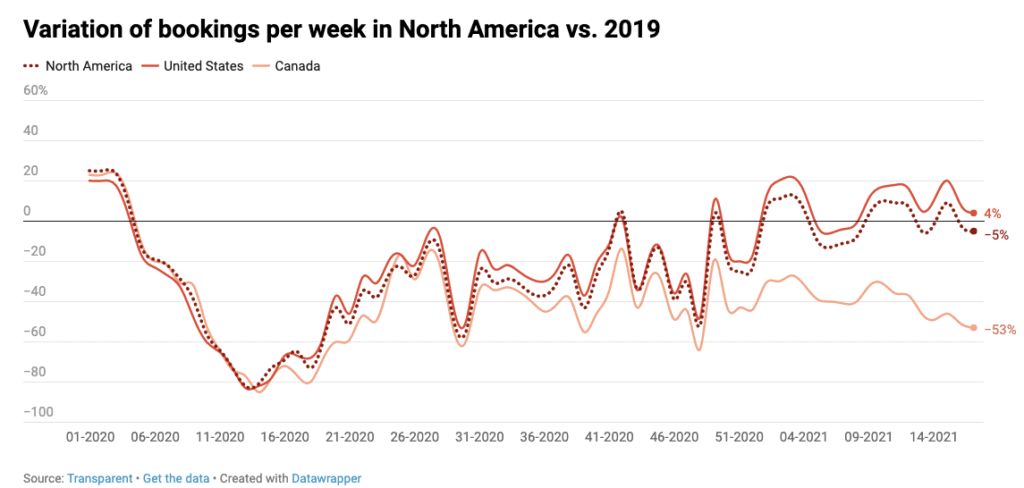 While the US has been in positive territory since January, Great Britain, Spain, and Italy remained depressed. By early May, only France was finally getting closer to 2019 levels
As o week 17 2201, i.e. April 26 to May 2, bookings in Europe were on average 38% lower in the same week of 2019. While the US was hovering between +4% and +20% (including depressed urban markets), the situation was bad in Europe, but getting better:
France: -6%
Great Britain: -34%
European average: -38%
Italy: -40%
Spain: -60%
With a large domestic market, both in supply and demand, France had done the "least bad" among these countries since January 2021. The early April 2021 local lockdown depressed the data, but they bounced back once President Macron signaled that cross-country travel would be possible again in May.
UK bookings bounced back in late February (weeks 8 & 9) when Prime Minister Boris Johnson unveiled his roadmap out of strict lockdowns.
Same thing for Spain and Italy: Messages from local authorities in April 2021, as well as the roll-out of vaccines, started having some positive effects. Yet, the absence of cross-border travel led to still very depressed numbers in these two markets, as of early May.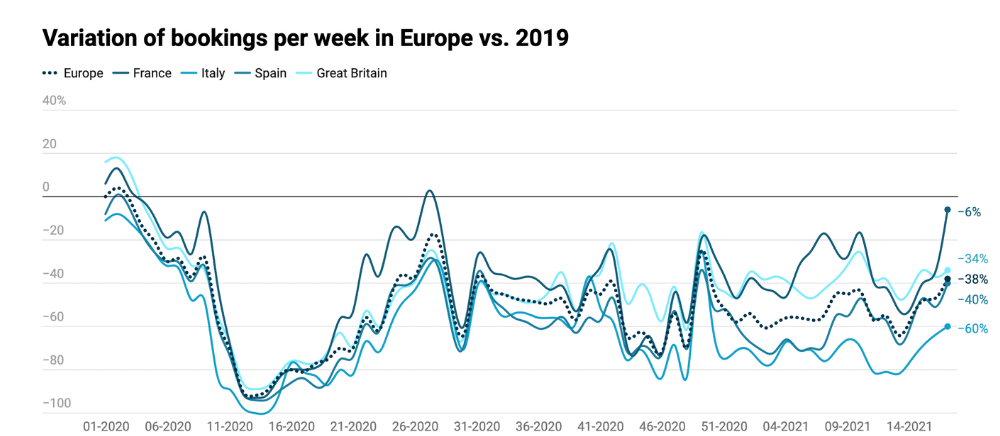 ---
Airbnb data: Domestic and cross-border searches on the rise; Announcements by governments visible in graphs
In May 2021, Airbnb released its 2021 release with 103 feature updates. It also published its Report on Travel & Living, where it shared data around domestic searches. A domestic search would be an Italian using Airbnb to search for listings located in Italy, for instance.
These search patterns are interested for our analysis as:
domestic demand will drive a large share of bookings in Europe in summer 2021 again
when borders are closed, domestic searches represent a big share of the activity on platforms like Airbnb
a rise in searched for domestic destinations go with or anticipate a rise in domestic bookings
at a time where countries are under lockdowns and travel restrictions, announcements by national and local governments have a direct impact on domestic searches
Within the European Union, cross-border searches are booming, with more such searches on Airbnb than in 2019
In the 7-day period from May 18-24, the volume of searches on Airbnb by people in EU member states looking for cross-border stays within the bloc increased by up to 31% compared to the same period in 2019. Here's the increase in cross-border searches (2021 vs 2019) for some EU countries:
Belgium (+31% compared with the same week in 2019)
Germany (+28%)
France (+15%)
Portugal (+14%),
Italy (+12%),
Spain (+12%),
Austria (+8%),
and the Netherlands, Czech Republic, and Ireland (+4%).
So, if your properties traditionally attract Belgians and Germans, you should see bookings coming in soon.
Note that some countries still discourage their citizens from taking trips abroad, for instance, The Netherlands. It may explain why the increase in cross-border searches is low for the moment in this country.
The week ending May 22 also saw the highest total volume of searches by people from European Member States for all stays on Airbnb within the bloc since the pandemic began, including domestic and cross-border stays.
UK: Since Prime Minister has explained its lockdown roadmap on February 22, domestic searches have risen to and sometimes surpassed 2019 levels
The 2021 numbers of domestic searches (red line) has more or less been matching 2019 numbers since late February, when Boris Johnson announced his roadmap out of lockdowns.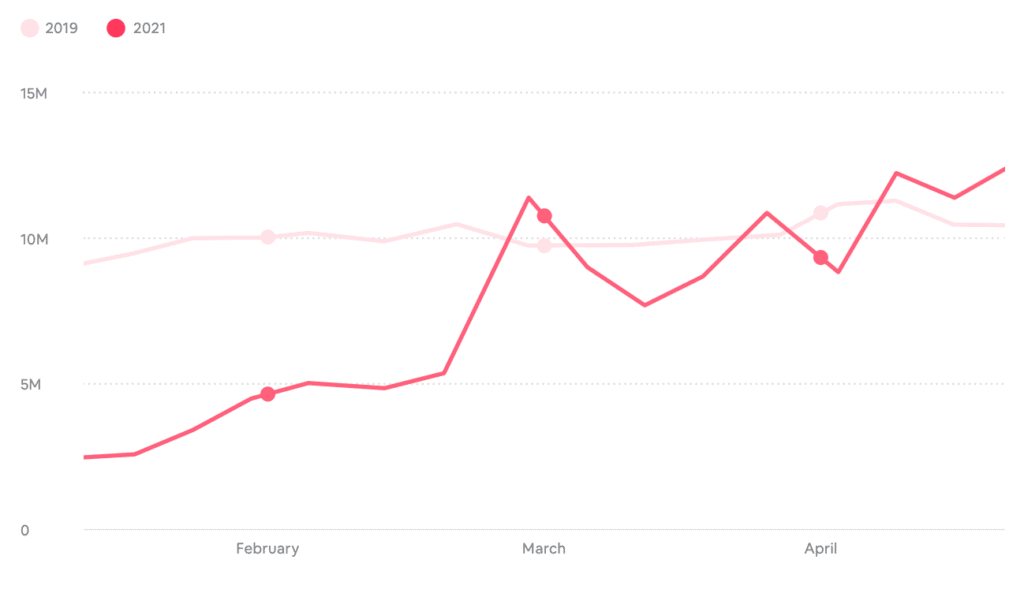 France: The April lockdown depressed domestic searches, but they came back to 2019 levels in early May
Coastal and mountain markets did well in France, during the February / early March holidays. Yet, for most of April, a new lockdown was enforced. People could not travel for more than 10 kilometers around their homes. Domestic searches plunged again below 2019 levels. Yet, President Macron's announcement provoked a sharp rise in early May, with numbers surpassing 2019 levels again.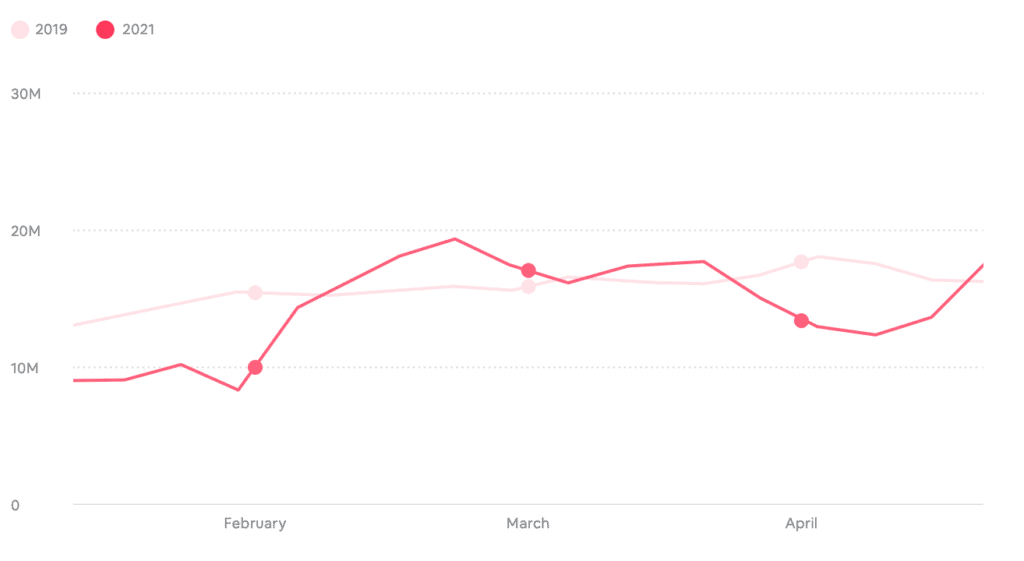 Spain: Domestic searches rising, but still way below 2019 data
From early January to late April, numbers of domestic searches in Spain remained about 50% lower than those of 2019. The country has suffered not only from a lack of international travelers but also from travel restrictions among Spanish regions.
Something that we cannot tell from Airbnb's data is whether tourists already in Spain and using Airbnb to book a place would have been counted as "domestic searches". If so, a part of the negative impact on domestic searches data may have ironically come from the absence of foreign traveler.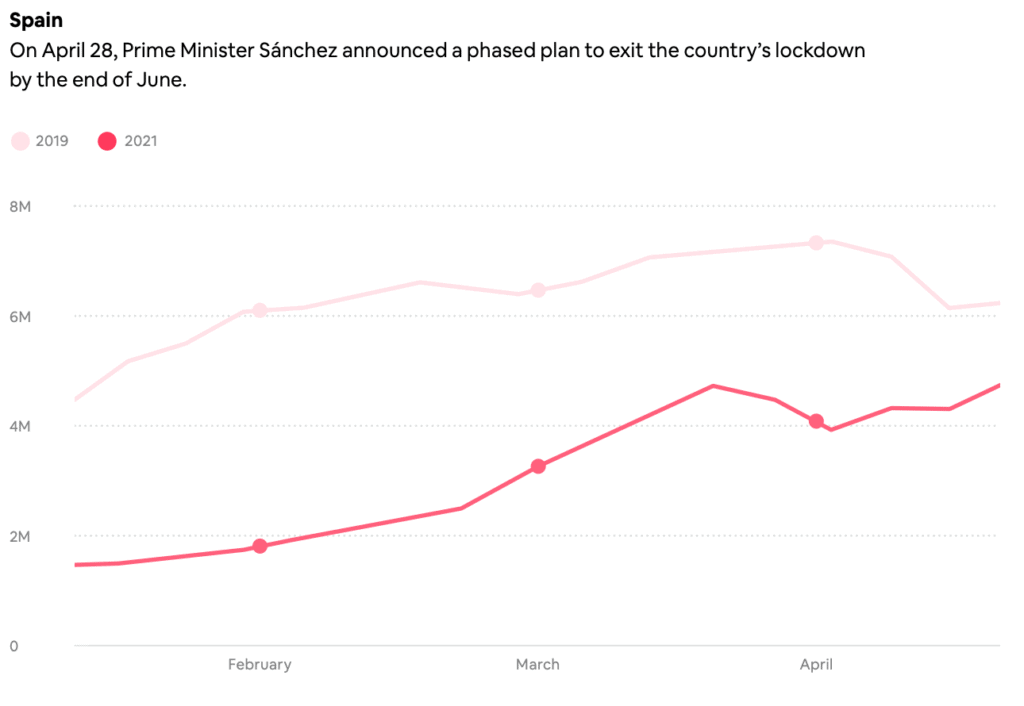 ---
European bookings are different from 2019: Higher ADR, larger houses, longer stays, more rural destinations
When looking at data to make sense of trends, it is important to take a step back and use our knowledge of the industry. Otherwise, interpretation of the data can go very wrong. One source of confusion can be Relative share vs Absolute numbers. To understand this bias, ket's use exaggerated cases:
Imagine that data shows that the share of rural bookings on Airbnb has gone from 20 to 80% of bookings, while urban has gone from 80% to 20% of the market. It may not mean that overall the number of rural bookings is bigger. It could be that urban bookings are so low, that even just a few rural bookings can make up 80% of what is getting booked.
Same thing with shared homes on Airbnb: Because of social distancing, maybe no one wants to stay in a shared apartment. So, mechanically, the share of "entire homes" booked will increase … even if the actual number of entire places is not increasing.
Another big caveat with the Airbnb data is that it only captures the demand and the supply available on Airbnb. For instance, Airbnb could be better known and more used in France than in Spain, by guests and hosts alike, even in rural areas. So, Airbnb France would be better positioned to capture the surge in rural bookings that Airbnb Spain. So, if you know a country and look at Airbnb data, have Airbnb's market penetration in mind to contextualize the data.
With these caveats in mind, let's look further at the Airbnb and Transparent data that we have gathered.
2021 average daily rates (ADR) higher in European coastal, rural, and mountains markets
The two graphs below have been created by Transparent. They use real booking data for July 2021 and they show:
Booked ADR July 2019: The average rate at which travelers booked short-term rentals for July 2019
Booked ADR July 2021: The average rate at which travelers have booked short-term rentals for July 2021 (based on bookings already recorded for this coming July)
Advertised ADR July 2021: The average rate of the remaining properties that are still advertised (so, not booked yet)
ADRs seem to gave gone up everywhere. On one hand, you could expect that between 2019 and 2021, prices would go up, because of inflation, for instance. Yet, it is not always the case, as ADRs do not jump so high. ADRs can even go down from one year to another, even in "normal" times. For instance, July 2018-July 2019 rate changes for Newquay and Keswick were -4% and -3% respectively.
So, travelers looking for bargains may be in for a surprise. Even in cities like Paris, Madrid, and London, ADRs are higher. Yet, the biggest increased in ADR is in non-urban markets, as you can expect. Let's look at 3 examples:
Rural: UK, rural national park destination of Keswick: Booked ADR is up 42% compared with 2019
Coastal: Newquay, a south coastal town: Booked ADR is up 31% compared with 2019
Mountain: Chamonix – Mont Blanc, in the French Alps: Booked ADR is up 63% compared with 2019
As we will see below, the explications could be:
A surge in demand in non-urban areas with limited supply
A preference for entire homes over shared places, even in cities (more expensive to book)
A preference for larger homes as people travel with their family (more expensive as well)


Airbnb listings with occupancy of 5 and more are getting booked more than in 2021
Airbnb has created the graph below. It shows the share of nights booked at listings that can welcome 5 guests or more, in summer 2019 vs. summer 2021. So here, we are looking at what sold in 2019 vs what is selling now. These larger accommodations accounted for 35% of summer nights stayed in 2019 and now account for 54% of summer nights booked in 2021.
Note that, as summer 2021 is not over, we think that a caveat could be that large places tend to be booked first in the season.
The increase in preference for larger properties is also true in Europe:
France: +24 points (53% share)
UK: +20 points (45% share)
Italy: 20 points (53% share)
Spain: + 19 points (56% share)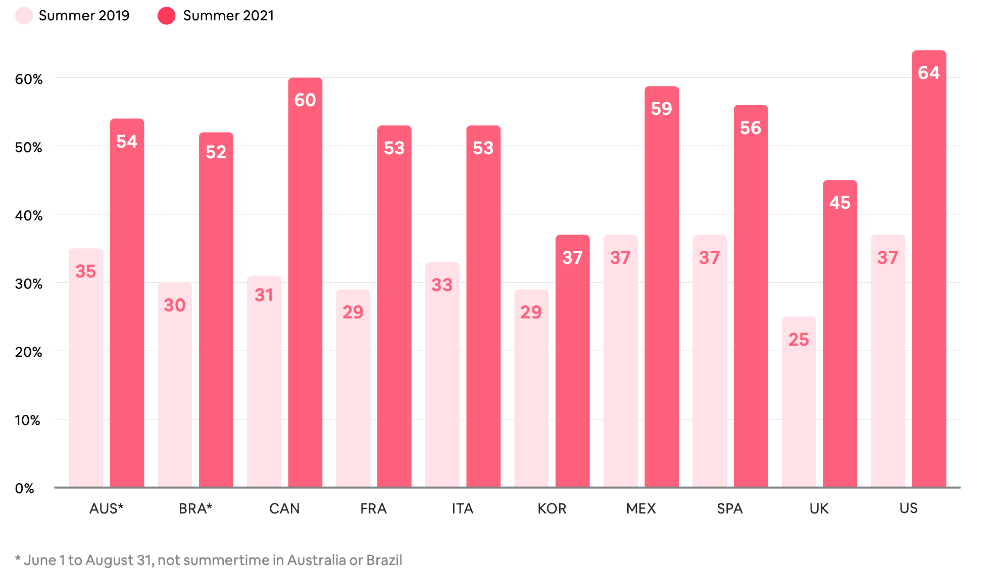 As small apartment rentals in Paris became less popular than larger holiday rentals on the coast, the shift of preference goes together with a change in booking geography.
On Airbnb, top markets per country have changed from capital cities to coastal markets
Here, Airbnb is sharing which market is #1 per country in 2021. For instance, Paris was #1 in 2019, now it is the région of Var. Grouping together a whole region (e.g. Sardinia) against a city (e.g. Rome) may be subjective, but if Airbnb already had these market definitons in 2019, it is telling.

The share of rural listing in nights booked has increased in Europe, especially in the UK and France
It not just the coast that is surging, rural destinations too. Countries such as the UK and France, with a large supply of rural properties (that are listed on Airbnb) have recorded a surge in bookings.
UK: +25 points (48% share)
France: +21 points (45% share)
Italy: +16 points (37% share)
Spain: +8 points (20% share)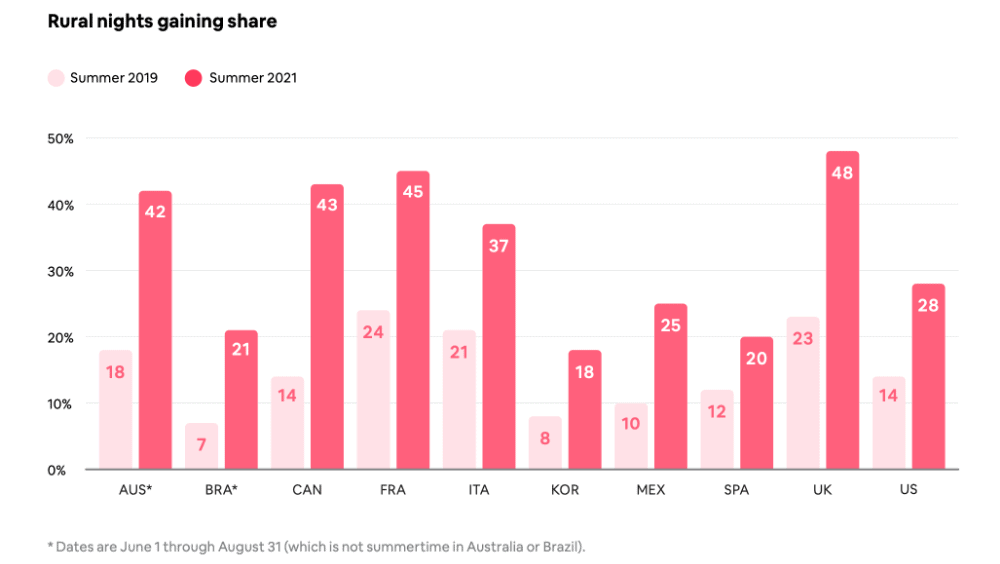 A higher share of long-term stays …. until people can actually travel and book holidays?
Not everything is bleak for cities. Airbnb has noted that