How would you explain Airbnb's resilience in 2020, relative to its competitors? For instance, while Airbnb's revenues dropped by 22% in Q4 2020, those of Booking Holdings went down by 64% and Expedia Group by 67%.
Why is Airbnb doubling down on courting individual hosts in its advertising campaigns and in the new product features it is rolling out? Why is the company equating professional property managers to mercenaries who would list their properties anywhere and could risk commoditizing its marketplace and brand?
Key takeaways from this article:
Airbnb beat investor's expectations about its revenues and overall financial performance.
Airbnb's business could rely on a dynamic US market, while Europe lagged.
The company did relatively much better than Booking and Expedia/Vrbo, as it was less impacted by the slowdown in flight, hotel, and business travel bookings. The relative dynamism of entire home vacation rental in the US helped as well.
Airbnb wants to recruit more individual hosts and to onboard them faster. The upcoming "Made possible by hosting" campaign will showcase the benefits of hosting to attract new hosts.
Brian Chesky can count on a platform custom-built for small hosts and robust payment capabilities to create a better value proposition than its competitors.
Q4 2020 Airbnb earnings call: Airbnb beats investor's expectations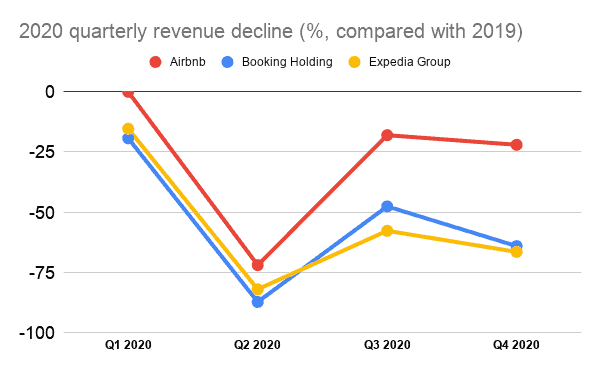 How did Airbnb do in Q4 2020, i.e., in October, November, and December, when the quarter is traditionally slower than in Q3 (summer in North America and Europe) slower, and the middle of the second wave of COVID-19 cases? Not bad at all, actually.
In Q4, Airbnb's revenue of $859 million was down only 22% compared with the quarter in 2019. Financial analysts expected lower revenues, around $739.7 million, according to data compiled by Bloomberg.

Comparisons with Airbnb's other publicly traded competitors come to mind, especially Booking Holdings (BKNG) and Expedia Group (EXPE). During Airbnb's Q4 earnings call, CEO Brian Chesky boasted how Airbnb's model was resilient. True, Booking and Expedia's respective Q4 revenue numbers declined much more (to the tune of -64% and -67%), respectively. Still, we'll see that Airbnb's focus on short-term rentals cannot be compared with these two diversified OTA groups.
| | | | | |
| --- | --- | --- | --- | --- |
| | Q1 2020 | Q2 2020 | Q3 2020 | Q4 2020 |
| Airbnb (ABNB) | 0% | -72% | -18% | -22% |
| Booking Holdings (BKNG) | -19% | -87% | -48% | -64% |
| Expedia Group (EXPE) | -15% | -82% | -58% | -67% |
The company's adjusted EBITDA in Q4 2020 was nearly $250 million better than Q4 2019, so much so that it was almost positive, a feat that Airbnb had only accomplished 5 times since 2017.

In 2020, Airbnb more than survived the pandemic: It shed off 25% of its employees, stopped some key initiatives (e.g., Flights) and paused others (e.g., Airbnb Luxe), and lead a successful IPO. Airbnb says that in the depths of the pandemic, it had forecasted that revenue in 2020 could be less than half of 2019 levels. Yet, it delivered $3.4 billion of full-year revenue in 2020, down only 30% compared to 2019.

How did Airbnb fare in 2020 outside of the US?
Most articles about Airbnb's Q4 and 2020 earnings have focused on the US. Yet, Airbnb's financial fortunes are deeply linked to what is going on abroad, especially in Europe. A competitor like Booking.com, way more reliant on European bookings, could not benefit from the relative surge in bookings in the US over the summer, for instance.
When Airbnb filed for IPO, we got a better idea of Airbnb's international footprint. In 2020, the share of North America grew in Airbnb's mix. As ADRs are higher in the US than in Europe, it also helped increase Airbnb's average ADR. Let's compare the geographic distribution of Airbnb's revenues, in 2019 vs the first 9 months of 2020:
North America: 41% (2019) -> 50% (2020, Q1 to Q3)
EMEA (Europe, Middle East, and Africa): 40% (2019) -> 34% (2020, Q1 to Q3)
Asia-Pacific: 12% (2019) -> 9% (2020, Q1 to Q3)
Latin America: 7% (2019) -> 7% (2020, Q1 to Q3)
Before COVID-19, Airbnb walked in two legs: North America and EMEA. Yet, in 2020, travel restrictions and lockdowns hit Europe way more than the US.
North America: Airbnb's most stable region during the pandemic—this continued in Q4 2020. Nights booked in North America were close to the levels reached in the same quarter of 2019.
EMEA: Airbnb's business was most affected in EMEA, especially in countries that had lockdowns and cross-border travel restrictions, and which have historically relied more heavily on cross-border travel. Examples include Great Britain, Italy, and Germany. Airbnb did see some slight reacceleration late in Q4 2020 in France, driven by the easing of some restrictions and holiday-related travel.
Asia-Pacific: The recovery continues to take time, as many countries in the region have historically been reliant on cross-border travel, which remains well below 2019 levels.
Latin America: The pace of nights booked remains below 2019 levels but was relatively stable during the quarter.
Why is Airbnb doing relatively much better than Booking and Expedia/Vrbo?
As early March 2021, here are the market capitalization of these three major travel groups:
Airbnb (ABNB): $118 bn
Booking Holdings (BKNG): $95 bn
Expedia Group (EXPE): $23 bn
What do professional and retail investors see in Airbnb? Is it just attributable to great PR, to the brand's value, and the wave lifting stocks the likes of Tesla and DoorDash? Before diving into two of Airbnb's great assets, a brand that drives direct traffic and the best hosting platform for individual hosts, let's look at how its competitors are faring. And why people sometimes compare apples with oranges.
First, let's take activities such as flights, which collapsed in 2020, and hotels that did not super well, especially in cities. Meanwhile, the short-term rental industry did okay-ish, especially in non-urban areas, in summer, and North America. For instance, AirDNA data we shared last week showed that October 2020 was actually positive in the US, with a busy Thanksgiving season.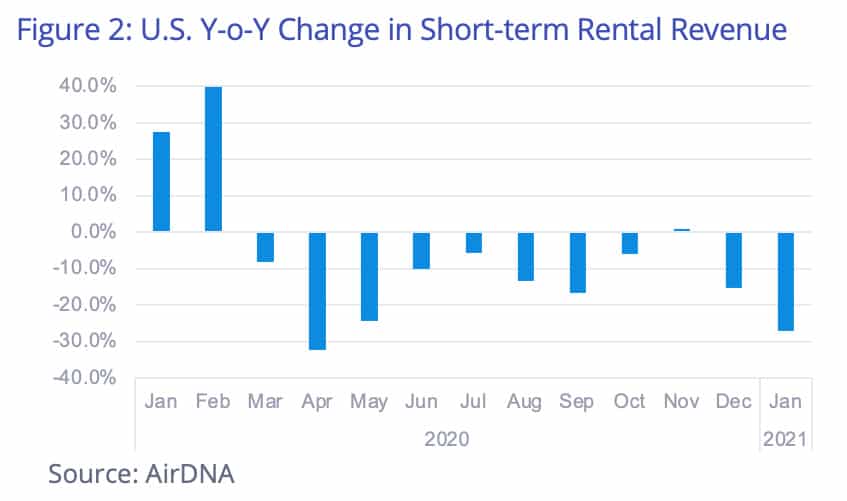 So, a vacation rental listing site offering a large choice of entire homes, in non-urban areas, in the US? It looks like the portrait of Vrbo. And this does fit with the company's positioning as a provider of large vacation rentals, as we wrote in our summer of Vrbo article. Yet, Vrbo is only a small part of the Expedia Group, along with brands such as Expedia, Orbitz, ebookers, Hotels.com, Trivago, and Egencia. Even if Vrbo may be doing super well, it cannot completely offset the collapse of flights, hotels, and business travel on its sister websites.
Booking Holdings is made of Booking.com, Agoda, Kayak, and OpenTable. With many restaurants closed, OpenTables may not be doing much at the moment. Agoda and Booking have very respectable short-term rental activities, but their hotel activities still weigh a lot in their revenues. Booking is also a giant in Europe but a dwarf in the US when it comes to short-term rentals, especially in non-urban areas.
So, we have Airbnb left. It has stopped developing its other activities to stay focused on what is working at the moment. Now, urban bookings still count at Airbnb: In 2020, they made up 40% of their booked nights. Revenues were also supported by average daily rates (ADRs) that did not collapse. They were actually higher than in Q4 (for the properties that could actually get booked): Average Daily Rates averaged approximately $128 in Q4 2020, an increase of 13% year-over-year. Supporting Airbnb's ADRs was a continuation of trends such as the strength of bookings in North America, where ADRs tend to be higher than other parts of the world. This was supported by more guests booking entire homes, relative to private or shared rooms, where prices are higher. Airbnb's nights booked were also stronger in non-urban and low-density urban areas, where ADRs tend to be higher when compared with high-density urban locations.
2021 plan: Why Airbnb wants to grow the number and performance of individual hosts faster than those of professional managers
Here's Airbnb's plan for 2021, as stated by Brian Chesky:
educate the world about hosting,
recruit more hosts and set them up for success,
simplify the guest experience,
and deliver world-class service.
Airbnb says that it is making a deliberate effort to focus on individual hosts (over professional property managers) and tell the world (i.e., guests, hosts, shareholders, and local authorities) about it.
Airbnb's renewed élan towards its original host persona is sometimes derided. It is seen as not genuine, as many large Airbnb management companies are active on the platform. A lot of Airbnb's bookings indeed came from professional hosts with dozens of apartments in major cities. Yet, this big chunk of professionals does not contradict the fact that Airbnb wants to balance them with faster growth in individual hosts actively.
Small hosts tend to be list their property on Airbnb only, helping the company build a moat of supply that cannot be found elsewhere. These small hosts are interesting to the platform: Even if some may not be available year-round, they tend to five all their available nights to Airbnb. They also rely on Airbnb's SmartPricing tools, which helps the platform be the price maker of its marketplace. This helps Airbnb increase the conversion rates and booking numbers of these listings.
Property managers are seen as mercenaries in this scenario: They tend to list their properties on any successful platform while setting up less appealing rate and cancelation policies on the likes of Airbnb so that guests book directly with them. If a platform has the same accommodations as its counterparts, it means that its supply is commoditized. Unique properties make it easier for Airbnb to claim that it is special and build a consistent brand experience that is hard to replicate.
To quote Airbnb's Q4 2020 shareholder letter:
We do not control whether professional hosts provide us with a sizable allocation of rooms and competitive pricing relative to the same properties listed with other services. (…) If our fee structure and payment terms are not as competitive as those of our competitors, these professional hosts may choose to provide less inventory and availability with us. Historically, we have seen an increase in the number of, and revenue from, professional hosts on our platform. The uniqueness of listings on our platform will be negatively impacted if the number of individual hosts does not grow at the same rate.

Airbnb
First reason to believe that individual hosts matter more: Massive PR and brand marketing campaigns to showcase that Airbnb is made possible by hosting
Airbnb's claim about caring about hosting is key to its positioning. Perception is reality, but this is not only a PR stance. Its savvy marketing muscle and its tech platform aimed at individual hosts are there to help make this promise come true.
Airbnb, a powerful brand built on PR and not just on buying performance ads on Google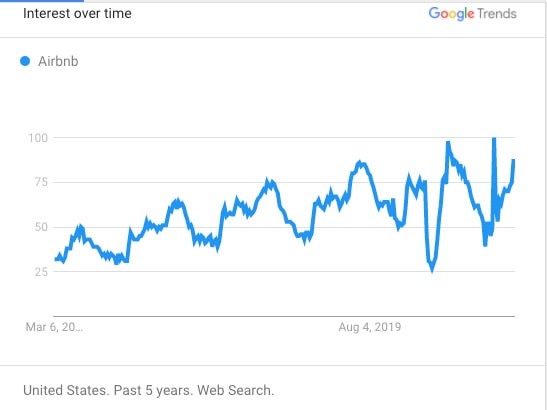 This Google Trends graphs sums up a few things about the power of the Airbnb brand, and about how Airbnb is able to build it up:
In April 2020, the searches for Airbnb on Google were the lowest in 5 years. It seemed that no one was interested in booking an airbnb.
Yet, later in 2020, Airbnb broke twice its record number of searches: one in June when people were busy dreaming or booking a short-term rental in the platform and then in December with the IPO hype.
Note that, since the end of February, interest is rising again, thanks to Airbnb's Made possible by hosts ad campaign.
In late March 2020, Airbnb actually slashed its marketing expenses. All the traffic was now supposed to be direct and not paid through ads bought on Google. Yet, here is what did not stop: Airbnb's PR machine. From April to August, the company was churning press release after press release to talk about surviving the crisis, its Go Near domestic travel campaign, its Enhanced Cleaning Initiative, or its measures to stop house parties. With the IPO in mind, Airbnb was busy crafting an epic comeback story.
As Airbnb writes:
Before we started resuming our marketing spend, our traffic levels came back to 95% of the traffic levels of 2019 without any marketing spend. And what this revealed is that our brand is inherently strong. It's a noun and a verb in pop culture.

Our marketing plan, therefore, our strategy is the following: a full-funnel marketing approach. The top of the funnel is actually PR. We got more than 0.5 million articles in the last year, in 2020, and we had as much share of voice as most of the other major travel companies combined. And that's how we really built the brand of Airbnb more than anything, probably, is PR. Second is brand marketing. We think of brand marketing as education and investment.
The recent Made possible by hosts campaign is consistent with Airbnb's goal: It shows "real" guests taking photos of real people and real properties, with a very nostalgic undertone. Note that if hosts are mentioned, they are invisible in the ads. This makes sense in times of social distancing. It also makes it OK for hosts not to meet guests in person anymore… much like a lot of professional hosts do in cities, actually.
Made possible by hosting, a 2021 Airbnb campaign to attract new supply in times of crisis
Airbnb is clear about its intention to recruit more individual hosts in 2021. After the "Made possible by hosts" campaign, it will be launching a "Made possible by hosting" promotion effort.
Airbnb says that two new host recruitment sources are word-of-mouth among hosts and converting guests into hosts (23% of Airbnb hosts in 2019 were prior guests.). The goal of this new ad campaign is to inspire more people to become hosts.
Airbnb says that timing may be good for this push:
We also think now at the time that people are interested in hosting more than ever before. Airbnb, we started Airbnb in a recession. And during the recession of 2008, people were losing their jobs, losing their homes, and many people turned to Airbnb for income. We think now hosting is as appealing as ever before, given the economic circumstances happening in this country and around the world.
Second reason to believe: Renewed investment in a tech platform that is custom-built for individual Airbnb hosts
Airbnb sees itself as a "custom-built platform designed specifically for individual hosts." The company wants to double-down on tech to make it even easier for new Airbnb hosts to get started.
Higher host conversion: A drive to get more hosts to open an active listing fast and well
Once Airbnb has attracted potential hosts, it needs to do everything it can to get them to open an active listing, with the right rates and the rights policies to get bookings fast.
This is why Airbnb's goal in 2021 is to simplify the onboarding process, so it's easier for hosts to get started. The company is improving its tools and support to help these new hosts succeed. So, technology is the necessary companion to this marketing drive. With the right education and simplified processes, small hosts should find their way around Airbnb better and ask less help from Airbnb's customer service – a cost that certainly drives down the profitability of individual hosts compared with large property managers.
Airbnb's platform is already the easiest to use for newbies in the vacation rental industry. The Airbnb Hosting Tools were designed with them in mind. This is the opposite of Booking.com, whose extranet was designed for professional hotel managers first. Tweaking a hotel platform and de-hotelizing it to make it friendly and comprehensible to occasional hosts is a challenge that Booking has been tackling for 5 years.
Here's what Airbnb wants to do in 2021 to increase its host conversion rate:
Fewer steps in the sign-up and onboarding funnel (Goal: Become a host in less than 10 minutes)
If newbie hosts need help when starting out, Airbnb will allow them to call customer service or will match them to existing hosts (host-to-host mentorship?).
Unsung asset: A payment platform that serves non-pro hosts better than those of Booking and Vrbo
FinTech is hot for a reason: It is not easy to build a global payment platform that services almost any country in the world and caters to local payment solutions.
Airbnb's payment platform is a true advantage. It allows individual hosts to take payments and get the payout in their local currency. And the processing fee is already included in the host service fee (3 to 5% for individual hosts). This is a key enabler for non-professional who otherwise would not be able to process payments.
Yet, when it comes to competing short-term rental platforms, the situation is contrasted: In some countries, like the US, Booking.com does not offer payment processing to all of its partners. And it often comes with a processing fee. Vrbo had to switch in 2019 partners from Yapstone (VacationRentPayment.com) to its own payment solution, with quite a few hiccups.
A tech platform that converts lookers into bookers: Enabling new ways for guests to search and find listings
According to Airbnb, how people search or travel has now changed. Because today, this year thus far, 40% of people come to Airbnb, and they either no longer know where they're going or when they're going.
To respond to this need, Airbnb has launched a new search feature called "Flexible Dates", which we've demoed for you. It helps travelers decide WHEN to go somewhere, even if they only have a vague idea of the period.