Booking.com's 2022 Super Bowl ad has been revealed. It can win an award for one of the most sadomasochistic exercises in brand building. The company has spent millions of dollars to position itself as a non-exciting travel accommodation booking platform: "We are definitely not lit", says brand ambassador Idris Elba. It is good to embrace who you are, but is it what gets you noticed in the ad extravaganza that is the Super Bowl? Also, does deriding your band name really help build it in the US, where your footprint is small. By calling itself the #1 accommodation site, why is Booking turning its back to app users and to other travel products, such as flights, as it is painstakingly trying to promote? Finally, by using the "Booking dot yeah" tagline at the end of its Super Bowl ad, is Booking.com driving traffic to the non-existing booking.yeah domain name? Some may think that Booking.yeah doesn't work.
Booking.com is kickstarting a 5-week long marketing campaign in the US with a Super Bowl ad. Now, this is quite a move for a company that is known for having been reluctant at investing money beyond performance marketing channels. Just like Airbnb want back to basics by promoting Hosts, Booking.com is coming back to what drove its success in the 2010s: Being the largest accommodation website in the world, promoting free cancelation on most bookings, being a functional but reliable website, using the tagline Booking.yeah, etc.
Why Super Bowl ads matter to vacation rental managers and owners
Using a Super Bowl ad to reinforce your identity is exactly what competitor Vrbo is doing with its "A place for together" ad. The vacation rental website wants to build up its image as a family travel website. What the ad is doing is showing that Vrbo's definition of the word family is inclusive.
While Airbnb does not have a Super Bowl ad this year, it has successfully used TV commercials to change how its brand is perceived. For instance, its Made Possible by Hosts ongoing ad series takes place entire homes (not shared spaces) to convey that the company is now a great choice to book a vacation rental, either for a short or a long stay. The series also wants to show that most Airbnb hosts are individuals.
For US property managers and vacation rental owners, this is a loud and clear signal that, in 2022, Booking.com wants to invest in the US market to drive up awareness and consideration. We've already covered how difficult it was for Booking.com to grow its vacation rental demand and supply in the US. Yet, since August 2021, Booking.com has scaled up its marketing and branding efforts on the American market, with a slew of new TV ads and commercial discounts. Let's see whether this Super Bowl ad help build its brand in the US into something people can connect with, as well as drive traffic to its website and app downloads.
Now, some vacation rental managers and owners will not be happy at Booking.com promoting free cancellation to travelers once again. Compared with other OTAs, Booking.com guests tend to already cancel more than other OTA users. Now, bringing peace of mind to guests is important and flexibility helps. Yet, in 2022, there may be new ways to do so while alienating a bit less property owners and managers. This is the bet Hopper Homes and its FinTech products and Airbnb with its Guest Travel Insurance are making this year.
As the same ads would work in Europe, European short-term rental managers and owners may get to see them soon as well.
Is Booking.com's message is "We are not flashy, but reliable" or "We are for people who use websites not apps, we only offer accommodations, and we ironically call ourselves Booking.Yeah even though Booking.yeah doesn't work"?
Booking.com wants to be known as an accommodation platform that just works. This is what the company on its Send Me There landing page which is a companion to its Super Bowl ad:
Flashy? Nah. Reliable? Yeah. Booking.com isn't sexy or flashy, but we are really great at booking you the perfect stay. With 28M accommodations worldwide and free cancellation when you need it, we bring our bookingest finest for you. Every time.
The commercial is resuscitating the Booking.yeah tagline from past marketing campaigns. We take a look at the video and at the history of Booking.yeah marketing. Booking Holdings (BKNG)'s main brand is not a household name in the US. Booking.com is more of a PPC and performance machine, and spending crazy money on a Super Bowl ad is almost against its DNA. While the previous "Booking.yeah" campaigns were familiar to many Europeans and to a few Americans, it will be interesting to see how Booking.com solves the main issue that dogged the previous campaigns: The call-to-action "booking dot yeah" was telling people to go booking.yeah, a non-existent domain name. How will Booking.com be able to capture the traffic that this Super Bowl commercial will be creating?
Travel platform Booking.com has been trying to crack the US market for many years. "Winning the US" seems to be one of the company's yearly priorities and constant failures since at least 2013, when it launched its first Booking.yeah TV commercials in North America.
Although Booking.com's CEO, Glenn Fogel, has been touting the company's ambitions to achieve the "connected trip" for years, the SuperBowl ad is only showing accommodations (.a hotel, a cabin, and, weirdly, a sauna). No planes, no car rentals, no connected trip. Booking.com is in such a retro mode that it is also featuring another of its old taglines: "Planet Earth's #1 accommodation site". It may be the #1 website, but the most download travel app in the US in 2021 was newcomer Hopper, not Booking.com. Is Booking.com targeting Gen X and Baby Boomers in the US?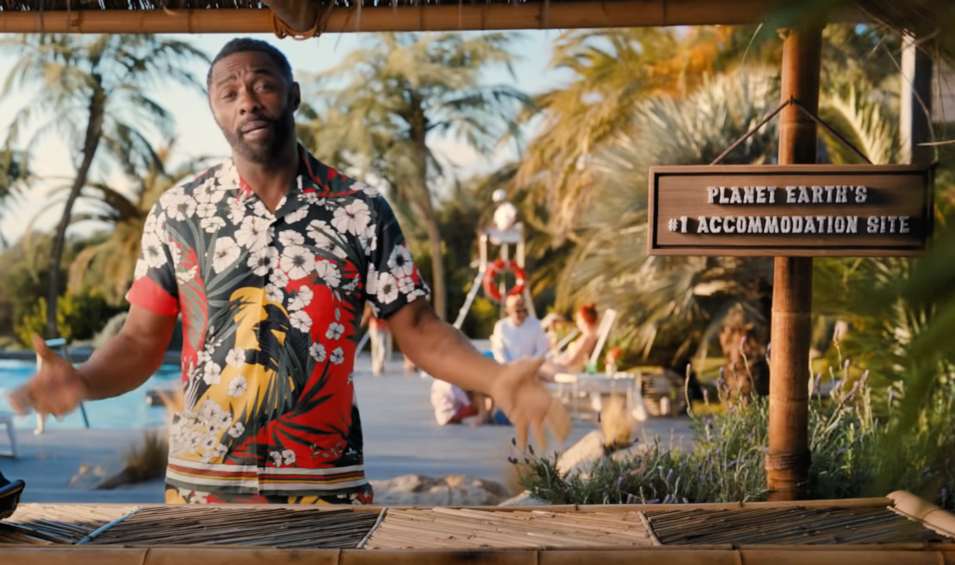 Video of the Booking.Yeah Super Bowl commercial with Idris Elba
Booking.com's Booking.yeah Super Bowl commercial with Idris Elba is a throwback to the Booking.yeah commercials of the past and is one of Booking Holdings (BKNG)'s most expensive marketing campaigns ever. Bookings.com has been around for over 20 years, but they're not a household name in America like Expedia or Priceline are, so this ad campaign was risky and costly for them.
In a weird way, Booking.com says that its brand name is so-so, even bad (we are "kinda bleep at naming"). For an American audience, it is a bit special to say an offensive word in front of a family sitting in their vacation rental.
It is a bit sadomasochistic from Booking.com to spend so much money to deride its name in a way that is mildly funny. This kind of humor betrays the company's Dutch roots, where one should not take themselves too seriously. The ad will probably be used in Europe as well, where people know the Booking.com brand better and can get the frame of reference to being a brand that just works. The ad does have a European feel and the extended version refers to British humor. Does Booking.com want to be seen as a European brand?
When Booking.com says that it is not lit, it means that it is not exciting. It immediately conjures up in contract Airbnb, a competing brand that's a master at branding and creating emotions and excitement (see our article about Airbnb's commercials). So, when Idris Elba says "Booking dot yeah", is it ironic? "Yeah!" is definitely not what you say about something not exciting unless you mean the opposite.
Booking dot yeah Super Bowl 2022 ad: Good or bad ad?
The things Idris Elba says in Booking.com's big game ad
To be clear, we have never been accused of being flashy, sexy, or lit.

May I?

We're definitely not lit.

I mean, seriously, we named ourselves Booking.com, which is kind of lit, if we're talking literal, but it's who we are.

We're good at helping you book travel, like amazingly good. And kinda bleep at naming. Booking dot com. Booking. dot yeah.
What the creators of the Booking.com ad say:
In this Big Game ad, Idris Elba takes you on a special journey into the heart and soul of Booking.com.
In a way that only he could pull off. While staying on-script – mostly. Idris' appreciation for the values of the company, the light-hearted nature of the message, and love of travel drew him in and now we get to be entertained by the master.
He takes us on a tour across destinations and we see into the places that we'd all love to stay; from hotels, vacation homes, and everything in between. And with 28 million properties to choose from, there's something for everyone. And remember, at Booking.com, we know you and your loved ones are what makes a vacation special, we're just here to help you get the best out of it. #BookingYeah
Extended ad version
This is the text of the full version:
To be clear, we have never been accused of being flashy, sexy or lit.

Let me get that for you. You know what lit is? It's kind of, like, lit, you know what I'm saying? Show me. Yeah, this is really good.

So we're probably not gonna show you a bunch of perfect people doing perfect things. Probably. I mean, seriously, we named ourselves Booking.com, which is kind of lit if we're talking literal, but we're okay with that. It's kind of our thing, helping you book that perfect stay.

It's why we're planet Earth's number one site for booking an accommodation.

We might not be fancy or cool.

Or do we do karate? Of course not.

Because we'd rather just be honest and helpful and extraordinarily good at this thing. We named our company after. At the end of the day, it's your vacation and we are just here to help you make the best of it.

I'm Idris. I'm pretty sure it's Iris. Oh no, no. That's a common mispronunciation. It's actually Idris. Ah, this is British humor. You guys are so funny. You almost had me. Booking.com. Booking dot. Yeah.
As Booking.yeah doesn't work, Booking has to make sure to capture the associated traffic by buying ads from Google.
Booking.com Big Game Sweepstake for Super Bowl 2022
Booking.com's investment in Super Bowl LVI does not stop with the Idris Elba ad. The company is hosting a giveaway during the game. People have to use the hashtags #sendmethere and #sweepstakes on social media. Meanwhile, Vrbo is doing the same, with its first TikTok challenge from Feb. 12 – 19 with the hashtag #AVrboforTogether.
Booking.com is giving away 100 dream vacations during its 100 Trips Giveaway. You need to follow the three-step process to win:
SEE IT – During the big game (i.e. Super Bowl), look for amazing destinations in our – or any – big game ad you'd love to visit.
TWEET IT – Tag @bookingcom using #SendMeThere #Sweepstakes in a comment or tweet. You can also use Instagram or Facebook: Tag @bookingcom using #SendMeThere #Sweepstakes in a comment or post.
WIN IT -You could be one of 100 people who wins a dream vacation on us – up to $5,000 in value. Want to increase your chances and enter again? Be our guest. The game lasts from 6:30 pm EST until midnight on February 13, 2022.
Booking.com's other ads featuring Idris Elba
Developed by Horses & Mules, a creative consultancy based in LA, the integrated campaign will run for five weeks following its debut on February 13 across TV, including primetime, audio streaming and online channels, with Mindshare managing the media strategy and planning.
The campaign includes a mix of :30 and :15 second spots, including the "big game" spot -"Idris Elba Says Things" – "Idris Says Things (Officially)," "Pretty Perfect – Perfect Place" and "Peace Of Mind," as well as two teaser videos – "Idris Calls His Legendary Spokes-Blokes For Advice" and "Idris Rehearses For His Big Game Debut" – featuring other famous brand spokesmen Isaiah Mustafa and Jonathan Goldsmith. An extended brand story – "Idris Elba Says More Things" – will also be exclusive for online channels.
With free cancellation on most properties, you won't be left in limbo. We all like to have flexibility – and not just for getting under firey limbo sticks. You can get that when you book with a free cancellation option, with Booking.com.
Booking.com Super Bowl ad teaser videos
For its Super Bowl LVI 2022 commercial, Booking.com is resuscitating its Booking.yeah tagline. In the teaser videos releases, Idris Elba warms up for his Big Game Debut with his buddies and gets advice from his fellow spokespersons, Jonathan Goldsmith, aka Dos Equis' "The Most Interesting Man In The World;" and Old's Spices' "The Man Your Man Could Smell Like," Isaiah Mustafa.
One teaser video is called the Society of Spokespersons and the other Idris Elba, master of taglines. These videos are a bit meta and seem to be targeted to markets than to consumers. The videos suppose that you have to know and care about Idris' prep work for Booking.com's Super Bowl ad. They also assume that you are ad geek and can link to other faces to the fact that they were spokespersons for brands at some point.
Nothing in these videos explains what Booking.com is about, which is already a waste of time and money.
We are not yet sure why one of the visuals of the campaign bears the following text: "Idris Elba. Big game ad. Censored". Is it clickbaiting?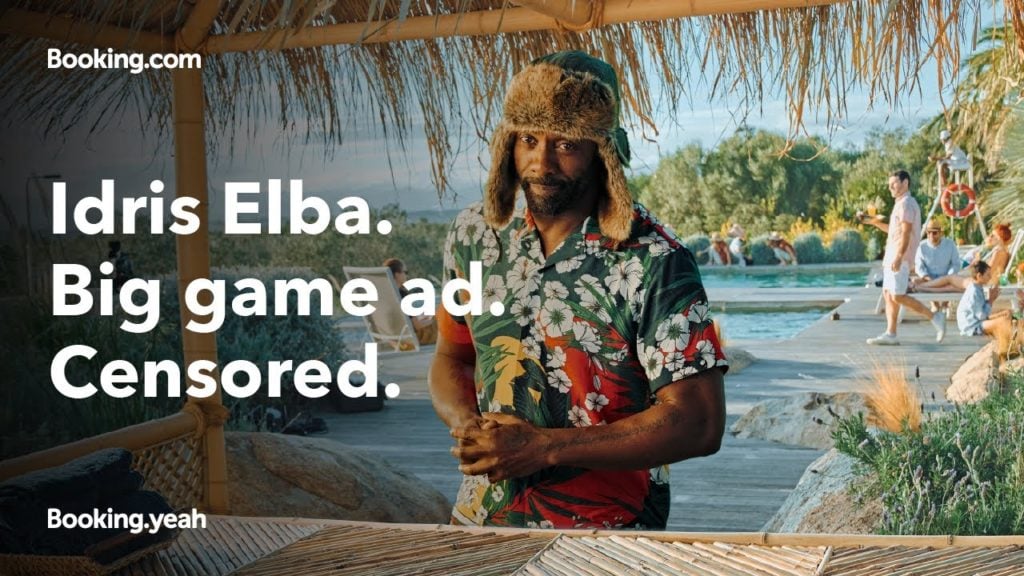 Who is Idris Elba, the Booking.com brand ambassador?
Idris Elba may be known to many as an actor on shows like The Wire and Luther but only recently has he stepped into the limelight as a brand activist for one of Amsterdam's biggest travel websites: Booking.com (although many were unaware of this fact until recently).
Idris Elba is a British actor born in 1972 to Sierra Leonean parents. He started acting as early as 1994 and became famous for his role of drug lord Russell "Stringer" Bell on HBO Series The Wire. His rise to fame came with roles such as the serial killer John Luther on BBC One series Luther and Nelson Mandela in 2013 film Mandela: Long Walk to Freedom.
The history of Booking.yeah slogan, marketing campaign, ads, and videos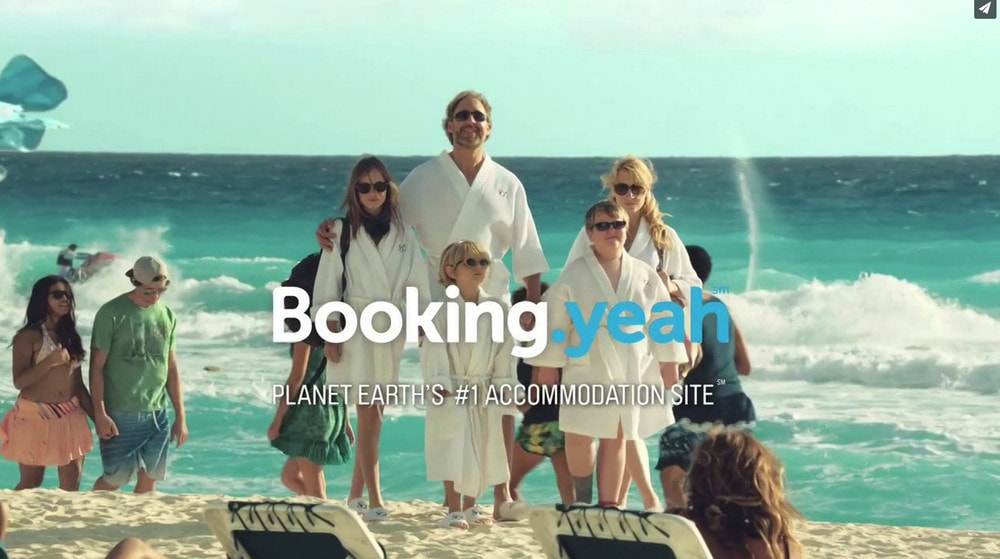 The Booking.yeah TV and Youtube commercials are very familiar to Europeans. The company stopped using them a few years ago, but it's been by far Booking.com's most effective brand-building exercise. The "Booking dot yeah!" slogan is lingering on the minds of Euro travelers. The Booking.yeah campaign was a huge success, and the company has continued to use it in the subsequent years.
In the US, the company Booking.com launched 'Booking.yeah', its first-ever brand campaign created for the U.S. market in January 2013. Booking.com is still one of Booking Holdings' (BKNG) smaller brands, in the US and in general, compared to Booking.com and Agoda in Asia and Europe.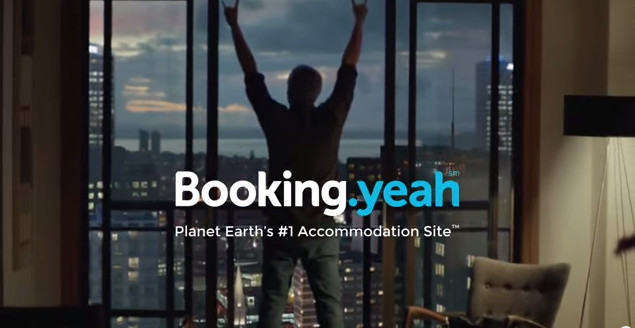 Two issues to solve: Booking.Yeah is not a real domain name and Gen Z are using apps, not websites
booking.yeah doesn't work
The first issue that Booking.com has to solve with its Booking.yeah Super Bowl commercial is fixing the call-to-action. The past TV commercials were funny, but it ended with "Booking dot yeah", which probably led a lot of people to head to www.booking.yeah. Which does not exist, as .yeah is not a real domain extension.
This has always been a bit of a head-scratcher. Why go with a tagline that is not even a real domain name? Booking.com could have just called it Booking dot com, right? Booking.yeah was probably chosen to sound hip and cool, but that is about it. Booking dot yeah does not really roll off the tongue that easily either.
When it first launched its Booking Dot Yeah TV campaigns, Booking.com probably lost thousands of dollars trying to capture the traffic trying to land to the non-existing booking.yeah domain name:
Cost of PPC and Awords: In order to capture the traffic from people searching for "booking.yeah" in Google, Booking.com had to purchase keywords such as "Booking yeah" and redirect the paid links to Booking.com. So, Booking.com had to pay Google to get help to capture the traffic from its own TV ads. Booking Yeah!
Cost of opportunity: The company lost thousands of dollars due to free organic traffic sent to Booking Dot Yeah by accident. Booking.yeah received SEO juice, due to all the links pointing at Booking.yeah, for nothing.
As Booking.yeah doesn't work, this is an example of text ads that Booking has to buy from and insert in Google results to redirect users its website. Note that they say "Booking.com – Booking.yeah". The rest of the claim is consistent with Booking's new "perfect trip" line: "Booking isn't the best part of your trip. But we make sure it isn't the worst. Not every trip starts with Booking.com, but perfect ones often do. Read Real Guest Reviews."

Booking yeah campaign does not promote app
Gen Z travelers use apps more than travel websites, which makes it even weirder to promote a non-existing website domain name. At the end of its 2022 Super Bowl ad, competitor Vrbo is featuring not only its website logo, but also its app logo. The most talked-about OTA in the US is Hopper, an app-only OTA.
As a result, the idea of promoting "something dot com" is a bit passé, very 2010's. This touches upon a core issue with building a brand around the Booking.com name: The brand IS "Booking.com". If you just say Booking in the US, it is not distinctive enough for consumers to remember.
True, the Supreme Court has affirmed that an Internet domain name including a generic term – specifically Booking.com – can function as a trademark.
So, Booking has no choice but to mention the .com for its brand. So, why remove the "dot com", part of its brand name, to replace it with ".yeah"? Go to www.booking.com to find it, we guess!