On February 22, Airbnb launched a massive ad campaign called "Made possible by hosts". Airbnb TV commercials are visible across 5 countries (Australia, Canada, France, the U.K., and the U.S.), as well all over the globe as ad videos on YouTube. Airbnb wants travelers to consider it as a place for "magical" and unique experiences and to drive reservations towards its community of Airbnb hosts.
This is Airbnb's first global ad campaign in five years: Airbnb says that people are preparing or dreaming about their next trip. So, the brand wants to be top of mind. Airbnb thinks that its "Made possible by hosts" campaign will be seen by 300 million people worldwide. In the 5 countries where it runs TV ads, Airbnb says that they will be seen by 75% of the adults.
In this first ad push since the start of the COVID-19 crisis, Airbnb is promoting its original positioning: Unique experiences, magical connections with local hosts, a community of hosts and guests. Airbnb's IPO has shown that its brand has value and a global appeal. It is very important for Airbnb to keep the brand visible and not to be commoditized as just another OTA where a traveler can a short-term rental that is listed everywhere else.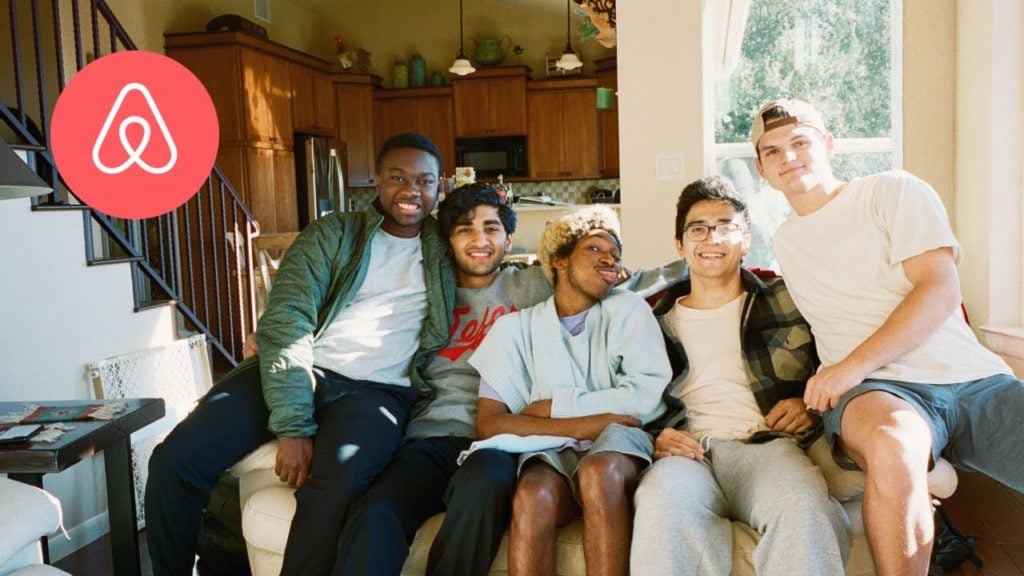 Airbnb's commercials are so 2021: Infused with nostalgia for simple trips with family and friends. The commercials show amateur snapshots of Airbnb guests (a young family, a group of friends, two adult sisters with their mom) heading to an airbnb to create lifelong memories together. The campaign is aligned with Airbnb's 2021 travel trends: A need to travel to reconnect with loved ones, the need to escape loneliness.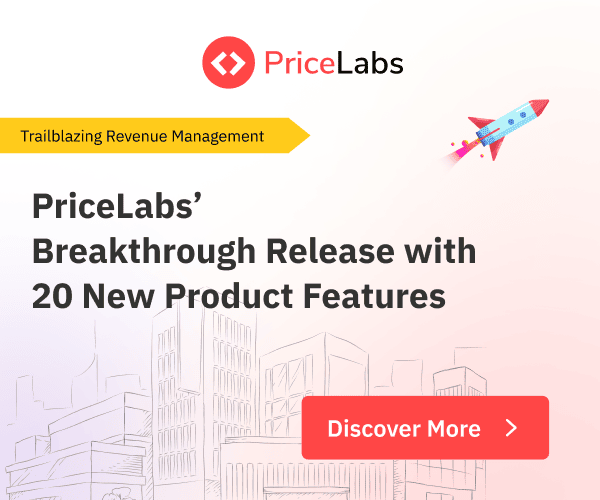 Airbnb-competitor Vrbo's commercials have already hit the airwave, so much so that it helped create a buzz around a Vrbo IPO. Vrbo's commercials also feature images of families and friends having simple good times at a vacation rental.
2022 Airbnb commercials: Success for the Baecation Airbnb commercial
For Super Bowl 2022, Vrbo is promoting its "A Place for Together" ad, while Booking.com is relaunching its Booking.Yeah tagline with the help of Idris Elba.
Meanwhile, Airbnb has created a sleeper hit with its baecation Airbnb commercial. The music is 03 Bonnie & Clyde by Jay-Z featuring Beyoncé. The video shows a lovely elderly couple spending a great time at a villa in Spain. It ends with just the words Baecation – Made Possible by Hosts – Airbnb.
The commercial works as the Jay-Z song talks "me and my girlfriend" and plays tenderly with the photo still of the elderly couple. It is playful and crosses over several population segments. The word baecation means a vacation with your bae or boo. It's a combination of bae and vacation. Bae is African-American Vernacular English for "babe". Using a white Spanish elderly couple for a commercial called Baecation with a Jay-Z and Beyoncé could have backfired, but Airbnb played it tastefully. It is very cute, playful, and emotional.
Who are the people in the baecation video?
After 57 years of marriage, Valenti and Maria Luísa's love for each other is stronger than ever. So when their grandson Dani took them to the coastal town of Begur, he wasn't surprised to see them turn the trip into their very own romantic getaway. They stayed at Emmanuel's gorgeous villa, where Valenti and Maria Luísa canoodled in the gardens, frolicked by the sea and took turns letting each other win at ping-pong. It was a great trip and an even greater reminder that you're never too old for young love. This is just one of the millions of trips that take place on Airbnb, made possible by Hosts.
The place shown is Villa Pi Blau in Begur, Catalunya, Spain. Here's the link to it: https://www.airbnb.com/rooms/23994780
Airbnb's "Made Possible by Hosts" 2021 commercials: Where are the properties? What is the actual name of each listing?
If you've watched some of the Airbnb commercials, you may be wondering where these properties are, what the name of the listings are, and where these airbnbs are located. You're in luck, we've traced three of them for you.
Airbnb will publish the video on this link: airbnb.com/madepossiblebyhosts .
Stone House hosted by Jacopo in Miano, Italy
Saltwater Cottage hosted by Ashley and François in Narragansett, Rhode Island
The River Lodge hosted by Cynthia in Wimberley, Texas
The Dune House hosted by Geanelle in Peterborough, Victoria, Australia.
Hill House Farm hosted by Sarah in Eerwah Vale, Queensland, Australia
Actual name: The Barn at Hill House
Slogan: Homes on the range, Made Possible by Hosts – Airbnb
Music: Thank God I'm A Country Boy, John Denver
Airbnb info: 11 guests · 4 bedrooms · 8 beds · 2.5 baths
Airbnb's branding around uniqueness was made possible by hosts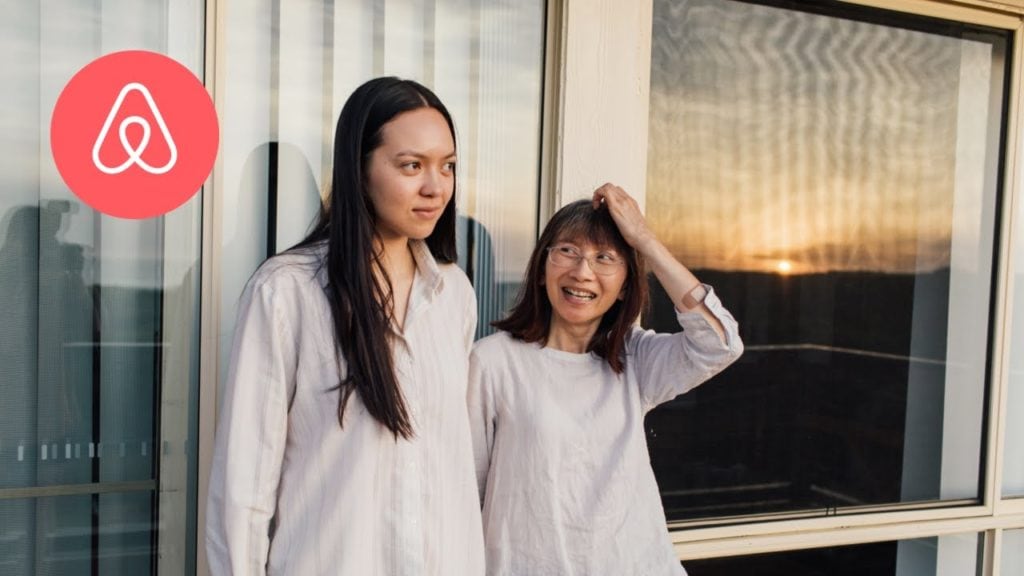 While we cannot really assess how magical Airbnb's supply is, we can try to see how unique it is. In the run-up to Airbnb's IPO, data company Transparent had shared two thought-provoking graphs that showed individual Airbnb hosts (with 1 property) tend to be listed only on Airbnb. It means that they are not using any other platform. This is a formidable strength for Airbnb and this aspect backs up its claim around unique experiences.
More than 80% of Airbnb hosts who own only 1 property are listed exclusively on Airbnb (and not on either Booking, Expedia, or Vrbo).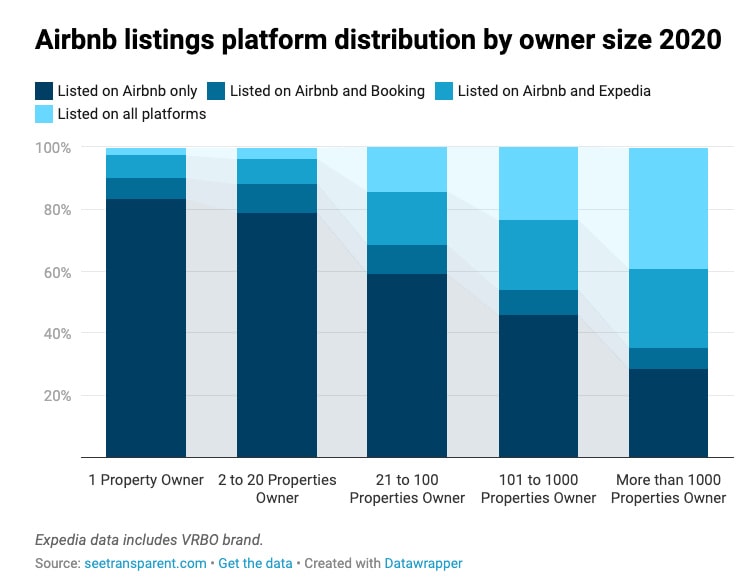 Since April 2020, Airbnb CEO Brian Chesky has been saying that Airbnb was going back to its basics, focusing more on individual hosts than on large property managers.
Yet, looking at Airbnb's 2020 data, this is what Transparent had to say: "The majority of Airbnb listings now come from professional managers. Individual hosts have shrunk from 47% of all listings as recently as March 2018 to 37%. Small property managers (between 2 and 20 listings) comprise the largest portion of Airbnb supply, but larger property managers are also growing fast."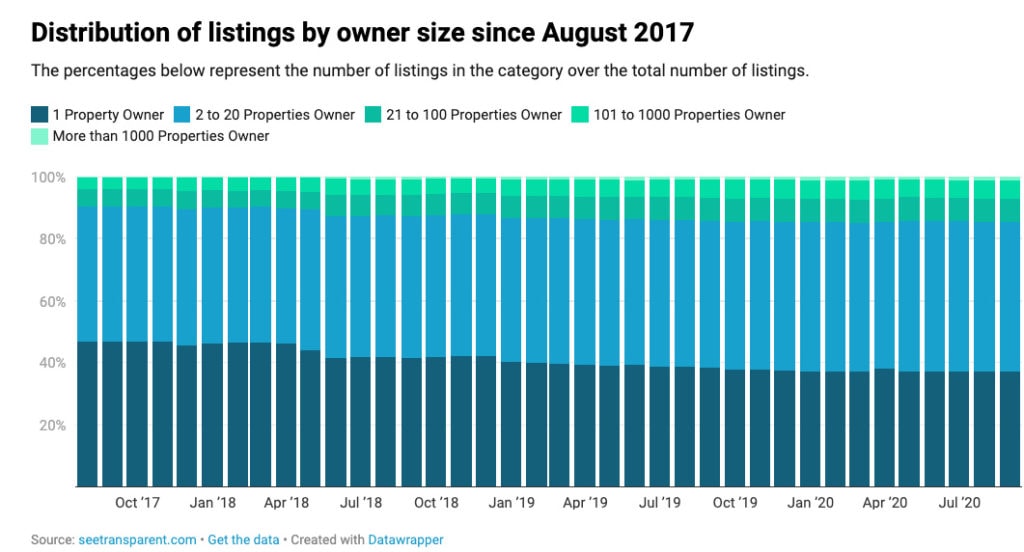 Airbnb Live: Video for Airbnb hosts and complete transcript of Brian Chesky's introduction for "Made possible by hosts"
Welcome, everyone. I asked you to join me today because we made a campaign about hosts and I'm really excited to show it to you. But, before I do, I want to give you some background on it. Now, 2020 was a hard year and it's still going. It's been nearly a year since lockdown's began, and this is probably the most isolated than we've ever been in human history. We're feeling the painful effects of isolation and loneliness. It's pervading society. We miss what's been taken away from us, being together with the people we care about. In fact, we have the data to prove this. You see, recently, we issued a report on 2021 travel trends. It's posted on our resource center. We surveyed US travelers and they told us a few things. The first thing they told us, is they miss traveling.
Now, that alone may not surprise you, but what surprised me is that they miss traveling even more than bars, restaurants, or sporting events. And, just thinking about traveling, boosts their happiness. You see more than a half of the people we surveyed, plan to travel this year when they feel safe to do so. The second trend we've seen is that people are flexible about where and when they travel, as long as it's nearby. More people working from home means more flexibility about where and when they travel.
This means that the lines between traveling and living are blurring together. On Airbnb, this year alone, nearly 40% of guests are searching and they are flexible about either where they travel or when they travel. So, wherever they go, though, it won't be far from home because this year, most guests will get in cars and travel nearby, dispersing nearly everywhere, to thousands of smaller cities, towns, and rural communities. So, hosts, wherever you are, there's a good chance, guests will be interested in staying with you.
But, the third trend and, by far, the most important, is this, people want to connect with their family and friends. Spending time with family and friends is the type of travel people miss the most. Over 40% of people we surveyed told us, connecting with family and friends will be much more important, post-pandemic.
You see, we miss traveling, just not all traveling. We don't miss taking selfies in front of landmarks. We don't miss sitting atop double-decker bus tours. And, we don't miss crowded, lobbies packed with tourists because that is mass travel. And, what we miss is connection. We miss seeing our friends and family and we yearn to be with the people we care about and to have meaningful experiences together. This more meaningful way of traveling is possible. Many people around the world, they need it now more than ever. And you, our host, are the ones that can make this possible.
So, in 2021, we believe that travel will be less about where you go and more about who you are with and what you can do together. Last year, I said that travel, as we knew it, wasn't coming back. It's now clear that we are undergoing a broad shift from mass travel to meaningful travel. We believe that these trends represent how people feel, not just in the United States, but all over the world. You see, the need to connect and be together is universal, and even this pandemic can't keep us apart for long.
Now, we don't know exactly when travel rebound, and I know that many of you are still hurting, but please know that our guests will be back. Then, when they're back, we, together, have to be ready. That's why we're preparing now, even before things fully open up. While some people are starting to plan their travel, others are dreaming of traveling right now and others still just need a message of hope. That's why we think now is the right time to tell the world about what makes Airbnb special. And, that is hosting. You see, hosting is what people seem to understand, sometimes, the least about Airbnb.
Airbnb, the brand, is mainstream, but hosting is not, not yet. The world doesn't fully understand what you do and what you make possible, but we want to show them. So, today, I'm excited to share something with you that we made. It's a campaign, a hosting campaign, called Made Possible by Hosts. It's a series of videos that speak to the magic of hosting. Now, this is our first global campaign in over five years. And, our goal is to show the world, with this campaign, what you do.
Now, we started with the traditional approach to the campaign. Like most companies, we wrote a script, we thought about hiring actors and getting a big-time Hollywood director to film it. This is how most major commercials are made. The problem is, that most commercials aren't real, they're fake. That's when we realized, the answer was standing right in front of us. I think what the world wants right now is to feel something real. So, we thought, why not just use real people and real stories? Why not ask travelers to just photograph their trips and send those photos back to us?
So, we asked the handful of people who we knew were great photographers to book an Airbnb with their friends and family. We asked them to take photos of their trip and send them back to us. So, in a sense, these were regular trips, but as you will see, they were anything but ordinary. What we got back was deeply moving and we weren't expecting to feel this way. It tapped into a sense of nostalgia. It made me think of my own meaningful trips with the people I care about. Now, we cut the photos together and instead of adding a voiceover, like most commercials, we chose songs to put over them. But, not new songs, we chose old songs. We chose old songs over new songs because they are familiar to everyone in every language. But, for most songs, we chose a contemporary artist rendition of the song. And, what we felt, is this was a way that they are, in a sense, even more timeless. They're both of the past and of today.
Now, as a teaser to the campaign, we want to take out a billboard, a really big billboard. And, it turns out that there is a really big billboard above our headquarters in San Francisco. So, this is a photo of our office in San Francisco. And, above, you'll see this big billboard. We've never taken it out until now. So, with that, I'd love to show you the campaign now.
I hope you feel the way we do about it, it's really powerful. It shows the story of Cole with his family and their newborn daughter on their very first trip. They stayed with Ashley and Francois at their Saltwater Cottage in Narragansett, Rhode Island. Now, for each of these videos, we literally listened to hundreds of songs just to find the right song. Now, the bond between mother and daughter is really special. I think this next video really captures it.
That was Ann with her mom. They stayed at Janelle's Dune House in Victoria, Australia. Now, you may have noticed something that there are no hosts actually photographed. This is because of COVID. Most of the guests didn't actually meet the host in person, but creatively, I think this actually worked out because we wanted hosting to come through the connection between guests and we wanted to show hosting as a setting for what's possible. I have one more to show you, and this one is one of my favorites. Let's play it.
I think one of the things you'll notice is, they just do such a great job of capturing people's life moments. Moments that you want to remember years from now, like that one. That was a story about Adraint, and he is finishing college with his friends and he wanted to do one last trip with his college buddies before going on with their professional lives. And, they stayed at Cynthia's River Lodge in Wimberley.
Now, this campaign will begin airing next week, February 22nd. It will be a series of videos starting with the few that I just showed you, but we will make more and we'll run these through the peak travel season. They're going to run on TV, YouTube, and other social media. Now, this is a really big campaign. We expect 300 million people around the world will see these videos. 300 million people. The digital ads alone will run in most, every country, and the TV ads will run in five countries. The US, France, UK, Canada, and Australia. In these five countries, 75% of adults in these countries will see eight of these videos.
Now, how are we going to launch this campaign? Well, we figured, if the world is going to see a campaign about what hosts make possible, we should show it to you first. And, that's why I'm sharing these with you right now. This is the launch of this campaign right now. Now, I hope this makes you proud to be a host. I hope when your neighbors see this, I hope when your friends see this, I hope when your family see this, that they truly understand what you do and how special it really is. I can't think of a better way to honor hosting than with the truth, the meaningful moments that you make possible every day.
Now, if you feel the way that we do, we'd love to have your help and be the first one to share them with the world. So, we've created a special link for you. Let's put the link up. So, if you go to airbnb.com/madepossiblebyhosts, here, there will be links to videos that you saw today. We've tried to make it easy to share with your friends and family. Then, starting on February 22nd, again, next week, they'll be on our YouTube channel. Each time we put out a new video, you'll be able to find it on our YouTube channel.
Brian Chesky:
Now, before I go, I do want to do one more thing. I want to introduce you to two of the hosts from these videos. In fact, I want to introduce you to the two hosts from the Landslide video, the first ad we made. The hosts are Ashley and her father Francois. They've been Airbnb hosts for four years in Warwick, Rhode Island. They've welcomed over 1000 guests, including Cole and his family that you just saw. So, let's bring Ashley and Francois on. Ashley and Francois.
Ashley:
Hey.
Brian Chesky:
Hey, how are you guys doing?
Ashley:
Good, how are you, Brian?
Brian Chesky:
Welcome. First of all, let me start by saying this, you have an Airbnb in Rhode Island. I lived in Rhode Island for five years. I went to school at the Rhode Island School of Design in Providence. So, I love Rhode Island. Super cool state.
Ashley:
Such a gem of a state, honestly. Yeah. Beautiful coastal lines, creative scene, great food scene as well. We're so blessed to be a host here for sure.
Brian Chesky:
Yeah, clearly it came through with Cole's story. Now, I just wanted to ask a couple of questions. I'd love to first start by asking how you started hosting.
Francois:
Well, I first started hosting by myself, a few years ago now. I was, before that, an equine surgeon working in the South of France for 25 years. I truly loved my profession, but I was working like a madman. It was just very crazy. I was on call 24 hours/7 and felt like I didn't get much sleep for 25 years. And, I have four daughters. There are truly amazing. They are very close to my heart and they all decided to move to America to pursue their education. And, it was a wake-up call for me.
Francois:
I decided to quit my job. I sold everything I had. I packed and I moved to America to be close to them. Obviously, I had to keep myself busy. I always loved real estate. I started to renovate homes, fixing and flipping. One day, I put one of those homes on Airbnb, just to give it a try. I was curious. The results were mind-blowing. I will never forget that first night when I was hearing all the dings, notifications. Ashley said, I caught the Airbnb bug that night. I did it again with the next property and the next one. And, I started to get a little too busy. I turned to Ashley, I called her, I begged her to come and help me because-
Ashley:
No begging involved, that's for sure.
Brian Chesky:
Wow.
Francois:
She was just a perfect person to help me. She's very social, very enthusiastic. She loves communication, I'm a little more introvert, timid, but she said, yes. And, we started that partnership, a father, daughter duo, and business partners, too.
Brian Chesky:
That's an awesome story. Ashley and Francois, what advice do you have for hosts to make their stays more special and more meaningful for guests?
Francois:
Well, we love to add the personal touches to our homes. We want our guests to feel special. When we moved, we had a lot of antics from France and we decided to place them inside our listings instead of keeping them for ourselves. And, it makes us very happier than having them close to us. Obviously, Ashley's-
Ashley:
Yeah, going to what Francois was saying, I think having unique decors and setting can just enhance somebody's experience and create memories that way. We also think that working on the amenities list and just making sure that… Yeah, improving your listing is super important, especially now that we've pretty much have a lot of free time on our hands. Yeah. It's crazy how the investment and time is so small, and the impact and the reward can be so big.
Brian Chesky:
Yeah, totally.
Ashley:
I think, on the people perspective, communication is super important, being here for a guest, responding to questions and concerns. Even from the traveler's side, it's always nice to know that someone's one text message or a phone call away. And, it's super important now. I personally have found appreciation for guidebooks, for anybody who loves exploring and discovering new things, especially now that everybody's traveling locally.
Ashley:
I think, knowing your backyard and being able to communicate that effectively through guidebooks and just sharing your favorite restaurants or favorite dishes from those restaurants and even any local tips that you have, will just make the guests experience so much better and so much more enriching and just make them want to wish, gosh, I wish I could stay another three days to explore this side of the state or, gosh, I wish I could come back next time to discover this side of that guidebook book.
Ashley:
So, I think just making sure you stay connected to your neighborhood, to community, and, yes, staying the local touch for your guests.
Brian Chesky:
I love that, just staying connected and really bring out those local touches. Now, maybe I'll just ask one more question. What do you love most about hosting?
Francois:
First of all, personally, I love to put smiles on people's faces, and even though we don't meet them personally, we know when they smile. We get them from the reviews, from their little notes they live in the guest book. It just goes straight to our heart and that's what keeps us going.
Ashley:
Right.
Brian Chesky:
Wow.
Ashley:
Super blessed to be a host, to be honest. Especially, after watching those videos, sometimes you get caught in that hosting cycle and you have an abstract vision on what your guests or how your guests are enjoying the space. So, seeing this video are a great reminder of why we're doing what we're doing and keeps us super motivated for the future and even super excited to get back into traveling, ourselves.
Brian Chesky:
Yeah, if you think about it, that was just one story, Cole and his family, and you've welcomed over a thousand guests. So, think about all the stories, think about all the memories that have happened because of what you've made possible. So, thank you for hosting, and thank you for joining us today.
Ashley:
Of course, yeah. Anytime.
Brian Chesky:
Thank you, Ashley. Thank you, Francois.
Ashley:
Bye, Brian. Thank you, guys.
Brian Chesky:
So, that is what I have to show you today. I hope you're excited as we are. I just wanted to end by saying this, I know it's been really difficult, but travel will be back. When it is, it will be different then before because people want connection. That meaningful travel is made possible by hosting. It's made possible by all of you. So, thank you for hosting, and thank you for watching.