Airbnb hosts will have noticed that Airbnb was busy rolling out a new design for its hosting tools, across their app, mobile, and desktop versions. Such a redesign helps understand what Airbnb sees as crucial when it comes to what the hosts want to do on a daily basis and also what Airbnb wants them to do to keep the platform competitive. Using our product marketing experience, our Rental Scale-Up team will show what the changes are (e.g. simplified and consistent navigation, new Today tab, and clear calls for hosts to align their prices with Booking.com). Then, we'll look at why Airbnb is introducing these major design changes. It is not only about user experience and helping Airbnb hosts get their jobs done.
The new design seems to favor the needs of individuals hosts, as tabs such as Tasks and Teams are downgraded to sub-menu items. Yet, Airbnb acknowledges that hosts, especially professional ones, may be listed on other platforms and wants their rates to stay competitive. By explicitly pulling in a property's rates from Booking.com, Airbnb signals that guaranteeing low or competitive rates to guests is important. As meta-search engines and new actors such as Hopper are on the rise, a great brand may not be enough to prevent users from price shopping for vacation rentals.
Airbnb hosting dashboard: New navigation, new Today tab, and a tool to compare prices with Booking.com
Simplified and consistent navigation menu in Airbnb's hosting tools
The simplified navigation is the most visible change for Airbnb hosts who use the app or the website frequently. It features fewer items and is much more similar in the app and on the website than before.
The second part of this article goes into why Airbnb has introduced such changes. For the moment, let's see what has changed for Airbnb hosts.
For individual Airbnb hosts (i.e. not using the Airbnb professional hosting tools)
Before the change:
There were more tabs in the navigation bar, when connecting from a computer:

Home / Inbox / Reservations / Calendar / Listings / Performance / Help

For the same user, the navigation bar was different when using the Airbnb app:

Inbox / Calendar / Listings / Performance / Menu
After the change:
Fewer tabs in the navigation bar and a consistent experience across platforms

New Navigation bar: Today / Inbox / Calendar / Insights / Menu

The Menu tab opens to show a sub-navigation, where topics of less importance or less frequent use are listed. For instance, the Listings tab is now to be found under Menu.
Note that Insights is the new name for the Performance tab
The simplification and consistency efforts is extending to professionals hosts. They get the same navigation bar as individual hosts. It means that some pro tools such as Teams and Tasks get downgraded to sub-Menu items. We'll see in the second part of this article what it may mean when it comes to their actual usage.
Before the change:
Home / Inbox / Reservations / Calendar / Listings / Performance / Team / Tasks / Help
After the change:
Today / Inbox / Calendar / Insights / Menu
Changes for professional hosting tools users:
Teams and Tasks

Before: Teams and Tasks tools were available in the main header navigation
After: These tools live under the Menu button

Activity and Transaction History

Before: Your Activity and Transaction history were located under your Profile
After: You can find these features when you click the Menu button

Stats:

Before: Stats, including your earnings, were displayed on your dashboard as well as under Performance
These stats live under the Insights tab, which has replaced the Performance tab
B. Discover the four blocks that make up Airbnb's new Today tab
Airbnb is introducing a new version of its Host Dashboard, called Today. It is split into four parts, from the most to the less pressing items to address on a daily basis.
Block #1: Time-sensitive alerts
This is where the Airbn host can see new booking requests and actions they need to take (e.g. notifications such as the need to respond to a new guest review).
Block #2: Current and upcoming bookings
Almost as time-sensitive as new booking enquires: Relminders about current and upcoming bookings (arriving soon checking out, current stays, and upcoming stays).
Block #3: Quick links to update your listing settings or take advantage of guest booking trends
 The "Next steps for you" section is less about what a host needs to do today than about what Airbnb would like to do as soon as possible.
Here are the four call-to-actions that you can find in this block:
Explore your settings
View your performance
Fine-tune your pricing
Update your availability
Block #4 : Updates from Airbnb on new features and tools, important events, and changes to policies that may impact you
The "Hosting tips & updates" section presents recent information from Airbnbs's help center, as well as more general corporate communications.
Clearer calls to action in the Opportunities tab, with a prompt to compare prices with Booking.com
Changes are not limited to hosting dashboard homepage. Let's leave the Today for now and dive into the Insights tab. There, Airbnb presents to hosts opportunities for them to improve the performance of their property.
Airbnb has been playing for months with how to categorize these opportunities. In terms of design, it is important to group them in a way that makes sense to hosts to get them to at least consider them.
So, the grouping is quite telling about what Airbnb wants hosts to see as important their listings. They need to look after:
Appealing listings

Flexible booking
Pricing
Hospitality tools
Along the new "Pricing" option, there is one that will catch the attention of Airbnb observers:
Compare how you're priced on different websites
Check your Airbnb and Booking.com prices side-by-side to find out where you're priced differently. Then adjust your prices to stay competitive everywhere you host.
The next screen gives a bit more explanation about what this is about. Airbnb is not afraid to show Booking.com's logo and colors.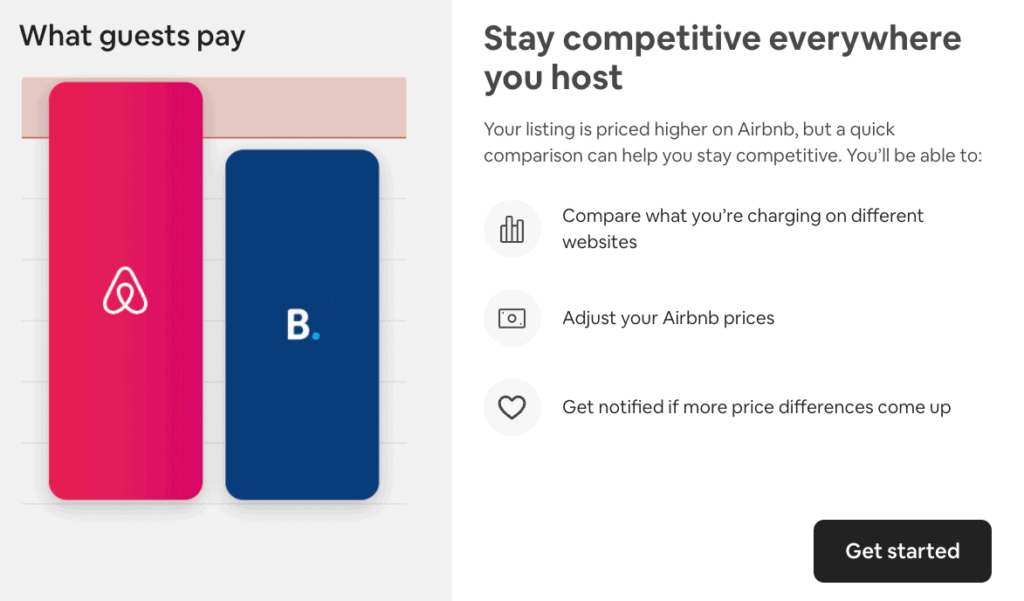 For the listings whose overall pricing Airbnb finds higher than on Booking.com, hosts can revise three price components:
1 – Nighty prices
2 – Weekly discount
3 – Cleaning fee
What the design changes say about what Airbnb wants hosts to do to keep its platform competitive
Vacation rental tech product marketing: What drives changes (User research and strategy)
First, using our product marketing experience in the vacation rental industry, let's see why platforms such as Airbnb conduct such radical redesigns. It will help us uncover some of Airbnb's motivations.
Here are common sources of information that tech product teams use before conducting a design overhaul:
What users (hosts and guests) complain about
The Today tab, from its name to its content, wants to address complaints from hosts, such as the time lost when trying to find something on Airbnb when the navigation of the app is different from that of the desktop version.
Survey and discussions with users are not limited to direct users. For instance, Airbnb may have talked with would-be guests and realized that hosts were taking too much to respond to inquiries. To speed host response time, it may have decided to put such requests on top of the new Today tab.
What hosts want
Airbnb's product research team may have also tappes into the wants of Airbnb hosts, such as "I want to see what is important at a glance and not have things in the way that are irrelevant to me when intereacting with Airbnb on a daily basis".
User and product data
Host data and product usage are key to determine what should be prioritized in a redesign:
Data that show tools are used the most and the least (e.g. Teams and Tasks were may not be the most used).
Data about what and how. For instance, communicating with guests is something that needs to be done and from anywhere, it is a great fit in for the app. And it makes sense to have the Inbox and New Guest Inquiries coming first. Meanwhile, some tasks, such as uploading new listing photos or updating key listing information, are done less often and may be easier to on a computer.
Data about who is using the tools: Airbnb caters to hosts of all sizes. Yet, large property managers tend not to use the Airbnb app and host dashboard too often, as they handle everything from their PMS and/or channel manager.Indivisual host with one proioery are probably super users. Medium-sized property managers probably have a mix-and-match approach, using the app, the deslotp, and their connected software at different moment for different tasks.
User experience (UX) best practices
The tools that users in an app and on their computer may look the same, but their code is usually different. Porting a feature from desktop to app requires work. So, conducting a redesign that aligns design across platforms (app, mobile, and desktop) is a big task. Ideally, navigation, system iconography, contextual actions, and interactions should be consistent.
It brings consistency to users, who less lost and save time. It is good in the long term for product teams, it forces tight corrindation among teams competing for the attention of the host
Good design is Airbnb's DNA, given the founders' background in the topic. It also means that, with the company, design teams are powerful enough and product teams are aligned enough to get such a vision done. It is not always the case within big platforms: The older and more complex a platform, the harder it is to align teams.
Long-term product strategy:
If Airbnb chooses to focus on individual hosts, who are more loyal to the company and who need its tools the most, then the company may want to prioritize tools that they use. It may also want to stop investing in tools that are not made for this core audience and that is plans to deprecate (e.g. Teams and Tasks?).
Help Airbnb hosts do their jobs (and get hosts to do the jobs that Airbnb want them to do)
Jobs to be done, as expressed by hosts
A tenet of product marketing and user research is the jobs-to-be-done (JTBD) theory (more on it below). If you think about it, for an individual host, hosting is often a side job. So, replying to booking inquiries and guest messages is often something to do fast so that it gets out of the way of their main occupations (e.g. bringing the kids to school, starting their workday). Here, Airbnb used design to hide all the elements that are not necessary on the go and/or on a daily basis.
Here's more about jobs-to-be-done theory: As Theodore Levitt said, "people do not want a quarter-inch drill, they want a quarter-inch hole." People buy products and services to get jobs done; and while products come and go, the underlying job-to-be-done does not go away. This notion is at the heart of jobs-to-be-done (JTBD) theory.
While most companies innovate by trying to improve their existing products (creating a better quarter-inch drill), the innovation process is dramatically improved by instead trying to find better ways to create a quarter-inch hole (to get the job done). The implication of this thinking is profound: stop studying the product and instead study the job that people are trying to get done. By making the job, rather than the product or the customer, the unit of analysis, we've made it possible for companies to achieve predictable growth.
Jobs that Airbnb want hosts to do
Yet, when looking at that actions part, such as "Fine-tune your pricing", some of the changes can also be read as making sure that hosts cannot miss what Airbnb wants them to do, such as having more competitive prices than on Booking.com. Sure, a host may want to pay for her kids' after-school activities, so make more money by getting more bookings. If her prices are too high, it may be in the way. And she may not realize that she should be "fine-tuning " her pricing.
Yet, having more competitive pricing than on another platform is not something a host can naturally care about.
The Actions part and the whole Insights tab are about proving guidance to hosts so that they can be more successful on the platform (and generate more service fees for Airbnb). Fair enough.
Has competitive pricing become a key issue for Airbnb?
Among all major platforms, Booking.com is the one that is the most renowned for focusing on offering the lowest prices. For example, it monitors the rates that hotels display on other platforms (e.g. Expedia) and gives them a now Price Quality Score in their partner extranet if their rates are more expensive on Booking.com. Yet, price comparison has been harder to do with vacation rentals, as there are more tech providers comparing hotel prices than vacation rental prices and as hotels have unique names (eg. "Ritz Paris" )that make them easy to spot on other OTAs while vacation rentals are often listed as "spectacular 1-bedroom with ocean view", which is less unique.
Airbnb is fond of saying that hosts are loyal to its platform. Last year, Transparent Data found that more than 80% of hosts with only 1 property were exclusive to the platform. For these hosts, we can guess that Airbnb is not worried. They probably use Airbnb's Smart Pricing tool, which allows Airbnb to be a price maker and set rates in a manner that is good for converting and still having rated high enough to many enough service fees on each booking.
Yet, the arrival of this new tool and of the emphasis "Fine-tune your pricing" on the Today page show that Airbnb wants to remain competitive when properties are listed on multiple platforms.
For all the power of the Airbnb brand, it appears that some Airbnb users may found a great place on the platform and then go price-shopping. If this leakage is big, Airbnb is right to address it to keep users on its platform.
Another issue may be the rise of meta-search platforms, such as Google Vacation Rentals, HomeToGo, and Holidu. For years, meta-search was efficient to help users compare hotel prices, but it sucked at comparing vacation rental offers. It is just more complicated, with different names from one platform to another, non-standard fees (e.g. linen fees, cleaning fees).
Finally, new players such as Hopper Homes may be able, in the near future, to offer lower prices than Airbnb, thanks to the "price drop guarantees" and other financial products they offer.