Skift's Global Forum is one of the most respected travel conferences in the world. It is a great place to hear industry leaders and researchers share data and insights about where we're heading. This year, the conference took place in New York in late September. If you could not make it, we have great news for you: We've put together the complete interview videos and the best takeaways from three of the vacation rental industry's most talked-about leaders: Airbnb CEO Brian Chesky, Sonder CEO Francis Davidson, and HomeAway Founder and ex-CEO Carl Shepherd. Thanks to the latter's tongue-in-cheek comments, the videos and insights are made more fun and less PR-machine driven. Our own Rental Scale-Up team is adding its own take on what these leaders said, for broader context and larger perspective.
Thank you to the Skift team for making the videos available.
The future of vacation rentals: Complementary and opposing visions
It makes sense to put these two videos together, as they echo each other.
For instance, Airbnb's Brian Chesky sees a business opportunity for his company to help companies bring together their employees for a few weeks at a time. For instance, to work on a project and build rapport, colleagues could stay for 3 weeks at a short-term rental. No need for the company to have large office buildings when, the rest of the time, people work from home.
This is a vision shared by Sonder's Francis Davidson, as the scenario fits well with his company's supply of modern serviced apartments in locations that are well-connected.
However, when Brian Chesky says the next opportunity, in the coming 10 years, will be family travel, HomeAway's founder Carl Sheperd is there to notice that this is what everyone else in the vacation rental industry had known for 40 years: Vacation rentals are mostly used by families and groups.
We at Rental Scale-Up could add that when Chesky is excited about multi-generational families and groups of friends traveling together to reconnect, he's merely pointing out Vrbo's core user group and business case.
Yet, to be fair to Chesky, he has probably in mind tech workers meeting for a week for a "design sprint", "offsite meetings, and other "quarterly kickoffs". Even if before COVID, it was a reality for employees of large vacation rental listing sites to rent a place for a few days and work on solutions as a group, to better feel what it is like to be a guest.
An interesting shift that Brian Chesky believes in is from long-distance travel to short-distance travel: During the pandemic, people may have realized that traveling is about distance, but about change of scenery and meeting people. At Renta Scale-Up, we think that this, combined with flight shame and lengthy restriction in international travel, could indeed influence how people book vacation rentals and how destination markets evolve.
Now, how many of the world's employees, beyond the Silicon Valley, really have this kind of freedom to work remotely as extensively? It may be a generational thing, a trend for Millenials and Gen Zs, as Sonder's Davidson is pointing out.
Brian Chesky is cautious to note that it will not be for everyone, but that, for those for whom it will be true, Airbnb will be there. This blurring of working and living may lead to a higher frequency use of Airbnb, opening the door to the long accounted loyalty program, or even to a subscription program.
Since Airbnb has completed its IPO, there's been a lot of money thrown at the vacation rental industry. Carl Sheperd calls some of it "stupid money" and finds that SPACs make stupid things happen faster. As Sonder is to go public through a SPAC, it is interesting to hear Francis Davidson defend his company's business model: It is all about supply aggregation, the more they acquire, the larger the revenues. Shepherd actually comes to Davidson's defense, to explain that it may be hard for outsiders to understand the company's model, as it is new and has never been done before.
Airbnb's Brian Chesky: New travel trends are here to stay (e.g. longer stays, remote working)
Our deep-dives on Airbnb's Q1 2021 and Q2 2021 commercial and financial results showed consistent signs that Airbnb had indeed managed to stretch its brand during the pandemic. Before COVID-19, its most common users were a young couple booking an apartment to stay in a major city, often internationally.
Due to uncontrollable events (e.g. the collapse of international travel), the fast re-purposing and marketing of existing product features (e.g. long and monthly stays), and bold decisions to help travelers discover Airbnb's offering beyond cities and condos (e.g. the new Flexible Search / I'm flexible options), the company's surfed on and captured new use cases for its product. Competitors such as Booking.com have also tried to capture the appetite for non-urban vacation rentals and for long stays, but with less technical and commercial success.
Brian Chesky riffed on Airbnb themes that are familiar to Rental Scale-Up readers:
There's a travel revolution and things will never be the same (despite what the CEOs of other travel companies say):
Some things of the "old world" will come back, such as business and mass tourism, but these forms of tourism will compete with new ways to live and travel.
Brian Chesky sees travel redistribution taking place: People will go back to Paris and New York City, but more people will opt to travel to and stay in smaller destinations. Especially as they may want to spend several live and work there.
Remote working creates, for some, a degree of freedom that enables them to choose to be open to go to multiple destinations, several times a year.
Brian Chesky things that, as more people will stay home to work, they will actually feel the need to connect in-person with other people. So, he sees a business opportunity for Airbnb in helping people meet other people. For instance, in helping companies get some employees together for a 3-week long project, offsite, or teambuilding event.
He also think that family travel will be a big opportunity: Even if kids go to school in-person, they have a lot of vacation days during which parents can take them to another destination. It would be vacations for the kids, and a workcation for the parents, as they would be working remotely part of the time.
Brian Chesky mentioned again how buidling a brand over years has helped its business maitains 95% of its traffic, even when it had to cut its massive $800 minnion marketing spend, mostly on Google keywords.
Travel revolution and travel redistribution
Travel, as we know, it is never coming back and there's a whole new game and I think it's a good thing.
Before the pandemic, we used to live in one place. We call that our house.
We went to another place to work, call that the office.
And we "traveled" to a third place.
What the pandemic did is force us all to do all three activities in one place.
"This revolution really is about flexibility. Suddenly you can live anywhere, you can work anywhere. And I think what's pretty clear is we've all learned how much work can get done remotely."

"One-fifth of our business is not even travel."(i.e. stays over 28 days)
There's going to be, I think a new portion of business travel people working remotely. They want to go back to the headquarters. They're going to need to be there for a week or two weeks.
Now suddenly in a world of flexibility, a lot of people, 40% of people come to Airbnb (this is hundreds millions of people) and either don't have a destination in mind or they don't have a date range in mind. What this means is we have the ability to point demand to where we have supply. And the holy grail of over-tourism is travel redistribution. And we've had hundreds of millions of people more than 500 million searches have used our, just our flexible date feature.
There's a big button that says I am flexible. I think going forward, we're going to be in the business of inspiration. We're going to be in the business of pointing demand to where we have supply.
Airbnb in the business of helping people (travelers and corporate employees) connect
You can only stay at home so much, watch Netflix be alone. You want to get out. And so suddenly I think travel is going to be about not just seeing places, but really seeing people. And so it's going to be about off-sites for companies. That's a big part of business travel. Off-sites family reunions, friends coming together. And I think this is probably the biggest change to travel.
And so increasingly I think a lot of long-distance travel is being replaced by short-distance travel people realizing like it spent a certain amount of money to fly and get a place to stay, or I could not fly and I could stay longer.

I think this is what I mean by the revolution that actually we all have so much more freedom. And I think that's going to lead to a new golden age of travel. Travel is going to be much more about friendship, connection, bringing people together.
Power of the Airbnb brand
We were spending $800 million on a run-rate basis on marketing, mostly Google keywords. And we got to do the experiment that I think every CMO in the world wishes they could do. What if we just turned off a hundred percent of marketing, what would happen? And everyone's been afraid to try that experiment. Of course, we were forced into that experiment.
So we shut off $800 million of run-rate marketing. And what happened was our traffic was still 95% of the year prior. And so we started realizing maybe we don't have to return to that level of spending and we have not. And it's helpful that our brand is a noun and a verb. And you know, we spend a lot of energy now, you know, like investing in a brand, I do a lot of press.
Family and group travel: A big opportunity for Airbnb (hello, Vrbo!)
I do think a bigger opportunity the next year, 10 years for everyone is family travel. And I think, you know, even people with families, they can't like be totally untethered, but most of their kids are only school, 180 days a year, the other 185 days a year. They can travel a lot of them.
And I think the other thing is going to boom is basically multiple families traveling together or friend groups traveling together because like living in a house by yourself when you can't even go to the office, it's a pretty isolating life. But if you could be around your friends, in your flexibility, that's a pretty big opportunity as well. And this is really exciting.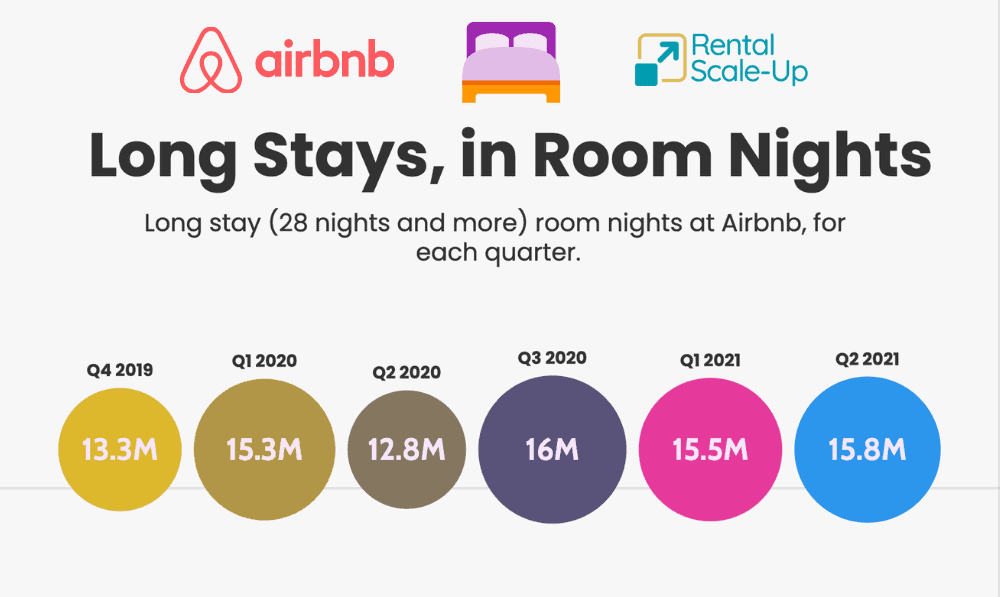 Sonder's and HomeAway's founders: The young vs the sage, on-message vs nothing to lose
When are the active CEO of a company, there is only so much you can stay on stage at a conference. Everything that leaves your mouth could have an impact on how investors see how your business is doing. In this video, this is the position of Francis Davidson, Sonder's CEO and Co-Founder.
Meanwhile, when you founded one of the most successful companies, sold it to a bigger group, and are now retired, you can enjoy rather refreshing freedom of speech. This is what Carl Shepherd, HomeAway's co-founder did profusely.
Let's see that it is easier for Carl to take the role of the sage who's seen the movie before and who can make tongue-in-cheek comments about Airbnb's Brian Chesky on stage.
In our deep-dive about Sonder's investor presentation in view of its merger with a SPAC, we highlighted that Sonder has a lot units signed that did not look to be open. So, occupancy was indeed high, close to 70%, but only if you looked a officially live properties. In the interview, Sonder's Davidson basically says that they mothballed some of the signed properties, until the second half of 2021 to early 2022, to wait for the return of demand. Glass half-full?
Carl Sheperd on Airbnb, Vrbo, and HomeToGo: Being specialized and close to the inventory is better
I was glad to know that he finally figured out what everybody else figured out 40 years ago, that families and groups travel using vacation rentals. The industry is in the United States, almost 70 years old in Europe. It's 120 years old and it's always been about families and groups traveling.
VRBO and Airbnb are dominant. The question for VRBO is how integrated it will become with Expedia. If I was Expedia, I would leave it separate, but they paid me $4 billion, so they can do what they want.
I'm not a fan of the HomeToGo model. I have had friends that had invested in that and I told them I wouldn't do it. I don't think metasearch works that well because the (vacation rental) inventory is not standardized enough for meta-search to really be beneficial.
Carl Sheperd on the role of "stupid capital" and SPACS in the travel industry
There is a lot of capital chasing the travel industry right now.
And when you have a lot of capital chasing things, you have a lot of stupid capital.
SPACs are one of the things that help stupid capital go faster.
Carl Sheperd on the impossibility of predicting 2022 vacation rental trends
We can't make any sense of 2019, 2020, and 2021. There's just no way that you can look at any month in 2020 and extrapolate that month over not next year.
I'm not sure whether we didn't eat away five years' worth of growth in vacation rentals.
I coined a phrase a few years ago that it's not alternative accommodations when it's preferred. The pandemic probably sped that up.
Now, I don't think you can extrapolate that we're going to have that type of growth again in the coming year. So I'd be very leery if I was the financial officer of a publicly-traded company of making any projections off of 2020.
Francis Davison on Sonder being well-positioned for the hybrid work model: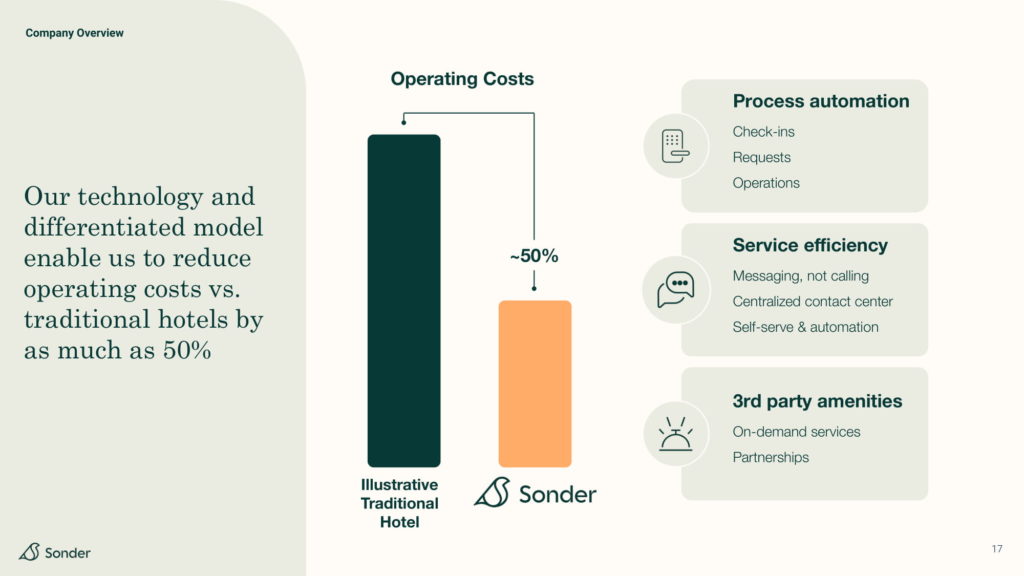 Sonder says that its serviced apartment model can also attract business travelers, especially as the new hybrid work model redefines what traveling for work and long stays can mean:
Historically, we've been 80% leisure travel actually, but we think that the consistency of the quality that we provide is actually a really strong argument for business travel.
There's going to be less business travel, but other use cases are opening up that are very real. We want people to actually come up and meet in person on a regular basis, say every three months, and meet up in a market and spend a few days together instead of a water cooler talk, we can actually have meaningful time together.
Sonder's Francis Davidson on how the company is adding 1,000 units a month
It's as simple as supply aggregation for our business. Our value proposition to our guests is so strong and the feedback is so good that the only limit to our growth is really supply aggregation. And the last 18 months, what we've been doing is building up priming the pump and building our base of supply,
We're adding around a thousand units a month. And with that, a thousand units translates into $60 million in annual revenue, and these properties are open. And if you do that, you know, 12 months, a year, that's 800 plus million dollars a year in revenue that is brought through by, by, by these, by these properties.