Thanks to its focus on large vacation rentals, to its strength in non-urban markets, especially in the US, and to Expedia Group's advertising money driving traffic to its websites and apps, Vrbo is well-positioned for a great summer 2021. For property owners and managers, it means that updating listings on Vrbo and sister sites such as Stayz and Abritel is crucial.
Terrible Q4 2020 Expedia Group results eclipsed by the buzz around Vrbo
Expedia Group, the parent company of vacation rental listing site Vrbo, has just released its Q4 2020 financial results. Because of the impact of COVID-19, the comparison with numbers from the same period a year earlier, Q4 2019, is devasting. Here are a few metrics showing how much the online travel group has been hit:
| | | | |
| --- | --- | --- | --- |
| | Q4 2019 | Q4 2020 | Change (%) |
| Room night growth | +11% | -61% | – |
| Gross bookings ($ millions) | 23,245 | 7,567 | -67% |
| Revenues ($ millions) | 2,747 | 920 | -67% |
| Operating income ($ millions) | +160 | -463 | – |
Yet, if you read the transcript of Expedia Group's earnings call, you will notice that the financial analysts were most interested in discussing Vrbo's fortunes. As short-term rentals are one of the few activities doing relatively well in the travel industry, Expedia Group's team happily obliged. Peter Kern, Vice Chairman and Chief Executive Officer, Eric Hart, Chief Financial Officer, and Patrick Thompson, Senior Vice President, Corporate Finance, shared interesting insights.
Expedia Group does not disclose Vrbo's earning numbers. But, what thing is for sure, Vrbo matters to Expedia Group. And Vrbo matters a lot to property managers in the US, according to this graph shared by VRMintel and created by data company Key Data Dashboard. These data are for U.S. vacation rental management companies, i.e. we can infer that these are mostly for non-urban markets.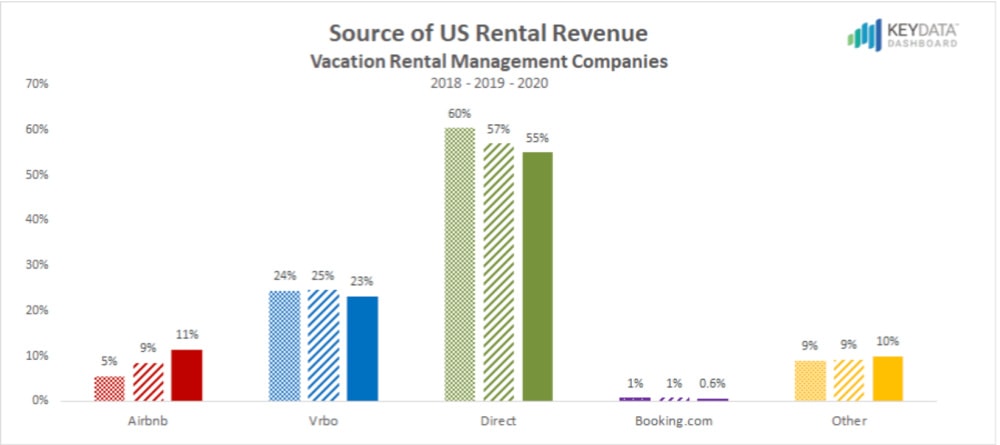 According to this graph:
55% of their bookings are direct
25% are from Vrbo
12% are from Airbnb
0.6% are from Booking.com
10% from other sources
So Vrbo matters a lot to Expedia Group, even if the details of the data are not really shared. What is important here is that Airbnb's IPO is putting pressure on Expedia Group to explain that its own vacation rentals, Vrbo, is doing well. And they have a plan and are executing it. During the call, Expedia Group's management said that a Vrbo IPO was not in the cards. Yet, there may be pressure from some shareholders to unlock the value of Vrbo: After all, if Airbnb is worth so much alone, how much would Vrbo be on its own?
2/ More direct traffic to Vrbo, thanks with a continued advertising push
Expedia Group's leaders insisted that they wanted to "drive as much brand recognition and long-term value and to the brand over time. So we pushed into Vrbo."
This is similar to what we've heard during the Q2 and Q3 2020 earnings call. While Airbnb and Booking.com drastically cut their advertising in 2020, Expedia Group re-started spending on Vrbo in May 2020. They made the best that vacation rentals would be a great category at a time of social distancing and domestic traveling.
In the US, on TV and on the internet, Vrbo commercials for family-friend vacation rentals have been quite visible. In the first weeks of January 2021, Vrbo even became the #1 advertiser on TV (per impressions) within the online travel category.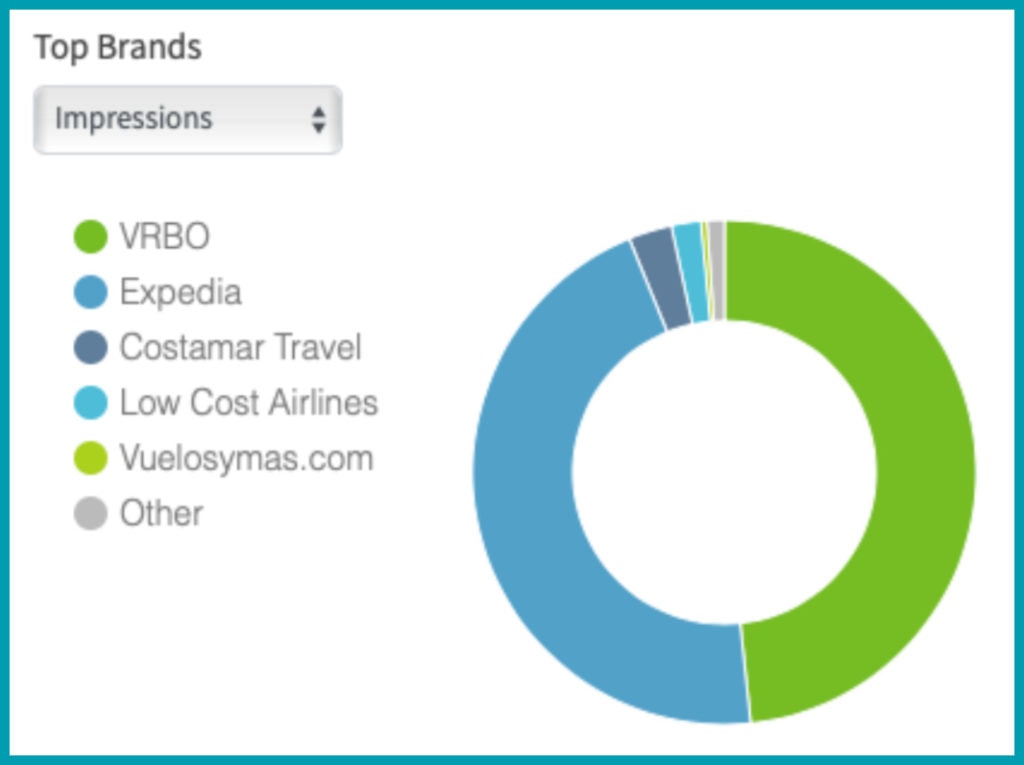 The goal of this advertising push is to make Vrbo top of mind for people who want to book a trip to reconnect with family and friends. TV commercials help strenghten the brand and drive direct traffic.
Expedia Group does not want to depend too much on Google to get bookings: "We have actually removed Vrbo from Google's vacation rental meta product.", said the group's leaders during the earnings call.
3/ International Vrbo brands, such as Stayz and Abritel, to benefit from this advertising push as well
The rebranding of HomeAway into Vrbo looks complete in markets where Vrbo/Homeaway was present without a strong local name. For instance, in the Spain and Italy, HomeAway has become Vrbo. Even in the UK, HomeAway UK has become Vrbo UK.
Yet, local brands such as Abritel in France and Stayz in Europe are so strong that, for the moment, Expedia Group does not want to kill them off. Interestingly, Expedia Group's leaders said that Vrbo "is not a global brand."
So, Vrbo may not be expanding to markets where Expedia Group has an OTA presence. The strategy would be to get more vacation rental supply available directly on these OTAs. Getting more Vrbo supply on Expedia.com has been they've tried to do for a long time, but it seems that it will not be completed in 2021 either.
So, beyond the US, property managers in Europe, Australia, and New Zealand should also make sure that their local listings are updated.
US: The surge in summer 2021 bookings looks to favor Vrbo's core supply of large family vacation rentals in non-urban markets
Since 2020, the vacation rental markets in the US and Europe have diverged in key markets: In states like Florida, travel restrictions are almost non-existent and bookings are high, while countries like the UK and Ireland are discouraging their citizens from booking anything for the next months.
The Expedia Group team concurs: "North America has generally retained more willingness to move around, people engaging in more travel. We haven't had government shutdowns in the way we have in other places".
What's striking is that Vrbo's supply, 70% of which is made of vacation rentals with 2 bedrooms or more, located in sea, mountain, and beach markets, look very well-positioned to benefit from the current booking trends.
Short-term rental data expert AirDNA has noticed record-high bookings in January for this spring and summer in the U.S.: "New bookings for U.S. short-term rentals surged in January 2021 to their highest level on record, even exceeding June 2020 by 22%, which saw bookings skyrocket after initial lockdowns eased and Americans felt confident planning their summer vacations."
What are Americans booking in January for 2021? Stays in the US (domestic) and away from the big urban centers. According to AirDNA: "Americans will avoid large cities and international destinations and instead travel domestically to the beach, mountains, lakes, and small towns throughout the country."
Markets in coastal and mountain destinations generated 64% of all booking value in January, or the total revenue for all reservations made during the month of January for future trips, compared to just 52% in 2017 – 2020.
Our team at Rental Scale-Up cross-referenced data from AirDNA and Transparent to establish an interesting pattern: U.S. markets that are doing well according to AirDNA are also markets where Vrbo has a sizeable share of the listings.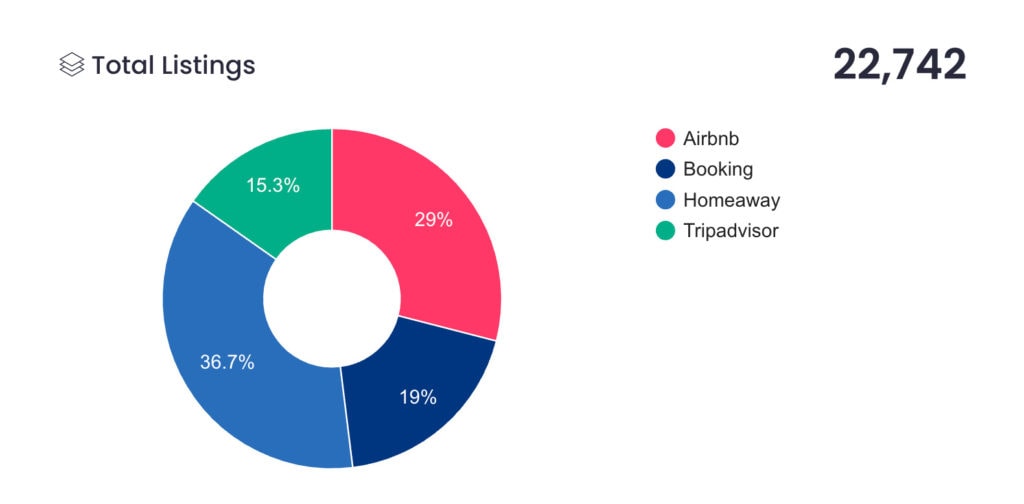 | | |
| --- | --- |
| Market mentioned by AirDNA | Vrbo's share of local listings according to Transparent |
| Sarasota, Florida | 41% |
| Fort Myers, Florida | 40% |
| St Petersburg, Florida | 35% |
| Phoenix, Arizona | 30% |
| Oahu, Hawaii | 42% |
| Gatlinburg, Tennessee | 37% |
Caveat: While Vrbo's has many listings in each of these local markets, it does mean that the company captures the same proportion of bookings. Let's say that, if a platform has just a few listings there, it will probably have a hard time capturing a sizeable share of these bookings.