If proof is in the pudding, then pudding in the vacation rental industry's context is data. We asked experts from data vendors in the vacation rental industry to pick one travel trend they foresee for 2021, as evidenced by data supporting it. What we got in return were 7 distinct trend graphs that told a clear story and helped provide answers to questions such as:
Does the swift growth of longer stays on Airbnb mean anything for the future of OTAs vs. direct bookings?
Why are some countries experiencing markedly higher cancellation rates than others in the same region? Yet, why are others picking up much faster than their counterparts when it comes to daily occupancy?
How are short-term rentals faring against hotels? Which regions show the contrast better?
Exactly how much year-on-year growth has there been in domestic vacation rental guests in some travel hubs?
Which accommodation types are experiencing the quickest and most steady growth?
We invite you to compare these vacation rental market trends with the 2021 Airbnb trends, Vrbo trends, Booking.com trends, and our own Rental Scale-Up's international vacation rental trends.
Andrew McConnell, CEO and Co-Founder, Rented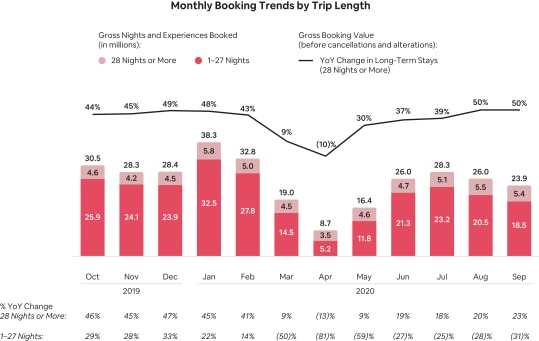 This chart from Airbnb's S-1 shows how much faster longer stays (28+ nights) are growing versus the rest of their business. This has huge implications.
While Airbnb pitches it as an opportunity to expand its total addressable market to include long-and mid-term stays, it is also a BIG risk to them and other OTAs. The longer the stay, the higher the booking cost, and thus the higher the dollar amount of the fees Airbnb and others charge.
This increases the desire, willingness, and likelihood of both parties (manager/host and guest) trying to take bookings "off-platform" to save those fees. In not too long, this could increase guests' preference to "book direct" rather than going through third-party sites. This is a great opportunity for professional managers but a risk to the business model of booking sites like Airbnb, Vrbo, and Booking.com.
Anurag Varma, Co-founder & Head of Analytics, PriceLabs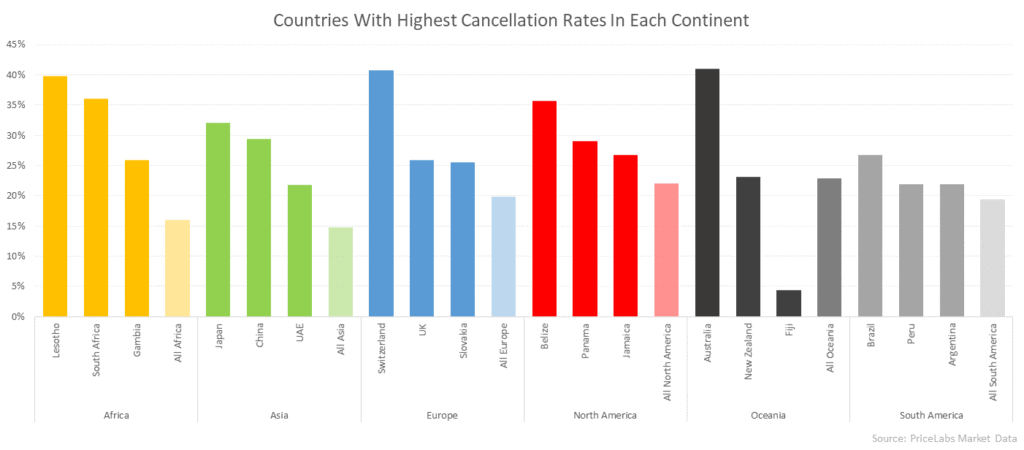 The graph shows the 3 countries experiencing the highest cancellation rates in each continent for Dec 15, 2020-Jan 15, 2021. Cancellation rates are defined as the % of bookings that end up canceling. This is important information to look at for 2 reasons:
1. We also see that some of the countries that are seeing high cancellation rates are also the ones who have been outliers in seeing booking activity (Switzerland stands out in Europe, Brazil in South America, Australia). This is important to keep in mind as your market starts to recover.
2. In some countries, the cancellation rates are as high as 40% (due to travel restrictions, increased COVID cases even with no restrictions, etc.). Having a proactive strategy to deal with those can result in a much better revenue outcome in the long run.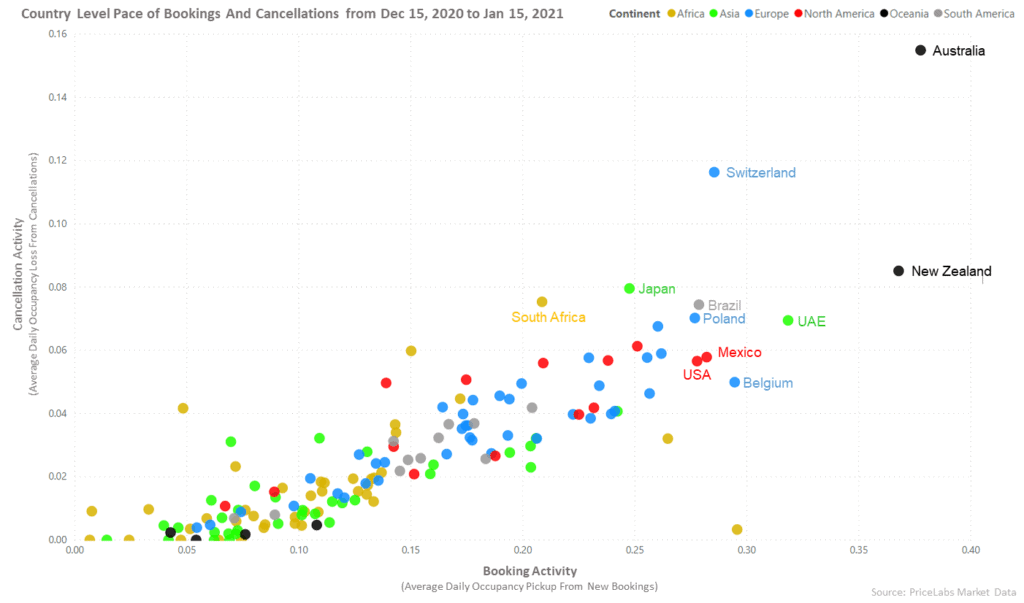 As we turned to the new year, we took a look at what countries are seeing increased booking and cancellation activity. We measure this by using the metric of daily occupancy pickup from bookings and daily occupancy loss from cancellations for Dec 15, 2020, to Jan 15, 2021.
A daily occupancy pickup of 0.4 means that, on average, a listing in the country saw 0.4 days worth of future bookings show up each day during that period. Sustained over a period of time and with no cancellations, it would approximate to 40% occupancy rate in the country.
Most countries in the chart are much lower in pickup and have significant cancellation activity, resulting in a low occupancy. We've highlighted a few outlier countries, and the common theme among countries with higher pickup rates is that they are either: 1) larger countries 2) countries in the southern hemisphere 3) countries that have lower COVID rates 4) countries known for outdoor activities.
More importantly: in the current climate of uncertainty, we see that as bookings increase, so do cancelations. As a host, it is vital to pay close attention to your cancellation policies in OTAs and have a proactive strategy for dealing with cancellation requests – even if your region is stable right now!
Jade Tinsley, Head of Marketing, Transparent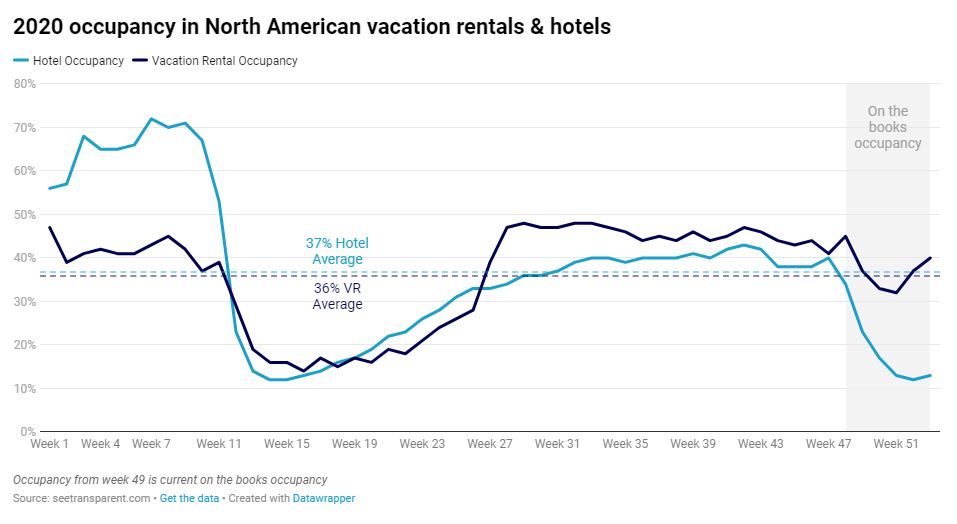 Vacation rental reservations worldwide remain 67% down on 2019 levels. Yet, of all verticals, the more independent nature of short-term rentals has predisposed them to the stronger types of demand. With supply generally more self-sufficient for longer stays and more likely to be isolated or rural, the picture is positive relative to hotels, especially in North America and Europe.

Coronavirus has warped demand trends within the vacation rental industry, with domestic travel a persisting preference worldwide. Until airline demand experiences some recovery, trends are likely to continue, with debilitated international demand and volatile local demand subject to restrictions.
Leisure markets with significant international demand and urban hubs will continue to suffer, but tailoring marketing strategy to the current demand will maximize your opportunity. Prioritize domestic-weighted platforms and re-target previous guests whilst optimizing your pricing. Whilst the first flag is likely to be flight data, keeping fingers on the pulse of demand with granular, forward-looking data insights is most critical to getting ahead of the erratic demand curve.
Jamie Lane, VP of Research, AirDNA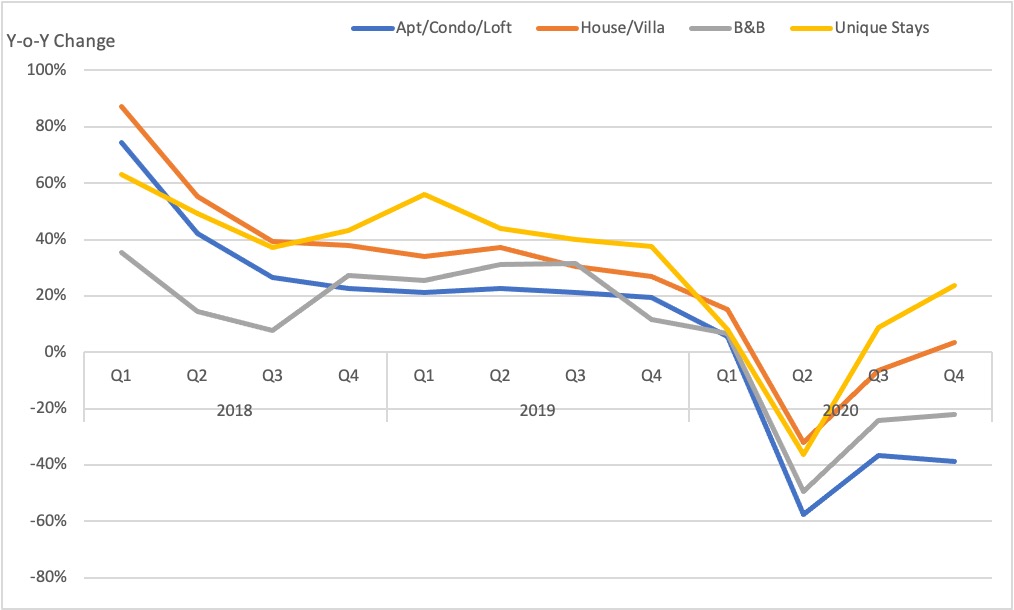 Accommodation was reimagined in 2020. Not only did travelers change destinations, but they also changed their accommodation preferences. City apartments were elbowed aside by tiny homes, farm stays, treehouses, and yurts. Hosts have reimagined what a "vacation rental" is, and travelers are onboard. This graph shows how "Unique Stays" lead the revenue growth recovery in late 2020.We're projecting the popularity of unique stays to continue to grow in 2021 as less intrepid travelers will likely continue to avoid urban centers until vaccines are in wide circulation.
As made plain by the trends and observations above, it is certain that to stay ahead of upcoming downturns, it is important to pay attention to your booking data in as granular a fashion as possible. Thankfully, tools that facilitate this and more already exist, whether you are looking for new cohosting leads, assessing pricing trends in your segment and region, or trying to understand market specifics and follow developments.