Tech for vacation rentals is not just about self-check-in, locks with mounted cameras and smart thermostats. We look here at how some properties are using tech devices to latch on to key 2021 vacation rental trends. If you are targeting working couples with kids, especially affluent ones, these are interesting tech devices to have. Now, if you cannot afford all of them, what you can prioritize to make you stand apart? How about a Wifi 6E router that you will mention in your listing headline to attract remote workers, Netflixers, and gamers, for instance?
This article lists products that you may find incredibly expensive. It is a fun article but we also put it together to be thought-provoking. Have a look. Why do these vacation rental owners use to stand apart? What are guests aspiring to? To which of the vacation rental gadgets would your ideal guests respond?
This article contains 0% paid advertising. More like cool, entertaining, and interesting products and videos that we found the most representative of our analysis, e.g. a frame that is actually is a TV, a mirror that is your personal trainer, or a toilet with a contactless flush.
Here are the key trends and the related residential tech devices detailed in this article: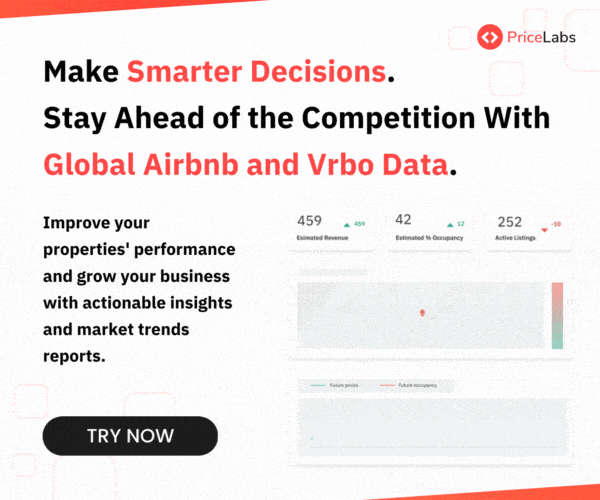 FIT AT THE RENTAL: AVOIDING GYMS THANKS TO CONNECTED FITNESS DEVICES (Peloton, Tonal, and Mirror)
REMOTE WORKING (AND SCHOOLING): Wifi 6E devices and standup desks
CLEAN AND SAFE: Contactless faucet and toilet flush + a $16,000 stillness bathtub
DRIVE-TO DESTINATIONS: Tesla and electric vehicle chargers
VACATION HOME ENTERTAINMENT: miniLED TVs, projectors, and screen for gamers
SECURITY: Smart locks, automating vacation rental check-in procedures
We based our analysis on the 2021 Airbnb trends, Vrbo trends, Booking.com trends, and Rental Scale-Up's international vacation rental trends.
3 listings whose headlines surf on 2021 vacation rentals trends
Let's start with examples of what you could be doing at your property and how you could use it to stand out among your competitors. Can you spot the 2021 trends and vacation rental gues needs that these listing headlines allude to?
WiFi 6, Dock, Kayaks, Gazebo, EV Charger, Games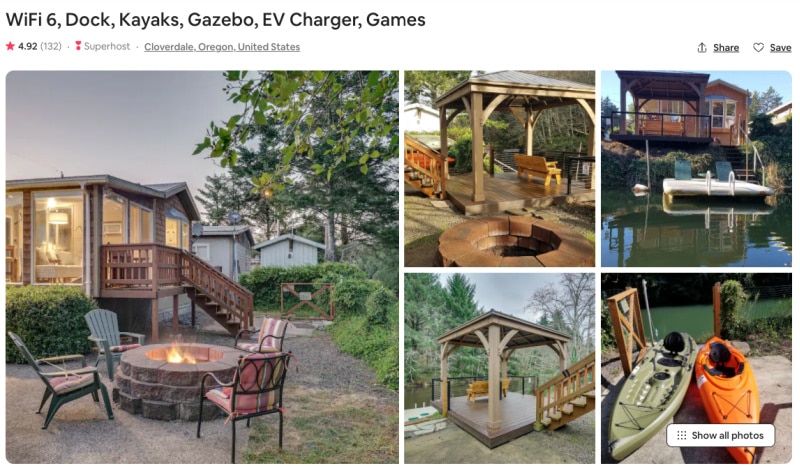 REMOTE WORKING (AND SCHOOLING): Wifi 6
DRIVE TO DESTINATIONS: EV Charger
Luxury home, great WiFi, Office, Kayaks, Peloton, Hot Tub & Pool Open

FIT AT THE RENTAL: Peloton, kayaks, open pool
REMOTE WORKING: great WIFI, office
2 Standing Desks! 💼 Game Room ⚽ Grill 🍔 Nintendo 🎮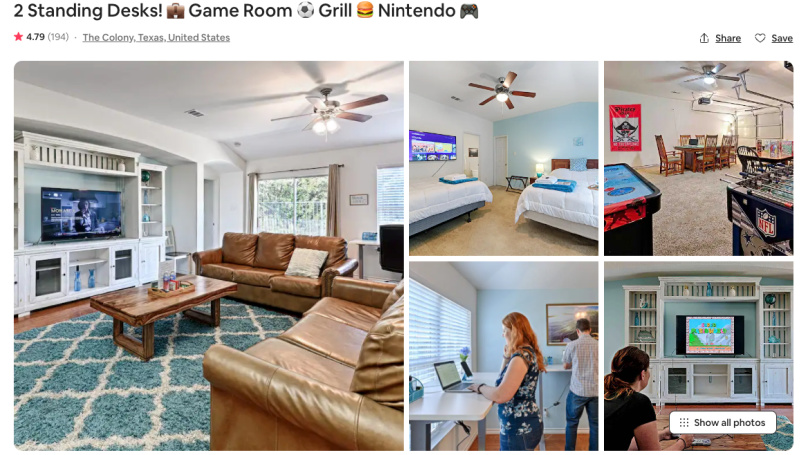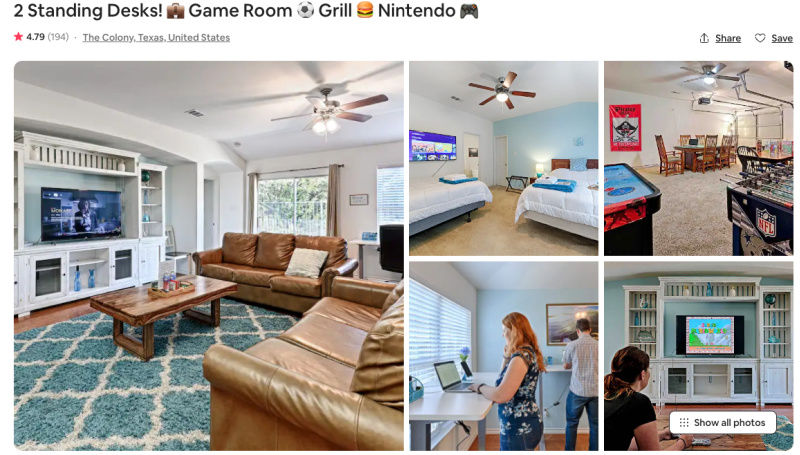 REMOTE WORKING (AND SCHOOLING): 2 standing desks
VACATION HOME ENTERTAINMENT: Nintendo
1. FIT AT THE RENTAL: AVOID GYMS THANKS TO CONNECTED FITNESS DEVICES (Peloton, Tonal, and Mirror)
Luxury vacation rentals have offered private gyms for a while. Yet, home gyms are very important in 2021:
Gyms may be closed due to COVID-19 restrictions or your guests may not feel like hanging out with strangers anyway.
Connected devices are like Netflix: Just like you can use a Smart TV at a vacation rental to log into your Netflix account and pick up your favorite series where you left in the day before, devices like Peloton enable your guests to log in to their account and keep on training with their personalized program.
Most of these devices are compact enough that you do need to dedicate a whole room to a fully-equipped gym.
Peloton – Connected stationary bike
Peloton's indoor exercise bikes are a stationary piece of at-home gym equipment with a large touchscreen attached. You can stream live and recorded classes. Starts at $1,895 onepeloton.com
Pelobuddy, the Peloton fansite, even has a map of all vacation rentals, airbnbs, hotels, and gyms where people can have access to a connected stationary bike. How about listing your vacation rental there?
Mirror – The nearly invisible home gym
A personal trainer in a beautiful mirror. Starts at $1,495. Mirror workout: mirror.co
Tonal – Smart home gym and personal trainer.
A screen, with personalized training program and digital weights. Starts at $2,995 .
2. REMOTE WORKING (AND SCHOOLING): Wifi 6E devices and standup desks
The uncertainty of wifi quality may be what is stopping guests from booking your place. Seasoned remote workers will be looking in your listing description for signs that you care about them and that you want them to work stress-free. As a professional, wouldn't you be ready to pay more to alleviate this concern?
Get and mention your Wi-Fi 6E routers
Wi-Fi 6.0 is sometimes mentioned in listing titles and descriptions. For 2021, demanding guests may be on the lookout for routers offering Wi-Fi 6E. Wi-Fi6e relieves network congestion by offering more than 20 additional channel paths. The benefits are obvious as work- and learn-from-home likely continue for the foreseeable future and with increased household usage for streaming.
For instance, the brand new Nighthawk RAXE500 WiFi 6E router by NETGEAR was launched at the CES 2021 electronics fair.
Standing desks – but not the ugly kind
A desk can be low-tech. Now, to attract remote workers for a monthly stay, investing $300 in a great standing desk may make all the difference. Get it and mention in your listing description.
Now, a standing desk can be an eyesore at an otherwise nice-looking vacation rental. At CES 2021, Flexispot launched a series of standing desks with nice wood details, such as the Kana Bamboo edition. The feet still look industrial, but this is already better.
3. CLEAN AND SAFE: Contactless faucet and toilet flush + a $16,000 stillness bathtub
Contactless tech in vacation rentals is not just for doorknobs. High-touch surfaces such as sink faucets and toilet flushes come to mind as well. It may be over the top in a private house (unless you grew up with my brothers), yet a vacation rental is a property where strangers get in and get out.
Touchless Toilet and touchless faucet (and a $16,000 bathtub)
Kohler, an American maker of toilets, faucets, sinks, and showers, has launched a Smart Home line. Here's what the brand had to say about its products: "The KOHLER Touchless Toilet and touchless faucet let handle fewer surfaces as you breeze through your bathroom routine. While the Moxie Showerhead and Wireless Speaker work with the DTV+ digital showering system to create a fully personalized, voice-activated shower experience."
Hot tubs are always are a great addition to your vacation rental amenities. Now, a $16,000 bathtub can be crazy, but it would let you say that your property boasts spa-like features.
U by Moen also does a good job in its video for its smart faucet to surf on the contactless trend:
4. DRIVE TO DESTINATIONS: Tesla and electric vehicle chargers
Since the first COVID-19 outbreak, travel restrictions and aversion for plane flying have made domestic travel a hot theme. Airbnb's Go Near campaign emphasizes the search for nearby getaways.
As more people drive or rent electric cars, owning and mentioning an EV charger can still be a differentiator. Booking.com has started surfacing electric vehicle charging stations in its property search filters; it means that you can give more visibility to your property when people are selecting a property.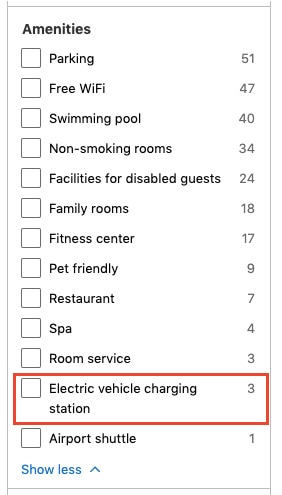 On Tesla and other electric car forums, there are a lot of people posting about where to find a vacation rental that comes with a charger. The EVmatch website has an interesting article about how to make extra money through sharing your EV charger with more people. Now, it should not come to the point of bothering your vacation rental guests, but it is a good way to connect with tourists in the area.
5. VACATION HOME ENTERTAINMENT: miniLED TVs, projectors, and screen for gamers
When we built our Bali villa called Bulung Daya, we decided to have a movie room. Why? Because the villa is located in a secluded location, so we knew that some guests may enjoy having something to do in the evening, so as watching a movie on a giant screen with their family.
Fast forward to 2021: Around the world, a lot of cinemas and movie theaters are closed. Yet, watching the latest Marvel movie with your family looks like a nice option, especially on vacation. Similarly, screens have become key to enabling gamers to have a great time while away from home.
If a family or a group is going to watch a movie together, you need a big screen, a crisp image, and great sound. At the 2021 CES fair, miniLED TVs were touted as the next thing to have. MiniLED is a backlighting technology that enables more dimming zones, better contrast, and higher brightness. LG's 4K and 8K QNED MiniLED TV are coming to the market in 2021, for instance.
Samsung has relaunched The Frame, a TV that is disguised as a … frame, when you are not using it. It can look like a painting on the wall and even comes with artwork pre-installed.
You do not have to build a whole private movie theater at your vacation rental. For example, the great-looking ASUS ZenBeam Latte L1 offers immersive video and audio experiences in the comfort of your vacation home, with Harman Kardon audio.
6. SECURITY: Smart locks, automating vacation rental check-in procedures
COVID-19 has accelerated the self check-in trend. Smart doorbells with built-in cameras give some control to vacation rental owners, while enabling guests to check-in without having to wait for their host.
The rise of Airbnb house parties and the need for party prevention also turn these smart devices into something more useful than mere vacation rental gadgets.
At CES 2021, Alarm.com has released the first commercially available video doorbell that rings without requiring any contact to reduce public health risks and make home visits and deliveries safer for all.
Touchless activation
Real-time video alerts
Two-way audio & HD video
Its competitor Ring launched a similar product, the Ring Video Doorbell Wired. It features:
HD video,
two-way audio,
live view,
advanced motion detection
customizable privacy zones.
Conclusion: More than vacation rental gadgets
We agree that some of these smart devices can be too expensive and fragile to be left at a vacation property.
Yet, a small screen projector and a contactless doorbell are small expenses that can delight guests and save you time. Some trends are here to stay, from remote working to enhanced cleanliness. How can you address them now at your property? How can you market them so that you stand out among your peers? What do you need to show in your photos, to say in your property description, or to add to your listing description?