Looking at the freshly published Booking Holdings Q2 2021 financial results, online travel agency Booking.com is confirming its image as a recovering travel platform, with deals, promotions, and loyalty schemes that align to provide travelers with the lowest rates for hotels. However, when it comes to vacation rentals, things are more complicated. For instance, Booking.com's officials admit that success in the US will be taking a long time. They feel that Booking.com's value proposition is not yet ready to attract enough supply and to start spending marketing money in large quantities Yet, the company is aggressively pursuing professional property managers in key markets, going as far as waiving 100% of its partner commission. As for Booking.com's tactics to offer the best deals to its travelers, they are still not entirely adapted to the vacation rental market. For example, the company is about to launch its Flash Deals, thanks to which travelers can get a 30% or higher discount on selected rooms and rates at participating properties. It makes sense for hotels in big cities to offer such deals during the pandemic, but, in the US, where many vacation rental markets are short on supply, discounting prices in mid-August may not make sense.
Booking.com is still a formidable competitor to Airbnb and Expedia. The OTA has started recovering from the COVID-19 pandemic. Yet, as we will see below, it is not enjoying the "best year ever" mood that many US vacation rental property management companies are enjoying. Actually, even Booking.com's alternative accommodation numbers are at best flat compared with 2019.
Booking.com, an OTA in recovery mode
Financial recovery
| | | |
| --- | --- | --- |
| | Q2 2021 | Q2 2020 |
| REVENUES | | |
| Agency revenues | 1,328 | 357 |
| Merchant revenues | 661 | 245 |
| Advertising and other revenues | 171 | 28 |
| Total revenues | 2,160 | 630 |
| EXPENSES | | |
| Marketing expenses | 988 | 211 |
| Sales and other expenses | 206 | 131 |
| Personnel | 686 | 452 |
| General and administrative | 134 | 104 |
| Information technology | 93 | 70 |
| Depreciation and amortization | 108 | 112 |
| Restructuring and other exit costs | 1 | 34 |
| Total operating expenses | 2,216 | 1,114 |
| Operating loss | (56) | (484) |
Compared with 2019, Q2 room nights were down 26%, which was significantly better than the 43% decline we previously reported for the month of April and the 54% decline in Q1. -> Strong in hotels and cities, Booking.com is not enjoying the " best year ever" that vacation rental management companies in the US are reporting. Nothing bad here, actually: Vacation rental industry news tends to echo what is happening in the US more than in Europe, so expectations are different.
Booking.com's sales & marketing machine is coming back on: Related expenses grew from $342M in Q2 2020 to $1,194M 2021. Booking.com's is famously good at performance marketing, especially at Google PPC. Yet, as we will see below, some of these expenses are also related to discounts that the company is making to attract guests and to hosts like (e.g. waiving commission for targeted US vacation rental companies)
Booking.com's commercial margins are ((1- sales & marketing) / revenues) are still formidable, at 55%.
While Booking.com has reduced its staff by 25%, its personnel expenses did go up. One of the reasons is that the company had to repay in Q2 2021 all of the €65M support money it got from the Dutch government in 2020 after it transpired that Booking Holdings had awarded €28M in remuneration to three of its board members.
The travel industry still sees Booking.com as a formidable cash machine. For example, in its SPAC transaction slides, Vacasa uses Booking.com as a comparable company with mouth-watering margins. Take the data with a grain of salt, but Vacasa estimates that 2022 gross margins could look like this:
Vacasa: 52%
Airbnb: 78%
Booking.com: 98%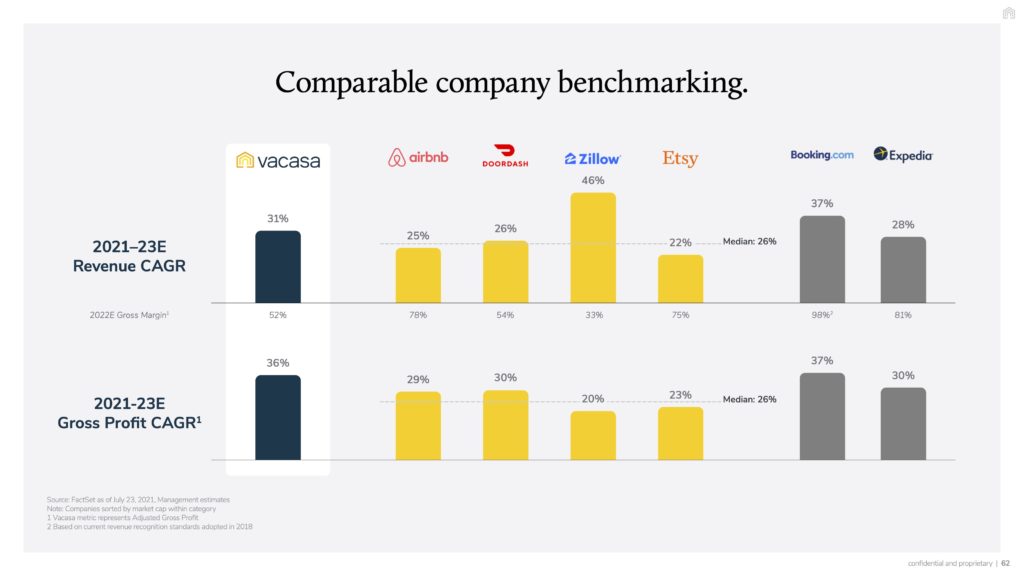 Still leading in terms of web traffic and app downloads, but not #1 in key markets
In terms of website traffic, Booking.com is once again faring better than Airbnb, according to Google Trends. During the worst of the COVID-19 crisis, Airbnb could count on its brand, IPO stories, and PR stunts to keep attracting traffic, while Booking.com has cut off most marketing expenses and could not rely as much on its brand power, for instance in the US. Yet, the tide is turning, as Booking.com's marketing muscle is stretching again.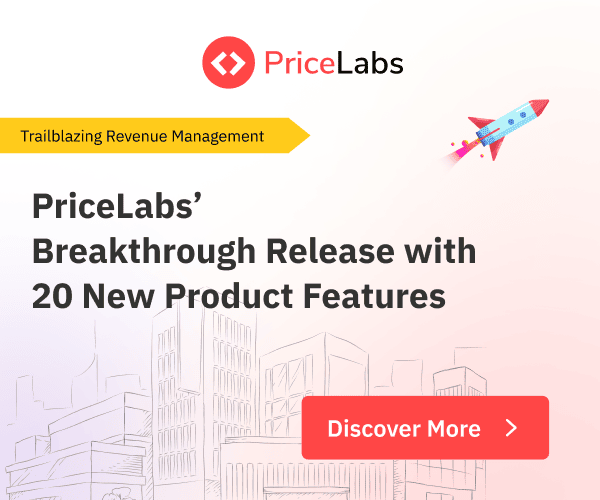 Worldwide, Booking.com is again the most searched website among big OTAS and vacation rental listing sites (excluding Chinese competitors), according to Google Trends.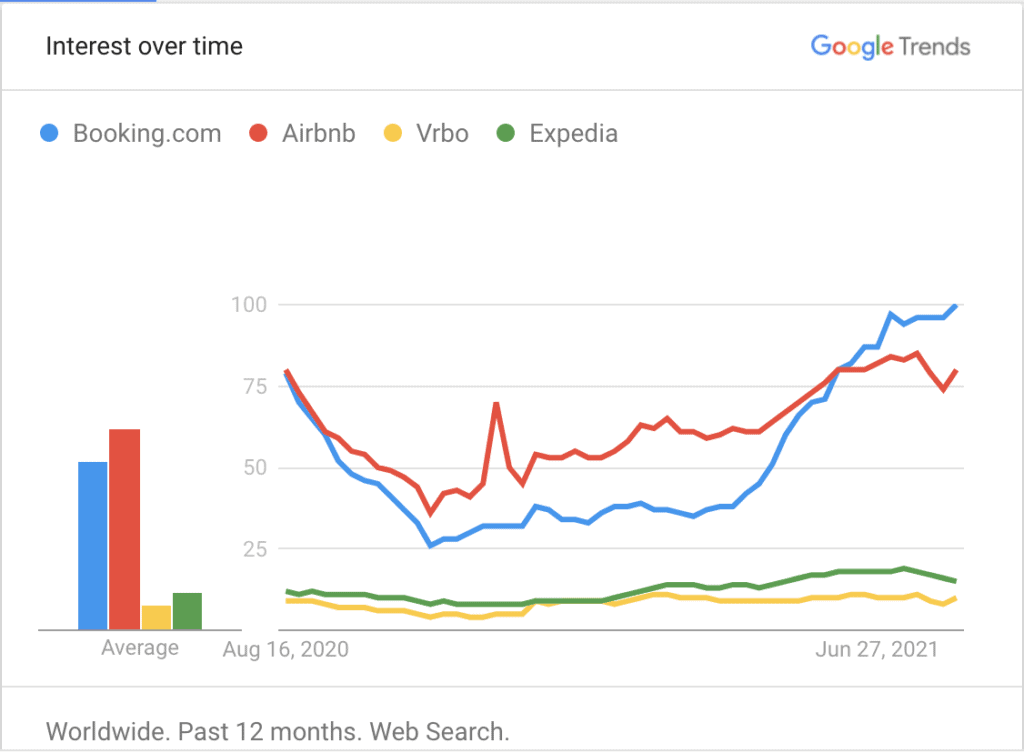 In the large German market, it is still #1. (Note that Vrbo's brand name is FeWo Direkt in Germany).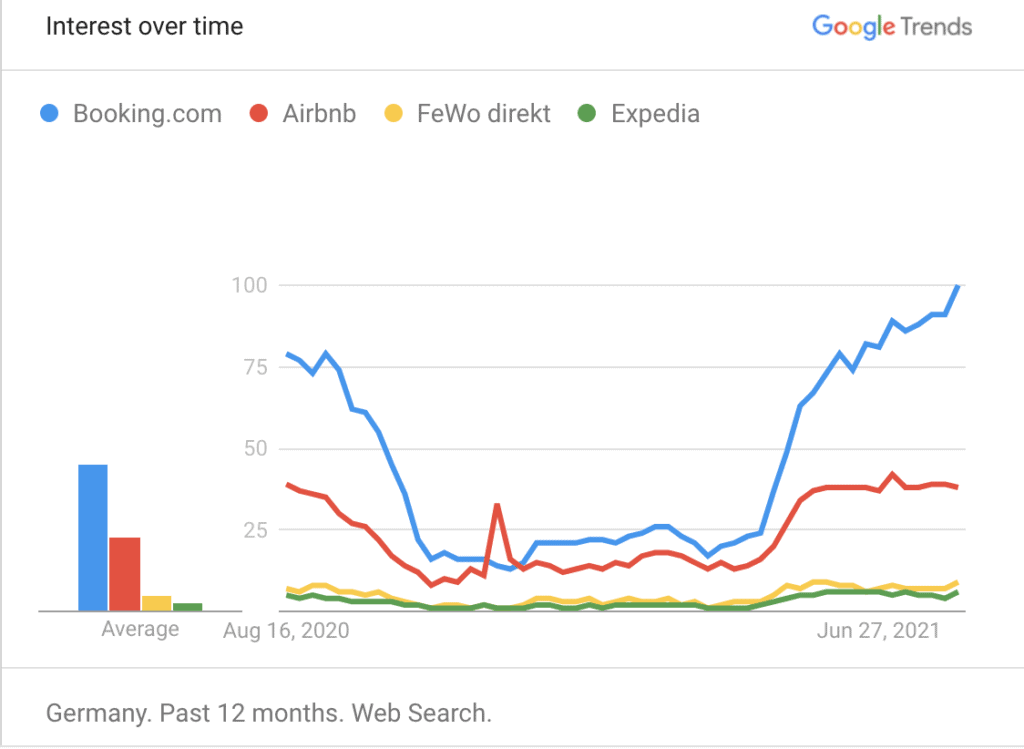 Yet, in the UK and France, Airbnb is ahead. And, not surprisingly this time, in the US as well. Note that, since the beginning of 2021, Airbnb has spent a lot of money on commercials on TV and on Youtube in these last countries. It may not be causation, but the ad campaign at least reinforced an existing trend for Airbnb.
UK
France (note that Vrbo's brand name is Abritel in France)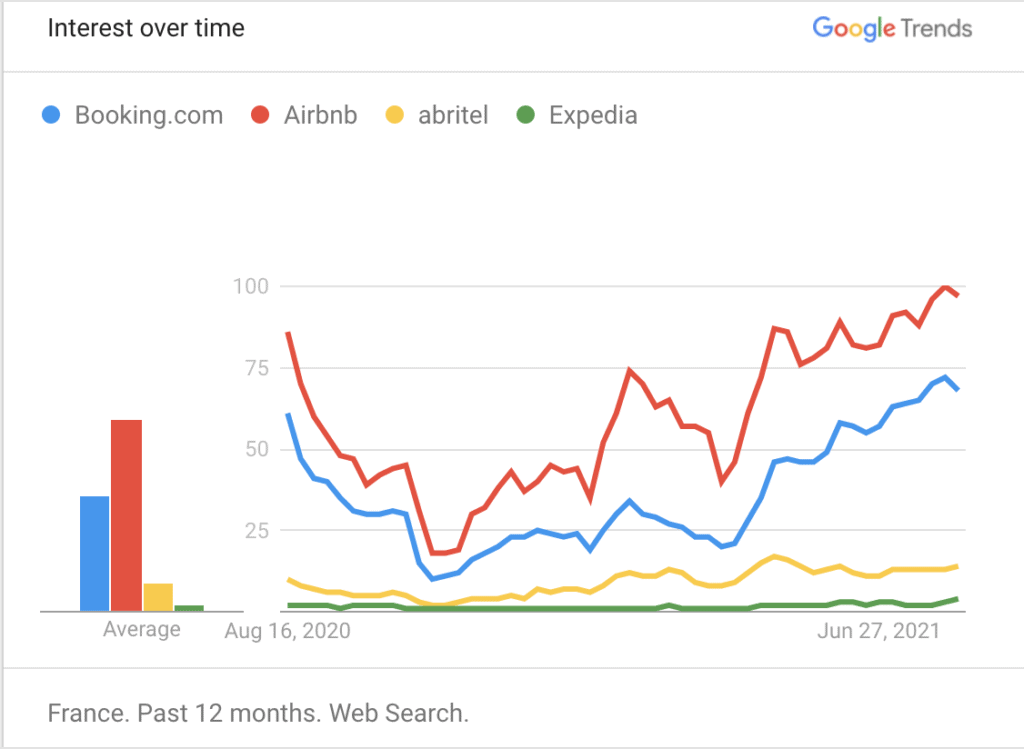 USA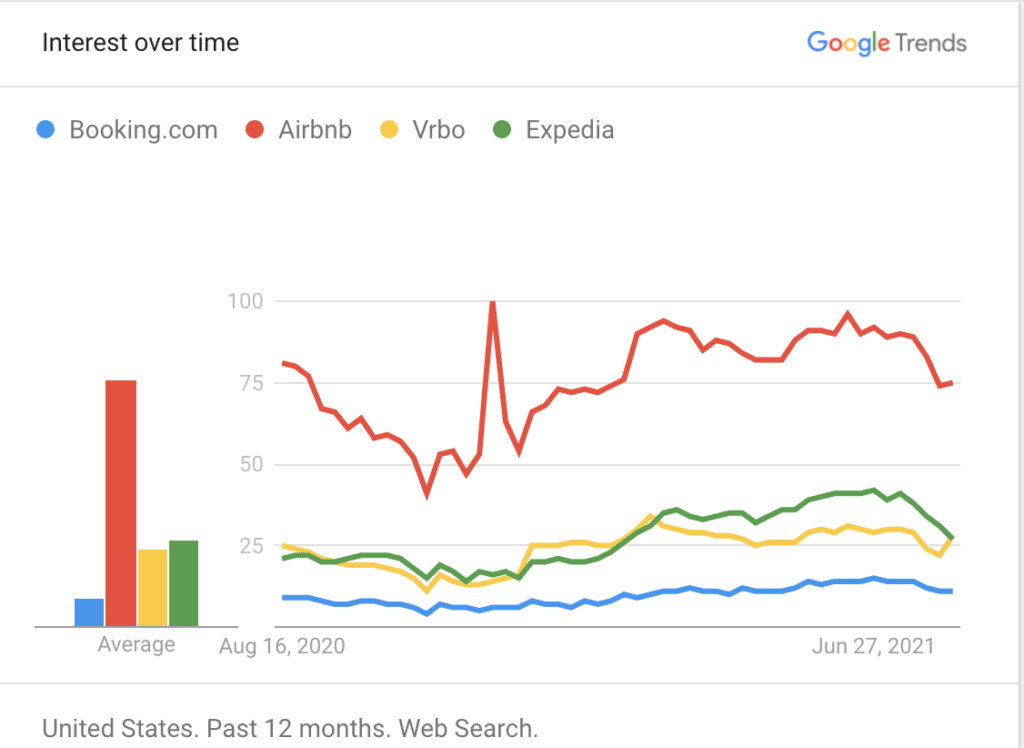 It is not just on the website. Booking.com is investing heaving in making sure that travelers download its app. As we will see, the company is ready to subsidize travelers for up to €200 ($230) in travel credits if they book a trip through its app ("Welcome back to travel" campaign). This is what Glenn Fogel, Booking Holdings' CEO had to say about the Booking app:
Globally, in Q2, Booking.com was the number one downloaded OTA app according to a third-party research firm. In the US in Q2, we were the most downloaded major OTA app as downloads of the Booking.com app in the second quarter significantly increased sequentially."
Other non-vacation rental topics of note
The Q2 2021 Booking Holdings earnings call also mentioned the creation of the FinTech by Booking business unit, Booking.com's quest for the "Connected Trip", as well as the terrible state of travel in Asia. Agoda is Booking Holdings' property that is the most exposed to Asian travel trends. Yet, China was conspicuously absent from the earnings call: While travel has rebounded in China, both Booking.com and Agoda are weak in the Chinese market, so the group is missing out on a big market opportunity.
Vacation rentals: Booking.com, still not completely in?
Yet, viewed from a vacation rental industry angle, Booking.com's long-term issues do not seem to be close to resolution:
Issues:
Booking.com has missed the boat of the US vacation rental boom. It seems that Booking is going after professional property managers in the US and is ready to subsidize its market penetration heavily, for instance by waiving its 15% commission fee.
Booking.com's main focus is to offer the lowest price possible for its users. As a result, the company has created a lot of discounting schemes that working really well to sell hotel rooms. Yet, as these schemes are usually one-size-fits-all and do not take into account the specifics of vacation rentals, the company tends to create programs, perks, and discounts that make sense for hotels, but do not necessarily for other property types. For instance, the Genius loyalty program promises to travelers perks such as free breakfast and room upgrades that do not make sense at self-catering whole properties. Similarly, in Summer 2021, subsidzing city hotel bookings with up to €200 in travel credit makes sense, but telling property managers to offer "flash deals", in the middle of August, in popular vacation rental destinations where availability is tight does not make sense.
Booking.com has missed out on the rising tide of vacation rentals, especially in the US, where CEO acknowledges fixing things will take a long time
Demand for vacation rentals is booming. So why is the share of vacation rentals (vs hotels) sold on Booking not progressing by much?
Vacation rental data provider AirDNA has been tracking record-breaking levels of vacation rental bookings in the US, month after month, since January 2021:
The U.S. short-term rental industry posted another strong month as occupancy rose to an all-time high of 70.2% in June 2021, a full 20% higher than June 2019. This is the first time the U.S. has exceeded an average occupancy of 70%.
These occupancy gains are attributed to both an increase in demand — a 9.2% increase over 2019 levels (+33.8% vs 2020).
Contrast this with what was said during the Booking Holding Q2 2021 earnings call:
In June, our alternative accommodation room night growth was flat versus June 2019, the first time we've reached 2019 levels for this segment since the start of COVID.
So, why is Booking.com's global alternative accommodation numbers far less rosy than what US vacation rental data would lead to believe? We can see several reasons for that:
Geography: Booking.com is weak in terms of vacation rental supply AND demand generation in the US. While the US is booming, big European vacation rental markets that depend on foreign travelers (e.g. Croatia, Spain, and Portugual) are still struggling.
Not all "alternative" Booking.com property types may be booming: "alternative accommodation" is a catchall term that groups together vacation homes, rural cabins, urban apartments, bed and breakfast, and chalets. So, within "alternative accommodation" an issue could be that not all property types in all locations are booming. For instance, Booking.com's supply, even in Europe, is skewed toward cities. In Q2 2021, not many tourists or business travelers were interested in renting a small apartment in Paris, Chicago, London, or Sydney. Same thing for bed and breakfasts, which have been a strong "alternative accommodation" property type that Booking.com since the company launched: In pandemic times, the perspective of sharing a breakfast table with strangers is not the most enticing.
Is Booking.com's vacation rental supply stagnating?
"In the second quarter, we saw the first sequential increase in the number of properties on Booking.com and the lowest number of properties coming off of our platform in the quarter since the onset of the COVID-19 pandemic. As of June 30, we had over 28 million reported listings on Booking.com, of which 6.6 million were for alternative accommodation properties.
Let's look back at data previously shared b Booking.com
June 30 2021: 28M listings, of which 6.6 million alternative accommodation properties.
Q3 2020: "We have over 6.5 million listings in the alternative space."
April 2019 : "Booking.com offers over 28 million total reported listings".
December 2018: "with 5.7 million reported listings in its 'Alternative Accommodations' business".
The numbers look flat, but they could be hiding something else: The company may be adding new listings, but the number of hosts who are leaving or being unavailable on the platform may be just as big. For instance, this is what is happening to Airbnb in the UK, according to this AirDNA graph: The count of available listings is staying flat.
Note that it is important to distinguish between hard and soft churn:
Hard churn: Listing owners delist their properties and leaving forever
Soft churn: Listing owners have closed their calendars on the platform, for instance to favor direct bookings on their own website. They may reopen their calendar in the low season and become active again.
Booking.com in the US: Inferior value proposition –> Low supply -> No marketing spend -> No bookings
Booking.com has not been buying enough traffic in the US to generate bookings and make its partners happy. Especially US domestic bookings. This has made other property managers reluctant to join a supposedly expensive, complicated platform that does not deliver bookings.
Booking.com is intentionally not buying much traffic for the US market, as it needs to improve its value proposition on several fronts before competing with Vrbo and Airbnb
Another issue is that Booking.com's value proposition in the US is weaker than those of Airbnb and Vrbo:
Booking.com's extranet can look complicated and too hotel-focused for property managers
In the US, Booking.com's payment solutions are messy and expensive (hence the creating of the FinTech by Booking unit)
Booking.com's brand is less familiar to US property managers and travelers (Compare the presence of Vrbo and Airbnb commercials on TV and on the internet in the US with Booking.com's almost non-existent campaigns).
Booking.com has a reputation of delivering international guests to US properties, such as as Europeans to Orlando and Middle-East travelers to Los Angeles. Not US domestic travelers, at a time where international travel is reduced.
Boooking.com does not enjoy Vrbo's ties with professional managers, enabled by Escapia, a leading PMS owned by Expedia Group and closely integrated with Vrbo.
At the Q2 2021 Booking Holdings earnings call, the CEO and CFO have been clear about the fact that Booking.com is not into buying traffic in destinations with low supply. Especially as the product (i.e. everything listed above) is not ready.
One of the key things though before you start spending a huge amount on a brand marketing campaign is making sure that you have the product where you want it. And that's one of the things we are keen to do in perhaps the alternative accommodations area is really working to make sure in the US, for example, that we've got that product the way we want."
"It's going to take time" for Booking.com to raise its vacation rental supply and demand in the US, because its value proposition is not ready
Not only do Booking Holding officials reckon that the product is not ready, but they also acknowledge that Booking.com's supply is too low in the US to justify spending money on performance marketing (i.e. Google PPC, meta-search, and affiliate marketing).
"It's going to be a long haul in terms of building out the US inventory for all types of alternative accommodations, whether it be professional management, getting as many as we want there or single property. It's going to be a while to get to where we want to be in that. I want everybody to understand that this is a goal that we're working on hard by having the boots on the ground, talking with managers, sending out the right information, getting people to understand why we have a great proposition for them. And I'm confident we're going to do that.
When you look at what we've achieved in Europe, you look at the share of our alternative accommodations in Europe, you say, boy, that's a goal to have in the US too. We should be pushing for that. There's no reason we shouldn't. Customers are similar, the proposition is similar, there is nothing that we shouldn't be — the reason we shouldn't be able to achieve that over time, but it's going to take time."
The US vacation rental market has been booming, outside of big cities. A lot of these bookings have come directly to the property managers, who chose to close their availability on the OTA platforms in order to get more direct bookings.
As Booking.com is an OTA with a low presence in the US vacation rental markets, it may have missed out on the boom.
Something that Booking.com would never do: Using precious web and app real-estate to promote an emerging cagegory type, as Airbnb is doing with its "unique stays"
Booking.com is an amazing technical and financial optimization machine. It only starts spending money when it is sure that it can create great profit. SPACs may be trendy, but some shareholders still like real profits.
However, it means that it can be very hard for Booking.com to crack into new destinations (e.g. the US), new property types (e.g. vacation rentals), and new categories (e.g. fights). It can be done, but very slowly. And at the risk of being disrupted, as Airbnb did.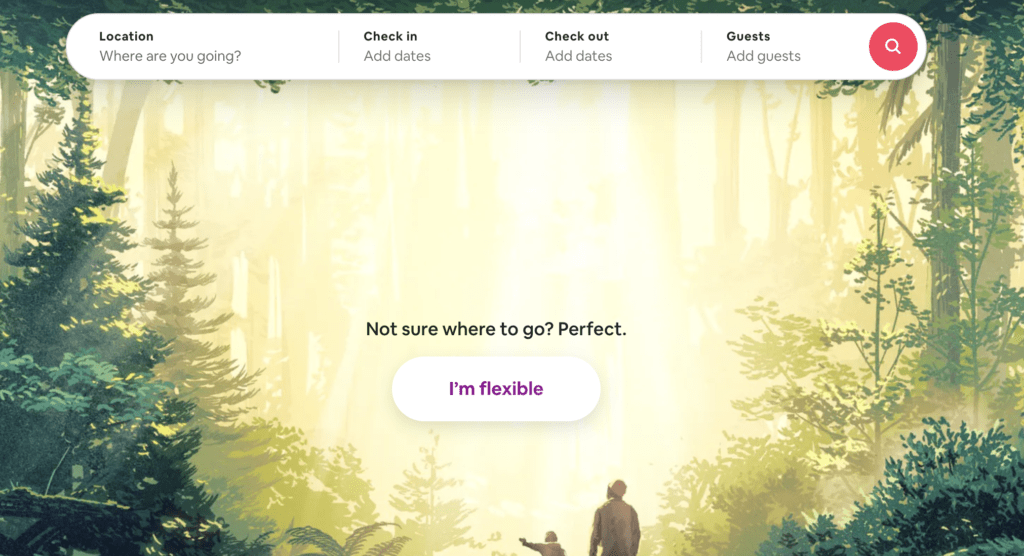 Speaking of which, here's a counter-example to Booking.com, currently executed by Airbnb: As we analyzed in our Airbnb Flexible Search deep-dive, Brian Chesky's company is using precious web and app real-estate to promote the "I'm Flexible" button. A click on it leads to a selection of unique stays, i.e. properties such as cabins, yurts, boats, and even private islands.
Obviously, Airbnb does not have plenty of these properties and is not expecting a lot of direct conversions. Yet, this is an upper-funnel tactic that helps travelers dream about their next trip. It also gets them to discover property types that are quirky, fun, and not ordinary. Even if Airbnb will be selling a stay in a condo in the end, at least these people have been exposed to new property types and to the brand Airbnb wants to be known for.

Booking.com would never do that. Instead, on the page and app space, it is promoting its best-selling, highest converting property types: Hotels, Apartments, Resorts, and Villas. Not quirky, but it does create bookings.
Booking.com is a transactional brand that promises the lowest prices and a wide choice. Sending traffic to quirky accommodations in short supply, for the sake of stretching its brand beyond its usual associations, is not in its DNA. It is neither good nor bad. It is Booking.com's consistent playbook. It makes entering future markets difficult, but money is being made wherever possible in the present time.
To break the vicious circle in the US, Booking.com is focusing on large property managers. But it needs them to cooperate and make units available.
As large US property management companies dominate some markets, it makes sense to start with them. After all, 33% of Airbnb revenues seem to come from medium to large PMs.
Booking.com has chosen to attract large and medium property managers in the US, as its low brand recognition, less user-friendly hosting tools (the "extranet"), 15% host-only fee, and payment processing issues are making its value proposition inferior to that of Airbnb, for the moment.
This is a confirmation that you can get from what the Booking Holdings CFO and CEO said during the earnings call:
"Within alternative accommodations in the US, Booking.com continued to add targeted new properties in the quarter and also saw encouraging share gains with some of our larger professional managers. While these are positive early developments, we recognize there is much work ahead to improve and grow our alternative accommodations product in the US market."
"Now in terms of alternative accommodations, talked a little bit about how we're pleased to be getting more inventory there. We're pleased with gaining some share with some of our professional managers, that's going well."
Targeting large property managers is a good idea. After all, in popular coastal and mountain destinations, such as Destin, Florida, and Gatlingburg, Tennessee, professional hosts dominate the market. As you can see below, Vacasa, the #1 US vacation rental company, manages 47% of Airbnb listings and 24% of Vrbo listings in Destin. If Booking.com can attract just Vacasa, it would cover its basis in terms of supply in these destinations. (and Booking.com does work with Vacasa).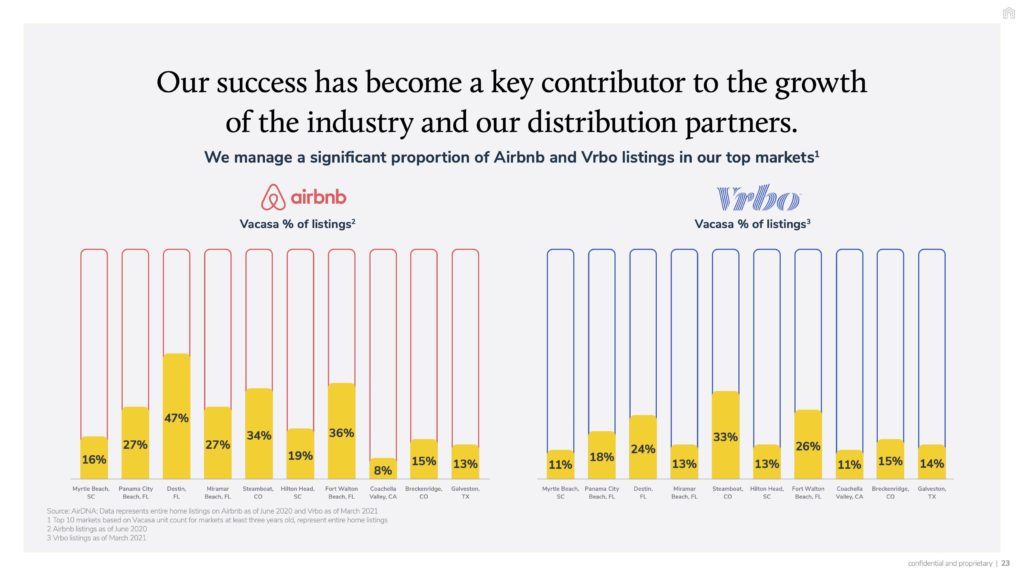 Large vacation rental managers are not just powerful on Booking.com and Vrbo. According to data provider AirDNA, medium to large property managers represent 33% of Airbnb's revenues in 2021.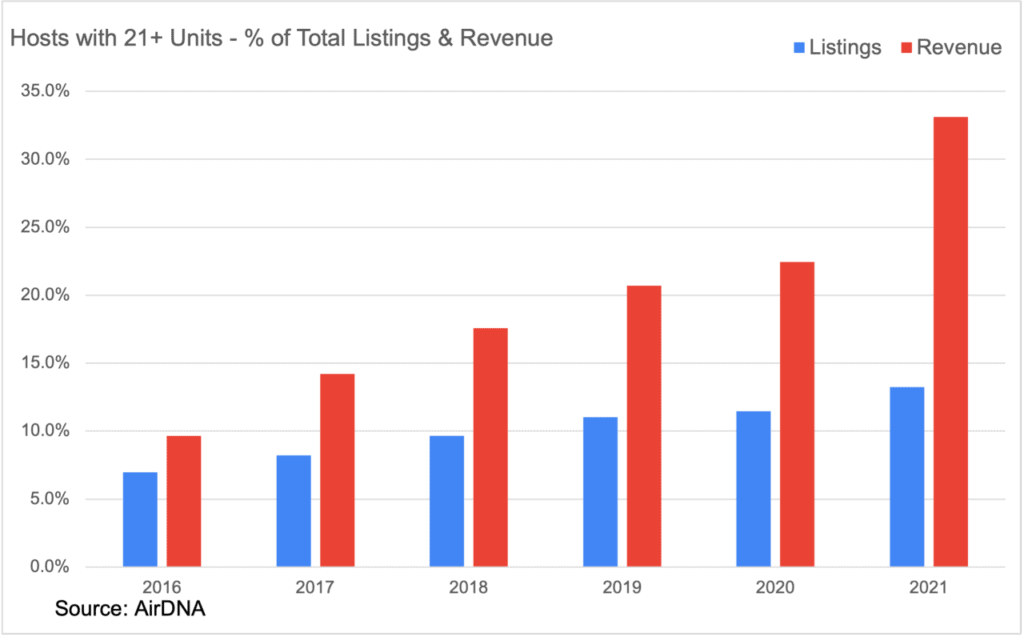 So, it does not sound like a stupid idea to focus on large PMs in key destinations. Especially as this is what Booking.com needs to make its flywheel business model work.
Booking.com's success has been built on a model built for city hotels: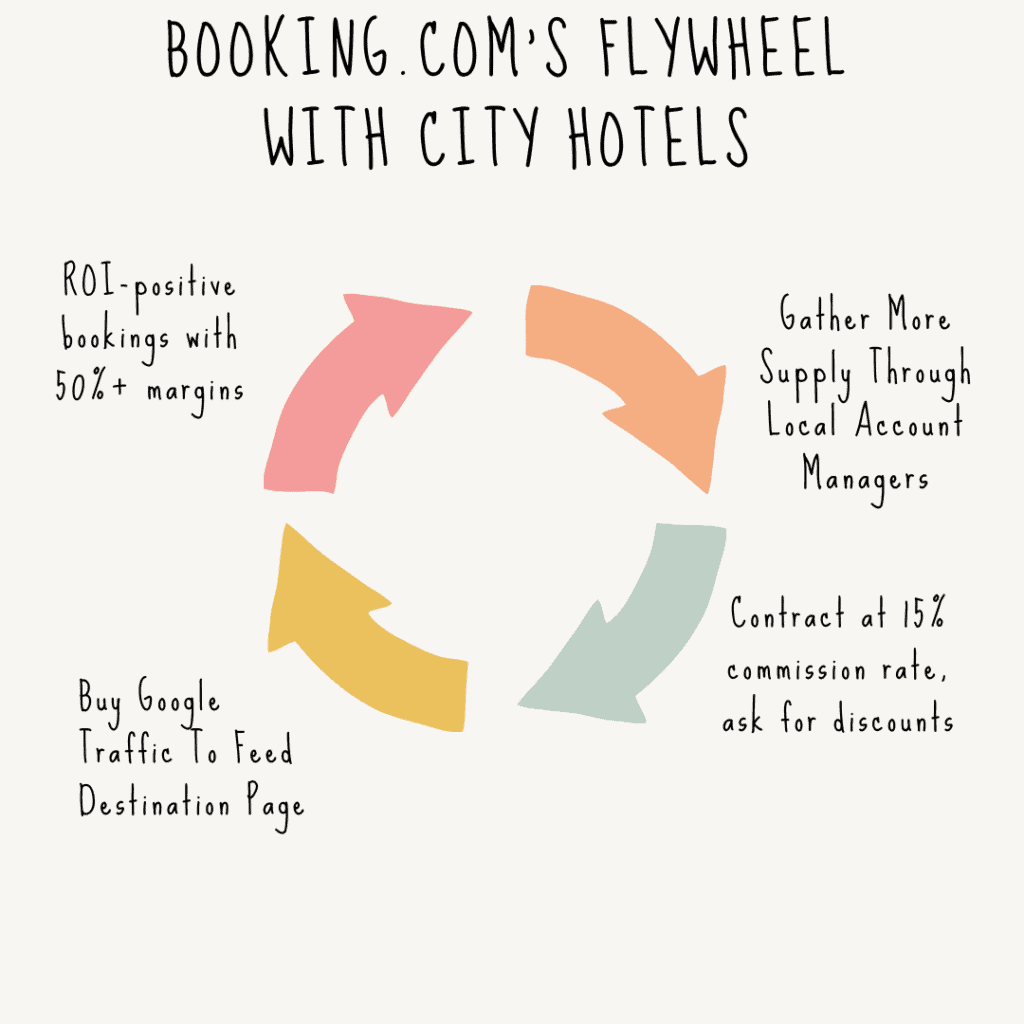 Booking.com identifies cities with a high density of hotels. Hotels are interesting as one property has several rooms and can generate mulitple bookings per night.
Large cities can sustain the cost of hiring local account managers, who will contract the hotels at a 15% or 17% commission, negotiate with them guest discounts (Genius loyalty program) or additional host fees (+3% to become a Preferred property).
With so much potential of high-paying properties that offer discounted prices, Booking.com can start buying traffic from Google (PPC).
Gradually, Booking.com increases its traffic purchase from Google, as it generates more bookings. With commercial margins of 50+% after sales (account managers) and marketing expenses (Google PPC), Booking.com is a formidable cash machine.
With high margins, Booking.com can choose to dominate even more these local markets, buy bidding even higher for traffic.
Booking.com's flywheel does not work as well with individual vacation rental owners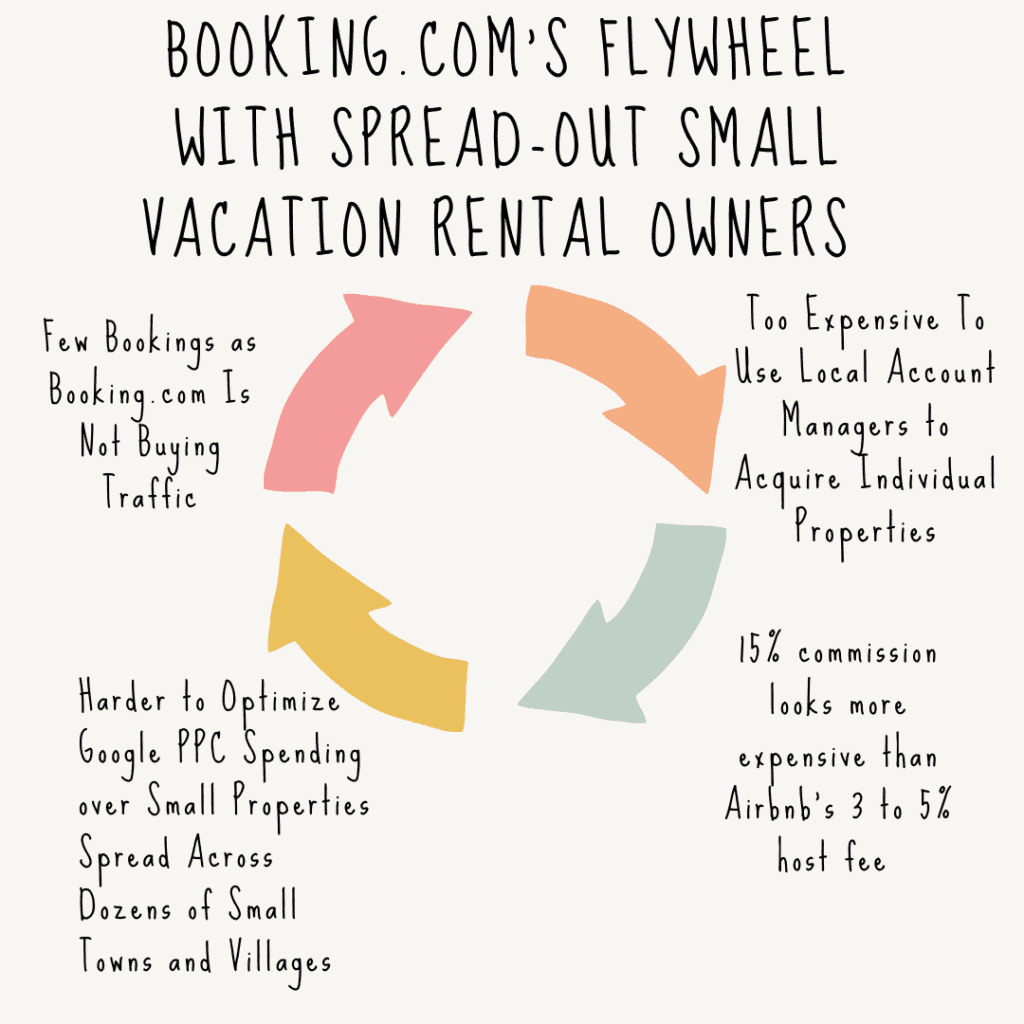 Some success factors that work so well for hotels are not present in some traditional vacation rental markets, for instance in rural, mountain, and coastal destinations with no major urban centers.
Account managers are too expensive to go after individual homeowners, one by one. Sales quotas will always make local team prefer going after large hotels, resorts, and aparthotels that generate dozens of bookings at a time, rather than homeowners with only one property.
Homeowners in the US may not be familiar with the Booking.com and may balk at the idea of paying a 15% host commission when Airbnb is at 3%.
Booking.com's flywheel is great for buying keywords "property type + destination" such as "hotels in Austin", "bed and breakfast in Boston". When properties are few and spread out across mulitple small towns and villages, it is hard for Booking.com to justify buying traffic. Especially if the company wants these ad campaigns to be as ROI-positive as in urban destinations rich with large hotels.
As Booking.com is not buying traffic in these destinations, local property owners and managers think that the platform is not successful. They leave the platform entirely. Or stay but give most of their availability to competing OTA channels.
Large property managers in dense vacation rental markets may be the key to Booking.com's US strategy … if they agree to cooperate and make their units really available.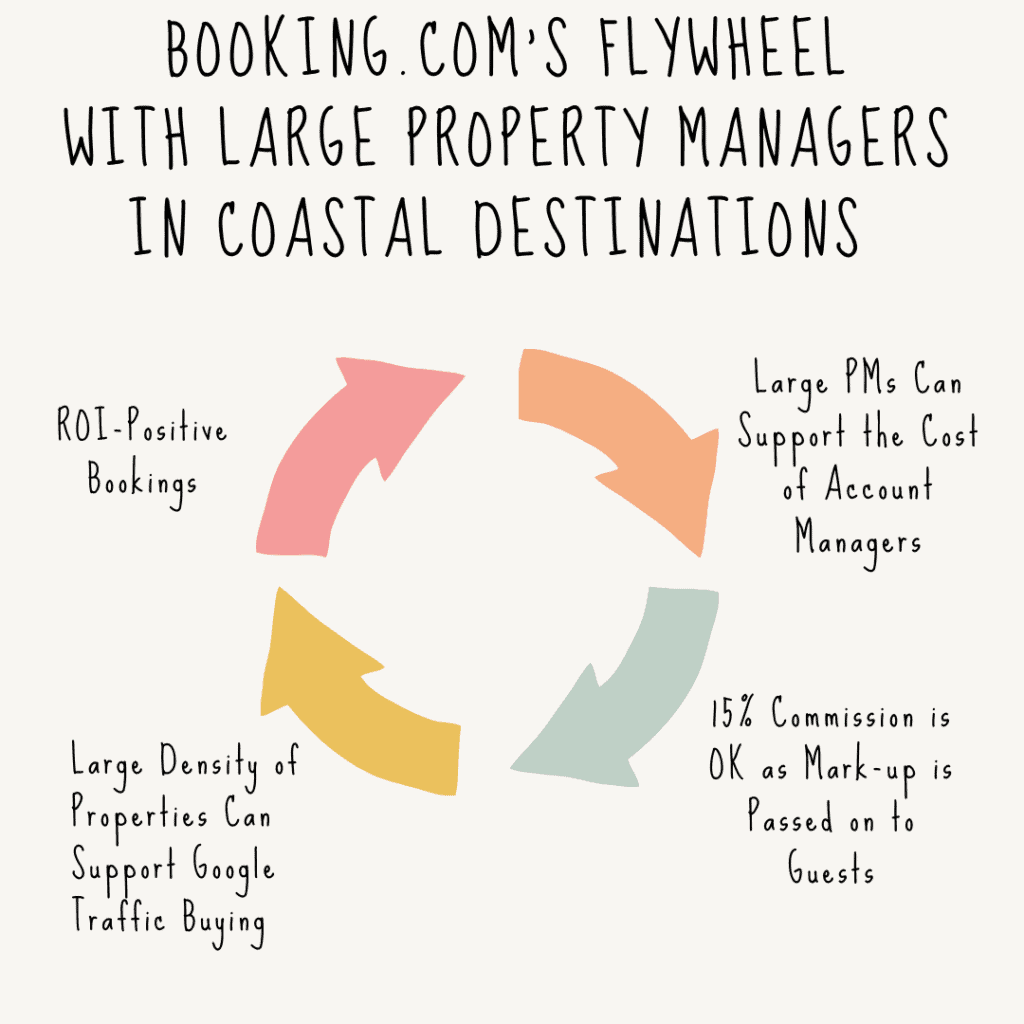 As we discussed when looking at US property management company Vacasa's strategy to dominate the supply in key local markets, some markets may be dense enough for Booking.com to justify buying traffic.
For instance, Destin, Florida, is dominated by Vacasa. The company advertises its properties on Airbnb, Booking.com, and Vbro, among other channels.
Large property management companies fit Booking.com' original model:
They are large enough to justify giving them an account manager
Booking.com can work with each large property manager to decide together in which markets to start buying traffic (e.g. high density of vacation rentals, in an identified destination, with actual unit availability guaranteed by the property manager)
Yet, some limitations, intrinsic to vacation rentals, may remain:
Unlike hotels, each vacation rental unit can only generate 1 booking per night
In Summer 2021, in the US, demand for vacation rentals is so high that some property managers may have prefered keeping their available properties for direct bookings.
So, even if Booking.com has existing vacation rental listings in some popular locations, availability may be restricted. Or property managers may choose to put their worst properties on Booking.com, i.e. the hardest properties to book as they have plenty of restrictions imposed by contract by owners (e.g. 7-day stays only, arrival on Saturdays only, long list of extra fees, etc.).
These actors can only be happy if Booking.com does start buying traffic to drive domestic demand to the markets where these PMs are strong. It requires a strong coordination effort between the PMs and Booking.
So, working with large property managers makes sense, yet they are probably the savviest actors in the market. Booking.com's persuasion techniques to get its partners to offer flexible policies and discounted rates may not work with large PMs who can shift available units from one channel to another in minutes.
How to attract new large property management companies
Big US actors such as Vacasa and VTrips work with Booking.com. Now, Booking.com needs to attract other companies, medium to big ones. One of the issues that Booking.com has been present in the US for years and most of Booking.com's targets have been approached multiple times. They have several reasons not to work with Booking: payment and chargeback issue, high commission, not much domestic demand, instant booking model, etc.
According to several local sources, Booking.com has managed to attract several property managers with an aggressive offer, whereby it strongly reduces its 15% host-only commission. One source says that the company is even entirely waiving commissions for several months for new property managers joining.
Helping large PMs dominate even more local markets is a way for Booking.com to escape the vicious circle in which it's been stuck for years. It is also a two-edged sword, as large property managers are keener to generated direct bookings and ready to put more restrictions on OTA booking.
Why the Booking.com deals and promotions machine still serves hotels better than vacation rentals
Booking.com wants to offer the best prices on the widest choice of accommodations possibles. Its various discount and loyalty schemes have been created around hotels, as either the schemes started out at a time when Booking was only focussing on hotels (e.g. Genius) or unsold hotel rooms are easier to consider as commodities whose prices can flex deeper than those of vacation rentals.
Booking.com is an amazing machine that manages to extract deals and perks from the company's perks, in exchange for a promise of more visibility and more bookings. Yet, the way these schemes work is often hotel-centric. It means that they are less powerful at boosting the sales of vacation rentals. This may also be a reason why vacation rental sales have not rebounded much, much faster than those of hotels on Booking.com, as could have been expected.
1/ Genius: If everyone is a part of the Genius club, what is the worth of the club? And how can regular vacation rentals offer free breakfast or room upgrades?
Genius is Booking.com's loyalty program. Its goal is to make travelers loyal to Booking.com, not to the accommodations they book, obviously.
Until recently, a traveler needed to have created an accounted and completed 5 trips to become a Genius traveler. Booking.com was then recommending its partners to become "Genius partners", as Genius travelers were supposed to be Booking.com's best travelers. For instance, they were supposed to book more and to cancel less (which was a bit self-fulling as Genius travelers were also incentivized to book on Booking.com as partners were discounting some of their rates for them by at least 10%)
Yet, Genius has changed. It has now 3 levels and it is now hard to qualify:
Level 1: Anyone who has a created a Booking.com user account
Level 2: 5 or more completed stays in the last 2 years (i.e. this is the former requirement for Genius)
Level 3: 15 or more completed stays in the last 2 years
As for partners, this is what they have to do:
To target Level 1 guests: All Genius partners offer a mandatory 10% discount on at least one of their room rates
To target Level 2 guests:

Discounts: An extra 5% discount on top of the basic 10% discount
Value adds such as free breakfast or free room upgrade

To target Level 3 guests: Offer a total 20% Genius discount.
Genius has become more complex, yet it is still not the best fit for the reality of vacation rentals. For instance:
Level 1: A lot of vacation rental owners only offer 1 room rate on Booking.com, as they do on Vrbo and Airbnb. Hotel revenue managers are used at working with muliple rate plans, but not so for vacation rental owners and even managers. So, if these partners offer a 10% discount on their cheapest room rate, it mean that they are effectively discounting their price by 10% as they have only 1 rate.
Level 2: At most vacation rentals, offering free breakfast or free room upgrade does not make sense. Aparthotels and villa resorts may be able to offer unit upgrades, but it can difficult in terms of logisitics for some property managers.
2/ Flash deals: Great if you can discount some hotel rooms, harder for vacation rentals to execute
Booking.com is launching in mid-August a new type of promotion called "Booking.com Flash Deals".
Flash Deals happen once every two weeks, on fixed days, for just 36 hours.
During this time period, travelers can receive at least a 30% discount on selected rooms and rates at participating properties.
Guests will be able to book these discounted rates for stays at any time between August 2021 until 13 August 2022.
Flash Deals make up a sales event. Looking at their structure, they look to be more optimized for hotels than for vacation rentals:
As a vacation rental is usually configured as one "room" in the Booking.com extranet, offering a 30% discount on "selected rooms" means discounting the "one room" / property each time.
City hotels may be in need for this promotion right now in the middle of August, but it is more questionabale for vacation rentals were bookings are booming this summer and supply is short, for instance in the US. By asking its vacation rental parterns for discount at the wrong time, with one-size-fits-all partners, Booking.com may look a bit out of step to some of them.
Conclusion: Airbnb and Vrbo used the pandemic to reinforce their vacation rental brands and to get new customers. Booking.com looks to have not been able to capitalize on the vacation rental boom in the US. It has started taking bolder steps in this market. Yet, "it will take time".
Overall, Booking.com's formidable technical and financial optimization machine has started recovering. The company is using its playbook of investing money to buy traffic only where it has the right offer and supply, which means that some US vacation rental managers already listed on the platform will have to be patient until they can get bookings.
Booking.com's playbook comes with an emphasis on low prices that is encouraged by promotion schemes that are structurally more adapted to city hotels with plenty of rooms to sell than to vacation rental properties. For instance, Genius has now 3 levels and is still not always relevant to short-term rentals.
Finally, Vrbo and Airbnb used the pandemic to create bold advertising campaigns that were promoting the benefits of rural and seaside vacation rentals, better equipped to offer self-distancing to families than big-city hotels. Booking.com's playbook was to stop any marketing expenses to preserve the company and wait until things were getting better. Also, it may have been impossible for Booking.com to take the bold step to promote its vacation rental offer and not its hotels, as most of the company is so focused on hotel bookings.