Vrbo's advertising activity has been on the rise since the start of the pandemic: In 2020, the company unveiled a series of family-friendly commercials. Then, Vrbo released a series of anti-Airbnb commercials where it claimed to make more money for hosts by attracting larger families staying in bigger vacation rentals. Now, Vrbo's new campaign, called "After a long wait", features real-life families attending surprise reunions. It also stars John Legend and Chrissy Teigen's multi-generational family, as the glitzy embodiment of Vrbo's core consumer target.
Vrbo is sticking to its positioning as the platform where large families can book a vacation rental to get together. With its After a long wait campaign, it wants to show that it can attract all kinds of families, with diverse backgrounds (e.g. African-American, Latinos, gays).
Vrbo commercials = large families; Airbnb commercials = small families
The campaign shows real-life Vrbo guests who are invited by the company to stay at a vacation rental, thinking that they would be featured in an ad. Once on location, they find out that loved ones, that have seen since the start of the COVID-19 pandemic, are there for a surprise family reunion.
This is a smart campaign that points out a popular use case for vacation rentals, as a place to celebrate special occasions and life events. Vrbo's commercials also clearly reference COVID-19, with people mentioning how they've been missing loved ones.
These new Vrbo commercials, featuring large groups of people, are a far cry from Airbnb's commercials which show only small families.
The contrast also resides in the music: While Airbnb has done a great job picking music full of nostalgia, Vrbo's commercials have a more positive, forward-looking vibe: They feature a cover of Johnny Nash's "I can see clearly now", sung by John Legend.
Vrbo commercials: After a long wait (song: I Can See Clearly Now by John Legend)
Susan and Peter meeting their 7-month-old grandchild for the first time in a Vrbo
'I haven't seen my parents in 17 months" says Molly.
Niece and Aunt Together Again
Gay couple Hugo and Tomas getting a post-pandemic wedding redo with their families as surprise guests
Grand-parents and children reunited
Behind the scenes video:
John Legend and Chrissy Teigen as Vrbo's Family in Residence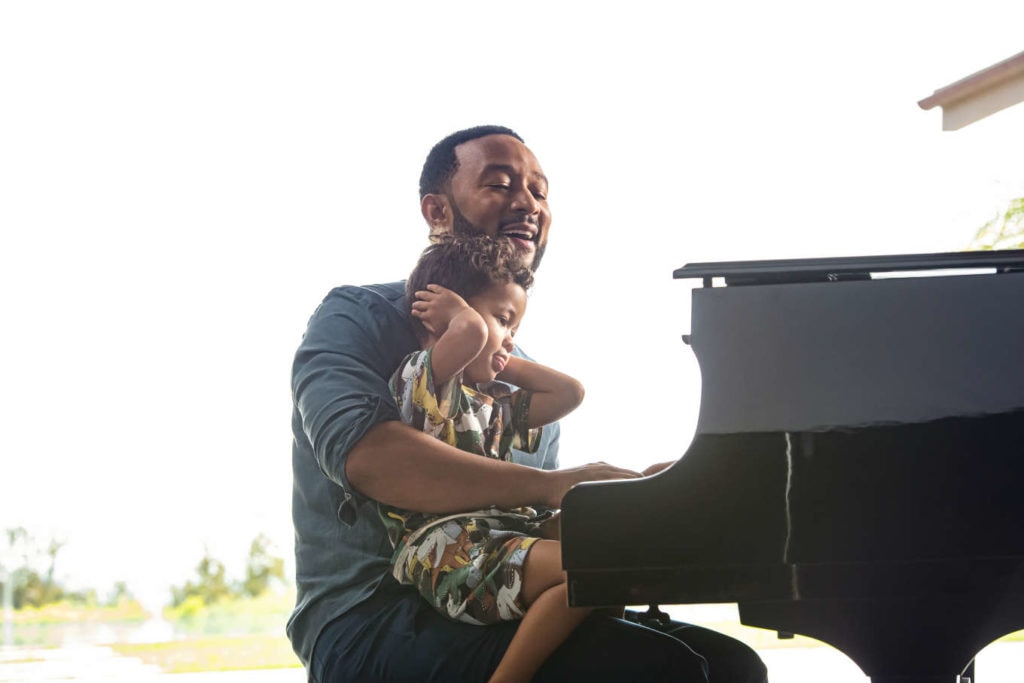 The tie-in with John Legend does not stop here. Chrissy Teigen, John Legend, Luna, Miles, and Chrissy's mom Vilailuck "Pepper" Teigen are Vrbo's first family in residence. The group embodies the multi-generational family that Vrbo sees as its core target.
The Teigen-Legend family is quite influential on social media, which also explains why they have been picked.
John Legend's full over of I can see clearly now: