On May 3, 2023, Airbnb unveiled its 2023 Summer Release. Let's have a look at what is new for hosts and guests. Beyond the noise about Airbnb Rooms, there is much to talk about, among which Airbnb's intentions and strategy.
Airbnb 2023 Summer Release: 25 major upgrades for Hosts
Redesigned pricing tools
Airbnb has introduced redesigned pricing tools, now conveniently located in the calendar, to help hosts manage their prices more efficiently. The updated tools allow hosts to adjust prices, change availability, and review discounts or promotions in one place. An updated price breakdown tool will be rolled out soon, showing hosts a clear breakdown of the guest's total price, including fees, discounts, promotions, taxes, and host earnings.
Improved weekly and monthly discount sliders have been introduced, making it easier for hosts to set and adjust discounts. Airbnb will suggest a discount percentage based on the listing and similar listings' demand in the area. Moving the slider will instantly update the nightly price and earnings to reflect the discount.
Compare similar listings
Airbnb has introduced a new feature that allows hosts to compare their prices to the average prices of similar listings booked nearby. This feature aims to help hosts stay more competitive and better understand pricing in their area. A new map provides instant access to the average prices of listings similar to the host's, whether they are booked or unbooked.
To compare prices, hosts can select an open date or date range on their calendar, tap or click on their nightly price, and then tap or click the button with a map icon and the words "compare your price." This will pull up a map of average prices for listings similar to theirs in the area, considering factors like location, size, features, amenities, ratings, and reviews. The map can display the average prices of either booked or unbooked listings.
Swipe-to-select and yearly view
Airbnb has introduced two upgrades to make it easier for hosts to manage their calendars on mobile devices: swipe-to-select and yearly view. With swipe-to-select, hosts can now select a range of dates by swiping across them, making it more convenient to change the price for multiple dates without closing the calendar or switching screens. The yearly view feature, starting in June, allows hosts to display their availability for the entire year and each month's price on one screen. Hosts can select "Year" in the drop-down menu at the top of their calendar to show all 12 months at once, with dates for current, future, and pending reservations highlighted in the same colors as in the monthly view.
Additionally, Airbnb has moved all pricing tools to one convenient location on the calendar, accessible by tapping the settings icon at the top right of the screen. Hosts can now easily compare the average prices of similar listings booked nearby or get a breakdown of what the guest pays and what the host earns.
Built-in checkout instructions
Airbnb has introduced upgrades to simplify the checkout process for guests and hosts. Hosts can add checkout instructions directly on Airbnb, selecting from common tasks and adding custom details. Guests can access these instructions on their Airbnb Trips tab, and will receive automatic reminders with checkout time and instructions. Hosts can send checkout information using new checkout cards in quick replies or scheduled messages. Guests can provide feedback and rate the host's communication, with listings receiving repeated low ratings due to unreasonable tasks at risk of removal.
Inbox improvements – Inbox read receipts
Airbnb has introduced inbox enhancements to improve communication between hosts and guests. The new features include read receipts and upgraded quick replies. Read receipts allow both hosts and guests to know if their messages have been read, with a read indicator appearing below the last message. By default, all users will have read receipts enabled by early June, but they can be turned off in account settings. Upgraded quick replies now allow hosts to add visual cards linking to checkout instructions, and auto-suggestions within the inbox help hosts respond to messages faster and more efficiently.
Co-Host permissions and payouts
Airbnb has introduced new co-host permissions and simple payouts to make hosting easier. The updated co-hosting tools can be found in the new Co-Hosts tab on the mobile app, where hosts can access co-host information, set permissions, and establish payouts. Hosts can invite co-hosts, who will need an Airbnb account to accept the invitation, and choose from various access levels: full access, calendar and inbox access, or calendar access only. Existing co-hosts will automatically have full access, but permissions can be changed at any time. Hosts can share a percentage of their earnings or a fixed amount per booking with their co-hosts.
What these host upgrades address: Getting hosts to lower the cost of a stay, removing lengthy chores for guests, and re-introducing the co-hosting marketplace
Lowering stay prices
While the updates do not explicitly state that Airbnb wants to lower the overall total price of stays on its platform, they do aim to make pricing more transparent, competitive, and easier to manage for hosts. it can be inferred that Airbnb is focusing on streamlining the pricing experience for hosts and fostering a competitive environment on the platform. While it may not be Airbnb's primary goal to lower the overall total price of stays, these updates could contribute to this outcome indirectly.
The new pricing tool that compares similar listings nearby encourages hosts to be more competitive by showing the average prices of similar listings in the area. This nudges hosts to take action if their prices are significantly higher than their competitors, potentially leading to lower overall total prices on the platform.
The redesigned pricing tools and updated price breakdowns make it easier for hosts to understand and manage their pricing effectively. By providing a clear view of the guest's total price and the host's earnings, Airbnb helps hosts make informed decisions about their pricing strategy, potentially encouraging them to offer better value to guests.
Improved weekly and monthly discounts simplify the process of setting discounts, with percentage suggestions based on the listing and demand for similar listings in the area. This encourages hosts to offer competitive discounts, which could lower the overall total price of stays on the platform.
These updates empower hosts to manage their pricing more effectively, make informed decisions, and compete more effectively with other listings. The combined effect of these features could lead to more competitive pricing and better value for guests, which may contribute to lowering the overall total price of stays on Airbnb's platform.
Punishing hosts who impose lengthy lists of chores on guests
A noisy gripe on social media, like TikTok and Instagram, has been Airbnb hosts extending a list of endless chores and cleaning tasks to guests during checkout. How is this update addressing this issue?
This update addresses the issue of excessive chores at checkout by enhancing transparency and clarity in checkout instructions. It also implements checks and balances through guest feedback and potential punishment by removing listings with repeated low ratings due to unreasonable tasks.
Re-introducing Co-Hosting
The new co-host features by Airbnb focus on integrating better control and simplicity for hosts. These enhancements help new hosts succeed by providing customizable permissions and streamlined payouts for co-hosts. In specific European countries, vetted property managers through Airbnb's subsidiary Luckey further support hosts. The improved co-host features demonstrate Airbnb's commitment to empowering hosts and ensuring their success on the platform.
(Re)Introducing Airbnb Rooms
We have published an extended article about Airbnb Rooms and the Host Passport.
To sum it up:
Airbnb has renewed its focus on private rooms and introduced a dedicated category of private room rentals called Airbnb Rooms.
The Host Passport feature allows guests to get to know their hosts better before booking a stay, fostering trust and connection between hosts and guests.
Airbnb Rooms and the Host Passport feature aim to attract a younger demographic of travelers with limited budgets and a desire for authentic experiences.
Airbnb Rooms and the Host Passport feature can help address the perception that Airbnb is expensive for booking a trip.
Airbnb addresses personal security concerns for both hosts and guests through host vetting, clear communication of privacy features, strict house rules and guidelines, a review system, and 24/7 customer support.
By using AI to match hosts and guests based on the data in the Host Passport, Airbnb could potentially create a more personalized and enjoyable experience for both hosts and guests, while also improving the overall quality of its platform.
The approach taken by Airbnb to match hosts and guests based on the data in the Host Passport will depend on their values and priorities as a company.
Overall, Airbnb's introduction of Airbnb Rooms and Host Passports aims to enhance the human connection and community aspect of travel by offering guests the opportunity to stay with local hosts and get to know them on a personal level while also addressing personal security concerns and attracting a younger demographic of budget-conscious travelers.
Other upgrades for Airbnb Guests
Clear pricing display – Guests can view the total price including fees and taxes before booking, with prices displayed consistently across the entire app.
Enhanced security measures – Guests can view checkout instructions on the listing page and receive reminders before leaving the home. Guests can also report excessive requests and listings with low ratings will be removed.
Improved maps – Maps have been updated with faster performance, persistent pins, and more results when searching.
Redesigned wishlists – Wishlists have been redesigned with an improved interface, one-tap saving, and an updated calendar that shows availability.
Affordable monthly stays – Guests can save on service fees after the third month for stays over three months. The new Months tab allows guests to search for stays between 1-12 months.
Priority customer service – A dedicated 24/7 support team is available for priority access during a trip, aiming to answer 90% of calls in English in two minutes or less.
Pay over time – Guests in the US and Canada can pay for stays in four interest-free installments over six weeks through a partnership with Klarna. Monthly payment plans are available for bookings over $500 in the US.
Instant rebooking credit – If a Host cancels within 30 days of arrival, most guests will receive instant credit that can be used to rebook another stay immediately.
1 – Delving into Airbnb's 2023 Strategic Goals
1.1 Revealing the Three Key Pillars
Airbnb's CEO, Brian Chesky, has shared the company's main objectives for 2023, which consist of:
Make Hosting Mainstream,
Perfect the Core Service,
Expand Beyond the Core.
1.2 Airbnb's Evolving Focus: Inspiring, Matching, and Connecting People
Brian Chesky has highlighted that Airbnb has evolved from being just a travel marketplace to focusing on inspiring, matching, and connecting people. The company's current objectives can be summarized in the following bullet points:
Providing inspiration: Encourage users to explore and dream about new destinations, positioning Airbnb at the top of the travel funnel.
Matching guests with listings: Utilizing machine learning and AI-powered language models to analyze data and enhance the accuracy of the matching system, accommodating the expanding supply categories.
Establishing trust: Fostering a system that allows strangers to comfortably live together by implementing host reviews, guest background checks, and strict policies against parties and gatherings.
1.3 Possible Hint: Strengthening Connections for Young Travelers
In addition to these objectives, there are indications that Airbnb might place greater emphasis on fostering connections among young people in the upcoming release. With Brian Chesky hinting at the company's potential role in facilitating such connections, this focus could be a significant component of Airbnb's future offerings, benefiting both short-term stays and long-term housing arrangements.
Strategic direction #1: Make Hosting Mainstream
2.1 Defining the Concept
Airbnb aims to make hosting on their platform as mainstream and widely accepted as traveling with them. To achieve this, they are focusing on raising awareness about hosting, streamlining the onboarding process, and providing more robust support tools for hosts.
2.2 Expansion of the Co-Hosting Marketplace?
Will Airbnb broaden its new co-hosting marketplace, powered by Luckey, in 2023? Currently available in France, Canada, Spain, and the UK, the marketplace allows hosts to connect with local partners, including professional property managers of varying sizes. With no exclusive territories and a minimum guest rating requirement of 4.8 out of 5, the platform serves as a true co-hosting marketplace.
3. Strategic Direction #2: Perfect the Core Service
3.1 Defining the Concept
Airbnb's goal is for people to "love their service." The core service centers around providing a marketplace for short-term stays (under 28 days). In 2023, the company aims to:
Enhance community support,
Simplify finding the ideal home,
Deliver increased value
3.2 Enhanced Tools for Hosts in the 2023 Summer Release?
Although details are limited at this stage, we can anticipate the launch of additional hosting tools in May for the 2023 Summer Release. These tools could help hosts understand their pricing strategies and create discounts, aligning with Airbnb's goal of reducing the total price for guests.
4. Strategic Direction #3: Expand Beyond the Core
4.1 Defining the Concept
According to Airbnb CEO Brian Chesky, the company has big ideas for its future, and in 2023, it will lay the foundation for products and services that will drive growth for years. Airbnb has already begun expanding beyond its core, focusing on long-stay initiatives, launching an Airbnb-friendly building marketplace for tenants in 2022, and planning to grow its Experiences business in 2023. We may also witness the revival of previously paused or halted projects.
4.2 Reintroducing Airbnb Plus and Airbnb Luxe
In 2020, due to the COVID-19 pandemic, Airbnb paused two ambitious ventures: Airbnb Plus and Airbnb Luxe. Though the initiatives remained visible on the platform, hosts couldn't join, but guests could still book properties. In 2023, as part of the "Expand beyond the core" strategy, Airbnb plans to relaunch Plus and Luxe, venturing into bolder projects beyond regular short-term stays.
4.3 Airbnb-Friendly Apartments
Airbnb has stepped beyond its traditional business model, launching a marketplace for long-term tenants seeking Airbnb-friendly apartments. This innovative program may redefine Airbnb's role in the rental market and impact property managers and hosts.
4.4 Airbnb Host App Store and Marketplace: Coming in 2024
Rumors of a marketplace for free and paid services for Airbnb hosts have sparked interest among hosts and property managers. This platform aims to streamline the hosting experience and exceed guests' expectations, possibly transforming the Airbnb ecosystem. Yet, it is too early to expect something for the 2023 Summer Release. It is probably for 2024.
4.5 Gen Z-focused Platform for Short and Long-term Accommodations with Subscription Model?
Airbnb could cater to young adults seeking short-term stays and long-term housing solutions by offering diverse, extended-period housing options and a subscription model for easy city-to-city relocation. With 62% of Airbnb guests under 34 years old and facing housing challenges, this demographic, comfortable with remote work, presents an attractive target for Airbnb's services.
5. Rationale Behind Airbnb's Winter and Summer Releases
5.1 A Marketing and Public Relations Strategy
Airbnb's Winter and Summer Releases create buzz by turning product announcements into high-profile events, generating press coverage from major outlets. While some hosts found the 2022 releases underwhelming, these events highlight strategic and design moves. To maintain interest, Airbnb should improve communication with its fan base. The company's approach stands out from other tech giants, who typically launch numerous features one at a time.
5.2 A Contrarian Approach to Product Development and Launches
Airbnb's CEO, Brian Chesky, criticizes the commonly used A/B testing method, which involves comparing two different versions of a product to determine which one is better. He believes this approach leads to slow progress and inefficient design. Instead, Airbnb follows a single company roadmap, releasing hundreds of new features during their Winter and Summer Releases.
This top-down approach is different from the "agile development process" favored by many tech companies. Agile development focuses on making smaller, incremental updates to products, allowing for flexibility and continuous improvement. By launching multiple product updates at once, Airbnb takes a more centralized approach, distinguishing itself from competitors with seemingly stagnant apps.
Previous Airbnb Winter and Summer Releases
As we eagerly anticipate the Airbnb 2023 Summer Release, let's take a trip down memory lane to explore the past releases and the innovative features introduced by the company. In this section, we'll provide an overview of the previous Summer and Winter releases, focusing on key aspects that have shaped Airbnb's growth and user experience.
On May 11, 2022, Airbnb unveiled its 2022 Summer Release, which introduced a trio of major changes. Firstly, Airbnb Categories provided a fresh approach for travelers to search and discover properties and destinations. Secondly, Split Stays allowed guests to conveniently book two consecutive listings for stays exceeding a week. Finally, the new-ish guest booking protection feature, Aircover, was introduced to further enhance the booking experience for users.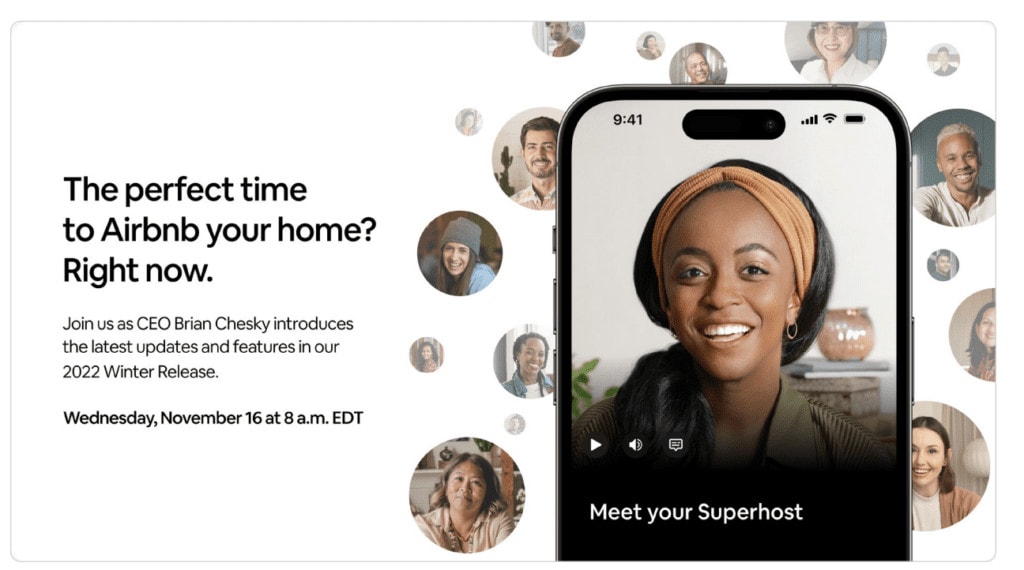 The Airbnb 2022 Winter Release focuses on addressing concerns for potential hosts, with several new features and improvements. AirCover damage protection has been expanded from $1M to $3M, and guest identity verification has been extended to cover 90% of reservations. The reservation screening technology, aimed at preventing unauthorized parties, now covers more countries. The process of filing damage claims has been streamlined, and new ground rules have been established for guests, ensuring better adherence to property guidelines. Additionally, hosts can leave more detailed guest reviews, and a new "Fast Pay" option allows for quicker payouts. Hosts can also view their listing's Airbnb category, and seven new categories have been introduced to cater to various guest preferences.
The first major announcement of Airbnb's release involved the introduction of more flexible search options, including Flexible Dates, Flexible Matching, and Flexible Destinations. These options aimed to provide users with a smoother and more adaptable booking experience. The second major announcement focused on streamlining the listing creation process, reducing it to a simplified 10-step procedure (although we counted 14 steps). This change addressed some of the difficulties hosts faced when creating listings on vacation rental platforms. The new process also offered support from experienced Airbnb hosts and online classes, further helping new hosts overcome listing creation challenges.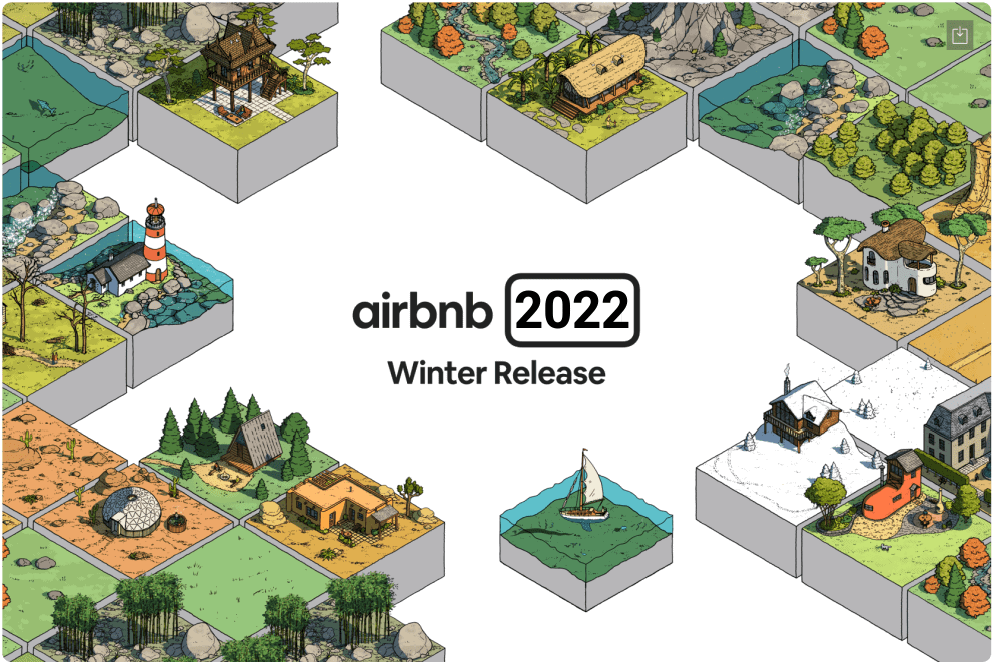 Among the 53 updates introduced in Airbnb's 2021 Winter Release, the platform emphasizes the top 7 enhancements as being the most significant. These include AirCover, which offers comprehensive protection for every host at no cost, exclusively on Airbnb. Additionally, they introduced the Translation Engine, providing the most sophisticated translation technology to the Airbnb community. Other notable improvements encompass a meticulous review of all accessibility features for 100% accuracy, the "I'm (even more) Flexible" feature allowing users to search for unique homes up to 12 months in advance, Verified WiFi with a new speed test tool to confirm listing's WiFi speed, a redesigned Trips tab with essential travel details, and the Ask a Superhost Expansion, which connects new hosts with a local Superhost for personalized assistance.
These releases have played a significant role in shaping Airbnb's strategic direction, with a focus on inspiring, matching, and connecting people. As we look forward to the upcoming 2023 Summer Release, we can't help but wonder what new features and improvements will be unveiled, further solidifying Airbnb's position as a leader in the vacation rental business.
Conclusion: Waiting for the Airbnb 2023 Summer Update
In conclusion, Airbnb's 2023 Summer Release holds great potential for hosts, as the company focuses on its strategic priorities of making hosting mainstream, perfecting the core service, and expanding beyond the core. With an emphasis on connecting young travelers and potential expansion of existing initiatives such as the co-hosting marketplace, Airbnb is poised to introduce innovative features that will further enhance the hosting experience.
The company's unique approach to product development and launch, characterized by its Winter and Summer Releases, sets it apart from other tech giants. By adopting a top-down, centralized method, Airbnb captures the attention of the press and its fan base, generating buzz around each release.
As Airbnb hosts, it's essential to stay informed about these developments and adapt to the ever-evolving platform. The 2023 Summer Release promises to offer exciting opportunities, and we look forward to seeing how Airbnb continues to innovate and transform the vacation rental industry.
Bonus: Why the e Airbnb 2022 Summer Release mattered
The Airbnb 2022 Summer Release introduced a new way to search and discover incredible homes with the help of Airbnb Categories, which included multiple categories such as national parks and creative spaces. The release also created Split Stays, allowing guests to book two listings for longer trips, ensuring a seamless guest's stay.
Airbnb's CEO, Brian Chesky, emphasized that this was just the beginning of a new world of travel, and the company aimed to alleviate over-tourism and prioritize accessibility features in vacation rentals. With this release, prospective guests can now search for specific destinations or explore new locations with location searches, improving their travel search experience.
The platform now offers AirCover for guests, which provides booking protection guarantees like check-in guarantees, ensuring that guests get what they booked. In the unlikely event of an issue, specially trained safety agents are available through a 24-hour safety line to provide community support.
Longer stays and Split Stays have become more popular, especially for guests searching for vacation rentals with fewer bedrooms or properties near national parks. This summer release also focused on machine learning to improve search results, allowing guests to discover millions of active listings with more ease.
New features such as host liability insurance, host damage protection, and an improved curation process have been introduced to address hosts' concerns. The platform also offers more detailed guest reviews, which helps hosts make better-informed decisions about accepting bookings.
In conclusion, the Airbnb 2022 Summer Release has changed the vacation rental business forever, bringing in new categories, enhanced booking protections, and a more user-friendly experience for both guests and hosts. This summer release is paving the way for a more flexible and enjoyable experience in the world of vacation rentals.