In 2020, as the COVID-19 pandemic swept the world, Airbnb made the difficult decision to pause two of its ambitious ventures: Airbnb Plus and Airbnb Luxe. These programs were designed to expand Airbnb's brand, supply, and use cases, but amid unprecedented uncertainty, investing more resources into them was not a priority for the leadership team.
Despite this pause, both initiatives remained visible on Airbnb's website and app; while hosts couldn't apply to join Plus and Luxe then, guests could still search for and book properties using filters.
Fast forward to 2023, and new developments with these programs may impact their success moving forward. In this post, we'll delve into what happened to these initiatives in their first incarnation, why they faced challenges, and what changes Airbnb is making as they plan to relaunch Airbnb Plus.
Overall, the relaunch of Plus and Luxe is part of Airbnb's 2023 strategy to "Expand beyond the core", which means starting again to try bolder projects beyond regular short-term stays.
In 2023, more visibility and demand for Airbnb Plus and Airbnb Luxe
Airbnb has implemented three recent initiatives demonstrating the resurgence of Airbnb Plus and Airbnb Luxe on the platform.
On the guest side, Airbnb has taken measures to increase visibility and demand for Airbnb Luxe and Plus properties.
However, it's worth noting that currently, only existing hosts who have earned their badges are eligible for these programs; no other invitations are being accepted at this time.
Relaunch of Airbnb Plus in February 2023: More listing visibility and more freedom over listing content for hosts
After nearly three years of silence, Airbnb recently notified owners of Airbnb Plus listings that changes are coming, giving the impression that the program is finally unfreezing as of late January 2023.
Here's what the company is implementing:
More autonomy for Airbnb Plus hosts
Airbnb Plus hosts now have greater autonomy over their listing pages. Previously, hosts were required to go through Airbnb's team to perform basic tasks such as modifying photos or updating the description.
However, since February 2023, hosts can independently add photographs and write longer descriptions that can be of unlimited length (as opposed to being restricted to 600 characters). Additionally, they can refine the list of features and amenities without having to contact Airbnb directly.
Redesigned Airbnb Plus listing pages
Airbnb updated its regular listing page design in 2022 but left Airbnb Plus pages with their 2019 layout. Recently, however, the company aligned the designs while still including indicators to inform guests that they're viewing an Airbnb Plus page. These indicators include:
an Airbnb Plus badge at the top of the page
a sentence below the listing title stating, "Every Plus home is reviewed for quality." Guests can click on this link to access more information about the program in a pop-up window.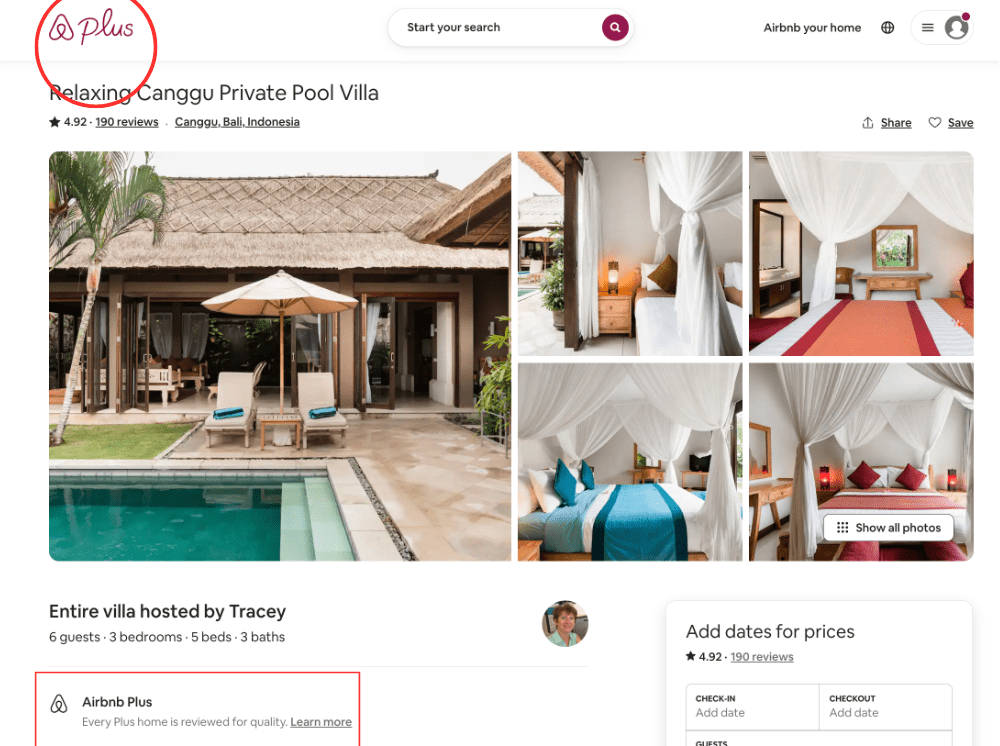 Airbnb's 3 top tiers: Superhost, Airbnb Plus, and Airbnb Luxe
The first way to see that Airbnb is serious about giving visibility and driving traffic to Airbnb Plus and Airbnb Listings is to look at Airbnb's search filters.
Between 2020 and 2023, the filters for Airbnb Plus and Airbnb Luxe were periodically removed and added back to the list. However, in February of 2023, Airbnb declared that Airbnb Plus would remain a filter as part of the program's relaunch.
Airbnb has created a filter category called " Top tier stays".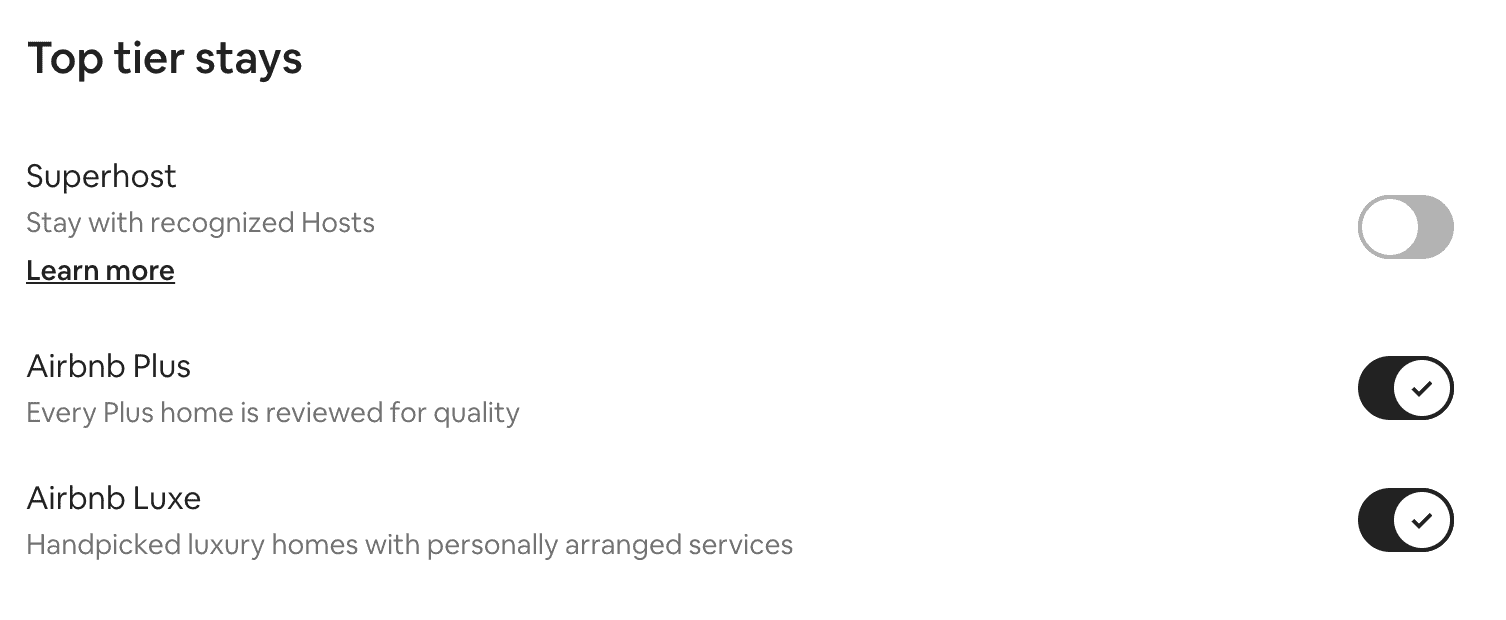 Here's how top-tier stays stack up:
Superhost: Stay with recognized Hosts
Airbnb Plus: Every Plus home is reviewed for quality
Airbnb Luxb: Handpicked luxury homes with personally arranged services
If a booking platform introduces filters like Airbnb Plus or Airbnb Luxe, it could indicate two things:
Firstly, the company may be conducting an experiment to gauge user interest in these criteria by highlighting them and observing if users click on them and make bookings.
Secondly, the company may have data that suggests these criteria already generate more bookings and wants to increase traffic towards them as part of their go-to-market strategy.
These filters indicate, at a minimum, that:
Airbnb views Superhost, Airbnb Plus, and Airbnb Luxe as means of acknowledging the top-tier listings on their platform.
Additionally, it suggests that Airbnb has established a hierarchical system in which these badges are arranged; for instance, all hosts with an Airbnb Plus badge must also be Superhosts.
Airbnb Luxe Regains Prominence as an Official Category on the Platform
Rental Scale-Up speculated that Airbnb Luxe was given a new lease of life when Brian Chesky announced that it would become one of the official Airbnb Categories. While several new categories were introduced as part of the 2022 Winter Release, the Luxe category was not initially included.
As Airbnb has invested heavily in resources and advertising to promote the Categories feature as a means for users to discover a wider range of property types, it is a positive sign for Luxe to be included. Although Luxe had been difficult to locate on Airbnb's website and app since 2020, it has a prominent place on its homepage. Despite competing with over 50 other categories, this move indicates that Airbnb aims to improve visibility and drive more traffic toward Luxe listings.
.

The Rise and Fall of Airbnb Plus and Luxe: Insights into the Pre-Pandemic Failure of Airbnb Plus
Moving up the food chain: Airbnb Plus and Airbnb Luxe
Similar to the way Japanese car manufacturers disrupted the US car market in the 1970s and 1980s by introducing affordable but high-quality cars and eventually moving upmarket to offer luxury vehicles like Lexus, Airbnb also began its journey by offering basic accommodations such as air mattresses and private bedroom stays. Over time, it gradually moved up the chain to offer more upscale options.
In 2018, Airbnb launched Airbnb Plus – a new tier of lodging that offered higher-end amenities.
Then in 2019, they took things even further with the introduction of Airbnb Luxe – a premium tier that surpassed even Airbnb Plus in terms of luxury and exclusivity.
Airbnb Plus and Airbnb Luxe provided distinct page templates for showcasing their properties, assigned badges to their listings, and were easily discoverable through dedicated filters on Airbnb's website and app.
However, the programs were different.
What is Airbnb Plus?
Airbnb Plus is a program that offers a curated selection of high-quality homes and apartments that meet specific design and cleanliness standards. These properties are hand-picked by Airbnb based on factors such as their location, amenities, and overall aesthetic appeal. Guests who book an Airbnb Plus property can expect a premium experience with added touches like luxury linens, high-end appliances, and stylish decor.
How to Apply for Airbnb Plus (not currently active!)
If you were a host who wanted to join the ranks of Airbnb Plus properties, there were several steps you needed to take:
Step 1: Check Your Eligibility
Firstly, you had to check if your property was eligible for the program. At the time, Airbnb Plus was only available in certain countries including Croatia, Denmark, Greece, Indonesia, Italy, Mexico, Poland, Thailand and the USA.
Step 2: Meet the Requirements
To qualify for the program, hosts had to meet certain requirements set by Airbnb. This included having an average rating of at least 4.8 stars out of 5 from previous guests as well as passing an in-person inspection conducted by an Airbnb representative. During this inspection process, hosts needed to demonstrate that their property met specific criteria related to cleanliness and design standards.
Step 3: Agree to Exclusivity Requirements (in select countries)
In some countries where the program operated (Croatia, Denmark, Greece, Indonesia, Italy, Mexico, Poland, Thailand, USA), hosts also had to agree to exclusivity requirements upon joining the program. This meant they must only accept future reservations for their property on Airbnb or through their own website. Additionally, they had to remove any listings for their place from other booking websites, so they weren't visible in search results or bookable by non-Airbnb guests.
Step 4: Paid a One-Time Fee
Hosts who passed all these requirements were charged a one-time fee of $149 USD per listing to cover the cost of professional photography and other services provided by Airbnb.
Benefits of Joining Airbnb Plus
While it may seem like a lot of work to join the program – especially with the additional exclusivity requirements – there are several benefits that are supposed to come with being part of Airbnb Plus:
Increased Visibility: Your property will be showcased on its own dedicated page within the platform's search results alongside other high-quality listings.
Premium Placement: Your listing will appear at the top of search results when potential guests filter their searches specifically for "Plus" properties.
Enhanced Marketing Support: You'll have access to exclusive marketing tools such as email campaigns and social media promotion which can help drive more bookings.
Higher Booking Rates: Guests who book your property through this program may be willing to pay higher rates due to its exclusive status.
Inside Airbnb Luxe: A Strategic Move or a Missed Opportunity?
Airbnb acquired Luxury Retreats in 2017, which was seen as a strategic move to expand its presence in the high-end vacation rental market. Luxury Retreats offered a portfolio of over 4,000 luxury properties in destinations worldwide, which were often rented out for tens of thousands of dollars per week.
After the acquisition, Airbnb integrated Luxury Retreats' listings into its platform under the new brand name "Airbnb Luxe.", launched in 2019. The idea behind the rebranding was to offer a curated selection of high-end properties that would meet the expectations of luxury travelers looking for unique and exclusive experiences.
Airbnb Luxe launched with over 2,000 carefully selected homes worldwide, each one having met strict evaluation standards across more than 300 criteria for design and functionality. These properties offered elevated design standards on various elements such as premium materials and finishes, unique features, group-friendly spaces, functional designs, chef-grade appliances, and adequate bathrooms corresponding to each bedroom. 
There could be many reasons why Airbnb Luxe may not be considered a success. Some possible factors could include the limited availability of high-end properties, higher prices compared to traditional Airbnb listings, and difficulty marketing the luxury brand to potential customers.
It is possible that a cultural difference existed between the Montreal-based Luxury Retreats team, which had its own way of assisting high-end clients, and Airbnb's approach to customer care. As a result, when the COVID-19 pandemic struck, Airbnb laid off the employees of Airbnb Luxe/Luxury Retreats. Although the Airbnb Luxe pages remained active online, the program was put on hold.
Why Airbnb Plus failed even before the 2020 pandemic
Before the pandemic, in early 2020, it appeared that Airbnb Plus required a reboot. Despite setting lofty objectives for the number of listings it aimed to enlist, rumors suggested that the company was significantly lagging behind its targets.
There could be several reasons why the initial iteration of Airbnb Plus may have faltered:
Lack of clear value from Superhosts and Luxe
From the guest's perspective, comprehending the distinction between all the layers was and still may be challenging. Superhosts have been around for years, so it's more straightforward to grasp. On the other hand, people clearly understand what luxury stands for.
Airbnb Plus appears somewhere in between: for example, Plus has 100 selection criteria, while Luxe has 300. All Plus hosts are Superhosts, but Luxe hosts don't necessarily have to be Superhosts. The perplexity for guests may have also affected hosts who were less enthusiastic about applying for the program.
| | | |
| --- | --- | --- |
| | Superhosts | Airbnb Plus Hosts |
| Qualification | Automatic qualification when specific standards are met | Invite-only program for listings that truly stand out |
| Qualification process | Standardized process | Rigorous criteria and exclusivity requirements |
| Relationship to Superhosting | All Airbnb Plus Hosts are Superhosts | Not all Superhosts are Airbnb Plus Hosts |
| Requirements on the physical space | No | Exceptional physical space that is spotless, well-designed, and thoughtfully equipped |
| Exclusive benefits | No | Additional exclusive complimentary benefits |
A lengthy process for Airbnb Plus vs. automatic qualification for Superhosts
The Airbnb Plus program prioritizes design and aesthetics, which are subjective factors. A comprehensive list of requirements is necessary to ensure compliance with program standards, including an in-person evaluation of the space's design and ambiance. However, it is challenging to guarantee that a property remains up-to-date with the program's design standards years after passing an inspection.
On the other hand, Superhosts is a simpler program that is easy to manage and scale. Airbnb reviews hosts based on predetermined criteria every quarter, such as guest ratings above 4.8. The selection process for Superhosts is entirely automatic, making it easy to determine who qualifies for the badge each quarter.
The comparison between Airbnb Plus and Superhosts suggests that the former may be less attractive to hosts due to its complex and lengthy process, which requires hosts to meet a comprehensive list of requirements, including an in-person evaluation. The Superhosts program is more straightforward and automatic in determining who qualifies for the badge each quarter, making it a simpler option for hosts to understand.
Airbnb's Exclusivity Requirements for Airbnb Plus Program
Airbnb introduced exclusivity requirements for hosts who join the Airbnb Plus program in select countries. The company tried to impose these requirements in Croatia, Denmark, Greece, Indonesia, Italy, Mexico, Poland, Thailand, and the USA.
As per the requirements, hosts had to agree only to accept future reservations for their property on Airbnb or through their own website.
They also had to remove any listings for their place from other booking websites, so they weren't visible in search and couldn't be booked or shared by non-Airbnb guests.
Additionally, they needed to update their calendar availability on Airbnb by unblocking any previously available dates to non-Airbnb guests on other booking websites and services.
The move was met with mixed reactions from hosts in these countries. While some saw it as an opportunity to exclusively showcase their properties on Airbnb Plus and potentially attract more high-end guests, most felt it limited their options and may have hurt their business. Why would you list a great property only on Airbnb for the promise of a badge and added visibility? The risk looked too big.
Challenges with Airbnb Plus Program's $149 Application Fee
Airbnb faced a challenge with its Airbnb Plus program: it had to compensate someone for inspecting the property and capturing new photographs physically. To mitigate this expense, the company introduced an application fee of $149 per listing.
Airbnb attempted to convey that hosts would receive value for this price, including professional photos and interior design advice. However, many hosts were displeased with the notion of a pay-to-play initiative.
Furthermore, conducting in-person visits posed an obstacle to scaling Airbnb Plus globally. Although Airbnb was wise to leverage its worldwide network of photographers to conduct inspections, it is doubtful that $149 provided sufficient compensation for an independent photographer's time-consuming efforts to examine the property according to program guidelines and take exceptional photos.
The program faced challenges in expanding due to the combination of an unclear value proposition, exclusivity terms, and application fees. The pandemic may have allowed Airbnb to buy time to develop a new strategy, which it could now be introducing.
Addressing Airbnb Plus and Luxe Challenges for 2023: Simplifying Application Process, Enhancing Distinct Value, and Re-evaluating Concierge Services Promise
Airbnb needs to address challenges related to its Airbnb Plus and Airbnb Luxe programs in preparation for 2023.
Creating a clear and distinct value proposition between Superhost, Airbnb Plus, and Airbnb Luxe for both guests and hosts is one of the main issues.
The application process for Airbnb Plus needs to be simplified by using remote property verifications to judge the design of a property or leveraging artificial intelligence to examine photos and videos like start-up Paraspot does. By using cheaper inspection methods, Airbnb may be able to drop its application fee.
Re-evaluating the promise of added concierge services for Airbnb Luxe after letting go of Luxury Retreats employees during the pandemic in 2020 is another challenge. In 2023, how will the company deliver refined services for luxury travelers? Should it scale back its promise and focus on providing only the best properties through the best luxury property managers?
Addressing these challenges will help ensure that both guests and hosts have an optimal experience with Airbnb Plus and Luxe programs in 2023.
Conclusion
In conclusion, while the future of Airbnb Plus and Airbnb Luxe seems promising with their planned relaunch in 2023, it's important to approach these developments with caution. Although there will be more visibility and autonomy for hosts, redesigned listing pages, and a simplified application process, the challenges that caused Airbnb Plus to fail in the past may still persist. The issues with exclusivity requirements and high application fees have yet to be fully addressed, and it remains to be seen whether these changes will enhance the distinct value of joining Airbnb Plus. As part of Airbnb's top tiers alongside Superhost and Luxe, guests may expect unparalleled experiences when booking with either service. However, we'll need to wait and see how these changes will impact both programs' success and popularity in the coming years.