On Tuesday, November 9, Brian Chesky revealed the Airbnb 2021 Winter Release. It includes 53 upgrades and innovations that make it easier to host and support the changing needs of guests. These upgrades come on top of the 103 new features announced on May 24. Just like fashion brands and software companies, Airbnb is conducting a great product marketing act, by creating an event around a series of features bundled together.
The 7 best upgrades (out of 53) from the Airbnb 2021 Winter Release
Out of the 53 upgrades, here are the ones that Airbnb believes at the most relevant:
AirCover – Top-to-bottom protection. Free for every Host. Only on Airbnb.
Translation Engine – The most advanced translation technology ever offered to our community.
Accessibility Review – Every accessibility feature is reviewed for 100% accuracy.
I'm (even more) Flexible – Search for more unique homes up to 12 months in advance.
Verified Wifi – Our new speed test tool verifies the speed of the wifi in a listing.
Smarter Trips Tab – A redesigned Trips tab with all your must-have travel details.
Ask a Superhost Expansion – Connects new Hosts to a Superhost in their area for 1:1 help.
Some of the 53 upgrades either were already live or are sub-features of a main upgrade
Airbnb has bundled together a lot of new features. Each of them represents extensive product development and program management work.
Some of the upgrades were already live: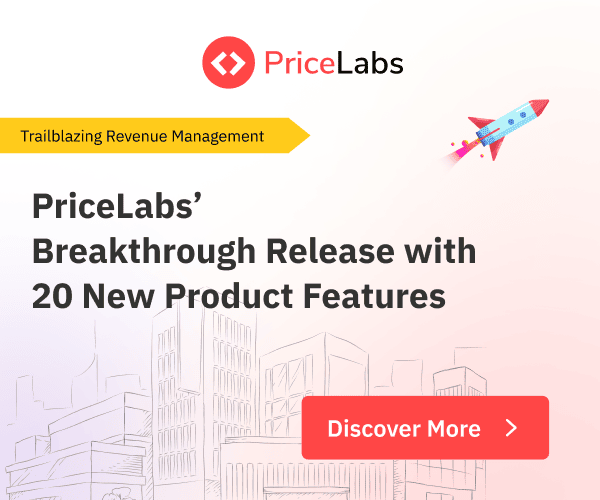 Some were only available in specific countries or languages:
For instance, the "Ask a Superhost" progam is now available in over 30 languages in 196 countries.
3 upgrades listed are linked to "Ask a Superhost": "Ask a Superhost matching", "Hands-on listing help", and "A world of Superhost help"
Some are really subsets of a larger upgrade:
3 of the upgrades "Real-time translation", "Better translations", and "62 ways to say Welcome" are probably linked to the new Translation Engine
3 other upgrades "Countdown to check-in", "Inline check-in details", and "Experiences highlight reel" are part of the Trips redesign
The Airbnb Luxe surprise?
In late April 2020, during the worst of the pandemic for Airbnb, the company took the radical decision to stop some initiatives (e.g. Transportation, Airbnb Studios, Airbnb Magazine) and to pause others (e.g. Hotels, Airbnb Luxe).
Looking at this list of upgrades, it looks like Airbnb has put a little energy into making its luxury vacation rental category move again. The Luxe supply appears twice in the list of upgrades:
Luxe is now a new property type category featured in the results of the "I'm Flexible" button.
The Luxe concierge can now include guests and Hosts in three-way messaging.
It shows that the product teams have been working a bit on the Luxe product. Let's see what happens next.
Video: Airbnb's CEO Brian Chesky on 2021 Winter Release
AirCover vs Airbnb Host Guarantee and Host Protection (now covers pet damaage and deep cleaning)
The first series of features introduced is for Airbnb hosts, which signals Airbnb's priority at recruiting as many hosts as possible. Early on, Airbnb understood that the fear of property damage and of liability was preventing a lot of people from hosting.
On August 15, 2011, it launched its famous $1M Host Guarantee. The guarantee (not an insurance product) was heavily marketed to attract new hosts. Later, Airbnb added liability insurance, called the Host Protection Insurance.
Both Vrbo and Booking.com tried to follow suit, with paid and free insurance products. For instance, Vrbo also offers a $1M liability insurance product to its hosts.
So, Airbnb has taken the bold decision to kill its famous Host Guarantee and Host Protection, combine into the Aircover offer, and add in a few refinements.
$1M liability insurance (replaces the former Airbnb Host Protection Insurance)
What: You're protected—even in the rare event that a guest is hurt.
Our take: Replaces the Airbnb Host Protection Insurance. Unlike the other "protections", this is a real insurance product.
$1M damage protection (replaces the former Airbnb Host Guarantee)
What: We cover damage by guests to your space and belongings, including valuables.
Our take: Replaces the Host Guarantee. It is big in the sense that the "Host Guarantee", in terms of marketing, has been to Airbnb's success to attract new hosts for 10 years. It remains more or less the same but is extended to cover pet damages, deep cleaning costs, and income loss (see below).
Pet damage protection
What: Not to worry: unexpected damage done by four-legged guests is covered.
Our take: The addition of pet damage makes sense as Airbnb encourages hosts to offer pet-friendly stays. With remote working, a lot of people may want to bring their cats and dogs with them to a vacation rental.
Deep cleaning protection
What: We compensate you for unexpected cleaning costs.
Our take: This was a pet peeve for many hosts, who thought that Airbnb was not doing enough a place had been left extremely dirty. Airbnb was ok-ish when it came to paying back property damages, but deep cleaning expenses were not always covered
Income loss protection
What: Airbnb reimburses lost income if you cancel confirmed bookings due to damage.
Our take: This is also a big step for many hosts: If a former Airbnb guest has destroyed a home, it may not have been possible to host the next guest.
14-day filing window
What: You now have 14 days to report damage—even if you're booked back-to-back.
Our take: These various protections are as good as the processes that underlie them. If you do not have enough time to create a case, it does not matter that the protection is $500 or $1,000,000. Another issue in the previous process was that, if you had not noticed or reported the issue before a new guest had checked in, Airbnb made it very hard for you to pin the damage on the previous guest.
Quicker reimbursements
What: Hosts get faster reimbursements for guest damages (9 days on average).
Our take: In reality, a lot of the money paid back to hosts after guest damages comes from the guests themselves. Airbnb has a powerful mediation tool, the Resolutions Center, where hosts can request money from guests. In case of dispute, the damage protection team may look at the case and pay some money. Yet, faster is better, great to hear.
Faster track for Superhosts
What: Superhosts get access to a dedicated support line with priority routing.
Our take: If Airbnb loses the trust of a Superhost, it can be costly. So, giving them priority on a phone line is worth the costs.
Note: Airbnb Aircover vs competitors
Airbnb is comparing its Aircover product with that of its competitors, such as Vrbo and Booking.com. Note that Vrbo does offer some of these protections, but as paid insurance products. Airbnb offers them for free.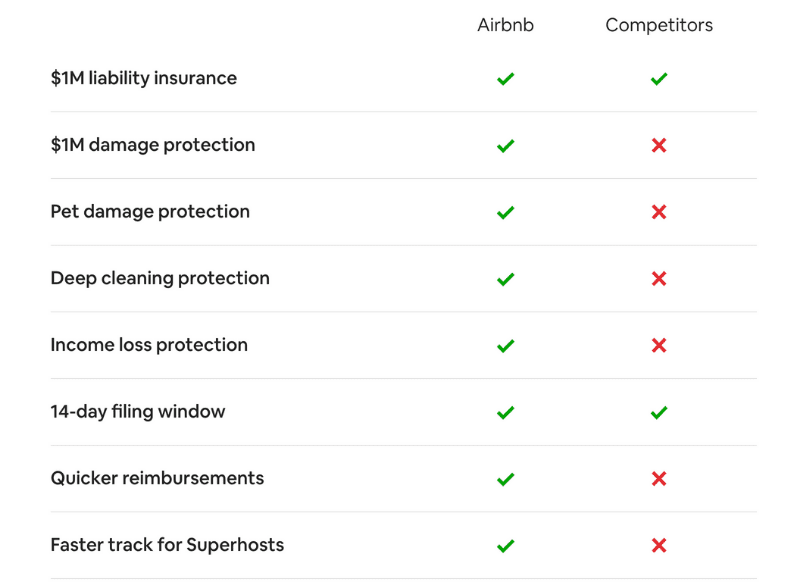 Top Airbnb upgrades (2021 Winter Release)
Translation Engine
What: The most advanced translation technology ever offered to our community.
Our take: By clicking on a new translation symbol, Airbnb users can get property descriptions translated. As hosts are free to enter their property name and description, they usually do it in their native language (e.g. French, Chinese, Russian). So, users may be missing out on key details.
Airbnb already offered some translations, but the tech is just better. To power its translation engine, Airbnb used the technology from industry leader ModernMT.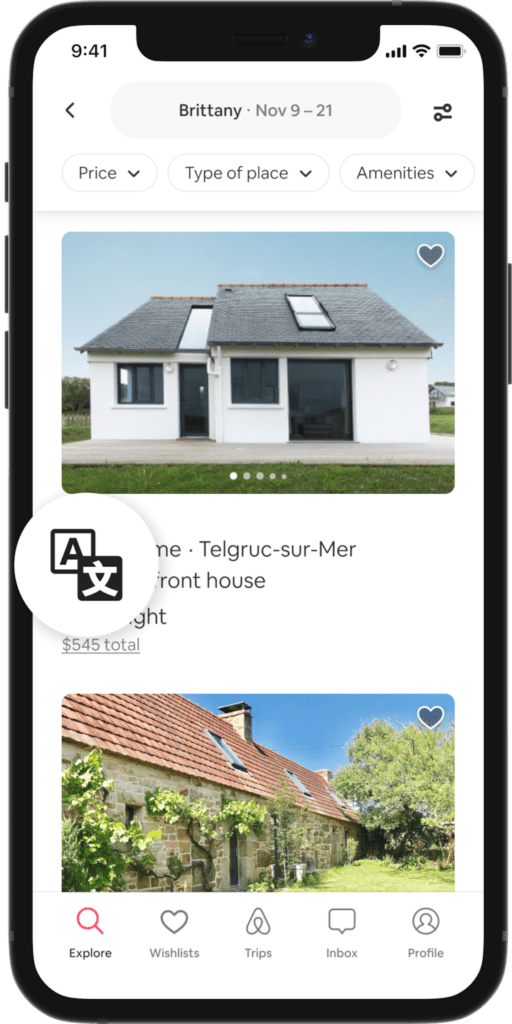 Accessibility review
What: We review every accessibility feature submitted by stays Hosts for 100% accuracy.
Hosts use to be able to tick boxes to indicate accessibility features at their property. Airbnb has just hidden these manually entered data. Hosts now have to upload photos and document every feature. The photos have very precise requirements (e.g. Fixed grab bar for shower: Show the entire shower and provide a clear view of the grab bar and its location in the shower.).
Airbnb says that every photo is manually reviewed by a specialized team of agents. To make their task easier, wants photos to conform to a certain model.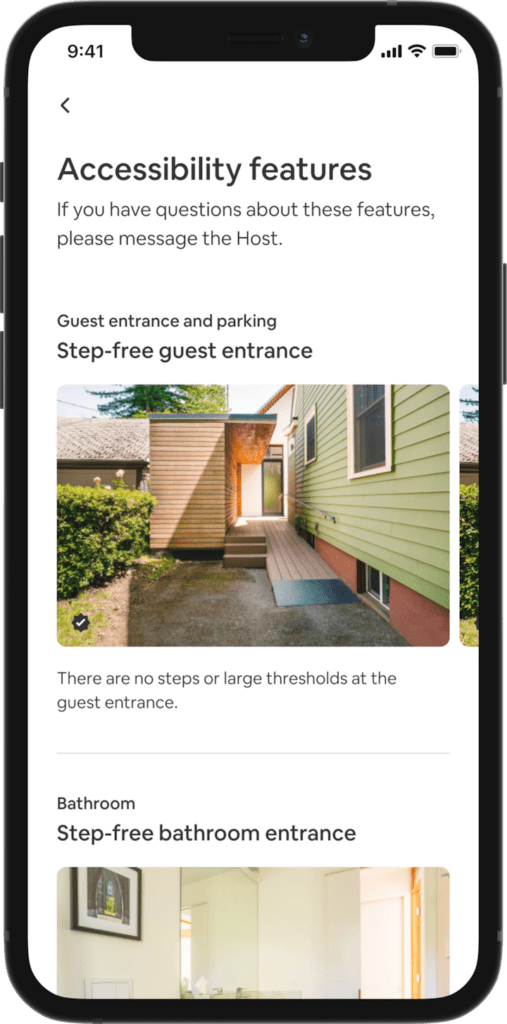 Verified wifi
What: Our new speed test tool lets guests be sure the wifi in a listing meets their needs.
Our take: On Rental Scale-Up, we've covered extensively how to use the Airbnb wifi speed test tool, how to boost your wifi connection, and how to get a high score.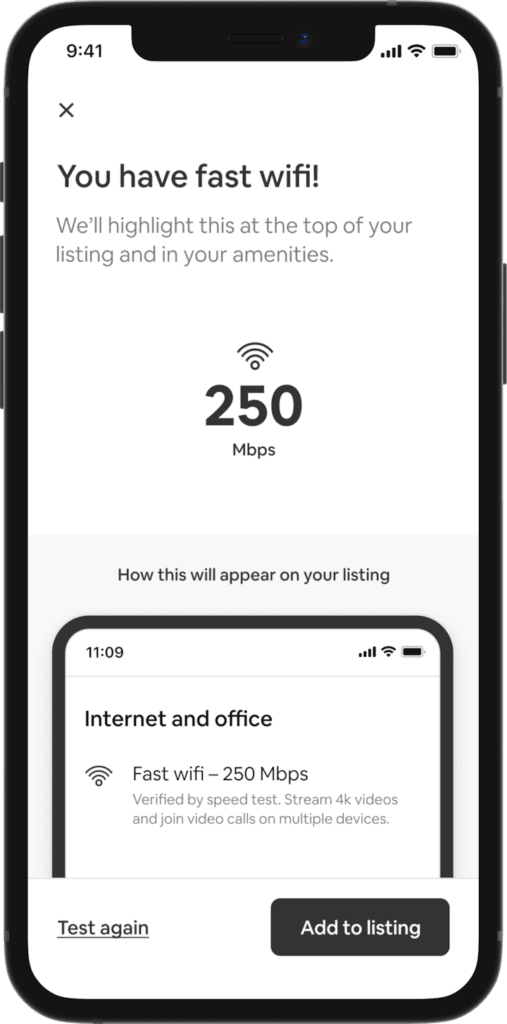 I'm (even more) Flexible
What: Search up to 12 months in advance, and discover even more types of unique stays.
Our take: The "I'm Flexible" product feature has been key to Airbnb's 2021 plan, as we explained and showed in videos in our Airbnb Flexible Search review. It allows users to search differently. Instead of entering a destination, they pick a property type (e.g. Treehouses). Then, Airbnb shows them nearby destinations with such properties.
It helps Airbnb point the demand where it has supply. This is all the more important as the "I'm Flexible" button leads to "unique stays" property types, for which Airbnb's supply may be patchy in some areas. Instead of showing nothing for a certain destination, Airbnb reverses the proposal by asking what type of places you want to stay and then showing you where it is available.
These types of accommodations are important for Airbnb as they are quirky, Instagram-friendly, and one-of-a-kind. They help create the perception that Airbnb has a supply that is exclusive to the company.
What's new:
The search window is extended from up to 6 months to up 12 months (a feat in terms of data calculation power)
4 new categories have been added: Off the grid, ski-in/ski-out, Offbeat, and Luxe (Intersting to see Airbnb Luxe become a subset of unique stays).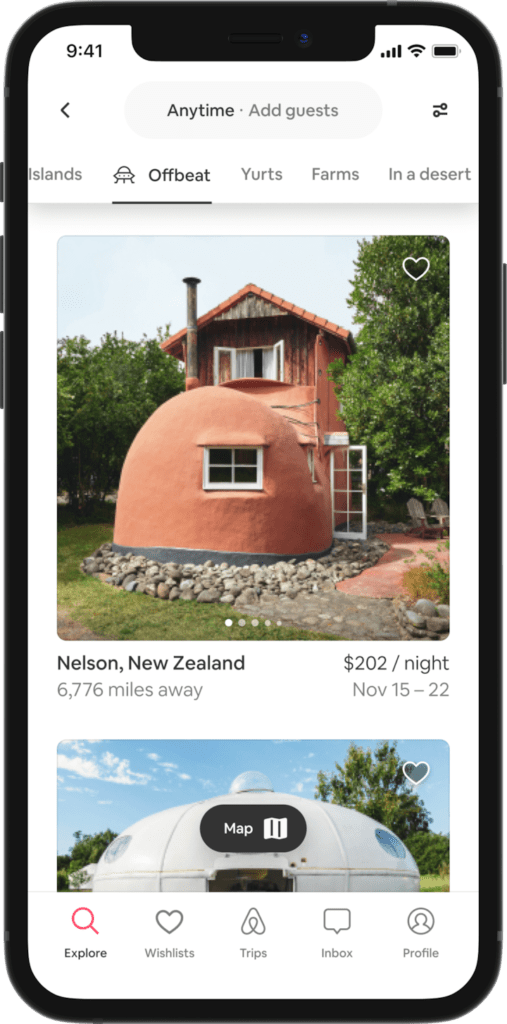 Smarter Trips tab
What: A redesigned Trips tab puts all your must-have travel details in one place.
Our take: Trips a tab available to Airbnb travelers. It is part of the navigation menu, along with Explore, Wishlists, Inbox, and Profile. The goal is to save travelers' time by giving essential information about their trip at a tap / click away. What's new:
countdown to arrival for an upcoming trip,
check-in details (e.g. getting there, getting inside, and wifi code)
current and upcoming reservations,
Airbnb Experiences suggestions.
Such essential information help reduce the volume of communications between hosts and guests, as well as between guests and Airbnb's customer support staff.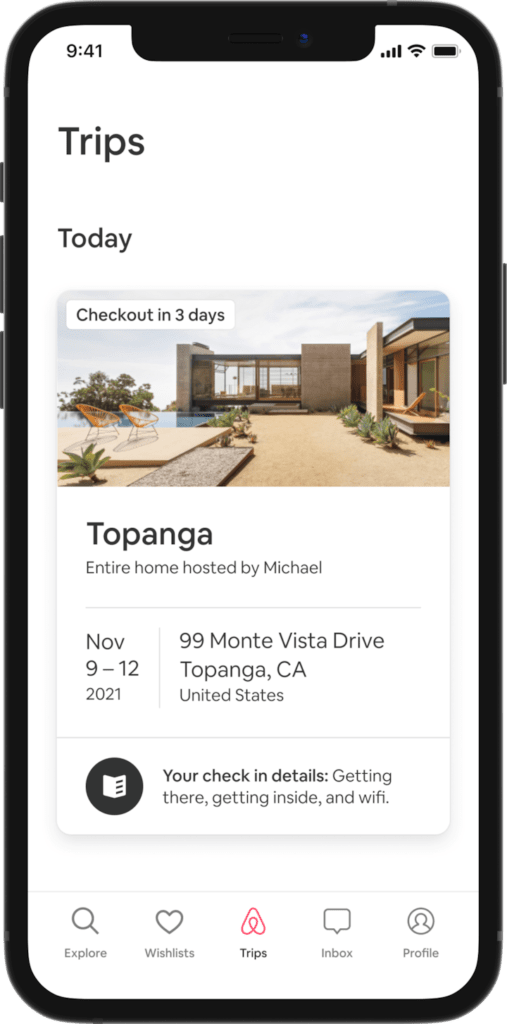 Ask a Superhost expansion
What: New Hosts can connect to a Superhost for experienced, one-on-one help.
Our take: Ask a Superhost is an extension of the Airbnb Ambassadors program. Ambassadors help Airbnb recruit, nurture, onboard, and set up for success new hosts. Ambassadors can proactively look for new hosts through offline and online activities. The "Ask a Superhost" program works in another way: Potential hosts who land on Airbnb's Host page can ask to get paired with a Superhost (i.e. an Ambassador who has enrolled in this program extension).
Since May 2021, more than 60,000 prospective Hosts have used Ask a Superhost. For this Winter Release, Airbnb is expanding Ask a Superhost to over 30 languages in 196 countries. Prospective Hosts can now be paired with Superhosts based on their location, language, and listing.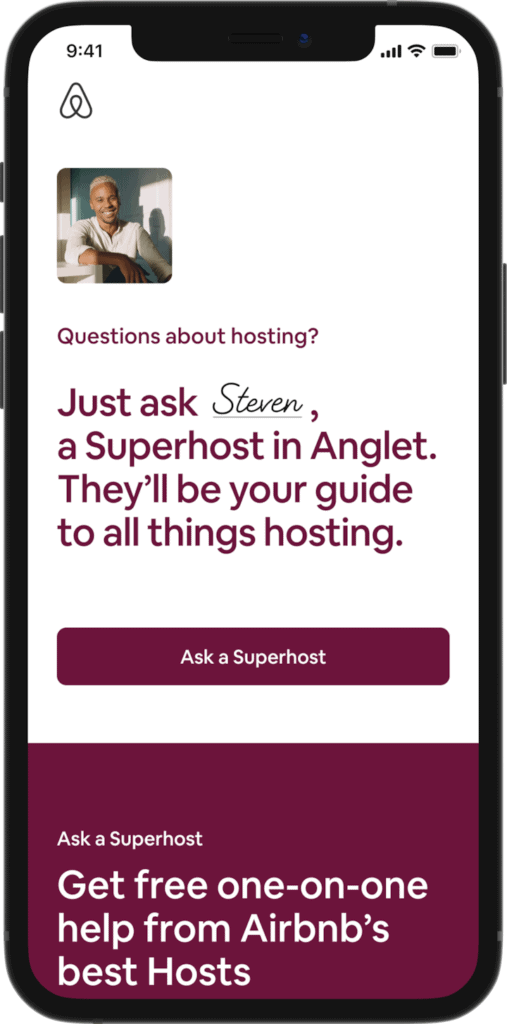 New Airbnb features on the Guest side
Below, we highlight in red the upgrades that we find the most interesting.
Real-time translation
You no longer need to tap a translate button to read content in your language.
Better translations
Improved translations for more than 99% of Airbnb listings, based on a third-party study.
62 ways to say "Welcome"
Every listing and review is instantly available in all languages we support globally.
Improved search filters
More prominent accessibility filters make it easy to find stays for a diversity of needs.
Experiences accessibility
Features like "sign language" or "no steps" are now clearly displayed for Experiences.
Guest payments history
Guest transactions (refunds, receipts, and more) are now easily accessible.
Countdown to check-in
A smarter, more intuitive tab now features a handy countdown to your arrival.
Inline check-in details
Your check-in info now appears along with your reservation details.
Experiences highlight reel
Get inspired by immersive Experiences videos near your upcoming destination.
New Experiences map icons
The map highlights Experiences tagged by type, such as food, outdoors, and more.
Things to do, just for you
We suggest top Experiences for you based on who you're with and where you'll be.
Wishlist with friends
Your friends can now view your wishlists with a single click or tap, no sign-in needed.
Reimagined gift cards
Gift a getaway this year with more ways to find, buy, and redeem Airbnb gift cards.
Gift cards go global
Send cheer with Airbnb gift cards, available in Australia, Canada, Germany, France, Italy, Spain, and the UK.
Help Center policy search
Looking for a specific policy? Find what you need with our single search tool.
New upgrades for Airbnb Hosts
Ask a Superhost matching
We'll pair you with a Superhost, based on your location, language, and listing.
Hands-on listing help
Need a second eye on your listing? Get tips from a Superhost on what worked for them.
A world of Superhost help
Hi! ¡Hola! Bonjour! Connect with a Superhost in over 30 languages in 196 countries.
Getting started, made simpler
Welcome new guests in a single step using a simplified onboarding flow in the Today tab.
Today tab booking details
Quickly review and respond to new bookings without leaving the Today tab.
Today tab Host alerts
The Today tab now only shows Host alerts, not the guest alerts you get while traveling.
Today tab custom tips
Get personalized tips on upleveling your listing, like adding amenities guests loved.
Today tab for Pro Hosts
Pro tool users, rejoice! You can now use the Today tab even if you have multiple listings.
Wifi speed test tool
Hosts can conveniently test their listing's wifi speed right within the Airbnb app.
Price preview for Hosts
Check the pricing of your listing as it appears to guests.
Short stay cleaning fees
Choose to offer a lower cleaning fee for one- and two-night stays.
Pet fee option
Now you can choose to add a pet fee to your nightly price.
Refunds for Experiences
Choose to give guests a full refund if they cancel up to 24 hours in advance.
Improved feature guidance
Better guidance helps Hosts display their accessibility features more accurately.
Simplified video uploads
Want to create a video preview for your Experience? It's now easier to upload clips.
Search Host inbox by text
No more endless scrolling: now it's easy to find messages with simple text entries.
Improved photo uploader
The auto-arranger now works when you upload photos one-by-one.
New listing promo pricing
Promote your new listing with a special discount as part of the 10-step hosting flow.
Improved search ranking
Improved search ranking better showcases Hosts with great quality and value.
Luxe three-way messaging
The Luxe concierge can now include guests and Hosts in three-way messaging.
Desktop calendar refresh
The Host calendar on desktop has been cleaned up for at-a-glance clarity and ease of use.
Calendar preferences
Customize info displayed in the date cells to what's most relevant to you (desktop only).
Price display improvements
Hosts can display their prices when guests view the calendar year view (desktop only).
Expanded risk screening
Party reduction measures are here for Hosts in Portugal and the UK.
Streamlined resolutions
New claims management process enables simple, quick resolutions for Hosts.
More Neighborhood Support
Support line for neighbors of Hosts expanded to 12 languages in 29 countries.
Listing reactivations
Listings can be reactivated in City Portal after Hosts update their registrations.
Airbnb 2021 Strategy
The 150+ released in 2021 feed into Airbnb's strategy. In product marketing, it is is both art and science to arrange features into neat packages that seem to have existed from the start. Sometimes the strategy comes first and then the features follow. Sometimes the features are there, for good reasons, but a serious dose of storytelling is necessary to fit them into neat packages.
So, for the Winter Release, we can expect the new features to be explained away along the lines of Airbnb's 2021 strategy:
Educating the world about what makes Airbnb different — hosting
Recruiting more Hosts
Simplifying the guest journey
Delivering world-class service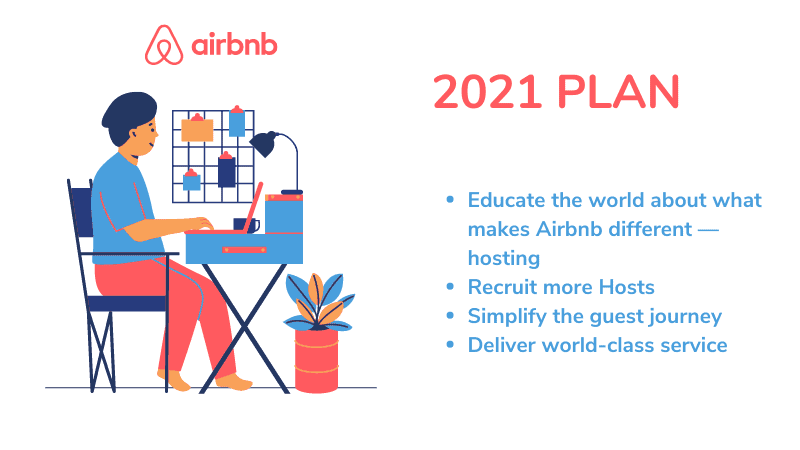 Airbnb 2021 Winter Release: What we know so far
A key theme for Airbnb in 2021 has been getting more supply. Between the urban listings lost during the pandemic and the need to offer non-urban whole home rentals to match changing traveler needs, Aibnb has put a lot of energe into outreach campaings to get more supply.

Brian Chesky mentioned the "Ask a Superhost" program in the Q3 earning calls. It is based on the Airbnb Ambassador program. As we explained, the different with "Ask a Superhost" is that it is Airbnb who is giving leads to the Ambassadors, instead of Ambassasors having to find leads. So, we expect more annoucement about this program.

The company wants to make it easier for people to become hosts. It has aleady streamlined its host onboarding funnel. More should come: " And we have more innovations that are going to make it even easier that we're showing next Tuesday, November 9″

Airbnb's new features will also be made available to Professional Hosts. Brian Chesky said: "Many of these are going to be innovations for professional Hosts in addition to individual Host". This is great to hear for professional property managers, who make up 10% of Airbnb's host base but represent a much larger share of its bookings.
Airbnb's previous drop: 100+ upgrades in May 2021
On May 24, Airbnb announced its most comprehensive update to its service in 12 years. The company promises to unveil a simpler and more inspiring guest experience, and upgrades that make it even easier for anyone to be a Host. We'll close this article with the complete list of the 103 new features announced by Airbnb. But, first, we'll see that Airbnb's need for more supply is visible in what Brian Chesky emphasized the most: A simpler new listing creation process on the host side and new flexible search options on the guest side (which allow Airbnb to show more results even where supply is actually short).
Some of the features were released a couple of months ago (Flexible Dates) or are not available yet (SuperHost support line). Some are impressive (the new listing funnel is easy and beautiful) and some not (#57: "When you complete your new listing, Sandy and Brian will be there to celebrate the moment." – FYI we are talking about a photo of Chesky with a dog), some are important to many (e.g. the tabs in the Host dashboard menu will change drastically) and some are for only a few (e.g. #99: "New tools to help city officials manage short term rental policies and regulations").
This article completes our May 2021 series on Airbnb's strategy, along with our in-depth overview of the 4 pillars of Airbnb's 2021 strategy and our strategic lessons learned from Airbnb's Q1 2021 business and financial results.
If we use again the framework of Airbnb's 2021 plan, here's an overview of the main previous upgrades:
Educating the world about what makes Airbnb different — hosting
Recruiting more Hosts
Simplifying the guest journey
Delivering world-class service

On September 30, 2021, Airbnb will begin offering dedicated Superhost support, initially in North America, and rolling it out globally throughout 2021.