While Airbnb says that it wants to focus on small hosts, it is also keen on professional property managers playing a role in its ecosystem where needed. Luckey, Airbnb's property management company subsidiary, has ceased offering management services and is now a provider of co-hosting tools for the platform, among which is a co-hosting marketplace where property managers can offer their services.
Airbnb has (re)launched its co-hosting marketplace, via its "Hosting Services" page, where individual hosts can search for and connect with "local partners" (i.e. property managers). 
Many of these co-hosts are professional property managers, from small to big ones.
The platform is currently available in France, Canada, Spain, and the UK. Local partners can sign up provided their overall guest rating is at least 4.8 out of 5. There is no exclusive territory given to any partner, thus making the service a co-hosting marketing place.
Rental Scale-Up found out that this re-launched Cohosting initiative is part of Airbnb's "People-Powered Programs" whereby the company develops tools and money incentives to get hosts to connect with and support each other. The company wants to grow its supply and revenues by leveraging the most active members of its host community, in a more cost-effective and efficient way than an Airbnb employee could.
The foundations for the tech have been provided by Luckey, a French property management company that Airbnb acquired in 2018. According to several property managers in France and Spain, Luckey seems to have ceased providing management services entirely to focus on providing hosting tools for Airbnb. So, Airbnb is not competing anymore as a property manager itself.
In 2022, Airbnb wants to "unlock the next generation of Hosts" and "become the ultimate Host". To achieve these strategic goals, the company is leveraging successful hosts to help new hosts list their properties, struggling hosts stay on the platform, and overall guest service becomes more professionalized.
What Airbnb's new hosting service matching platform looks like
Several months ago, Airbnb launched a page called "Hosting Services" allowing hosts to search for, select, and contact short-term rental management service providers. The goal is to provide hosting help on Airbnb to hosts who may be new or struggling after a while.
Hosts can enter their address and discover a number of "local partners" that are ready to assist them.
A Host can select an Airbnb management service by considering criteria such as:
the location of the property,
the area in which the management service operates,
the quality rating of the management service given by guests on Airbnb,
the range of services offered,
the commission taken by the Airbnb management service
Upon selecting a profile, the host agrees to be contacted by the management services provider to organize and determine the terms for the provision of the services.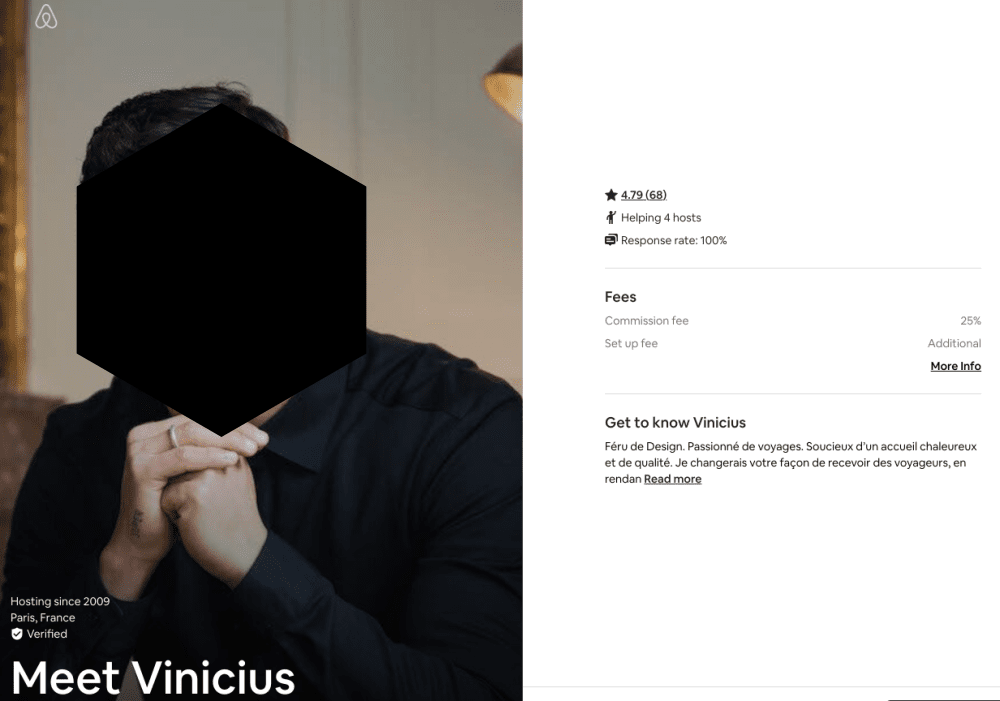 If the management services provider does not reach out to the Host within a reasonable period of time or refuses to provide the services requested, the Host may select another provider via the platform.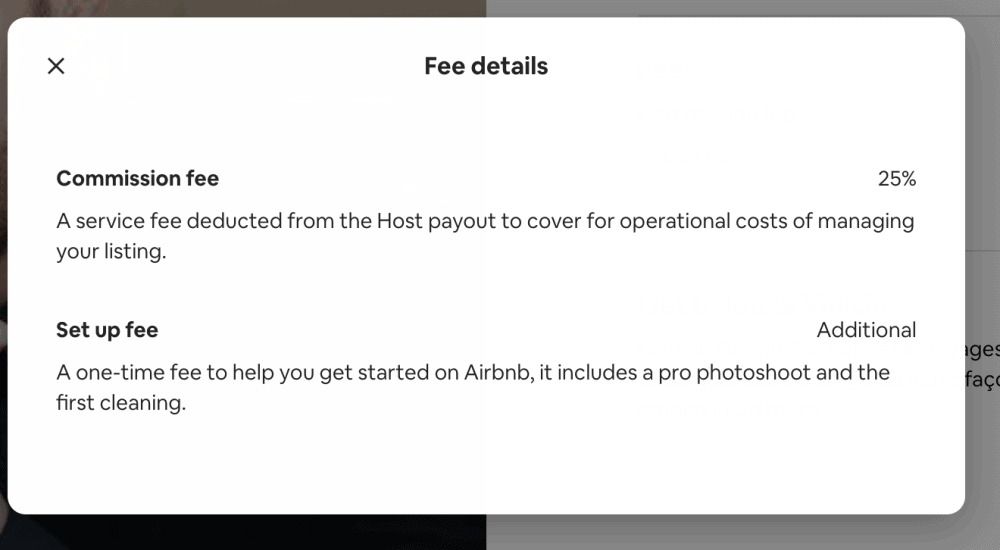 The host then enters a Management Services Agreement, where the host and the property manager agree on:
The fees
The services
The level of control that the Host wishes to keep over the creation and updating of its listing, listing prices, calendar availability, and terms of acceptance and cancellation of bookings.
The management fees will be automatically deducted by Airbnb Payments from payouts due to the Host and paid directly to the Management Services Provider on behalf of the host.
Airbnb is betting that it can grow its supply, bookings, and service quality faster by empowering successful hosts to help newbies and struggling hosts
Once again, Airbnb is showing that it wants to boost its supply by matching individual hosts with thriving Airbnb entrepreneurs. Airbnb is already helping new hosts get started with its Superhost Ambassador program, which matches would-be hosts with Superhosts. With the new version of its Co-hosting marketplace, existing hosts who may be overwhelmed with running the operations can ask to be matched with property managers who can help them with replying to messages, greeting guests, or cleaning a property between two stays.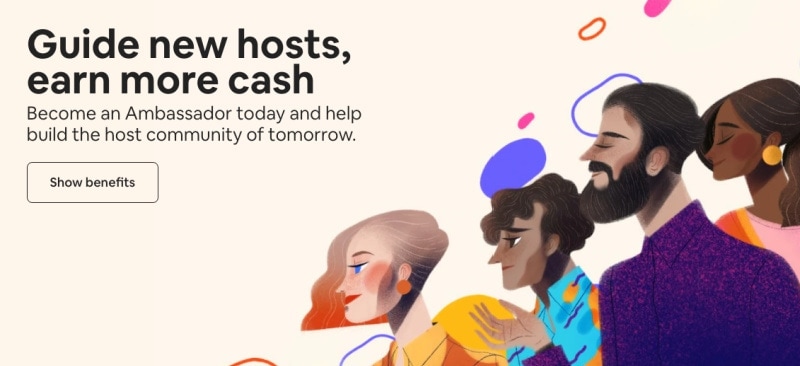 Airbnb wants to organize and leverage its eco-system to create a "Community" where hosts can connect and help each other. This is not just about offering an online forum and offline meetups where hosts can talk to each other. Airbnb's so-called "People-Powered Growth programs", such as Co-hosting and Ambassadors, are about building programs, tools, and money incentives to foster connection and shared success among hosts.
Airbnb's Hosting Services, powered by independent pros, are part of the company's 2022 strategy to increase supply and guest satisfaction
Airbnb's People-Powered Growth programs help Airbnb grow and retain its supply as well as make it more productive. Rather than lose struggling hosts, Airbnb can keep them on the platform by matching them with successful property managers. These programs can also help increase the professionalization of the industry by providing better and more consistent service to guests: The Ambassador program teaches the basics of hosting, while the Co-hosting program lets professionals take over and perform better service.
These efforts are consistent with Airbnb's 2022 strategy of increasing supply ("Unlock the next generation of Hosts") and offering better guest service ("Airbnb becomes the ultimate Host").
By leveraging Superhosts and property managers, Airbnb can help new and struggling hosts at a cost to the company that is lower than getting paid Airbnb employees to do the same. Instead of fielding questions from struggling hosts, Airbnb can direct them to Ambassadors or Co-hosts for help. In the case of Ambassadors, it is Airbnb that is paying Superhosts once the new listing becomes active. With the new co-hosting program, individual hosts share a part of their hosting revenues (e.g. 20%) with their co-host.
Airbnb turned property management company Luckey into a hosting tool provider
Airbnb mentions that its new co-hosting initiative is "powered by Luckey".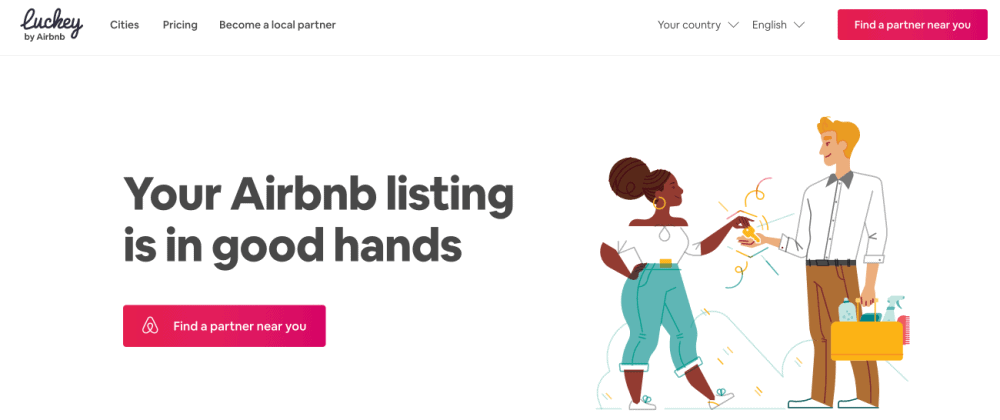 Luckey was a French short-term rental company that Airbnb acquired in 2018. Not only was Airbnb interested in its service, but also in its proprietary technology. For instance, we think that Airbnb used existing tech from Luckey to launch its Hosting Teams operations module, part of the Airbnb professional hosting tools, in April 2020. This module enables small property managers to delegate and assign tasks to cleaners and greeters.
At first, Luckey kept on offering property management services in a few countries. Now, it seems that Airbnb has discontinued the service part and refocused Luckey on providing hosting tools and tech. It means that Airbnb is no longer competing with local property managers in France, Spain, and Canada. By turning Luckey into a tech provider whose tools can be used by some of its former competitors, Airbnb has turned things around.
What do Airbnb's Local Partners do? How to become one of these co-hosts?
Airbnb has launched a Local Partners page where interested parties can discover and apply for the program.
Who can join as an Airbnb local partner?
Local partners have a strong experience with the Airbnb platform and are aligned with Airbnb's community standards. They meet our eligibility criteria as their quality score on Airbnb is above 4.8 over the last 365 days. Once they joined the program, their score must remain above 4.6.
Airbnb's local partners are responsible for making sure that their activity complies with their local legislation whether it is purchasing liability insurance, making sure that they have the skills and experience required to provide the services, or licensing their operations under applicable local rules and regulations, such as broker licenses.
What Airbnb management services do:
"Local partners" are not Airbnb employees. They are independent. Here's a sample of what they can do:
Source and coordinate welcoming, cleaning and maintenance teams in order to provide guests with the best experience.
Handle guest check-ins and checkouts with the use of our tools.
Support guests should any issue arise during their stay.
Liaise with our support teams on claims resolutions that involve on-the-ground operations.
Supervise minor maintenance and repairs in hosts' homes
In partnership with the Revenue Management team, ensure that the pricing and occupancy rates are optimal
Support new Hosts
Provide exceptional services adapted to Hosts' needs.
Work hand-in-hand with Hosts to create the perfect listing and support them at every step of your collaboration.
Ensure the cleanliness, comfort, and safety of their property before and after guests' stay.
Ensure guests' satisfaction
Handle communication with guests throughout their stay.
Use your local expertise to provide them with a unique and personalized service.
Prioritize guest satisfaction by going beyond their expectations.
Work independently
Earn new income on the basis of fees that you set yourself and agree with your Hosts.
Define the terms of your relationship with the Hosts and discuss their goals.
Grow your business and stay in control. Our tools and community are here to support you.
Key details about the sign-up process as an Airbnb management service provider
As part of the registration process on the Interface, the Management Services Provider must define the Territory, in the form of zip codes, in which it wishes to provide services and where it has the capacity to perform the Management Services.
The registration process on the Luckey platform also requires the Management Services Provider to provide information and documents as listed at the time of registration. The provision of such information and documents is necessary for the Management Services Provider to access the Services.
Before registering for the Services, the Management Services Provider acknowledges that it must find out on its own about the legal requirements applicable to the provision of the Management Services, and in particular those requiring the Management Services Provider to hold any professional licenses.
Luckey provides an Interface that Hosts can use to connect with Management Services Providers who are eligible, based on their good ratings by Guests on Airbnb.
In order to be eligible for registration on the Interface, the Management Services Provider must:
provide the Services as a professional and have completed all formalities and procedures to obtain such status;
accept these Terms, and in particular, the commitments in terms of quality of services reflected by the rating requirements set out by Luckey solely on the basis of ratings made independently by Guests on Airbnb. In this regard, Management Services Providers will be eligible if Listings of Accommodations they manage, either as a co-host or as a "Super Host", present an Average Rating greater than or equal to 4.8/5 on Airbnb.
Airbnb has a place for professional property managers in its ecosystem, as service providers to Airbnb hosts. Note that they are not allowed to put the co-hosted listing on their vacation rental platforms, such as Vrbo. Airbnb wants property managers to help its exclusive supply thrive without going away to other platforms. Now, some property managers may find creative ways around this limitation.