Airbnb is intensifying competition. By introducing Guest Favorites and Revamped Ratings and Reviews in its Winter 2023 Release, it is escalating its fight for value for money in terms of both quality and price. This is evident in changes on both the guest side and host side.
These changes can be seen as a form of gamification, encouraging hosts to strive for excellence to unlock the coveted Guest Favorite badge for their listings. We believe, this change could potentially render the Superhost badge second-best.
In this article, we will vividly demonstrate the shifting dynamics in which Superhost is gradually yielding its position to Guest Favorites. We will also delve into how these recent updates are compelling hosts to elevate their competitive edge, not only in terms of the quality of the experience they provide but also in their pricing strategies.
Guest Favorites: Finding Guest-Vetted Homes
In its recent financial update for Q3 2023, Airbnb's CEO Brian Chesky emphasized the importance of "reliability" as the cornerstone of Airbnb's user experience. Building upon this vision, Airbnb has announced two important upgrades and features in its Winter 2023 Release, aimed at enhancing the trust and confidence of guests:
Guest Favorites – A new listing-level badge for top-rated homes
Revamped Ratings & Reviews – An overhaul of the review system
The goal of both features is clear: to empower guests to effortlessly access and assess what previous guests have to say about a property, making this exchange of information quick and seamless.
Guest Favorites is a new designation given to the "2 million most adored homes on Airbnb," identified by a distinct badge in search results and on the listing pages, alongside a dedicated filter for Guest Favorites.
As part of this release, Airbnb also shared the top ten countries and regions with the highest concentration of Guest Favorites listings, including Ireland, New Zealand, Canada, Aruba, the United States, Puerto Rico, French Polynesia, Iceland, the United Kingdom, and Brazil.
The categories that feature the most Guest Favorite listings include Beach, Amazing Pools, Iconic Cities, Rooms and Amazing Views.
The properties that receive the Guest Favorites badge are judged based on two key metrics reported by past guests:
Great ratings and reviews: Guest Favorites have excellent reviews and are rated above 4.9 stars on average. These homes also receive high marks for ease of check-in, cleanliness, listing accuracy, Host communication, location, and value.
Outstanding reliability: have a superb record of reliability, with Host cancellations and quality-related customer service issues of 1% on average.
It's worth noting that low host cancellations and superior customer service have been persistent challenges for professional hosts, and Airbnb's stringent standards in this regard may face some pushback.
Guest Favorite Badging for New Properties
The introduction of Guest Favorites has added a new layer of competition in the world of property listings. For owners of new properties, this means that the pressure to accumulate positive guest reviews quickly is now more critical than ever.
Since the Guest Favorite badge is awarded at the listing level based on high ratings, new properties are at a disadvantage compared to more seasoned rentals that have already earned Favorite status.
For a new property to compete, hosts will likely need to attract guest bookings and positive reviews even faster in order to gain visibility and trust. To attract guests and secure the coveted Guest Favorites badge, offering competitive pricing is likely to become a key strategy.
Another Push for Lower Rates Through Guest Favorites Criteria?
The release introducing Guest Favorites interestingly states that "Over 1 in every 3 Guest Favorites have an average daily rate of under $100 USD."
While this does not explicitly convey that daily rate is a qualifying metric, it would come as no shock if competitive pricing becomes a factor in hosts attaining the soon-to-be coveted Guest Favorites badge for their listings. This will be consistent with Airbnb's ongoing strategic push to encourage hosts to adjust their rates, ultimately reinstating the platform's reputation as an affordable choice for travelers.
Superhost vs. Guest Favorites
To become a Superhost, hosts do not need to apply or even be active for a minimum tenure, but they must meet the following criteria:
4.8+ overall rating from guests in the past year
10+ stays in the past year or 100 nights over at least 3 completed stays
<1% cancellation rate, not including extenuating circumstances.
90% response rate
Here is the criteria for securing the Superhost vs. Guest Favorite badge, side-by-side: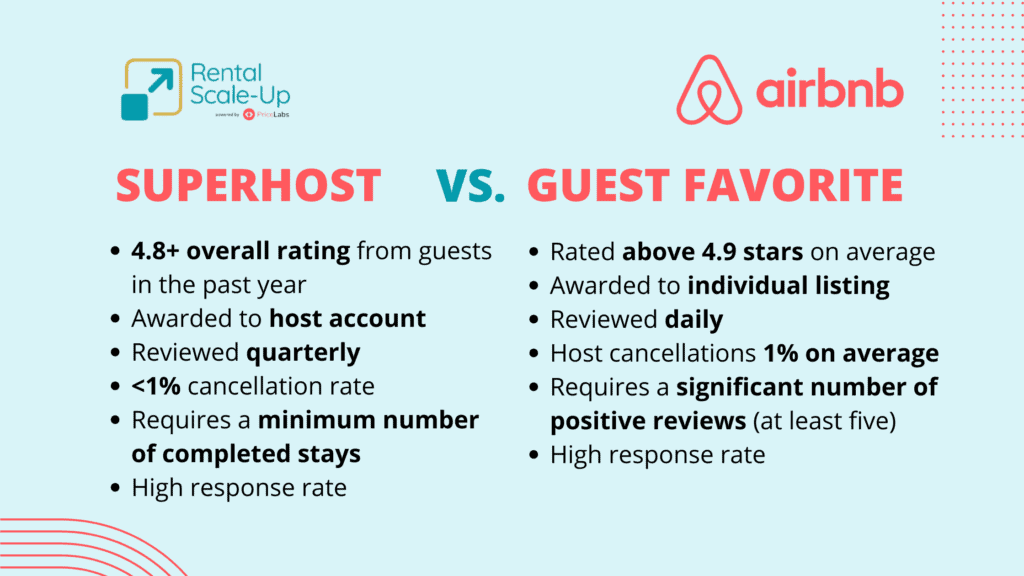 It's important to note that Guest Favorites is separate from the existing Superhost designation, which is a badge awarded at the host account level. Airbnb Superhosts are widely recognized as the top-rated and most experienced hosts on the platform, while Guest Favorites is a badge reserved for the highest-rated listings on Airbnb.
While there is some overlap in the criteria for Superhosts and Guest Favorites, they serve distinct purposes. Superhosts are hosts with a strong track record of outstanding hospitality, while Guest Favorites highlight top-rated listings.
If you're a Superhost with a listing that has earned Guest Favorite status, your listing page will showcase both badges – Guest Favorite and Superhost. This dual designation will also appear in search results for your property.However, if you are a Superhost but your listing does not yet qualify for Guest Favorite, only the Superhost badge will be displayed on your listing page and in searches. Your Superhost status still provides visibility, even without the additional Guest Favorite badge.
Guest Favorite Badging for Superhost Professional Managers
With our observations at industry events indicating that overall ratings of professional managers (PMs) on Airbnb tend to be lower than those of small hosts, the introduction of the 'Guest Favorite' badge presents a unique opportunity.
Unlike the 'Superhost' status that spans across your entire profile, the 'Guest Favorite' badge operates on a listing-specific basis. This means each of your properties garners its own individual rating. Therefore, this new feature could provide PMs an avenue to highlight and enhance the appeal of specific listings in your portfolio.
If you are a professional property manager who has attained Superhost status and you decide to add a new listing, that new property may carry your Superhost designation, but it will not automatically qualify as a Guest Favorite. This distinction underscores the unique character of each of these designations and highlights how the introduction of Guest Favorites can influence the perceived value of the Superhost badge.
Conversely, the introduction of Guest Favorites also exerts pressure on professional property managers to reevaluate the properties they incorporate into their portfolio. This reevaluation becomes essential to ensure that these properties meet all the necessary criteria for earning a Guest Favorite badge.

How the Guest Favorite Badge Trumps the Superhost Badge
The Winter 2023 Release states that "nearly two-thirds of Guest Favorites come from Superhosts," demonstrating the coexistence of these two designations. However, the visibility of the Guest Favorites badge has already eclipsed that of Superhost in listing pages. In search results, the Superhost label has even been replaced by Guest Favorite, raising questions about the future of the Superhost program.
As a prospective guest browsing Airbnb for accommodations, when I encounter search results featuring properties labeled either as "Guest Favorite" or "Superhost," my inclination is to prioritize those marked as "Guest Favorite." This choice is driven by the logical reasoning that I would place a higher degree of trust in the experiences and feedback shared by previous guests who have stayed at a property, thereby influencing my decision-making process.
Where Superhost and Guest Favorites Converge
While it's true that the Superhost and Guest Favorite badges represent distinct accolades, it's essential to acknowledge that they are not entirely isolated from each other. Ultimately, both badges are intrinsically linked by the common denominator of the price/quality factor.
The introduction of this new level effectively signifies an added layer of gamification within the realm of Airbnb hosting. Hosts are now engaged in a dual quest, vying to attain both badges, and in doing so, they are continually challenged to enhance their offerings, striking the delicate balance between affordability and an exceptional guest experience.
Goodbye Old Badges: Airbnb Luxe and Airbnb Plus
The landscape of Airbnb badges has undergone a significant transformation.
The 'Airbnb Luxe' badge, once a coveted distinction, has now evolved into its own standalone category.
In October 2023, Airbnb made the decision to discontinue the Airbnb Plus program, which was an invite-only initiative recognizing listings for their quality and design.
In its place, a dynamic duo has emerged: the Superhost badge, which operates at the host account level, and the Guest Favorite badge, which functions on the listing level.
This new approach is notably more scalable, as it relies on data and guest reviews rather than in-person inspections.
By eliminating the need for physical inspections, this approach not only streamlines the process but also reduces associated costs.
This revamped system excels at fostering competition within the Airbnb community, as it places the responsibility squarely on hosts to continually earn stellar reviews.
It's important to note that previous Airbnb Plus listings will not automatically receive the Guest Favorites badge; they must meet the same criteria as other listings to qualify. However, former Airbnb Plus hosts will still have the option to claim free professional photography from Airbnb for their active listings, providing an advantage.
Airbnb Ratings and Reviews Overhauled
The Winter 2023 release also brings about changes to Airbnb's Ratings and Reviews system, providing guests with new ways to access and interpret information. The overhaul of Ratings and Reviews is also intrinsically connected to the Guest Favorite badge, as reviews play a direct role in determining whether a property qualifies for this coveted recognition.
Here is what is new:
Rating Distribution:

A fresh overall rating chart displays a breakdown of a property's 1 to 5-star reviews.
However, users still cannot click through star ratings to filter reviews by a specific rating, such as all 1-star reviews.

Detailed Metric Ratings:

Beyond the overal review rating of a property, the revamped Airbnb system provides a granular breakdown of ratings across key metrics including check-in experience, cleanliness, listing accuracy, host communication, location, and value.
If a property receives a low rating for factors like cleanliness, such concerns will be readily apparent.
The 'value' rating will also be more immediately visible, which can be interpreted as a not-so-subtle push for hosts to provide exceptional experiences at competitive rates, thereby ensuring greater VALUE for guests.

Sort by Recency and Rating:

Guests can now sort reviews to read the latest or highest-rated feedback from previous guests.

Find Relevant Reviews:

New details, such as the type of trip or length of stay, make it easier for guests to identify pertinent reviews.
Airbnb has not disclosed the exact criteria for displaying such details or the algorithm's decision-making process in this regard.
Combined, these changes raise the stakes exponentially for hosts. Guest Favorites creates an elite tier that will capture bookings. For guests, the updates mark a significant step towards enhancing transparency and trust in the Airbnb ecosystem and foster a more reliable and rewarding user experience.
The overhaul also follows closely on the heels of Booking.com and Expedia's launch of their 'Coalition of Trusted Reviews', a significant development that brought together industry leaders from hospitality, travel, retail, and consumer services sectors.
This coalition was a direct result of the 'Fake Reviews' conference held last year, a forum that Airbnb notably did not attend. In contrast, Booking.com maintained a prominent presence, largely attributable to its long-standing and sophisticated mechanisms designed to counteract fraudulent reviews.
Conclusion
Airbnb's new review and rating system as well as the introduction of Guest Favorites present an intriguing mix of opportunity and challenge for hosts. With Airbnb's inventory having just crossed the significant milestone of 7 million listings, the pressure is on for hosts to differentiate their properties in an increasingly crowded marketplace.
The 'Guest Favorite' badge, while seemingly elusive, has already been awarded to 2 million listings, indicating that it is indeed attainable. This equates to nearly 2 out of every 7 listings, a ratio that underscores the badge's accessibility.
As hosts navigate this evolving landscape, understanding and leveraging these changes effectively can empower them to optimize their offerings, enhance guest satisfaction, and build scalable, successful short-term rental businesses.