For this 2023 Winter Update, Airbnb is giving hosts tools that can help the platform increase its conversion rates: A new tab, called Listings, where hosts can easily update their listing content and photos; upcoming pricing tools whose goal is to push hosts to lower their prices; and smoother co-hosting options for a better guest experience. (This article focuses on tools for the hosts. Read here what's new on the guest side, such as the new Guest Favorite badge)
Airbnb introduces several new features to enhance the host experience and streamline listing management. These include the Listings Tab for easier editing and updating of property details, an AI-powered Photo Tour for better visual representation, and improved Smart Lock Integration for secure guest access. Additionally, a revamped Earnings Dashboard offers hosts detailed insights into their finances with customizable reports and transaction breakdowns. The platform also expands its Co-Host program, emphasizing efficient communication and flexible payouts, and introduces new pricing features like the Compare Prices tool and improved Pricing Visibility. These updates aim to simplify hosting, improve guest experiences, and ensure competitive and transparent pricing in the Airbnb ecosystem.
Host Tool: Airbnb's New Listings Tab
Pain Points Airbnb Aims to Solve:
Complex Listing Management: Hosts struggle to add detailed information that could boost bookings (up to 20% more bookings).
Photo Tour Creation: Only 10% of listings used time-consuming manual photo tours. And yet, a great photo tour can increase conversion.
Scattered Arrival Information: Check-in details are inconveniently spread out within the app.
Smart Lock Code Management: The current system for managing guest entry is not fully optimized.
The Solutions:
Listings Tab:
Your Space: Enhances the listing detail editing process with optimization tips, making it more intuitive and intelligent. Airbnb makes it easier to add new amenities and tick the new boxes that it rolls out every month.
Arrival Guide: Centralizes all essential check-in information, streamlining the guest's arrival experience. Does not replace a welcome guide such as Touch Stay, for instance.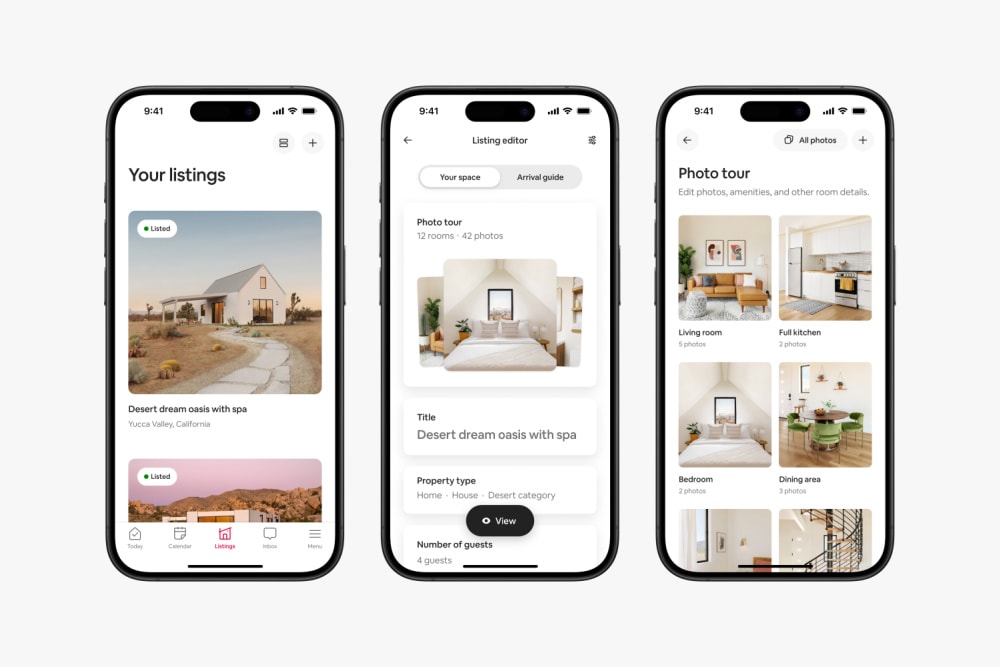 AI-powered Photo Tour:
Automates the categorization of property photos, facilitating a virtual walk-through for guests and enhancing the booking appeal.
It makes Airbnb a more pleasant app and website to browse, which helps increase booking conversion.
Smart Lock Integration:
Revamps the connection between smart locks and the Airbnb platform, simplifying entry code management and improving security.
Now, Airbnb has been offering for 10 years, through its Host Assist program. More details are needed to see what is new here, other than Airbnb making it easy to connect with a smart lock without the need for a PMS.
Why It Matters:
Facilitating Easy Listing Edits: The Listings tab simplifies updating listing details directly in the app. While Airbnb has previously excelled in streamlining the creation of listings, this update addresses the need for easier updates. This is crucial for value for money, as an up-to-date listing more accurately reflects the guest's actual experience. Moreover, with Airbnb regularly rolling out new amenities and features that you need to tick, it's now simpler for hosts to keep their listings current and competitive.
Innovating Photo Organization: AI technology groups photos efficiently, improving the visual experience for potential guests.
Streamlining Smart Lock Integration: Enhances the integration of smart locks with the Airbnb platform, automating code generation.
By introducing these features, Airbnb is not only addressing common pain points but also providing unique, platform-specific solutions that encourage host loyalty and potentially outperform traditional Property Management Systems (PMS). These innovations are part of Airbnb's commitment to simplifying the hosting experience and enhancing guest satisfaction.
Host Tool: Revamped Earnings dashboard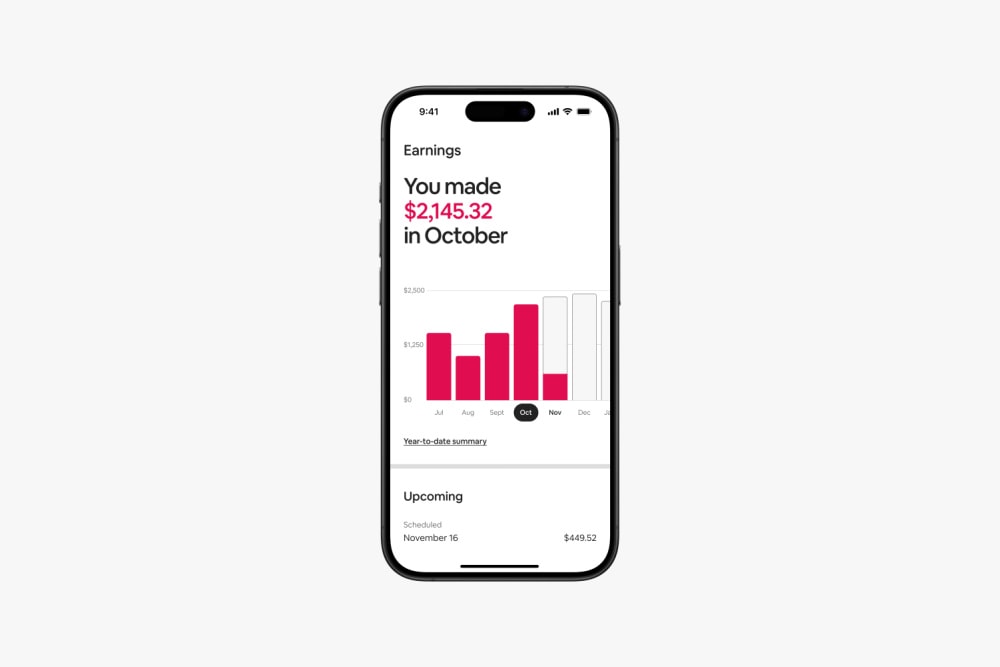 Benefits of the Redesigned Earnings Dashboard:
Enhanced Visibility: Hosts can now get a comprehensive view of their earnings, including past and projected payouts, with an interactive chart that displays monthly earnings, current month's earnings, and projections for the next six months.
Customizable Reports: The dashboard allows hosts to create custom earnings reports by selecting specific details they wish to include, such as payout method, booking date, and reservation codes.
Detailed Breakdowns: Each transaction provides a detailed breakdown, including gross earnings, taxes withheld, service fees deducted, adjustments, and net pay.
Search and Filters: Hosts can quickly find transactions using search and filter options, sorting by payment amount, reservation code, date range, listing, and payout method.
Transaction Details: For each payout, hosts can view associated details such as price breakdown, payment dates, linked reservation codes, guest information, and other relevant data like Co-Host payouts or Resolution Center requests.
Ease of Access: The Earnings tab is easily accessible under the Host Menu tab, making it convenient for hosts to review their financials.
How It Works:
Tracking Earnings: Hosts can track both upcoming and already paid earnings, with a clear explanation of how each payout is calculated.
Accessing the Dashboard: The Earnings dashboard is found under the Host Menu tab, where hosts can interact with the various features offered.
Payout Timings: The dashboard provides the status and estimated timing of payouts, which are sent 24 hours after check-in for short-term stays and monthly for long-term stays, with additional processing time depending on the financial institution.
Payout Calculations: Payouts are calculated based on the nightly rate, any extra charges (like cleaning or extra guest fees), minus the Host service fee and any Co-Host payouts.
Co-Hosting Platform: Airbnb Co-Host Payout and Messaging Updates Summary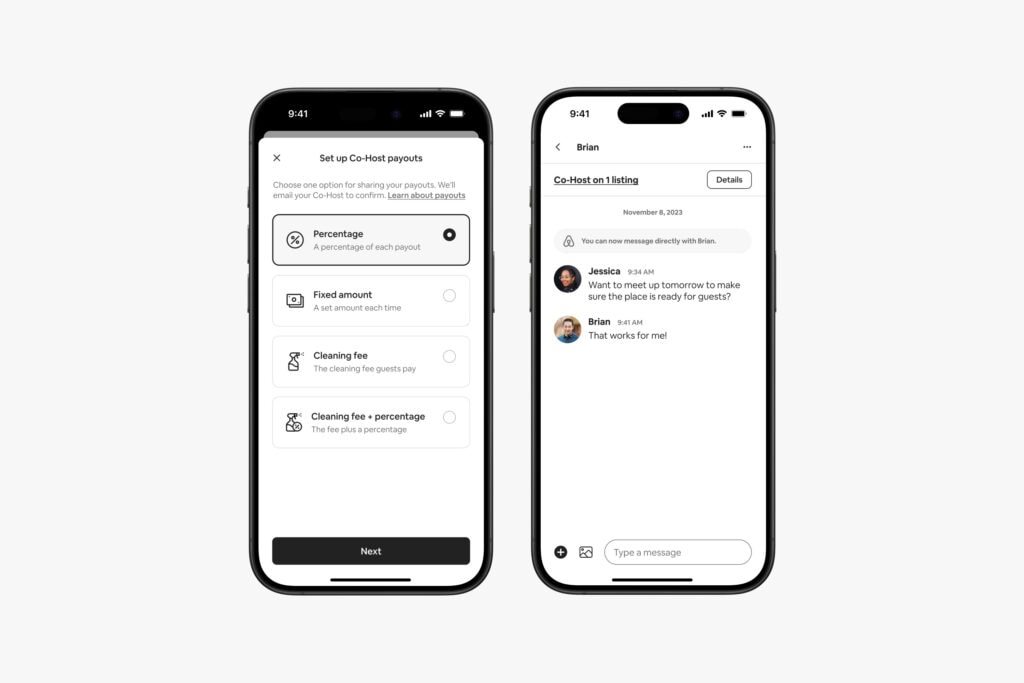 Airbnb is quietly expanding its Experienced Co-Host program, initially launched in Europe, to regions in the United States, Canada, and Australia. This program underscores the vital role co-hosts play in Airbnb's ecosystem, whether they are individuals or property management companies. Co-hosts contribute significantly to Airbnb's success, with roles ranging from solely handling cleaning duties to providing comprehensive vacation rental management services.
Effective co-hosting hinges on swift and efficient communication between the host and the co-host. Equally important is a flexible payout system that accommodates the diverse arrangements prevalent in co-hosting partnerships. This expansion reflects Airbnb's recognition of the importance of co-hosts in maintaining high standards of guest experience and operational efficiency.
Co-Host Payout Update (cleaning fee):
Share Your Cleaning Fee: Hosts can now allocate a portion of their cleaning fee to their cleaner or another Co-Host. To utilize this feature, the cleaner or recipient must first be added as a Co-Host on the platform.
Payout Options: Hosts have four new options for sharing payouts with Co-Hosts:

Share the Cleaning Fee: Allocate a portion of the cleaning fee directly to the Co-Host.
Share Cleaning Fee Plus Booking Percentage: Combine a portion of the cleaning fee with a percentage of the booking amount.
Percentage of Each Payout: Share a set percentage of each payout with the Co-Host.
Fixed Amount Per Payout: Allocate a fixed amount from each payout to the Co-Host.

Limitations: It's important to note that if multiple cleaners are added as Co-Hosts, only one can receive the cleaning fee. Additionally, there may be restrictions based on the host's location, the Co-Host's location, and the location of the property.
Messaging with Co-Hosts:
Direct Messaging: Hosts can now send messages to their Co-Hosts directly from their Airbnb inbox. This feature streamlines communication, making it easier to manage listings and coordinate for upcoming reservations.
Centralized Communication: This integration allows hosts to handle all their Airbnb-related communications, including guest interactions and Co-Host coordination, from a single platform.
These updates are designed to enhance the flexibility and efficiency of managing Airbnb listings, especially for those hosts who rely on Co-Hosts for operational support. By simplifying the payout process and improving communication channels, Airbnb aims to make the hosting experience more seamless and collaborative.
Upcoming pricing features: Compare prices right on the calendar + Pricing visibility
Compare Prices Feature: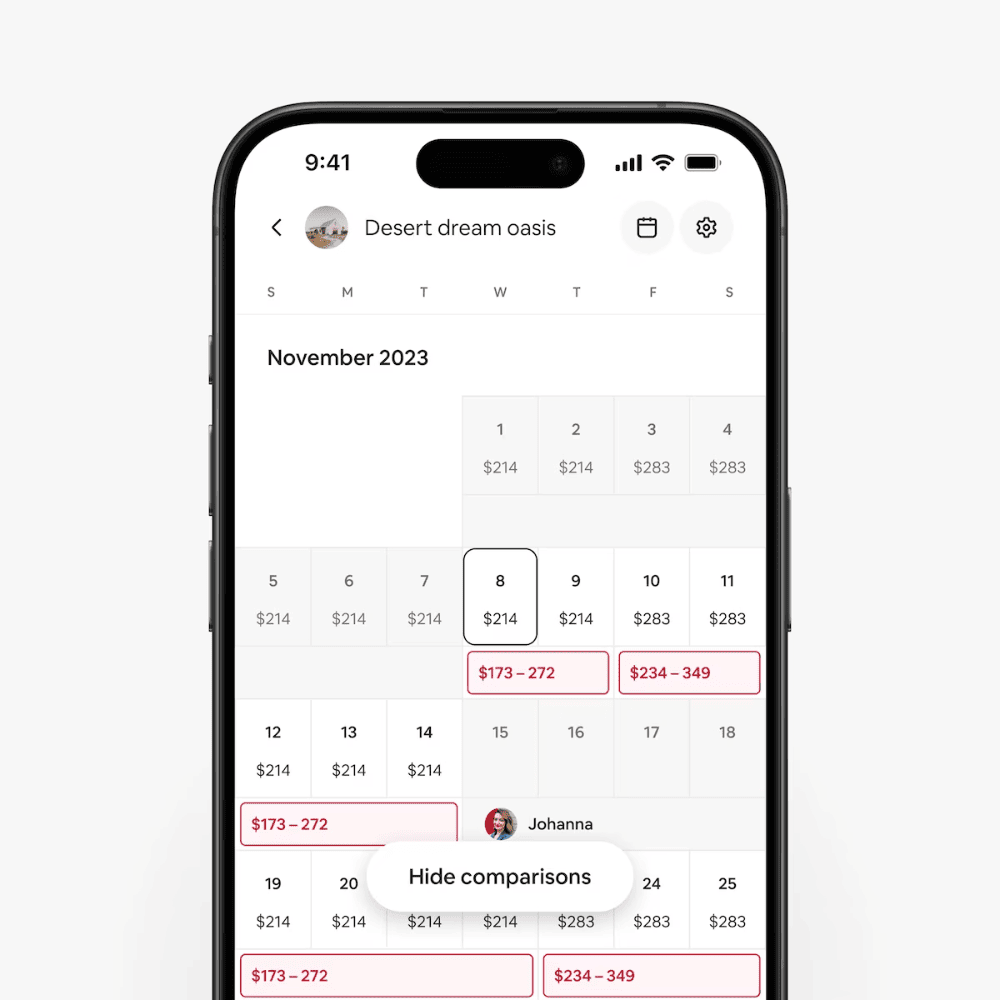 Function: Allows hosts to see the average prices of similar listings booked in their area, right from their calendar
Criteria for Comparison: Similarity is determined ny Airbnb by factors such as location, size, features, amenities, ratings, reviews, and guest browsing behavior.
Accessibility: This information will be available directly on the host's calendar within the Airbnb platform. The function already existed since the Summer 2023 Release, but not in the calendar, so not as visible and easy to use)
Pricing Visibility: Pricing Calendar on the Host side displays price with fees and taxes included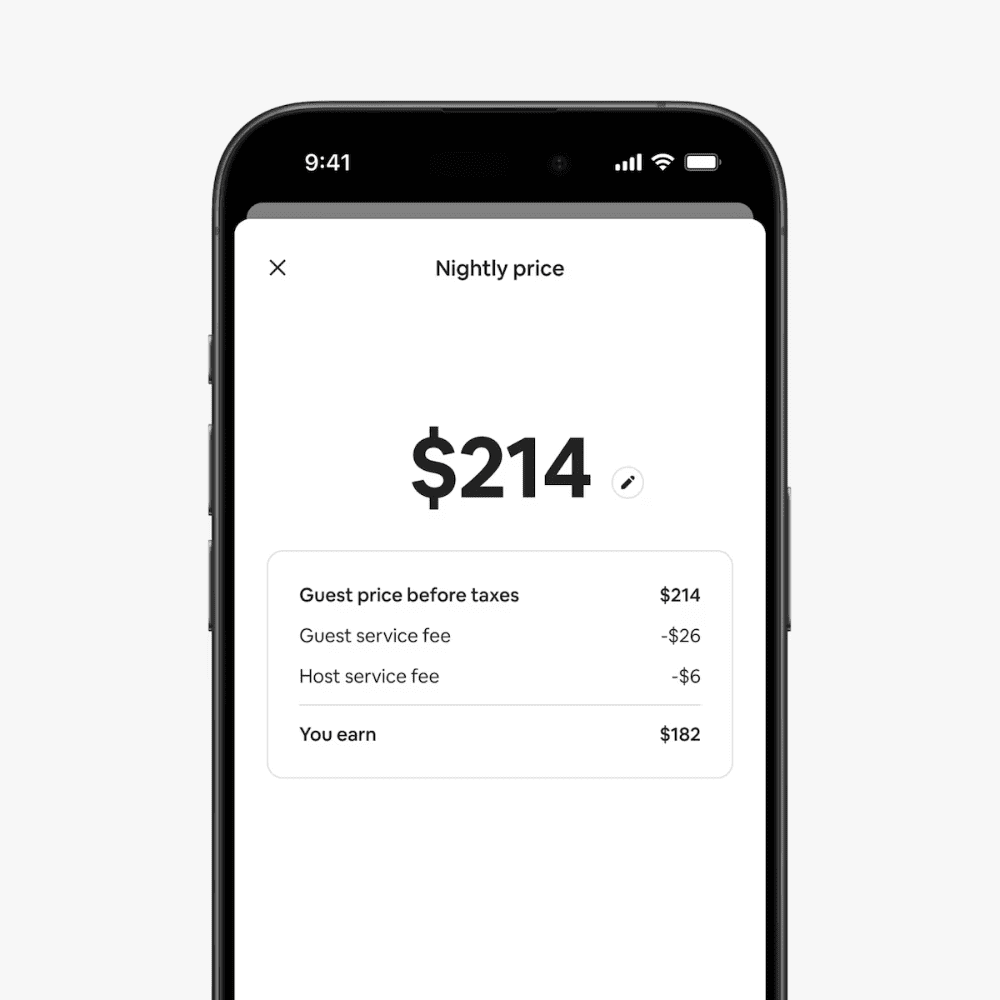 Change in Price Display: The prices hosts set will now include service fees (and taxes where applicable) to match the prices guests see. It means that default prices in the calendar may look more expensive to hosts.
Implementation: This update will be automatic and requires no action from the hosts.
Rationale: Ensures transparency and consistency between the price hosts set and what guests are shown, aligning with guest preferences for total price visibility.
The introduction of the "Compare Prices" feature and the "Pricing Visibility" update on Airbnb is set to significantly influence host behavior and market dynamics. The "Compare Prices" feature is likely to foster a more competitive pricing environment, as hosts, upon realizing their rates are higher than others, may lower their prices to attract more guests. Meanwhile, the "Pricing Visibility" update, which includes fees and taxes in the displayed price, might lead hosts to perceive their listings as more expensive. This perception could encourage them to reduce their base rates to remain appealing to potential guests. Both features are steering towards a market-driven approach to pricing, where hosts are equipped with more information and context, enabling them to make informed adjustments based on market conditions and competitor actions. Collectively, these updates may create a subtle downward pressure on prices, as hosts strive to stay competitive. This shift could lead to a more value-driven marketplace, potentially increasing bookings but also resulting in lower average prices.