If you have spent any amount of time in the business of vacation rental management, you would already have discovered the immense tech noise of a variety of short-term rental partner solutions in the industry. From dynamic pricing tools, channel managers, guest communication services, to noise monitoring tools, there is certainly no dearth of what short-term rental industry vendors can offer you for your property management business. The plethora of choices, however, does not make things easier, and sometimes can increase headaches for property managers.
How do you find out which short-term rental solution is best for your business, specifically? How do you cut through fluffy sales pitches to get answers to the real questions? What are the hard questions to ask when on the lookout for a vendor partner? How do you know if you need external help at all? Join us on Thursday, March 31, 2022, for our next monthly conference on the topic of Picking the Right Short-Term Rental Vendor: How to Avoid Disasters for property managers in the United States to find out.
At this conference, Rental Scale-Up Thibault Masson will be joined by three industry experts who will be sharing insights on the common challenges faced by their property manager clients, and how they overcome these challenges.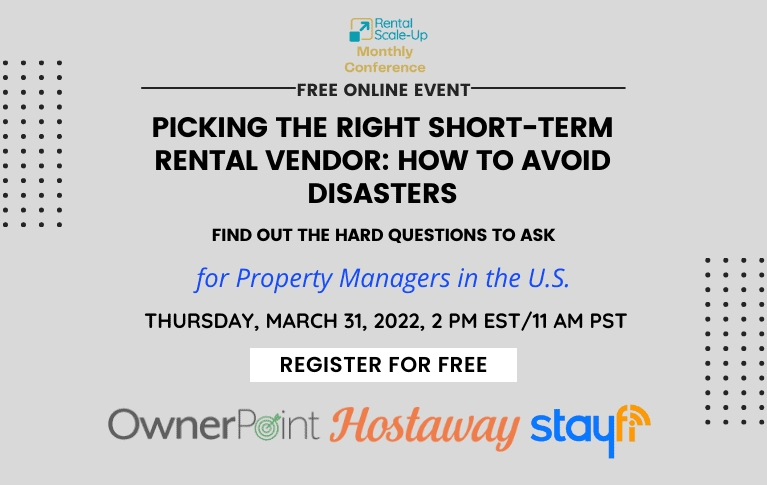 Learning to prioritise your needs and finding out if you need to Buy vs. Build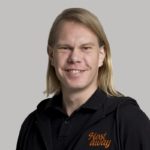 Before you can even go looking for a short-term rental tech solutions partner, you must first figure out which needs this partner must serve. It is crucial to understand which areas of your daily operations you need help with, and how to prioritize in the context of how they truly impact your revenue in the short, mid, and long term.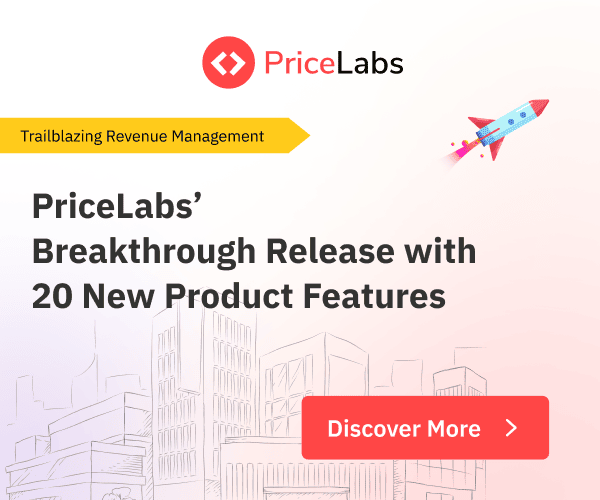 As CEO and Co-Founder of Hostaway, a successful vacation rental management tool with a comprehensive marketplace, Marcus Räder is extremely well-placed to share how you might prioritize your needs, and the bare minimum you should demand when looking for solution such as a property management system. He will also dive into questions you should be asking yourself to figure out if buying is a better option for your specific business, or will you benefit more from building your own solution.
Understanding the true cost of switching solutions or adopting new ones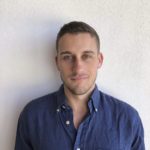 Perhaps the biggest detractor for short-term rental managers looking for tech solutions to make managing their daily operations easier is the cost. There may be a tech solution out there that seems perfect for your business requirements, but first, you must understand the true cost of adopting such a solution.
StayFi CEO and Founder Arthur Colker will address exactly this, by underscoring the prep you need to do to accurately measure the ROI of making such a decision, and understand what success might look like for your business.
Reading the fine print and asking the hard questions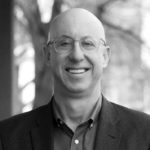 There is no one playbook for the questions you can ask a short-term rental vendor when considering partnering up. However, asking certain questions can help you sift through incompatible vendors and protect you against unexpected costs. Also, if you are new to working with short-term rental vendors, you should not have to go through trial and error to recognise what these questions might be.
OwnerPoint Founder & CEO Larry Hoffer will use his considerable expertise as a growth solutions provider to share insider tips that help you along the process. Expect to learn about questions you should ask during initial scouting e.g. How is their customer support, where are the developers located, to when you are finalising the contract e.g. additional costs you might run into, or how your data will be used.
Cutting through the sales pitch to find what doesn't work for you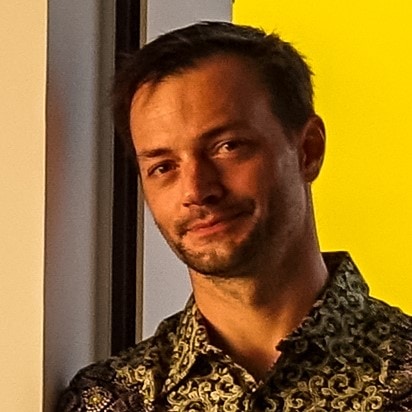 As a short-term rental analyst, Thibault has spent a fair amount of time demoing and analysing a wide array of vacation rental tech solutions. As a short-term rental owner, Thibault has experienced firsthand the various pains that accompany daily operations and the problems attached to partnering up with tech vendors for assistance.
Using his experience as an analyst and a short-term rental owner, Thibault will act as an impartial commenter on how property managers may see past the fluff of sales pitches to focus on having their own requirements met.
Register free today to secure your seat at the conference, and to receive bonuses from all partners that get you access to tools that make property management efficient and more profitable. Also, be ready to share all your burning questions towards the end of the live event during a Q&A session.