If you wish to convert your property into a short-term rental, there is nothing easier than listing it on a big booking channel such as Airbnb, Booking.com, or Vrbo. Airbnb alone added +50% new hosts in the US in Q2 2022. These huge marketplaces allow new hosts to join without any infrastructure or tech investment. 
However, professional hosts consistently face challenges in using these platforms seamlessly, as listing with these platforms means paying sizeable commissions from your earnings to them, even as they implement limits on how you may market or design your listing.
For example, with the recent Airbnb summer update came complaints from hosts as they experienced increased difficulty in finding their own listings in search results, and expressed concerns about having no real control over in which category their properties appear. This is but scratching the surface on obstacles hosts and managers face with large booking platforms.
These obstacles paved the way for the Book Direct movement, which has gained momentum, especially in the past two years. Book Direct empowers managers and hosts to regain complete control over their distribution and market, however, it too comes with the albatross of hidden costs and labor around its neck.
It is important to weigh the pros and cons of each approach, direct or via large booking channels. This is why we've invited a panel of experts with diverging opinions to our free online conference for the month of September to provide hosts and managers with a balanced overview of each approach.
Here are some key takeaways from this recently concluded conference titled Are Airbnb, Booking.com, Vrbo: Friends or Foes to Hosts? in which we approached the question head-on with the help of three vacation rental industry experts.
Watch a full session recording below or read on for key takeaways.
Meet our speakers:
Vincent Breslin, Co-Founder, Uplisting:
Uplisting is a self-serve property and channel manager for short-term rentals and an Airbnb-preferred software partner, as well as for Booking.com, Vrbo, Google Vacation Rentals, and Direct bookings.
Uplisting connects to thousands of properties generating millions of dollars in bookings across all booking sites.
The company will process around $30m in direct bookings this year on behalf of its members. Direct bookings account for roughly 15% of bookings on Uplisting

23% direct bookings in 2020
17% in 2021
15% so far in 2022

Vincent also co-runs a large property in Ireland with over 60% direct bookings and experienced what happened during Covid when booking sites canceled bookings without regard for the cancellation policy in place. Direct bookings doubled on Uplisting during this time as well.
Andy McNulty, CEO & Co-Founder, Touch Stay:
Andy is a guest and came into the industry with that hat on, not a host hat. Therefore, his mission is always to understand the perspective of guests. 
He has been in the industry as CEO of Touch Stay for 8 years and has seen it professionalize, as well as witnessed many amazing direct booking success stories.
Mark Simpson, Founder, Boostly:
Founder of Boostly and named one of the top 20 influential people in the industry.
Author of the worldwide Amazon best-selling Book Direct Playbook and co-author of Hospitable Hosts. The next book in the series (The Book Direct Blueprint) which features fellow panelists (Touchstay, Pricelabs and Uplisting) is to be published in December.
His mission is to help 1 million hosts cut down on their overreliance on the big booking platforms
Boostly provides Tools, Tactics and Training to hosts around the world. 
Boostly specializes in website design and is expert in crafting the ultimate guest user experience on their websites that results in turning more lookers into bookers. In 2022 Boostly websites have generated $2m in tracked bookings.
Why does the share of bookings made on big booking platforms continue to grow despite dissatisfaction among hosts? 

Based on gross booking value patterns since 2010, this graph from Skift projects the growth in Gross Booking Value by the year 2025. It is interesting to see that the share of bookings made through the five top booking platforms (Airbnb, Booking.com, Vrbo, TripAdvisor, and Tujia) seems to have grown from 12% in 2014 to 63% in 2022, and is projected to keep growing.

Airbnb and other big booking channels are easy solutions for every investor looking for passive income:
Low barrier for entry: A significant number of short-term rental hosts, usually first-time hosts, view the vacation rental industry as a second or third revenue stream. Their short-term rental business is not usually their main focus, and while listing they look for functionality and ease of use. Airbnb has positioned itself as the easy solution to entering the vacation rental industry by turning its long-term lets into short-term ones.
Reliability: Embedded tools such as price and calendar synchronization can be difficult for more niche platforms to offer, which may lead to a bad guest experience. The ability to safely rely on larger booking platforms for these smaller but critical adjustments makes them very attractive to hosts.
Visibility: Booking platforms such as Airbnb have done a great job of driving category awareness of alternative accommodation options. Even though hosts must still market their properties to drive more bookings, the initial boost their listings get appearing in search results for guests that are already looking to book a stay on these platforms can be critical for that initial boost.
Low costs: Listing with Online Travel Agents like Airbnb, Booking.com, and Vrbo means not having to invest in developing your website and tech stack or even a customer support team, especially below a certain inventory size, which makes listing stress-free, even though the trade-off exists in form of commissions these platforms charge for each booking.
Why might hosts view big booking channels as foes?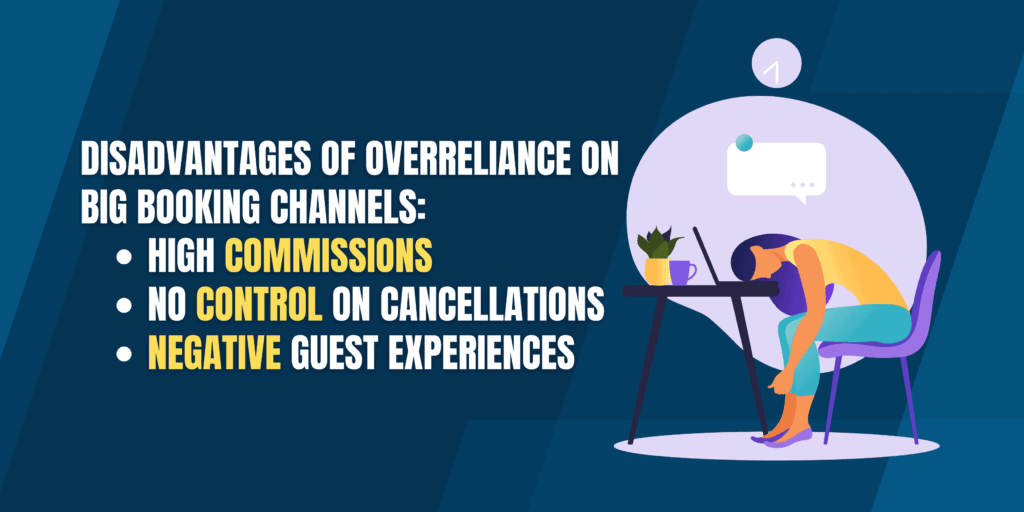 Overreliance means you have limited control turning you from entrepreneur to employee:
Since it is so easy for hosts and managers to get onboarded with Airbnb and other similar platforms, often it can lead hosts to rely on these platforms for drumming up even 90% of their total revenue. 
If a platform changes its policies dramatically in a way that might hamper your business, you then have no control over the situation.
For instance, Airbnb dramatically changed its platform design this year in a way that affected search rankings of listings and suddenly hosts that would previously appear on the first page of relevant queries were now being pushed deeper into the results, with no idea how to fix that.
You will not have control but still, be liable:
Due to the size of these platforms, a single host is not that important when you look at the bigger picture. They can suspend your account/listing at any point due to a multitude of reasons such as a fraudulent review. 
They also take about 15% of your revenue as commission, which is not a percentage to be scoffed at.
If there is a minor issue at your property, guests can report it directly to the booking platform and have the booking cancel, which can be especially troublesome in case of high-ticket bookings. In a direct booking scenario, you at least have the opportunity to get guest feedback directly and provide an immediate fix.
When you list on a large booking platform, you dilute your brand, as well as find yourself lumped in with low-quality operators.
Hosts have no ownership of their reviews which limits the ways in which they can use these to their advantage.
Airbnb's resolution center bias:
The new 72-hour rule by Airbnb in its Rebooking and Refund policy can be seen as unfriendly to hosts and opening the door to blackmail as it essentially allows guests to file a complaint after concluding their stay and still get a refund.
The strain in this relationship between Airbnb and its hosts can cost the guest and take away the spirit of hospitality. For example, if you need to cancel a reservation and have communicated so to the host directly, to Airbnb it wouldn't matter until you actually press the Cancel button. Even if the host were willing to accommodate you, they would not have much choice in the matter.
How can Airbnb, Booking.com, and Vrbo be friends to hosts?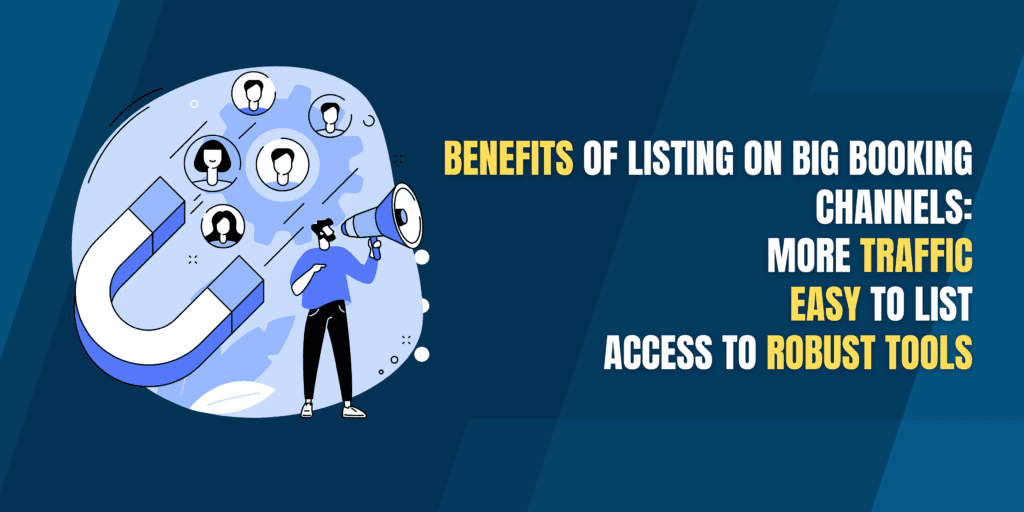 They engender trust among guests which drives traffic:
They've enabled people to get started easily and doing a great job of raising awareness of our industry.
The size of these platforms engenders trust, which is crucial as many people are still leery of booking directly with individuals they don't know.
This trust in return also drives immense traffic, which is especially important for hosts and managers just getting started.
The platforms' reach makes them ideal for use as a marketing channel, so hosts may make their listings work for them and not the other way around.
Hosts must leverage big booking channels to drive direct traffic from returning guests by providing an excellent first-time experience and reinforcing branding.
Due to the low barrier for entry on large booking channels, the quality of inventory is in decline, which provides professional managers the opportunity to stand out by differentiating themselves through great photos, clear and prompt communication, and highlighting amenities.
Powerful booking engines and technology can provide comprehensive features:
Airbnb has been a catalyst for helping people set up a business and become an entrepreneur. Big booking channels do a lot behind the scene, such as marketing, easy payments, and improving websites. Doing all of these would be a lot of work for a host.
Their robust technology can help in marketing your properties to non-English speaking guests by providing language support.
The ease of transactions is huge for both guests and hosts. Big booking channels can take payments in any currency!
How can hosts and managers utilize big booking channels in case of a potential recession or receding demand?
Big booking channels' impact on your property depends on your property type and market:
If you cater to business or high-end travelers, your occupancy should do well still, but you would have less revenue due to lower ADR (average daily rate). 
The impact of these economic shifts will also depend on your market. If your properties are in remote areas, you will need all the help possible, and it will be necessary to continue to list with big booking channels and optimize your listings.
The situation will definitely favour those who had a good last two years and reinvested their earnings into better tools to support and market their business.
A great variety of factors inform a recession such as the economy, consumer psychology, supply, etc. and it certainly is worthwhile to dive into how your specific market or markets similar to yours are doing with data tools such as the PriceLabs market dashboard.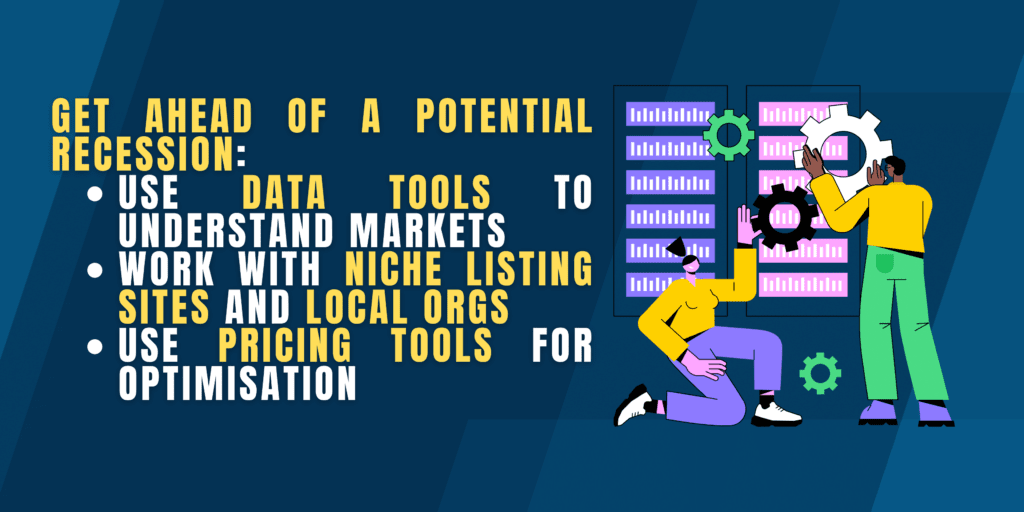 What can you do to prepare:
There are key differences between property types and locations (e.g., beach vs. urban) and metrics such as minimum length of stay and pricing keep shifting. Keep tabs on how these metrics are changing through market data tools to help you make better decisions.
Use market data tools to understand who is your target audience, where the travelers to your market come from and what they need, and then market yourselves based on your findings.
Use occupancy-based pricing and apply small changes using appropriate tools to take the guesswork out of your decisions. If you're worried about pricing your property properly, use a dynamic pricing tool to refine your pricing strategy. 
Do not neglect using tools offered by big booking platforms to capture extra demand. Use last-minute deals offered by the channels where you list. 
Work with destination marketing organizations such as local tourism boards and short-term rental manager communities, as well as niche listings sites to get networked into international travel groups.
In previous recessions, the businesses that focused on their sales and marketing were the ones that survived and thrived. Focus on what you can control, and be proactive and not reactive. Spend 5-30 mins every day on a new business-generating task.