Booking.com's new pilot program is a small revolution for the travel platform. In 3 countries, the company currently allows some new properties to offer a "request to book" option. For the first time, Booking.com is walking away from its 100% instant booking mantra, a core tenet of its business model and conversion machine. Instead of having to accept any booking made on the platform, owners and managers can now opt first to receive a booking request. In this article, we'll see why property managers see it as a big move for the platform, why Booking.com is conducting this pilot (e.g. to increase supply), what it looks like for a guest sending a booking request, and what information about the guests Booking.com is sharing to create trust in the eyes of the host who can accept or decline the booking request.
What did Booking.com announce and why could it be a game-changer for some vacation rental managers and owners?
Booking.com has made "alternative accommodations" (e.g. vacation homes, apartments, aparthotels, bed and breakfasts, cabins) the biggest priority for the company, alongside growing its presence in the US. In Q2 2022, 32% of Booking.com's room nights came from "alternative accommodations," and the site counted 6.6 million listings of such places.
In 2022, Booking.com has rolled out long-awaited features, such as:
A "request to book" pilot in 3 countries
On September 16, 2022, at the Vacation Rental World Summit, Booking.com announced something that could usher a revolution for the company and its vacation rental partners: Eric Bergaglia, the Global Head of Accommodations Segments at Booking.com, said that the company had just launched a "request to book" option.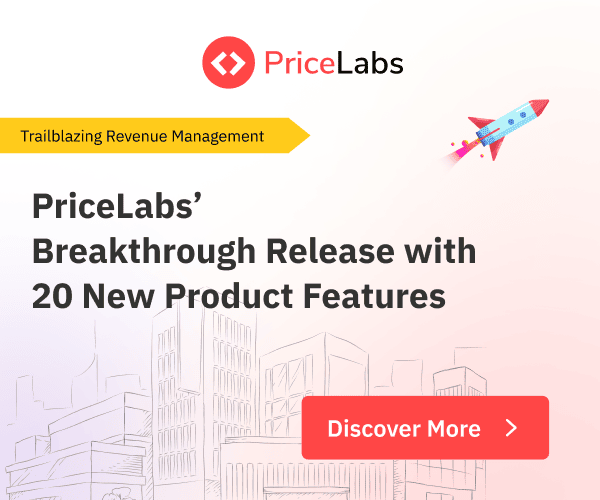 For the first time, people hosting on Booking.com can receive a booking request from a guest, take up to 24 hours to consider it, and then accept or decline the reservation.
This is a pilot, only offered to a sample of new properties in 3 countries: Australia, France, and the U.S. It's available to Booking Home property types such as vacation rental homes, apartments, condos, cabins, and
Until now, Booking.com hosts couldn't get booking inquiries, as hosts can on Airbnb and Vrbo. Instead, on Booking.com, once a property is live, guests can book it immediately and get an instant confirmation. If the calendar is open, then they can book it.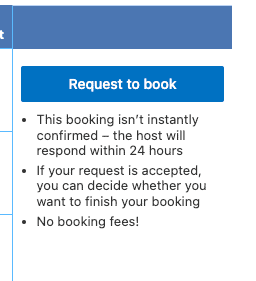 Why does it change for vacation rental managers and owners?
Instant booking was the only way to be listed on Booking.com. The company was adamant that guests only wanted to see options that they could book straight away. It prided itself on showing only available options that could be booked and confirmed under minutes. Not only was it good for guests, as it saves them time, but also for Booking.com, as it makes it easier to measure conversion and optimize paid marketing campaigns.
Airbnb and Vrbo have also gone down the instant book path. For instance, Airbnb strongly recommends hosts turn instant book on it is convenient for them ("Book guests without having to respond to each request."), get them more visibility ("Instant Book listings are more popular with guests since they're able to more easily plan their trip") and contribute to higher ranking ("Instant Book positively affects your response rate for your listing, which can improve your listing's placement in search results.")
So, if this is better for guests, most hosts, and the platforms, and if its competitors are heavily promoting instant book too, why is Booking.com going back to future and launching a request-to-book option?
When Booking.com started entering the short-term rental world, it met the resistance of several types of vacation rental owners and managers who only wanted to offer their property on request, for reasons such as:
A need to control who is coming to a property, expressed by some individual hosts as well as luxury property managers. It was all the stronger as Booking.com does not have guest profiles with reviews from past hosts as Airbnb and Vrbo do.
A need to check whether the property is actually available for booking, in the case of property managers who may not have the exclusive right to offer the property. The risk of creating a double booking would be big and could be costly, all the more as Booking.com's rebooking and relocation policy make it very expensive to compensate a guest who cannot actually be hosted.
So, Booking.com's move may attract more hosts to the platform. It could also make existing partners list the part of their property portfolio that is on request only.
How does the pilot address fears about unknown guests, property damage, and double bookings?
In essence, the request-to-book procedure removes any danger of an instant double booking. The host has 24 hours to reply and can choose to decline the request. Thus, if the property is already booked, the guest can be informed, and the booking turned down.
To address fears around welcoming guests who may damage the property or are not the best fit for the place, Booking.com shares details about the guest when passing down the booking request. On Airbnb, a host receiving a booking request gets information about the guests such as the average rating score left by other hosts. Such information is unavailable on Booking.com, as hosts do not review guests.
However, Booking.com does pass information about the guest to the potential host, such as:
How many years they've used Booking.com
If it's a domestic or international trip
If they have no past misconduct recorded by Booking.com
5+ bookings completed on Booking.com
Never had a no-show
The chance is that someone who's been using Booking.com for 5 years, has completed 10 bookings on the platform, and has no history of misconduct or no-show should inspire enough trust that a host will say yes.
How about the risk of hosts using booking requests to discriminate against some users? After all, studies have shown that black users of Airbnb in the US had more chances of seeing their booking requests denied than white users. With instant booking, a host cannot refuse anyone. Airbnb has stopped sharing photos of guests making booking requests. As for Booking.com, it does not pass a user's "full name, profile photo, and other personal information."
Booking.com will probably be recording the conversion rate and see whether, over time, new hosts gain more confidence and express a desire to switch to instant booking.
Booking.com launching a "request to book" option; why is it a big deal?
To give you an idea of how much property managers have been surprised by this move, I've copied here some of the reactions to the LinkedIn post I created while attending the Vacation Rental World Summit when Booking.com's Eric Bergaglia announced the news:
Finally they listened to much luxury villas PM, been asking for so long!

I've been waiting for this for so long. It's finally coming!

Woooow incredible news out there!!

Wow, might try them again. Tried twice in the past and it was a mess with them.

They had been asking how many more listings they could get by offering. Clearly it's a lot!

Completely mindblowing and somehow baffling to see Booking.com go the way of Airbnb! I am intrigued to find out to what extent this convinces long-time Airbnb hosts to extend their inventory to Booking.com! 😉

Sounds like they're copying Airbnb!

Why are now Booking com playing catchup with Airbnb?
From these reactions, you get the feeling that a lot of people had been wishing that Booking.com would offer the option, but had given up on the idea. You can also sense that the "request to book" option may tempt people into listing or re-listing their properties, helping Booking.com grow its supply, for instance within the luxury segment. Finally, some people see it as a move aimed at copying Airbnb.
How does the "Request to book" option work on Booking.com?
The regular "instant book" page on Booking.com
Normally, a property listed on Booking.com can only have the "instant book" mode turned on. Here's an example below. You can see a booking button with a call to action that can be something like:
Book your vacation home stay
Reserve your apartment stay
Reserve your chalet stay
The call to action depends on the property type. It probably helps Booking.com users understand that they are NOT booking a hotel room. Now, why the copy says "reserve" or "booking" at times, I am not sure.
The result is that the property will be instantly booked and confirmed. If the host wants to cancel the bookings, it will probably be hard and expensive, as Booking.com does not like it.
The "Request to book" pilot on Booking.com
As mentioned above, the pilot is live in three countries (Australia, France, and the US) and only open to some of the new partners (i.e. hosts) joining Booking.com.
This is why all the pages showing a "Request to book" button instead of the "Book your vacation home stay" button also carry a "New to Booking.com" label.
Here's an example of a short-term rental in Australia.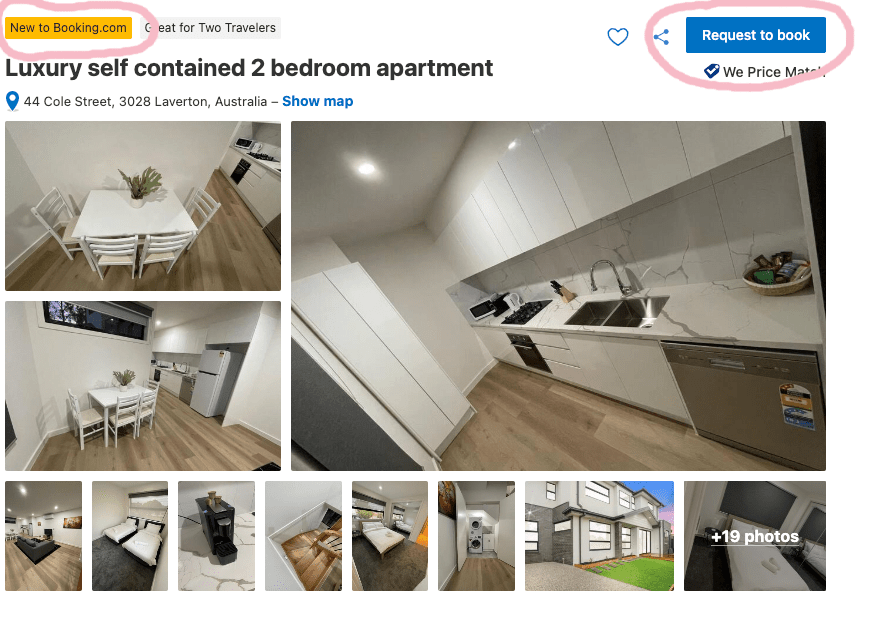 When a user clicks on the "Request to book" button, they are redirected to a table further down in the page where they can select their booking preferences (e.g. number of guests, cancellation policy).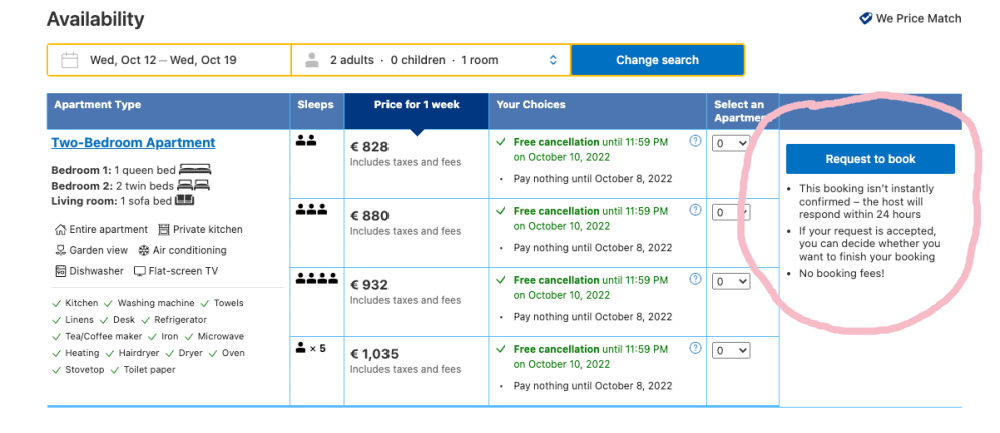 On the side of the table, there is the "Request to book" button again. Here's what the text says:
Request to book
This booking isn't instantly confirmed – the host will respond within 24 hours
If your request is accepted, you can decide whether you want to finish your booking
No booking fees!
If the user proceeds, they see a recap page inviting them to add a message to their request. Just as on Airbnb, the goal of the message is to jumpstart the conversation between guests and hosts, in a bid to create trust, increase conversion, and prevent misunderstandings down the line.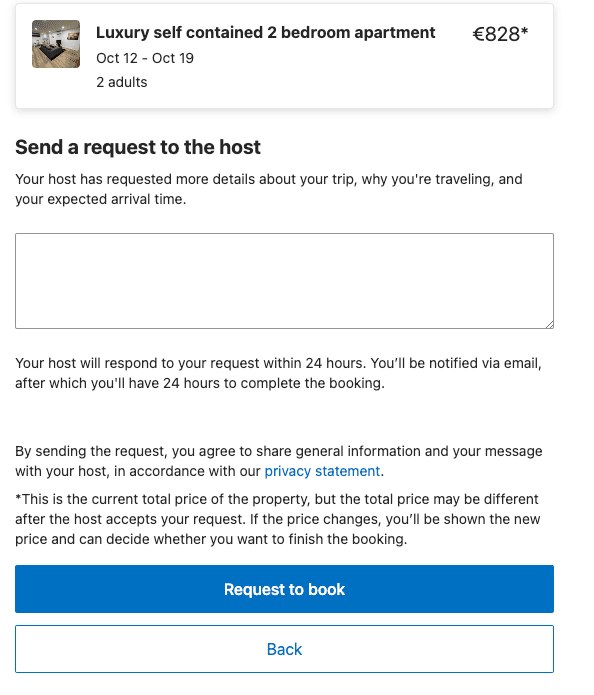 Send a request to the host
Your host has requested more details about your trip, why you're traveling, and your expected arrival time.
Your host will respond to your request within 24 hours. You'll be notified via email, after which you'll have 24 hours to complete the booking.
Your full name, profile photo, and other personal info won't be shared as part of a booking request.
The host will only be shown:
If your email and phone number are verified
How many years you've used Booking.com
If it's a domestic or international trip
If applicable, we'll also share if you have:
No past misconduct
5+ bookings completed on Booking.com
Never had a no-show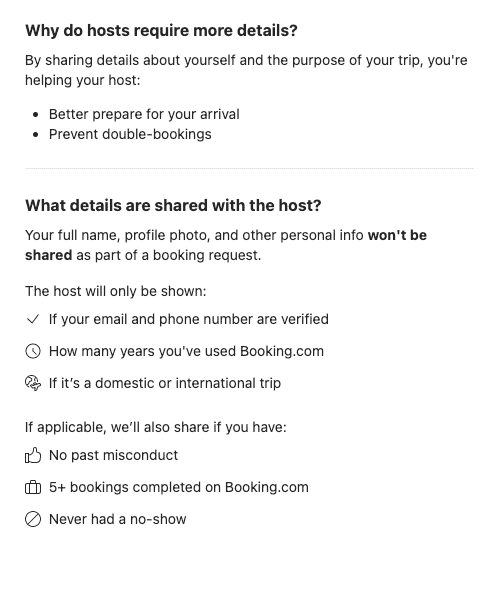 The goal of these last screens is to let travelers know that hosts will receive a bit more than just a booking request, in the form of some anonymized details about their user profile. It may also act as a deterrent for users who have been noted as disruptive by Booking.com before ("past misconduct").
Conclusion
Booking.com's pilot is live in three countries. Behind the scenes, the company is probably bending its usual way of working to ensure hosts realize that they are getting requests and they answer them within 24 hours. Indeed, beyond the new feature, there are probably new host behaviors to foster.
On the guest side, Booking.com has to guide travelers who have had to wait for an answer before booking something on the platform. Will they wait or will they turn to an instantly bookable place instead?
How will Booking.com know that the pilot is successful? We can think of several ways to measure success:
Increase in inventory, especially from hosts who had previously said they would never list unless Booking.com offered a request-to-book option
Commitments from existing Booking.com partners, such as large property managers, to list a larger share of their property portfolio now that this option is live
A decent conversion rate for properties under request compared with instantly bookable properties
A high response rate from hosts under 24 jours
A decent proportion of guests waiting up to 24 hours before booking something else … instantly
A low increase in contacts with customer care related to these bookings, showing that the new process is going well on both sides and not increasing costs for the company