If the recent performance of industry giants is anything to go by, the short-term rental industry is perhaps enjoying its most profitable phase yet. Just a short while ago, we delved into Airbnb's resounding success in Q3 2023. Now, Booking.com takes center stage, echoing the same tune of triumph with a reported 24% YoY growth in room nights booked in its alternative accommodations segment. 
This positive trend, echoed across various data points, paints a picture of a thriving sector. That said, let's acknowledge that this period of success was not without its shadows. Booking.com's supply partners have had to grapple with a crisis brought about by non-payment issues, tarnishing the company's reputation and creating a roadblock in an otherwise smooth path to profitability.
In this article, we dissect the ingredients behind Booking.com's continued success in the alternative accommodations arena and shed light on the company's concerted efforts to mend its reputation marred by the recent non-payment debacle.
The Triumph of the Alternative Accommodations Category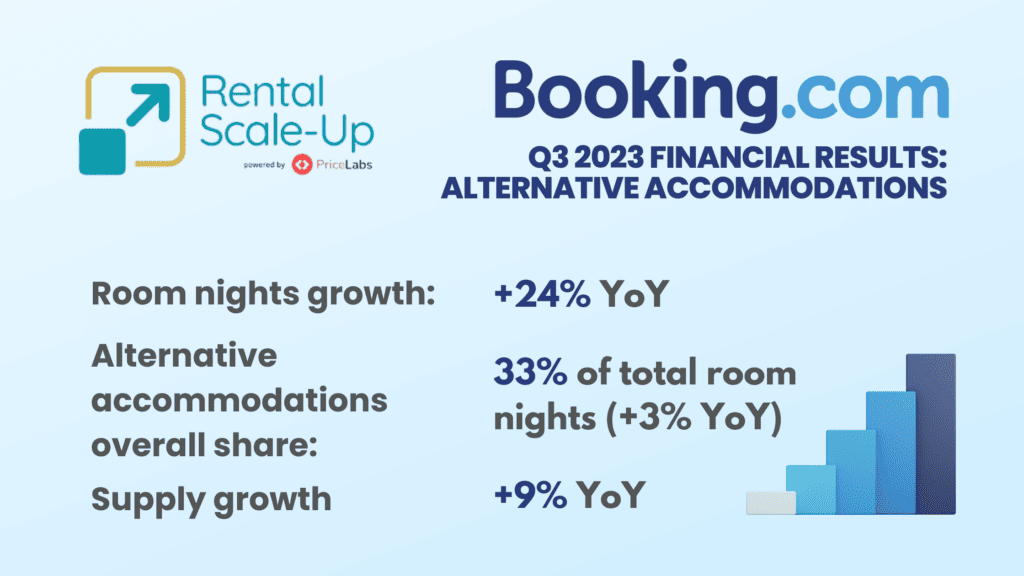 Booking.com experienced a remarkable 24% YoY growth in alternative accommodations during Q3 2023, outpacing the traditional hotel category. These alternatives accounted for about 33% of Booking's total room nights, indicating a growing preference among travelers.
Caveat: Alternative Accommodations Go Beyond Only Short-Term Rentals
The platform concluded Q3 with 7.2 million listings, slightly surpassing Airbnb and reflecting a 9% YoY increase. However, this is not an apples to apples comparison. Booking.com's definition of alternative accommodations extends beyond short-term rentals to include aparthotels, bed and breakfasts, and more.
As far as listing numbers go, it must also be taken into account that in case of Booking.com, one aparthotel with 30 apartments is counted as 30 separate listings.
Global Success, But Much Work to be Done in The U.S.
Despite Booking.com's impressive listing numbers globally, its footprint in the United States tells a different story. The company's US activity is significantly less, accounting for only 2% of bookings. This statistic was highlighted in a presentation by Key Data, a leading short-term rental data provider, at the 2023 Vacation Rental World Summit.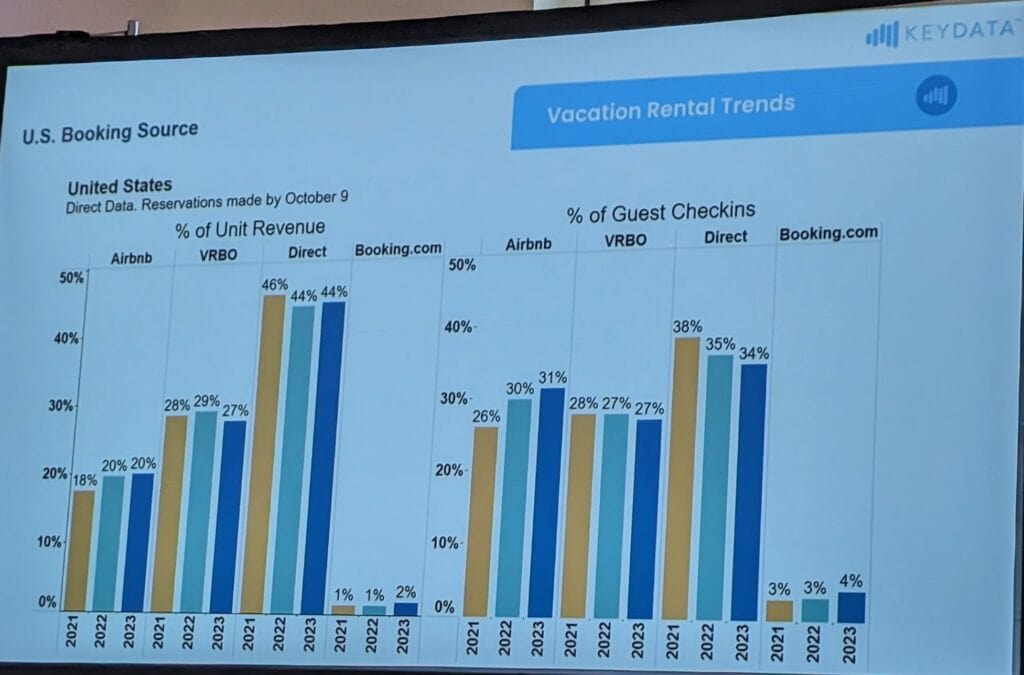 One factor contributing to this low percentage is Booking.com's relatively weak presence in US vacation rental markets. However, it's vital to note that Key Data's sample is biased towards these markets, which are not Booking.com's strongest area.
Interestingly, we at Rental Scale-Up think that Booking.com shows more strength in attracting European travelers to major US cities. Therefore, if we were to consider urban markets alone, Booking.com's share of bookings could be higher than the reported 2%. It's a nuanced picture that underscores the importance of understanding market dynamics when interpreting figures and formulating strategies.
Regardless, it makes sense that one of Booking.com's goals continues to be the pursuit of growth in the United States.
Q4: Positive Outlook and More Integrated Booking Experience for Travelers
Looking forward, Booking.com's outlook for Q4 2023 is cautiously optimistic, expecting a YoY room night growth of about 9%, assuming no further expansion of the war in the Middle East.
One of the key strategic focuses for the company is the concept of "Connected Trips". This involves customers booking two or more components of their trip on Booking.com, such as accommodation, flights, and car rental. This focus aligns with trends in the wider hospitality industry, where brands such as HomeToGo are extending their offers to include excursions and activities.
Artificial intelligence is set to play a central role in both the Connected Trips initiative and customer support. This move aligns with industry trends, mirroring strategies employed by competitors like Airbnb and HomeToGo.
Booking.com's Payment Systems Pose a Challenge
Booking.com's Connected Trips initiative, an ambitious project designed to streamline the travel booking experience, faces substantial challenges. One of the most significant hurdles is managing the complexity of payment and payout systems across various travel components, including hotels, vacation rentals, cars, cruises, and flights.
This complexity was brought into sharp relief this past summer when hundreds of hosts experienced payment delays ranging from 1 to 3 months, right in the peak season. This incident underscored the need for Booking.com to refine its payout system and communication strategy.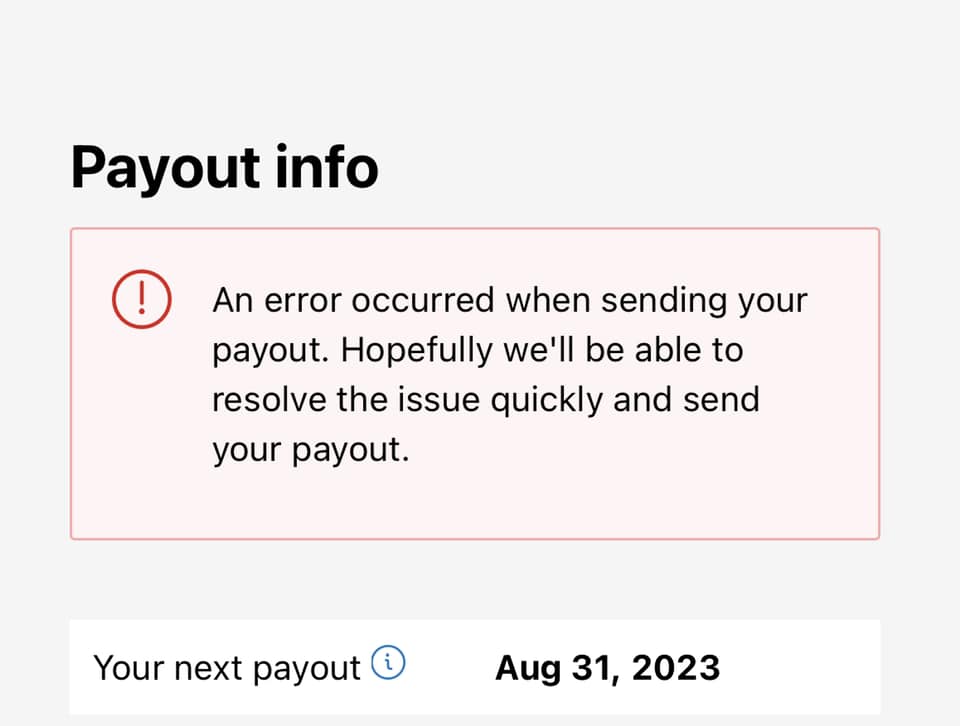 CEO's Apology and Compensation for Hosts Affected by Delayed Payments
In response to this crisis, the company's financial results document featured an apology note to supply partners, acknowledging the adverse impact and demonstrating a commitment to rectify the situation. Furthermore, Booking.com's CEO personally addressed affected hosts, extending a one-time cash payment as a gesture of goodwill. The CEO's accompanying explanation attributed the payment delays to unforeseen challenges stemming from planned financial and payment platform upgrades, despite careful planning and prior notification:
Dear Partner,
I'm writing to apologize for the impact that our finance and payment systems maintenance and the resulting delay in payments may have had on you and your business. I'd like to offer some clarity about what happened.
As part of our investment to ensure our technology continues to deliver ever higher levels of online safety and security for you, your guests, and our systems, we needed to carry out essential improvements, including system upgrades to our financial and payment platforms. Despite having planned carefully and notified you, our partners, in advance that we would be carrying out this work, a number of unforeseen problems occurred. This meant payments to some of our partners were disrupted.
We know that for some of you who were affected, this had an impact on your businesses, as well as on your professional and personal lives. For this, I am deeply sorry.
The delays in receiving payment that some of our partners experienced were longer than we anticipated. This is not the level of service we would ever want to deliver to our partners. We know that we've fallen short of the experience you expect from us, and we recognize that we have a lot of work to do to win back your trust.
For partners whose payments were additionally delayed by 21 days or more (after the 10-day payments freeze we initially communicated as part of this transition), we'll be offering a gesture of goodwill in the form of a one-time cash payment. According to our records and the delays you experienced (less than 21 days), you currently don't qualify for this goodwill gesture.
If you believe your payments were further delayed than our records indicate and we haven't contacted you about this yet, reach out to us at [email address].
I fully understand that my personal apology doesn't change the impact we've had on your business. However, I wanted to acknowledge that we've caused difficulties for you and apologize for doing so. We'll work to learn from this situation and improve.
I am personally committed to ensure that we deliver better levels of service to you in the future.
With sincere apologies,
Glenn Fogel

Booking.com CEO Glenn Fogel's Message to Hosts
Interestingly, the apology and compensation offer, though well-intentioned, unveiled a significant disconnect in communication. Despite being characterized as a planned update, the payment delays triggered discontent among hosts. This suggests that the communication strategy could have been better executed, ensuring hosts were thoroughly prepared for potential disruptions.
It also doesn't help that crisis began in July, yet it took nearly four months for the company to issue an official apology. This significant delay resulted in widespread anxiety among hosts who were left uncertain about their financial status. Such was the severity of the situation that many hosts began questioning the fiscal stability of the company, with some even suspecting fraudulent activities.
Concerns escalated to the point where multiple elected officials across Europe voiced their concerns publicly, expressing their apprehension over a corporate giant failing to fulfill its payment obligations to smaller suppliers.
In fact, in August 2023, Hungary's consumer watchdog launched an investigation into Booking.com's delayed payments to hoteliers, even conducting a raid at the company's Budapest office, highlighting the magnitude of the issue.
Not All Hosts Affected by Delayed Payments Eligible for Compensation
Moreover, individuals whose funds were frozen for less than the initial freeze period of 10 days + 21 days (a full month) do not qualify for compensation. This distinction in compensation eligibility emphasizes the need for Booking.com to refine and expedite its payment processes to prevent such disruptions and maintain trust within its host community.
Conclusion
While Booking.com's Q3 2023 performance showcases an impressive growth trajectory, particularly in the field of alternative accommodations, it simultaneously highlights some operational challenges that the company needs to address. As Booking.com continues to expand its market share and innovate with initiatives like "Connected Trips," how will it overcome the complex issues related to payment and payouts systems? Can it ensure a seamless experience for hosts to prevent dissatisfaction and maintain trust? The road ahead promises further growth, but only time will reveal if Booking.com will be successful in securing both prosperity and the trust of its vital host community.