Melissa Halliburton is the founder of BringFido.com, a dog travel directory that lists 14,000+ dog-friendly vacation rentals and offers the most accurate database of hotel pet policies.
Melissa knows her market and knows her numbers. For instance, did you know that 50% of dog owners were willing to pay more to stay at accommodations that are dog friendly? Or that less than 15% of the properties on HomeAway, TripAdvisor, and Airbnb allowed pets?
She not only makes us understand how attractive this market can be to vacation rental owners and managers, but also she gives us plenty of real advice on a creating a pet policy and on making a property dog-friendly.
BringFido.com not only offers 14,000+ pet-friendly vacation rentals, but also lists pet-friendly hotels, restaurants and much more. How did you get started?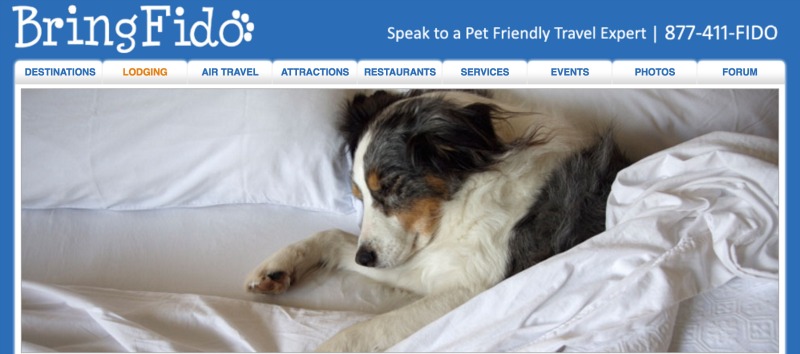 I adopted my dog, Rocco, a couple of years after graduating from MIT. I was still living in Boston, but I'm from California, so I traveled across the country with Rocco fairly often and found the process very frustrating. At the time, some of the "big" travel sites had a "pet friendly" icon, but I found that it was incorrect about 25% of the time. And even if a hotel did allow pets as suggested, there might be a 10 lb weight limit or a $200 pet fee that wasn't disclosed during the booking process.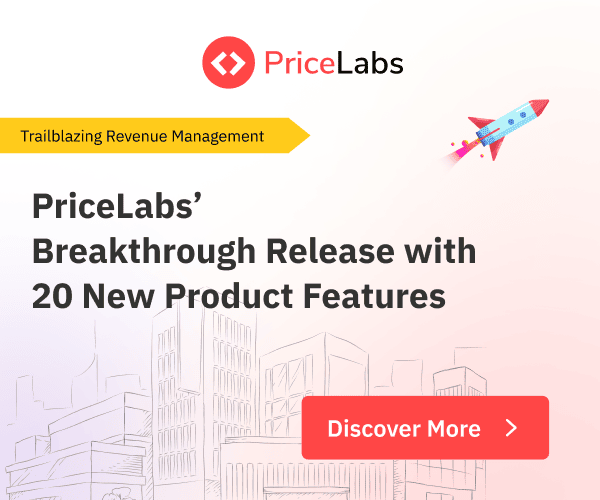 So, whenever I wanted to get out of town, I found myself having to call every hotel in my destination to ask them a barrage of questions about their pet policy. Are dogs allowed? What is your weight limit? Do you charge a pet fee? Are there any other restrictions I should know about? Etc, etc.
I found the process very frustrating, so I convinced a bunch of friends to help me call every hotel in the country in 2005. The next year, I launched BringFido.com with the nation's most accurate database of hotel pet policies. A couple of years later, we introduced hotels all around the world in addition to restaurants, activities, events, and other resources.
If you were a vacation rental owner or manager, why would you consider turning some or all of your properties into pet-friendly vacation rentals? What could be the impact on bookings and occupancy rates?
The pet travel industry is booming. Approximately 42% of all households in the US have a dog and 51% of pet owners take their pets with them when they travel. That means that 30 million Americans travel with their pets every year, and that number is consistently rising according to the Travel Industry Association.
TripAdvisor publishes a "Traveling with Pets" survey annually. Last year, they found that 50% of dog owners are willing to pay more to stay at accommodations that are dog friendly, and 66% choose to stay at pet friendly hotels, even when they aren't traveling with pets. They also found that 56% of pet owners plan to stay at a hotel and 35% plan to stay at a vacation rental when traveling with their pets.
Interestingly, while over 60% of of hotels in the American Hotel and Lodging Association are pet friendly, less than 15% of the properties on HomeAway, TripAdvisor, and Airbnb allow pets. So, there is currently a huge demand for pet friendly vacation rentals that isn't being met.
After all, where would most dog owners rather stay if given the choice. The 5th floor of a hotel building where there might be dogs barking on either side? Or a cute little beach house with a private fenced yard? Occupancy rates will certainly go up when a vacation rental becomes pet friendly, and the owner or manager may also make incremental revenue if they choose to charge a pet fee.
How do I make make my vacation rental pet-friendly? Should I focus first and foremost on welcoming dogs? How does it differ according to the location of my property across the US or in the world?

Over 90% of the people traveling with pets are traveling with dogs specifically, so you definitely want to consider their needs when converting your home to a pet friendly property.
Some of the amenities that will be particularly attractive to dog owners are fenced yards, doggie doors, and tile floors. Little touches like providing food and water bowls or a welcome biscuit for the dog definitely go along way towards making the dog owner feel welcome as well!
If you're near a beach, it's a good idea to provide some old towels that the guest can use to clean up their dog after a romp in the ocean, and if you'd prefer not to have a pet on your linens, it's also nice to provide a dog bed, or even an old sheet that can be thrown over the bed linens or sofa.
We also recommend providing a binder or flyer with information on nearby dog parks, beaches, outdoor restaurants, pet sitters, veterinarians, etc. Or just tell them they can find all of the same information on BringFido.com or our app!
When creating a pet policy for my rental, what are the 3 big things that I should think of? For instance, should I set a pet fee?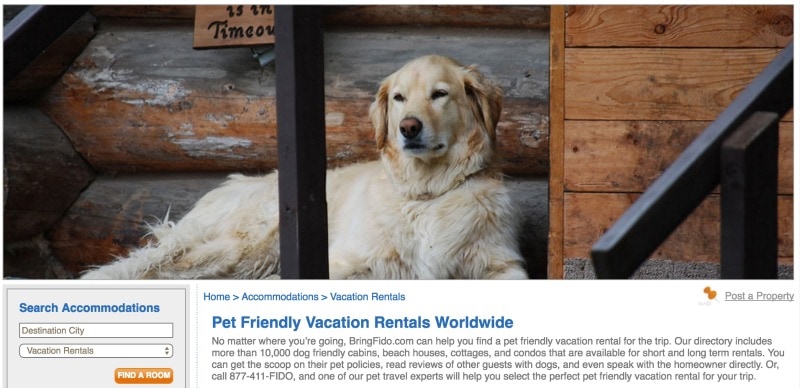 Properties that don't charge a pet fee are definitely the most attractive to our customers, so if you want to attract as many guests as possible, not charging a pet fee is the best way to achieve a 100% occupancy rate. For comparison, I can tell you that about 25% of our hotels don't charge a pet fee. Among the ones who do, the average fee is $20 at economy hotels and $50 at luxury properties, but I have seen fees as high as $250 per stay as well (which most dog owners will see as no big deal if they're planning to rent a house for a month).
Besides deciding whether or not to charge a pet fee, you also need to consider whether or not you will limit the size or number of pets in the home, and whether or not you will allow "other" pets (like cats, birds, reptiles, etc). Again, the less restrictive your policy is, the more attractive your listing will be to travelers with pets. It is definitely harder for people traveling with a big dog to find a place to stay, but in my experience, big dogs are generally more mellow and quiet travel companions, so I'd definitely suggest that property managers allow them.
Aside from the 3 big issues (pet fee, weight limit, and number of pets allowed), property managers should also detail any other restrictions such as not leaving the dog unattended, not allowing dogs on the furniture, etc. Dog owners generally follow the rules, but if there is damage, you should be covered by a damage deposit.
How do I get my property listed with BringFido? I've seen that some listings include a link to the actual property, while some listings link to Airbnb, others to HomeAway and the likes.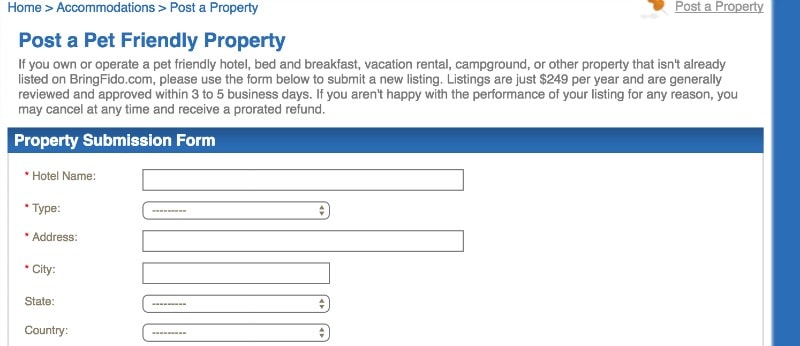 BringFido has partnership agreements with HomeAway/VRBO, Flipkey, and Airbnb, so if your property is already on any of their sites, you're eligible for a free listing on ours! Simply send an email with your property URL and pet policy details to [email protected] and we'll have your listing up within a week.
If you don't work with any of our partner sites, you can also purchase a listing on BringFido for a $249 annual fee. To get started, you simply need to register at www.bringfido.com/lodging/post.
What would be your advice to other business owners who want to make their rental business more unique?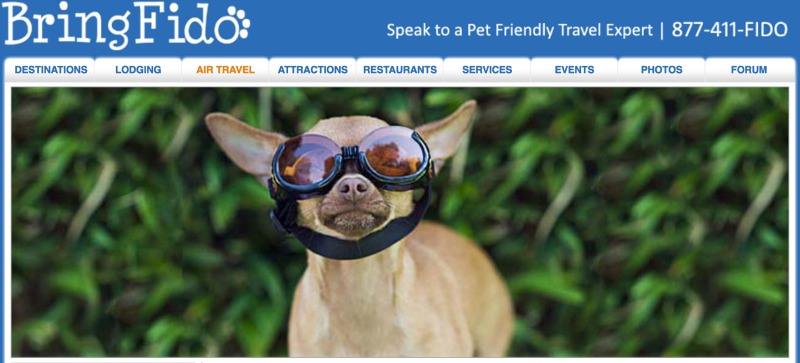 In addition to providing vacation rental listing that are "tail-ored" to dog owners, we also provide hotel and vacation rental managers with "pet amenity kits" that can be used to welcome four-legged guests. Each month, we ship a box of assorted, premium dog treats to their business, allowing hoteliers and vacation rental managers to welcome their canine guests with a special snack just for them.
All of the treats also include a marketing message that encourages the dog's owner to review the property on BringFido, so it also generates positive reviews (which also moves the property up on our list of results). Since these treats are a win-win-win for BringFido, our partners, and our customers, we simply sell the treats at cost. More information is available at petamenitykits.com.
I hope that Melissa Halliburton has given you ideas on how to grow your bookings by addressing specific niches, such as travelers looking for dog-friendly vacation rentals.
If you want know to more about niche vacation rental websites, feel free to also read other articles in our niche marketing series, such as how NicheEscapes.com helps owners reach out to travelers with specific interests.