Direct marketing and remarketing are time-tested strategies that have shown consistent results in the travel industry. Collecting customer information to send mailers and postcards, or to market directly to the consumer via telephone, has given way to the digital age and evolved into a far more comprehensive and efficient marketing strategy.
Email marketing allows for the collection of data that would have been impossible in the past. The availability of statistical data regarding open rates, click-through rates, and even booking percentages makes it possible to do far more than merely track ROI. It allows for the marketing strategies and campaigns to be refined and customized to best suit your audience.
We want to share our top 10 strategies to help you create an email marketing campaign that is sure to increase your direct bookings.
Tip 1: Build Your Email List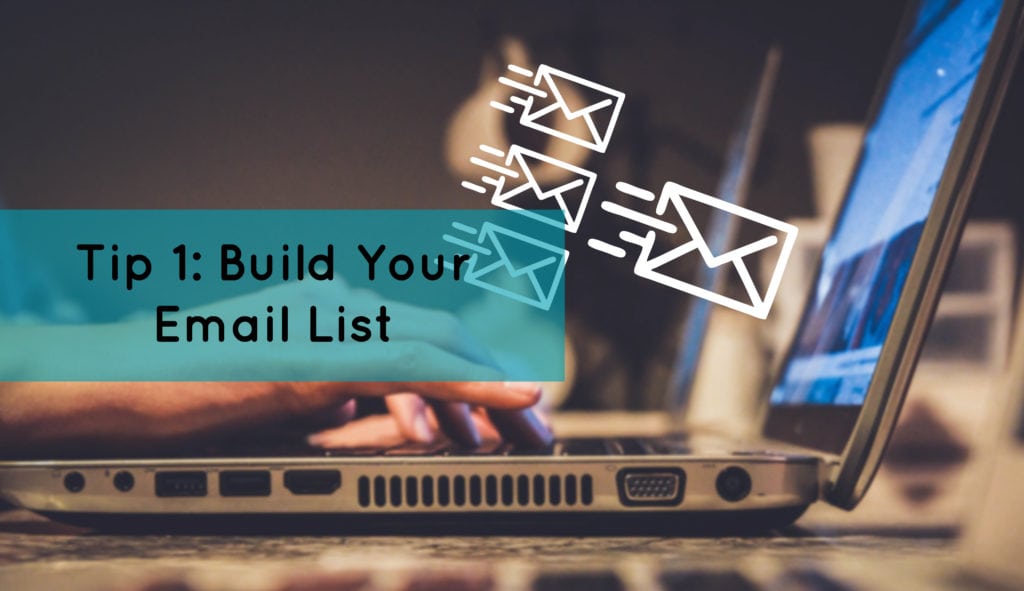 You may have the most well-thought-out and brilliant email marketing campaign anyone has ever developed, but if you have no audience, it will be useless. Building an email list is not only the first step in your digital marketing endeavor but should be an ongoing process that only grows with time. The easiest way to build your list is to ask.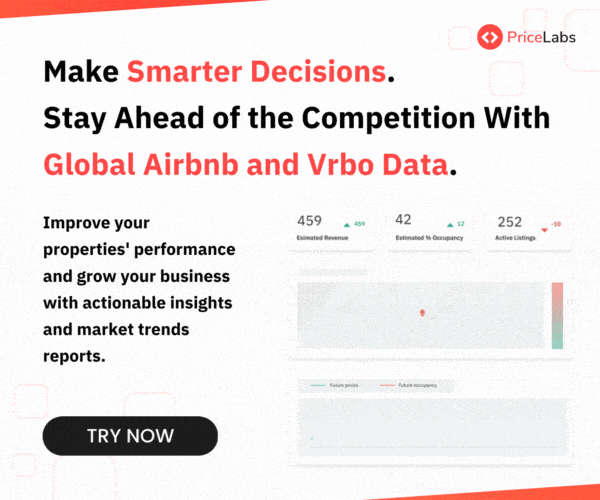 Ask your customers, ask those who visit your website, ask the people who follow you on social media, and ask anyone interested in your product. Try to collect as much information as possible from each sign-up. Having a physical address, first and last name or other vital information will allow you to market more effectively. Still, you should only require a first name and email address, as many people will be uncomfortable sharing more personal information.
It's a good idea to keep separate lists that can be sorted by any number of tagged elements. You may want to keep repeat guests on one list while those that sign up via social media are kept on another list. Another question you may want to consider asking is if they are only interested in specials and deals or if they would like to receive a periodic newsletter. By keeping categorized lists, you can use customized marketing material that speaks more directly to specific customer types.
Tip 2: Build A Well Thought Out Email Campaign
The ultimate purpose of any marketing campaign is, of course, to increase sales. Still, direct marketing is far more personal than a generic television or radio commercial and requires a more personal touch. Building a well-thought-out email campaign will ensure that you achieve high open and click-through rates. Anyone can make up a "20% off your next stay" coupon and paste it in an email, but your sales pitch will be far more effective if your emails offer something more. You want to give people a reason to open your emails.
Consider including value-adding information in each mailing like upcoming events, news on local attractions, dining guides for your area, featured properties, or any other information that may encourage the reader to click on a link to your website (and help to sell your destination and insight in the process). Having fresh content for each email or newsletter keeps your emails interesting, informative, and more likely to be opened by those in your audience. Planning out your marketing campaign can be time-consuming, but in the end, the payoff will be worth the investment.
Tip 3: The Subject Line
Nothing is more important than first impressions, and when it comes to email, the subject line is your first chance to impress. This is your opportunity to let the reader know what to expect if they open your newsletter. The more compelling the subject line, the better chance that your subscriber will open the email.
Subject lines that include personal information, like the subscriber's name, have a much higher open rate than more generic subjects. For example, if your email is offering a special deal, a subject line that reads "John Smith – We would like to offer you 20% off your next stay" will be far more effective than the more generic "20% Savings Inside".
Tip 4: Content Is Everything
Without having something to say, there really is no point in sending out the email. You want to make your email newsletter something your subscribers consider a valuable resource that offers information, special deals, and a more personalized marketing experience. By including information about your location and linking to your website's news or blog section, interaction and click-through rates are sure to improve. Remember, your ultimate goal is to get them to your website, where they can book a stay. By including general information that links back to your website, you increase the possibility of gaining those valuable clicks that hopefully lead to an increase in booking rates.
Tip 5: Not Every Email Has To Be A Newsletter
(Try to keep it simple sometimes)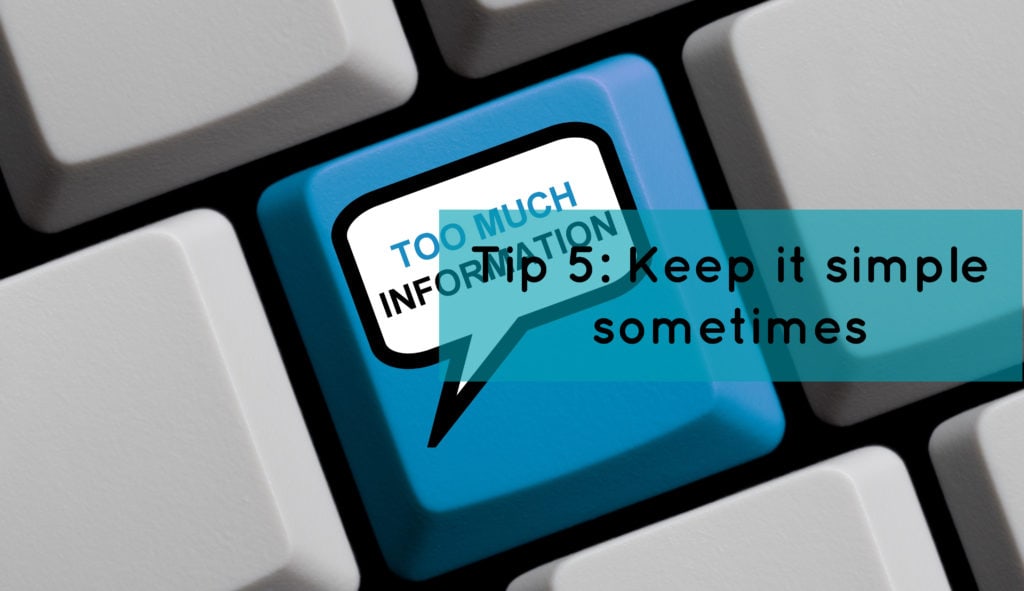 Newsletters and more informative emails are a great way to reach a large audience. The more content in your email, the better the chance that something will speak to someone and cause them to click for more information. This isn't always the best way to reach everyone, though. Not everybody has time to read through a long email and may not find a topic that interests them because they did not see it. For these subscribers, you may have more luck with simple, short, and to-the-point emails. Of course, you will want to use an attractive subject line, but in these simple emails, the content may only include one or two lines with a link to more information on your website.
Tip 6: Don't Try To Game The System
While your subject line is what catches your subscribers' eye and your newsletter's content is what earns you clicks, you mustn't try to game the system by making exaggerated claims in the subject line or anywhere in your newsletter at all. While these kinds of tactics may cause an initial increase in open and click-through rates, these numbers will inevitably drop off quickly, and unsubscriber rates may increase as a side effect. Keep it interesting but keep it honest. Trying to game the system can only end poorly and will ultimately undermine your otherwise well-planned marketing strategy.
Tip 7: When To Send Your Email?
This is a question that will elicit a different answer from just about anyone you ask. There are some people who insist sending on Monday at 9 AM will achieve the highest open rates, while others will argue that it would be the kiss of death. The reality is, every audience is different, and every person in your audience is unique in their own way. There really is no magical time on a specific day of the week that will work for everyone. There are, however, some things to keep in mind when planning the best day and time to send your email.
Statistics show that the percentage of emails opened trend higher when the overall volume of emails being sent is lowest. This includes Tuesday, Saturday, and Sunday, with the highest open rates happening between 8 AM and Noon on those days. While this is excellent information, it is not necessarily going to be true for every audience. It may take some time to find the optimal schedule for your newsletter and marketing emails.
Tip 8: How Often To Send
Much like when to send your email, this is another one of those topics that are constantly being debated. In general, it is a good idea to send out at least one newsletter per quarter and to limit the number of emails you send to one newsletter and one special offer per month. This, of course, isn't a strict rule, and some find that they have enough material to send out newsletters every two weeks. It's important not to saturate your market. While sending out regular emails is important, actually having a purpose for the email is imperative.
Tip 9: Always Send To Non Opens Again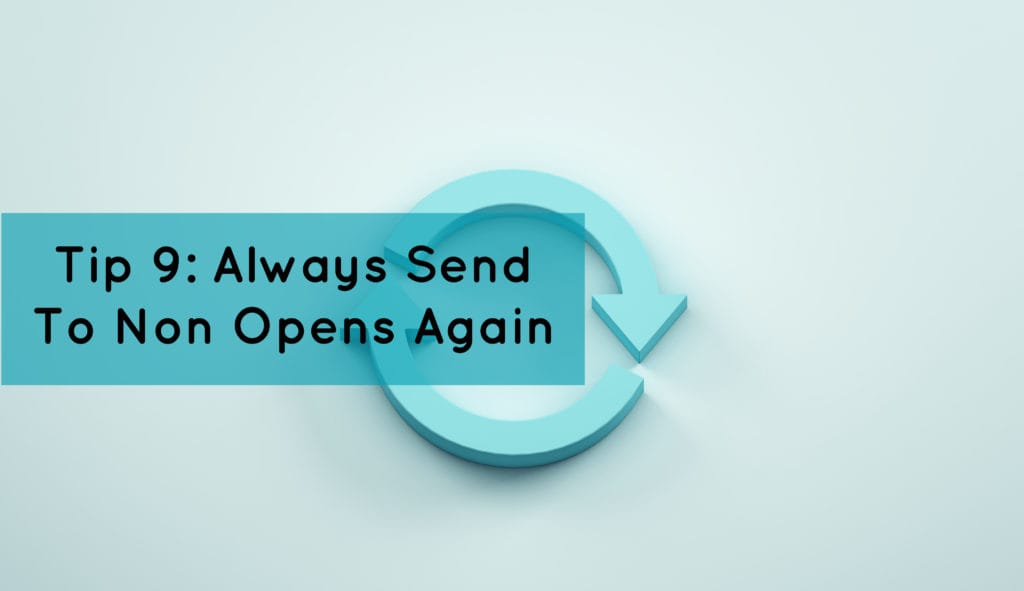 It bears repeating, always send to non-openers again, always. While open rates on re-sends vary, they always increase and generally by percentages that reach 50%. Marketing is a numbers game, and the more eyes that see your email, the better. There are all sorts of reasons why a subscriber may not open your email the first time. They may have deleted the email by mistake, it may have ended up in their spam folder, or it's possible that the subject line didn't compel them to open the email. Resending your email allows you to change the subject line and change the day and time the email is sent. It takes minimal effort to resend your email to non-openers, and the possible payoffs are tremendous.
Tip 10: Don't Be Discouraged
So many newcomers to email marketing are discouraged by the open and click-through rates that they see initially. Remember, those small percentages aren't necessarily a bad thing. You are embarking on a long-term marketing campaign that will take some refinement, trial, and error, and it will hit bumps in the road along the way.
The good news is that you have access to the data necessary to make the changes required to find success in this endeavor. By monitoring each email's statistics, you will begin to determine what works and what does not work. Once you find a formula that works for you, don't stop monitoring that data. Trends change, and over time your audience will grow, and the general tastes of that audience may change as it expands.
Bonus Tip 11: Don't Be Afraid To Test the Waters Keep Trying New Things
Even though you have a great marketing campaign and booking rates are doing great, there is no excuse not to try something new from time to time. While it is certainly true that you don't want to throw a monkey wrench into the works if everything is running smoothly, there is no reason you can't try some new ideas on occasion. You may want to encourage more engagement on social media or take a survey from your audience to determine what types of things they would like to see in your newsletter or what types of information you share on social media. The important thing is always to keep your emails interesting and informative. Any ideas you can come up with to achieve this goal are worth trying out.
The world of direct digital marketing is an ever-changing environment that consistently offers more opportunities to interact directly with your guests and potential guests. By following our 10 Tips to a successful email marketing campaign, you will find that direct bookings, along with profits, will increase quickly. The possibilities of what you can do with this marketing strategy are endless and only limited by your imagination. Today's customer expects more than just a quick and easy way to book accommodations. They expect a more personal experience, and email marketing and newsletters allow you to build that personal rapport while still executing a successful marketing campaign.