In this month's review, AirDNA looks at short-term rental demand (nights stayed) in Europe, which is still working its way back to pre-pandemic levels. Highlights include:
The percentage of short-term rental trips by foreigners sees a big boost.
Interest in rentals outside of big cities drives demand in Europe.
Germany leads the demand pack, exceeding 2019 numbers.
Cross-border Short-Term Rental Trips Show Signs of Rebound
By tracking reviews, AirDNA is able to provide insights into where guests are from and where they are traveling. Our tracking shows that the percentage of foreign visitors in  Europe is still lower than pre-pandemic levels. Last month, we showed that countries relying heavily on demand from foreign visitors were the worst-performing countries in  2021.  
In 2019, roughly 65% of short-term rental guests were from a different country than the one they visited. Over the past few months, however, we have started to see positive signs pointing to the recovery of foreign travel. In September, 50% of short-term rental trips in Europe were by foreign travelers, a substantial rebound from just 17% earlier in the year.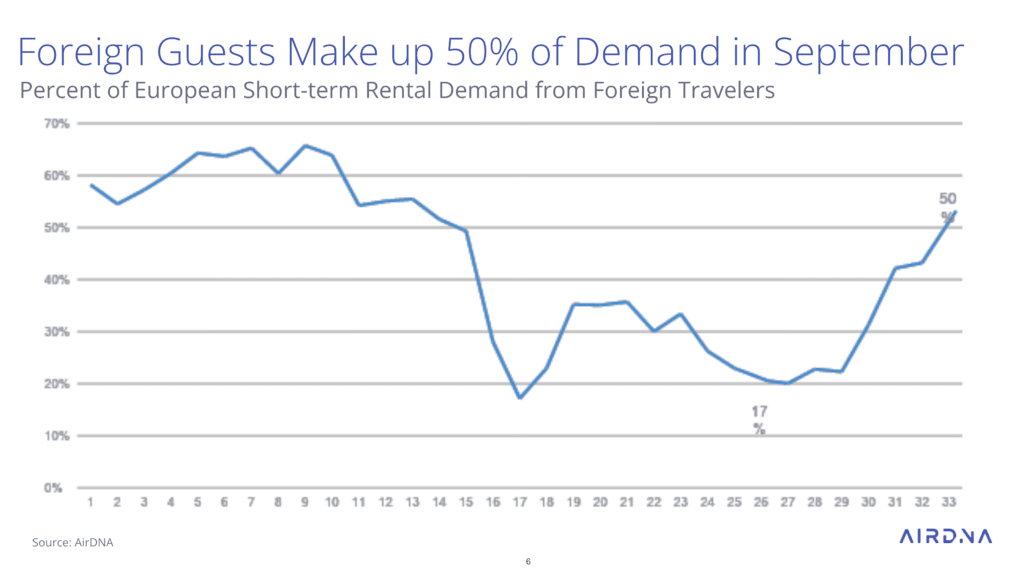 With overall demand in Europe still down more than a quarter from 2019, there is still a  long way to go until international demand returns to prior peaks. We estimate that cross-border travel in Europe is still about 40% lower than 2019 levels, while short-term rental stays involving travel within the same country are up about 10% on average over 2019.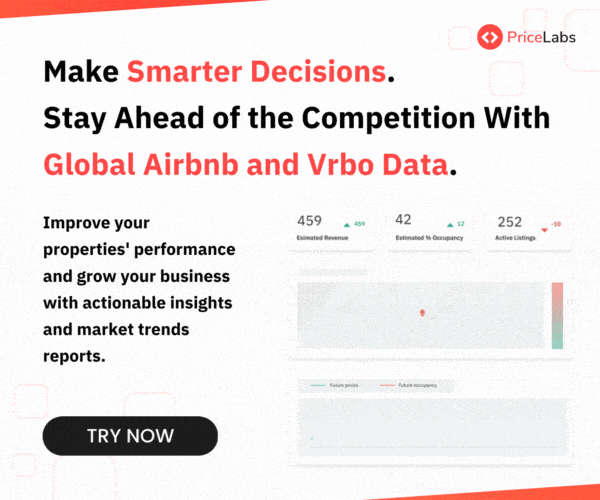 Germany Tops Europe in Demand Growth
Of the top 20 European countries for short-term rentals, Germany was the only nation that achieved demand above 2019 levels (by 0.5%). September marked the first month since the start of the pandemic that Germany recorded year-over-year demand growth.  
However, even with recovering levels of international travel, other tourism-oriented countries are still struggling to recover demand. For the Czech Republic (-57%), Hungary (-56%), and Norway (-51%), the number of nights booked was at least half of  2019 levels.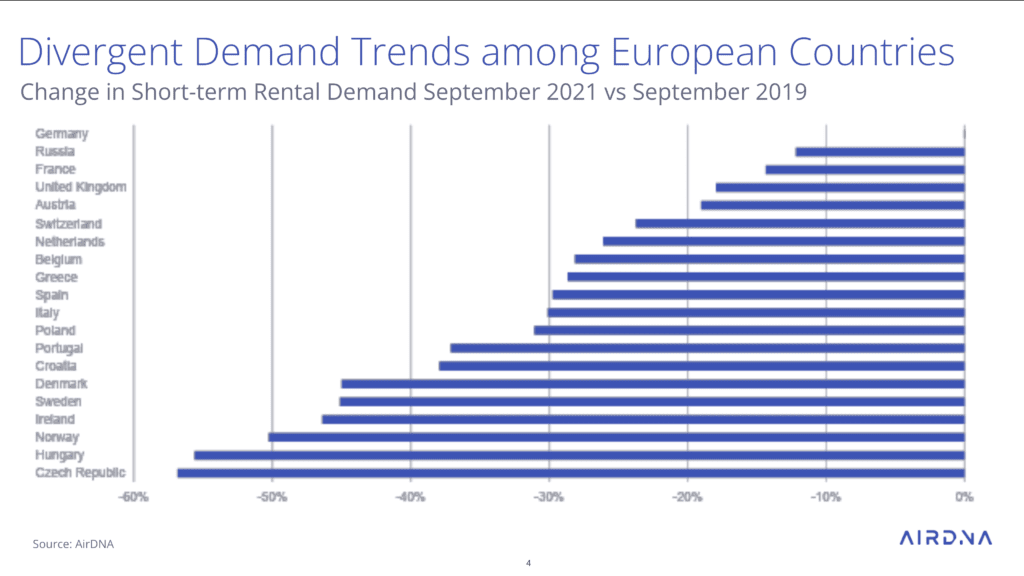 Demand for Big Cities Falls in Favor of Non-Urban Destinations 
Looking more closely at Germany, it's clear that strong interest in listings outside of the largest cities is driving demand. In September, demand was up 17% over 2019, a big boost compared to April 2021, when demand in Germany was down 40% over 2019.  However, demand for listings in the largest cities fell between August and September of this year, landing only slightly higher than 2020 levels. 
The cancellation of the 187th Oktoberfest due to the pandemic contributed to the weaker performance in larger cities. September is typically Munich's strongest month,  but without Oktoberfest, demand dropped more than 75% this year compared to 2019.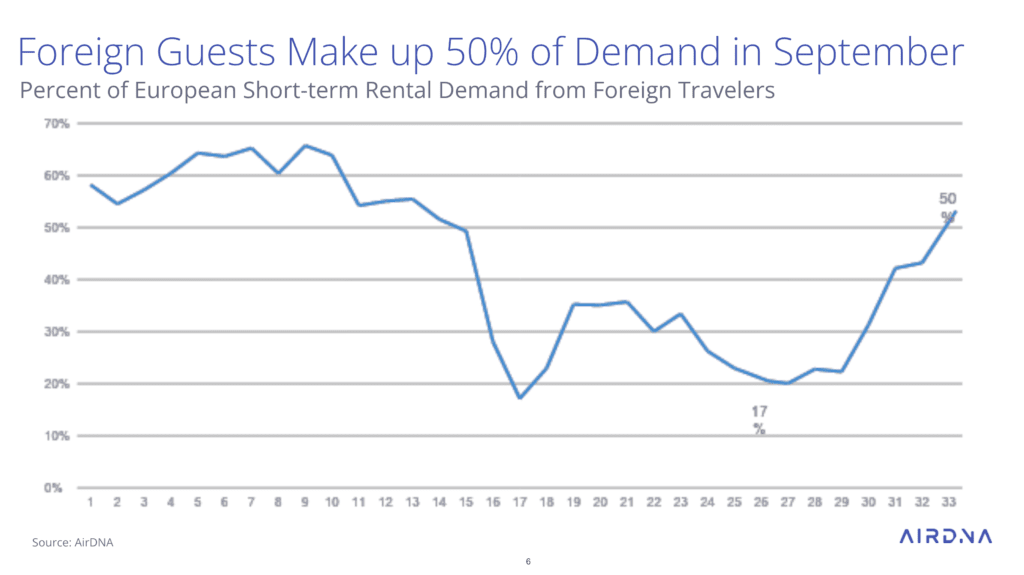 The declining demand in bigger cities in Germany holds across every country in Europe. On average, demand in the largest cities was down by 53.4% over September 2019, compared to only 15.8% for destinations outside cities.
Of the large cities, Dublin (-75%) had the weakest demand relative to 2019, followed closely by Munich (-75%), Prague (- 71%), Amsterdam (-69%), and Oslo (-69%). Coastal/rural destinations in Germany saw  the strongest demand, including Königsberg (+101%), Friesland (+95%),  Hochsauerlandkreis (+93.8%), Regen (+91%), and Nordwestmecklenburg (+56.6%).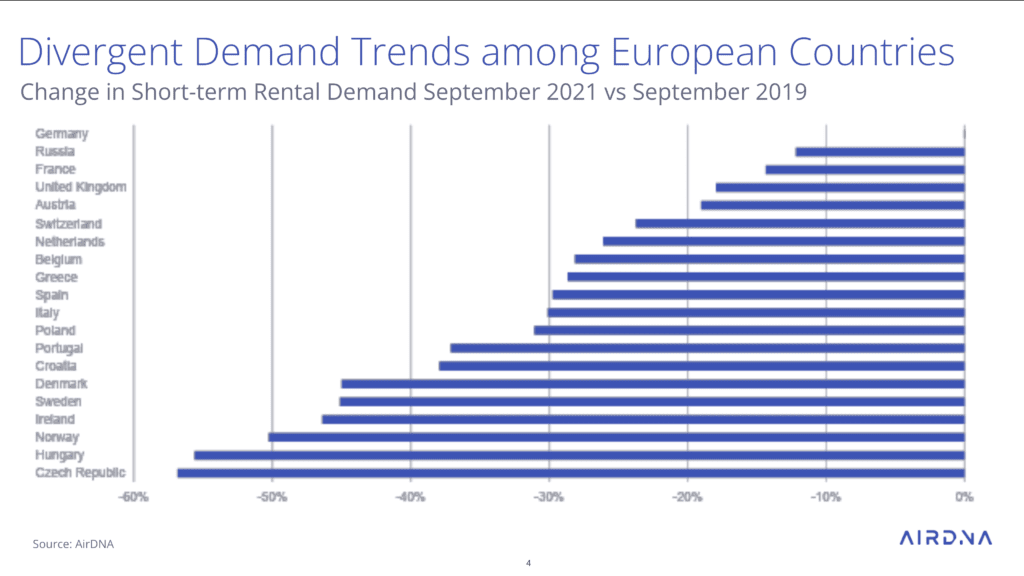 European Short-Term Rental Occupancy Continues to Climb
While occupancy for short-term rentals in Europe hasn't yet reached pre-pandemic levels, it's on the rise—with ups and downs along the way. 
Short-term rental occupancy in Europe fell from 73.8% to 58% between August and  September. Although this year's number was still 17.7% higher than in September 2020, it was just shy (-3%) of occupancy in September 2019. 
Meanwhile, demand in September of this year was down 24.8% compared to  September 2019, a slightly bigger drop than the 20.9% decline reported in August. However, demand continues to rise from 2020 levels, increasing 38.3% year over year for September. 
Reduced listings due to the COVID-19 pandemic have offset the decline in demand since 2019, resulting in relatively high occupancy in 2021 compared to 2020. Between  September 2019 and 2021, the number of listings available to rent on either Airbnb or  Vrbo fell by about 20%, from 3.3 million to 2.6 million—only slightly higher than the 2.5  million listings available in September 2020.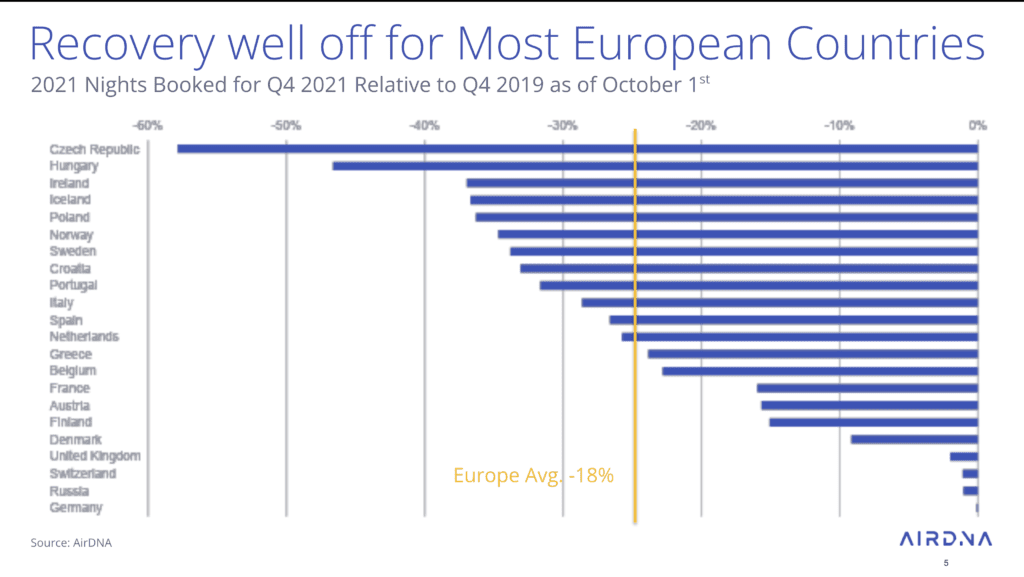 Outlook Bright as ADRs Push Higher
The average daily rates (ADRs) earned by short-term rentals continued to edge up over the past 18 months, as travelers opt for larger units with more amenities. ADRs rose 26.1% relative to 2019 and a full 16.3% higher compared with 2020. This growth trend should continue into Q4; each month is pacing around 26% to 38% higher than in 2019.  
Lead times—the amount of time between booking and check-in—expanded in the past two months over 2020 levels, but fell in September to an average of 41 days. With lead times still about 30% lower than in 2019, operators will likely rely on last-minute bookings throughout the rest of the year. Taking into consideration decreased lead time and continued uncertainty around the COVID-19 pandemic, Q4 is pacing about 20%  below 2019 levels. 
Overall, the outlook for the European short-term rental market is optimistic. With vaccination rates continuing to rise globally, borders opening up, and more and more workers heading back to the office, demand for travel—especially in the largest European cities—should get back on track as we head into 2022.