Since 2007, Airbnb's core mission has been to help anyone belong anywhere. For the hosts that make Airbnb, Airbnb, this has meant hosting anyone, anywhere. After Airbnb guests spent more on long-term stays in 2021 than any other time in its history, is Airbnb ready to change its slogan from Belong Anywhere to Live Anywhere? We think Airbnb is already making moves to do just that, and this is why your vacation business should take note. 
Live Anywhere, part of Airbnb's 2022 strategy
In an article about Airbnb's 2022 strategy, we note that the company has "Live Anywhere on Airbnb" as one of its 3 strategic pillars for 2022:
Live anywhere on Airbnb
As a result of the pandemic, millions of people can now live anywhere. They're using Airbnb to travel to
thousands of towns and cities, staying for weeks, months, or even entire seasons at a time. We want
to design for this new world by making it even easier for guests to live on Airbnb. We believe that living
somewhere enables deeper connections to local communities and the people who live there
As the world begins to emerge from the pandemic, the way that your potential guests live and work has shifted. With remote working here to stay, the increased flexibility encourages your guests to use your vacation homes as their home office. With as many as 20% of Airbnb guests looking for stays of one month or more, long-term stays are rapidly becoming the fastest-growing category on the platform. The pandemic has altered how your future guests will travel for years to come, and it is time for Airbnb to respond to the new normal with a new slogan: Live Anywhere. 
Live Anywhere, an expression used by Airbnb since 2020
If you keep a close eye on Airbnb, you will know that Live Anywhere is not a new term on the platform. We've noticed Airbnb's usage of "Live Anywhere" multiple times in 2020 and 2021, for instance in an article about Airbnb renewing its efforts towards the multi-family market and another one about 2021 travel trends.
Our slogan prediction originally started as the Live Anywhere on Airbnb program. In case you missed it, the Live Anywhere on Airbnb program was a contest that offered Airbnb users the once-in-a-lifetime opportunity to make the world their home for an entire year. With entries closed and winners selected, the original landing page on Airbnb has been untouched ever since, but both their latest booking trends and blog articles forecast that this could all change soon. 
Long-stay data from the current financial year highlighted a +25% growth in room nights in Q3 2019 v.s. Q3 2021. We know seasonal bookings will have played a role here, as they always do in Q3. The Q3 months (June, July, and August) are popular times for northern hemisphere travelers to take vacations, after all. The usual Q3 seasonality aside, a key, global difference between 2019 and 2021 is, of course, the more mobile and remote workforce. This newfound flexibility has fueled a post-pandemic long-stay trend that makes Live Anywhere a reality for many remote workers. After the best Q3 on record, is Airbnb doing anything to tap into the rise in long-stay bookings? To answer that, you need to take a closer look at their recent blog articles. 
From flexible working articles to host features about the demand for guests to live and work anywhere, Airbnb has been filling their latest articles with Live Anywhere keywords. Integrating keywords in blog posts leads to SEO value, an essential digital step towards owning a new slogan. Behind-the-scenes work for this would start before any press release, and our feeling is that Airbnb is getting ahead to help them take ownership of Live Anywhere in time for a slogan rebrand. Given the press and backlinks around the original Live Anywhere contest, a bank of supporting content would position Airbnb for ranking success with their new slogan. 
Live Anywhere contest
When it comes to the existing Live Anywhere contest page, Airbnb knows that this is ranking well, and the extra content will help boost further. We predict that this page will be updated to steer away from the original contest and towards a digital resource for remote workers looking to Live Anywhere. 
Now, of course, these are just predictions at this stage. However, the booking data on Live Anywhere speaks for itself and, it certainly justifies some new Airbnb filters that help both guests and hosts. From the I'm (even more) Flexible filter expanding its searches from six months to 12 months to four new categories of unique stays, optimizing your listing to this new Airbnb market is easier than ever. 
With the remote workforce reliant on Zoom to Live Anywhere, reliable internet is non-negotiable. Airbnb responded with the Live Anywhere-friendly Verified Wifi feature. Designed to let Airbnb Hosts test their internet connection and have their Wifi speed verified on the app, this is the next step you can take to ensure your listing reaches this key, new demographic. 
While Airbnb is adapting to meet the needs of their post-pandemic guests, the platform remains positioned as a short-term stays provider that looks after both guests and hosts. In November 2021, Airbnb released Aircover, a top-to-bottom protection program free of charge on the platform. While not a substitute for insurance, Aircover offers extra coverage to help cover your vacation rental for additional damages, which could be a move to acknowledge the shift in longer-term Airbnb renters. 
Airbnb's mission statement: Travel as a way of life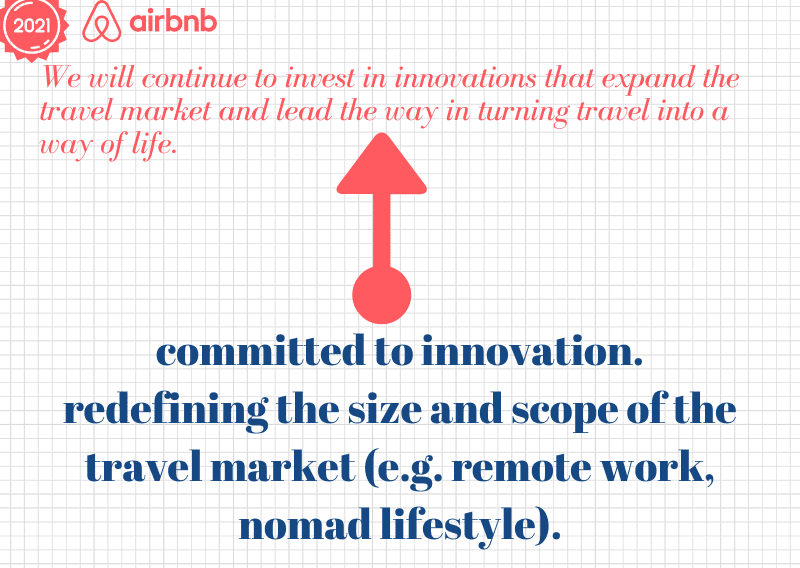 Airbnb's changed 2021 mission statement pledges innovation with a focus on travel as a way of life to appeal to the likes of remote workers and digital nomads. Compared to its 2019 mission statement, the scaling up of travel as a way of life and the scaling down of unique experiences makes for some interesting reading. Yes, the Live Anywhere demographic is looking for Wifi. Yes, they search for day-to-day amenities to facilitate this lifestyle, like kitchens and washing and drying machines. Yes, they may even look to bring their pet with them. But the thing that long-stay and short-stay travelers have in common is their shared experience for unique stays in 2019 and 2021/22. Your future guests continue to want to make the world their home in the new normal, and our forecast predicts that remote working potential is something that your guests will come to expect so that they can live and work anywhere. 
Our forecast preempts this movement will lead to a redistribution of where your guests travel, work, and live, and this is what Airbnb is gearing up to accommodate with a new Live Anywhere slogan to match. As a vacation rental professional, optimizing your listings towards remote working will help your business survive and thrive, and the best time to start is now.